Armored Core 6 is only a few weeks from its official release, and we now have more technical details about the PC version. Unlike FROMSOFTWARE's last few releases, Armored Core 6 will launch with 120 FPS support on PC, and ray-tracing limited to its garage. Now, the official Armored Core 6 system requirements have been officially revealed as well.
Armored Core 6 System Requirements
Minimum
Recommended
OS
Windows 10 – 64-Bit
Windows 10, 11 – 64-Bit
Processor
Intel Core i7-4790K
Intel Core i5-8400
AMD Ryzen 7 1800X
AMD Ryzen 5 2600
Intel Core i7-7700
Intel Core i5-10400
AMD Ryzen 7 2700X
AMD Ryzen 5 3600
Memory
12GB RAM
12GB RAM
GPU
NVIDIA GeForce GTX 1650, 4GB
AMD Radeon RX 480, 4GB
NVIDIA GeForce GTX 1060, 6GB
AMD Radeon RX 590, 8GB
Intel Arc A750, 8GB
GPU with Ray-Tracing
NVIDIA GeForce RTX 2060, 6GB
AMD Radeon RX 6600, 8GB
NVIDIA GeForce GTX 2070, 8GB
AMD Radeon RX 6650 XT, 8GB
Intel Arc A770, 16GB
DirectX
Version 12
Version 12
Storage
60 GB available space
60 GB available space
The developers haven't shared the target resolution and framerate, but we know what ray-tracing GPUs are recommended. If you're looking to play the game at higher settings, you'll need something like an RX 590 with 8 GB of VRAM paired with a Ryzen 5 3600. Though, If you want to enable ray-tracing though, you'll need a better GPU, like the RTX 2070, or RX 6650 XT.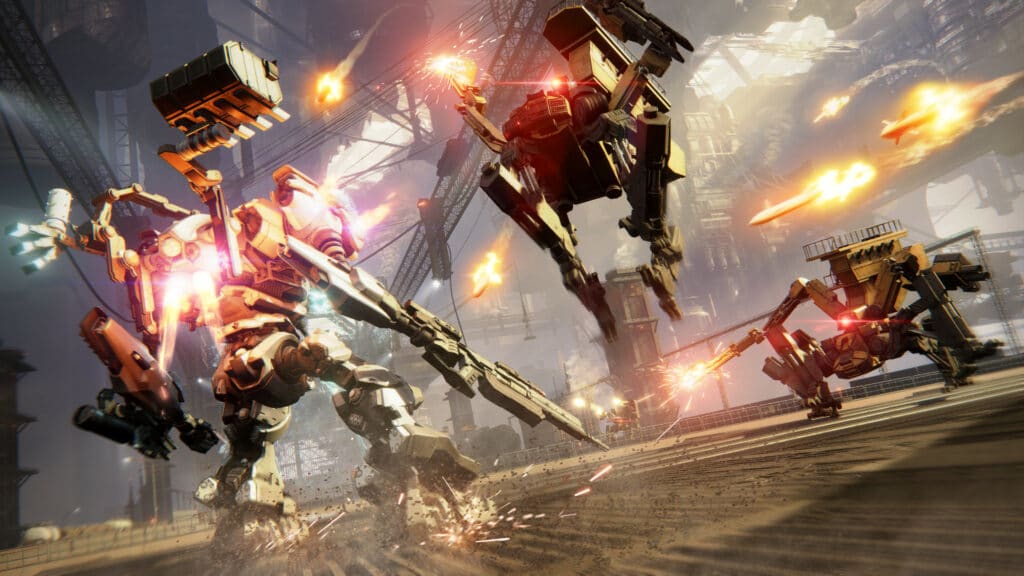 If you're okay with turning down a few settings, you'll be fine with a GTX 1650 paired with a Ryzen 5 2600. You need a total of 60 GB to install the game, and 12 GB of RAM.
Armored Core 6 on PC
You can now pre-order the game on PC through Steam.
Armored Core 6 Release Date
The title is coming to PC, PS4, PS5, Xbox One, and Xbox Series S|X on 25th August 2023. Make sure to check out our pre-order bonus guide for the upcoming title as well.
While you are here, check out the system requirements for other upcoming titles, including EA Sports FC 24, and Starfield.
What do you think of the Armored Core 6 System Requirements? Are you excited about the upcoming release? Share your thoughts in the comments below.