The sweeping changes Alder Lake heralds call for a new socket, and board partners were quick to deliver. ASUS is among the most prominent, with one or more models good enough to be featured in every one of our Alder Lake roundups. This Asus TUF Z690 review goes into more detail on one of the company's more accessible Z690 options. Is the board tough enough for you to build a powerful PC around it? Read on to find out!
Tech Specs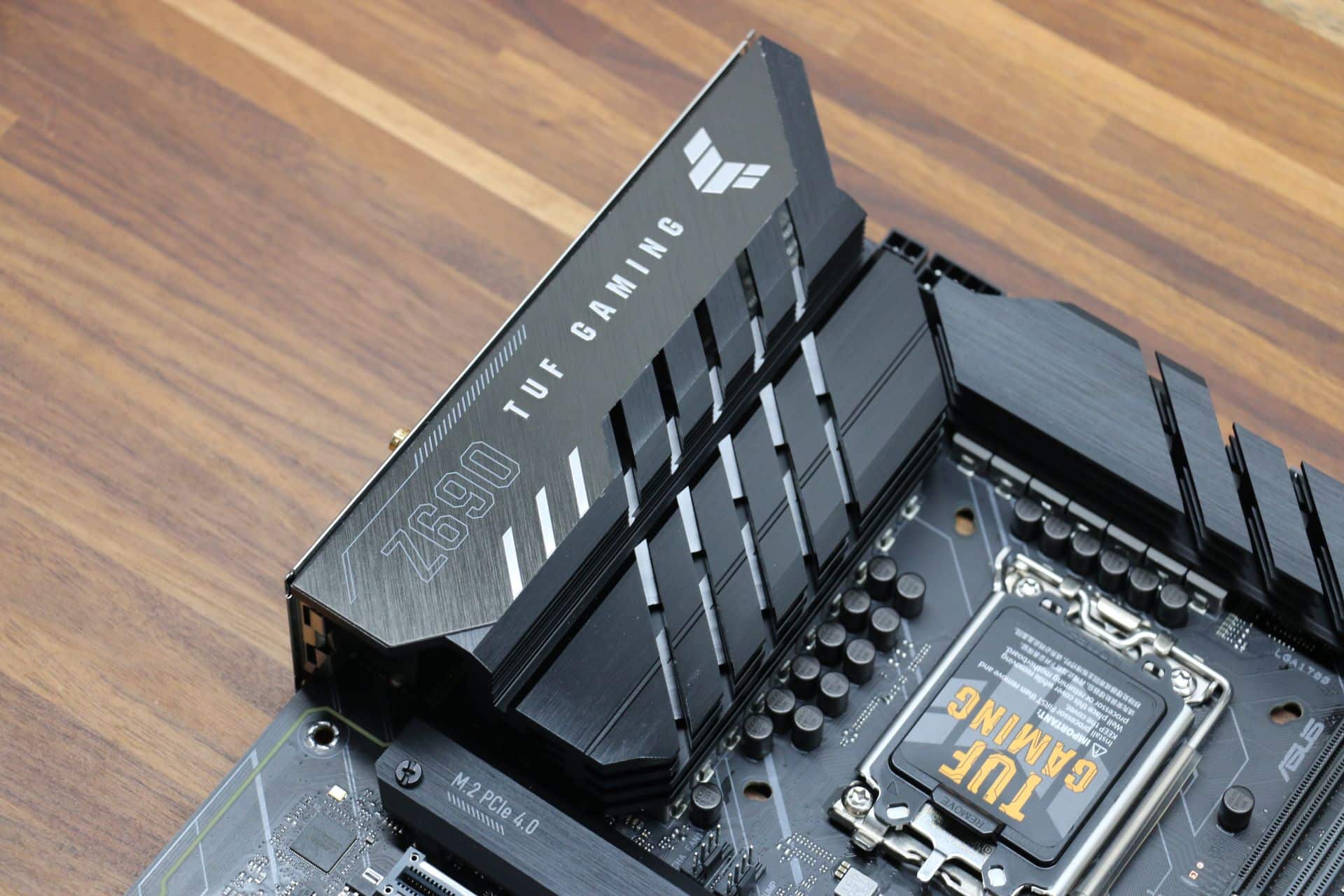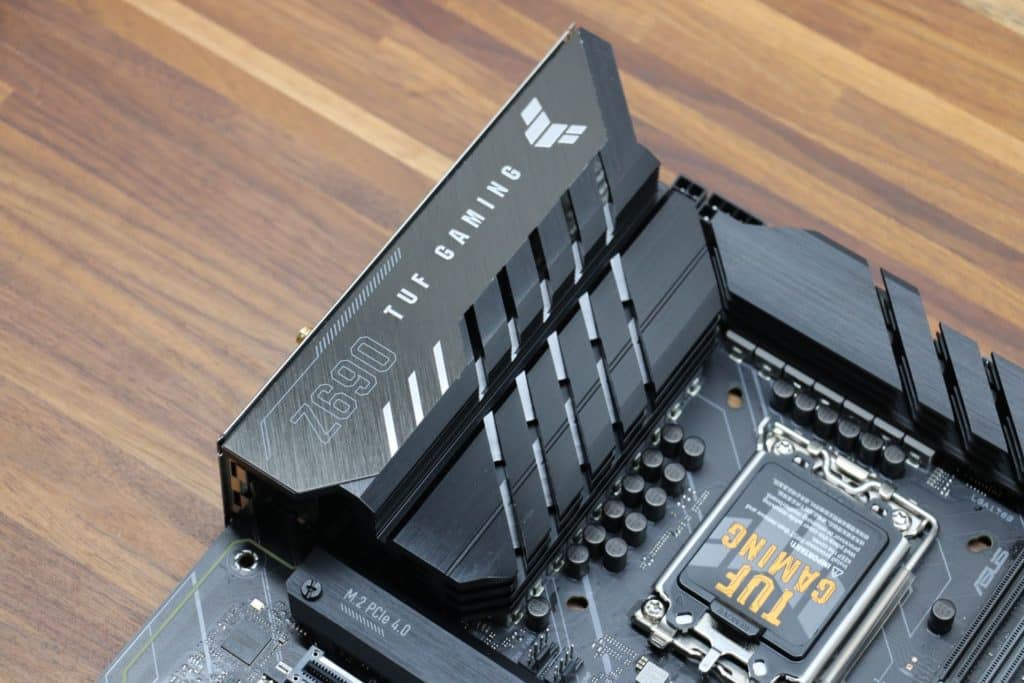 Alder Lake brings innovation to memory, high-speed storage, and expansion slot capabilities. As you can see from the tech spec list, the Z690-Plus WIFI D4 firmly embraced most of them while giving thriftier system builders some breathing room when choosing their RAM.
| | |
| --- | --- |
| Socket and chipset | LGA 1700, Z690 |
| Form factor | ATX |
| Expansion slots | 1 x PCIe 5.0 x16 1 x PCIe 3.0 x16 1 x PCIe 3.0 x4 2 x PCIe 3.0 x1 |
| M.2 drives | 2x PCIe 4.0 x4 (110mm max) 2x PCIe 4.0 x4 (80mm max) |
| RAM | 128GB DDR4 5333MHz |
| SATA ports | 4x 6Gb/s with RAID |
| USB headers | 1x USB 3.2 Gen 2 USB-C 1x USB 3.2 Gen 1 2x USB 2.0 |
| RGB headers | 3x addressable gen 2 1x AURA RGB |
| Fan headers | 7x 4-pin for CPU, pump, and case fans |
| Audio codec | Realtek ALC1220 |
| Video out | 1x DisplayPort 1.4 1x HDMI 2.1 |
| Networking | 1x 2.5G Ethernet 2x WiFi 6 antennas Bluetooth 5.2 |
Packaging
The box you get the board in is sturdy, and its cover highlights the most important features. ASUS has been toning down the TUF aesthetic for the past few generations, so only TUF GAMING in yellow nods to the line's more extravagant roots.
The board arrives well protected inside an antistatic bag. A separate space for the accessories to the left includes the WiFi antennas, a driver disk, the user guide & warranty information, some screw & rubber packages for the M.2 covers, and some stickers.
Design & Appearance
Earlier TUF motherboards were visually striking but not necessarily to everyone's taste. We're glad that ASUS took what worked with the aesthetic while altering the overall appearance to make it aesthetically appealing to a broader audience.
Users who appreciate the TUF look will find remnants of it in the stylized yellow logo gracing the chipset heatsink and bold lettering spelling out the board's name on the I/O shroud. The Z590 laid much of the look's foundation. ASUS' newer model builds upon it with tasteful stenciling on the otherwise black 6-layer PCB. Diagonal accents and cutouts break up the VRM and M.2 heatsinks, adding some visual flair to an otherwise much stealthier look than TUF fans might be used to.
Two RGB areas under the PCB's right edge emit an atmospheric underglow whose color you can control through Aura Sync. Four more headers allow you to attach regular and Aura-compatible addressable LED strips for even more color.
VRM
All Z690 motherboards have considerably beefier VRM solutions than their predecessors, and the same is true here. Power travels from the 8-pin and optional 4-pin EPS connectors to an ASP2100 PWM controller. The controller maxes out at ten phases, so the 14+1 power stages it connects to are teamed and don't need a phase doubler. Fourteen 80A DrMOS MOSFETs then supply the chipset, with one left over for Vcore.
The VRM area stays mildly warm regardless of your choice of CPU. We paired it with a Core i7-12700K and had no thermal issues. The solution is robust enough to supply a 12900K with all the juice it needs, even if you want to overclock. Doing so shouldn't cause a sharp temperature increase as the tiered heatsinks are thick and have large diagonal cutouts that enlarge their surface area.
Storage
An increase in M.2 availability is one of Z690's most welcome improvements. ASUS took full advantage of it with the ROG MAXIMUS Z690 HERO, but the TUF GAMING's four high-speed slots are also respectable. The top one sits above the GPU and has a well-padded heatsink. Two more towards the PCB's bottom share a long heatsink, while the last drive in the middle goes commando.
All four M.2 slots can achieve full PCIe 4.0 x4 speeds of 64Gbps. The differences come down to size, with pairs able to take on 110mm and 80mm drives, respectively. Convenient latches keep mounted drives in place without the need for tiny screws. One of the smaller slots is also compatible with SATA disks. Speaking of, you may attach four more legacy drives to the 6Gb SATA plugs on the right. Doing so won't cause conflicts with any installed M.2 drives.
Expansion slots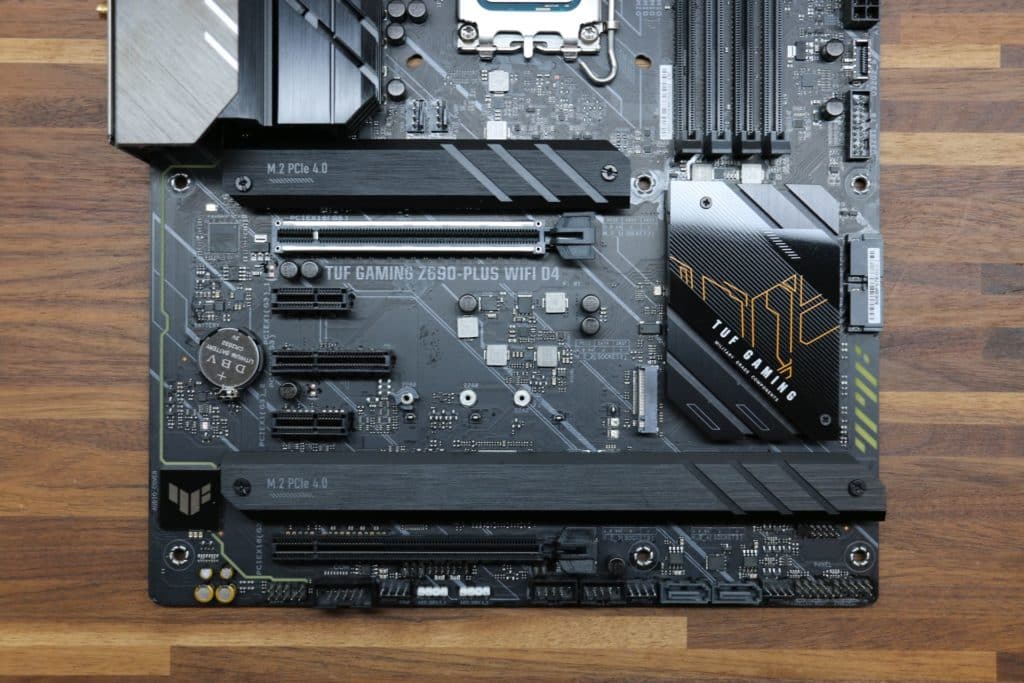 ASUS outfitted the Z690-PLUS WIFI D4 with a bevy of expansion slots, some more useful than others. The CPU-driven PCIe 5.0 x16 one is the star of the show. It has metal reinforcements that prevent GPU sag. Since modern GPUs barely tap into PCIe 4.0's potential, having such a slot is excellent for futureproofing.
The rest get their lanes from the Z690 chipset and aren't as exciting. They are all still on PCIe 3.0 and come in configurations of x16, x4, and x1. Four are plenty for capture cards, storage expansion options, or GPU riser cables if you want to show your card off better.
Memory & Internal Connections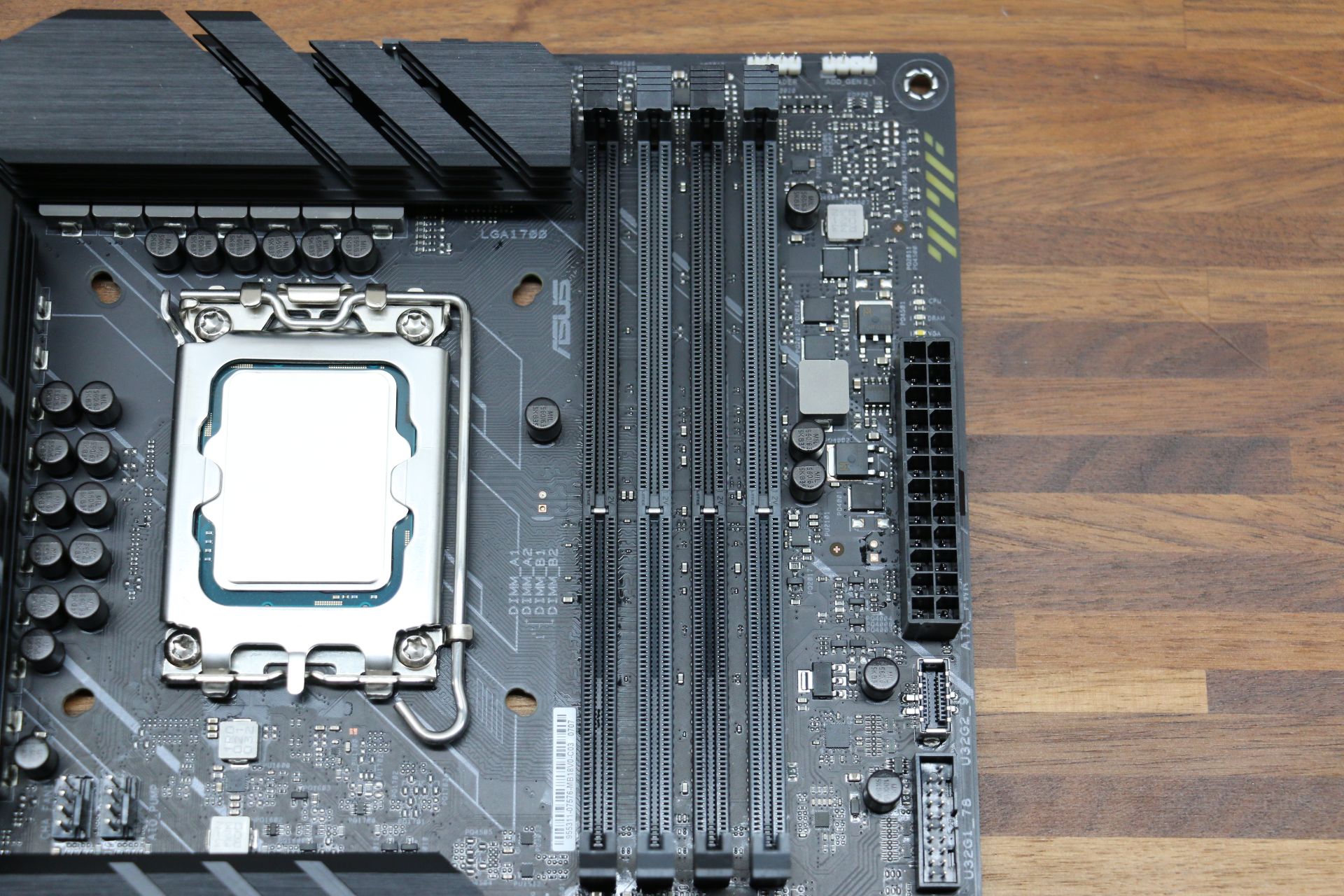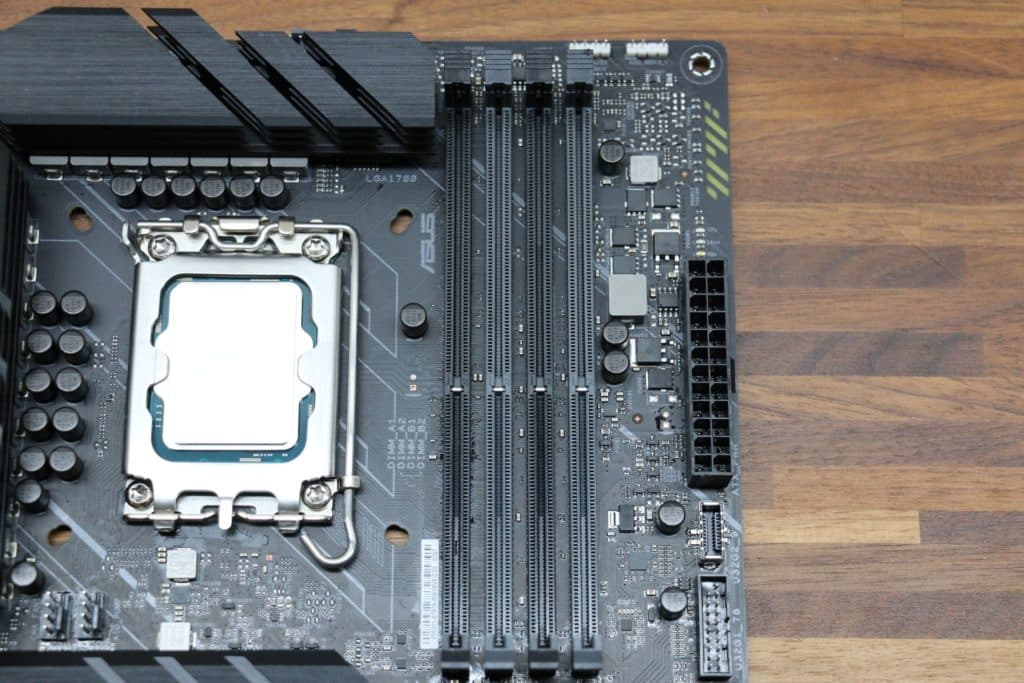 Four DIMM slots with double-sided locking to the right of the CPU accept 128GB of DDR4 RAM. ASUS was wise to stick with the seasoned memory standard for this board since early DDR5 is much more expensive without significantly impacting overall or gaming performance.
The maximum frequency for a single slot is a lofty 5333MHz. That's good news for more realistic buyers since it means you can use a full complement of 3600 or 4000MHz memory with no stability issues.
We've already mentioned the RGB headers and CPU power connectors elsewhere in the ASUS TUF Z690 review, but there's much more on offer. Starting with the obvious, there's a 24-pin ATX connector for main power next to the DIMM slots. There are seven 4-pin cooling headers in total. Along with mandatory and optional CPU fan headers, you get one for pumps and four for case fans. None of them are hybrid like on Gigabyte boards, so your custom water cooling options aren't as expansive.
Your case's I/O is covered by two USB headers – 10Gbps USB-C and standard USB 3.2 Gen 1 connecting to two ports. A pair of USB 2.0 headers connect to twice as many ports for a total of seven. Then there's the standard complement of headers for front panel audio, CMOS clearing, and the COM port. Lastly, a Thunderbolt header comes in handy if you want to expand your connection options with this versatile standard.
This is a convenient spot to mention the board's LED debugger. It consists of four LEDs for the CPU, RAM, GPU, and boot drive. While it's a far cry from the Q-LED double-digit displays you'll find on more expensive mobos, the debugger helps a lot when troubleshooting.
I/O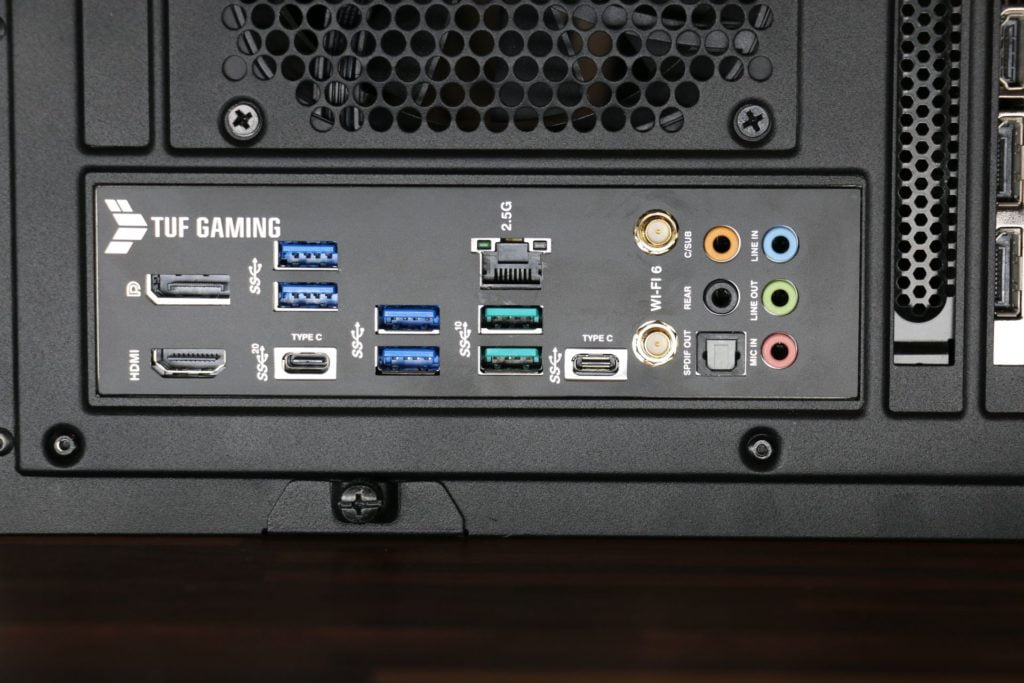 The I/O has a beautiful preinstalled backplate with a prominent TUF logo and easily legible white markings for each connection. Starting from the left, we have the DisplayPort 1.4 and HDMI 2.1 video-outs for iGPU users.
They're followed by an array of eight USB ports, two of which are USB-C reaching speeds of 10 and 20Gbps, respectively. The rest are split between four USB 3.2 Gen 2 and two Gen 1 plugs. While we commend the exclusive use of contemporary connections, two more Type-A ports would have been nice.
Networking and wireless connectivity are covered by a single 2.5G Ethernet jack and WiFi 6 antennas. The board also supports Bluetooth 5.2. Lastly, there's the 5+1 audio stack with optical S/PDIF out driven by a Surround Sound-capable codec.
BIOS
ASUS designed the BIOS to be beginner-friendly while offering plenty to tweak for more experienced users. Booting up for the first time presents you with EZ mode, a kind of dashboard that contains basic info like the firmware version, which CPU & RAM you're using, etc. Here you can monitor and adjust fan curves, designate the boot order, or enable your memory's XMP profile to boost its clock speed painlessly.
Advanced mode is much more comprehensive, so the presence of a favorites section for your most frequently used options is an excellent feature. You'll want to ensure you know what you're doing before diving in as the variety and depth of settings are formidable. Playing with power options, CPU & memory overclocking, or monitoring various voltages are just a taste of what's available.
User Experience
This Asus TUF Z690 review was the perfect excuse to put together a gaming rig! The motherboard had no trouble fitting inside our NZXT H150i despite the case's compact size. All the headers and slots were within easy reach, so putting everything together did not feel like a chore.
CCL Computers graciously supplied our Intel Core i7 12700K, so a big thank you for making the build possible is in order. The new SIREN GD240 from TEAMGROUP keeps the CPU cool, while 3600MHz Xtreem ARGB and Samsung's 970 EVO cover memory & storage. The GPU is our trusty GTX 1080 Ti. Corsair's HX1000i supplies plenty of power to everything.
We experienced no problems of any kind during the build and setup process. XMP worked instantly and booting up into the OS once that was installed went without a hitch. We didn't try overclocking the CPU, but the combination of robust VRM and a capable liquid cooler kept its surroundings temperate.
Audio is the only aspect we found lacking. It's OK for everyday work & play, but owners of motherboards with high-end ALC codecs may want to get an external sound card if they're keen on fidelity. The microphone jack also generates audible noise if you apply too much boost, so be sure to disable it or stick to +10dB.
All in all, though, the board performs as you'd expect from a model in the sub-$300 range these days.
Conclusion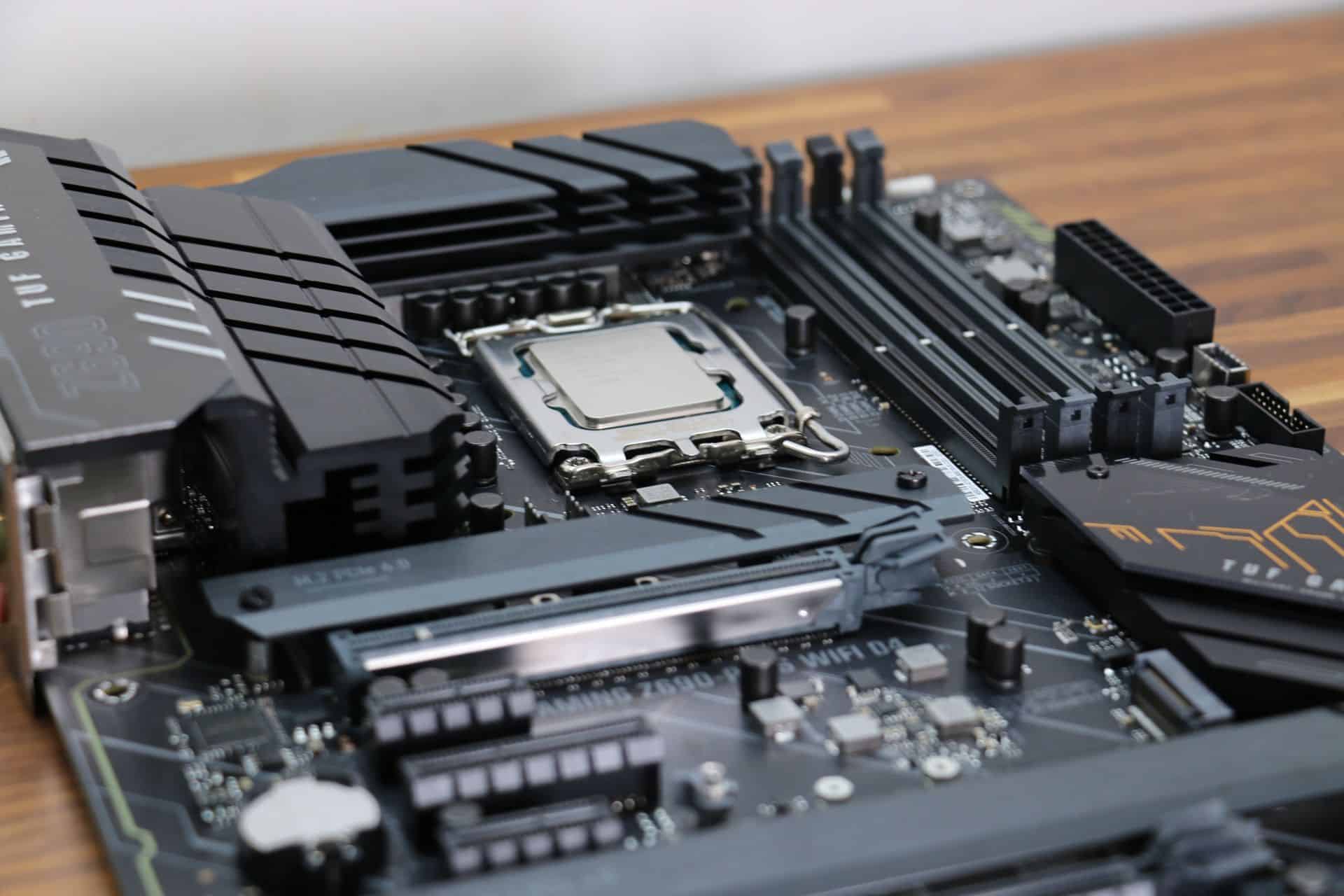 The TUF Gaming Z690-Plus WIFI D4 is a well-rounded Alder Lake motherboard that can contend with the generation's top processors and beyond. The audio is hit & miss, and Z690's overall price hike might make some buyers reach for the TUF Gaming's excellent B660 version instead.
Its more straightforward appearance, ample storage options, and a contemporary I/O make the board appealing to a broader audience than its predecessors. It's a compelling buy if you want a fully-realized Z690 experience without wanting to pay for more premium alternatives.