Whatever your intentions are in the Goblin Camp in Baldur's Gate 3, you'll stumble upon a familiar face bearing the consequences of their actions. That's the goofy Volo you first meet in the Druid's Grove, captured by the Goblins. That said, it's now up to players to decide whether they should rescue Volo from there or not.
To rescue Volo the Bard, you can simply convince his Goblin captor to release him by passing a skill check. Alternatively, you can kill the goblin to nab the cell key or pay a small fee to bail him out.
In this guide, we'll explain exactly how you can rescue Volo in the Goblin Camp in BG3. In addition, once you save him, he makes a tempting effort that could cure your Tadpole. While the offer is hard to turn down, we'll also look into that as it sounds too good to be true. Minor spoilers ahead, so read at your own discretion!
Rescuing Volo Walkthrough
After crafting an utterly bogus story about the Goblin raid outside the Druid's Grove, Volo hurriedly runs off to the Goblin Camp to learn all he can about their beliefs. As you would expect, they don't take kindly to outsiders sleuthing their grounds, and they'll turn the Bard into their plaything the next time you find him.
Meet Volo in the ritual area of the Druid's Grove at coordinates 260,512.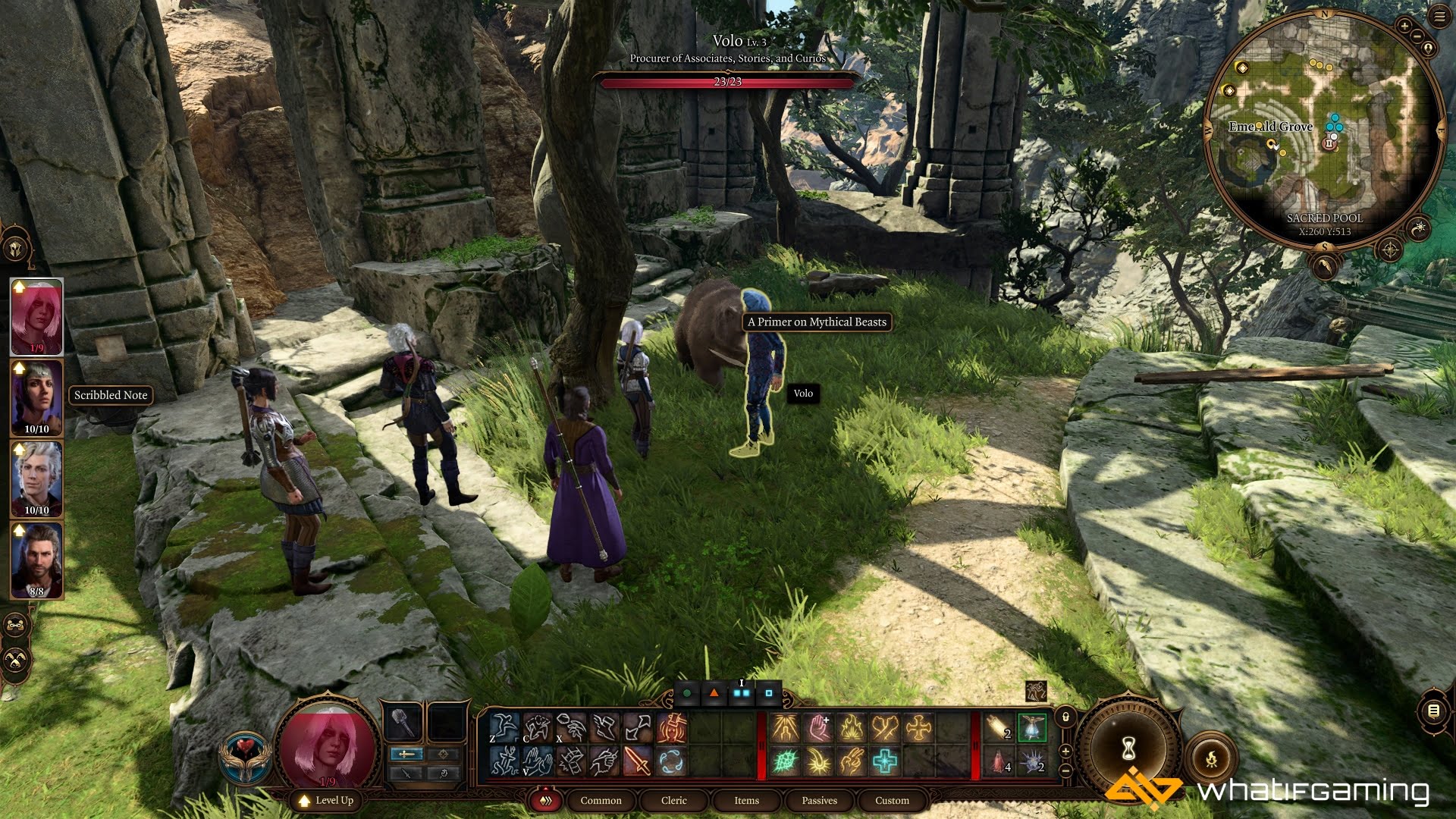 Let him interview you, and he'll head off to the Goblin Camp despite our fair warnings.
To reach the Goblin Camp without any hurdles, consider escorting the Goblin Sazza, even if you're a good character.
Once you get there, head past the bridge to reach the courtyard to find Volo, roughly at -107,433.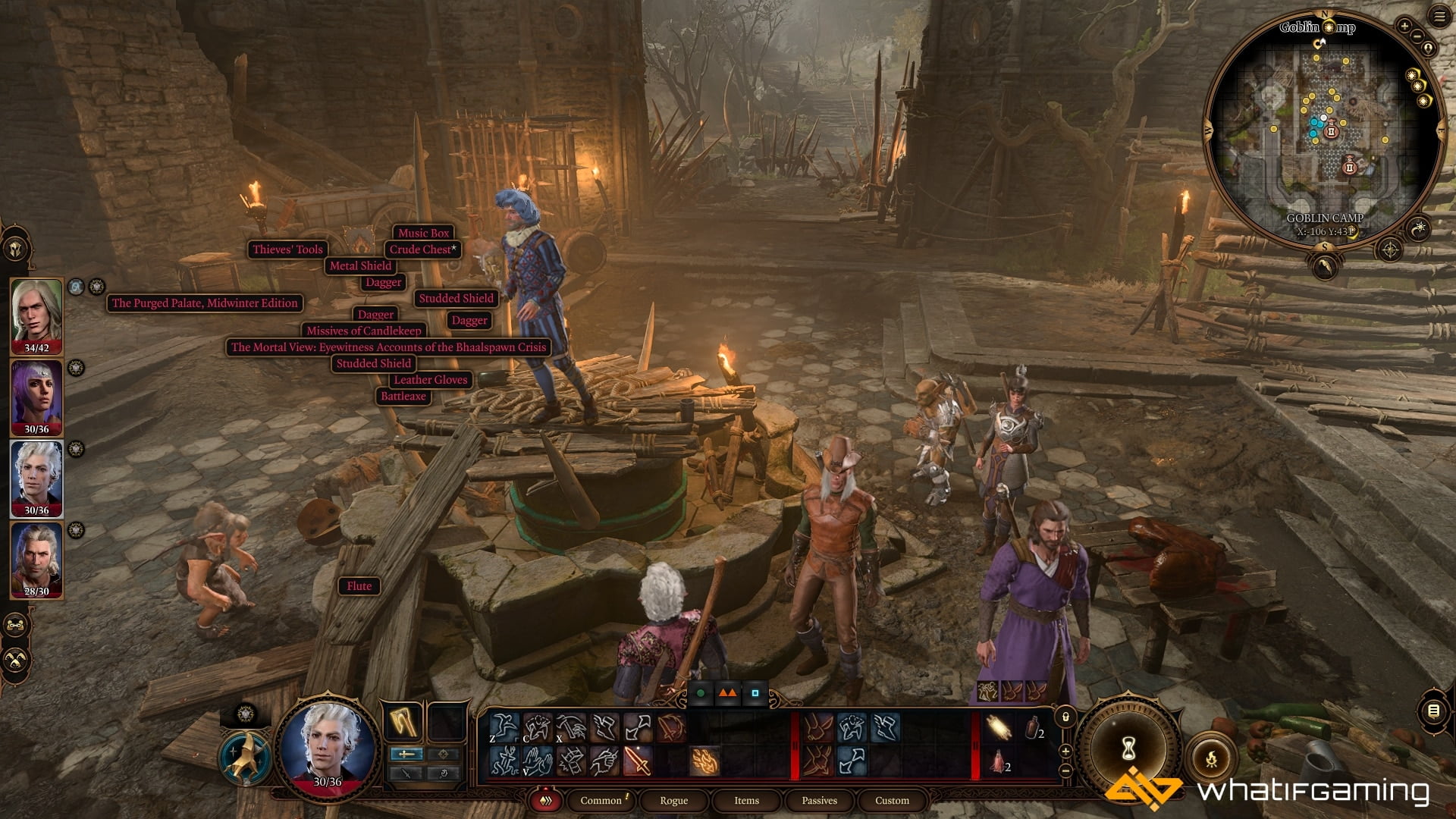 Speak to Volo and annoy his captor Gribbo to have them retreat to the Shattered Sanctum.
Follow them inside through the Heavy Oak Doors, and stick to the right wall to enter a doorway at 324,-7.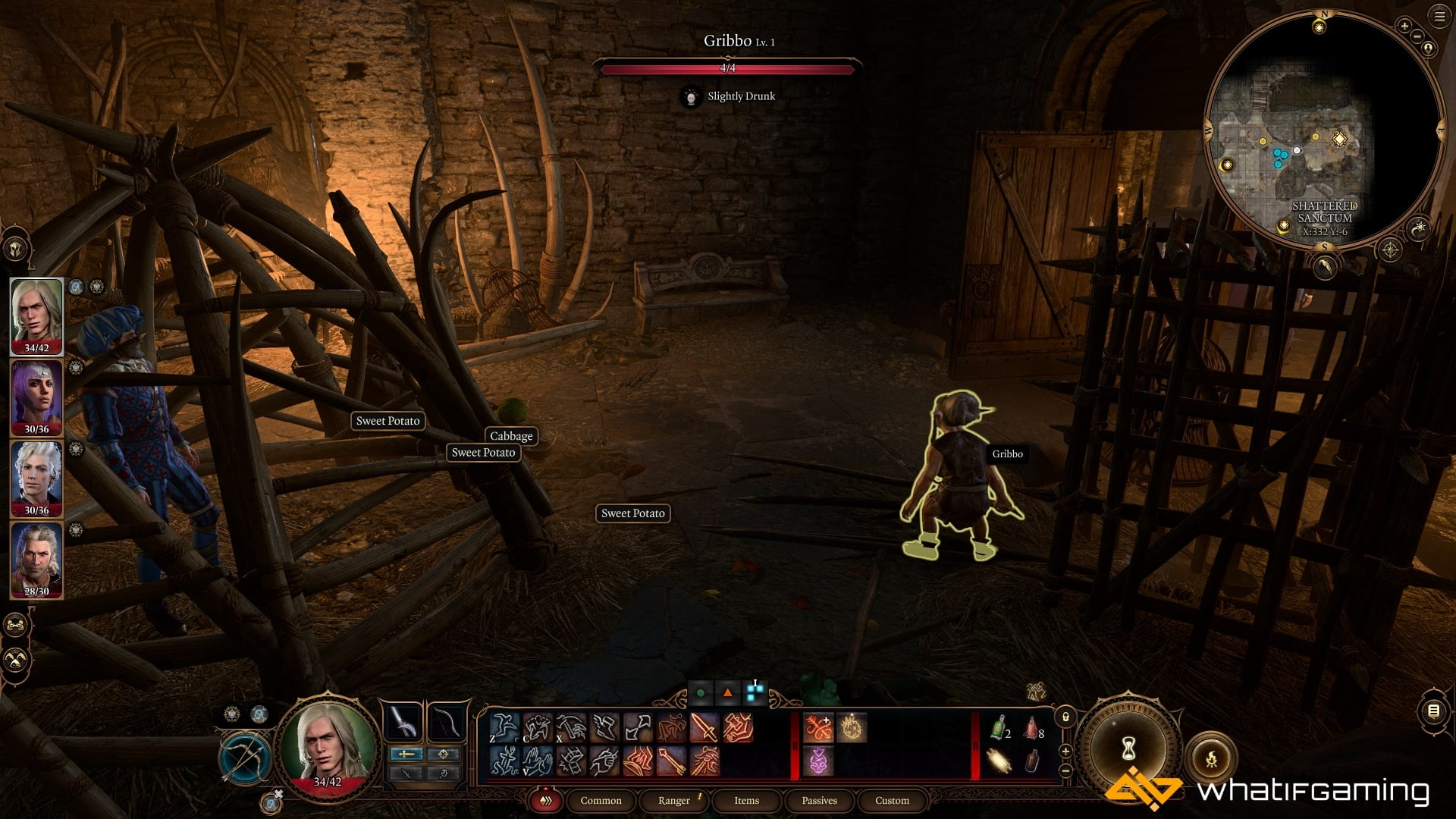 Find Volo caged inside and have a word with Gribbo.
Quicksave here and skim through the dialogue, passing any one of the skill checks (Dice Roll: 10) to obtain the Cage Key.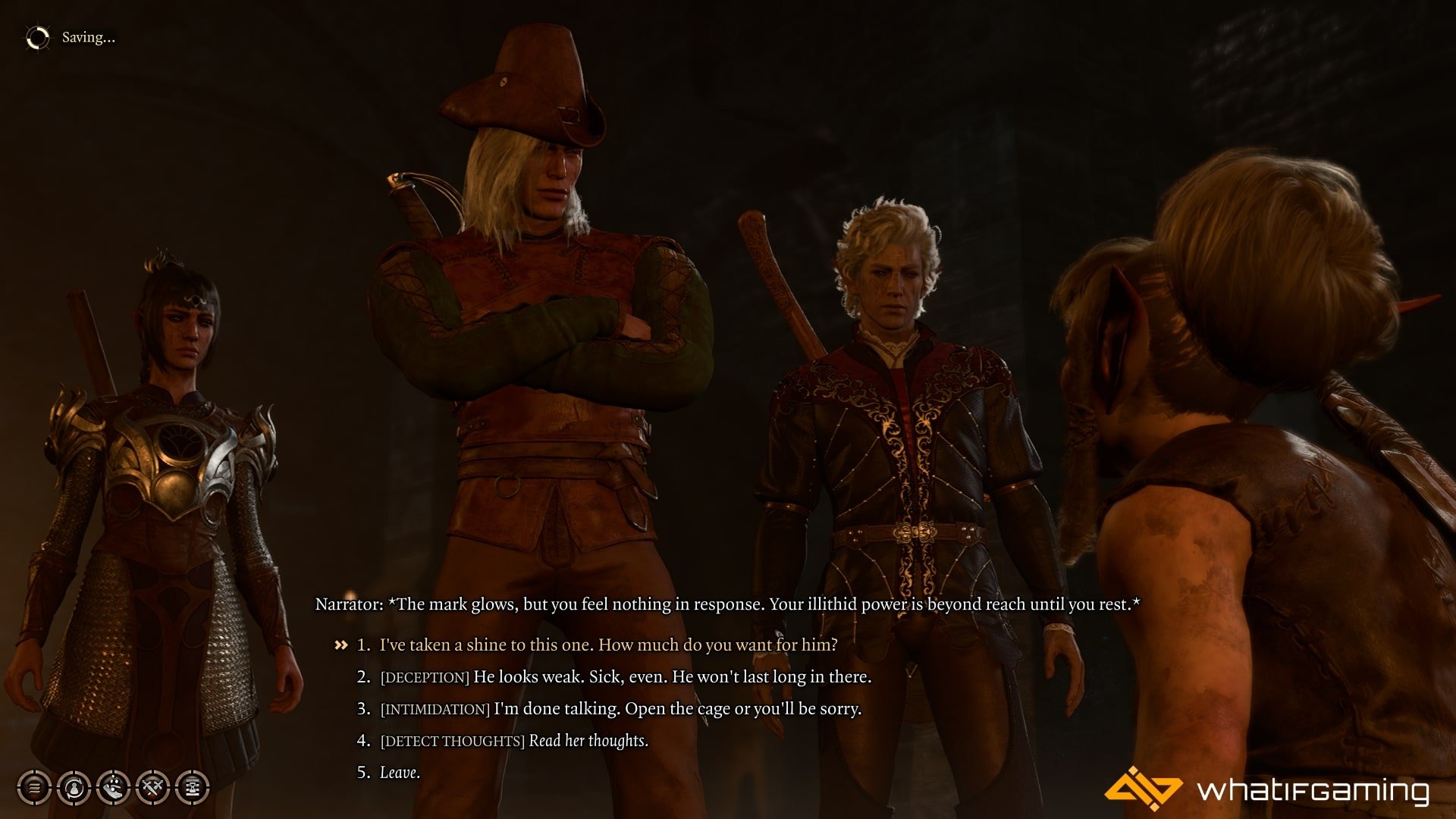 Optional: You can also kill or pickpocket Gribbo to obtain the key or pay a small sum for Volo's release.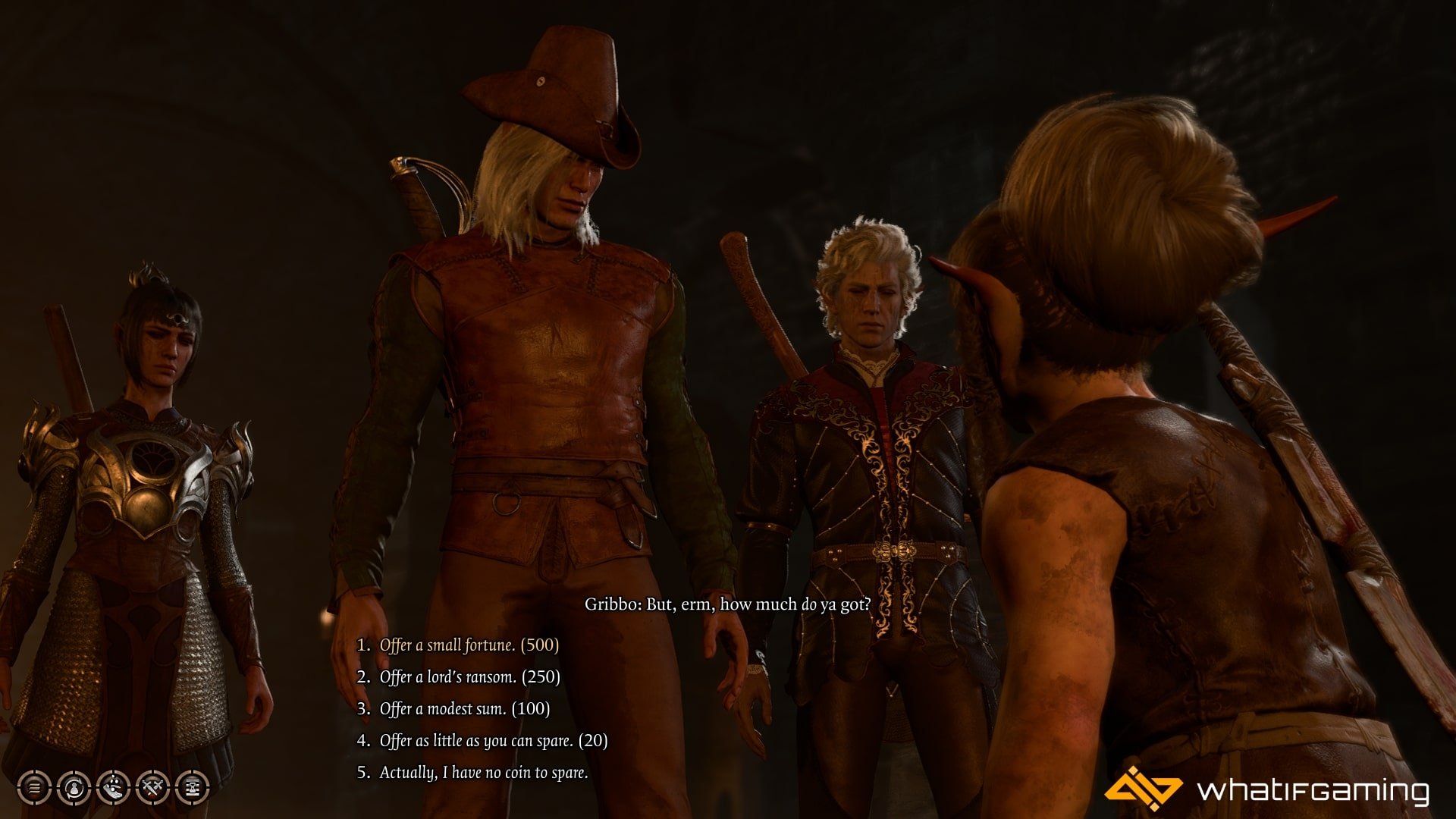 Either way, you'll free Volo and direct him to your camp. The NPC will swig at his Invisibility Potion to slip out safe and sound.
After a few long rests, you'll find Volo at your camp, and he'll reward you with the Blazer of Benevolence as thanks for saving him.
After saving Volo from the Goblin Camp, the Bard remains at camp, turning his interest to the parasite wriggling in your head, promising to know a cure. Let him contemplate for a while, and he'll be ready to perform an eye operation on you. He claims to have done it a thousand times over… in his dreams.
Should You Let Volo Perform the Eye Surgery?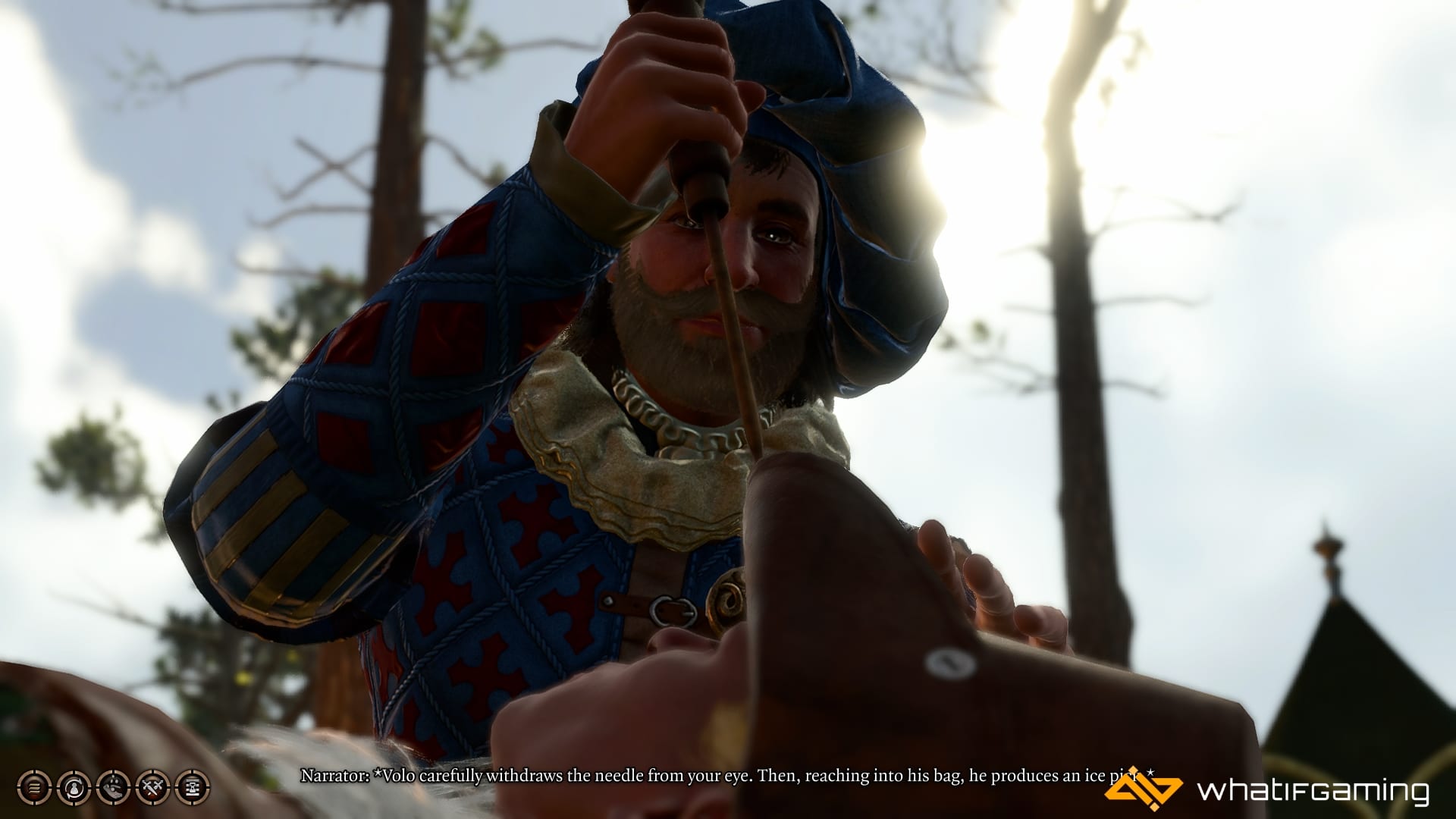 In short, you should let Volo perform the surgery on your eye. There's only one upside to it, but it heavily outweighs the many downsides.
Without giving much here, the quack quickly takes out an ice pick to dig deeper into your eye socket. After enduring the procedure, you're left with permanent cosmetic damage to your eye. And to no avail, the Tadpole's is still healthy and squirming in your head.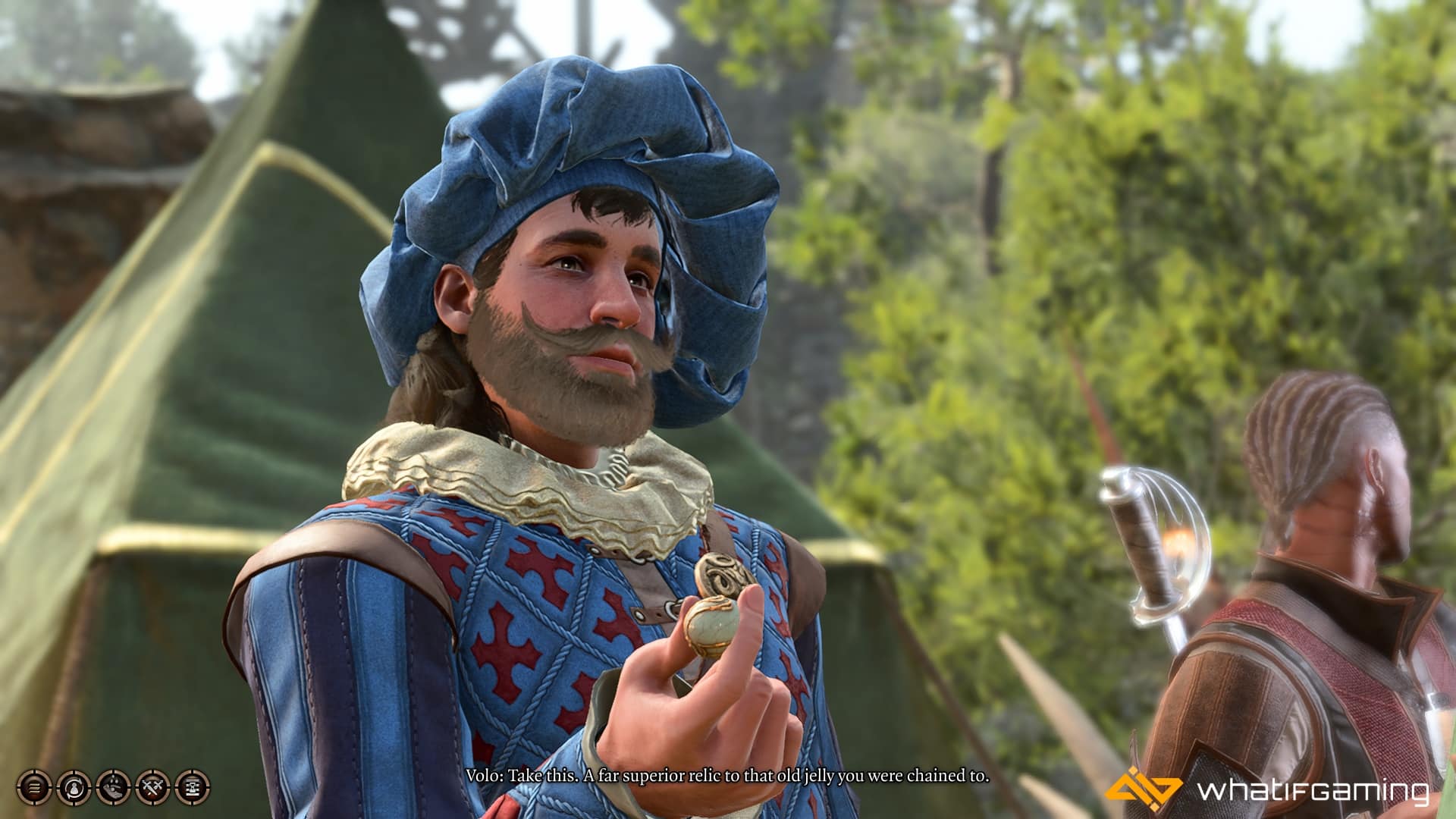 However, Volo will compensate you with Volo's Ersatz Eye before leaving camp. The trinket will not only restore your vision but will also let you see invisible enemies. However, following are the downsides if you bear with the procedure:
Your entire party will disapprove of the act, but there are many other ways to remain in their good graces.
You won't be able to give your other functioning eye to Aunty Ethel, but we assume you'll likely fight the Hag. You gain an advantage against her with Volo's eye, as she can turn invisible during her quest.
Volo leaves camp but can be found later on.
The Tadpole still remains in your head.
Now that we've cleared this out, it's up to players to decide whether to let Volo perform or not. But as seen, the artificial eye is far better as the downsides can later be averted!
Final Thoughts
That covers our detailed Baldur's Gate 3 guide on how to rescue Volo in the Goblin Camp. We hope this guide was helpful and you were able to save the NPC with ease. You might also want to learn how to level up fast in BG3 if you're looking to take on the Goblin Camp.