Battlefield 2042 is the latest entry in the first-person shooter franchise from DICE and Electronic Arts. It is slated to come out next month, but it seems that probably won't be the case. Multiple insiders, and leakers, seem to have confirmed a Battlefield 2042 delay, which could indicate the release pushed to late 2021, or early 2022. Here's everything we know about it.
Battlefield 2042 Delay
First, Jeff Grubb from VentureBeat claimed that we're back in Delay season and that some game will be delayed this week. Here is the tweet.
This led to a lot of speculation, as to what it could be. Some guessed Far Cry 6, Elden Ring, or even Halo Infinite. However, it seems that the real answer is actually Battlefield 2042. A screenshot has been making rounds from Jeff Grubb's server, where he claims that the delayed title is indeed Battlefield 2042, but asks his members to "Keep it Quiet".

Okami Games is a credible leaker, who confirmed that the screenshot is real.
Another prominent industry leaker, Shpeshal_Nick also chimed in and said that he has heard the same news regarding Battlefield 2042.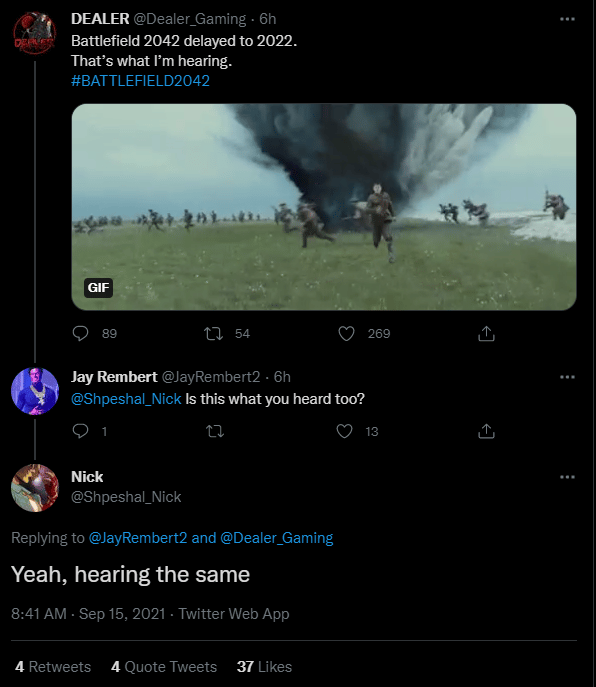 Now, while multiple insiders are claiming this to be true, it's still not confirmed. Neither EA, nor DICE have issued any statement regarding this, and until they officially announce it, we can't be sure. Though based on the credibility of the leakers, it's still safe to assume that we'll hear something very soon.
DICE had also announced a beta for September, and we still haven't gotten any update on that. It does seem odd that a game that is only a month away from the release isn't exactly getting the marketing push you'd expect either. This isn't a small game either, but a new entry in the Battlefield series, after all.
What do you think of all these leaks and claims? Do you think we'll see a Battlefield 2042 delay? Share your thoughts in the comments below.