Battlefield 2042 is a game that is constantly talked about but for all the wrong reasons. A game that had massive hype and expectations around it is now flatlining. The performance of the game is so abysmal that it has disappeared from the Steam Stats page, to see the current players, you now have to go to Steam Charts.
Battlefield 2042 – Too late to save?
Battlefield 2042 is a game that we have talked about repeatedly. It is a game that has time and again come in news for all the wrong reasons thus far.
The game has had such a massive fall this past week, that it doesn't even show up on Steam Stats at the time of writing this article.
You can see that the bar for falling off the steam stats page is very low. Your game has to have less than 7000 active players.
For a better picture, let's go to Steam charts and see the games progress over a week. 23rd January 2022, to 29th January 2022.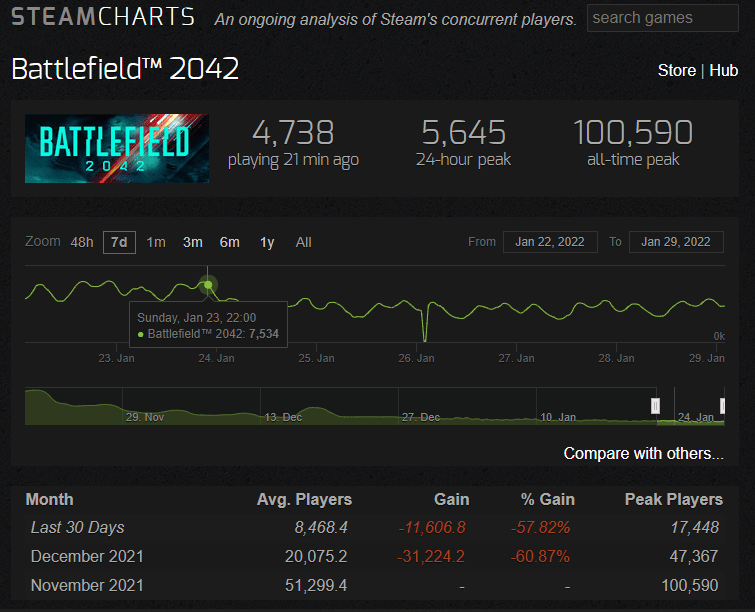 You can see that over this week, the highest the game hit was on the 23rd, at 7,534 players, and the last reported numbers for the 29th of January were below 5000 at the time of writing.
Yes, if you do a monthly overview, the image is a bit better, but you can see a quick decline in the population too.
The peak number of players for the game was 16,630 on January 2nd. After that, the decline is steady and apparent.
EA still has not announced any major content plans for the game, and the last rumor we heard was that the plan for it will be in March 2022.
As a multiplayer game, these numbers are not looking good for the publisher or the developer, and at this rate, both of them will have to create lightning in a bottle if they hope to bring the player base back to life.