The humble power supply is the cornerstone of a balanced PC more than any other component. Take care to get one that's efficient, reliable, and safe, or else those couple of bucks you thought you'd save could cost you much more down the line. In our be quiet! Pure Power 11 FM 1000W review, we take a closer look at an affordable new unit from a manufacturer that needs little introduction. Does it live up to state-of-the-art gaming PC standards? Read on to find out!
Our Sample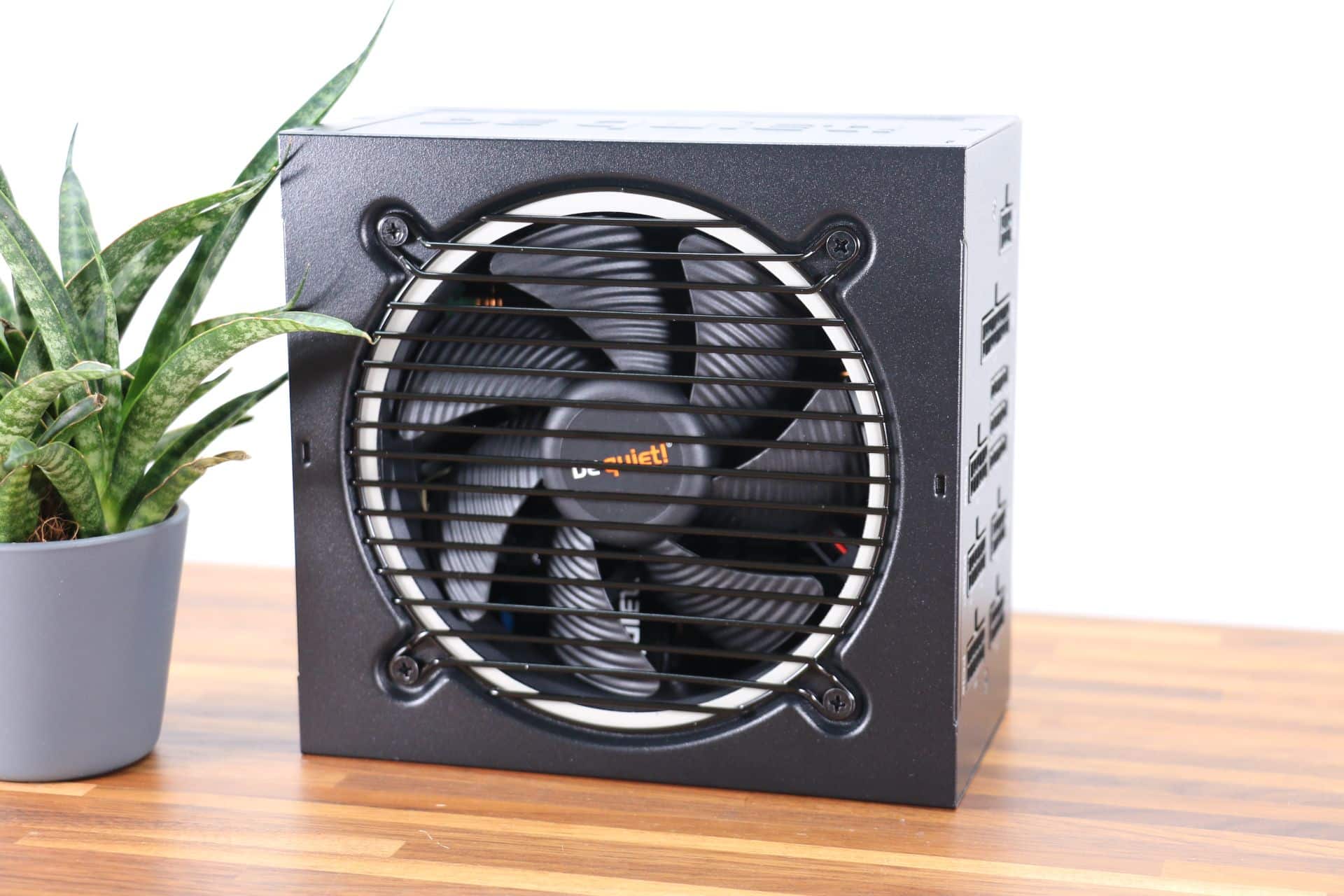 Pure Power 11 is a family of diverse PSUs adequate for powering everything from run-of-the-mill office PCs to gaming rigs sporting the RTX 3090. It's split into three lines, with FM or fully modular as the best. The FM 1000W reviewed here is the most potent PSU on offer, but you can also get models ranging from 550W to 850W in 100W increments.
All Pure Power 11 FM power supplies hold the 80+ Gold certificate and come with a decent 5-year warranty. Here's some more info about ours:
| | |
| --- | --- |
| Dimensions | 6.3" x 5.9" x 3.4" |
| Weight | 4.2lb |
| Modular | Yes |
| Max 12v power | 1000W |
| Max 3.3V + 5V power | 120W |
| Certification | 80+ Gold |
| Fan size | 120mm |
| Fan rotation speed | 2,000RPM |
| Max operating temperature | 40°C |
| Protection | OCP, OVP, UVP, SCP, OTP, OPP. SIP |
| Warranty | Five years |
Packaging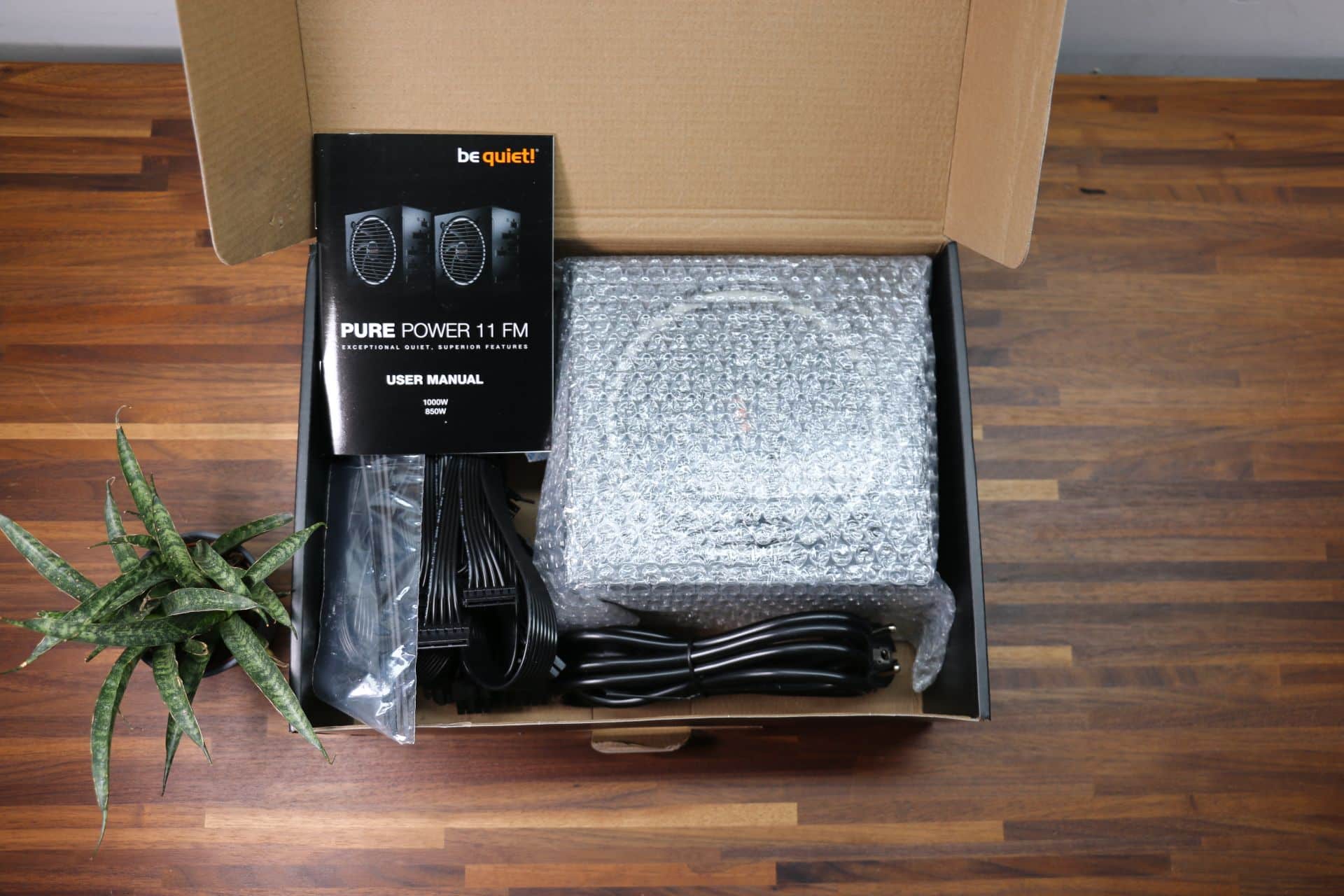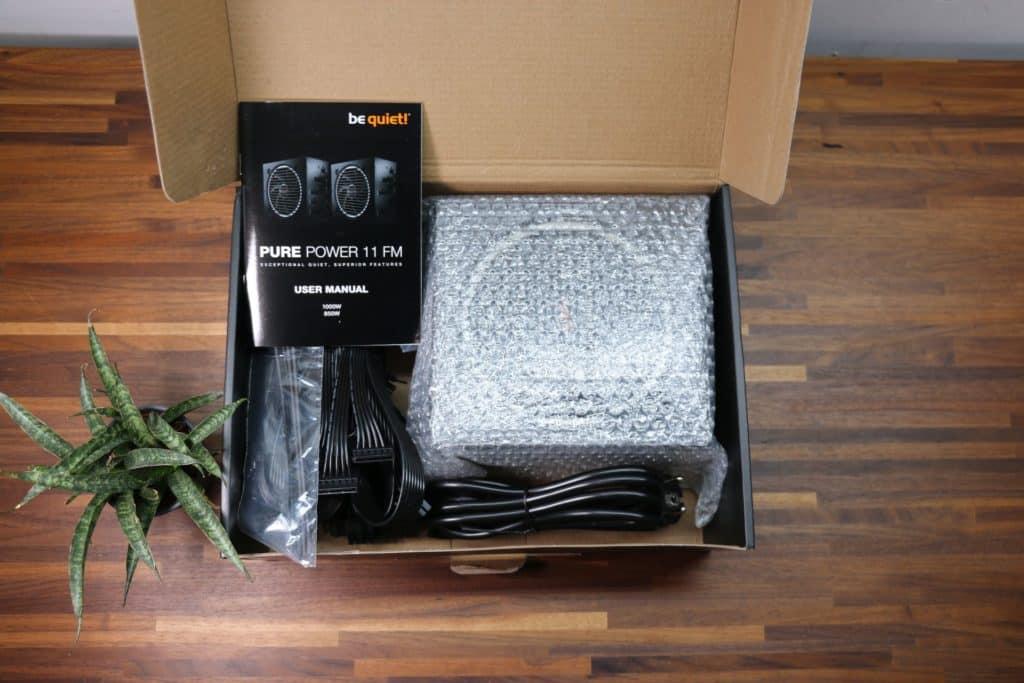 If you've bought cases or coolers from be quiet! before, you'll instantly recognize the classy black box. A glamour shot of the PSU dominates the front, with nothing but its name, certificate, and wattage to distract you. The back contains some info on rail power as well as a QR code with a link that lets you find out more about the specs. An overview of the supplied cables would have been nice, but it's not something to dwell on.
The contents are neatly organized. The Pure Power 11 FM takes up the right side and is encased in bubble wrap. You'll find a basic multi-language manual on top of it and a stack of all-black cables to the side.
Appearance & Cables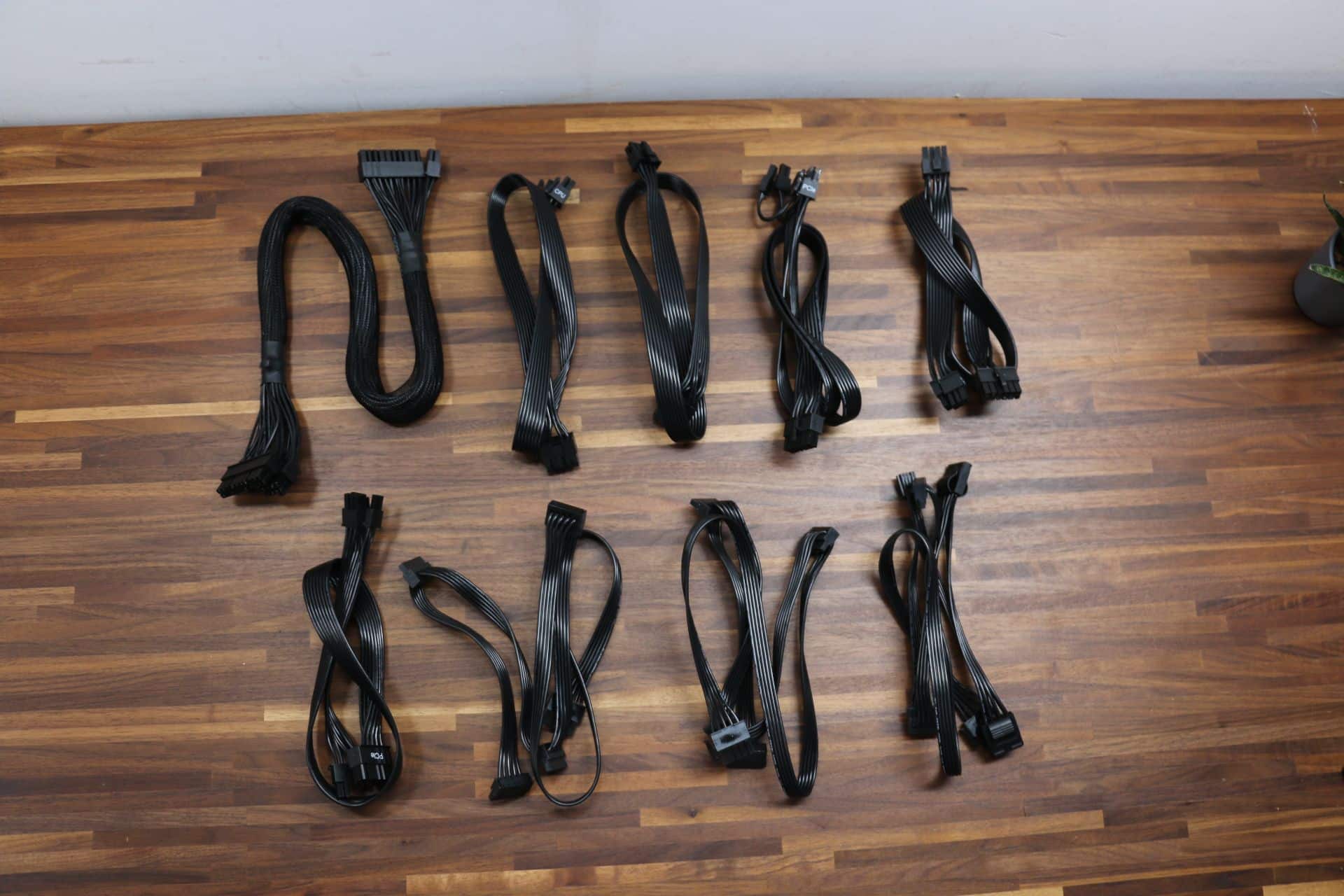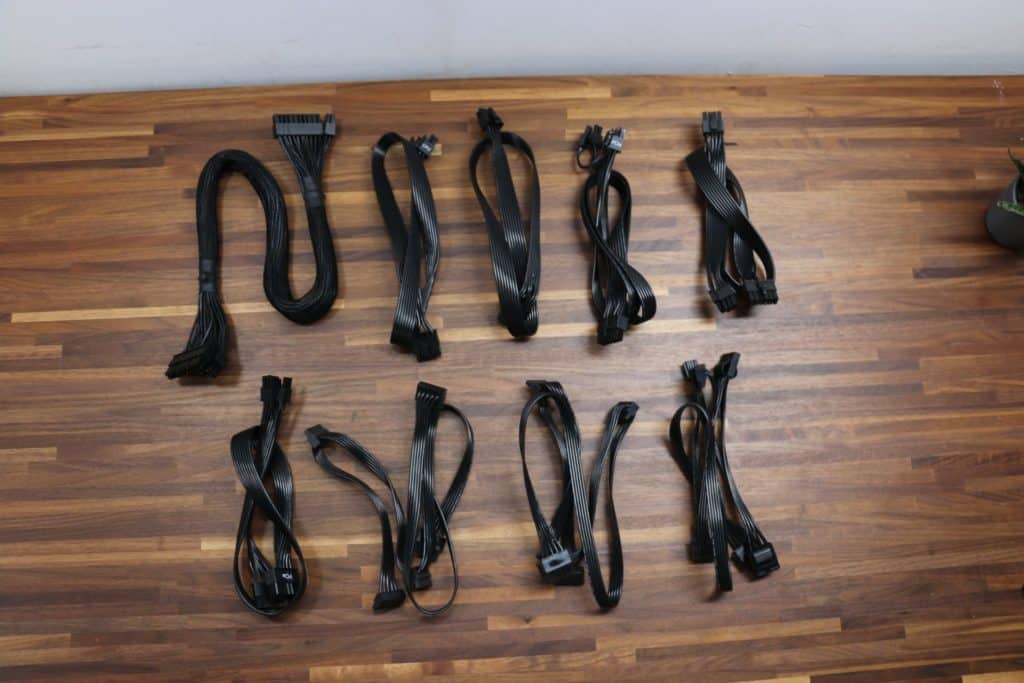 The Pure Power 11 FM is a stealthy and comparatively light PSU with minimal frills. It's fully modular, with the side you plug cables in being fully labeled and organized well. Assuming the cable side faces inside your PC, the back is home to the main power plug and an on/off switch. The sides contain rail information and an embossed company logo. The bottom holds a large white-rimmed grille that protects the fan.
Even though they're entirely black, clear labeling on every cable means you shouldn't have trouble connecting them correctly. Only the ATX cable for motherboard power has a thick cylindrical shape, while the rest are flat for a more appealing look.
You also get two cables for EPS power for your CPU. One of them is 8-pin, while the other splits into two connectors with four pins each. Three PCIe cables are there for graphics cards, and three more let you hook up to ten SATA drives. One of the SATA cables also has two Molex and even an FDD connector for floppy disks. It's baffling to include a floppy connection in 2022, but we're sure someone somewhere will appreciate it.
The power supply is 6.3 inches or 16cm long, so it should comfortably fit all but the smallest cases. Most of the cables are 50 cm long. Spacing on the SATA cables is good, with 150mm separating each connection. The majority of users won't have a problem with this, but you might come up short if you mount the PSU in the bottom of a large case and can't reach the 8-pin EPS plug.
Fan & Noise
The company's experience developing various cooling solutions pays dividends in the fan's design. It's a 120mm rifle bearing model from the SilentWings line, sporting the company's signature wavy blade look. There's no fan stop, so expect some activity regardless of power draw. Conversely, the fan can ramp up to 2,000RPM but won't need to unless you're trying to run two 3090s in SLI.
The fan lives up to its manufacturer's name through much of its curve. It won't breach 20dB until usage reaches 600W, and it only climbs 10dB higher at 800W. Max usage causes a ruckus at around 40dB, but you'd want a more powerful PSU if you're constantly hovering at that point anyway.
User Experience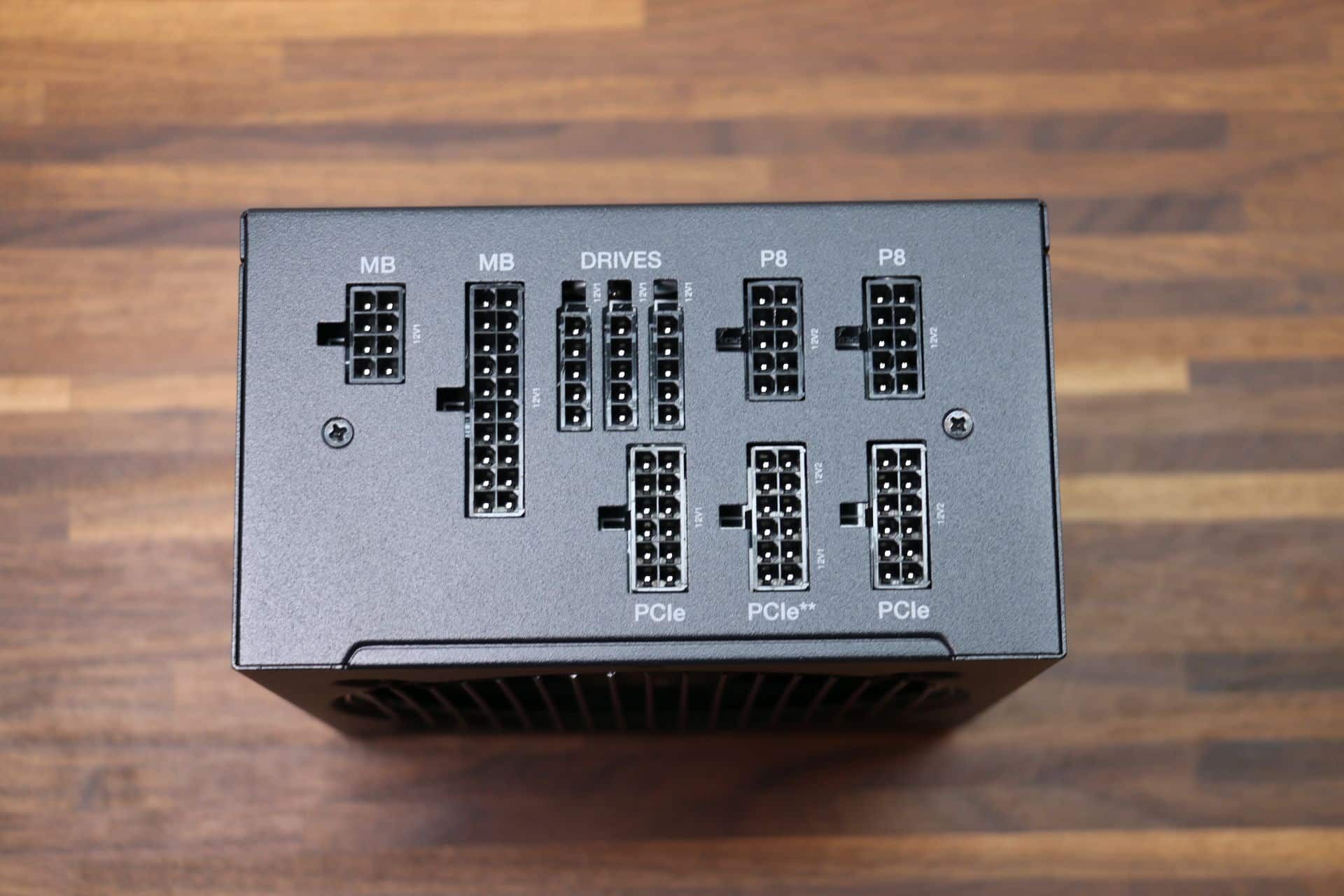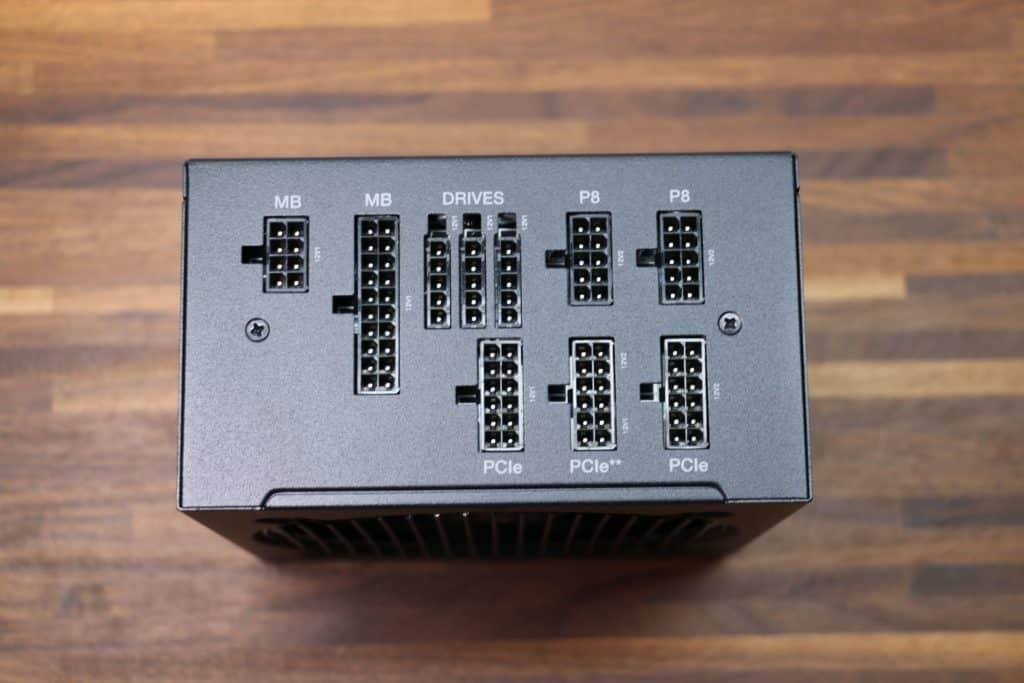 It's time for our be quiet! Pure Power 11 FM 1000W review to shed some light on several key traits that will most impact your purchasing decision. We've split this part into smaller chunks to focus on each aspect better.
Efficiency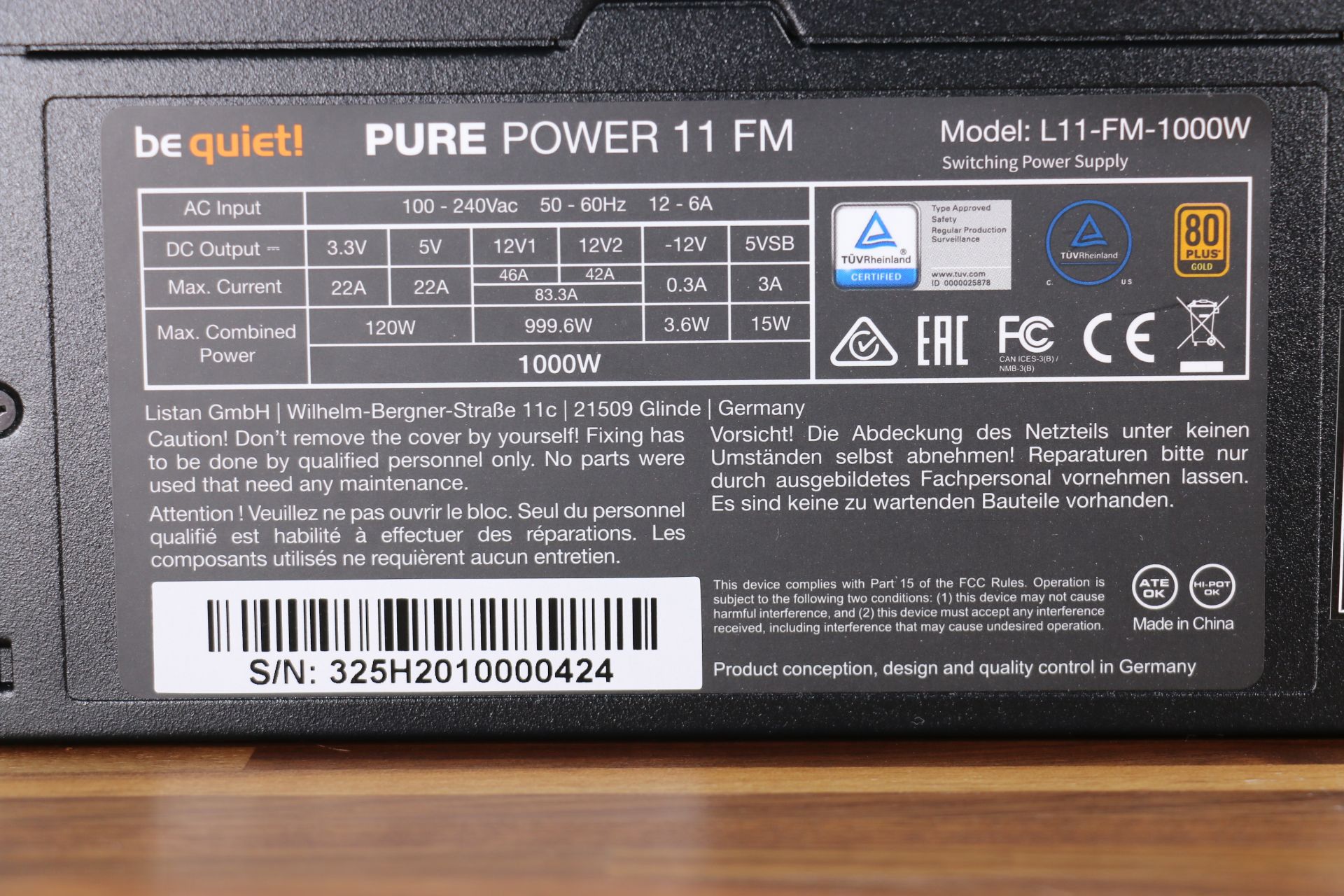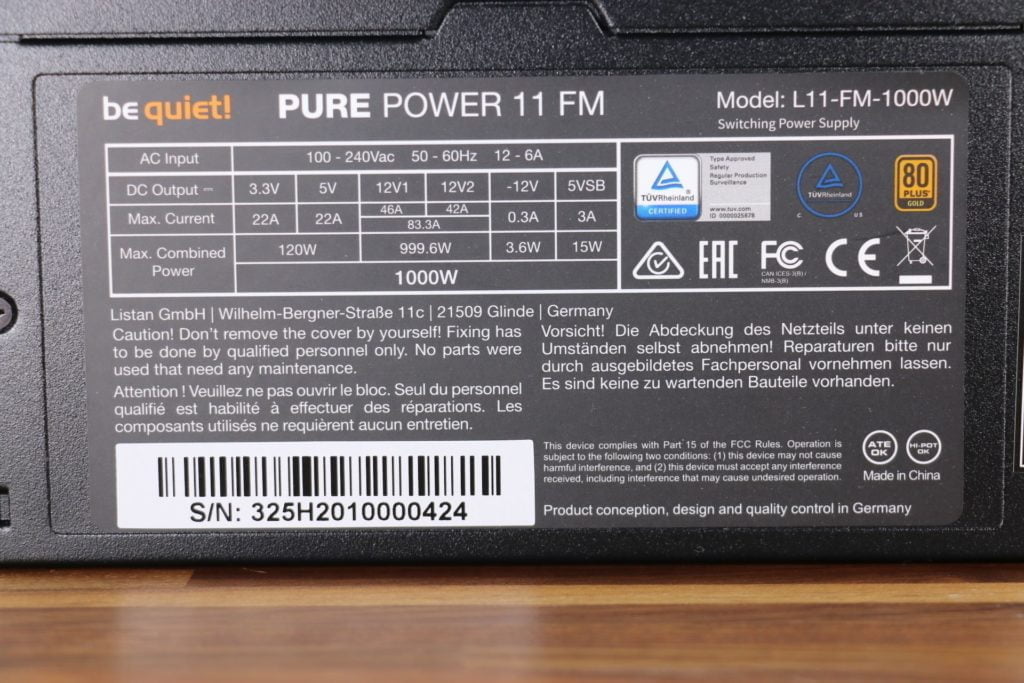 A PSU's efficiency affects long-term savings and stability. The Pure Power 11 FM 1000W is a good model in this regard, but some areas could be improved.
When idle, the power consumption drops to around 0.1W per hour, which is in line with most models. A balanced system shouldn't consume much more than 50% of what a PSU can put out. That's also the scenario where the power supply should be most efficient. It needs to achieve a 90% efficiency rating to qualify for 80+ Gold rank, which the Pure Power 11 FM 1000W exceeds by more than 1%. It holds its own when putting out lower wattage as well.
Ripple & Load regulation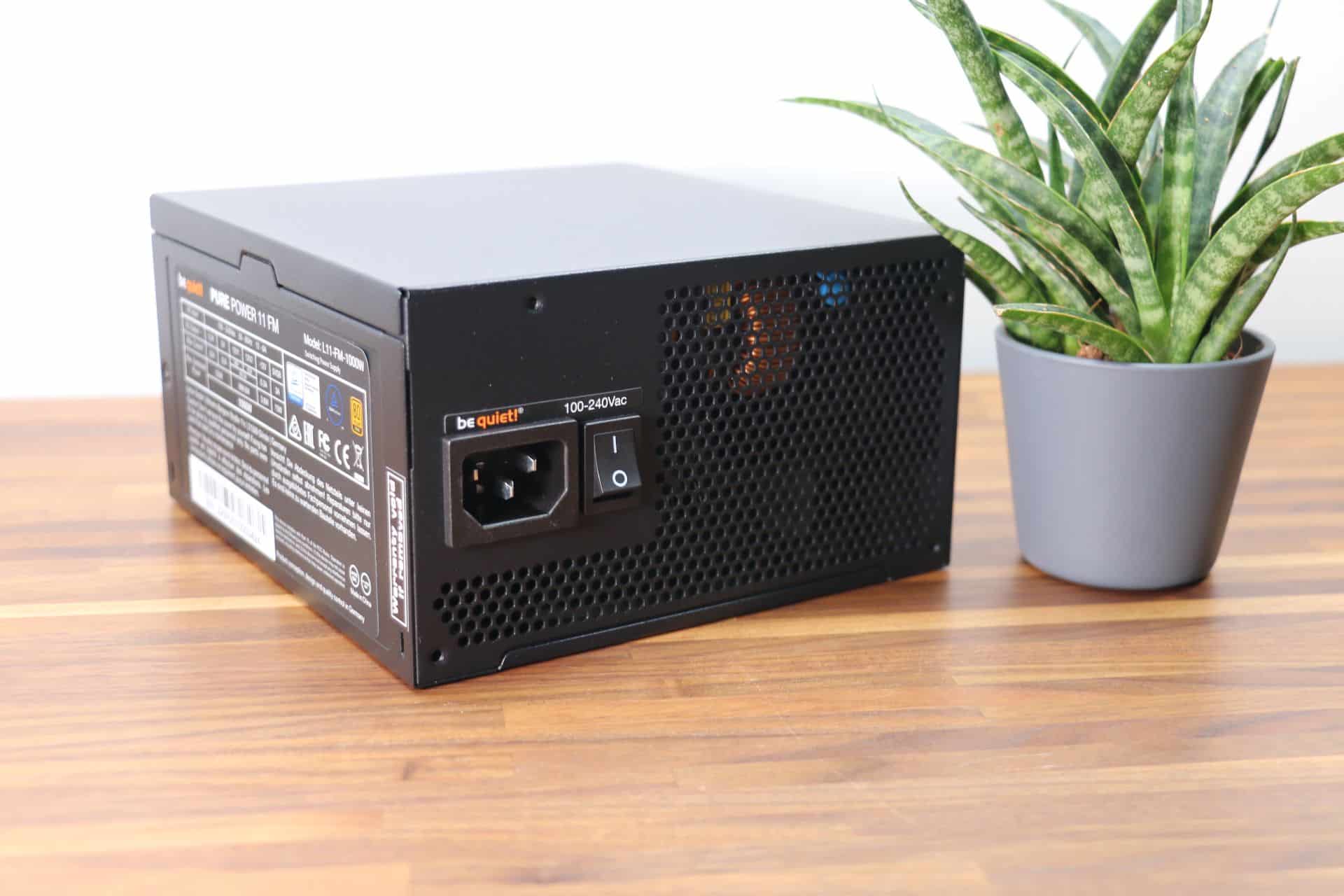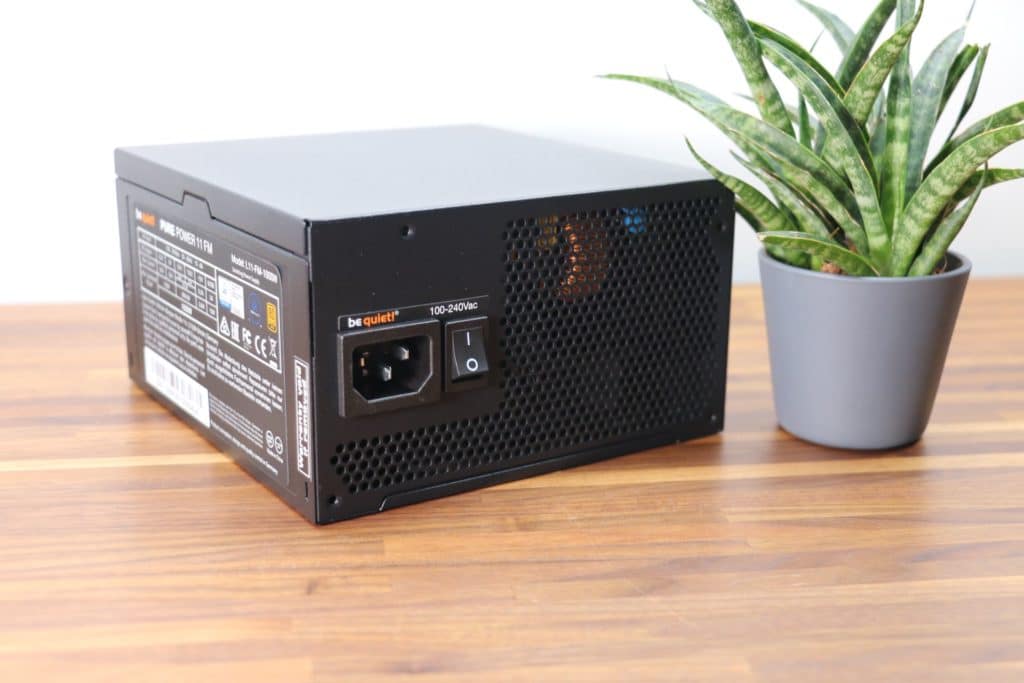 A PSU's rails are subject to a degree of random noise and occasional power fluctuations. These affect how hot the transistors inside the power supply get and, in turn, their longevity. All of the Pure Power 11 FM 1000W's rails stay well within fluctuation limits, with the 3.3V rail performing the best.
A rail's voltage also fluctuates with varying wattage. Safety standards state that 5% more or less is the maximum allowed fluctuation, with PSUs having to reach far tighter values to pass muster. The 5V and 3.3V rails on this one show a change of less than 1%. Voltage regulation on both 12V rails isn't as robust. While getting more than a 1% difference doesn't put any of your components at risk, it's still less efficient than on many competitors.
Leakage Protection & Hold-up Timing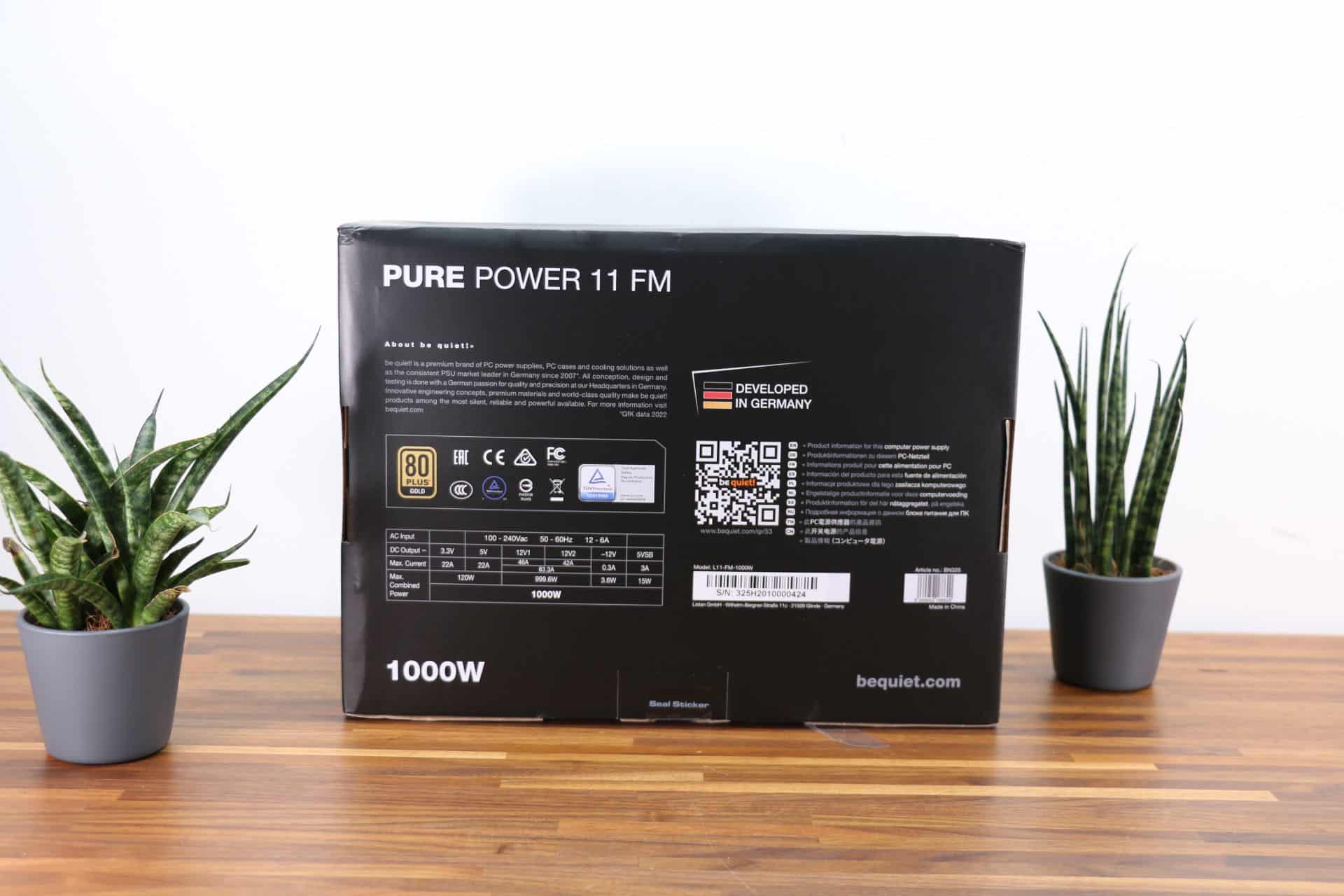 Every power supply leaks a minuscule amount of current during operation. The Pure Power 11 FM 1000W's protection is excellent since it emits less than a third of the current allowed by modern safety standards.
Dealing with power fluctuations from the power grid side is another mark of a good PSU. The Pure Power 11 FM 1000W can hold out close to 20 milliseconds fur such disturbances to correct themselves. It can also provide a quick surge of energy for speedy system wake times.
Conclusion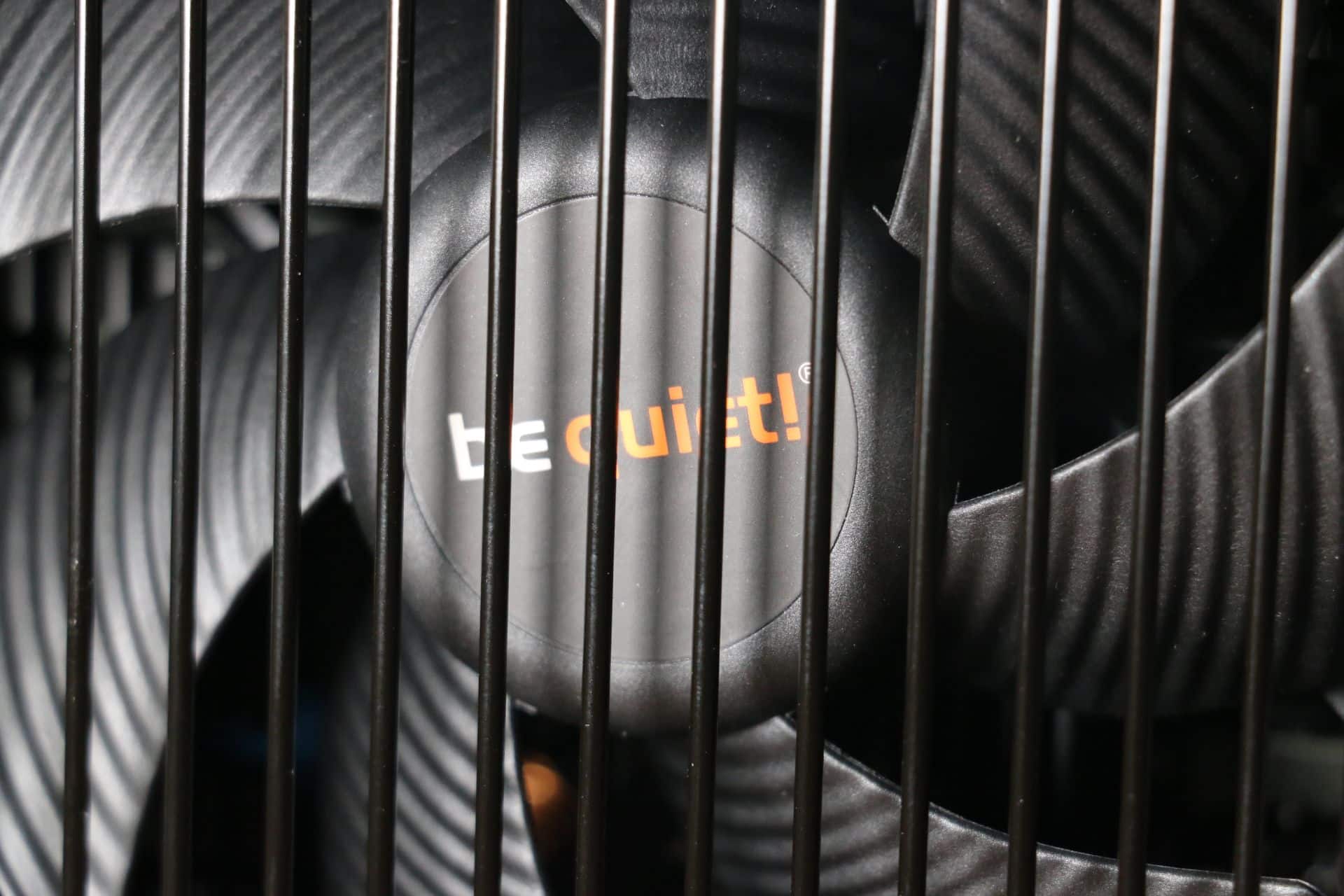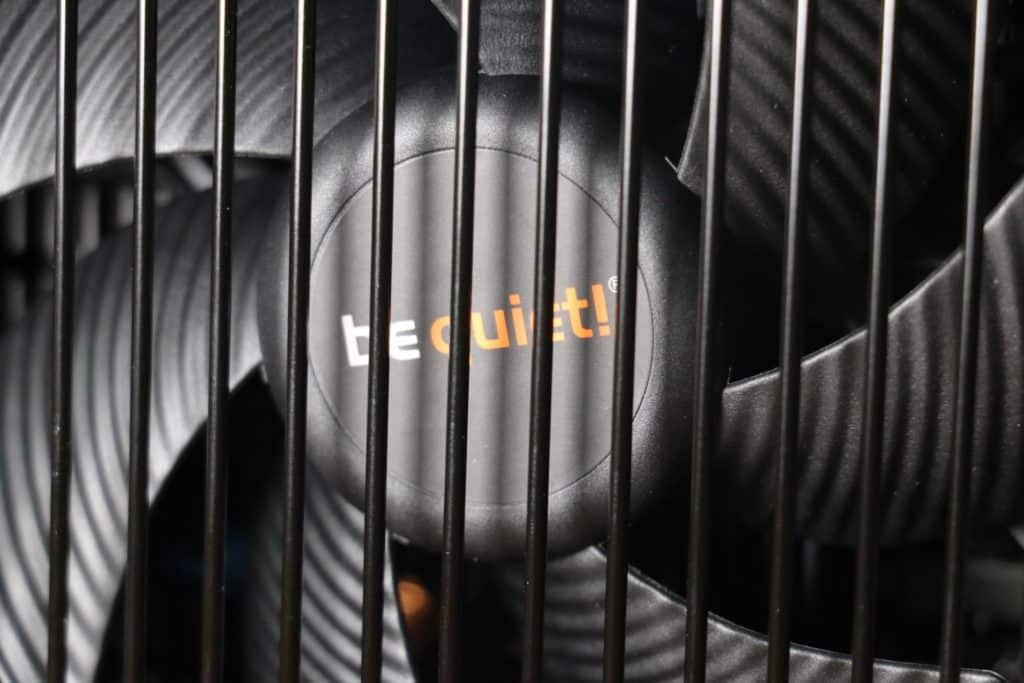 We commend be quiet! for putting together a power supply that's solid on so many accounts. Its fair price, ease of use, and clean aesthetic will prompt many gamers in need of dependable power for a high-end rig to give it a go. There are slightly better options out there, but they all cost significantly more.