Albedo's banner Secretum Secretorum first ran from December 23, 2020, until January this year. This was the first time Genshin players got a chance to wish for the Chief Alchemist of the Knights of Favonius. If you skipped his banner or just started playing the game, you still have a few more days to gacha this 5-star Geo character home in the current wish banner until the Genshin 2.3 second phase wish event comes.
Albedo's build and playstyle have recently changed after the new artifact set and the free 4-star weapon was released. Continue reading to learn more about the best and updated Albedo build!
Breakdown of Talents and Playstyles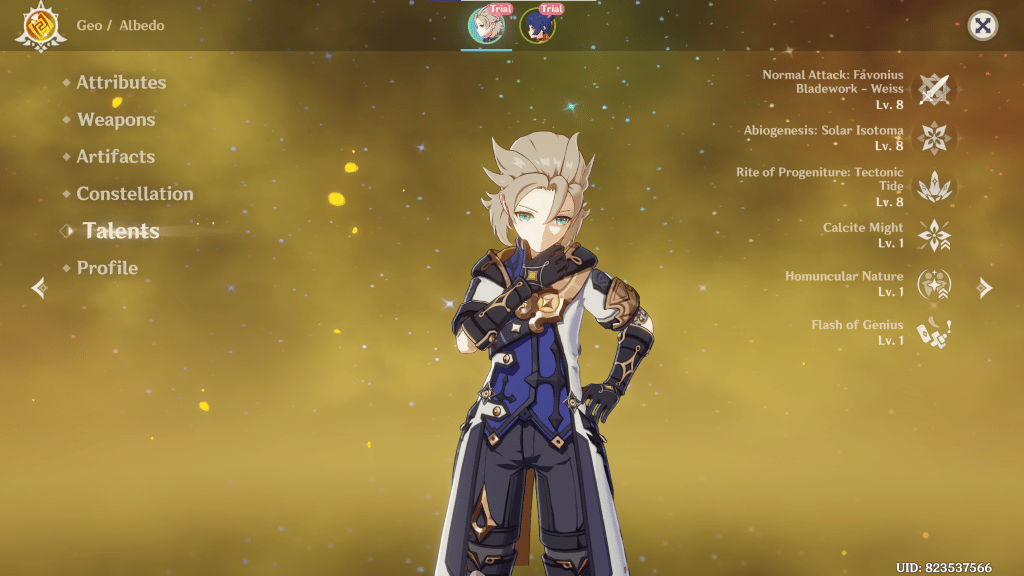 Albedo's primary role in a party is a Geo support. Thanks to his long-lasting Elemental Skill, he provides continuous Geo DMG to nearby enemies and shields other party members. However, the new artifact set and 4-star sword that just came out makes it possible for the Alchemist to deal more damage.
Albedo's leading source of damage is his Elemental Skill, Abiogenesis: Solar Isotoma. When activated, Albedo lands a flower insignia on the floor that elevates off the ground when you step on it. This Geo construct lasts for a whopping 30 seconds and continuously deals Geo DMG every other second. Its damage scales off of Albedo's DEF.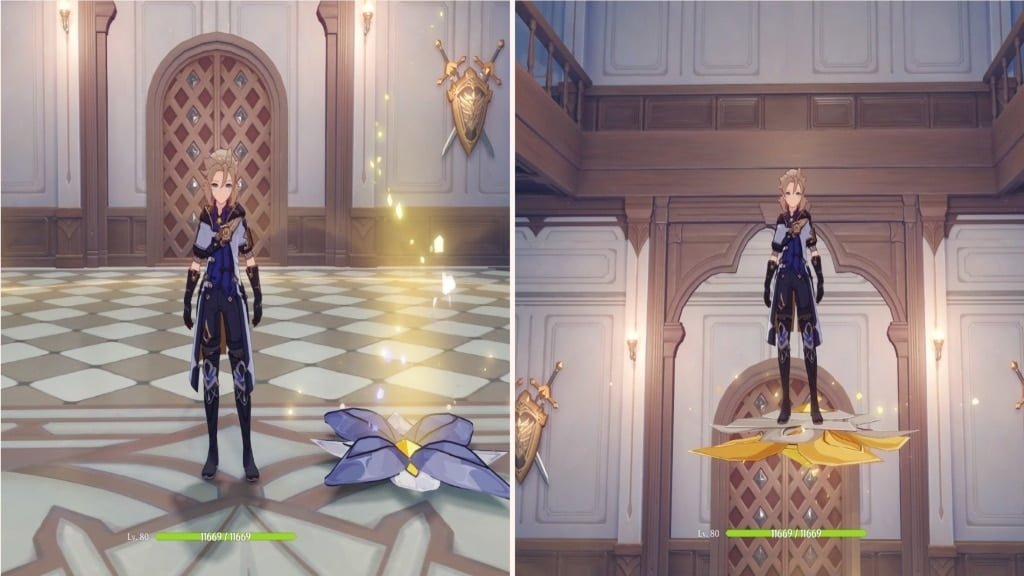 Next, the Chief Alchemist's Elemental Burst, Rite of Progeniture: Tectonic Tide, deals AoE Geo DMG and has an Energy Cost of 40. This burst deals more damage when used after Albedo's Elemental Skill because whenever a Solar Isotoma is on the field, his burst generates Fatal Blossoms.
These blossoms burst and deal AoE Geo DMG. It can stack up to 7 Fatal Blossoms depending on how many enemies are on the field. The DMG of Albedo's Elemental Burst scales off of his ATK rather than DEF.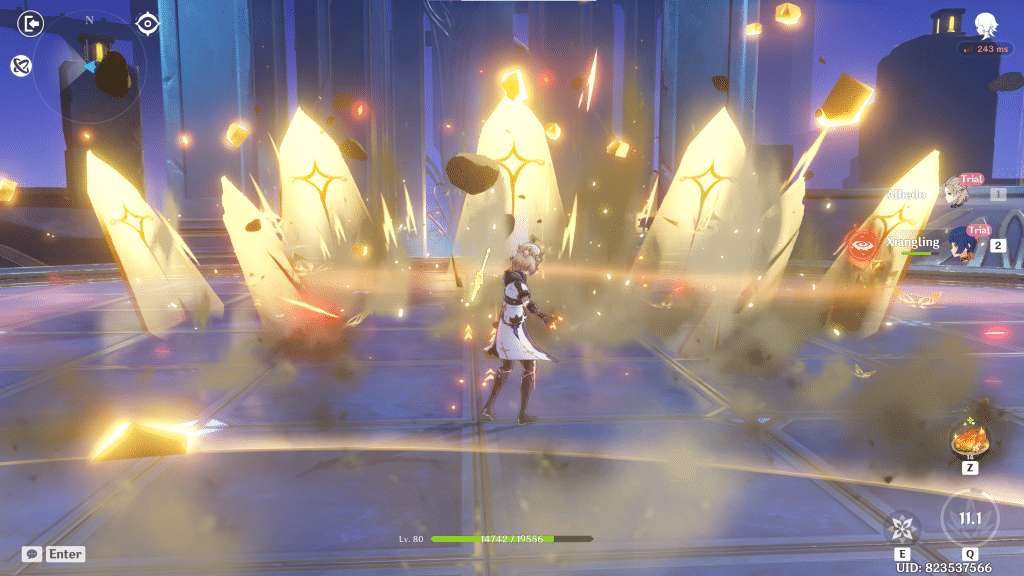 The optimal rotation for an Albedo team composition typically goes like this:
Use Albedo's Elemental Skill (E) and switch to your main DPS.
Switch back to Albedo when his Elemental Burst (Q) is up. Make sure his (E) is still on the field.
Rotate back to your main DPS and deal damage while their EM is boosted.
Weapons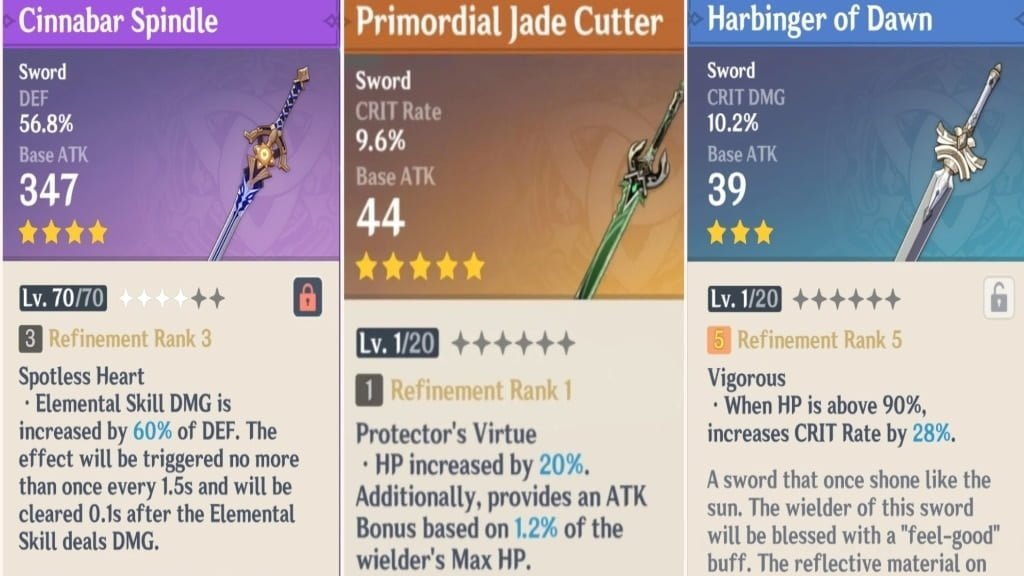 The current best weapon choice for the 5-star Alchemist is the new free-to-play Cinnabar Spindle. It has a high Base ATK and a DEF substat. In addition, its passive skill increases Elemental Skill DMG by 40% of DEF.
Other weapon choices are the 5-star Primordial Jade Cutter for its CRIT Rate substat and the 3-star Harbinger of Dawn for its CRIT DMG and Rate high bonus. The Primordial Jade Cutter is for those who use their Alebdo's Burst and focus more on his ATK scaling than the DEF.
Artifacts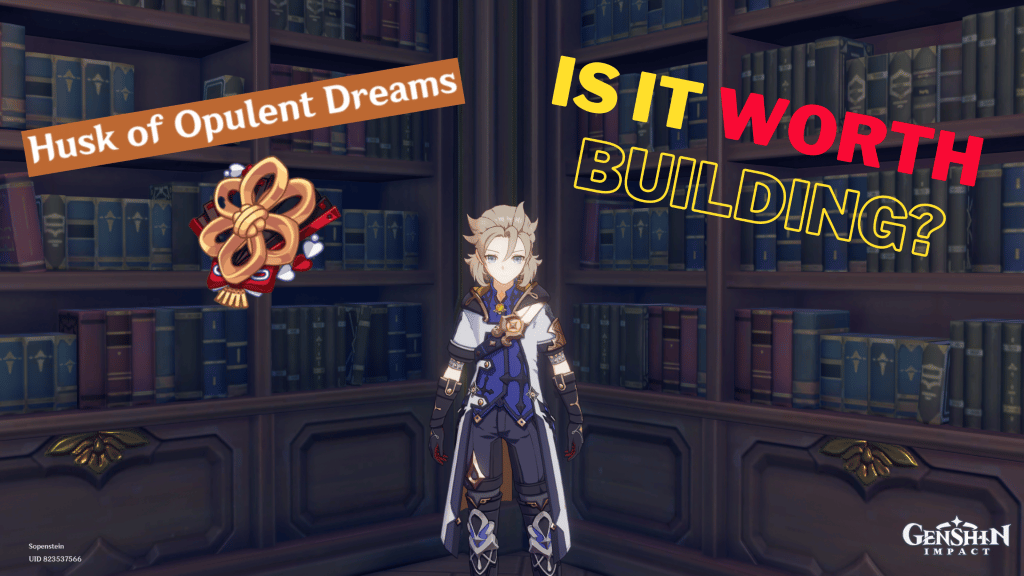 Because of the new artifact set Husk of Opulent Dreams, updated Albedo guides began to resurface. We compared Zy0x, Gacha Gamer, IWinToLoseGaming, and Xlice's recent detailed Albedo builds and came up with this final artifact guide for the Geo character. Again, keep in mind how you want to play Albedo before deciding on an aritfact set for him.
For those building Albedo as a Geo support that still deals considerable damage, go for the Husk of Opulent Dreams. A 2-piece set increases the user's DEF by 30%, making it perfect for Albedo's Elemental Skill that scales off of DEF. Next, a 4-piece set increases the DEF and Geo DMG of the character through a stacking effect called Curiosity. Overall, this effect can stack up to four times, giving 24% DEF and Geo DMG Bonus.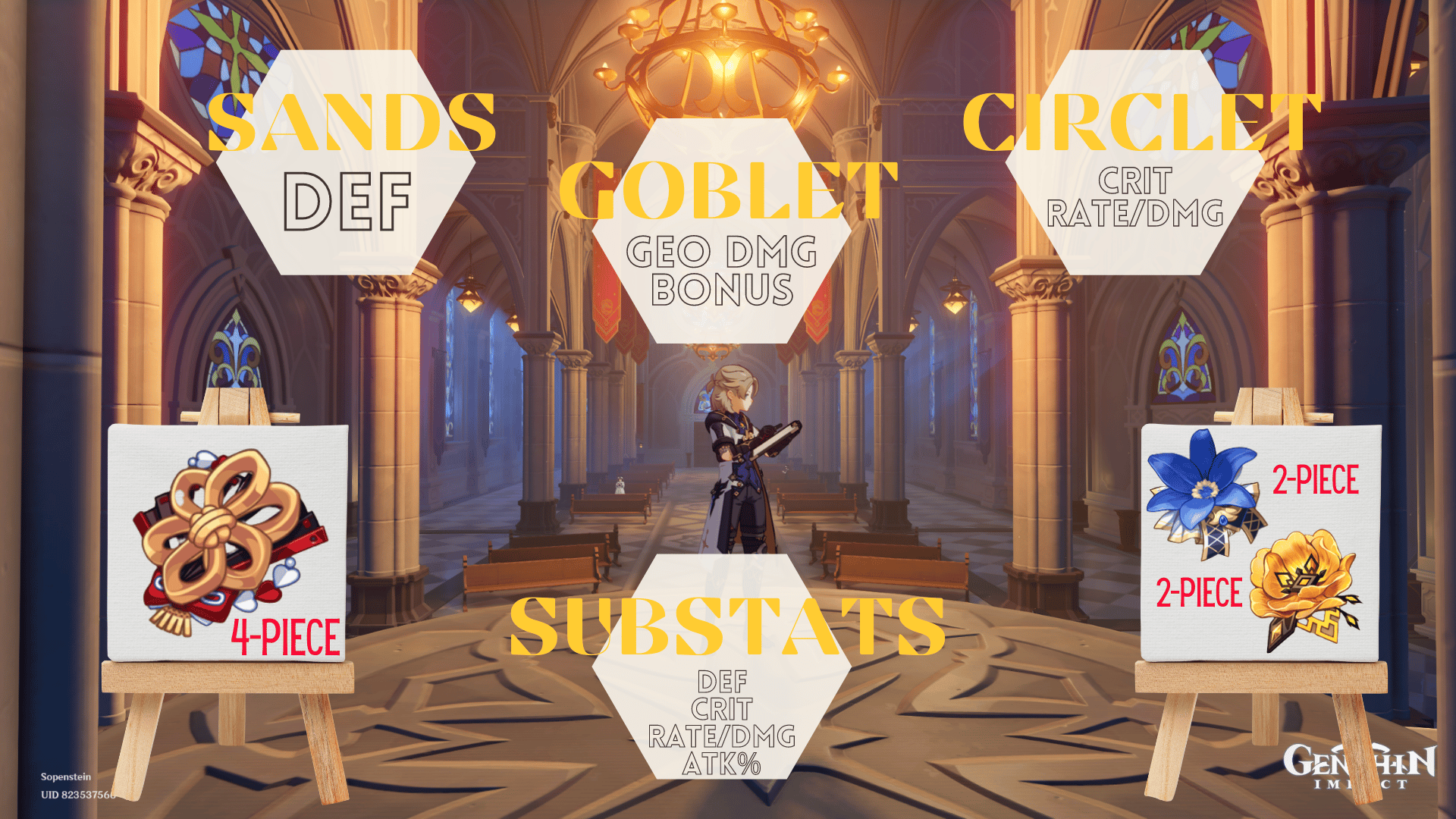 Another artifact set you can build on Albedo is a 2-piece Archaic Petra for the 15% Geo DMG Bonus paired with a 2-piece Noblesse Oblige for the 20% Elemental Burst DMG Bonus. If you wish to build Albedo as an Elemental DPS, you can choose a 4-piece Archaic Petra set.
Now, let's talk about the main stats to look for when artifact grinding. For the Sands, always go for DEF, and for the Goblet, get a GEO DMG Bonus one. The Circlet's primary stat will depend on your weapon on Albedo. Typically, if your Albedo already has a high DEF count, you can go for a CRIT Rate or DMG Circlet. Since Albedo's skills do crit, it's efficient to have at least a decent crit ratio. As much as possible, try to get DEF, CRIT DMG/Rate, and ATK% substats.
If you plan to use the new 4-star weapon Cinnabar Spindle, you can opt for a CRIT Rate or DMG Circlet since this weapon already provides a ton of DEF. You can go for a DEF Circlet for those not planning to use this weapon and who need higher DEF.
Conclusion
Albedo's been a reasonably low-cost 5-star character to build that does not require that much investment. Especially now, with the new artifact set and weapon, he's become a more vital off-field support and damage dealer.
If you're still undecided whether to pull for him, remember that with the 5-star Itto and 4-star Gorou coming out in a few days, Albedo will be even stronger. That's something to look forward to right there.