Are you redesigning your islands' entrance, and need some inspiration? If so, then this article is a great place to start. The following will highlight some of the best Animal Crossing entrance ideas so that you can replicate them or take inspiration from them. Continue reading to get started designing the best entrance for your island!
Waterfalls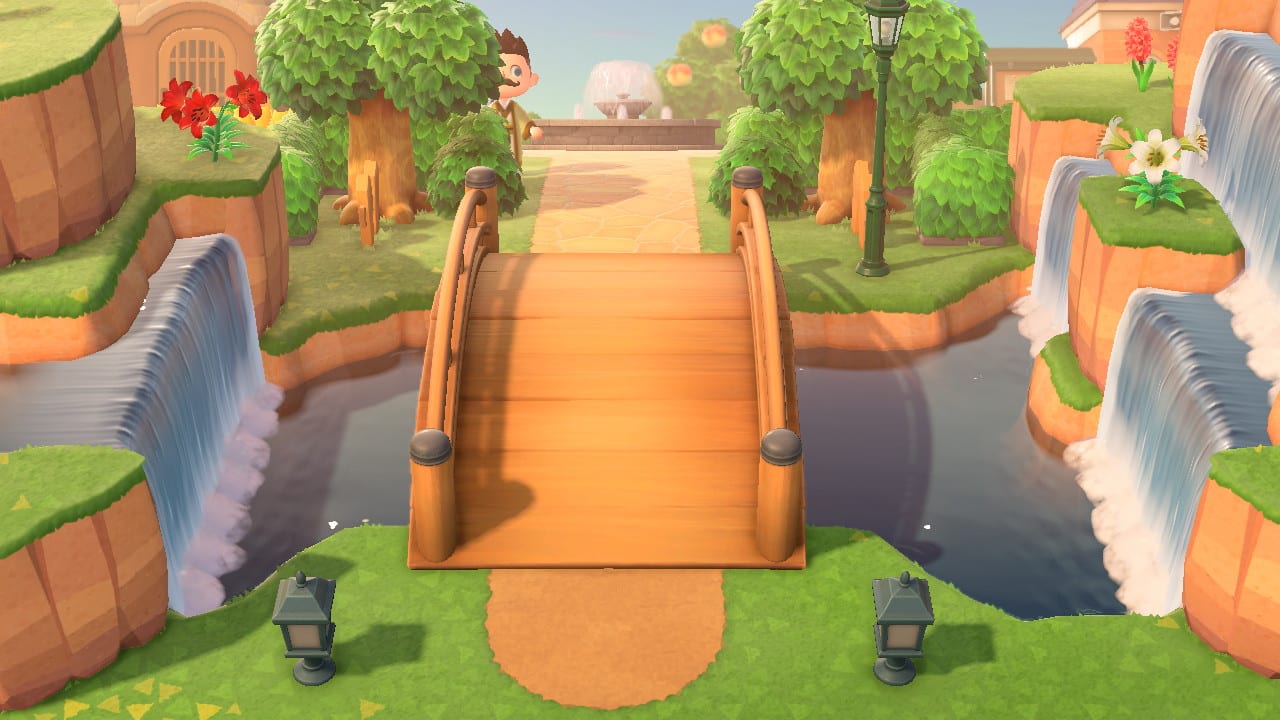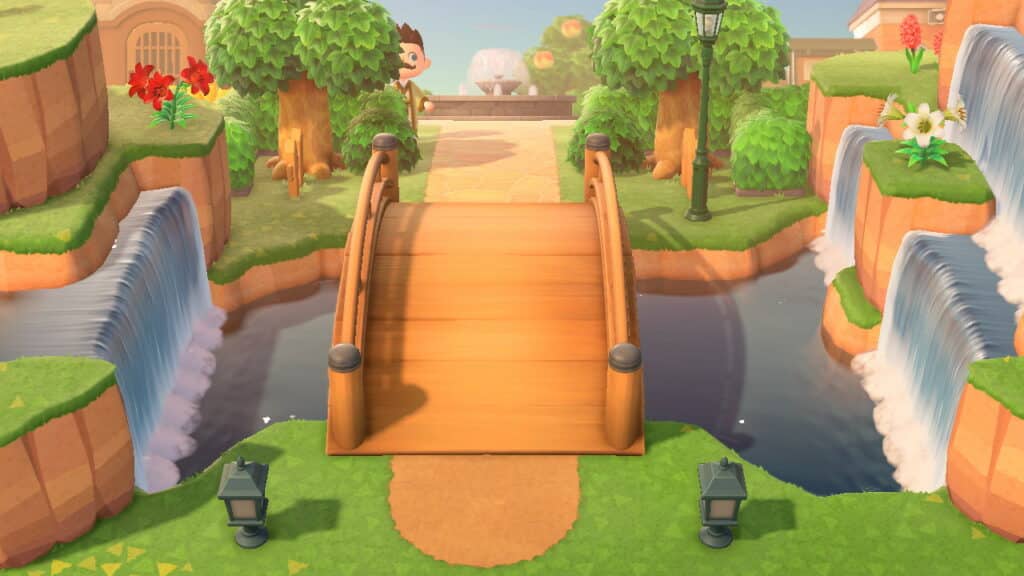 One of the simplest entrance designs in our list of the best ACNH entrance ideas – and one that was super popular in the early days of the game – is waterfall builds. Back when the game was first released, when players were still trying out new things, waterfalls were all the rage. It became quite popular to decorate your island's entrance with rows of waterfalls along a path.
It is no surprise that this was a popular design. But just because it isn't as popular now, it doesn't mean you shouldn't consider this entrance idea. The beauty of waterfall builds is their simplicity. All you really need is terraforming to get the basic premise down. Items and flowers/trees can be selected and implemented as you see fit. Most waterfall builds don't feature tonnes of furniture items – making them a great island entrance for new players with a limited catalogue.
Plaza
Another simple yet effective Animal Crossing entrance idea is plazas. Your island already has a plaza; the one outside Residents Services. Sadly, you can't actually place items of your own here. That's why making your own plaza is such a cool idea. The sky is the limit to what you can include, so let your creativity run free!
Plazas used as an entrance idea are great ways to welcome visitors to your island. Some players have placed fountains in the centre of their plaza, which makes for a very pleasant sight for guests. They can also serve as a trading hub if you frequently have people over to trade with. It is a lot easier to trade with someone in an open space, as opposed to a narrow path covered in items…
Natural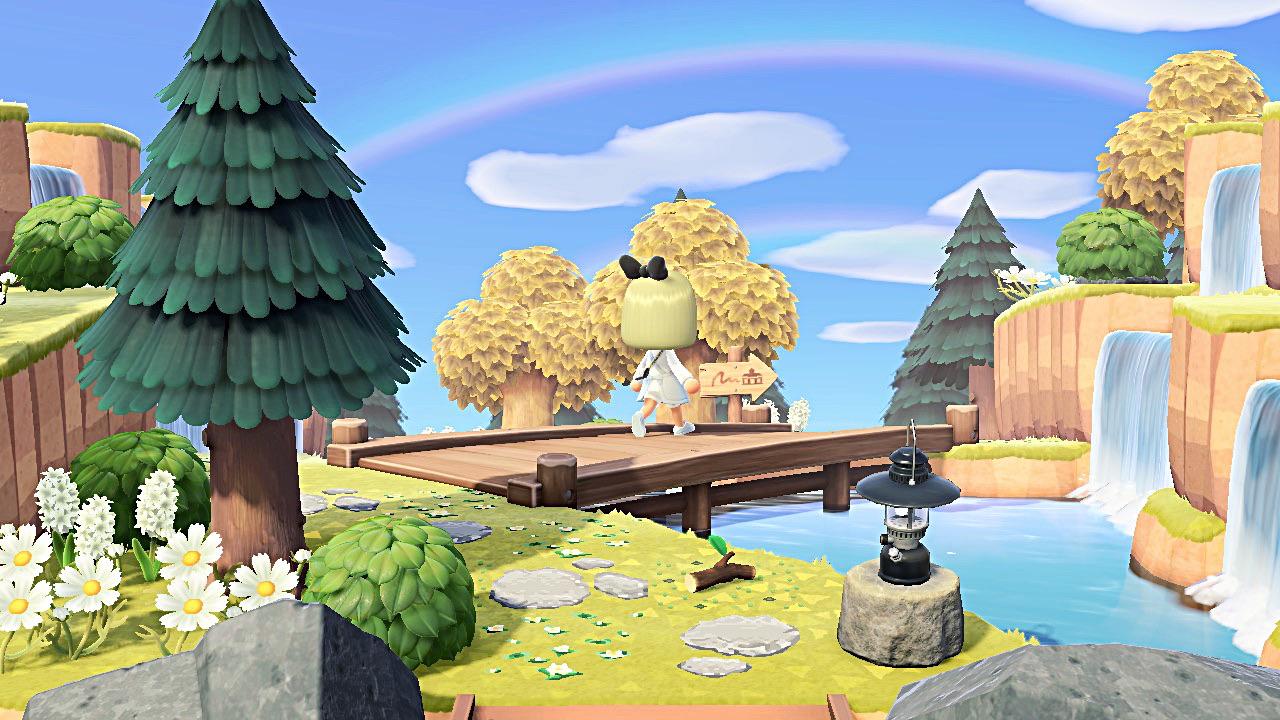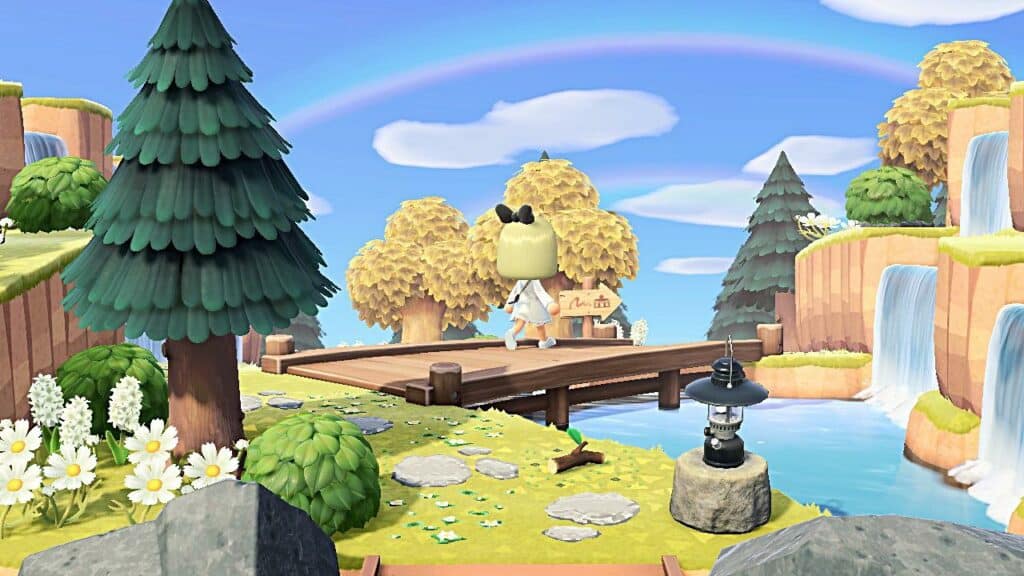 This entrance idea is quite a vague and broad category, however, refers to island entrances that the main focal point is on nature. Perhaps your island has a focus on nature in general, and so you want to present visitors to your theme. Having an overgrown entrance space covered with flowers, shrubs, and trees, can be a very neat idea. In terms of items, natural builds don't often require many special or hard-to-come-by items. This makes natural builds great for new island dwellers!
Natural island entrances are pretty popular because despite being simple, they can look really good. Some people prefer a simpler, more rustic island entrance – as opposed to a crazy over-the-top terraformed grandeur entrance. After all, you were meant to be moving to a deserted island. It only makes sense that your island entrance reflects this!
Tropical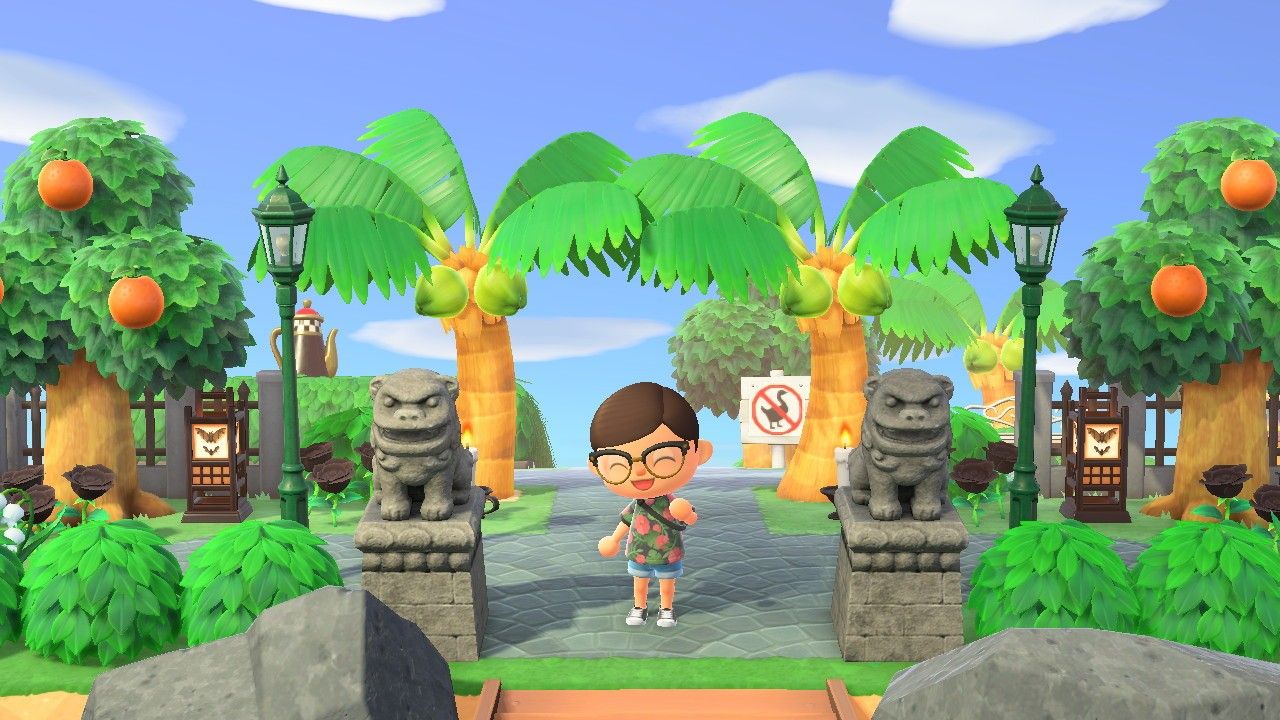 Another popular but effective island entrance idea is an overgrown tropical design. Tropical island entrances really shine as it makes sense to have the more 'tropical' part of your island so close to the beach. And the airport is right on the beach. Tropical builds usually feature lots of palm trees and lots of vibrant colours. You can decorate these sorts of entrances with flowers also, and the occasional fruit tree amongst the palm trees provides a real tropical vibe.
Tropical island entrances give off a great summertime feel to your visitors and can display the warmth and flavour that your island has to offer. The tropical aesthetic in general is very easy to create in Animal Crossing: New Horizons thanks to the plethora of items that can be used in this theme. This might be one that you want to keep until the warmer months – however. But that's the beauty of Animal Crossing! You can change it to another idea on this list when winter comes around!
Urban Streets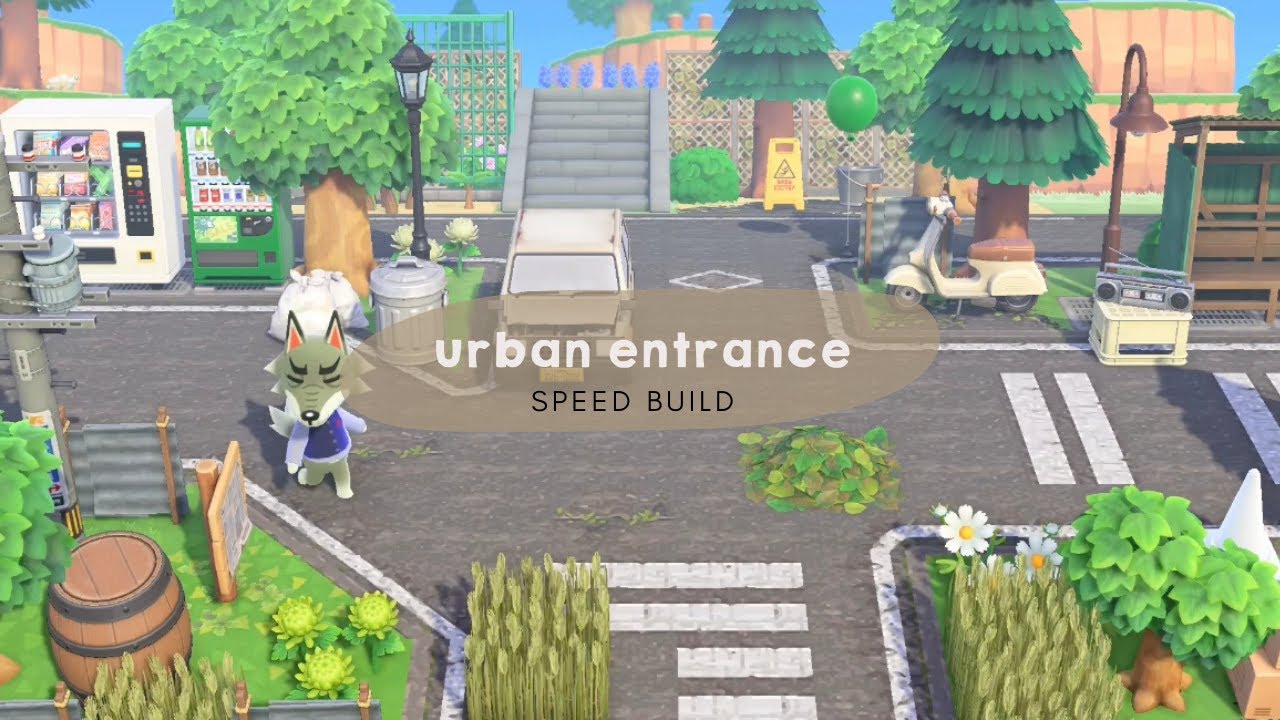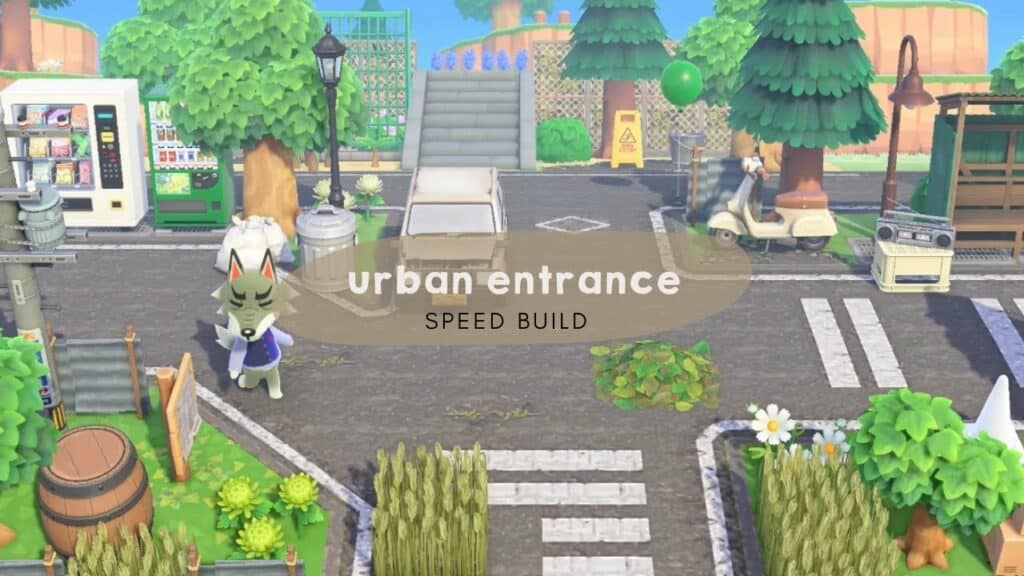 If your island already has an urbanized feel to it – such as those that resemble Japanese towns – you could implement an urban street island entrance. Streets are a major feature of town builds in the game, that is created using player-made custom paths. But if your island is so urban and developed, you can't have visitors walking on dirt when they first come off the plane, can you? That's where urban street entrances come in!
All you need is to connect your entrance to the rest of your island using streets. This gives off the impression to visitors that your island is developed and sophisticated. If your islands' main theme is an urban town, it also helps to present this to visitors straight away to avoid confusion. You could even place a few bicycles near the entrance, to invite visitors to have a pedal around your sophisticated streets. This isn't actually possible in Animal Crossing, but we wish it was!
Forest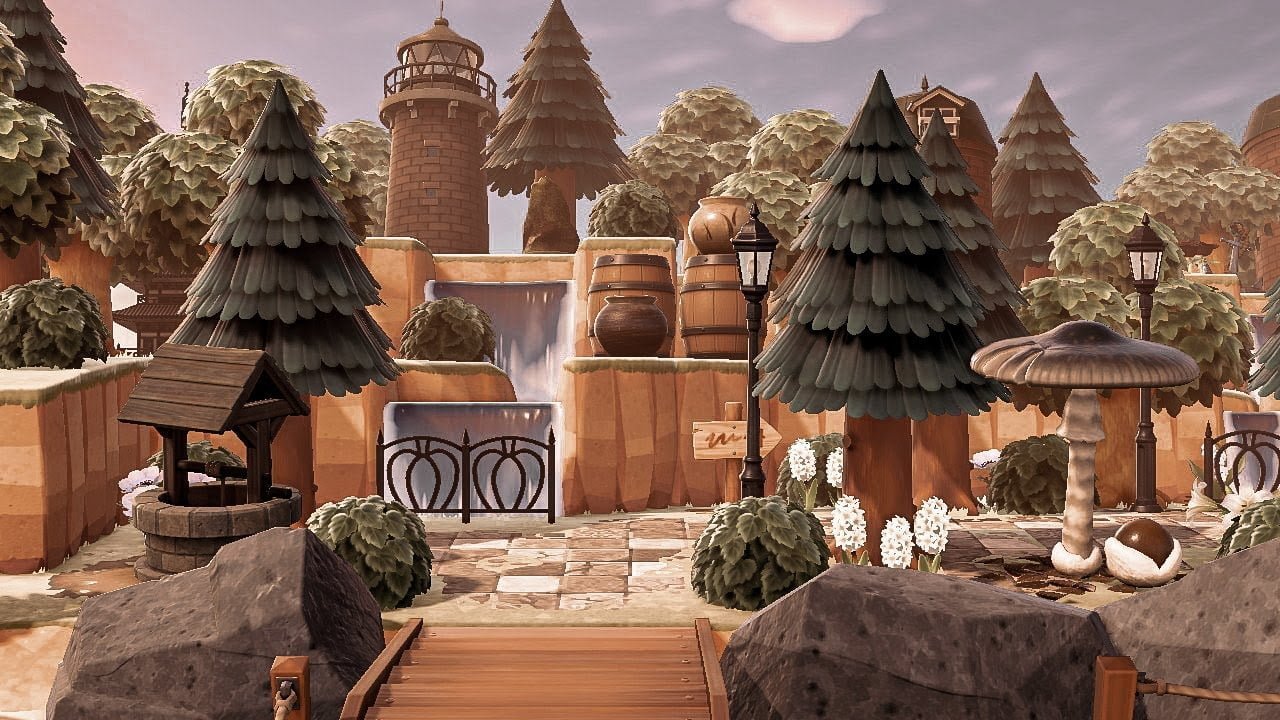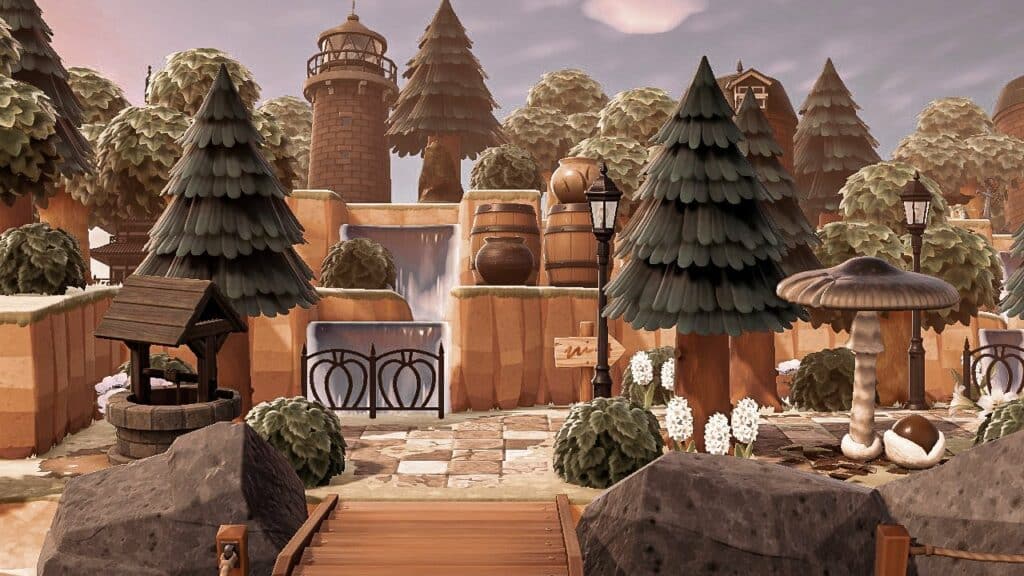 Imagine stepping off of a seaplane, and walking out into lush overgrown forests. Can you imagine the bliss that would be provided after seeing dense greenery? If you can, maybe you should consider implementing a forest-style entrance. Forests are pretty easy to build in Animal Crossing, as the main ingredient exists naturally in the game. You can visit mystery islands and bring back all the trees with you to decorate your forest entrance.
Forest island entrances are simple, which makes them very easy to build. But they are also a really nice entrance idea for your island. The cool thing about forests is that you can choose what sort of forest you want to build yourself. Perhaps you want a bamboo forest, or maybe you want a pine tree forest? Can't decide? No worries, how about using more than one type of tree? You can do just that and implement your islands' aesthetic in this great ACNH entrance idea.
Train Tracks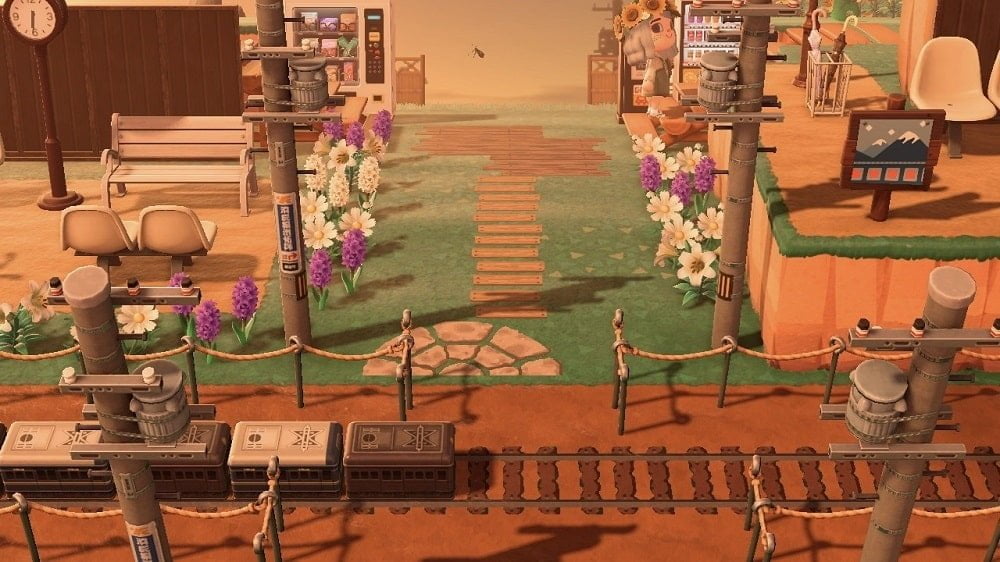 A few creative players have created train track entrances on their islands. Now, trains aren't something that is available in New Horizons, sadly. However, previous Animal Crossing titles such as New Leaf did have them. As a homage to older titles, having a train track run parallel to your entrance can be a nifty feature.
Train track entrance ideas obviously consist of using custom paths to provide the train tracks themselves. You can then decide what sort of train track you want. Some players have chosen run-down and dilapidated styles, providing a more rural and abandoned vibe. But you can choose to create a sophisticated and clean train track if you wish! The only thing stopping you is your imagination.
Bridge Entrance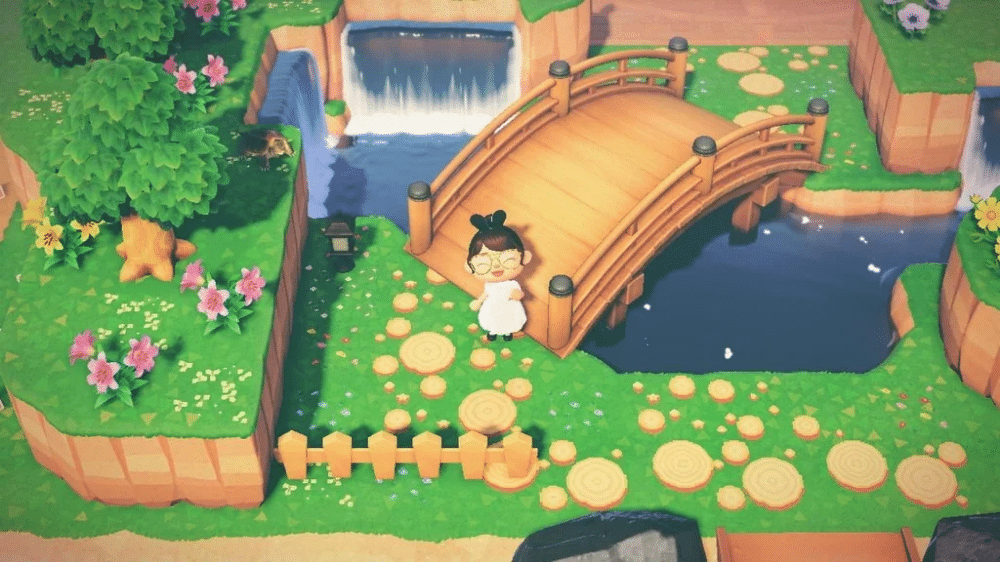 Bridges are very versatile items in Animal Crossing: New Horizons. The structure can be positioned in a number of ways, including being placed diagonally. Some creative players have used diagonal bridges to create a unique island entrance. You could implement something similar if you have the Bells to spare and a good eye!
The wonderful thing about bridge entrances is that the game has different bridges to choose from. This can allow you to choose one that suits your island's theme and allows you to decorate the entrance however you want. Having a nice inviting bridge for visitors to your island is also a nice touch. You could even take inspiration from the other ACNH entrance ideas on this list and incorporate them into this island idea. Such as waterfalls, which can lead into the water beneath the bridge!
Cottagecore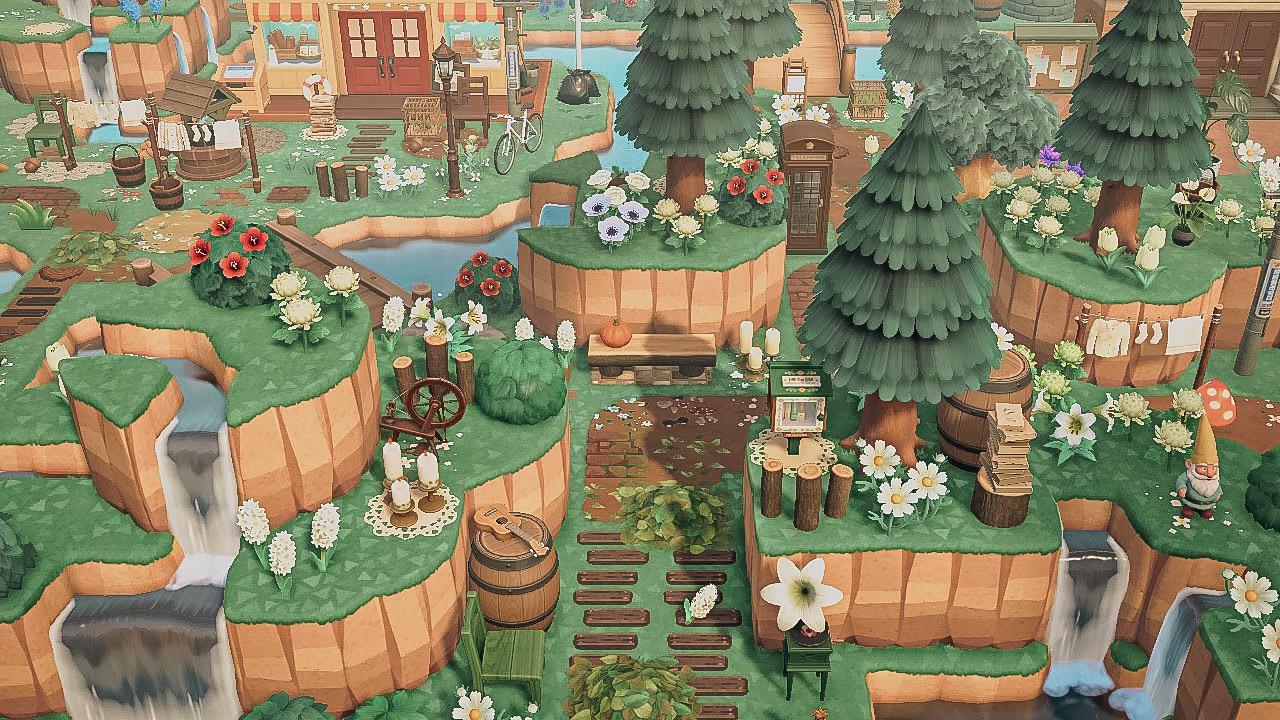 This is a broad island entrance idea, but if your island has a similar aesthetic, cottagecore entrances can be quite unique. Simply put, cottagecore encompasses a traditional rural vibe, derived from typical cottage scenery. In New Horizons, this aesthetic is very easy to achieve with the items available in the game. When done correctly, cottagecore entrances can provide a great welcome to visitors to your island.
The cottagecore aesthetic can be quite hard to implement if you aren't familiar with it. However, there are tonnes of examples online that you can use as inspiration. This theme also plays well with many other island aesthetics, so it isn't a big deal if the rest of your island isn't cottagecore-orientated.
Forestcore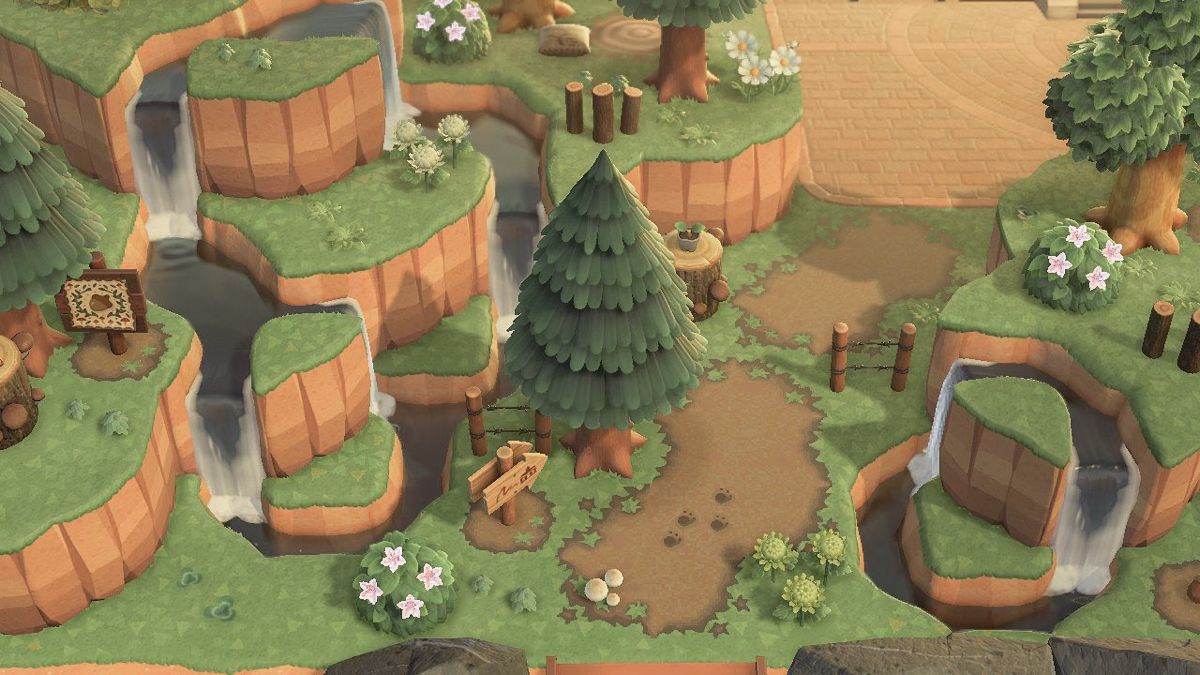 Similarly, forestcore is another aesthetic that players often implement into their islands' entrance. Forestcore involves imbuing the feeling of nature and the great outdoors into your island. It is very similar to the natural island entrance idea discussed previously, however, involves a bit more careful planning when it comes to deciding what items to use.
If you are fond of the aesthetic and believe you have the eye needed to create something beautiful, be sure to give forestcore island entrances a try! If you are stuck on what to do, there are lots of resources online that you can use to take inspiration for your entrance.
Zen Garden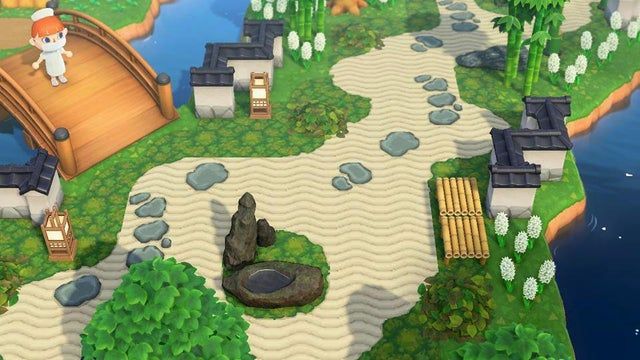 Zen gardens have been a very popular thing to create in Animal Crossing: New Horizons. Some of the items that the game features make building zen areas very easy, and fun. They can also display a tranquil and calming area for visitors to your island to relax in. So, why not have one right at the entrance of your island? Zen garden entrances provide the calming and relaxing vibes that you want visitors to feel as soon as they step foot off the seaplane!
To achieve this type of entrance idea, you can use various items from the bamboo set as well as bamboo trees. There are also tonnes of zen items that can be used to provide that picture-perfect Japanese zen garden feel! This includes gongs, lanterns, zen fencing, and the outdoor bath that resembles a hot spring bath.
Simple Tree Promenade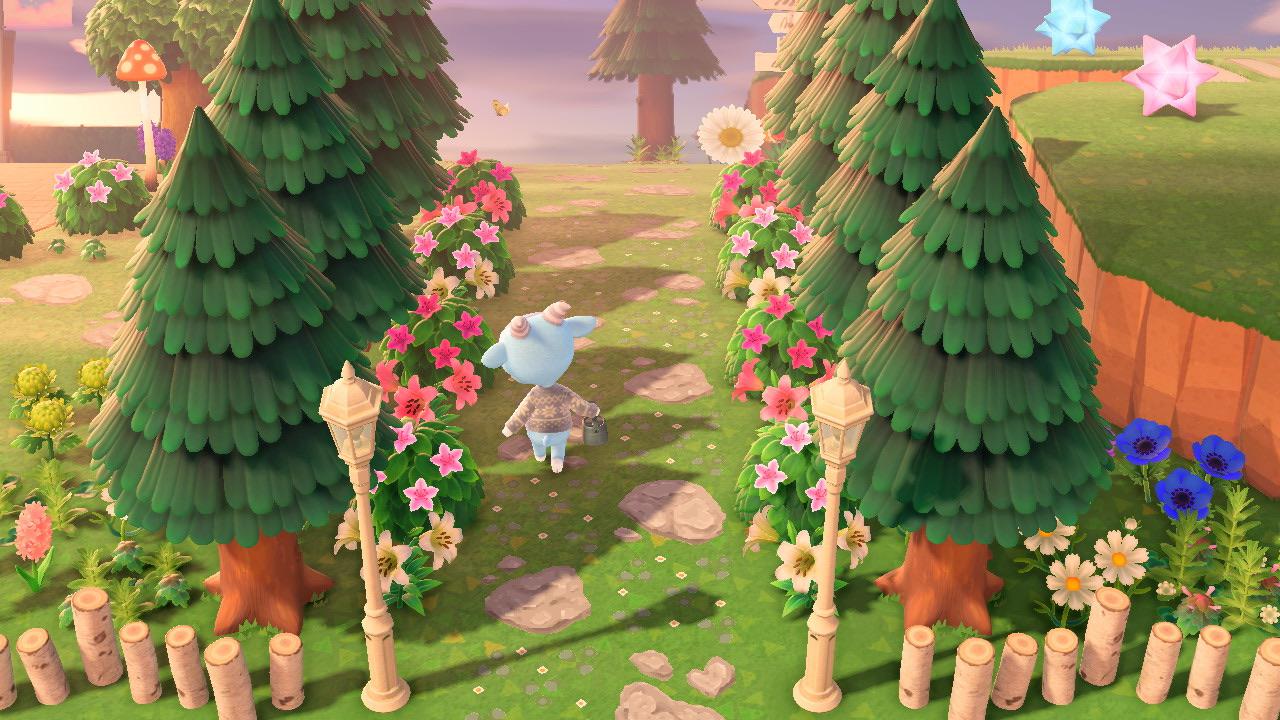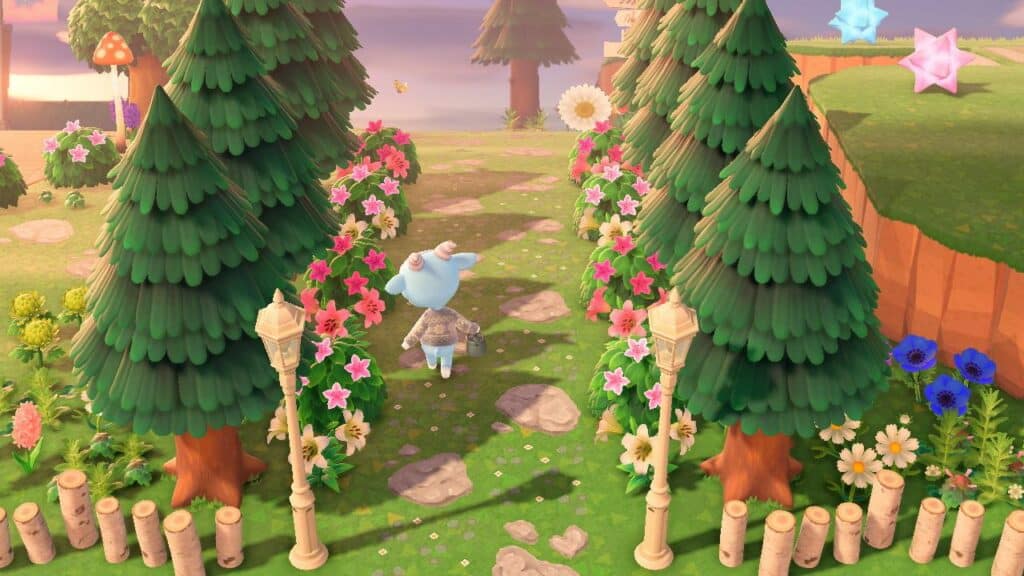 Are the rest of the ideas on this list a little bit too advanced for you? Perhaps you could consider a simple tree promenade island entrance! As the name implies, a simple tree promenade is just a path or walkway with rows of lush trees on either side. This can create a very organized and proper island entrance for your visitors. Tree promenades are common sights in real-world architecture and city planning, and for no obvious reason! They are simple but effective ways of making an area look nice.
You can even be creative with which type of tree you select. For instance, if your starter fruit was oranges, maybe you could display this to visitors with a promenade of orange trees. You can choose whichever tree you want and can even mix and match to create a unique island entrance. Place some vibrant flowers around and fencing, and you have yourself a wonderful entrance for visitors and friends!
Grand Entrance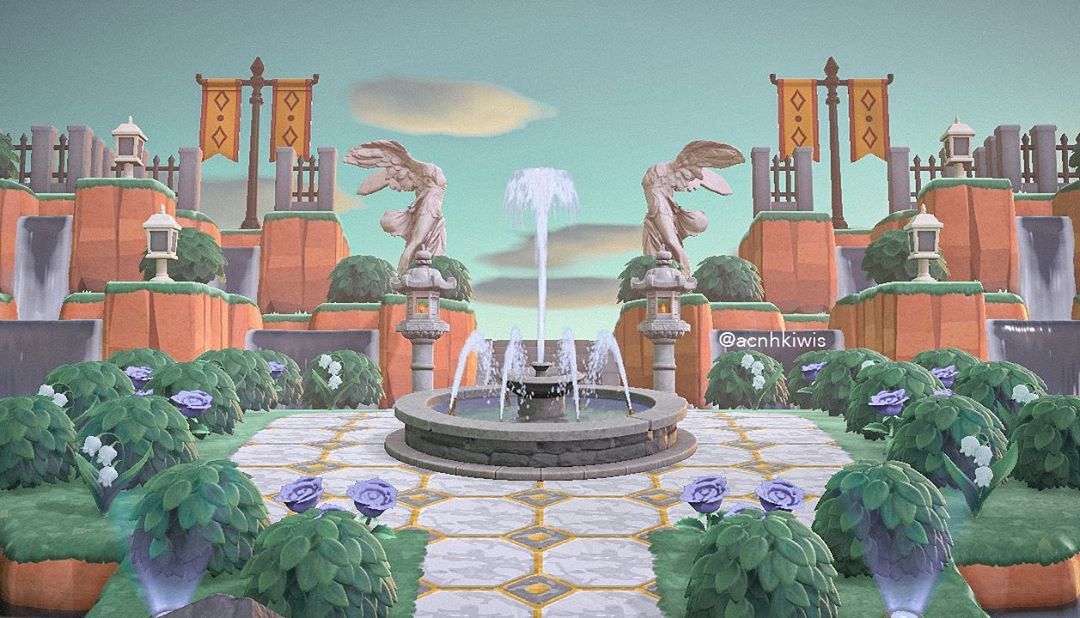 Would you like to give visitors to your island a more grandeur entrance experience? If you do, then perhaps a grand entrance idea would suit your island. Grand designs in Animal Crossing are usually found near the museum. These often include the usage of stone-based furniture items and pathways, in combination with extravagant statues and vibrant flowers. Grand builds look great and can be fairly easy to pull off when compared to other themes such as cottagecore.
The great thing about this entrance idea is that it provides a majestic and glorious welcome to visitors. If this is the sort of feeling you want your visitors to experience, then you should give this entrance idea a try. Another great thing about it is that it works well during winter, even when it snows. In fact, some grand designs look better covered in snow.
Castle Gates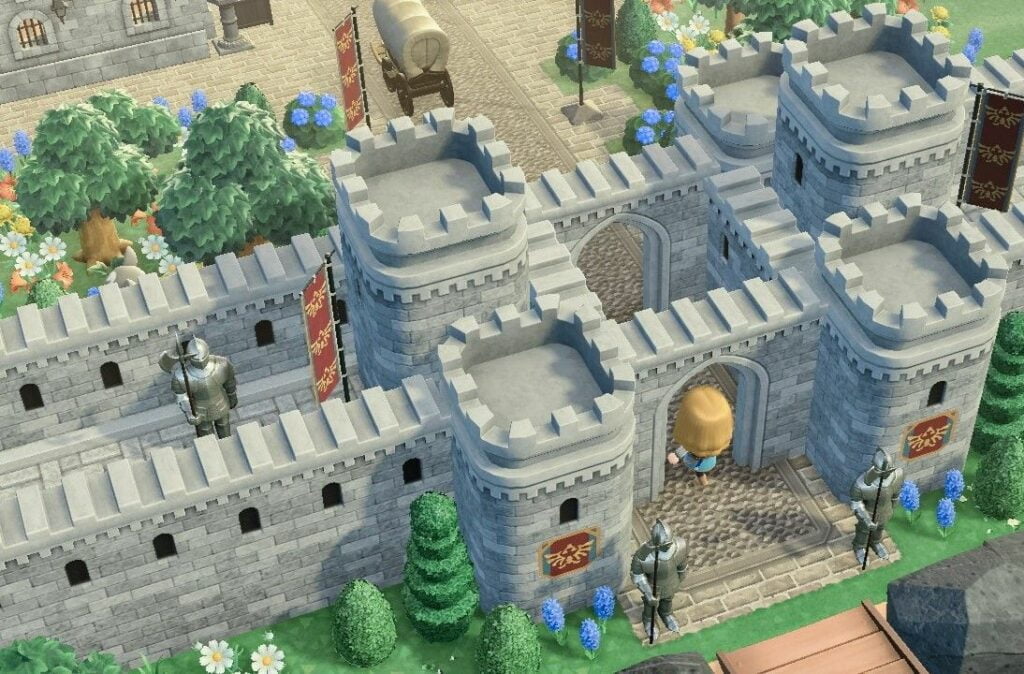 Depending on the theme of your island, a gated castle entrance might be great in your list of Animal Crossing entrance ideas. The castle set of items (including the castle wall and castle gate) was introduced in the Animal Crossing 2.0 update. These items can be used to construct massive castle walls and exteriors. Some very creative players have even used these parts to construct entire castles. If you are fond of castles and want to let visitors know, perhaps you should build a castle gate entrance.
Another great thing about the castle set of items is the variations. They come in various colours, including some that look slightly old and damaged. So, if you want, you can even construct a castle ruin build. Using these items, you can build your very own Hyrule-themed island entrance.
Moon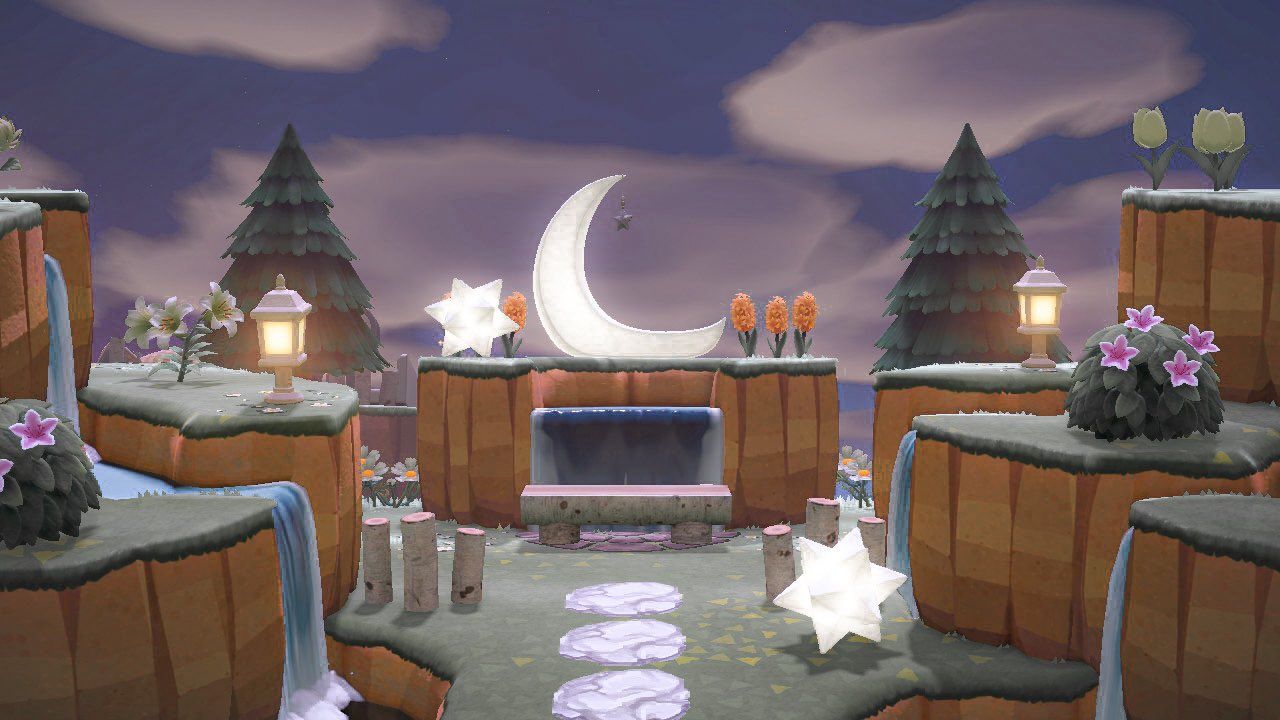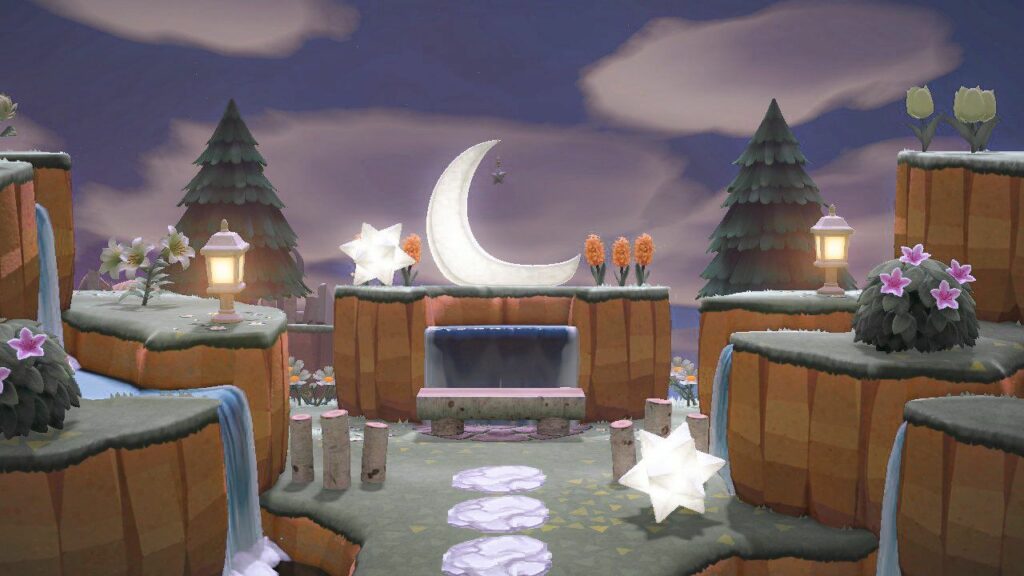 Are you a fan of astrology, or astrological aesthetics? If you are, maybe you should implement a moon entrance build. Celeste's DIY recipes can be used to craft the mystical moon and star-themed furniture items that really make this entrance idea magical. Most of these items, such as the moon, crescent-moon chair, and nova light, can be customized. This gives you a lot of freedom to choose your favourite colours and make your build unique.
There are also a lot of astrology items that correlate to particular zodiac signs. Some players use these in their moon entrance builds. The purpose of this type of entrance design is to create a magical and mystical look for your island. Visitors will be greeted by the glowing lights of Celeste's items and will feel truly amazed!
---
That concludes our favourite 15 Animal Crossing entrance ideas article. Hopefully, you now have the inspiration you need to create your own beautiful island entrance. If you have enjoyed this article, consider checking out my others over here. Happy crossing!