Looking to find out your stats throughout the seasons in Apex Legends? Here are the best Apex Legends stat trackers that you can use.
Tracking your stats is one of the easiest ways to tell whether you're improving your game. It's also one of the best ways to tell whether you're staying consistent. Stats don't lie and are a great tool that you can use to help take your game to the next level.
Stat trackers are available for a variety of games. Most online games should have a stat tracker of some sort available somewhere. This includes games like Valorant, CS:GO, Warzone, and of course, Apex Legends.
To help you out, we've gathered the 5 best Apex Legends stat trackers that you can use to collect in-depth information about your game.
What is a Stat Tracker?
Stat trackers are websites, apps, or services that offer valuable in-game data about your play. This usually includes things like total kills, headshot percentage, win rate, assists, and K/DA ratio, among others. Depending on the game, they should also include more game-specific stats that relate to characters, maps, or ranks.
Apex Legends already has a few stats available within the game through their equipable Trackers feature. You can show off three Trackers at a time during the loading screen, together with your Banner. These Trackers can be unlocked or bought using crafting materials.
The Apex Legends Trackers can already contain some useful information. This includes season kills, total kills, total headshots, season wins, finishers, revives, and damage dealt, among others.
However, third-party stat trackers can provide you with more detailed and complete information that you may not find within any Apex Legends Tracker. This is why it's still important to use a stat tracker outside of the game.
Here are our recommended Apex Legends stat trackers that you should try out.
The 5 Best Apex Legends Stat Trackers
All of the Apex Legends stat trackers that we chose are free to use and can be accessed using an app, a good browser, or a combination of the two. However, some might offer additional in-app purchases that can reveal extra information or offer more features.
Apex Tracker GG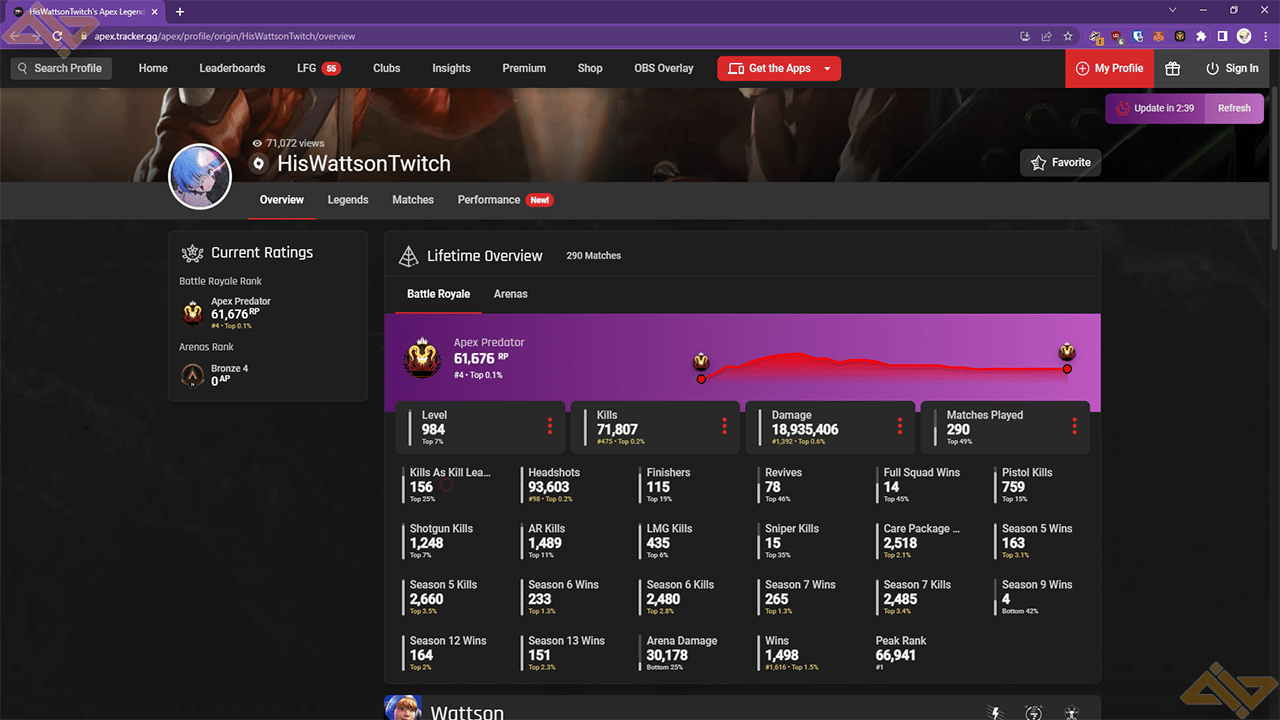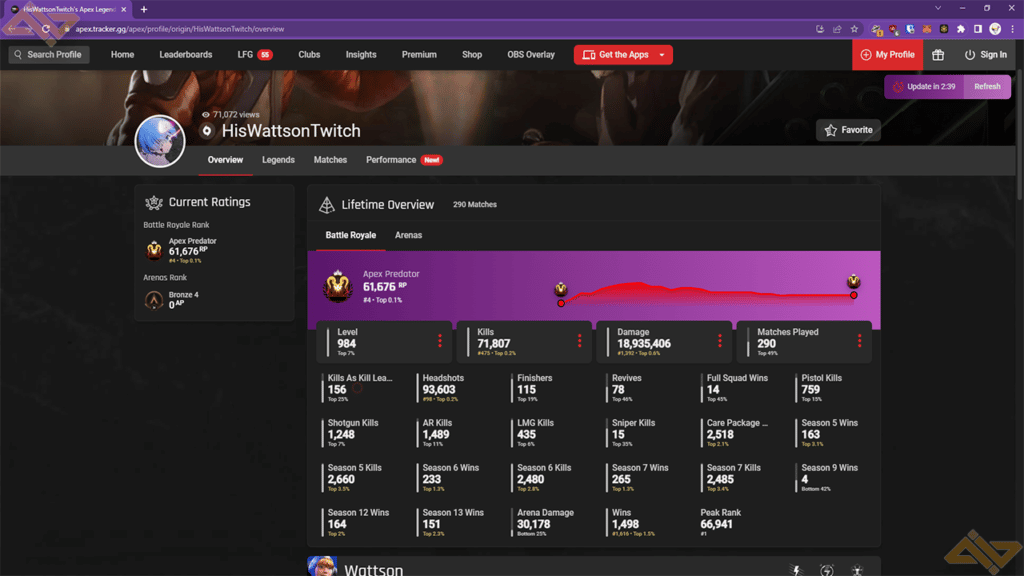 Starting the list out is none other than Apex Tracker GG, created by the Tracker Network. The Tracker Network, or TRN, is a very reliable service that offers stat tracking services for a variety of games. They also have a mobile app that helps make it easier and more convenient for players to track their stats.
Their Apex Tracker GG provides a variety of personal stats and some global or regional leaderboards as well. The leaderboards are grouped into Origin, PlayStation, and Xbox users, allowing you to see how well you fare against other players on your platform.
Of course, an Apex Legends stat tracker wouldn't be complete without individual stats. They display stats like your current level, your total kills, your total damage, total matches played, and total headshots. There are also counters for revives, finishers, individual weapon kills, peak rank, and your percentage among all users for each category.
Apex Tracker GG also provides more detailed seasonal information that you can use to track your season-by-season progress. This includes total season wins and total season kills. There are also individual Legends stats that can help you know which Legend you need to improve on.
Apex Legends Status
Apex Legends Status is another third-party website that offers in-depth details about your stats in-game. It's a reliable website and is one of the top fan favorites across all Apex Legends players. It's simple, free, shows you basic stats, and gets the job done. Apex Legends Status is perfect for players looking for more casual players who are looking for an Apex Legends stat tracker.
Apex Legends Status shows your total kills, headshots, damage, and wins using your best Legend. I suggest using one of the best free aim trainers if you aren't that satisfied with your stats, especially your headshots. It also shows the current skin, frame, pose, and intro you have equipped on your Legend and their respective rarities.
The rest of the Legends you use gets displayed underneath with some matching Legend-specific stats, similar to the in-game Tracker Banners. By scrolling down further, you can also see your other aliases, account-wide badges, and your Club if you have any.
Apex Legends Status also shows your match history, showing you in-depth stats about your previous games. They also have a Misc page that shows the total time played for each Legend, Ranked and leveling charts, and win/ pick rates.
Blitz.GG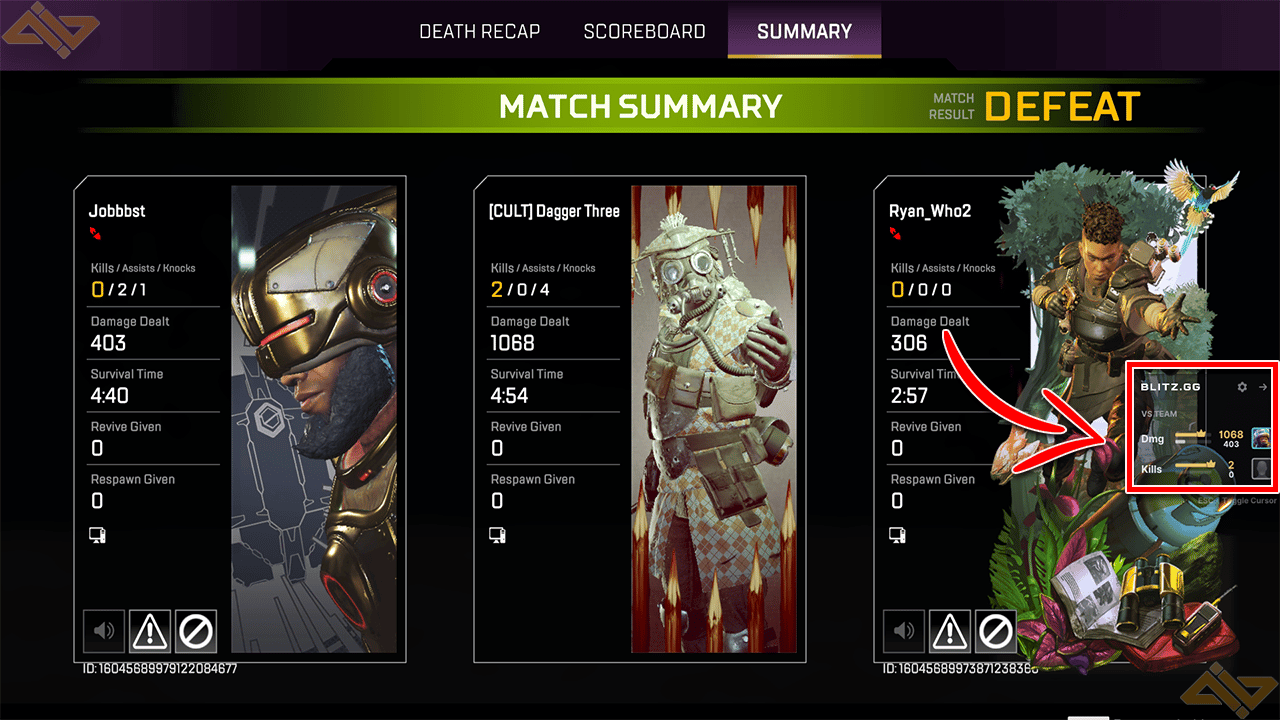 Next, we've got yet another Apex Legends stat tracker that provides an in-game overlay. Blitz.GG is one of the world's top real-time stat trackers and benchmarkers. They provide real-time analysis of your stats for some of the most popular games like League of Legends, Teamfight Tactics, Valorant, and Apex Legends.
Blitz.GG shows various stats which can be filtered for all time or per season. The stats include your rank, total wins, kills, and assists. It also shows your average damage, kills, and assists per match. It also provides you with a match history list that comes with individual stats like kills, assists, revives, damage, and weapon-based data.
Aside from checking your stats, Blitz.gg can also help you improve and take your game to the next level after using the best Apex Legends crosshair. They allow you to check your favorite pros' latest games and stats. This will enable you to learn from the best like Imperial Hal, Reps, Verhulst, and Mande.
Blitz.GG also provides in-depth game guides that can help you learn more about the game that you are playing. They are constantly trying to improve their service and adding more features to help gamers like you and me improve. Blitz.GG might be the best Apex Legends stat tracker if you're genuinely trying to take your game to the next level.
Apex Assistant by shenjing – Overwolf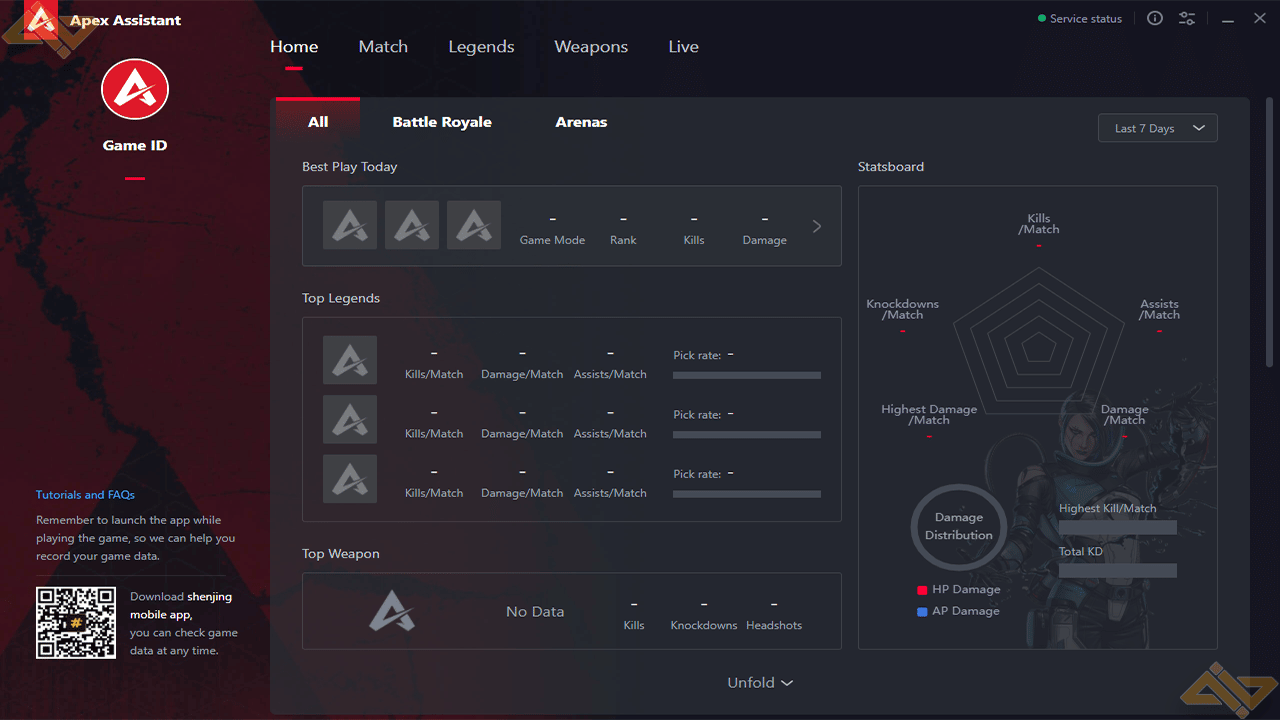 Overwolf is an app that provides an avenue for creators and gamers to connect and enjoy their favorite games. Overwolf has a large collection of additional applications that are created by the community. One of those apps is the Apex Assistant. Apex Assistant can help you elevate your game by providing a variety of useful stats for both Battle Royale and Arena games.
The app also provides individual data for each Legend and weapon. This allows you to see how good you are at each one and know your strongest or weakest points. You can see your kills, damage, and assists per match per Legend and their respective pick rate. For the weapons, you can see the total kills, knockdowns, and headshots.
Apex Assistant also has a cool feature called "Best Play Today." This showcases your best game for the day and shows you some additional stats. It also provides you with a timeline of events, which includes kills, knockdowns, and the weapons that were used.
Finally, Apex Assistant also shows you live statistics via an overlay that can be disabled or enabled on will. It shows you and your teams' match-specific data, which includes kills, knockdowns, assists, damage, deaths, finishers, headshots, and melee kills.
G – Loot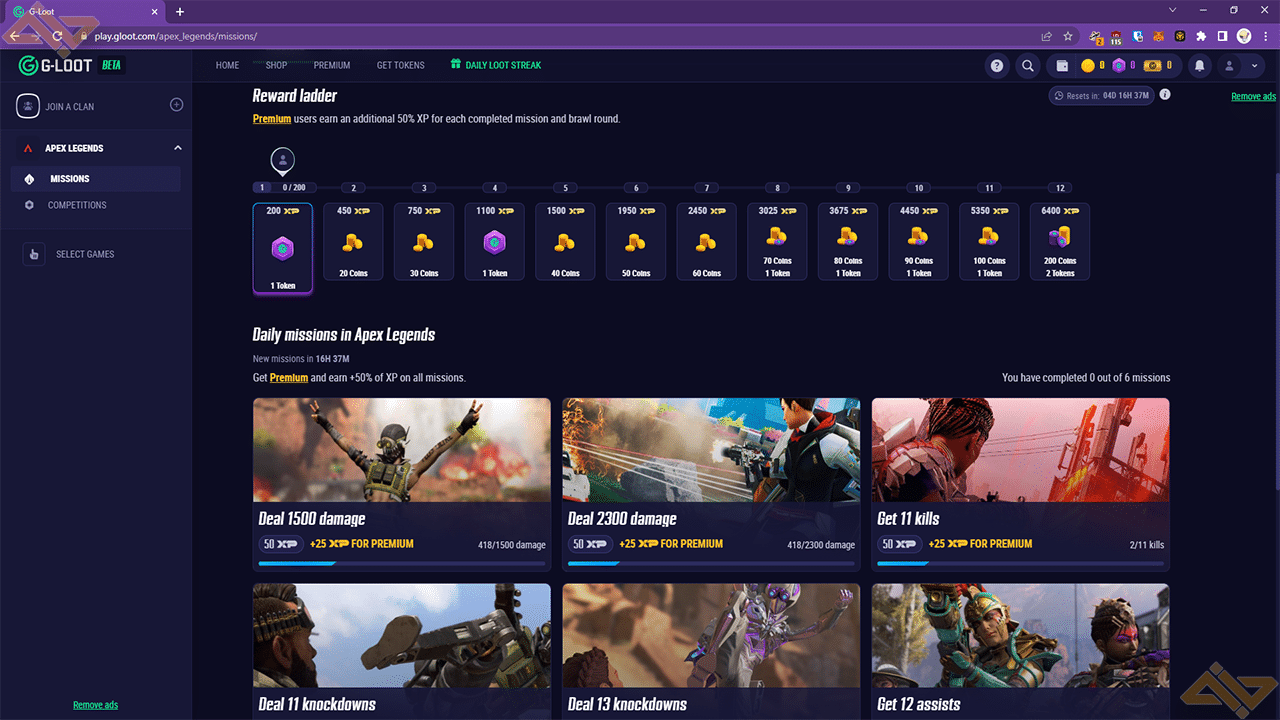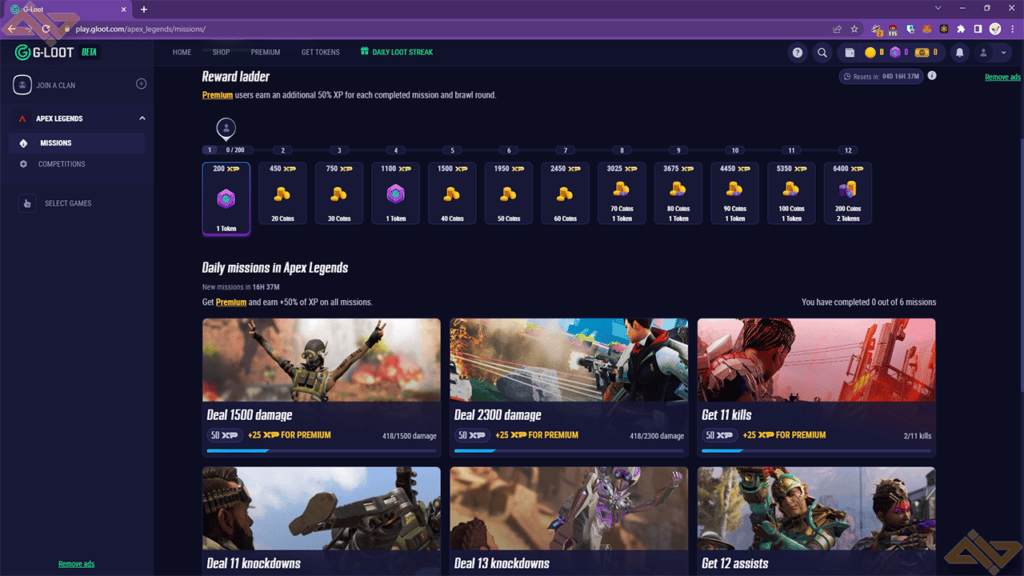 Finally, we have an interactive Apex Legends stat tracker complete with an overlay and an app. G-Loot allows players to track their stats while completing missions and earning Tokens which can be exchanged for rewards.
Compared to the other Apex Legends stat trackers we have on our list, G-Loot is definitely the most basic. However, these stats can still be helpful and handy to have. Luckily, G-Loot isn't only a tracking app. It's also a rewards app that excels at encouraging you to play the game.
G-Loot allows you to earn tokens, coins, and XP by completing the daily missions they provide you. These missions can range from getting kills, knockdowns, dealing damage, and so on. All missions can be done within Apex Legends and are tracked via their lightweight G-Loot app. This means you can still use the best Apex Legends settings without any major performance hits.
G-Loot is definitely the best Apex Legends stat tracker for people looking to get rewards while playing. It sort of acts like a play-to-earn game, but I know you would have played Apex Legends, regardless.
Conclusion
And that's the end of our list of the best Apex Legends stat trackers that you should try. Keeping track of your stats is as easy as it has ever been. For the most part, you only need to click a few buttons to get results. There's pretty much no reason for you not to check your stats every once in a while. It's something that anyone who truly wants to improve must do consistently.
So, what Apex Legends stat tracker do you use? Comment it below.