Today we're choosing the best Apple Arcade games so that you don't need to scroll through their game list.
Apple Arcade saw the light of day on September 19, 2019, and currently has more than 200 games in its library. Mobile gaming is an expanding niche within the gaming industry, and Apple users can enjoy exclusive content for iPhone, iPad, Mac, and Apple TV with Apple Arcade.
You may find new releases, classic titles we've previously seen in the App Store, and award-winning games. The biggest appeal? They're all available without in-app purchases or ads. These games, unless specified otherwise on their app page, are available for iOS and macOS, making them an attractive option for M1 and M2 Macbooks as well!
---
15 Best Apple Arcade Games
Whether your main choice for gaming is your phone or you're looking for a casual game to kill some time while waiting at the bus stop, we've selected some of the best Apple Arcade games to enjoy on the go.
The Oregon Trail
Disney Melee Mania
FANTASIAN
Assemble With Care
Taiko no Tatsujin Pop Tap Beat
Cooking Mama: Cuisine!
Sonic Racing
Mini Motorways
LEGO® Star Wars™: Castaways
Crossy Road Castle
Skate City
Detonation Racing
Card of Darkness
Manifold Garden
Exit the Gungeon
---
The Oregon Trail must be one of Apple's most potent titles for promoting Apple Arcade, and with good reason! The classic game from the 70s came back for the 2020s with a bang.
We have a beautiful combination of 2D+3D graphics here, giving it a fresh breeze of air with exciting game mechanics.
Choose your 4-people caravan to cross the gruesome trail. You will go through several trail points with mini-games, inventory management, and random events threatening your party's lives.
Alternatively, go through story modes or limited-time events for extra rewards!
Disney Melee Mania features all your beloved modern-day Disney characters in fast-paced 3vs3 multiplayer battles.
Dodge obstacles and attack your opponents in hectic and exciting gameplay, where quick-fire games are the norm for multiple game modes.
We note that the art for Disney Melee Mania still keeps each character's iconic design while making them more homogeneous for aesthetic purposes.
Get accustomed to your favorite Pixar or Disney character's skills and perks, alongside unlocking awesome costumes for standing out on the battlefield!
Base-turn combat combined with compelling storytelling and random encounters may seem like something we've all seen before, and this isn't out of pure chance.
Hironobu Sakaguchi participated as producer and writer alongside Nobuo Uematsu for the music composition, both original creators of the Final Fantasy series.
FANTASIAN has the perfect elements to attract Final Fantasy fans, but it stands by its own merits as an exciting and creative IP exclusive for Apple Arcade.
Besides, playing with an Apple TV or Mac is highly recommended for its cutscenes alone!
The hectic and hilariously competitive Taiko no Tatsujin has an exclusive release for Apple Arcade, where you can compete against your friends through 80 songs. Each update adds a couple more pieces to the roaster, so stay tuned for more songs.
The gameplay doesn't differ from previous releases, so if you've already played a Taiko no Tatsujin game before, you're all set!
The multiplayer aspect of this game comes from the quick matches you can complete at any point with other players. Even if you play offline, we suggest you give it a go if you have Apple Arcade!
Apple Arcade tries to keep its catalog in constant expansion by adding new titles and Cooking Mama: Cuisine! arrived in June 2022 to delight old and new fans alike.
The game has dramatically improved upon the last IP's release, with flawless touch controls reminiscent of the Nintendo DS era.
Unlike other titles from the Cooking Mama games, you'll get a limited amount of ingredients and kitchen appliances to combine and discover new recipes each day.
Mama is always here to praise your efforts and guide your way through, making it one of the best Apple Arcade games in the singleplayer category!
Some fans may believe this Apple Arcade exclusive is a direct port of Team Sonic Racing. SEGA has indeed taken a lot of inspiration from that title for Sonic Racing, but it's an entirely different racing title.
Sonic Racing takes the fast-paced competitive aspect of the genre and adapts it to mobile format for a delightful experience. Car racing has always been an exciting and thrilling experience, and the simple controls make it all the better.
Whether you use the touch controls or connect an iOS-compatible controller, choose to play with friends or go straight to online mode to compete with players worldwide. Collaborate with your teammates and help them out with power-ups to win the race!
Controlling the traffic may not seem like an appealing concept for a game at first, but don't get us wrong! Mini Motorways is an Apple Arcade exclusive that's perfect for casual players, but don't get fooled by its apparent simplicity.
Players who enjoy a good problem-solving puzzle game will certainly get a kick out of it. With simple game mechanics to place and delete roads, it's only a matter of time until everything turns into chaos.
Choose between several iconic cities for challenges, where each will have different spawning patterns. It won't take long until you combine motorways, bridges, and traffic lights to control traffic and get from point A to B without failing the stage.
We can all agree that LEGO's main attraction comes from the freedom to allow its users to do whatever they want with their blocks. How can you combine it with another iconic IP like Star Wars?
The game starts as you crash into a mysterious world, and once you complete the tutorial, you move around a hub to complete limited-timed missions. Play with friends via the Social Hub to challenge people at the Hippodrome or complete quests together.
Of course, LEGO® Star Wars™: Castaways gives you total freedom to customize your character by unlocking new pieces with databits. We hope you enjoy the countless missions recreating famous scenes from the movies and series!
Crossy Road Castle is a blend between the classic Crossy Roads game and multiplayer fun. You can get your friends to see how far you can run through an endless tower of ever-changing challenges. While there is an option to play the game solo, having friends join you creates a race-like experience like no other.
Like the original game, you can unlock new characters and outfits, such as various hats, as you collect points. In addition, the developers are constantly adding new towers and characters to the game.
An exciting feature is that no tower run is the same. Instead, each run is routinely generated to be unique every time.
If you're looking for a quick game to learn the basics on the go, Skate City is an Apple Arcade exclusive that cuts straight to doing ollies and kickflips. Step into this mobile title and have a blast going through iconic cities like Barcelona, Los Angeles, and much more!
Of course, customizing your character is a must-have for these types of games. Unlock new clothing with SC points, which you can obtain by completing challenges and stages.
With a side-scrolling camera, you get a fast-paced, fun title where the touch controls are the main protagonists!
Racing games are perfect multiplayer games, and one of the best Apple Arcade games to play locally or online is Detonation Racing. If you're looking for insanity, the courses filled with explosives and obstacles certainly fit the criteria.
What's interesting about Detonation Racing comes from the targets you can complete throughout the races and the classic car customization we've grown to expect from these titles.
The latest 1.2.0 update featured a new Time Trial, where the difficulty ramps up for players looking for a real challenge, so we're having a blast!
Card of Darkness is an epic saga of hand-drawn animation where the player casts powerful spells to save the world. From slaying monsters to discovering dark secrets, this game tells a thrilling story just by having the right deck of cards.
When you begin, there are various stacks of cards, all filled with monsters, treasure, weapons, spells, and potion cards. Use the cards to defeat monsters and save Glinhorn Forest.
This game is an ever-changing puzzle game that simulates table-top deck-building games. With a ton of 'risk or reward' decisions, this game has an edge that will keep you wanting more.
Geometry and gravity boggle your brain in this universe where physics is turned upside down. Explore a barren world while restoring its vegetation and bringing it back to life. Manipulate gravity to change your point of view and see this ever-repeating geometric world in new ways.
With hints of Escheresque architecture and visually striking graphics, this puzzle game is definitely one to add to your 'must-play list.
The sequel to Enter the Gungeon, Exit the Gungeon, is a dungeon climber full of adventure. In this storyline, the Gungeon is collapsing, and it's up to your hero to climb your way up and escape. Armed with various weapons and loot, you can find your unique path out of the Gungeon and to safety.
The story and escape are filled with perils and friendly faces. Battle through the shifting rooms, past enemies, and boss fights to find unique loot and weapons that aid you in exiting the Gungeon.
This arcade shooter seamlessly blends with dungeon crawler aspects to create an experience unlike any other.
---
How to Get Apple Arcade
Apple Arcade works as a monthly subscription costing 4.99 USD or equivalent in your local currency, including a free trial month.
You can also get your Apple Arcade subscription if you subscribe to Apple One, where you can choose up to five other services the Cupertino-based company provides.
Apple Arcade is compatible with iOS, tvOS, iPadOS 13.0, and macOS 11.0 or later. Note that you can share a single subscription to this service within a household if you've set up Family Sharing.
---
How to Cancel an Apple Arcade Subscription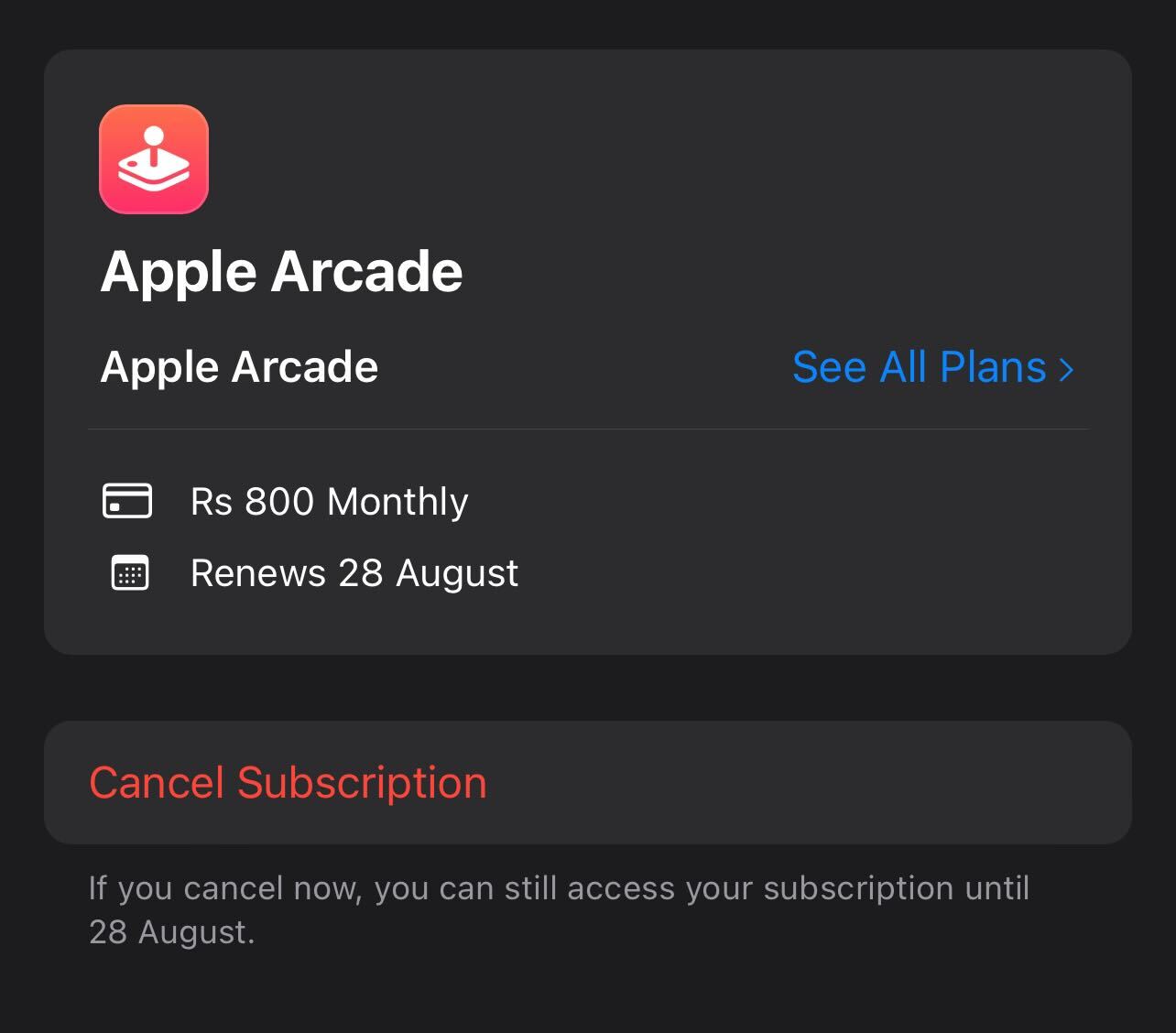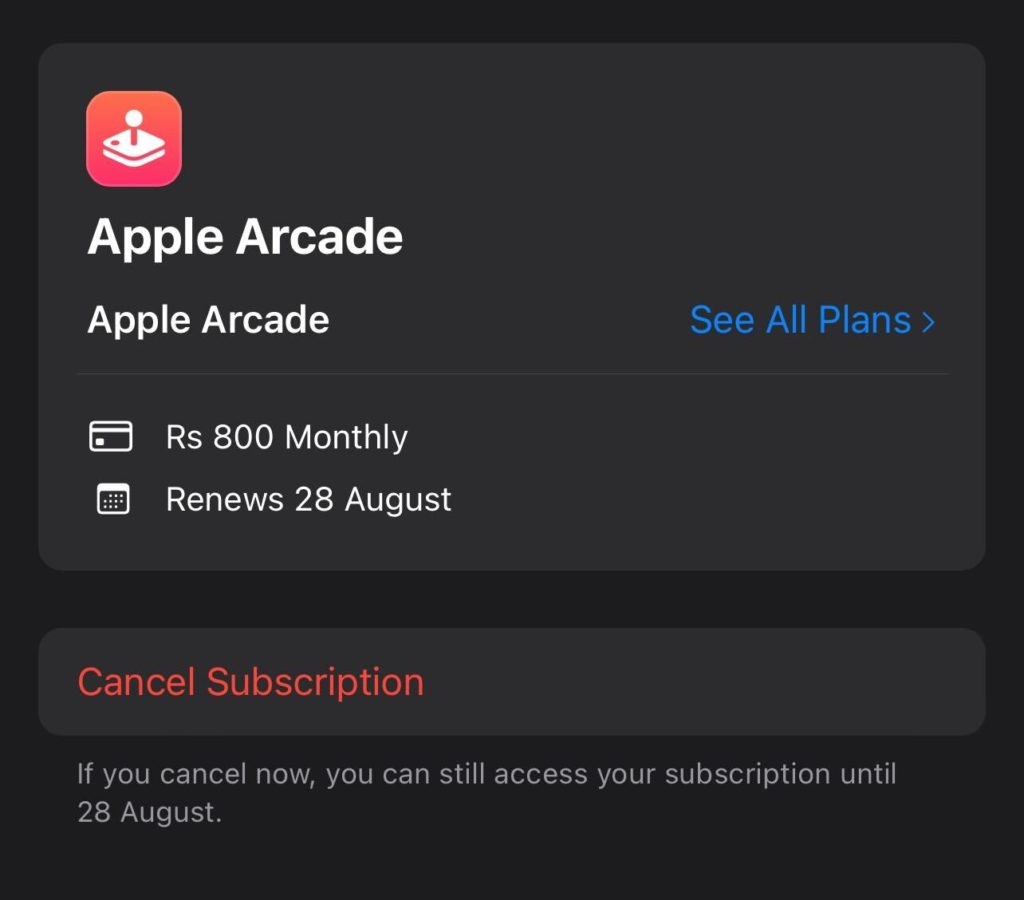 If you no longer wish to stay subscribed to Apple Arcade, simply go to your iPhone or iPad's Settings app and tap on your name located at the top of the screen.
Tap on Subscriptions and wait until your device loads all information related to your active subscriptions.
You will see your active, expired, and canceled subscriptions list, so tap "Apple Arcade" and select "Cancel Subscription" at the bottom of the page.
Select "Confirm" on the prompt informing you about your billing cycle's last day. You have until that date to access all titles in their catalog.
---
Is Apple Arcade Worth It?
If you're feeling nostalgic for the 2010s mobile games like Fruit Ninja or want to try the exclusive releases, bundling Apple Arcade as an additional service with Apple One seems like a no-brainer.
Some titles are fully optimized for the new M1 and M2 chips if you're interested in playing them via macOS, with an outstanding graphic performance without losing battery life on the latest Macbooks.
Getting Apple Arcade will be 100% worth your money if you're already inside the Apple ecosystem. But the drawbacks aren't minor for some players.
Apple doesn't update its platform with as many new titles compared to other platforms. Of course, being an exclusive service for Apple products makes it difficult for players who don't feel like buying a new phone or computer just for these games.
While it's true that many of these titles fit perfectly into the mobile gaming niche, we miss the inclusion of more complex games into their library.
---
Conclusion
The subscription price and the library quality make it an excellent choice for Apple users.
Of course, it's not worth it if you'd need to purchase a compatible Apple product to try the service. However, given the number of people owning iPhone and iPad worldwide, you might already have what you need to enjoy Apple Arcade now!