CS:GO weapon skins come in all colors and types. These can add a bit of personality and a splash of color to your game. However, in the Patch released on February 5, 2014, CS:GO started adding stickers that can be applied to gun skins and add more uniqueness to your weapons.
Fast forward to today, and CS:GO has numerous different sticker options, from ones used to commemorate events to themed stickers. Today, we'll be focusing on anime-themed stickers and ranking the 8 best ones.
If you enjoy both anime and CS:GO, buckle up and get ready to be mesmerized by 8 of the best CS:GO anime stickers available.
Kawaii T (Holo)/ Kawaii CT (Holo)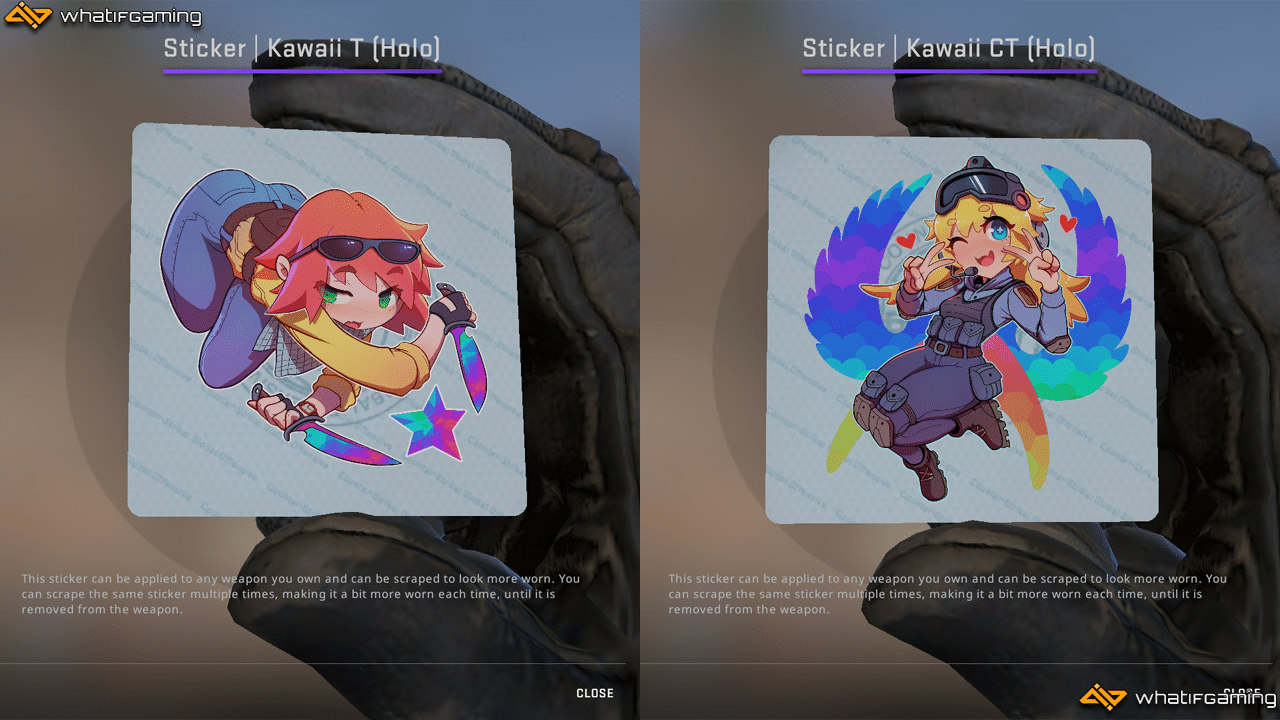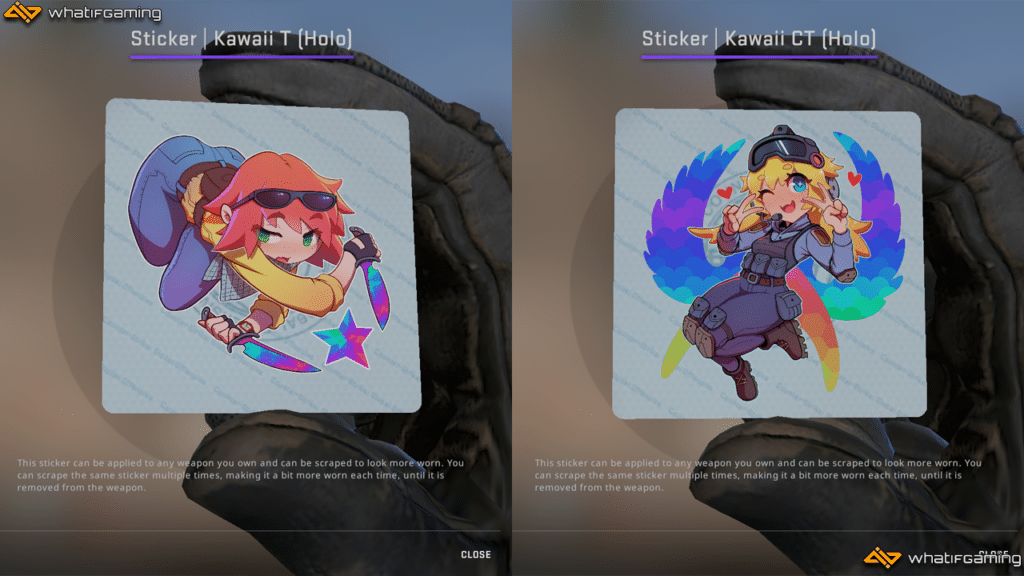 Price on Steam: $4.25/ $3.88
Capsule: 10-Year Birthday Sticker Capsule
The Kawaii T (Holo) and Kawaiit CT (Holo) are the best anime stickers in our books. The Kawaii sticker duo is just too cute to pass up. They are created by user Milong. Both stickers have a similar vibe with great shiny colors.
The Kawaii T (Holo) is one of the most controversial stickers in the game. It features a Terrorist-inspired girl holding two knives while bending over and looking a bit embarrassed. It features one of the "sexiest" designs in-game and might be the one you'd like to add to your skin.
The counterpart is Kawaii CT (Holo). It's a bit more PG than the T sticker and features a girl using the iconic double peace sign while striking a pose. The sticker also features colorful bird-like wings with two small hearts floating around.
Kawaii Killer Terrorist / Kawaii Killer CT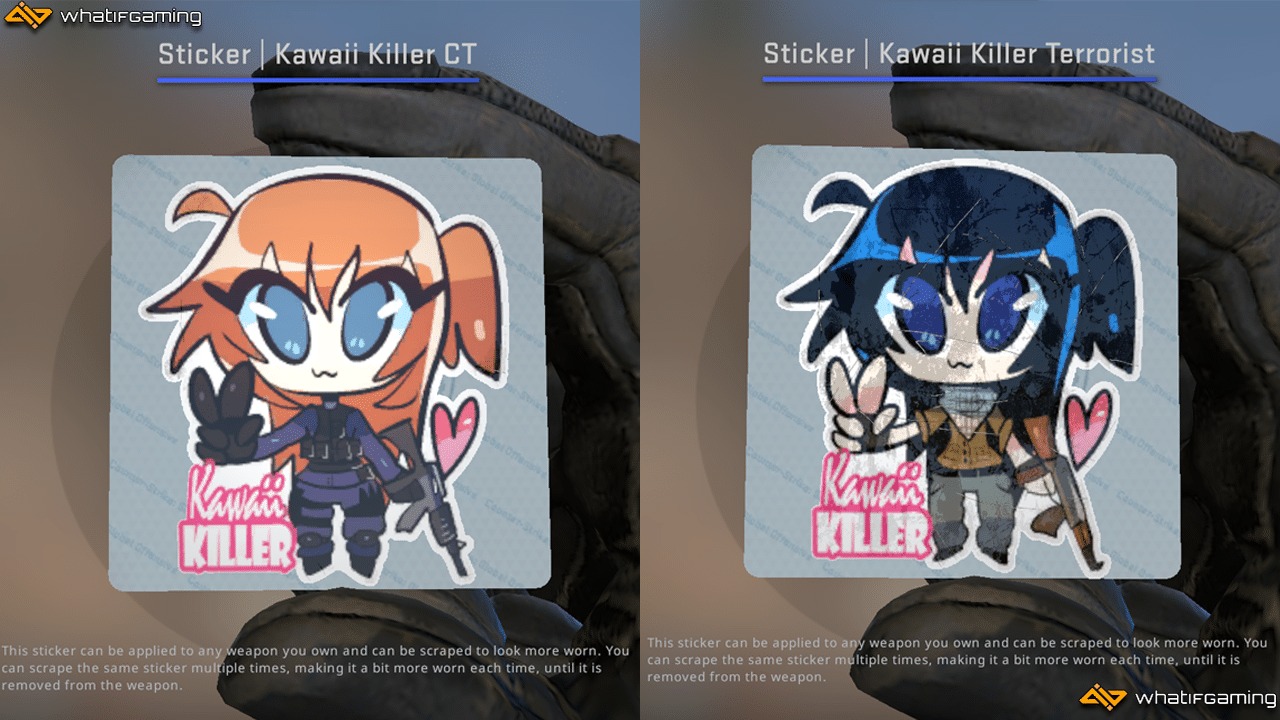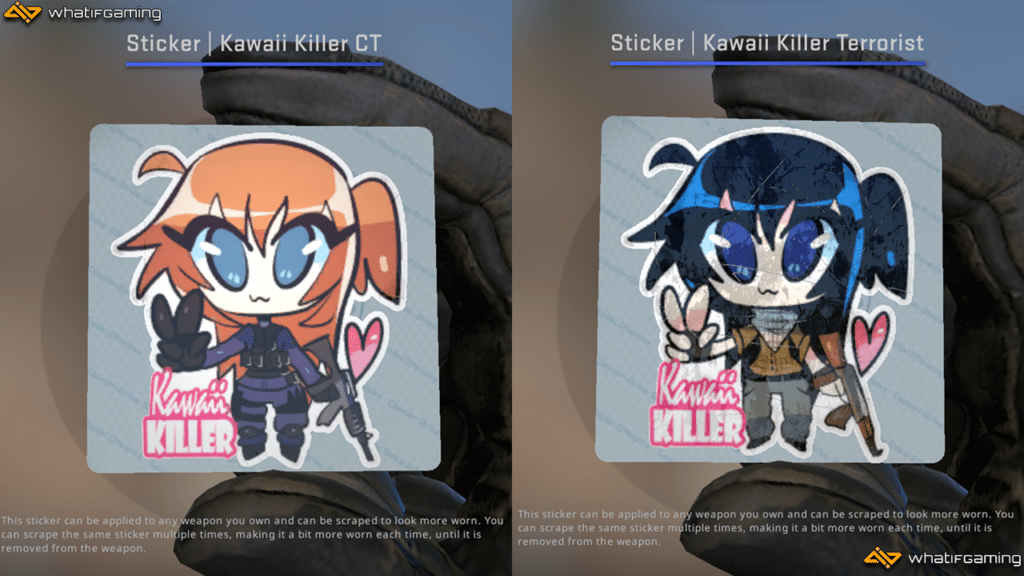 Price on Steam: $1.08/ $1.06
Capsule: Community Stickers Series 2
Next up, we have another killer Kawaii sticker tandem on our list. The Kawaii Killer Terrorist and Kawaii Killer CT stickers are simple, cute, and represent the art style of anime. It's one of the most popular CS:GO anime stickers out there because of its great design and cheap pricing.
Kawaii Killer Terrorist follows the traditional T-side attire of a brown shirt, and grey pants, with a bandana hanging around the neck. The girl on the sticker then holds up a peace sign on her right hand, with the T-side exclusive weapon AK-47 in the other. The words "Kawaii Killer" is also written in pink under her hands with a heart symbol next to the AK-47.
The other part of the duo is the Kawaii Killer CT. Like its counterpart, the Kawaii Killer CT follows the complete uniform of blue SWAT-like uniform of Counter-Terrorists. She has orange hair and also holds up a peace sign, this time with the CT-exclusive M4A4 on the other. The same "Kawaii Killer" and heart symbol combination can also be found on the sticker.
V for Victory (Holo)
Price on Steam: $2.35
Capsule: The Boardroom Sticker Capsule
The V for Victory (Holo) sticker is perfect for anyone who loves anime in general. It features a colorful neon-filled sticker that will definitely stand out when placed on darker weapon skins. The V for Victory (Holo) can be quite expensive, though, so make sure you're sure before you place the sticker.
It features a futuristic gamer girl holding the iconic peace sign with her tongue out while winking. She's also wearing a headset with a holographic piece for her eyes. She has green hair with some holographic antlers sticking out of her headset. It's cool and colorful and captures the cyberpunk aesthetic well.
Baby Medusa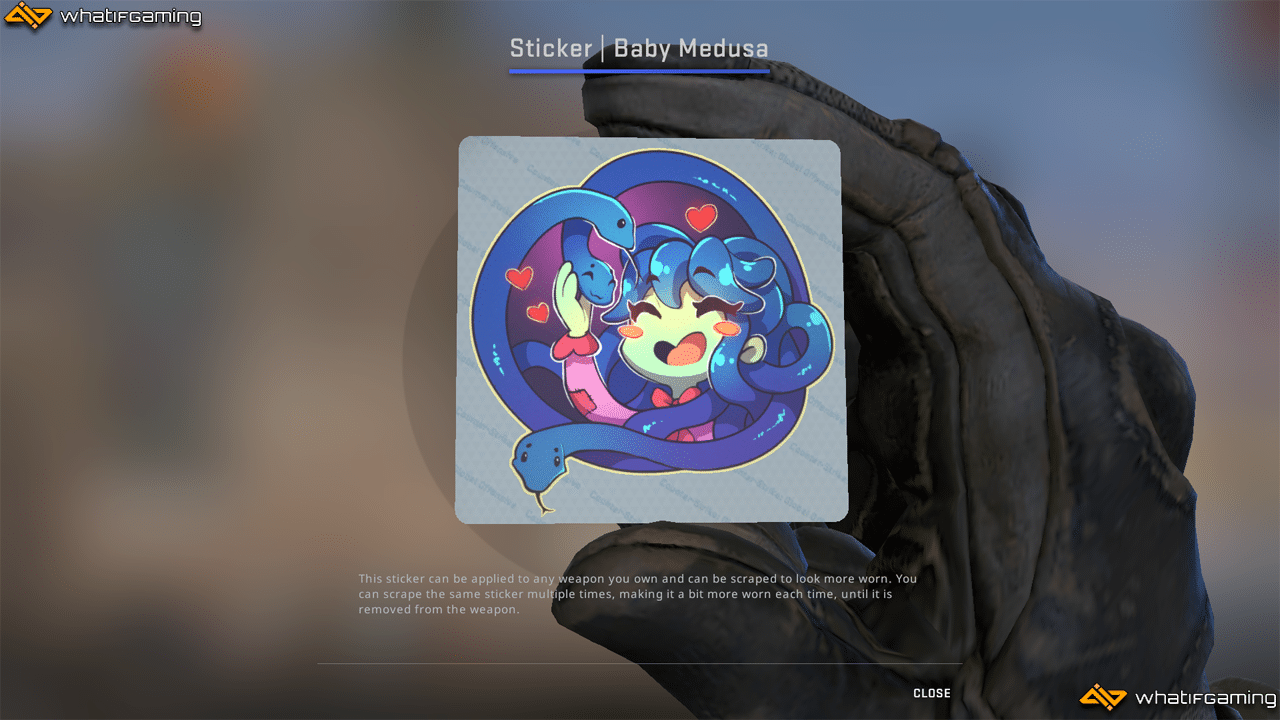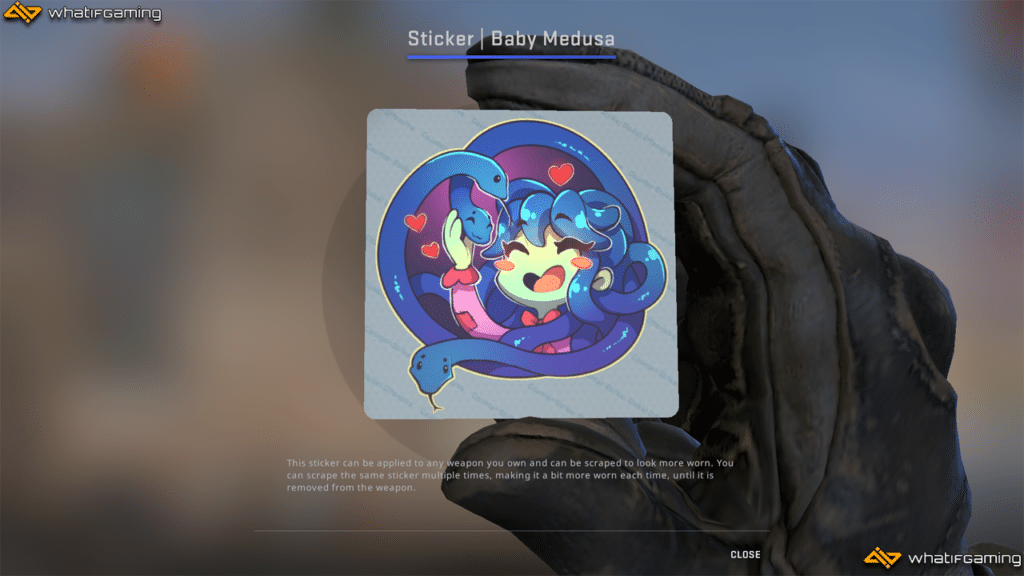 Price on Steam: $0.46
Capsule: 10-Year Birthday Sticker Capsule
If you didn't know, Medusa is an attractive monstrous woman who has snakes for her hair. If you let your eyes gaze into her snakes, then it'll turn you to stone. She's usually found in mythological games like Hades, so you might be wondering what she's doing on our list.
Luckily, the CS:GO anime sticker we have for you today is safe and won't turn you to stone. The Baby Medusa sticker is actually quite the opposite and has a cute and chill vibe to it. It features a Chibi form of Medusa showing some love to her snakes, reflected by the hearts flowing all around.
Noodles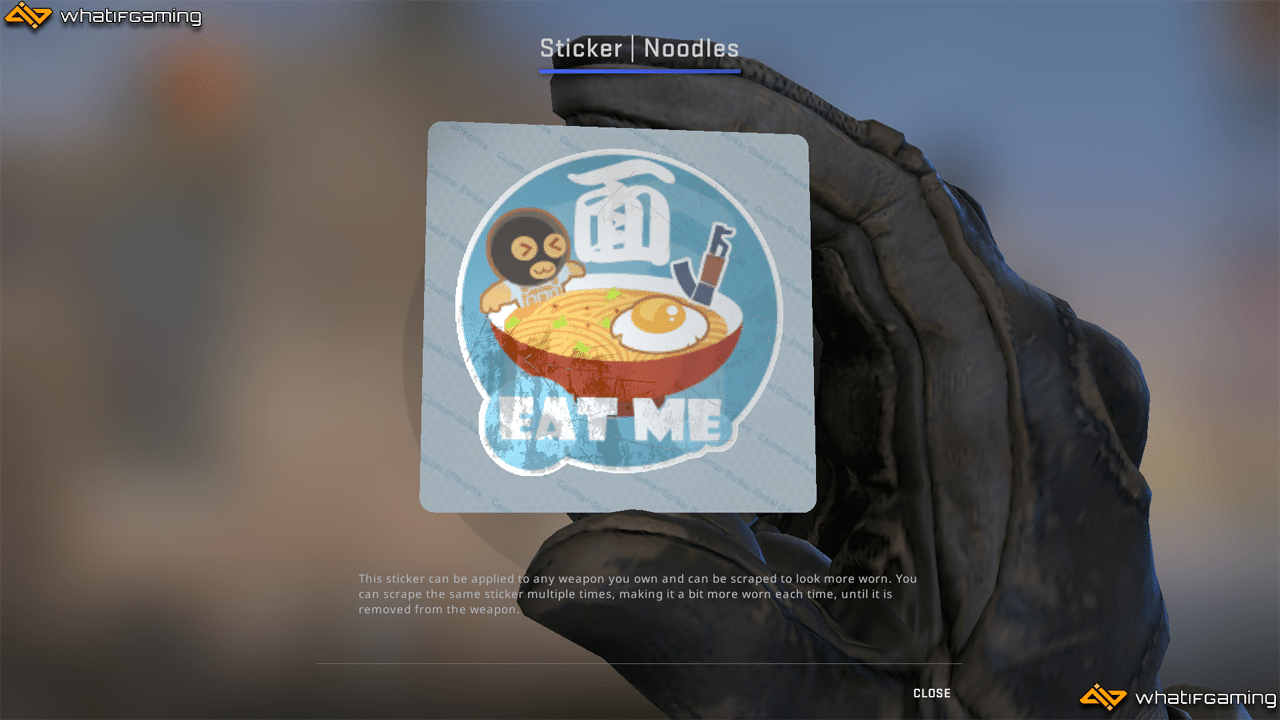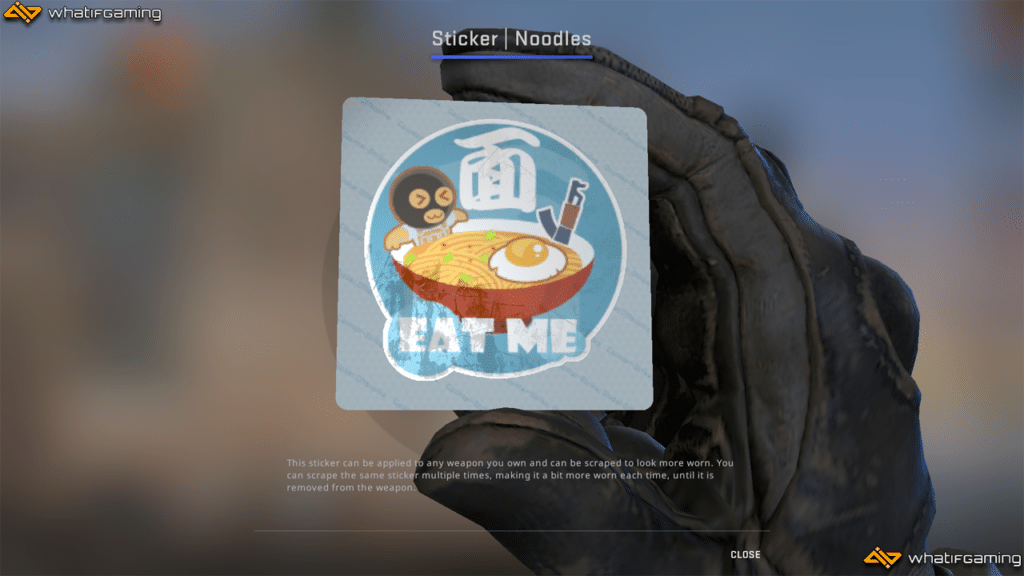 Price on Steam: $0.11
Capsule: Perfect World Sticker Capsule 1
If you're looking for a CS:GO anime sticker that reflects one of Japan's most famous dishes, then Noodles is perfect for you. It features a Counter-Terrorist with his mask on chilling inside a bowl of ramen acting like a hot tub. The bowl is complete with noodles, soup, an egg on top, and an AK-47 chilling on the other side. It's also complemented by the words "Eat Me" below.
Overall, Noodles is definitely an enticing sticker that'll get you hungry for some ramen. Nothing beats eating a bowl of hot ramen when the rain is pouring while playing CS:GO, right? The best part is that Noodles is the cheapest CS:GO sticker on our list at only $0.11. Cover up your weapons with tons of Noodles.
T on Cat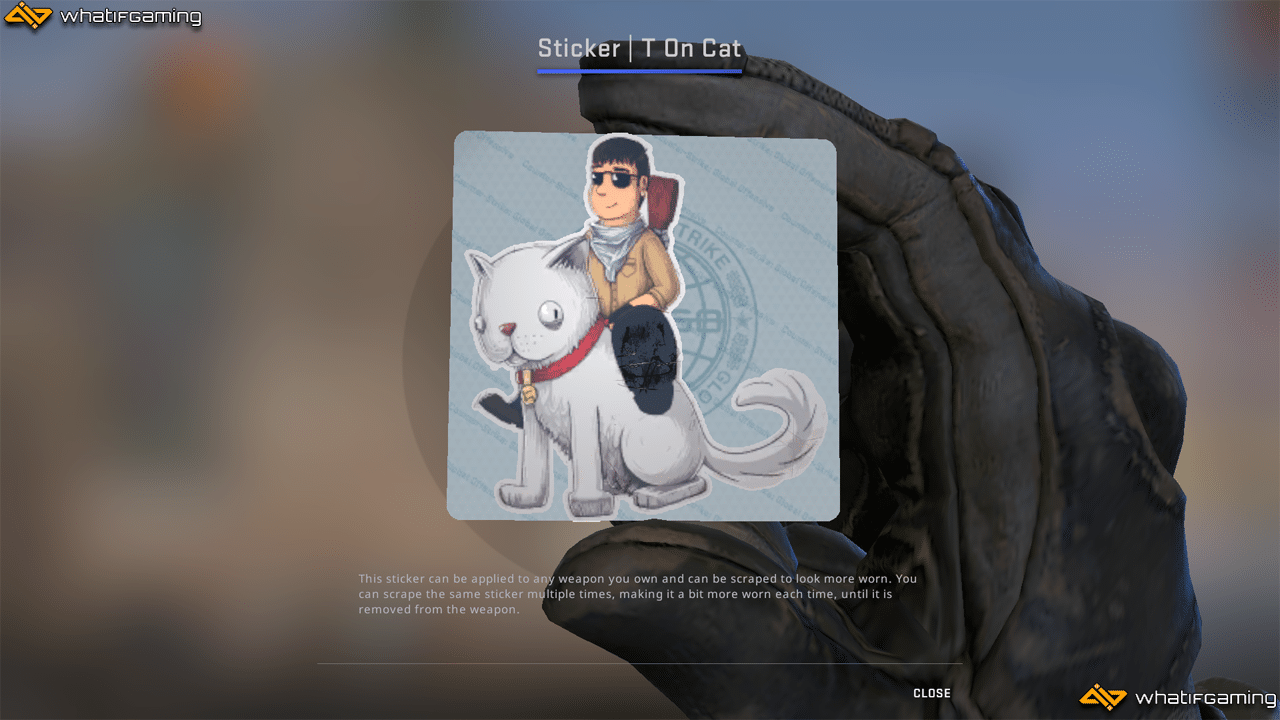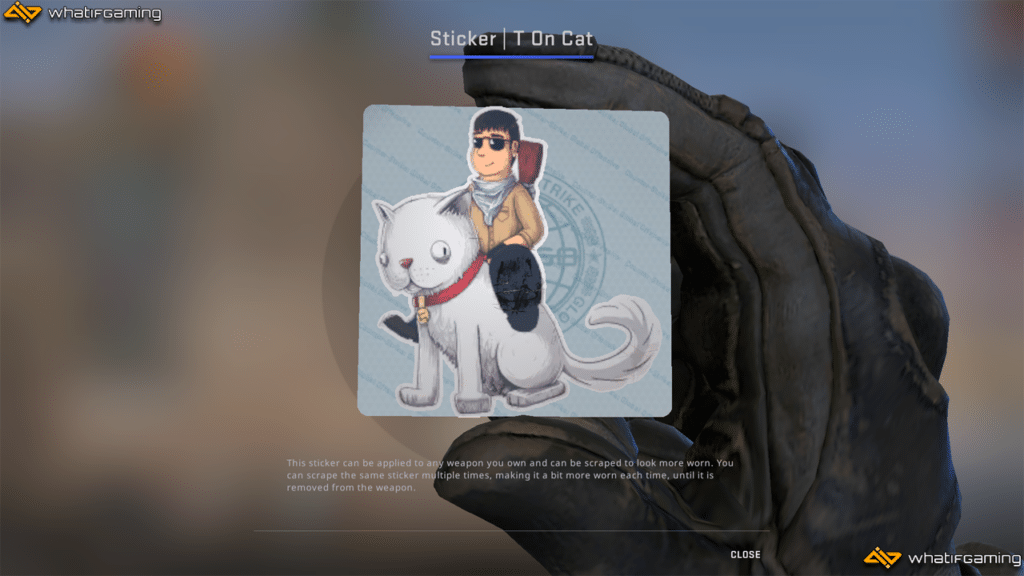 Price on Steam: $1.03
Capsule: Community Stickers Series 2
If you're into a more traditional style of anime, then you're going to love the T on Cat sticker. It was one of the first CS:GO stickers that you could purchase directly from the Steam Marketplace and on trading sites. It's currently available for around $1.03, which is a great price for a solid sticker.
T on Cat features exactly what the title bears, a Terrorist model with sunglasses on riding a white cat. You can see an AK-47 stored behind the player while the cat looks a bit goofy with its eyes spread apart.
Cheongsam/ Cheongsam (Holo)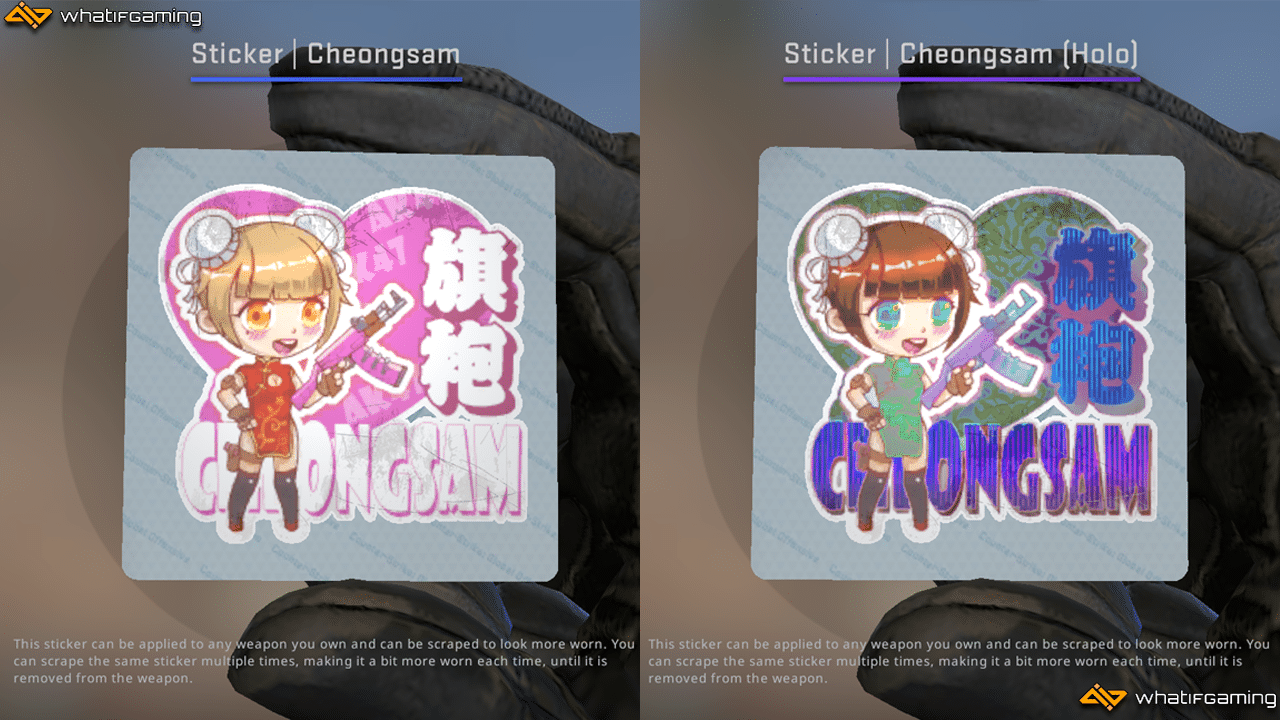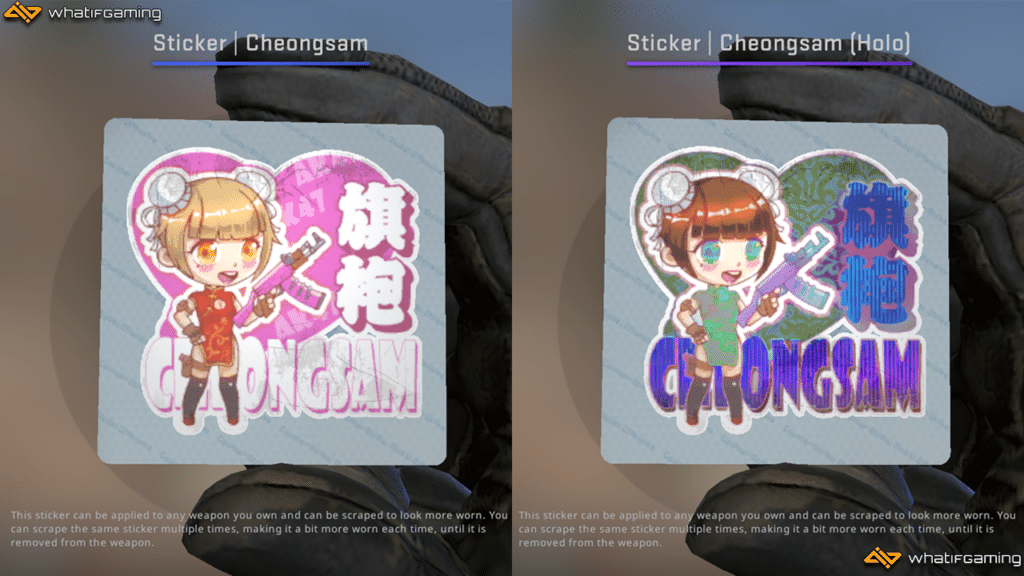 Price on Steam: $0.73/ $1.20
Capsule: Perfect World Sticker Capsule 1
The Cheongsam/ Cheongsam (Holo) stickers aren't exactly based on Japanese culture; They're actually from Chinese culture and feature their traditional attire. However, the overall art style of the sticker does reflect some anime styles, which is why we've decided to include it here.
Cheongsam features a girl holding an AK-47. In the background, you can see a heart with the word "AK-47" written all over it. The Holo version of the sticker has a more colorful approach with brighter neon colors.
Water Gun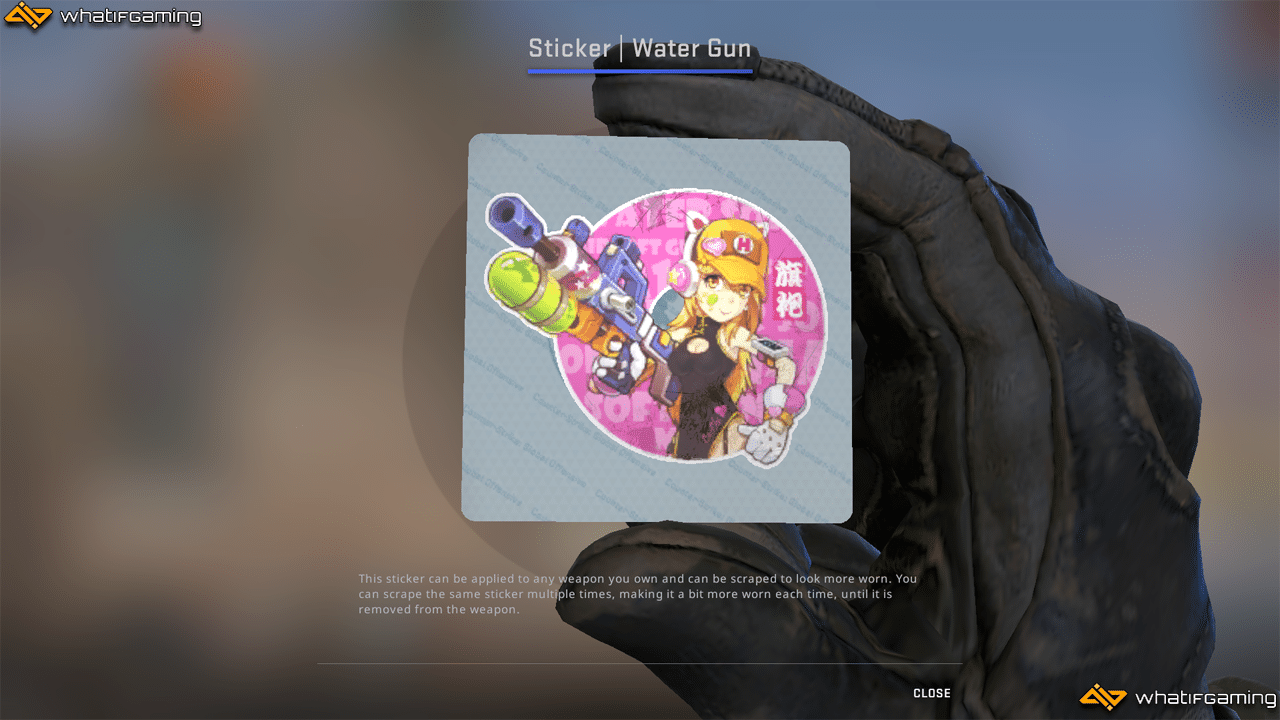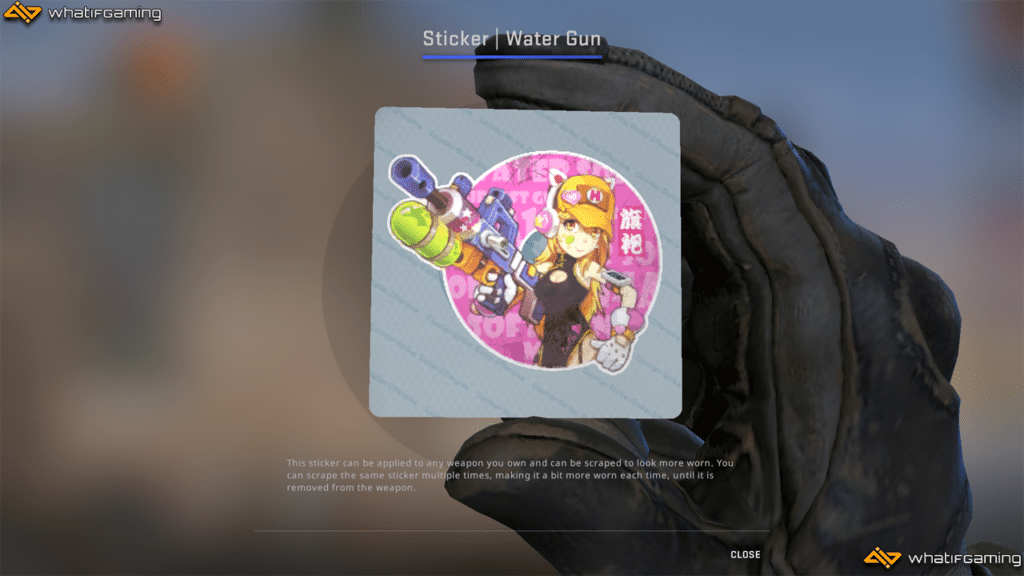 Price on Steam: $0.78
Capsule: Perfect World Sticker Capsule 1
Our final pick for one of the best CS:GO anime stickers that we recommend is the Water Gun. It's a simple and cheap sticker that will make the perfect addition to any cheap skin.
It features a girl with a yellow cap and white headset holding a large water gun. It has a pink background with a bunch of words written like "water," "soft,"" and "M4A4." It's cute, simple, and cheap; what more can you ask for in a sticker?
Conclusion
The Kawaii T (Holo) and Kawaii CT (Holo) duo is simply the best CS:GO anime sticker in our mind. The colors are fantastic, the models are cute, and the art style is just superb. It's hard to find anything wrong with these stickers because they are so well made.
What's your favorite CS:GO sticker? Comment it down below.