I've had my fair share of AK-47 skins throughout the thousands of hours I've poured into climbing the ranks. I know how to separate the bad skins from the great ones and have bought a handful of them and equipped them in my games.
I also know how hard it is to choose the right one to flex in your games. So, I've decided to make things easier by selecting my top 10 AK-47 skins in CS2.
The Empress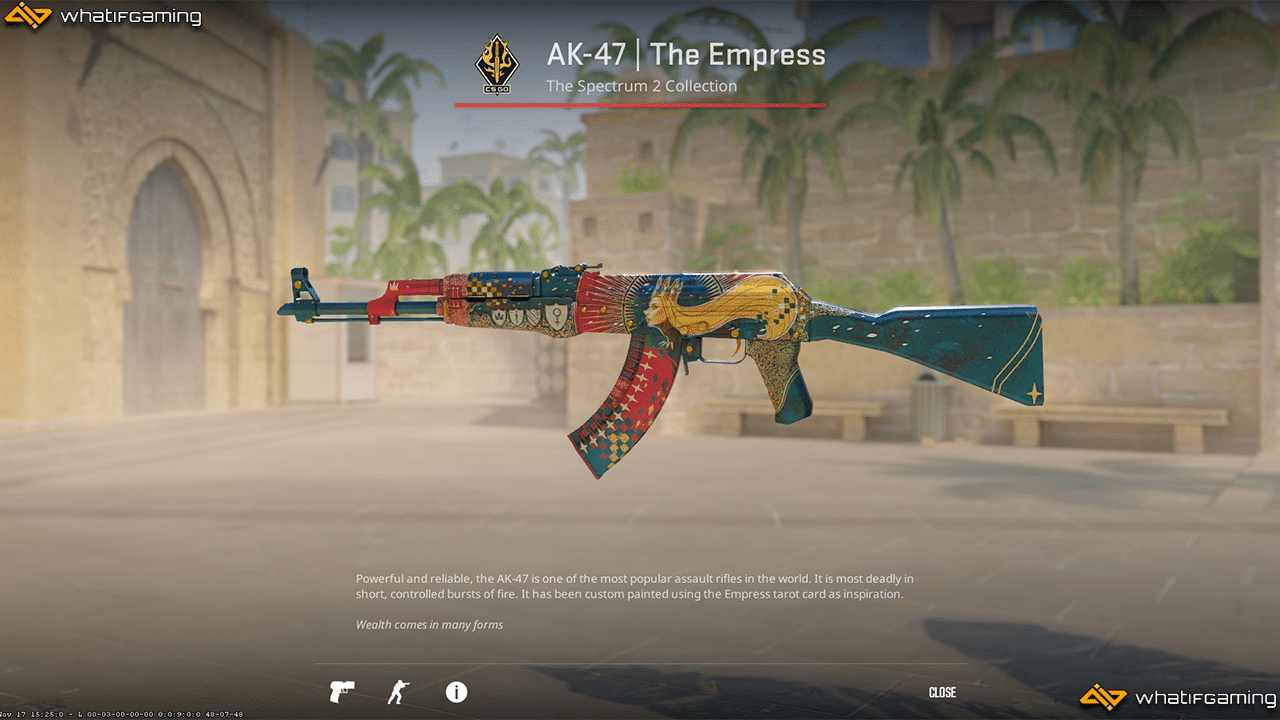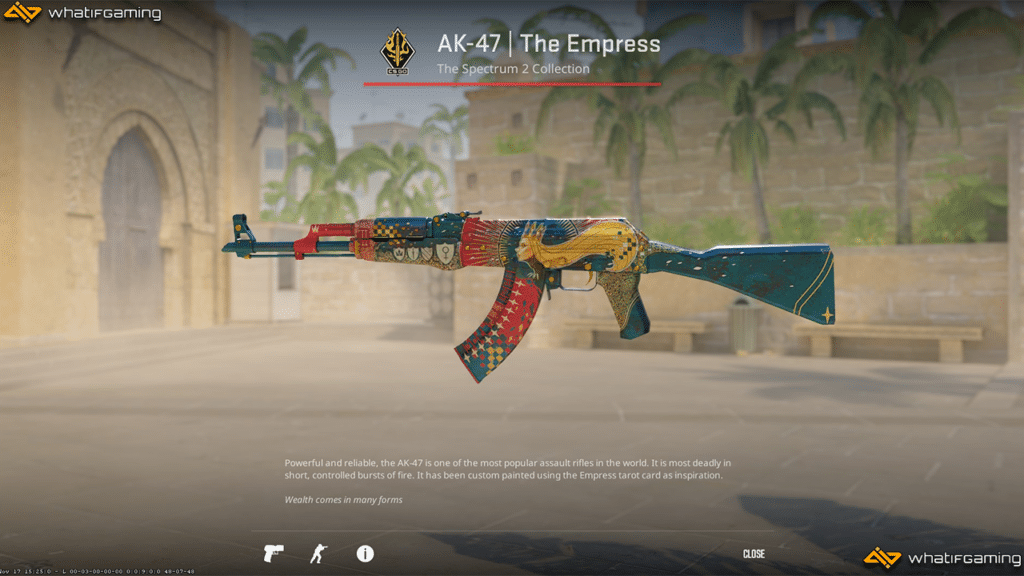 Date released: September 14, 2017
Price range: $18.00 – $300.00
Case: Spectrum 2 Case
The top spot on our list belongs to the AK-47 The Empress skin. It's a majestic skin with blue green, red, and gold as the primary colors. It's inspired by the tarot card of the same name and features the glorious Empress right in the middle of the gun.
Various patterns, symbols, and icons surround the skin, all related to the tarot card. It's one of the most popular skins for the AK-47, but I'd still say that it's well-priced. It also has a StatTrak™ variant that costs a bit more than double the base skin.
Nightwish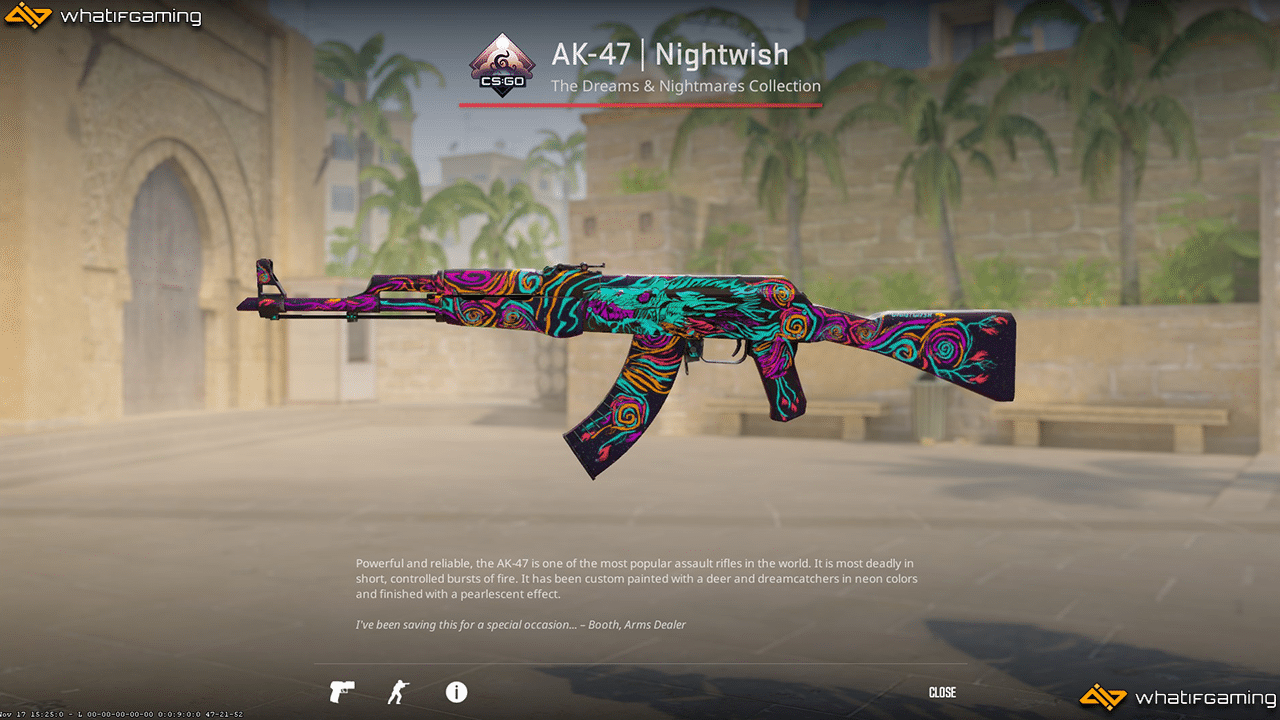 Date released: January 20, 2022
Price range: $4.50 – $195.00
Case: Dreams & Nightmares Case
Nightwish is the perfect AK-47 skin if you're looking for a burst of color. It features a nightmare-ish creature with glowing violet glowing eyes and very sharp teeth. It features a very psychedelic design with neon colors, primarily teal, violet, red, and orange.
You can find the word "Nightwish" written on the buttstock of the weapon, a small yet fun little detail. It's one of the more recent skins on our list, which is why it's very popular among the community. There's also a StatTrak™ variant that costs more than double the base skin.
Ice Coaled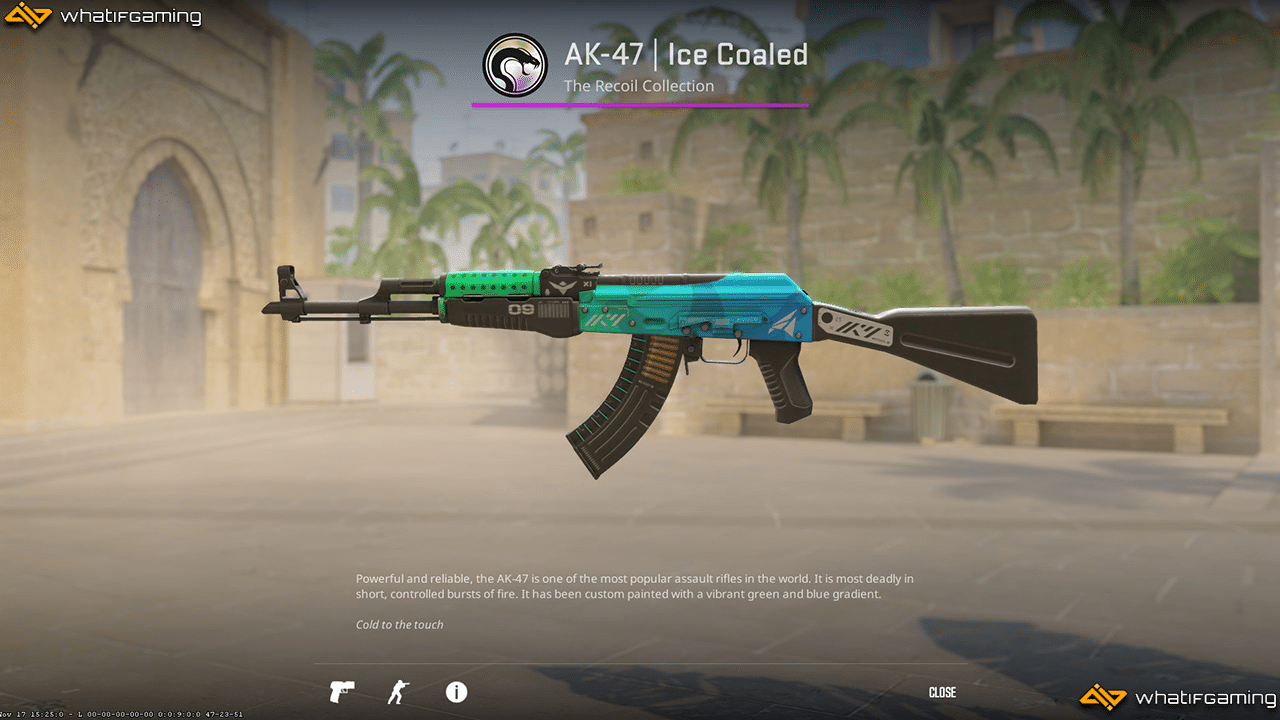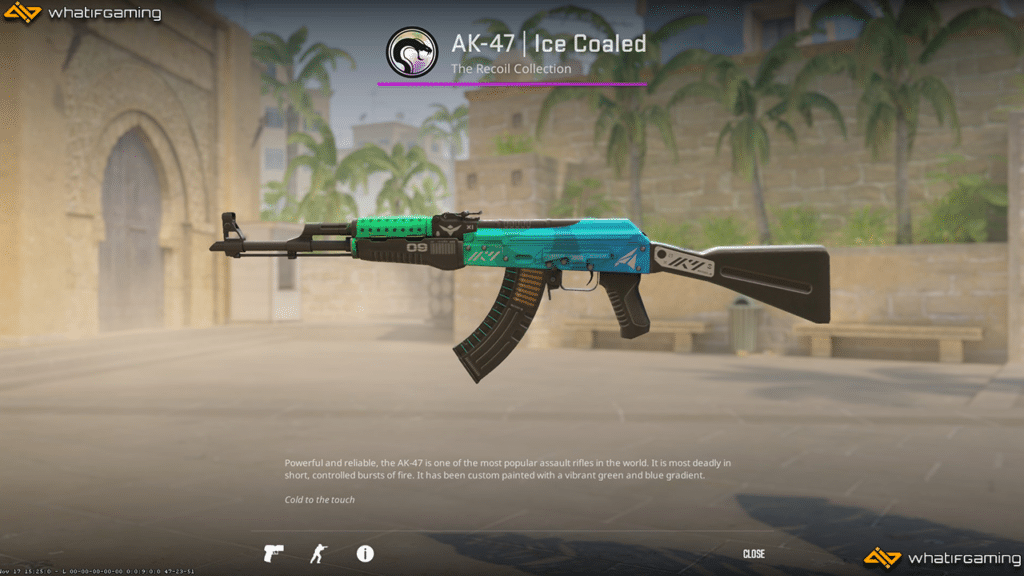 Date released: July 1, 2022
Price range: $3.00 – $50.00
Case: Recoil Case
Next up, we have another fan-favorite skin with a colorful and vibrant design. The AK-47 Ice Coaled features a smooth, clean-looking pattern with shades of blue and green. The rest of the weapon looks sleek in solid black paint, with hints of teal near the magazine and various icons scattered around.
Ice Coaled is definitely one of the more vibrant Ak skins around. If you weren't looking close enough, you might mistake it for one of those Vandal skins from Valorant. It has an overall solid look and features a StatTrak™ variant as well.
Head Shot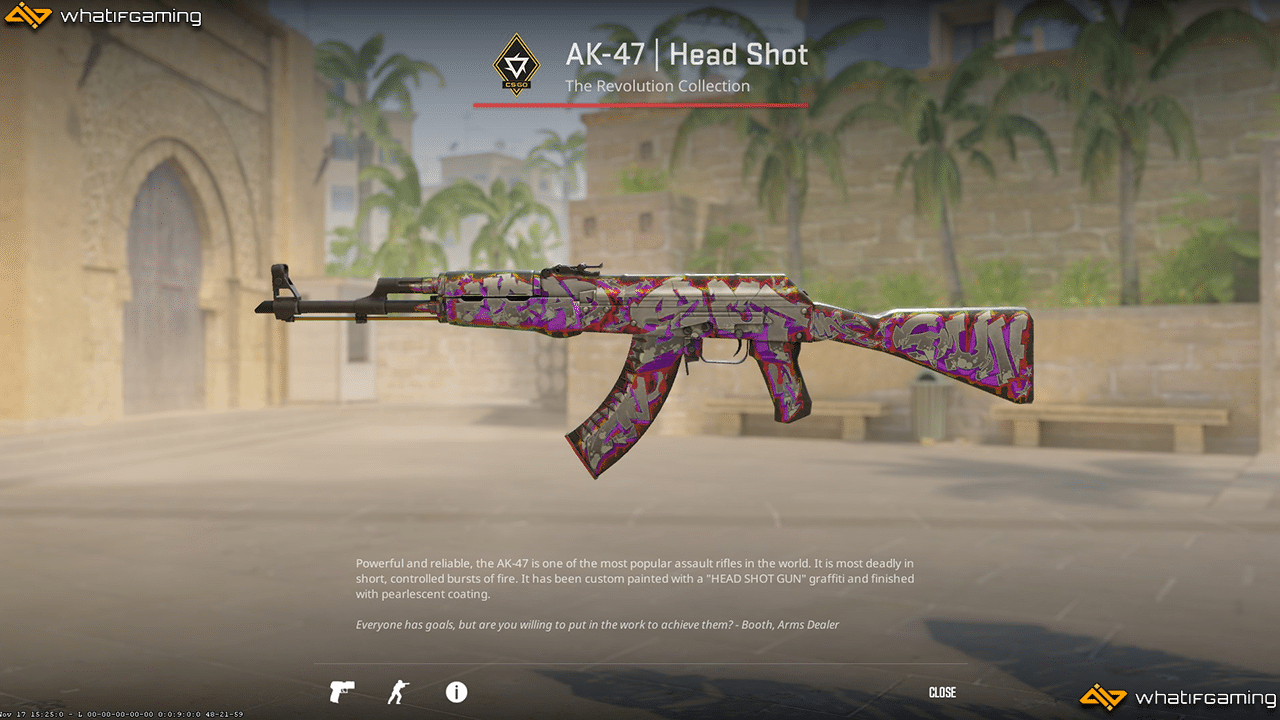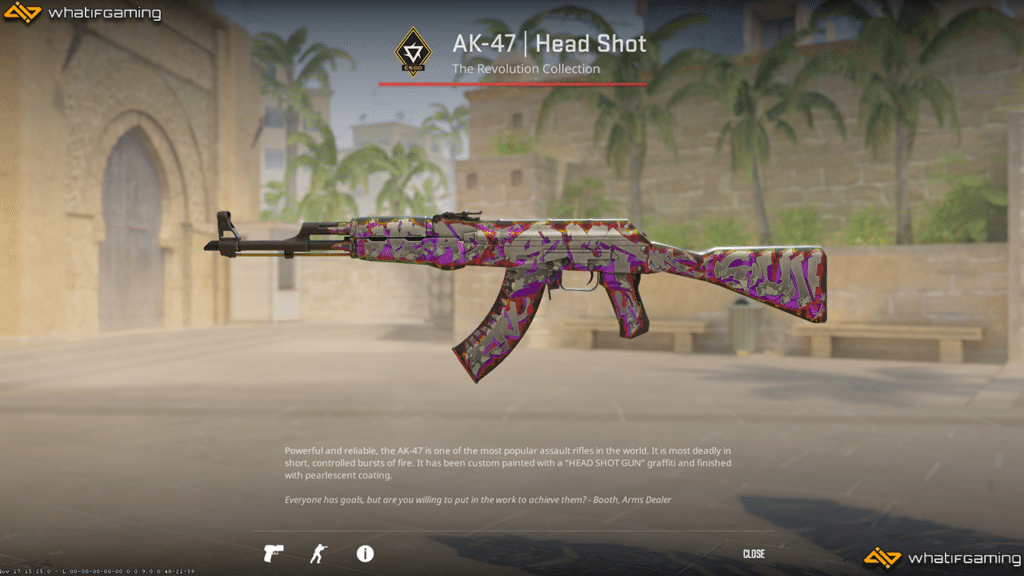 Date released: February 10, 2023
Price range: $7.00 – $210.00
Case: Revolution Case
The Head Shot is a sizzling hot skin, only released in the early months of 2023. It is highly popular for its colorful graffiti design, with the words "HEAD SHOT GUN" heavily emphasized in a traditional street art font.
Purple, pink, green, and orange neon colors dominate the weapon. The colors further shine in CS2 with the amazing new lighting effects, highlighting the skin's strong suits.
Gold Arabesque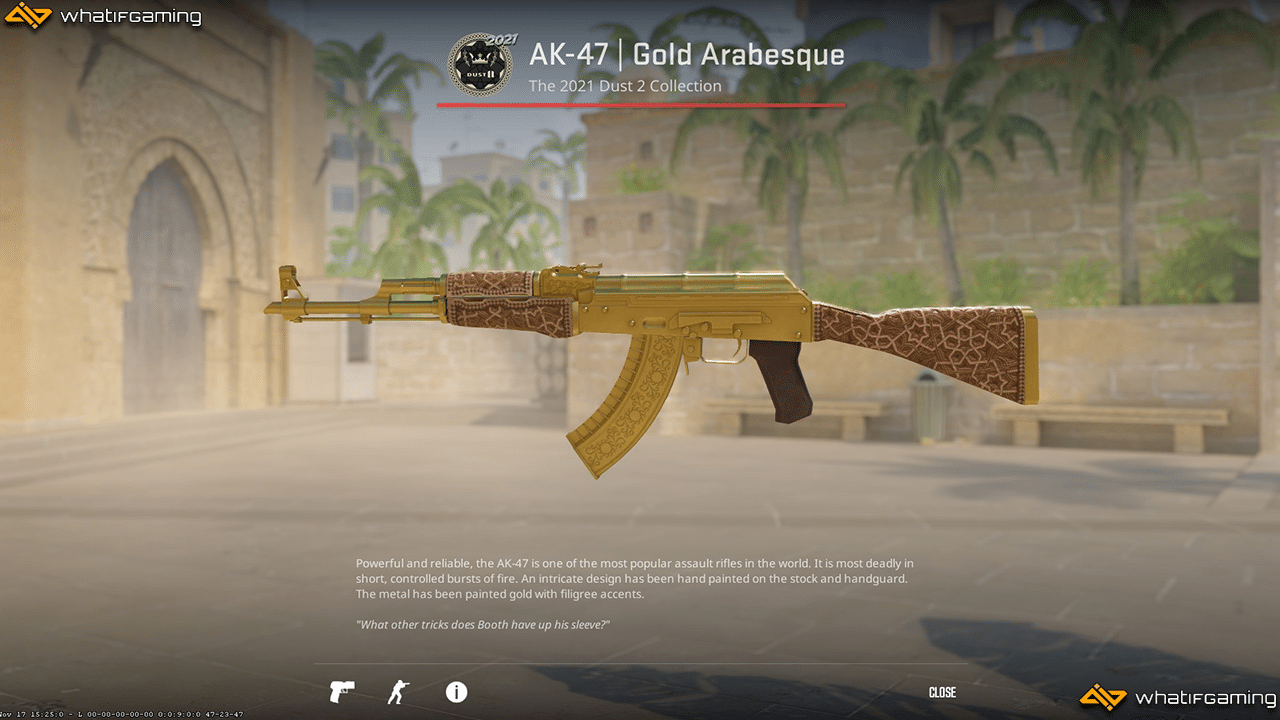 Date released: September 22, 2021
Price range: $1500.00 – $7200.00
Case: Stockholm 2021 Dust II Souvenir Package, Rio 2022 Dust II Souvenir Package, Antwerp 2022 Dust II Souvenir Package
The Gold Arabesque is a skin worthy of its name both in looks and in price. I think it goes without saying that this AK-47 is covered in solid gold paint. It's one of the most elegant-looking rifles in the game and is deservingly reserved for royalty in the making.
Bringing out the Gold Arabesque AK-47 skin is genuinely a flex in its own right. It looks sleek, stylish, and exquisite; plus, who doesn't like gold?
Phantom Disruptor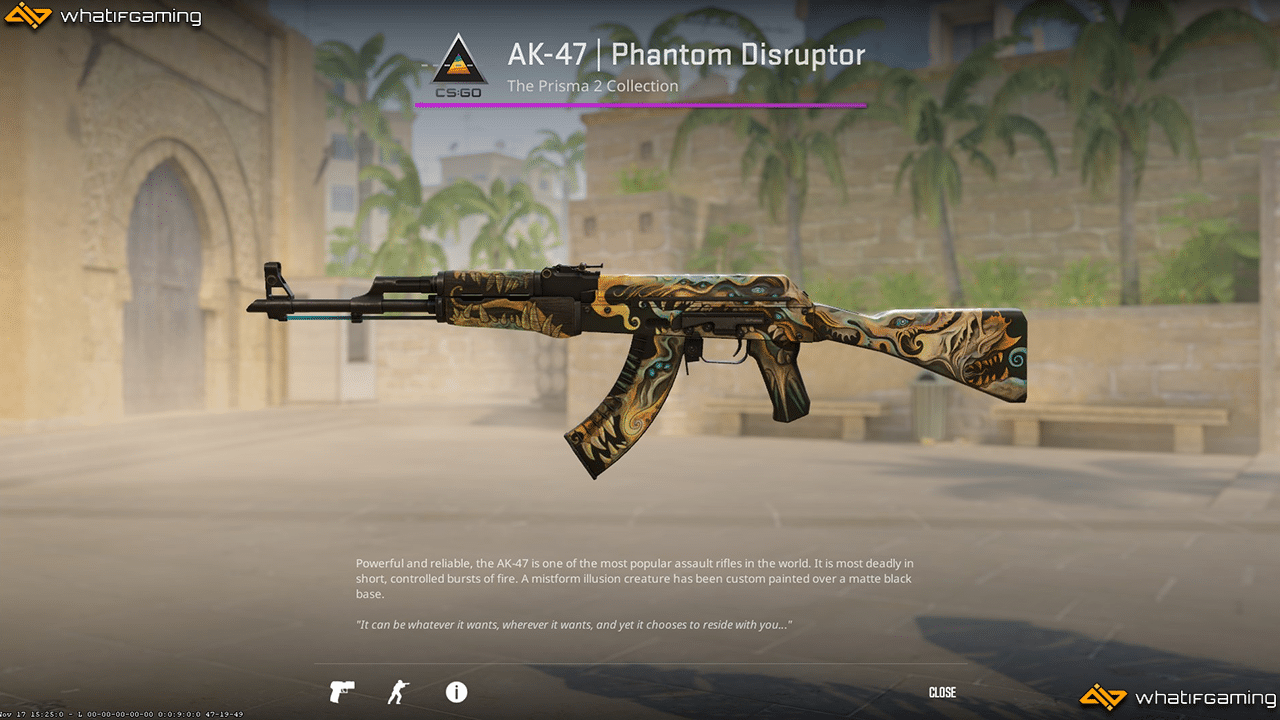 Date released: March 31, 2020
Price range: $2.50 – $31.00
Case: Prisma 2 Case
The Phantom Disruptor is another beautiful AK-47 skin that features a mysterious creature on its body. It's a lot less colorful than the Nightwish, but it still presents a surreal vibe with a paler color theme. The mist form creature wraps around the weapon with multiple eyes, tounges, and sharp teeth all over.
It primarily has shades of blue, yellow, pink, and orange with an overall matte finish. It's one of the cheaper AK-47 CS2 skins, making it perfect for players on a budget. Even its StatTrak™ counterpart is cheap, just a little over $30.
Case Hardened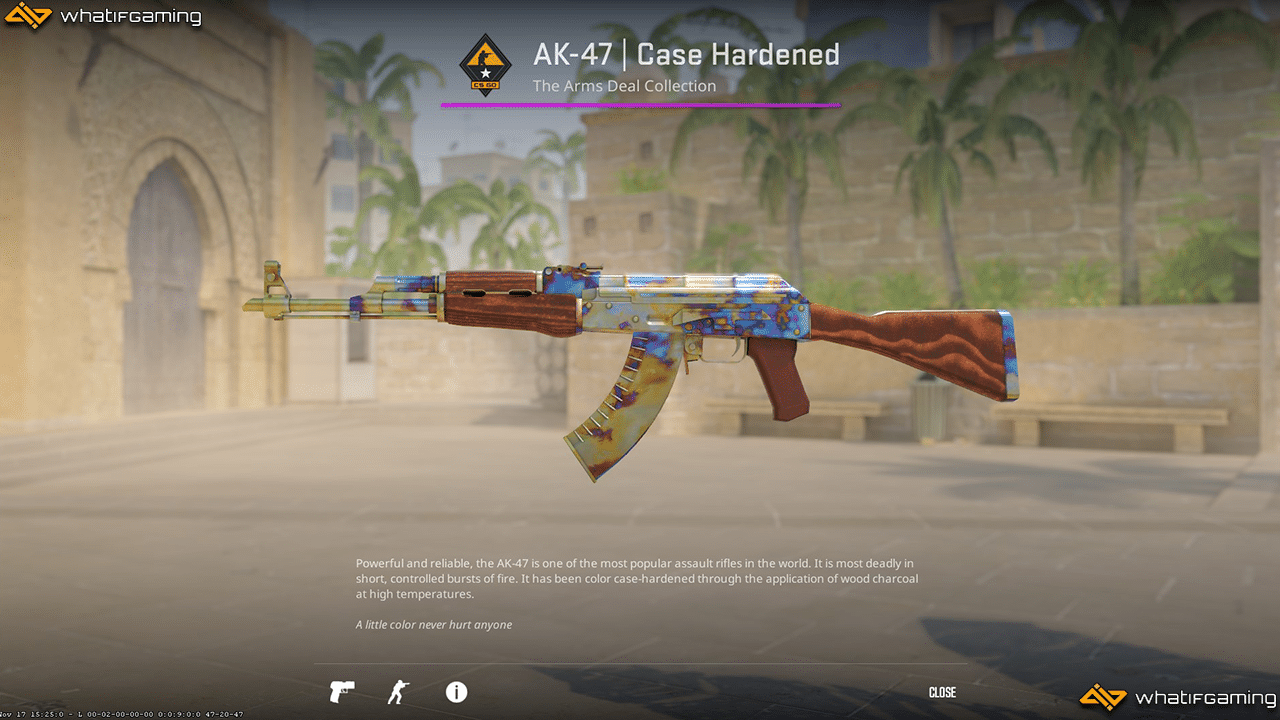 Date released: August 13, 2013
Price range: $145.00 – $712.00
Case: CS:GO Weapon Case
The Case Hardened series is a long line of glimmering skins, all with the same blue-flame and gold finish. They are primary contenders for some of the most expensive CS2 skins, especially if you obtain rare patterns.
CS2 further solidified the highly coveted AK-47 Case Hardened skin as one of the premier choices in the game. I mean, just inspect it in direct sunlight and tell me with a straight face that it doesn't look majestic.
Legion of Anubis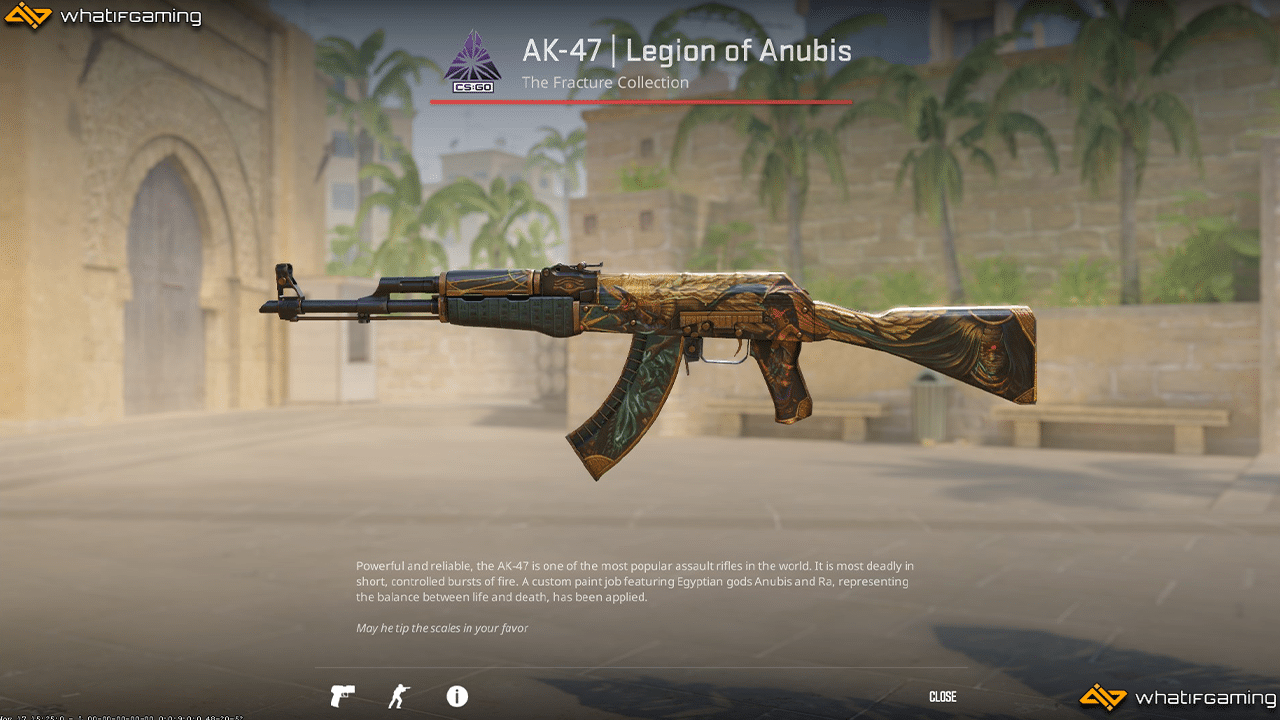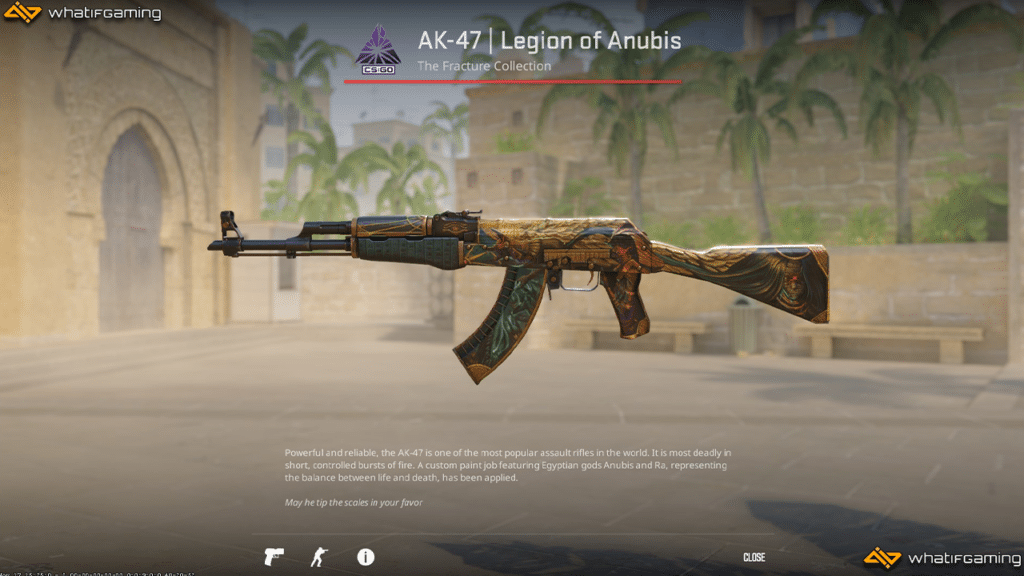 Date released: August 6, 2020
Price range: $4.00 – $57.00
Case: Fracture Case
Legion of Anubis has the AK-47 looking like a completely new gun. It has a custom-painted image of Anubis, the God of Death, and Ra, the God of the Sun. The skin embodies the balance between life and death, which is why Anubis and Ra are featured.
Legion of Anubis is primarily dominated by dark shades of yellow, gold, blue, and black. It also contains various Egyptian symbols and hieroglyphs to match the theme. It's incredibly detailed and is a truly amazing sight to behold. These combine for a top-tier CS2 skin.
Wild Lotus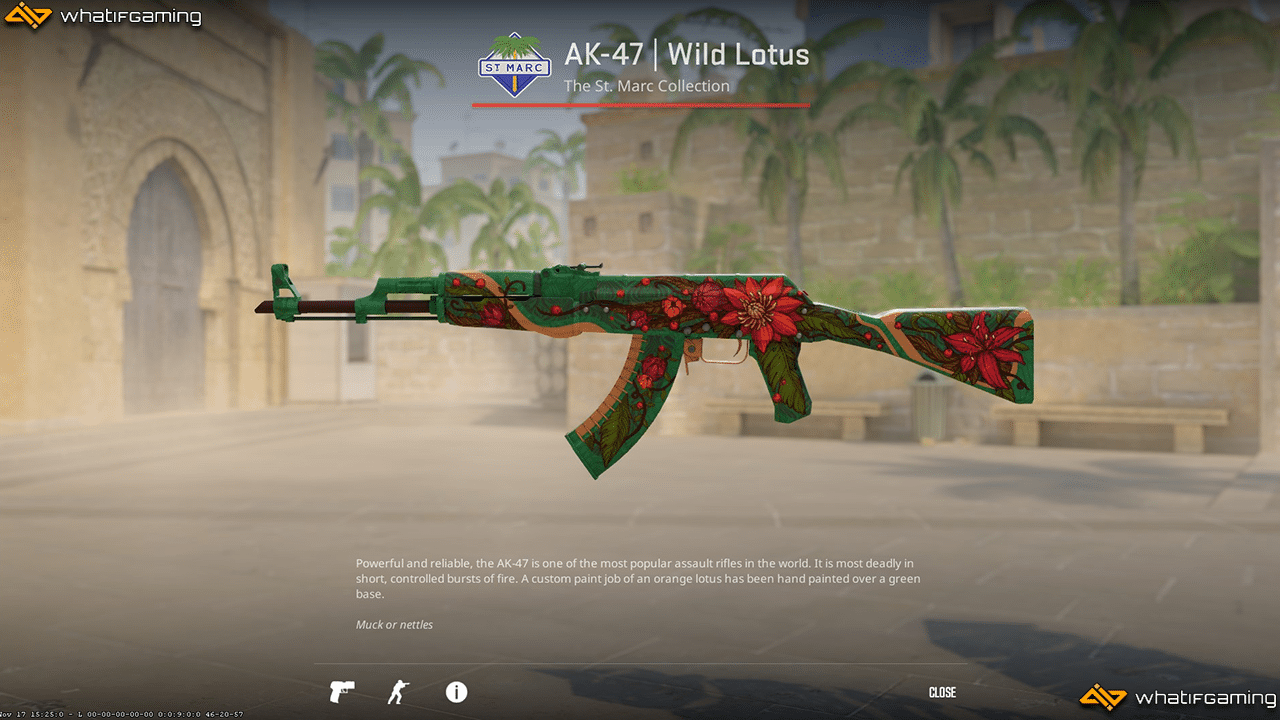 Date released: November 18, 2019
Price range: $2500.00 – $9500.00
Case: N/A
Next, we have the most expensive CS2 skin on our list, the Wild Lotus. The Wild Lotus is a rare skin that you can't find in any case and was only available as a drop during Operation Shattered Web and is a part of the St. Marc Collection.
It features a beautiful lotus growing throughout the weapon, with various vines, leaves, and flowers blooming as well. The entire gun is covered in a leaf-green hue with underlying leaf patterns and beige accents. There's no StatTrak™ variant available for the skin.
X-Ray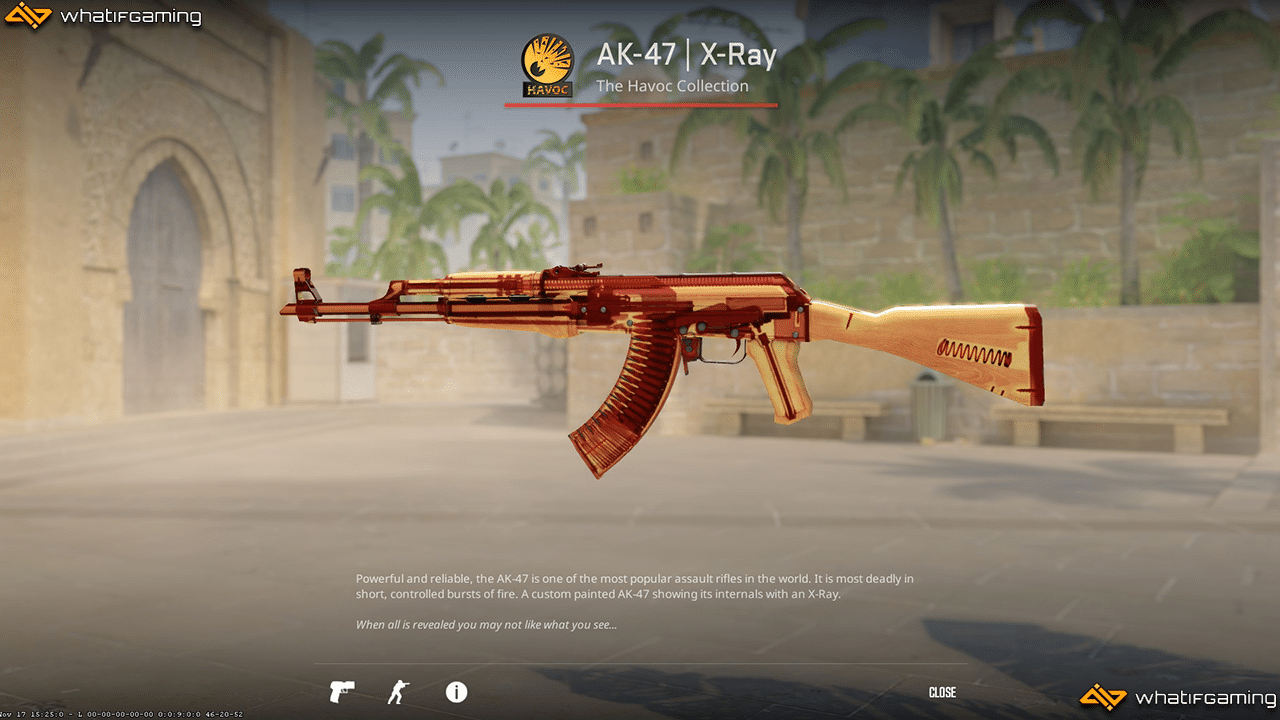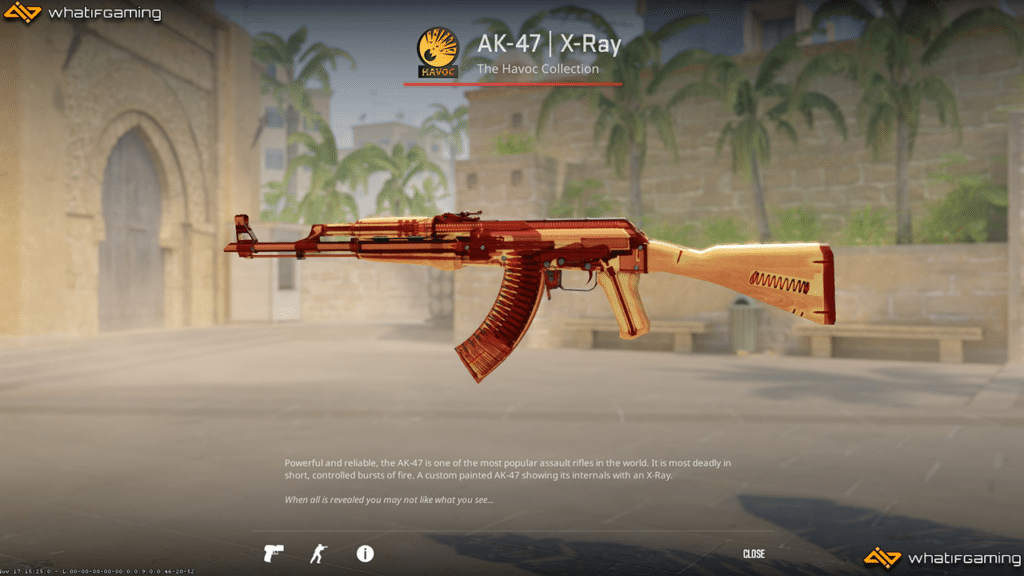 Date released: December 3, 2020
Price range: $220.00 – $1375.00
Case: N/A
Closing the list out is a see-through orange skin, allowing the all-inclusive display of the inner mechanics of the AK-47. It's such a great design because of the uniqueness that it brings to your skin game. This makes it an instant hit among a majority of players.
The added rarity of its absence from CS2 cases makes it a more coveted item among collectors. Its appealing visuals, further emphasized by immense lighting, highlight the true value of the skin.
Conclusion
The AK-47 Empress takes home the throne of the best CS2 AK-47 skin in my eyes. It's just a classic skin that looks great, featuring a fantastic blend of colors with an elegant in-game look. The other AK-47 skins are still worth taking a look at, though, as they all have beauty within them.
Comment your favorite AK-47 skin below.