If you're truly serious about climbing the CS:GO ranks, you'll need more than just practicing on aim trainers all day. One of the best ways to track your progress is by using CS:GO trackers. The best CS:GO trackers will help you find areas that you need to improve by showing you your stats.
We've collected some of the best CS:GO stat trackers you can use to take your game to the next level.
What Is a Stat Tracker?
A stat tracker is usually a third-party app that uses an API provided by the game. It then compiles all of the various statistics and data and presents them in an orderly fashion. Usually, these data wouldn't be accessible to the public without the help of CS:GO trackers.
The stats you can see will vary depending on the app that you use. Most CS:GO stat trackers should show your win rate, K/DA, headshot percentage, accuracy, total kills, total time played, MVPs, and top weapons.
Other stat trackers also provide a more in-depth game analysis that directly highlights the areas you need to improve. These are generally done by an AI they developed and will usually require an additional payment for their service.
Best CS:GO Trackers (2023)
Here's a look at the best CS:GO trackers currently out there:
Leetify.com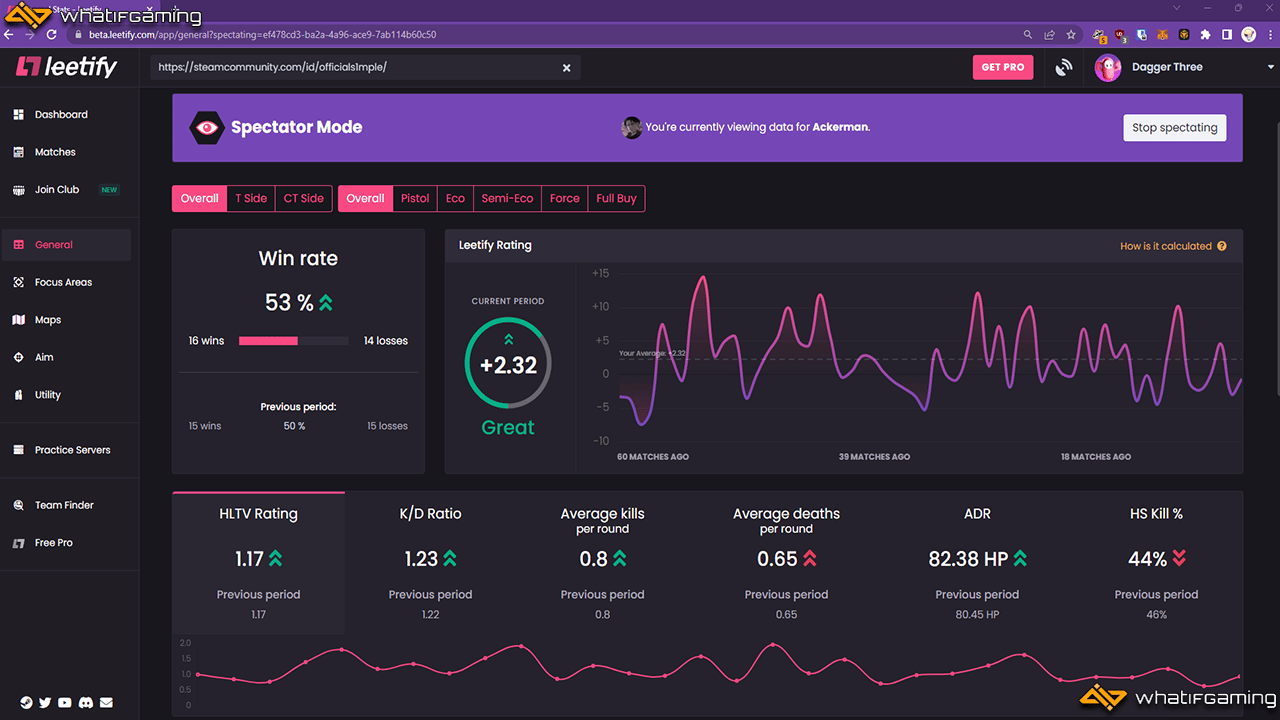 Leetify is one of the newest entrants into the CS:GO tracker industry, but it has already created quite some buzz. A lot of pro players are saying great things about Leetify because of the great analysis it provides on your overall game.
Aside from the basic individual stats, it also shows your utility usage and aim using various individual metrics allowing you to analyze them yourself when needed. It also shows very mechanical-based things like crosshair placement and counter strafing resulting in faster improvement.
Leetify has a very clean and easy-to-understand UI that makes it perfect for both beginners and pros. Overall, it's the best CS:GO tracker to use if you're truly serious about improving your game.
Tracker.gg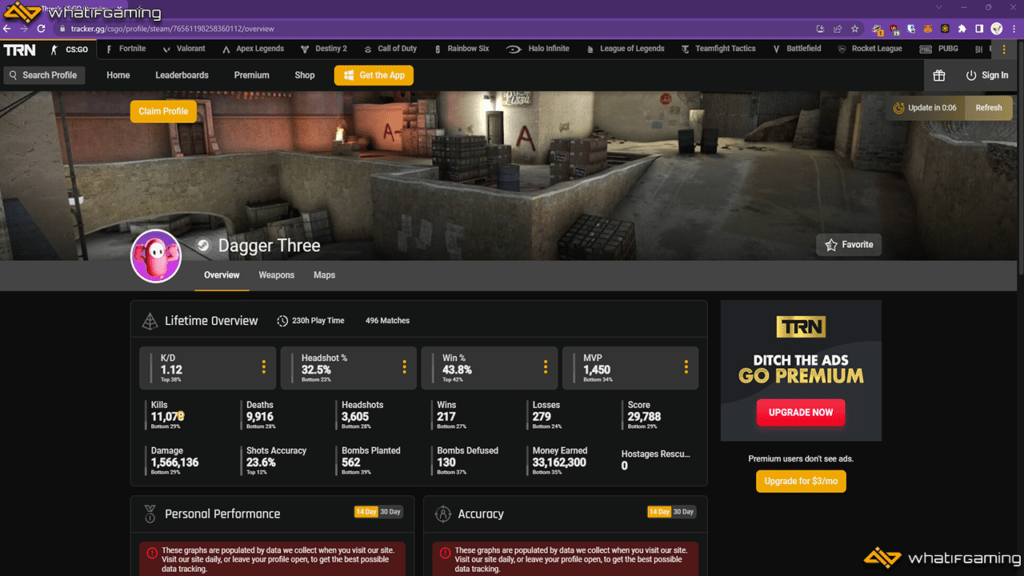 Tracker.gg's CS:GO tracker offers traditional stats like K/D, headshot %, win%, MVP counts, and kills. However, there are also some obscure stats like bombs planted and defused, and money earned. You simply need to sign in with your Steam account to access all of your personal stats and records.
They also offer in-depth weapon and map stats that allow you to find out your strengths and weaknesses. You'll finally find out if that expensive CS:GO weapon skin was worth it. They also feature graphs about your personal performance and accuracy if you can leave the site open while playing.
Tracker.gg is perfect for players looking for trackers for other games, like a Valorant stat tracker or a Fortnite one, alongside CS:GO. This helps keep all of your stats in one place. You can also install their mobile or desktop app if you want easy access to your stats.
Csgostats.gg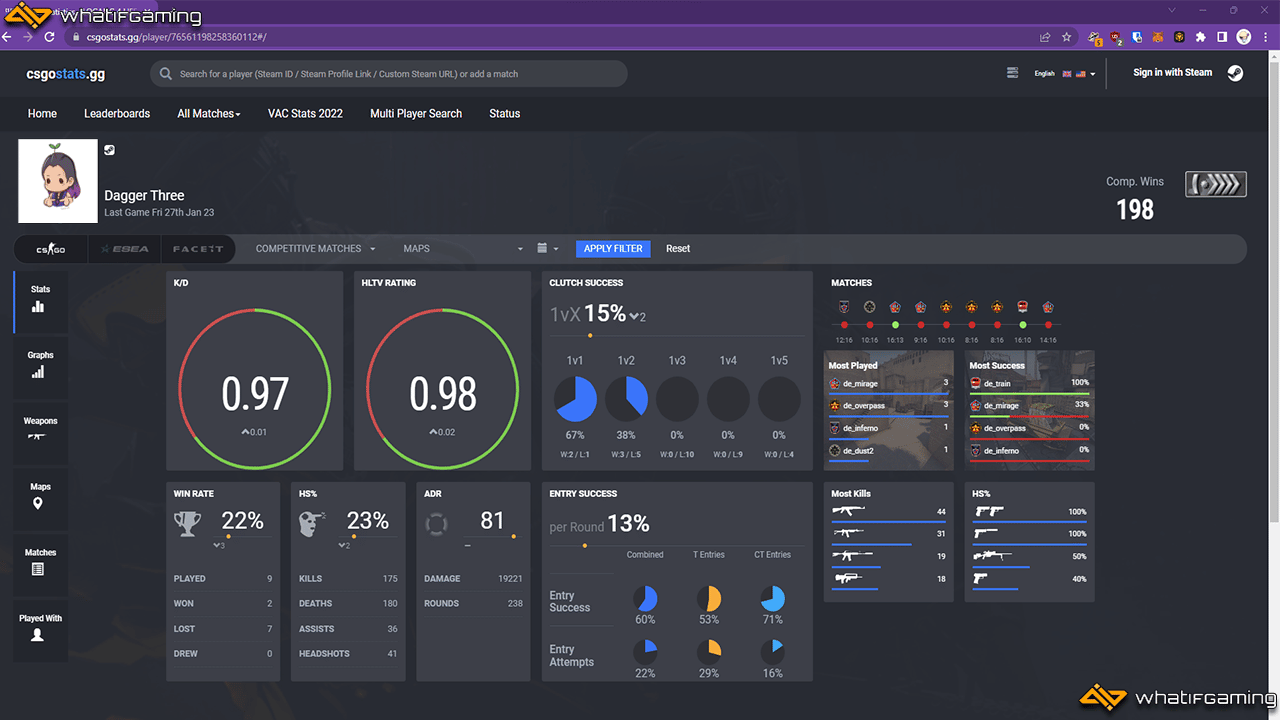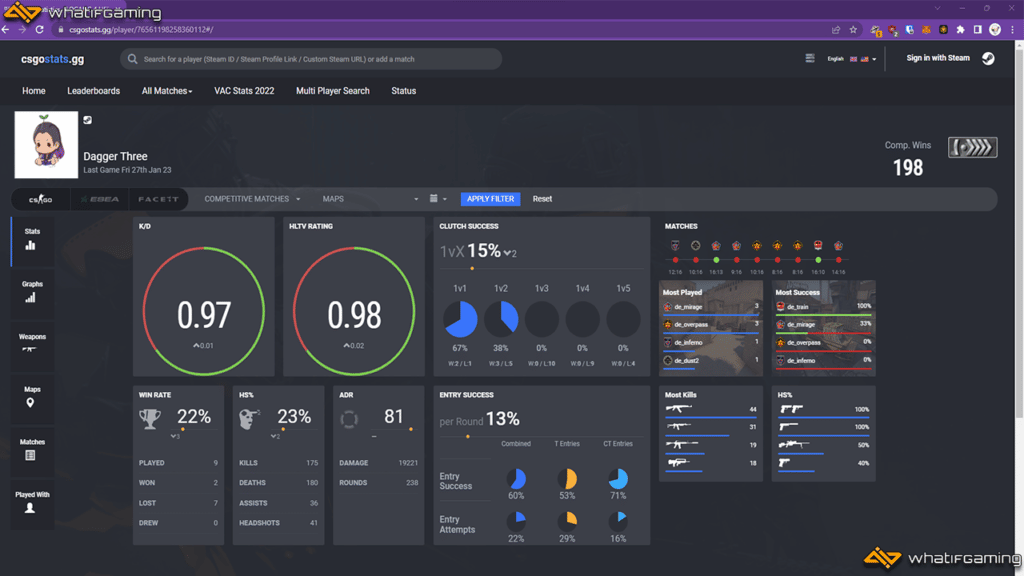 Another popular CS:GO stat tracker is Csgostats.gg. Csgostats provides in-depth tracking metrics for all matchmaking and FACEIT games. You can also use it to review matches from ESEA if you want to learn directly from the pros.
Aside from the typical stats you can see on any CS:GO tracker, Csgostats also provides a post-match summary. You can use this post-match summary to check out advanced stats like entry frags, kill trades, and clutches within your game.
They also provide round-by-round breakdowns that allow you to see detailed metrics per round. You can study how the round was won, and complete kill feeds, among other stats.
You can Csgostats.gg's vast collection of VODs from all CS:GO matches and tournaments to learn directly from other players. If you're a huge fan of watching VODs, Csgostats.gg might be the best CS:GO tracker for you.
Scope.gg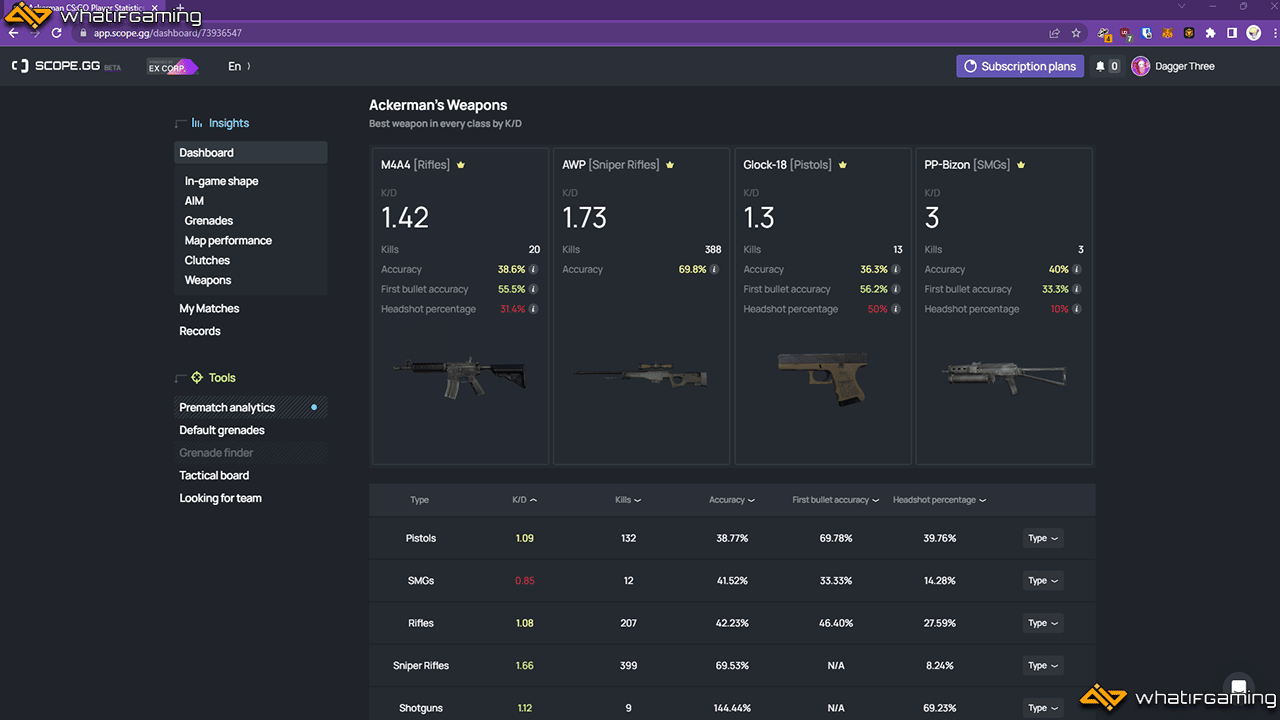 Scope.gg offers a different set of CS:GO stats than the other ones we've talked about. They still have the basic stats and display them using various graphs and charts. However, Scope.GG is more focused on helping you improve rather than simply showing what you've done in your previous games.
They have various ratings and levels that give you a general idea of how well you throw nades, use weapons, and aim in your games. Scope.gg also provides various detailed stats like your map performance, clutch performance, and your overall in-game shape.
Aside from stats, Scope.gg has tools like their grenade prediction tool that shows you different grenade lineups on Dust 2 and other CS:GO maps. There's also a tactical board to help you plan strategies and a looking for team tool if you want to play as a group.
CSGO 360 Stats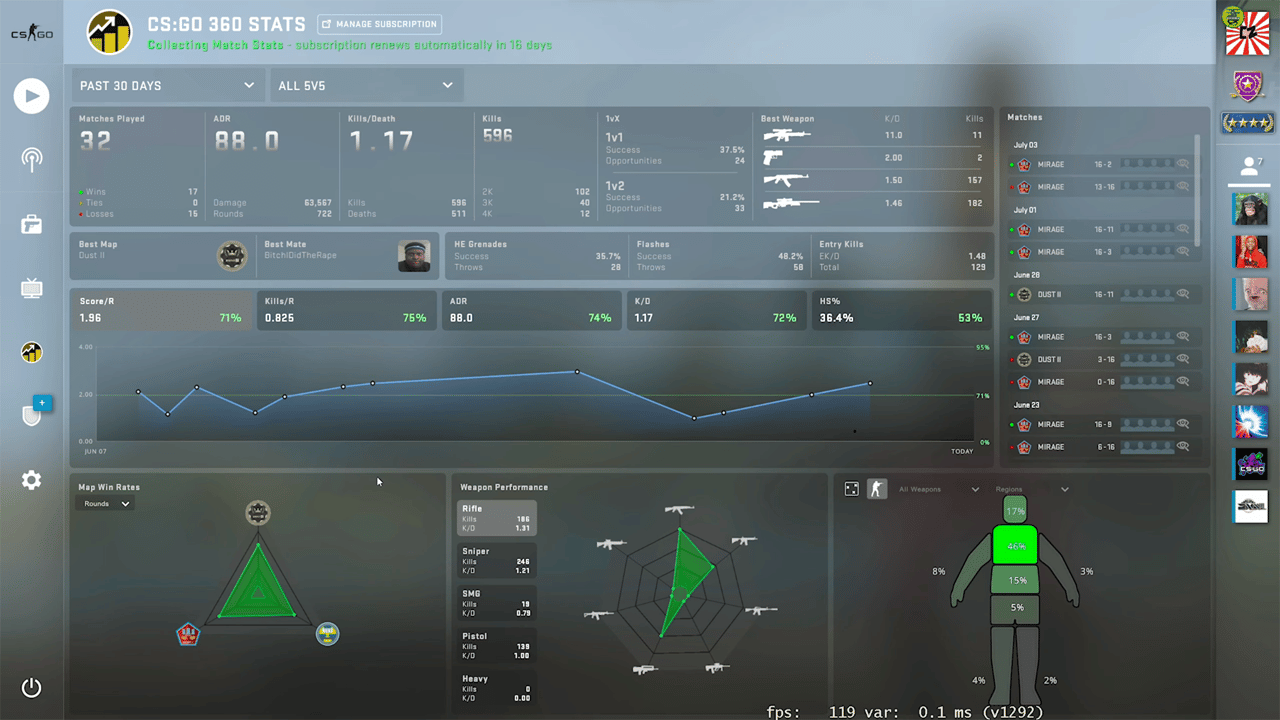 CSGO 360 Stats is a unique CS:GO tracker because it's directly built into the game. Unfortunately, it's a paid-only service that costs $0.99 USD/€0.85 EUR/£0.72 GBP billed monthly. Even though it's paid, it's still quite worth it if you're truly dedicated.
It shows various stats like total matches played, your win/loss record, ADR, K/D ratio, total kills, and best weapons. You also get breakdowns for best maps and your best teammates. CSGO 360 Stats also displays advanced metrics like grenades thrown, entry kills ratio and weapons performance. It also shows heatmaps for your kills and deaths on all maps and for player bullet hits.
CSGO 360 Stats is an excellent stat tracker option if you're willing to pay the monthly fee. It's easily accessible, tracks a variety of stats, and is trusted because it's directly connected to CS:GO.
Csgorankings.com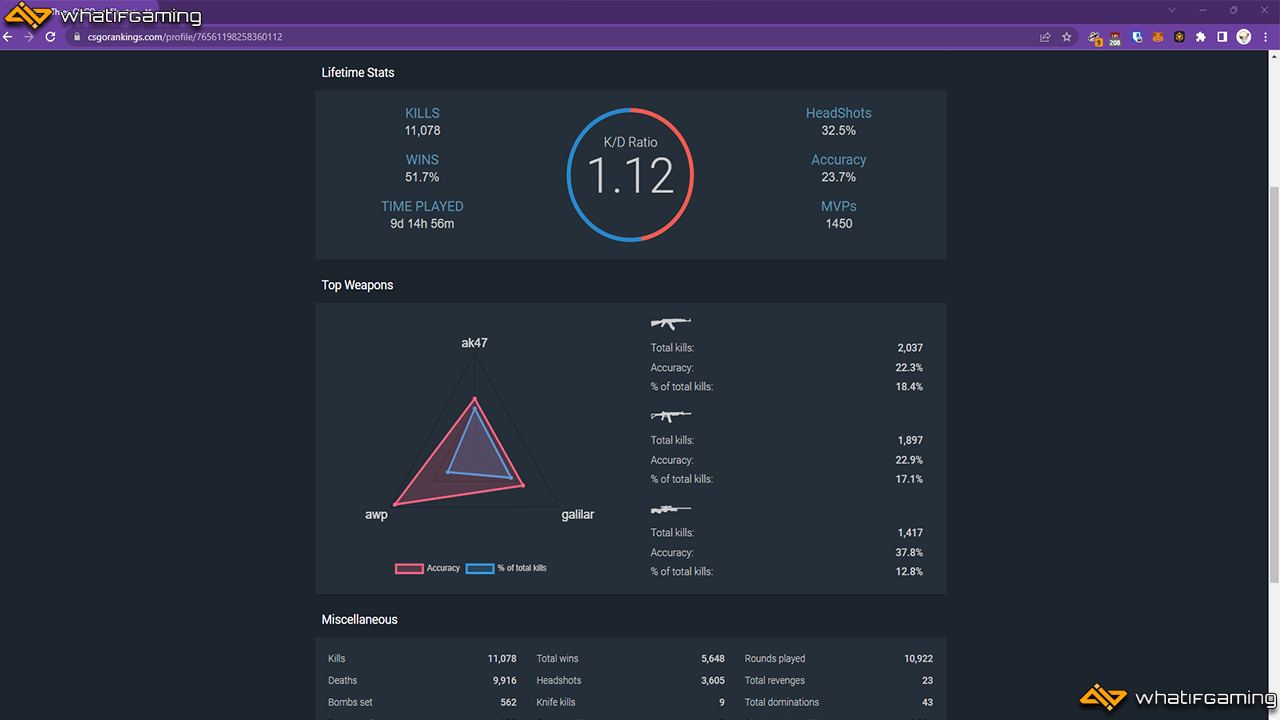 The final CS:GO stat tracker on the list is Csgorankings. Csgorankings is another solid option if you're looking for a simple stats summary. It provides everything you want from a CS:GO tracker for free.
The overview gives you the typical stats like K/D ratio, headshot percentage, accuracy, MVPs, kills, wins, and total time played. Csgorankings also displays individual maps, weapons, ranks, trends, and teammate stats.
Overall, if you're only looking to track some basic stats, Csgorankings will be fine for your everyday use. However, I wouldn't recommend it if you want a more in-depth general analysis of your games and stats. I'd say that it's perfect for casuals simply looking to check their career stats.
Why Do You Need to Use CS:GO Trackers?
You might be thinking that there are already some weapon skins in CS:GO that track your kills. However, kills aren't the only stat in CS:GO.
One good reason to use CS:GO trackers is simply the ability to look at the stats from your previous matches. This allows you to review and find weak points within your game that you otherwise wouldn't be aware of.
You can also easily monitor your progress throughout your whole CS:GO play time. It's fun to see how much you've improved over time.
The CS:GO trackers have also evolved through the help of AI. Most of them provide in-depth analysis and reviews of your game. This can help you learn more about your strengths and weaknesses that you otherwise wouldn't have known.
Wrapping Things Up
Leetify is our top choice for the best CS:GO tracker because it provides in-depth metrics, advanced analysis, and a clean UI. The other CS:GO trackers are definitely still great and cater to different types of users.
Using a CS:GO tracker will definitely help you take your game to the next level when used correctly. You can even use them to flex your K/D or headshot percentage to your noob friends.
Did we miss an excellent CS:GO tracker? Make sure to comment down below.