Some players enjoy the damage of the Desert Eagle; others are happy with just their Glock-18s, but if you're a player who's used the CZ75-Auto and swears by it, this one's for you. Known for its rapid-fire capabilities and close-quarter dominance, the CZ75-Auto is a force to be reckoned with in the game.
But why settle for a default skin when you can adorn your trusty sidearm with a little style and finesse? That's right, in this article, we're showcasing the top 10 best CZ75-Auto skins that will make your weapon a visual masterpiece.
From sleek and minimalist aesthetics to bold and eye-catching patterns, these skins offer a range of options, allowing you to wield a sidearm that delivers lethal performance and makes a statement on the battlefield.
Xiangliu
Release Date: March 15th, 2017
Price Range: $5.66-$27.03
Case: Spectrum Case
View on Community Market
The Xiangliu is a captivating masterpiece that most definitely earned its place at the top of our list of the best CZ75-Auto skins. It draws inspiration from ancient Chinese mythology with intricate engravings, showcasing the power and allure of the Xiangliu Serpent.
This skin enthralls with its striking combination of pink and bronze tones, creating an enchanting visual display. And since this skin is available in all conditions and with or without StatTrak, there is no reason not to grab one for yourself and leave your opponents awestruck!
Tacticat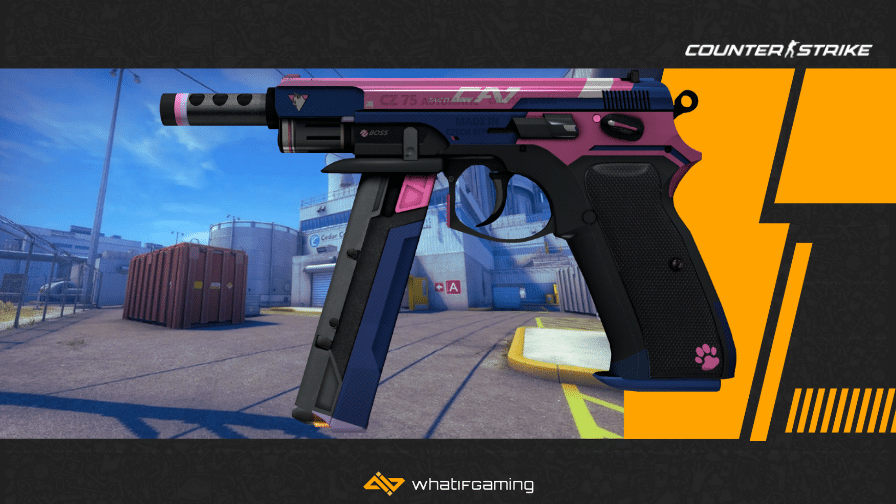 Release Date: September 14th, 2017
Price Range: $0.28 – $2.97
Case: Spectrum 2 Case
View on Community Market
The Tacticat skin is for all the cat lovers out there. This skin showcases a unique design inspired by feline grace and tactical precision. The intricate pattern features stylized cat motifs and geometric shapes that add a touch of ferocity and elegance to your weapon.
The skin combines a captivating blend of deep blue, sleek black, and subtle pink highlights with meticulous attention to detail. Tacticat is a clean and sophisticated skin for all those looking to bring a reminder of their furry families onto the battlefield with them.
Polymer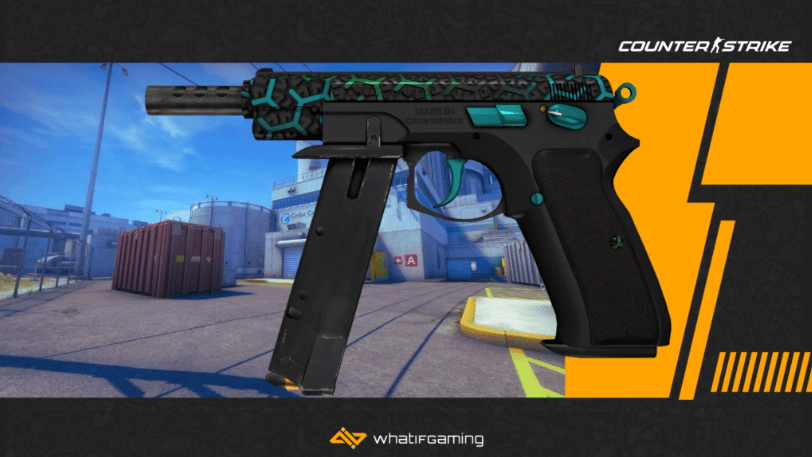 Release Date: November 28th, 2016
Price Range: $0.08 – $0.89
Case: Glove Case
View on Community Market
The Polymer skin showcases a captivating blend of sleek black with vibrant green and teal highlights, designed in the form of intricate hexagonal polymers. This eye-catching combination adds a modern and futuristic touch to your weapon, exuding a sense of cutting-edge technology and tactical prowess.
The sleek black backdrop serves as the perfect canvas to highlight the striking geometric patterns, giving the Polymer skin a distinct and edgy look. Equip this skin to make a bold statement on the battlefield, demonstrating your style and precision with every shot fired.
Red Astor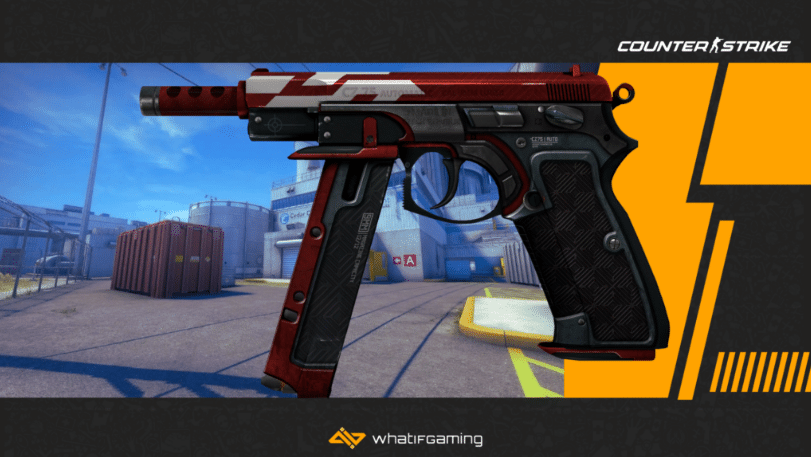 Release Date: April 27th, 2016
Price Range: $0.24 – $3.58
Case: Chroma 3 Case
View on Community Market
The Red Astor is a sleek and visually captivating skin for those looking for a clean look. Its striking appearance features intricate geometric patterns etched onto the weapon's surface, adding a touch of modernity and style.
The dominant black color exudes an air of mystery and stealth, while the vibrant red and white accents provide a sharp contrast. Its impressive design is what earned it a spot on our list of the best CZ75-Auto skins. Equipping the Red Astor skin allows you to showcase your refined aesthetic and attention to detail during those intense close-combat fights.
Poison Dart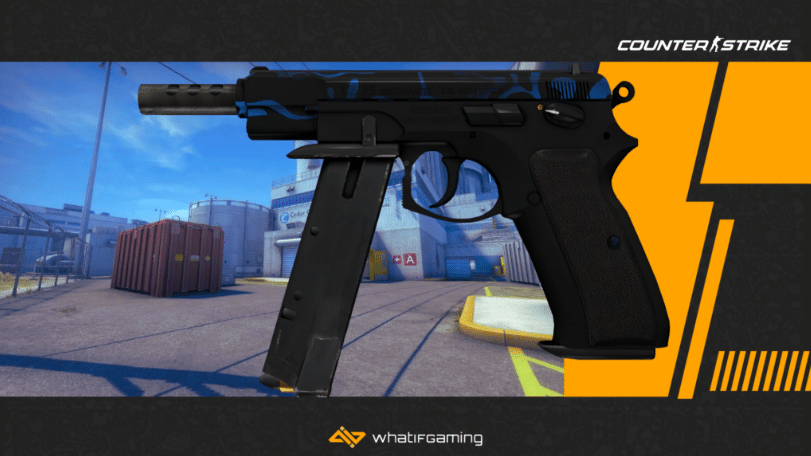 Release Date: May 1st, 2014
Price Range: $3.69 – $14.02
Collection: Huntsman Collection
View on Community Market
The Poison Dart skin is a stunning combination of darkness and toxicity, featuring a striking black base adorned with mesmerizing blue accents. Designed to resemble the appearance of liquid poison, the black accents flow across the blue accents on the weapon's surface.
Equipping this skin allows you to add a sense of allure to your side-arm that not only delivers deadly accuracy but, alongside your gameplay, is also sure to paralyze your enemies with its own poison: intimidation.
Pole Position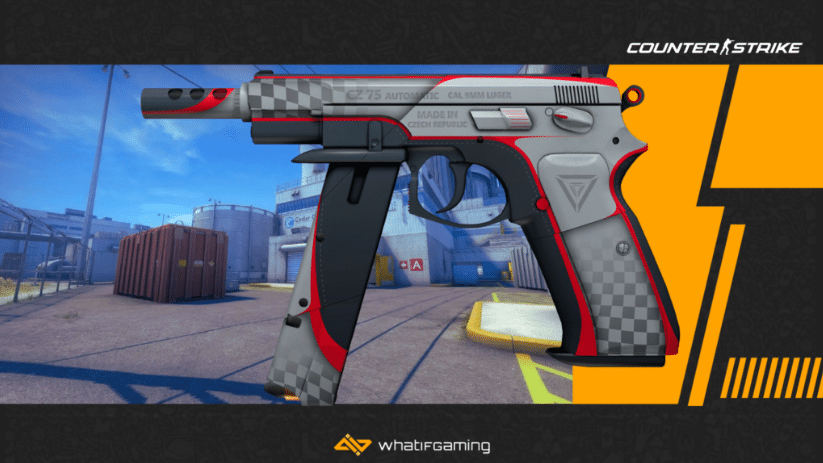 Release Date: April 15th, 2015
Price Range: $0.25 – $3.50
Case: Chroma 2 Case
View on Community Market
This one is for all the racing fans out there. The Pole Position skin's sleek black base is embellished with vibrant red and white racing stripes. The prominent racing-inspired branding on the slide further enhances the skin's theme, adding an extra touch of authenticity and evoking the spirit of competition and speed.
With its striking color combination and sporty aesthetics, the Pole Position skin stands out on the battlefield. Pole Position will let you showcase your love for the thrill of racing and brings to the battlefield that same energy and excitement that exists on the race track (as you race your teammates on who can get the most kills with just their side-arm, perhaps).
Eco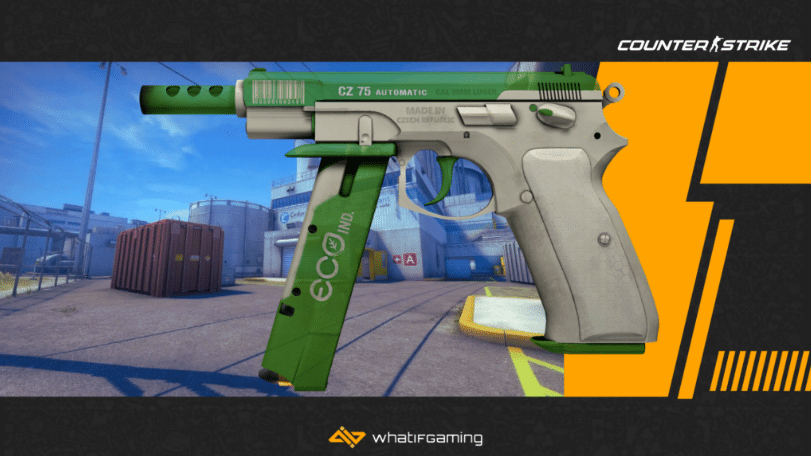 Release Date: August 1st, 2018
Price Range: $0.33 – $6.23
Case: Horizon Case
View on Community Market
For our nature lovers, the Eco skin. Eco stands as a symbol of environmental consciousness and clean energy. Its striking design features a pristine white base adorned with vibrant green accents. The surface of the skin showcases patterns of leaves and symbols associated with renewable energy sources, highlighting the commitment to sustainability.
With its refreshing color palette and eco-friendly imagery, the CZ75-Auto Eco skin invites players to embrace a greener approach to combat. Equip this skin to make a statement about your dedication to preserving the environment while maintaining a powerful presence on the battlefield.
Emerald Quartz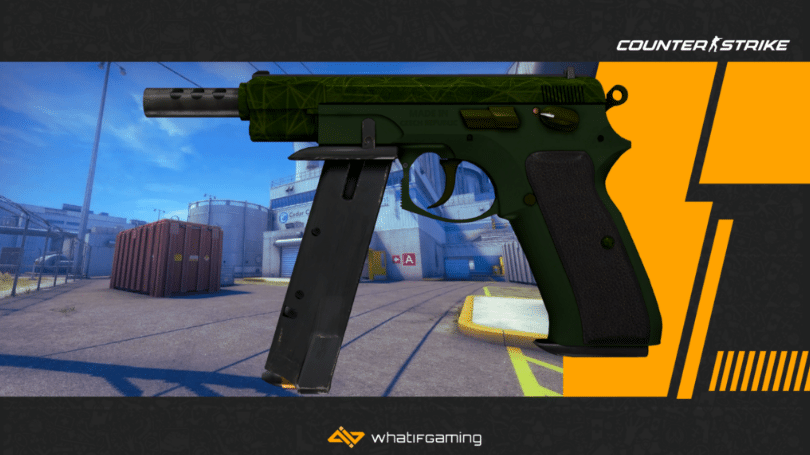 Release Date: November 18th, 2019
Price Range: $68.23 – $73.21
Collection: Norse Collection
View on Community Market
Emerald Quartz skin is a stunning blend of elegance and resilience. Its captivating design showcases a mesmerizing fusion of emerald green and shimmering quartz-like patterns. The rich green base color exudes a sense of prestige and luxury, while the intricate quartz-like details add a touch of mystique.
While it is not available with StatTrak, and is a little pricey, the Emerald Quartz skin embodies sophistication with its sleek and polished appearance, elevating your style. This exquisite skin effortlessly combines beauty and firepower seamlessly and, with its eye-catching aesthetics, is sure to help you stand out from the crowd on the battlefield.
Chalice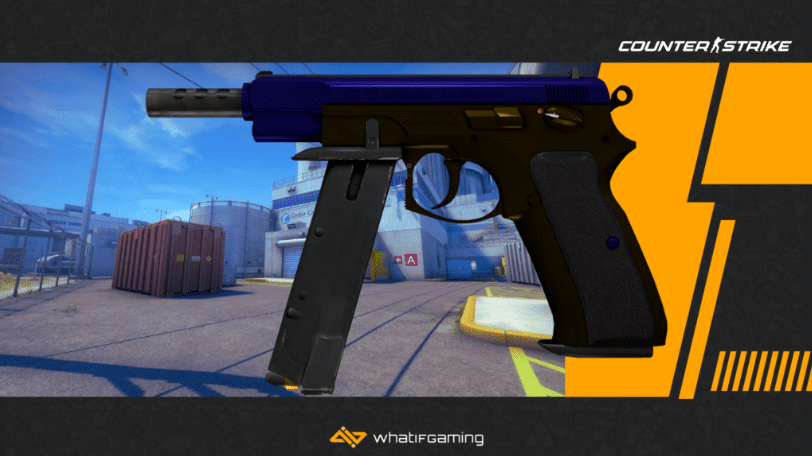 Release Date: July 1st, 2014
Price Range: $81.51 – $464.78
Collection: Cobblestone Collection
View on Community Market
Chalice is for those wanting a touch of the regal. This skin, with its royal blue and radiant gold color scheme, is truly elegant. It brings a sense of opulence and grandeur, reminiscent of a magnificent chalice fit for royalty. It features smooth, clean lines and a seamless blend of rich colors.
As you wield the Chalice, you command attention with its majestic aesthetics, projecting an aura of authority and sophistication. This exquisite skin is available in Standard or Souvenir, and either in Factory New or Minimal Wear conditions. With its regal charm and a price-tag to match, this skin adds a touch of grandiosity to your arsenal.
The Fuschia is Now
Release Date: February 12th, 2014
Price Range: $12.77 – $54.05
Case: Weapon Case 3
View on Community Market
To conclude our list of the best CZ75-Auto skins is "The Fuschia is Now" (Fuschia) skin. For anyone looking to add a little pop of excitement to their sidearms, Fuchsia is the way to go. This skin is all about vibrant energy and eye-catching style. With its bold fuchsia and contrasting black color scheme, it demands attention on the battlefield.
No engravings or fancy designs here, just a minimal skin with a focus on bright, vivid colors. It's perfect for those who want to make add some color to their weaponry and make a statement on the field. So gear up and let your opponents know that you mean business with this energetic and striking skin!