There are a lot of Destiny 2 stat trackers out there. Far too many to list them all off. Instead, I'm going to be focusing on the top 5 best Destiny 2 stat tracker options out there for you to use right now.
I've been playing Destiny since the first day of the first game, so I've got extensive experience with Destiny stat trackers. When I say something is good at what it does, it's because it is. I'm not going to give you false information by speaking on a topic I don't know about.
Instead, I'm going to leverage my years of experience to try and help you get better at Destiny 2. By utilizing these five trackers, you're enabling yourself to fix mistakes in your gameplay, ultimately making you a better player.
So, with that being said, here are the five best Destiny 2 stat trackers you should be using to help improve your skills.
Top 5 Best Destiny 2 Stat Tracker
Raid Report – Best Destiny Tracker for Raids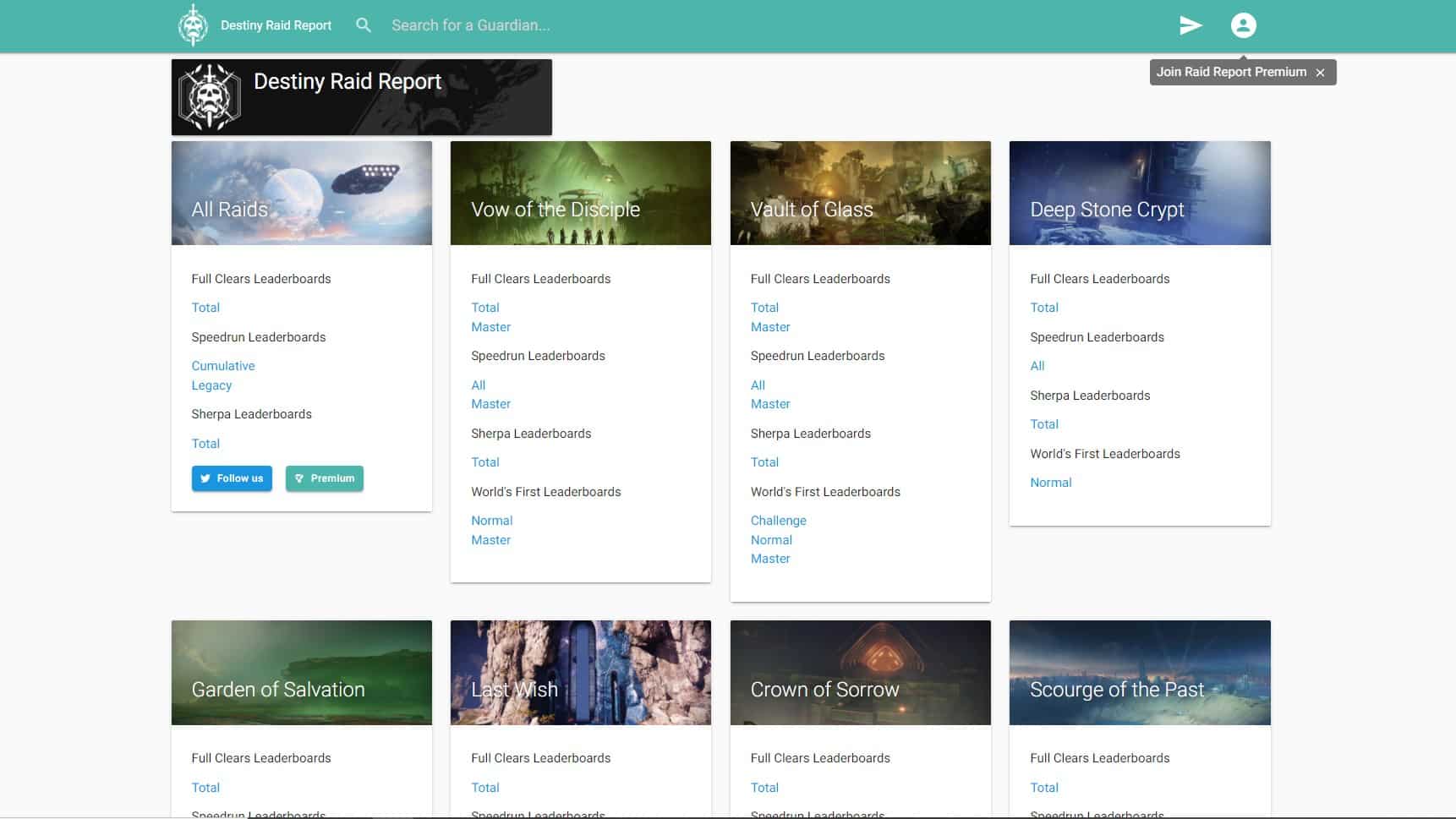 First up on my best Destiny 2 stat trackers list is Raid Report. If you've ever joined a Discord for an LFG raid, then chances are you've either used Raid Report, or someone has used it on you.
The tracker is web-based and exclusively tracks your progress in Destiny 2's raids. Its UI is beyond intuitive and incredibly easy to use. All you do is type in a player's Bungie ID, and it'll give you a bunch of information about that person's raid history.
It'll tell you how fast they complete raids on average, how many raids they've completed compared to most people, how many times they've finished a specific raid, how fast they've finished a raid, as well as information about their last few runs.
Raid Report is essentially Destiny 2's background check. When you're putting a fireteam of randoms together for a raid, you should be using this Destiny 2 tracker.
Warmind IO – Best Destiny Tracker for Discord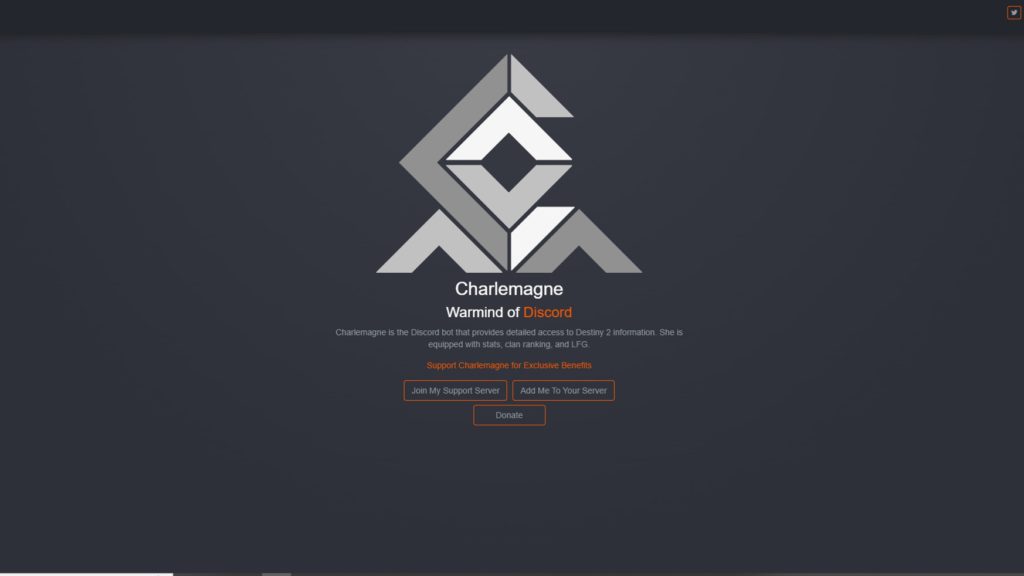 The next Destiny 2 stat tracker I want to talk about isn't a tracker in the traditional sense. Instead, it's more an overall tool.
Warmind IO, or Charlemagne, is a Discord bot for Destiny. More than that, though, it's an entire ecosystem of stat trackers and functionality that genuinely make it one of the best Discord bots I've ever seen, full stop. If you're in a Destiny 2 Discord channel, chances are Warmind is powering it.
Not only will Charlemagne track your stats, but it'll create a channel leaderboard and role system so that players can get the proper recognition for their achievements.
Charlemagne can tell you pretty much everything you could ever want to know about your Destiny 2 game. It'll tell you your most used weapons, your in-game stats, and even things like where Xur is on the weekends.
On top of all that, it also has a built-in scheduling program that lets you organize things like raid runs in advance.
Warmind is limited by only being a Discord bot, but it's an incredibly powerful bot that you should be taking advantage of.
Destinytracker – Best Web-based Destiny 2 Tracker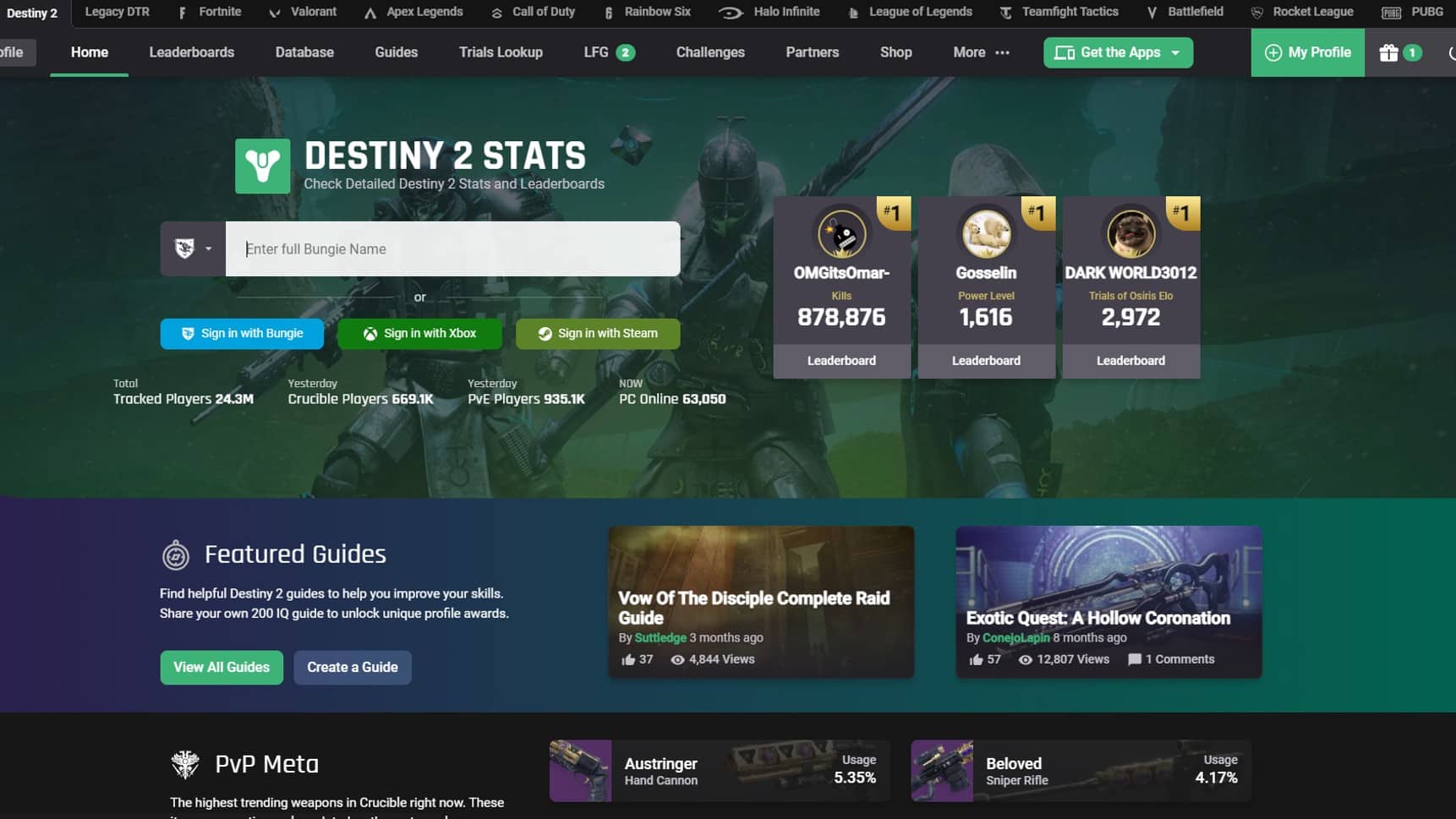 If you're looking for convenience, ease of use, and general accessibility, Destinytracker.com is going to be what you're looking for.
Destinytracker is a part of the wider Tracker.gg family. These guys make trackers for everything from VALORANT to Fortnite, to Rainbow Six Siege. They know what they're doing, and that shines through with the Destiny 2 tracker.
Destinytracker will track your stats in both PvP and PvE, so you don't have to worry about that. It's also web-based so there are no pesky downloads to deal with. All you do is punch in your ID and you're good to go.
There's an overwhelming amount of data on the site – more than you'll likely ever need. You're able to check your PvP performance based on map, season, and more. You can even check what your actual PvP rank is categorized as.
While there's a lot of PvP information to unpack with Destinytracker, it is a fair bit lighter on the PvE side. There's a little bit of information there for you to digest, but its main purpose is clearly as a Destiny 2 PvP stat tracker.
Redrix for Destiny 2 – Best App-based Destiny 2 Tracker
If you've got your heart set on using app-based Destiny 2 stat trackers, then Redrix is probably your best bet. It's available for both Andriod and Apple, so you don't need to worry about compatibility.
Redrix is entirely Crucible-focused, so PvE players have nothing to gain from using it. PvP players, however, will have access to a lot of information regarding their PvP play.
The app lets you track your performance on both a macro and micro level. If you want to see how you've improved on average over a six-month period, there are graphs and infographics for that. If you want to track yourself on a match-to-match basis, though, you can do that too.
Redrix is simply a lot of good information presented very well. You have a massive level of control over the specific bits of information you want to see, making it easy to focus on strong or weak points in your game.
If you're looking for app-based Destiny 2 trackers and you're a PvP player, try out Redrix. Use it well and it will help you improve at the game.
Trials Report – Best Destiny Tracker for Trials of Osiris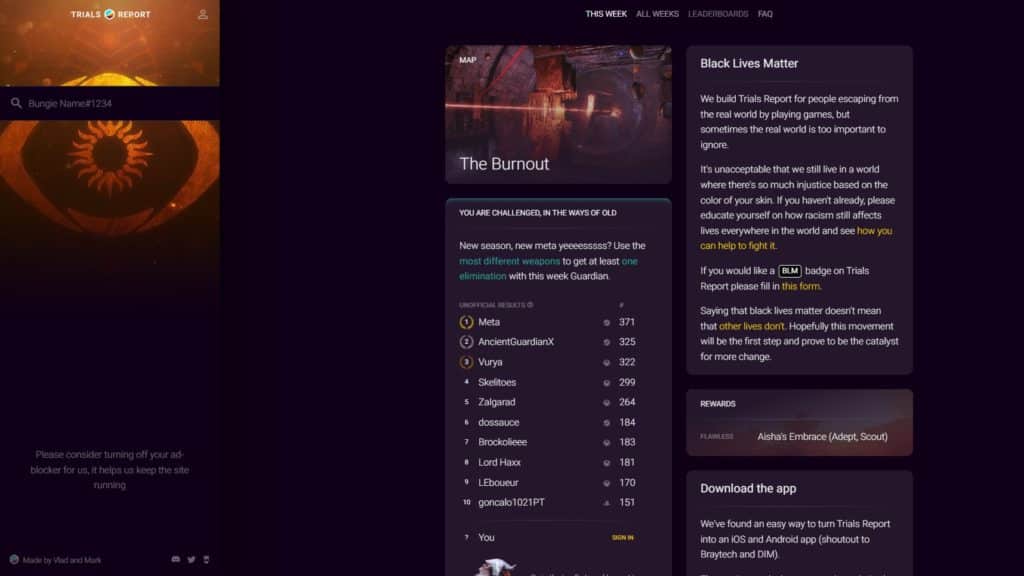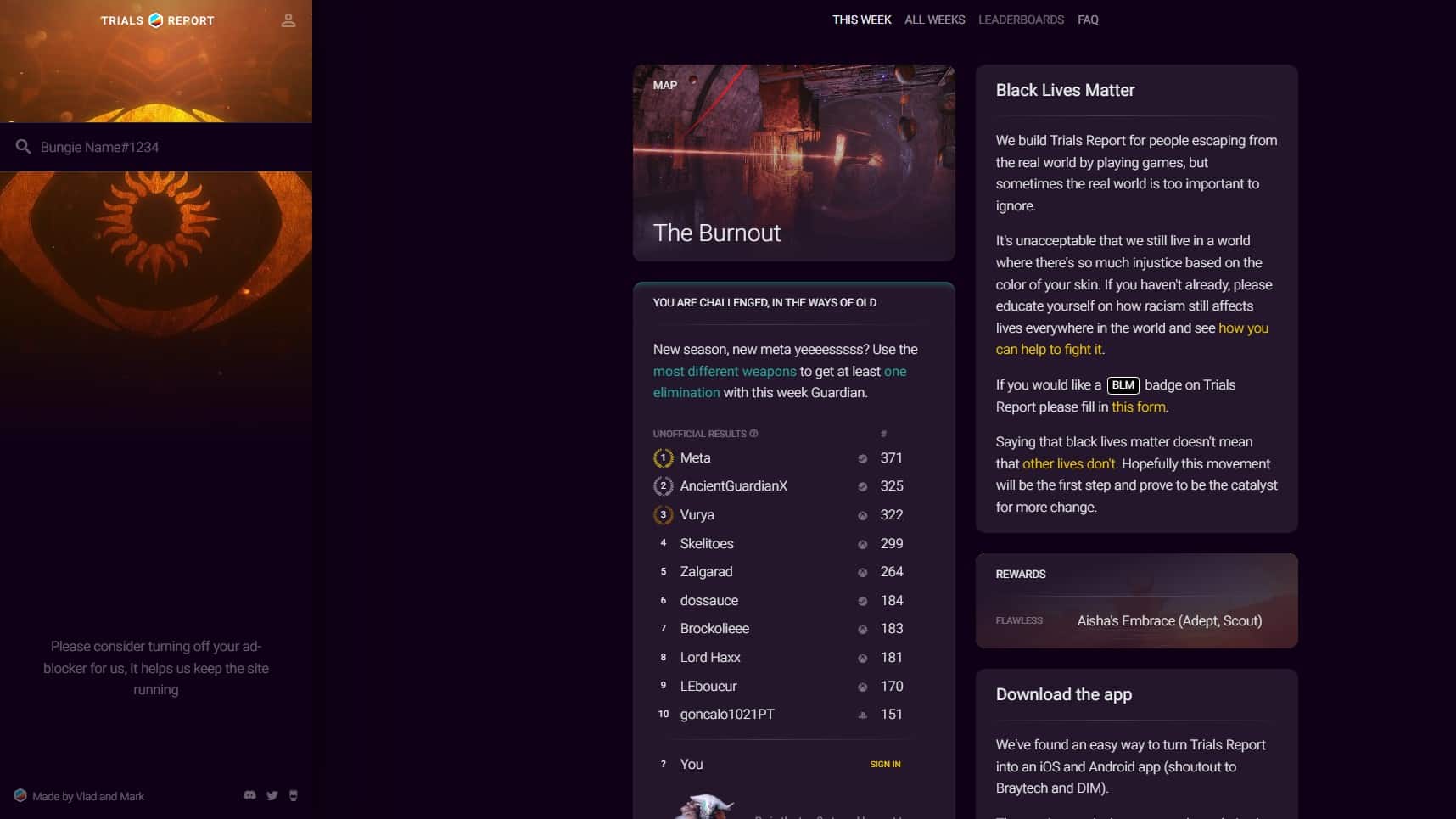 Last but not least, we have Trials Report. This is one of Raid Report's sister sites. Specifically, the one that deals with Trials of Osiris.
For the most part, it severs the exact same purpose that Raid Report does – but for Trials. You punch a Bungie ID into the site, and it'll throw out that person's Trials stats.
If you've never played Trials, or been a big PvP fan, then you might be wondering what the point of this is, especially compared to the other Destiny 2 stat trackers that give you a lot more information.
Well, Trials is essentially the PvP endgame. Just like how you wouldn't let someone that hasn't done a raid do one with you, you don't want a player with a .2KD being on your team in Trials. You need to win nine games without losing a single one, so you want the best players on your side.
Trials Report doesn't give you a bunch of detailed stats because that's not what it's for. It gives you an idea of how good a player is at a glance, and that's more than enough.