You can greatly improve your Discord experience by simply adding some bots; this is why we have compiled a list of the very best.
A lot of people use Discord daily to communicate and keep track of their friends and communities. However, Discord's functionality can be improved by adding different Discord bots to your server.
These bots can help you manage large servers, play music, host giveaways, organize games, and even notify you of certain events. They are very beneficial and truly take your Discord experience to a whole new level.
They are also effortless to add and configure, making them super worth it. But there are thousands of Discord bots to choose from. That's why we're here to help you find the best ones!
30 BEST Discord Bots
We chose 30 different Discord bots that we think can help improve your Discord server. Each bot has its own unique function and adds different fun and helpful Discord commands to your server.
Let's start the list with a solid Discord bot in MEE6. MEE6 is a moderation bot that allows you to welcome new users, manage your server, and create custom commands. You can also set up streaming and social media alerts, distribute roles, and a leveling system for all users on the server.
MEE6 is one of the most trusted and most popular Discord bots, used by over 19 million servers. It also offers a premium paid version that unlocks more of its functionality that allows you to better manage a server. It's a very flexible and reliable Discord bot with support for some additional plugins for added functionality.
Helper.gg is a simple but useful Discord bot that's perfect for community servers. The main feature that Helper.gg provides is the ability to create tickets and give support to users within the community.
SomeHelper.gg is a very helpful bot for companies and businesses who manage and run a Discord server. It's already being used by over 18.1 million users across nearly 27K servers. They offer 3 different plans that you can avail of.
Their Free plan is pretty robust and will be enough for most servers. It includes unlimited tickets, ticket logs, chat reactions, add staff accounts, and allows you to respond through the panel. The Premium plan costs $4 per month and offers 100% customization, embed colors, timed close, and translation features. Finally, the Supreme plan costs 6$ per month and allows you to customize the bot username, icon, application, and playing status. It's a great plan if you want to have a more unique server.
This next bot is perfect for Discord servers composed of your friends. The Dank Memer bot allows you to have fun and get a good laugh while using Discord. It also has a Patreon subscription plan if you want to unlock additional features such as NSFW commands, lower cooldowns, and auto-posting memes. The plans are priced at $2 – $45 per month.
The Dank Memer bot provides a unique meme currency that includes achievements, badges, committing crimes, and gambling, among many others. You can also play different games, ask for different images, send memes, and request funny posts or jokes using the bot.
Hydra Bot is an all-in-one multi-purpose bot that provides your server with tons of different commands and features. It aims to be the only Discord bot that you'll ever need and includes a robust music player with a feature-rich command list.
You can use Hydra Bot to play high-quality music, search for the lyrics, loop, skip tracks, and shuffle the queue. Additionally, you can subscribe to the premium version of Hydra to unlock different audio effects, unlimited saved playlists, 24/7 playback, and autoplay features.
Hydra also features an extensive web dashboard where you can easily change and customize the bot's different settings for your server. It's also available in over 10 languages, so you don't have to worry about language barriers.
Dyno is another quality and well-made Discord bot. It's a fully customizable server moderation bot that helps automate your server. With Dyno, you also get a simple web dashboard that allows you to easily monitor and manage your server.
Its features include adding roles, announcements, banning members, and you can even ask for dog or cat pictures. Dyno is an entertaining bot that allows you to easily automate managing your server. It's trusted and enjoyed by over 7.7 million servers and counting.
ProBot is a highly customizable Discord bot that provides different services and helps you make a professional-looking Discord server. It supports custom and ready-to-use welcome designs, support for over 13 languages, and an autoresponder to specific trigger words.
Additionally, ProBot also has an anti-raid protection system and an auto-moderation system that automatically kicks or bans users based on their actions. You don't have to worry because ProBot has a 99.99% uptime and is used by over 4.3 million servers, and has access to over 50 commands.
Now, let's talk about another amazing Discord music bot. Vexera provides high-quality music while also being an excellent moderation and greeting bot. It's a multipurpose bot serving over 1.5 million servers with tons of great features that can help build your server.
Vexera is one of the last few remaining bots who can still play audio directly from YouTube. Don't worry. It also plays audio from other sources, making it less likely to be shut down in the future. It can also automatically assign roles, send cute dog or cat images, send memes, and help manage your server. Vexera is an amazing music bot, but it also has other features if you need them.
We all know how cryptocurrency and play-to-earn games have taken the world by storm. Crypto has become a common way to accept payments, donations, and investments over the internet. The Tip.cc bot helps Discord support various crypto tools directly on your server.
Tip.cc includes trader's and miner's tools for more niche crypto enthusiasts. However, it also features various crypto-powered games to help keep your community engaged. It also allows users to receive crypto payments via easy-to-use standards that even newbies can follow. Tip.cc supports over 500 cryptocurrencies and is definitely the best Discord crypto bot
Arcane is one of the best leveling and multi-purpose Discord bots around. It can help you increase server activity while keeping it safe and clean. Arcane can prevent spamming, swearing, and even send warnings before banning or kicking different users.
It provides a leveling system complete with leaderboards and rewards. It also allows easy distribution of roles through simply reacting and can send YouTube notifications about recent uploads. Arcane is an overall great and simple bot that keeps members engaged with your server.
Ever since popular music bots like Rythm and Groovy were shut down by YouTube, the Discord community has been looking for other music bot alternatives. Chip is a great addition to any Discord server. It's a dedicated music-playing bot that provides free and high-quality audio.
Chip allows you to play tracks directly from Spotify. It also comes with some cool integrated buttons you can use to easily control your music. It also comes with additional features such as 8D players, bass boosting, loops, pitch changes, among many others. Chip is also one of the more reliable Discord music bots out there, providing 24/7 uptime.
Are you a huge fan of the Pokémon franchise? Well, you can use Pokétwo to bring the fun into your Discord server. The Pokétwo Discord bot allows you to catch, trade, and battle different Pokémon with your friends. The bot also provides time and weather features, making the game more exciting.
Pokétwo is free to play and completely open-source, making it safe and reliable. It randomly spawns different Pokémon into your Discord server, which you can then catch and add to your collection. It's a fun bot that helps increase user engagement within your servers.
The OwO Bot may not look like much at first glance. However, once you start to dive deeper, you start to see the diverse world built within a simple Discord bot. OwO allows you to catch wildlife, fight other users, and compete for a leaderboard spot. It's basically like Pokemon right on your Discord server.
It has a solid foundation complete with an economy, auto hunting, marriage, gems, roles, status effects, and various weapons. It also has a loot box and gambling systems where you can try your luck to increase your money. OwO provides a solid Discord-based game that keeps your community engaged for hours. It's already on over 3 million servers, so why don't you give it a try?
Tatsu is another fun and creative Discord bot. It can help you grow and build your community through interactive games. Additionally, it can also help you welcome and say goodbye to users, kick or ban members, and manage voice notifications.
But, Tatsu's main feature is the fun interactive leveling mechanics that it brings. Tatsu has its own global economy. You can buy items from the store, trade items with other users, you can also get virtual pets, and build your own house. It also has personalized profile cards, rank cards, wallet cards, and a global leaderboard.
Xenon Bot is the first Discord bot to ever offer server templates. They have a large collection of server templates allowing you to design and create a server according to what you need. Some of their most popular templates include gaming servers, support servers, school servers, roleplay servers, and development servers, among many others.
Even though Xenon Bot is primarily known for its server templates, the bot also provides a ton of additional features. It allows you to backup roles and nicknames, backup messages, and synchronize messages, bans, and roles between different servers. It's definitely one of the best Discord bots if you're really dedicated to building a community.
Mudae is a top-rated entertainment bot for Discord. It features a variety of minigames like Pokéslot, Waifuarena, Tea Games, MudaQuiz, and Jan-ken-pon. These minigames allow you to collect Pokémon, battle using your owned anime characters, answer questions, and do something as simple as Rock Paper Scissors.
The entertainment bot is primarily known for its amazing character roulette game. It allows you to collect over 89,000 rollable anime, manga, and video game characters from a variety of popular franchises. It's definitely one of those great bots that can help keep your community engaged in a server.
If you're looking for a bot that allows you to customize your voice channels and take them to the next level, Astro is the one for you. Astro provides new customization features, interfaces, and roles to Discord. It's simple to set up and automatically creates a basic setup for your Discord channels. Astro focuses on creating the best temporary voice channels and voice role experience possible. Astro allows you to manage and create voice channels when people are on the server and delete them when they leave. Most of the solid features aren't locked behind a paywall, and you only need to subscribe
The BMO Discord bot is a cute little bot that was inspired by a character in the famous cartoon show, Adventure Time. BMO is a powerful music bot that plays high-quality audio with some extra features on top.
Aside from playing and controlling your music, BMO can also send images, update you about the coronavirus, send notifications, and can even help moderate your server. It's a powerful and cute bot to have, although it does reply slowly, so you'll have to be patient.
If you like anime or your Discord server is centered around anime characters, you might want to take a look at Karuta. Karuta is a unique and interactive Discord game that features more than 78,000 different anime characters.
Karuta is a collectible card game that features manual and automatic card drops. Each card features a unique anime character that you can keep or trade with other users. Match your Discord PFP with a Karuta card in your collection to show your dedication to anime.
Next up, we have another music and entertainment bot called Toasty. Toasty is a great multi-purpose Discord bot for all of your server needs. It can help moderate your server, can automatically assign roles, send welcome messages, and block advertisements and spam. Toasty can also kick or ban members, record logs, and prune messages, among many others.
Toasty also offers a unique music player function that you can use to listen to high-quality audio from YouTube or SoundCloud. You can also use Toasty to tune into your favorite stream on Twitch.tv, a feature that not many music bots have.
Additionally, you can use Toasty in a fun way by asking it for jokes, advice, roasts, memes, sound effects, and GIFs. It also has some basic utility built into it that you can use to fetch subreddits, search for an urban dictionary result, create polls, and even ask for some news. Toasty is trusted by over 82K servers and is a great Discord bot for small or large servers.
EPIC RPG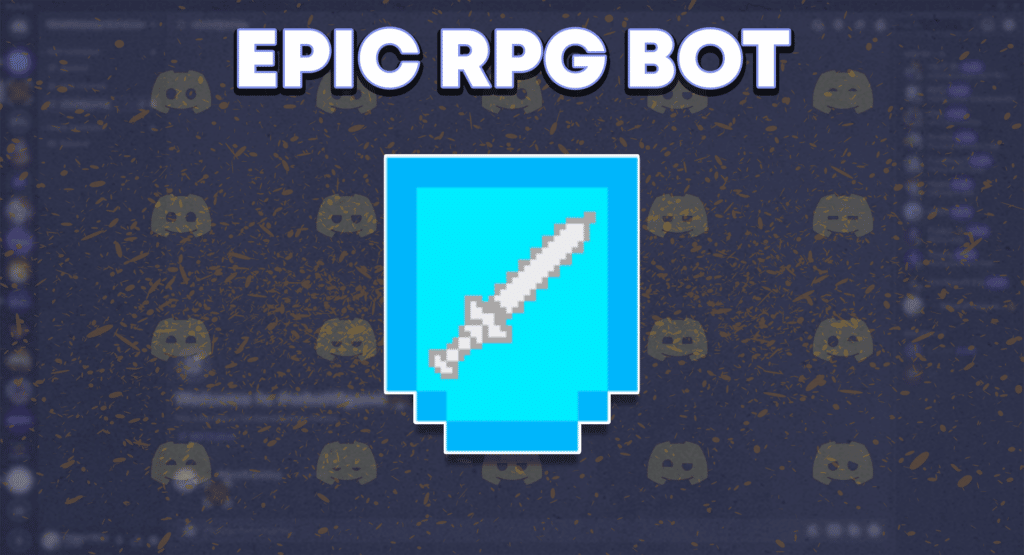 Download
Price: Free
From the bot's name itself, EPIC RPG provides an entertaining RPG game on Discord. It's a great interactive bot that can help keep your members engaged in the server. EPIC RPG also has its own economy and traditional RPG features like dungeons, gambling, loot boxes, leaderboards, and even PVP.
There are a total of 15 dungeons that you can explore. You can hunt or go on an adventure, duel with other players, fight and explore dungeons, and heal up when you lose HP. You can also buy, sell, or trade using the shop. EPIC RPG also allows you to craft weapons and armor using different recipes.
Additionally, there are also new features such as guilds, cooking, enchanting, time-traveling, and even pets. It's a fantastic bot that provides you with an excellent RPG experience.
This next bot is relatively boring and simple but is essential, especially for large servers. Captcha.bot allows you to secure your server. It prevents different spam bots and automated raids from joining your server. It keeps your server clean and safe without being intrusive.
Captcha.bot has a straightforward setup process that you only need to configure one time, and then you can forget about it. You can choose from either web or image verification. However, web verification is their more secure option and harder for bots to bypass. You can also create a logs channel to keep track of the different users that enter your server.
It's a basic but necessary bot that greatly helps keep servers clean. It has no other functions or features aside from providing captcha verification.
Are you a competitive person who likes to take any advantage you can get? Well, there's no larger advantage than reading patch notes about the tweaks and changes to your game. PatchBot makes your life much easier by delivering game updates and patch notes directly to your Discord server.
PatchBot is a simple Discord bot that you never knew you needed. It supports over 100 games; you can also request a game if they don't already support it. The premium version also allows you to subscribe to unlimited games and have the bot automatically mention you every time a patch or update comes out.
IdleRPG bot is another fun and interactive RPG gaming experience on Discord. It rewards server members for engaging within the server while earning XP and enjoying the game. It's quite similar to most RPG games and has character progression. Any true RPG fan will definitely love playing IdleRPG.
You can go on an adventure, trade different items, battle other players, and even find lovers. It also has a leaderboard for the top 10 lovers, top 10 PvP players, top 10 richest, and top 10 players by XP. IdleRPG also allows you to gamble in several ways to help increase your money in the game.
GamesROB is a fun Discord bot that can allow you to play games with your friends right within the server itself. It's the biggest tabletop and party game bot on Discord. It's used in over 137K servers and features over 6.2 million different commands. Bring the party to Discord using the GamesROB bot.
There's nothing better than playing and hanging out with your friends. It's one of the main reasons why Discord became so popular. With GamesROB, you can take that to a whole new level.
GamesROB bot features beloved games like Uno, Hangman, Minesweeper, 2048, Connect Four, TicTacToe, Battleship, Detective, and some quiz or trivia games. You can play for fun, or you can also compete with each other using the leaderboards. The bot also includes a virtual currency system that you can use to place bets on other minigames like slots and other casino games.
It can be hard to manage a large server with a collection of different personalities and communities, each with its own channels. Luckily, Community Hubs is here to save the day. This bot introduces a new " hubs " feature to your Discord server. Members can create Hubs, which can act as an area where they send various photos, videos, and text, among many others.
Hubs can act as a specialized channel where people with the same interests or hobbies within the server can interact with one another without clogging up the main channels. You can also categorize hubs, create templates, and hide and delete them as an admin. The best part? The bot is completely free.
Zira is a great bot addition to any community Discord server. It allows users to automatically set roles for themselves by simply reacting to a message. This makes role management much easier and allows users to pick their preferred or required roles themselves.
Zira supports multiple reaction role messages and channels and can assign any role you want. The bot also supports new user joining and leaving messages, limiting the number of roles a person can get and giving multiple roles using the same reaction. It also allows you to add custom emojis when giving out roles.
MedalBot is a Discord bot based on the popular gaming application Medal. It is a third-party app that allows you to record games, edit clips, and share highlights with friends or in public. It's lightweight and should affect your game's performance even when recording.
MedalBot allows you to record clips and share them on your server. It's made to complement a gaming server and allows users to enjoy and share clips. Overall, it's a great bot to have if you're a streamer, content creator, or gamer and like sharing highlights with your friends or community.
Epic Games has been giving away tons of free games over the past two years. It has given away amazing games such as GTA V, Dead By Daylight, and NBA 2K21. It even recently gave away Discord Nitro. Have you ever missed any of these free games? Well, fear no more; the EpicFreeGames bot has got your back.
The EpicFreeGames bot simply sends a message to a channel and reminds everyone about the free game/s that Epic is giving away. It has one simple job, but it can literally give you hundreds of dollars worth of games. Never miss another amazing free game from Epic Games ever again.
AltDentifier bot is another great Discord bot that keeps your server clean and safe from spam. It's easy to set up and only takes a few minutes to get running. It currently has over 35 million users on over 100,000 different servers. It also has some extra moderation commands for an easier management experience.
The AltDentifier bot has an automatic anti-raid system, a powerful verification system, supports multiple languages, and creates a log for reviews. It will also alert you if a user is using a VPN to bypass any restrictions. It does have some ads, but you can easily get rid of them by simply paying €1 per month.
Looking to survey the community and host polls on Discord? PollBot has got your back. It's a simple and easy-to-use bot that allows you to create polls and survey people on any Discord server. Respondents only have to react to PollBot's message to vote, and you can automatically see the poll counter rise.
PollBot also supports numbered reaction polls that can help you carry out more organized polls. That's pretty much it. PollBot is as simple as a Discord bot can get. It's used in over 10K servers and is completely free. So you can't complain much about its lack of other features.
Frequently Asked Questions (FAQs)
What Are the Best Discord Bots?
We've listed the 30 best Discord bots that we can find. Each has its own unique thing that makes them great and can suit the different needs of your server. MEE6 is the best Discord moderation bot. On the other hand, Helper.gg is the best Discord ticket bot.
Dank Memer is the best Discord meme bot. Tip.cc is the best crypto-centered Discord bot. Finally, Hydra is the best Discord music bot. There are plenty of amazing Discord bots out there, it all depends on what you're looking for in a bot.
What Are Some Fun Bots for Discord?
We've listed a lot of the best fun bots for Discord above. Dank Memer, BMO Bot, Hydra, and Toasty are great bots to use if you're looking for jokes, memes, roasts, GIFs, or playing music directly on your server.
You can also use Pokétwo, EPIC RPG, IdleRPG, Mudae, OwO, Tatsu, Karuta, and GamesROB if you're looking for more entertainment-focused bots. These bots can help you play games, collect and trade characters, level up, and compete on leaderboards.
What Is the Best Discord Moderation Bot?
MEE6 is the best Discord moderation bot. It has a ton of useful features with the free version and a lot more powerful features if you decide to avail of the premium version. It's definitely the best Discord moderation bot and server management bot out there. MEE6 is trusted by over 19 million servers, after all.
Is MEE6 the Best Bot?
Ultimately, it will mostly depend on what you are looking for in a bot. However, MEE6 is a powerful Discord bot that does a little bit of everything from moderation, sending alerts, setting roles, creating custom commands, and managing your server overall. It's also the most popular Discord bot and is hands down the best moderation bot out there.
Conclusion
Discord bots help moderators and admins manage Discord servers, increase engagement, and improve overall functionality. There are already plenty of vanilla Discord commands that you can use. Still, the options become endless when you add in some Discord bots.
Tons of different Discord bots can help make your life easier. These different bots can help you level up your Discord experience and create a unique Discord server.
Those were our picks for 30 of the best Discord bots you can use in 2022. Feel free to explore the thousands of other Discord bots out there and add them to your server to create a one-of-a-kind experience.
Did we leave out your favorite Discord bot? Make sure to comment down below so that we can add it to our next list.