Playing games while rocking to some music with friends is a staple within the Discord community. The recent shutdown of some of the most popular and best Discord music bots, such as Groovy and Rythm, shocked many people. YouTube first ordered the shutdown of Groovy, which ended its service on August 30, 2021.
After a few weeks, YouTube targeted Rythm, which had over 560 million Discord users at the time. Rythm was forced to entirely shut down its services on September 15, 2021.
Discord users often like playing PC games with friends while listening to their favorite tracks. Discord music bots allowed people to easily do this without the hassle of opening different applications or streaming services.
At this point, two of the biggest Discord music bots were forced to stop their services. People are left wondering what else is left. Here are some of the best Discord music bots still currently working in 2021.
10 Best Discord Music Bots still working in 2021
Here is a list of the best Discord music bots that you can add to your server. All of these bots were still working during the time of writing.
BMO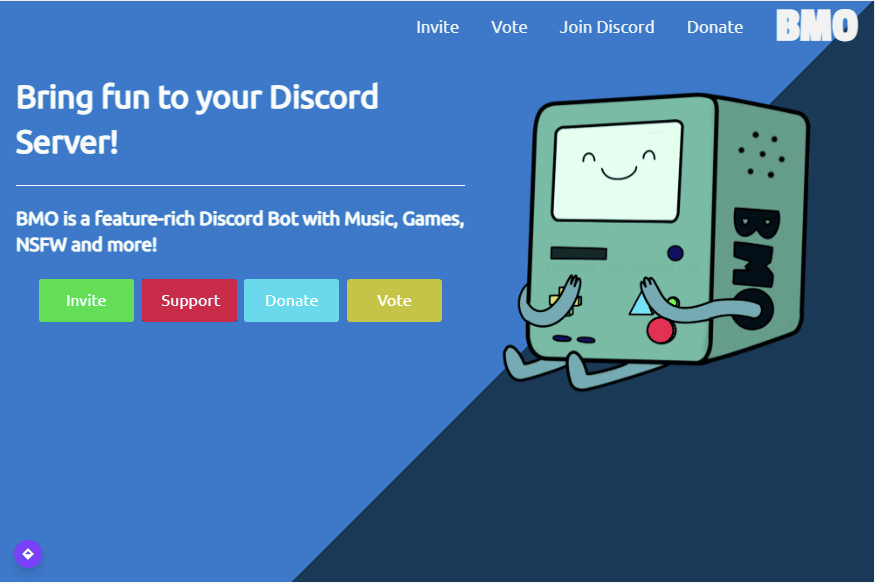 The BMO Discord bot is a feature-packed bot that offers a ton of different services. It comes with music, games, creating chatbots, and accessing utilities, among many others. BMO allows you to use more than 300 various commands to control its features.
BMO is named after and inspired by a living video game console and one of the characters in the series Adventure Time. Its ability to play music is somewhat limited because it isn't its main service, but it definitely gets the job done.
You can control BMO by using the "./" command, but it can be customized to your liking. Simply use the "./help Music" command to find out the other music player commands.
24/7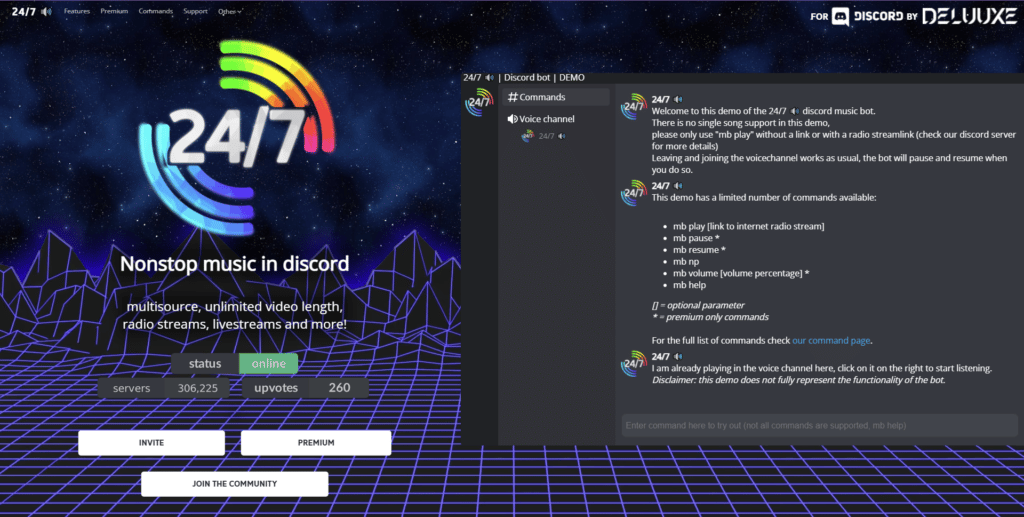 24/7 is another excellent Discord music bot. It has a ton of features that can help improve your Discord music listening experience. 24/7 can play music from sources like YouTube, SoundCloud, and Bandcamp. It can also stream from any radio station worldwide.
There are 3 basic plans for 24/7, Free, Premium, and Premium Plus. Both premium variations offer an additional premium-only bot, higher audio quality, playlist support, and a few other extra features.
The free version of 24/7 is completely usable and is fine for daily Discord use. You can check the complete command list by using "mb help." In any of the servers that include the bot.
Hydra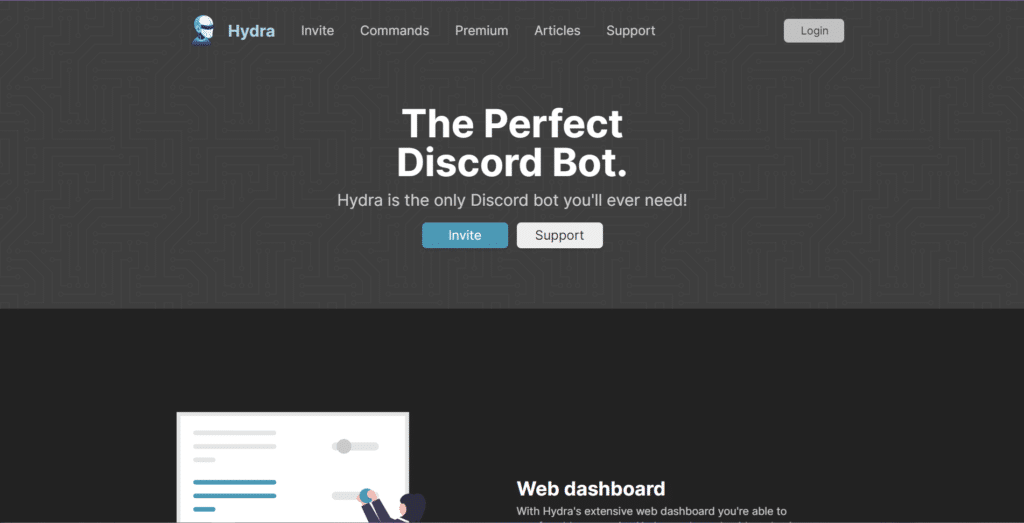 Hydra is a dedicated Discord music bot that offers both free and premium plans. It provides various features like autoplay, volume control, audio effects, access to more Hydra bots, among many others.
It's a fast and easy-to-use bot that's highly rated within the Discord community. It would be a great alternative if you used Rythm or Groovy as your main music bots. Hydra plays high-quality audio. Just make sure to be as specific as you can when searching for songs.
You can easily find out all commands by using ".help" and listen to music using ".play."
Chip Bot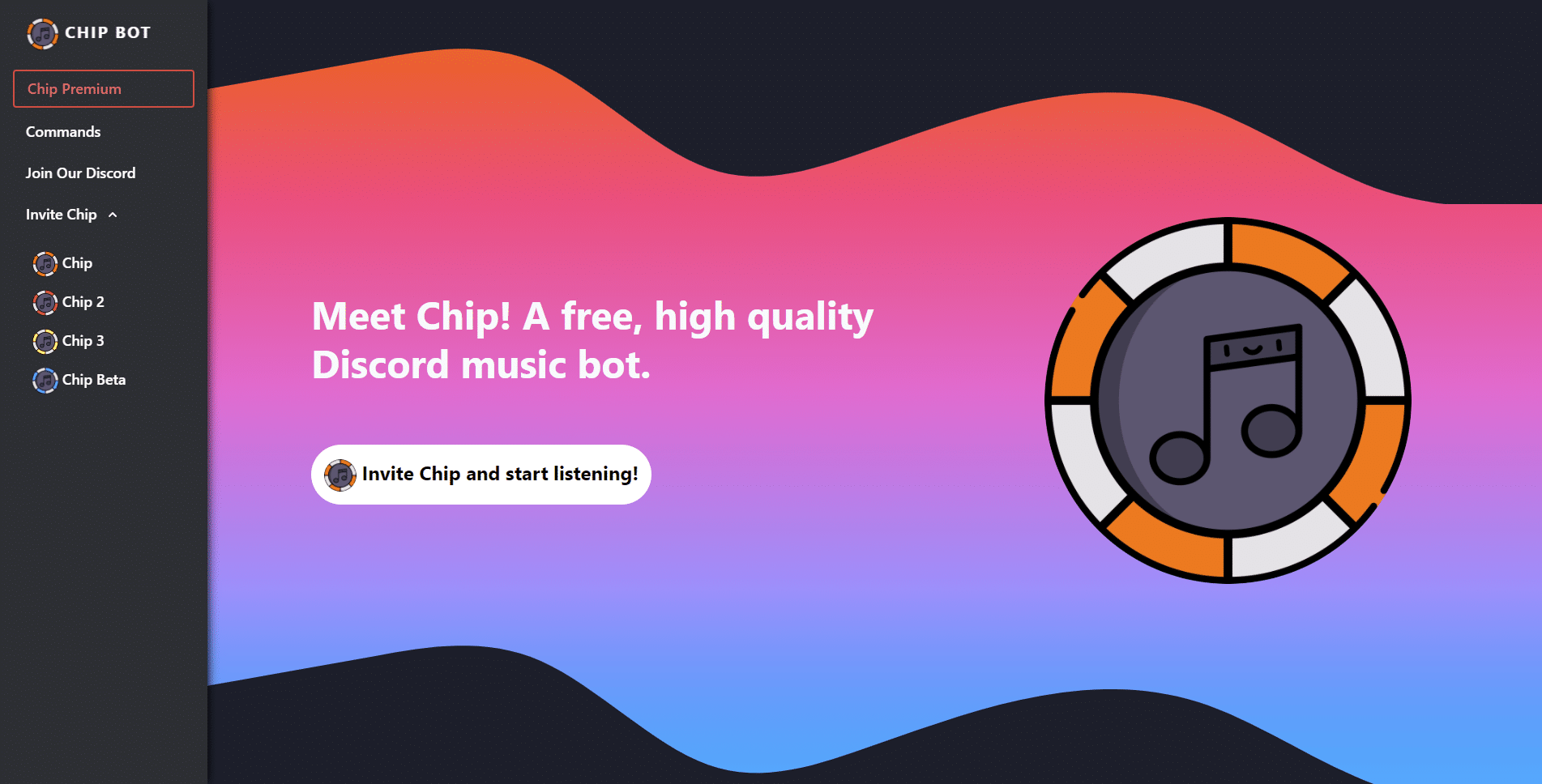 Chip Bot offers a very user-friendly Discord music bot. It has some very helpful buttons readily available when playing a song. The easy access buttons are Pause & Resume, Skip, Stop, and Show Queue.
There are currently over 460,000 servers that use Chip Bot making it one of the more popular ones on this list. It has a 24/7 uptime and is one of the loudest music bots I've ever tried.
The commands can be executed through the "ch!" prefix. You can use "ch! help" to get the complete list of commands and "ch! play" to play a song.
Octave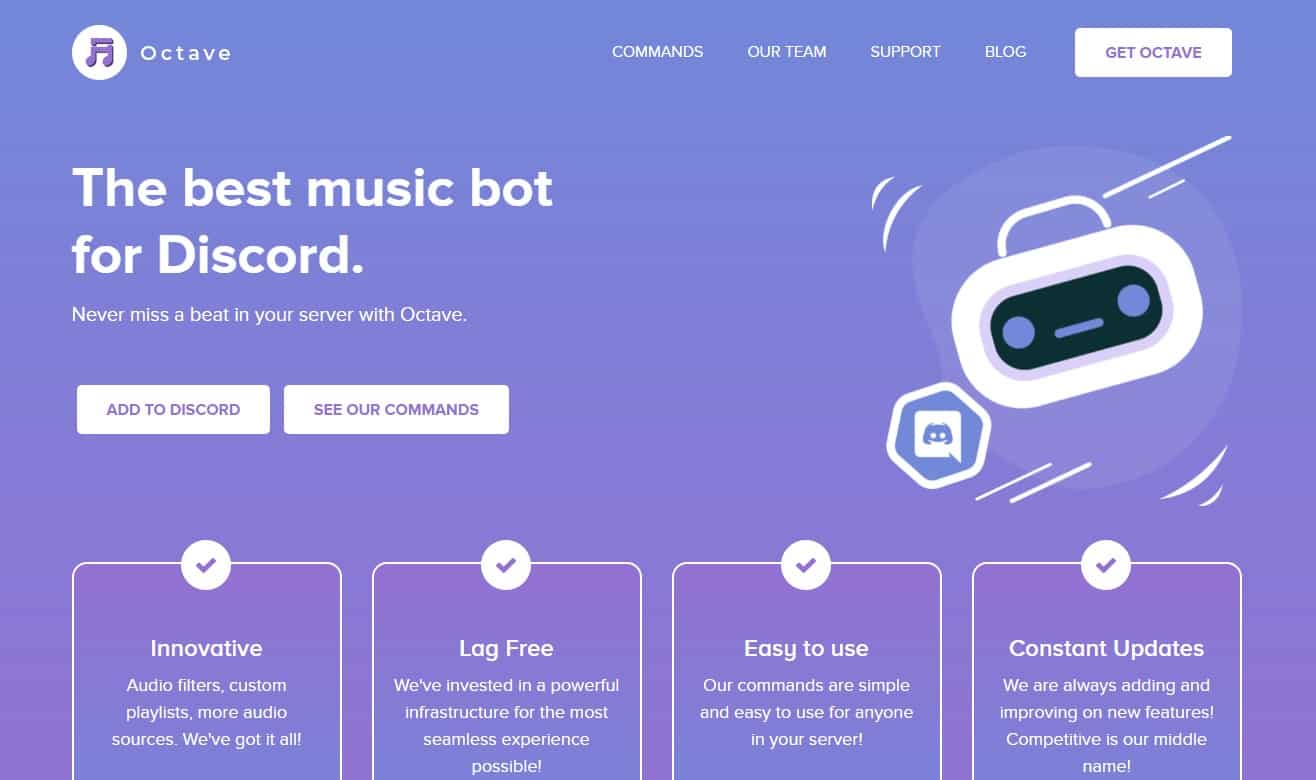 If you are looking for a trusted Discord music bot, Octave might be the one for you. It's over 4 years old, delivers high-quality audio to over 600,000 servers, and is entirely free to use.
Octave is easy to navigate and straightforward to use bot, perfect for new users of Discord. It's one of the few Discord music bots that still supports YouTube playback and can even play audio from DiscordFM stations and SoundCloud.
Just type "_help" to learn more about Octave's different commands and use "_play" to search for a song.
Fredboat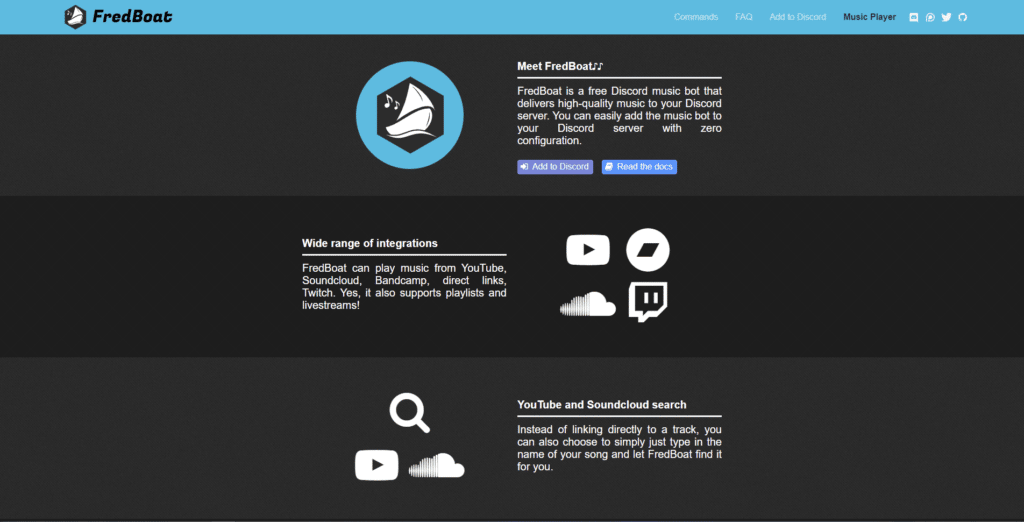 It is one of the most versatile and flexible Discord music bots available today. Fredboat is powerful and supports a variety of different websites. It can play audio from YouTube, SoundCloud, Bandcamp, Twitch and even supports playlists and live streams.
Fredboat is free, open-source, and trusted by the community. It's definitely one of the best Discord music bots out there.
Use ";;commands all" to get a list of all Fredboat's commands or use ";;music" to get a complete list of music controls and options.
MEE6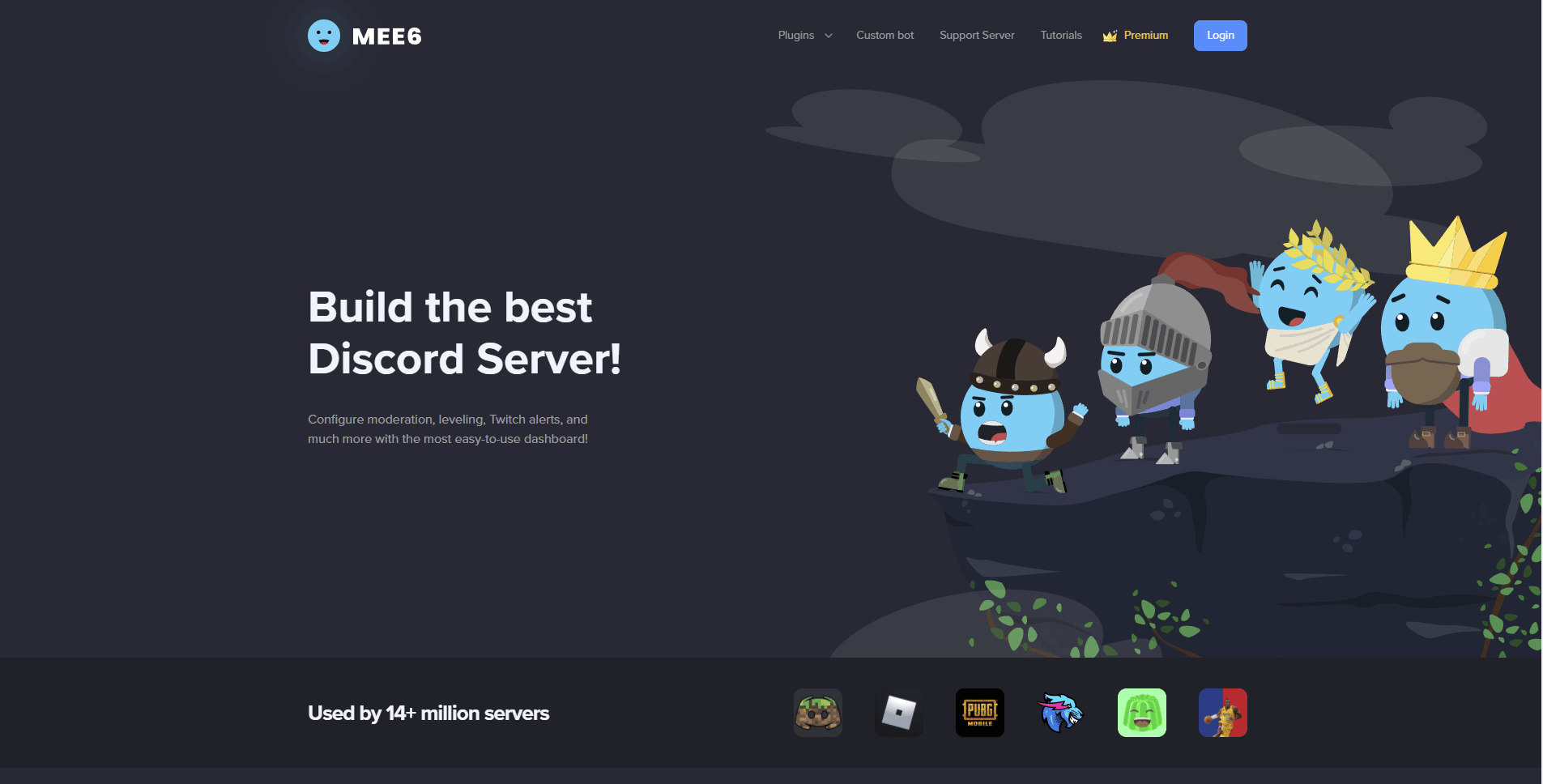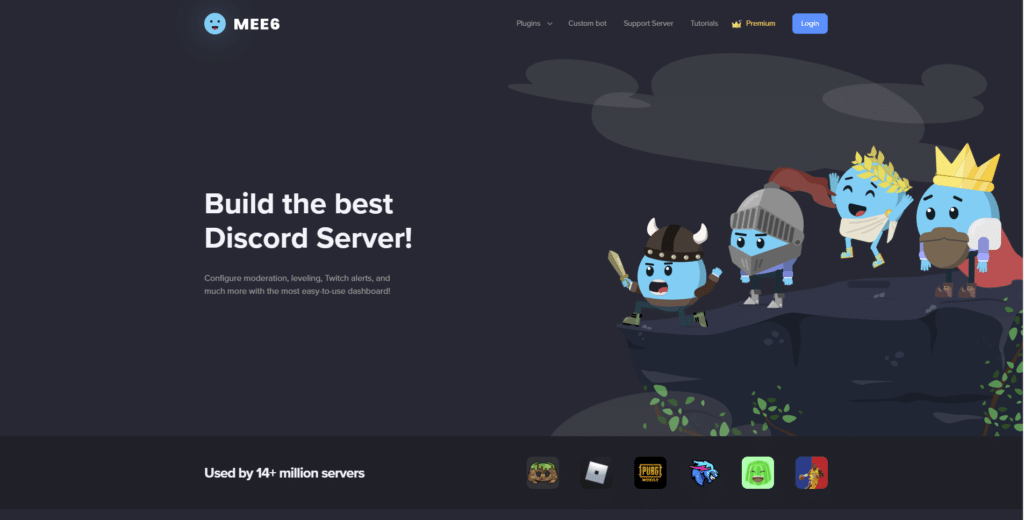 Like some of the other bots on this list, MEE6 also offers a free and paid version. However, I do think that paying for MEE6 is worth it because of all the extra features it comes with. MEE6 is a full-blown utility and moderation bot with a music bot on the side.
MEE6 is widely considered one of the best moderations and music bots in the world. It's very trusted and used in over 14 million different servers. MEE6 is definitely more advanced than the other bots on the list and is great for big community servers.
If you're only interested in MEE6's music player, simply use the "/help music" command to access the full list of options.
ProBot


ProBot is a versatile bot that offers a ton of different utilities and options to choose from. It's a very customizable bot that can provide moderation, raid protection, multi-language support, social commands, and a great music player.
It's very easy to use and is customizable, making it an excellent choice for anyone. It also has different commands and utilities that are fun and helpful to use within a server.
It makes use of the "#" prefix, so you can just type in "#play" to play some tunes or check out the complete command list from their website.
Vexera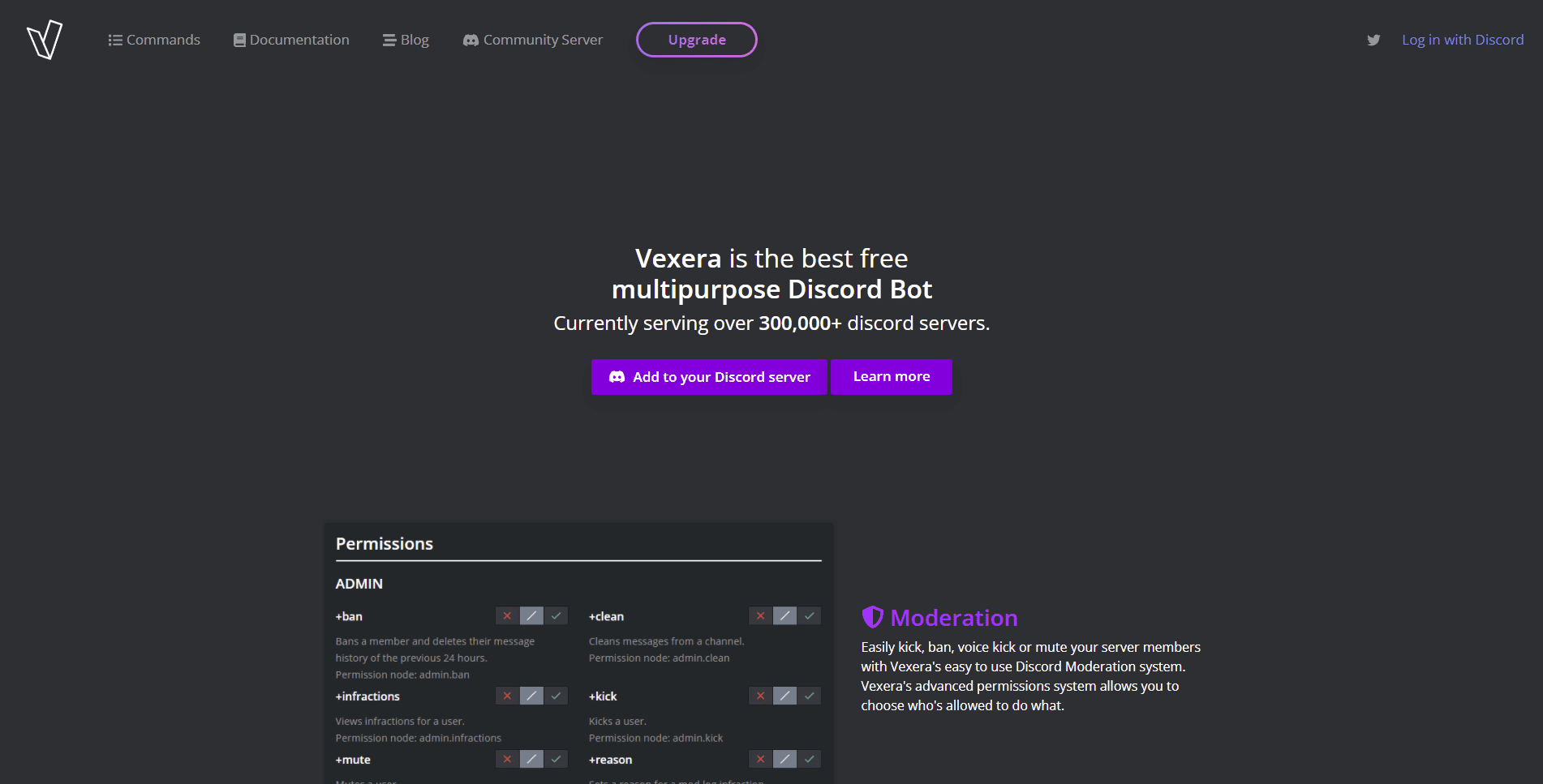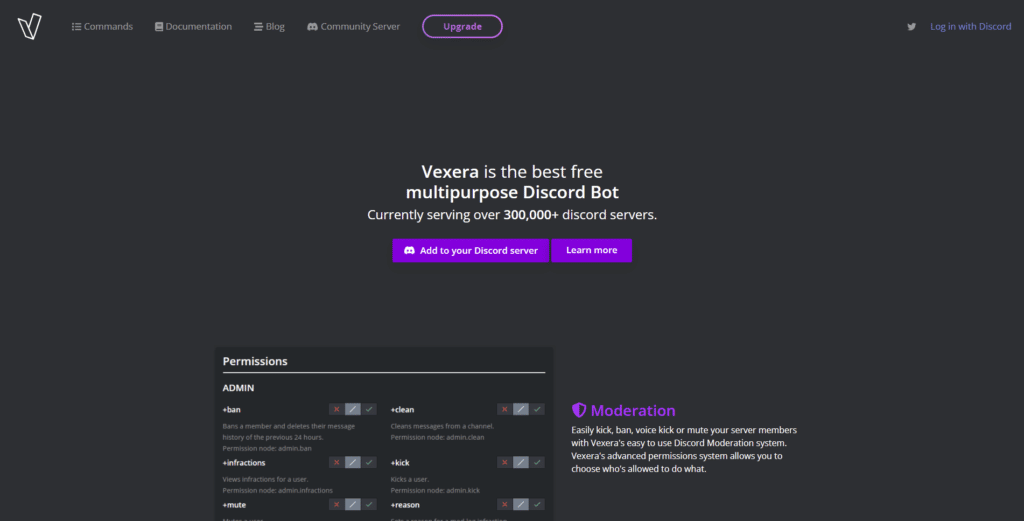 Vexera is another excellent and versatile Discord bot. It also has some free and paid options, but the free version should be more than enough if you're only looking for a music bot.
There are currently over 300,000 servers that use the bot. It can automatically assign roles, execute admin commands, show cute dogs and cats, and send in some hilarious memes. Additionally, Vexera can play audio from YouTube, Bandcamp, SoundCloud, Twitch, Vimeo, and more.
Simply use the "+play" command, and the Vexera bot will automatically join your voice channel and play your selected music.
Zandercraft


The final Discord music bot on this list is Zandercraft. It's a popular chat and productivity bot, but it also has some music-playing functionalities. Zandercraft can play extra HD (XHD), Hi-Fi music, perfect for gaming sessions.
It also doubles as a fun and quirky bot with commands that send different GIFs and chats. One downside is that you have to manually add it to your voice channel before playing some music.
You can add it to a voice channel by using "+voice" and then "+play" to play some music. Don't forget to use "+pikachu" for a random Pikachu GIF.
Those are our picks for 10 of the best Discord music bots that are still working in 2021. These bots are perfect for listening to music while chilling or gaming, especially when used with some of the best headsets for Discord. Hopefully, none of these bots meet the same fate as Rythm or Groovy.
Leave a comment if we left out your favorite Discord music bot.