Discord is the most popular communication app used by the majority of gamers as well as traders. We've also seen a lot of community managers create their own servers to cater to both the gaming and NFT communities.
In this article, we'll help you think of the best Discord names that you can use. We'll also share some tips and sites where you can brainstorm some more cool name ideas.
If you don't feel like spending a lot of time figuring out your Discord name, feel free to explore these list categories and you might find what you're looking for.
Cool Discord Names
Lucio West
Frag Herald
Sax Master
Blade Runner
Pilgrim Reaper
NiceRobo69
Inu Shiba
Headshot Maestro
Evil Pumper
Sturdy Domino
Starlight Robber
Katto King
Guerilla Eagle
Latino Pouncer
Tribal Warrior
Agent47
Undying Intimidator
Kaye East
Jack Sparrow
Deus Ex Machima
Shin Tenshi
Silent Samurai
Ramen Shippuden
Typing Ninja
Phantom Tsushima
Good Discord Names
Doctor Hacker
Image Hasher
Dr Locke
Misty Illusion
Trendy Bull
Harley Quin
Jack Five
Friggin Bones
Golden Sun King
Hunting Seer
Cooper Fields
Lars Jenkins
X.Data.X
Card Shark
Heroic Magicka
Jack Chaser
Maid Sama
Ballin' Gangster
Riot Royale
Phantom Fencer
Funny Discord Names
Cordless Disc
Lonely Fan
Bread Panda
Brunoppa
Dua Lupa
Poo Tah
Sushi Moo
Rambo Rat
Boring Alchemist
Jack Stroke
Ara Ara Waka
Paimon Slayer
Mia Parade
Pixel XL
NickelBone
Toothless Dragon Slayer
John Not Doe
Khal Bow
Heidi Sink
Harry Po Tae
Poring Infinity
Blad Cat
Pizza Raider
Fishing Dog
Vlad Clot
Queen Snyder
Best Discord Names
Bronx Bomber
Degen Art Miner
Hit Maker
Rocky Dan
Bansky Arsonist
Groovy Hypebeast
PewThePie
Necro Flasher
Lurking Bandit
Mr. Beets
iFade Shuffler
Splash Fragger
Contra Cobra
Master Sleek
Shang Shib
Jack Trader
AlienXPredator
SolEth Hoarder
Kitchen Inferno
PumpDaDump
Sharpshooting Raven
Smooth Crit Operator
Moonduster
Shadow Brow
Girl Discord Names
Nina Lina
Sara Hara
Kayle Minogue
Anna Banana
Poison Ivy
Katarina Rinn
Lili Allen
Ahri Gato
Lana Craft
Chloe Faris
Pika Park
Alisa Shiori
Kaori Mao
Seina Serena
Claire Morgan
Lara Craft
Kimi Dora
Klepto Cleopatra
Pink Kanga
Sammy Jane
Mei Dusa
Farah Xena
Selena Ashe
Anime-Inspired Discord Names
Oniichan
Jojo Aini
Sakura Kurochan
Naruto
Eren Joestar
Natsu Piccolo
Saitama Asuna
Death Notetaker
One Punch Monk
Fluffy Luffy
Son Goku
Keiko Mana
Kirito Sao
Rikimaru
Akane Katsu
Lupin
Vegeta Ble
Kakashi
Hideki Kasai
Kenta
Ichiro Ryuu
Kouta Yakuza
Aki Chie
Cute Discord Names
Kawaii Doctor
Sneaky Koala
Jackie Fox
Mikki Uzi
La Lisa
Hana Bishi
Coco Blossom
Kimi Chi
Maki California
Kumi Chinita
Lia Sings
Pichi Pie
Pan De Flan
Peggy Boo
Puppy Reina
Sparky Aura
Honey Butterfly
Aya Petite
Ruby Peaches
Oreo Kelly
Keira Riley
Cheery Reese
Cool Discord Server Names (Bonus)
The Secret Basement
Crypto Merchants Society
Hyping Trader's Lounge
The Boiler Room
Suspicious Dominion
House of Tryhards
Buskers World
Knights of Chivalry
Joker's Guild
Anti-Bot Sanctuary
The Streaming Tavern
Potato Inn
Humans of Discord
Shiny White Castle
The Doggo Battalion
DnD Empire
Spambot Hunters
Arcane Valley
45 Calibers
Netcode Fight Club
2D Retro Land
Elder's Haven
Tired Tyrants
Bubble Streamers
Lucky Tribe
University of Memeposting
World of Tabletops
Eagle Eye Company
Champions of the Opera
Tips On Starting And Naming A Discord Server
If you have a large following on any social media platform may it be Facebook, Twitter, YouTube, Twitch, or TikTok – the best way to build a community is by creating a Discord server.
Aside from thinking of a badass name, you must also take note of the following responsibilities as a server owner:
Figure out the purpose of your Discord server. Is it for creating an exclusive community? Are you teaching skills to certain groups of people? These are just some of the many possible uses for creating a Discord server.
Try to familiarize yourself with the basics like setting up text and voice channels.
Add Discord bots to spice up your server and improve interaction in the long run. You can start with adding music bots to make your server lively.
Later on, your following will grow, so it's good if you assign active members of your community to become moderators so they can ban toxic people in your server.
Play around with common community names like "club", "society, "world", "land", "guild", etc.
Not everyone can run and maintain a server so if all else fails, you can always delete your server and try again another time.
Where To Get Discord Names
Naming your own gamer tag or even a Discord server is probably one of the most challenging endeavors that you will face. But with proper tools to help you in coming up with a perfect name, you'll soon be able to find an identity that will fit your personality.
So far, we've found that SpinXO can provide us with inspirations just by entering your name, nickname, or even keywords that you can associate with your name and the random spinning is endless.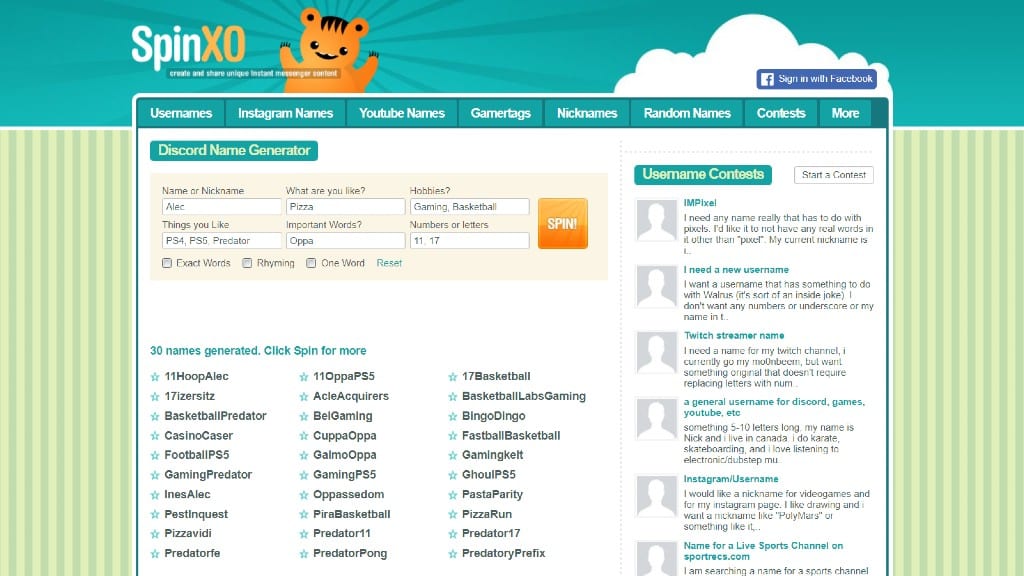 If you want to stylize your gamer tag further, you can also try out LingoJam and see what font faces your name stands out in.
Another great generator that we found is Vadoo.tv where it's a much simpler UI compared to SpinXO and it gives you the most optimized suggestions for the best Discord names. Putting a couple of keywords will give us some of the best results.
If these name lists and generators aren't enough, you can also get some inspiration from our sweaty Fortnite names list on where to find some more random name generators.
Take note that Discord usernames don't allow spaces but if you go to settings of any server, you can change your nickname by right-clicking on your username on the list then go to Edit Server Profile to change your nickname.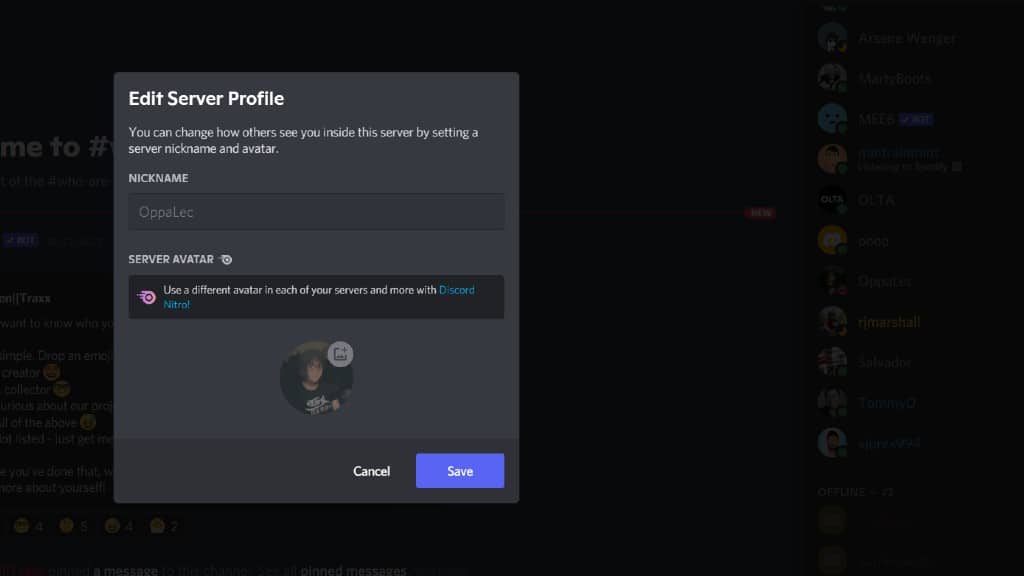 It's also good practice to capitalize every first letter of each word if you have a long username so that other people can read it clearly.
Now you're equipped with enough knowledge to brainstorm from this list of names or from our suggested word generators. You can also take a look at our best Discord PFPs for your desired profile or server avatars.
We hope you enjoyed browsing through this list of the best Discord names. Feel free to leave a comment on what names you found on this guide that sparked an idea or share the most unique names that you've ever come across while lurking the servers.