Discord has been one of the best free communication platforms out there. It's jam-packed with user-friendly features, all of which are elevated by some of the best Discord themes available on BetterDiscord. That's a third-party extension for Discord that lets you get even more creative with the app's layout and UI, giving you full creative control over its look and feel.
BetterDiscord has a massive collection of pre-made Discord themes for you to download, so there's a theme for everyone – regardless of what you're into. We're ranking the 15 best Discord themes on BetterDiscord. So, if you've been looking for a bit of a visual overhaul, check these themes out.
ClearVision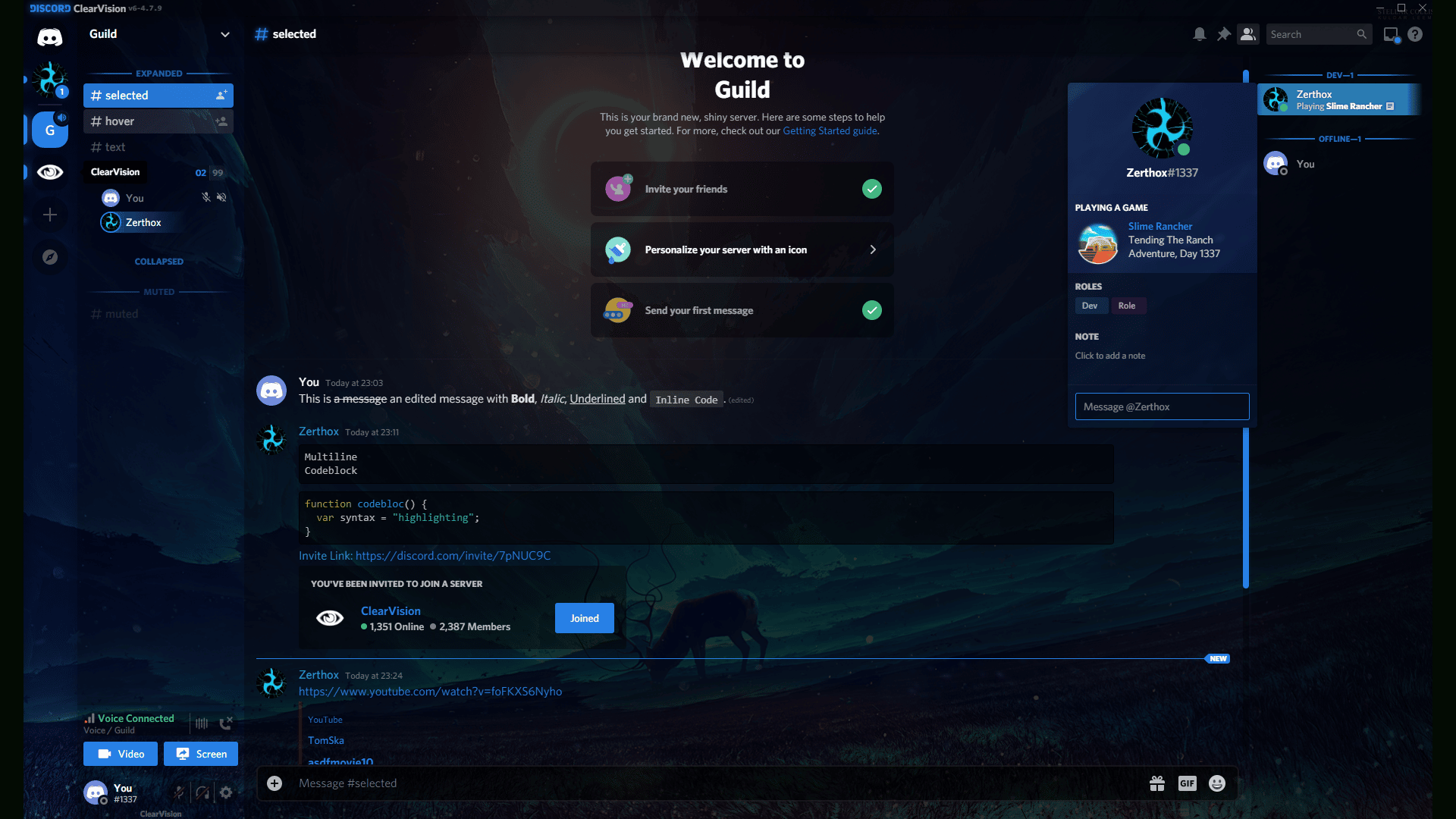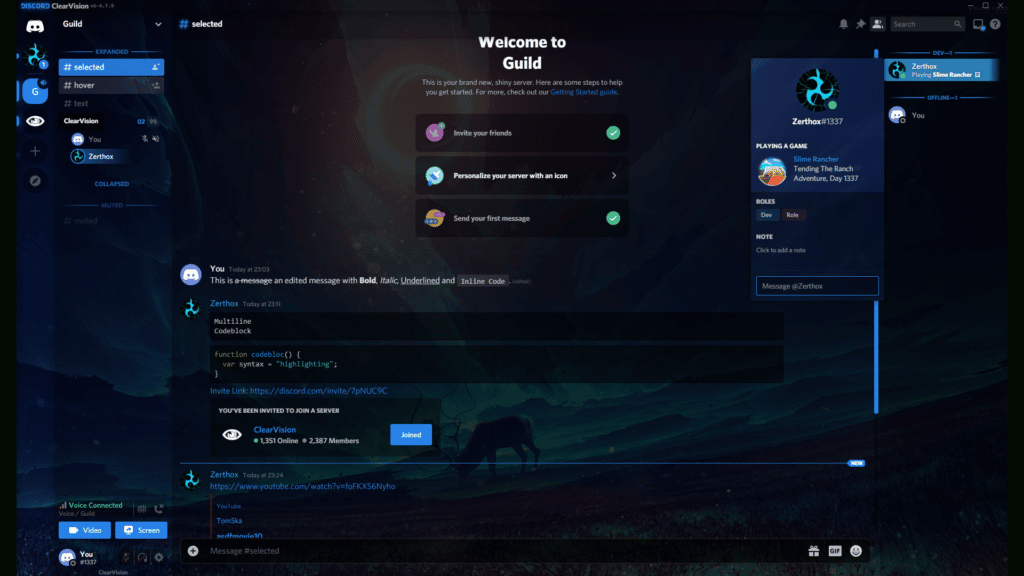 The first name on the list is our best pick in terms of customizability and user-friendliness. The ClearVision theme by unturned features the see-through version of Discord's original UI, but it gives you the option to change the background image, fonts, colors, element sizes, and many others. You can also fix the brightness, contrast, saturation, blur, and position of some features. The best thing? You can do this all on their straightforward Theme Editor before downloading so you can first check your own crafted layout's preview.
Being highly intuitive and customizable. it makes sense that it is the most popular theme on BetterDiscord with over a million downloads. Furthermore, despite the creative freedom it offers to users, ClearVision ensured that Discord's original layout is kept for uniformity. Since you have the option to change the UI to any color, only the Dark mode of Discord's base settings works with ClearVision. Nonetheless, it proves to be worthy of being the 'best' with its easily modified expanse of features.
Dark Matter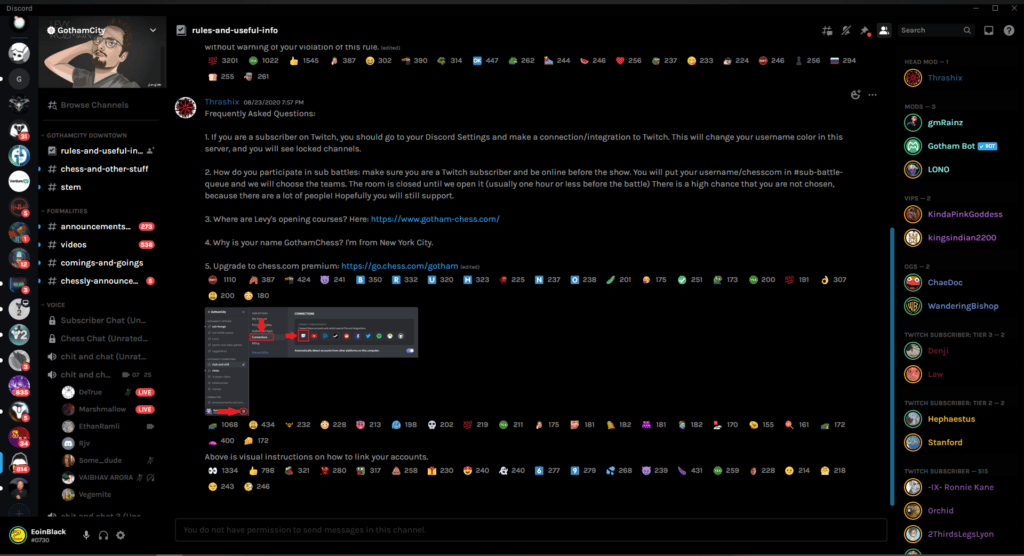 Dark Matter by Tropical is a theme offering what its name implies. It comes with chill, icy color tones that keep your Discord easy on the eyes, while maintaining the original Discord layout and not doing anything drastic to overhaul its aesthetics.
In remaining true to Discord's original UI, Dark Matter doesn't come with too much in the way of customizability. That does make it one of the more accessible themes out there, though. It also sizes down the icons for your servers – meaning you can fit more of them on screen at once. If you're a member of too many Discord servers for your own good, this simple little quality-of-life change makes a noticeable difference. So, if you're looking to spruce up Discord without making any major changes, check out Dark Matter.
Discord+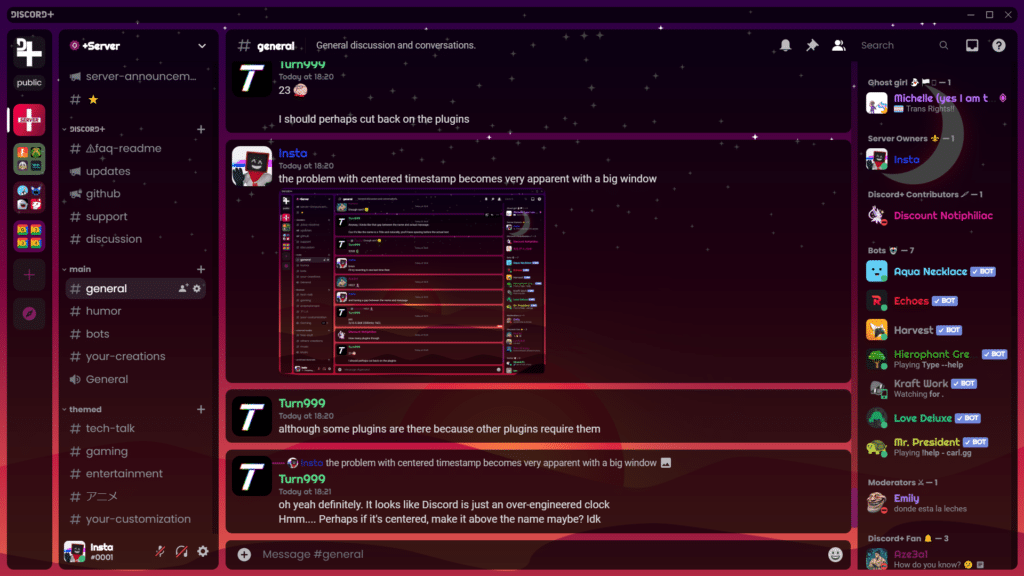 If you want to get a little more creative with your Discord's UI, then you'll need the freedom to customize it yourself. Luckily, one of the most popular and customizable Discord themes for you is the Discord+ theme by Insta. Here, you start off with a default redesigned interface displaying clean, see-through, and evenly spaced elements. Discord's Dark and Light modes can also be applied to this theme to alter the bars' colors.
Once you dive into Discord+'s 'Edit' function, you can easily change almost every aspect of the UI. You can replace the image by pasting the URL of your desired background, recolor the accents and fonts using the built-in color picker, and resize the icons by inserting random values. Apart from that, there are much more details that you can edit by yourself. Still, if you find it difficult to edit the theme's back end, you can join the creator's Discord server for assistance.
Not Another Anime Theme
Being called a weeb might feel like an insult to many but there are lots of us out there who are proud to be a part of one of the most cultured groups in existence. If you have Naruto as your phone background and Luffy as your desktop then why not take it up a notch and use Not Another Anime Theme by puckzxz to customize your Discord and fully embrace weebhood.
The theme is highly customizable to the extent that you can change pretty much every element you see on your screen. From scrollbars to server columns to the background, there is soo much stuff to fiddle with that you can basically make a whole new theme out of it. The cherry on top is that the theme is auto-updating giving you a completely hassle-free experience. If you have a problem figuring out some of the features, you can get help here.
Frosted Glass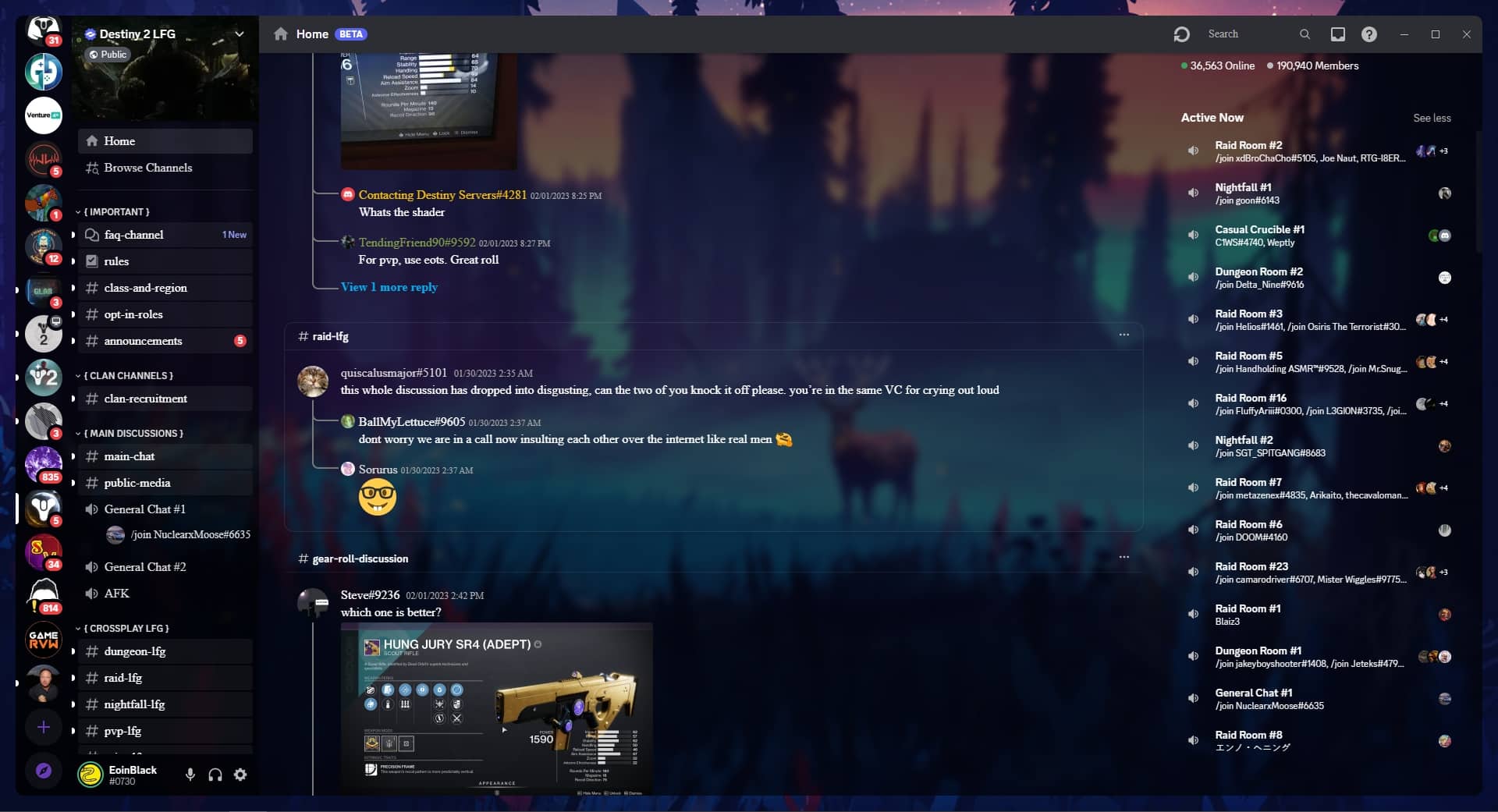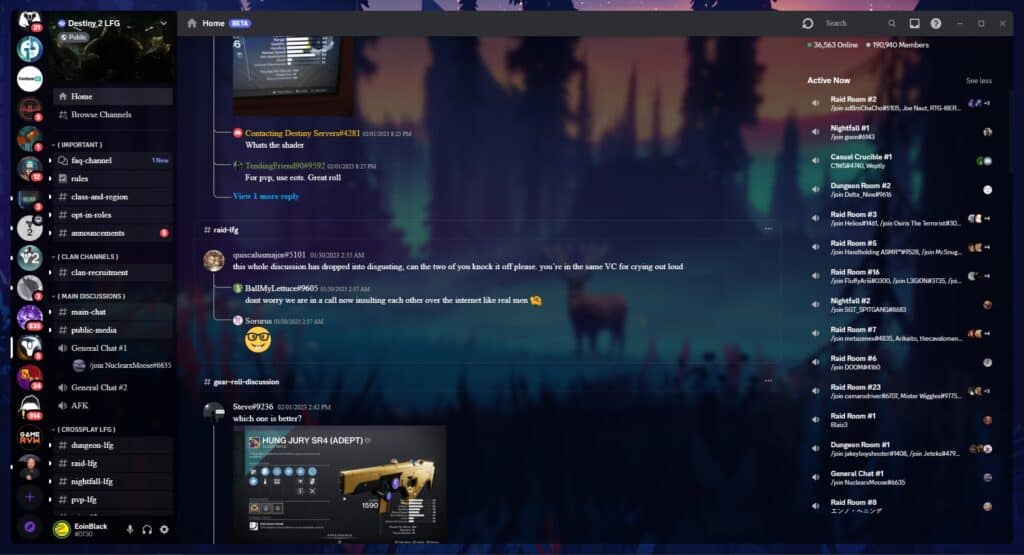 Frosted Glass by Gibbu only works with Dicord's dark mode. If you're looking for something with a little pop – this isn't for you. For the rest of us that enjoy chiller, more low-key Discord themes, this is a great place to start. It's a simple theme that does exactly what its name implies – gives your Discord a frosty glass effect, laying that over your choice of a background image.
The blur is adjustable, as is the brightness, so you have full control over just how frosty and distorted you want the effect to appear. It doesn't have too much in the way of customization beyond that, but it doesn't need to – it does its job, and it does it well.
GGO Kirito
Death Gun had the ability to lower players into their graves in real life by taking down their virtual avatars. The likelihood of that happening to you might be close to zero but having Kirito Senpai watching over us gives us that little bit of extra mental peace. To make sure you don't get cyberbullied in a Discord channel, you too should use GGO Kirito theme by VaporousCreeper.
The default layout for the theme features a bloody-red accent to give the UI a more dramatic look. Kirito fighting Death Gun in the background also blends really well with the whole vibe of the theme. The theme is not static and lets you customize most of the elements by making changes in the GGO_Kirito.theme.css file. So if you are not a fan of the translucent window or any other default configuration then you too can make changes to make the theme your own.
Translucence
Transparency is always welcomed but sometimes total transparency might not be what you are looking for. If that defines you that Translucence theme by CapnKitten is just the thing you are looking for. The theme is very comfy on the eyes with every element carefully designed to be easily visible against the translucent background.
One might argue that text such backgrounds are an ordeal because the text is not as visible but the Translucence theme doesn't disappoint because the text, the icons, the every other UI element has been given a slight lift, a shadow to make it stand out. In terms of customization, there is a plethora of options allowing you to configure everything from blur all the way to the padding and margins on the buttons.
Basic Background
There will always be a demographic who stands exactly on the line that divides two groups. These are the people keeping the balance in our society, the OGs, heroes helping the scale to not tip entirely in one direction. Putting the phenomenon in our context, there are people who like to completely redesign their Discord and there is another group who want the vanilla design and don't want anything to change.
If you find yourself divided between both of these groups then you too can go for the Basic Background theme by DevilBro. The theme lets you change the background without having to change the whole layout of the app. The theme retains the default layout we all know and love but lets you add your personal touch by customizing the background. That way you can be accepted into both groups. The ones who want change and the ones who don't.
Fallout 4 Terminal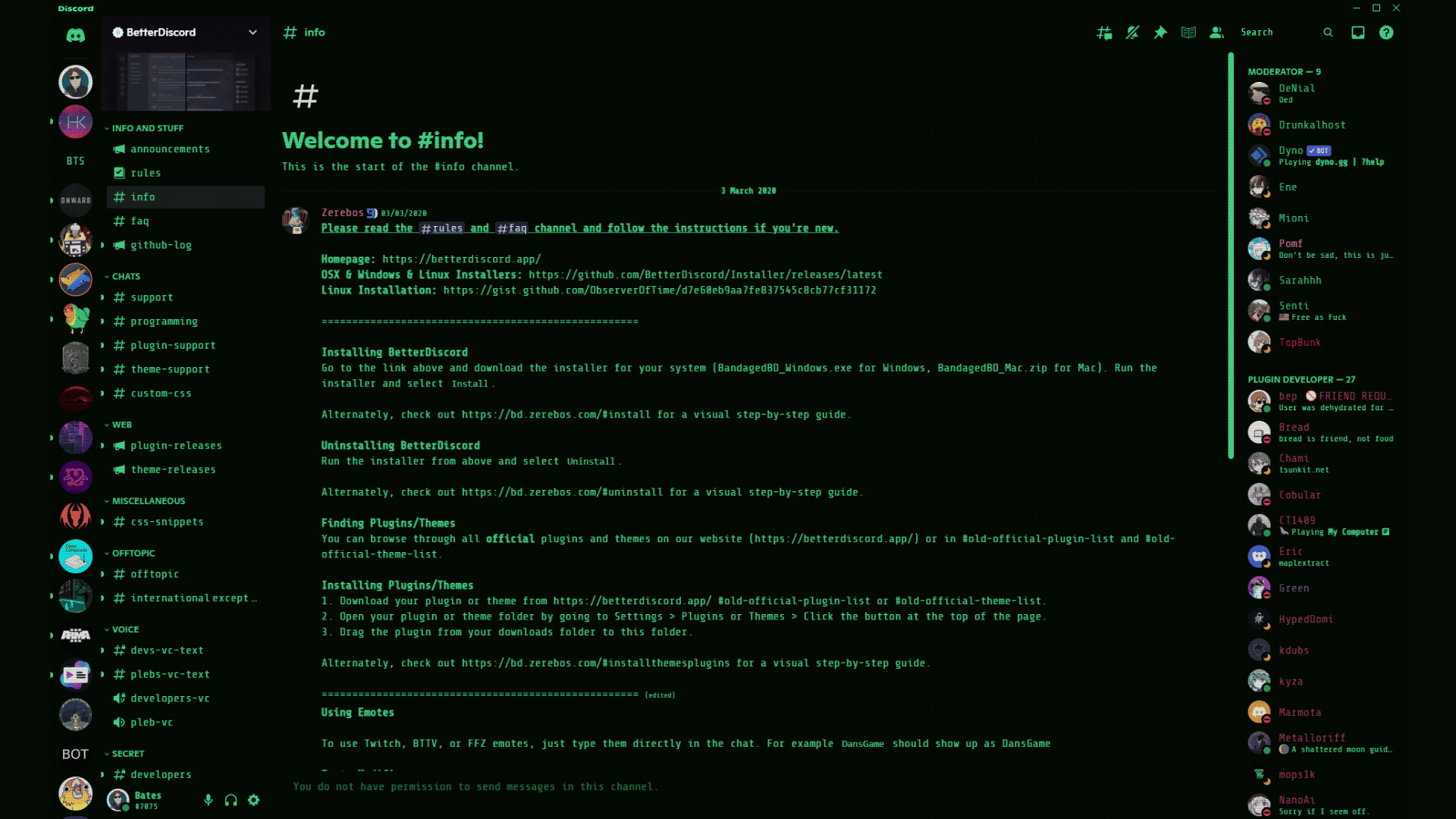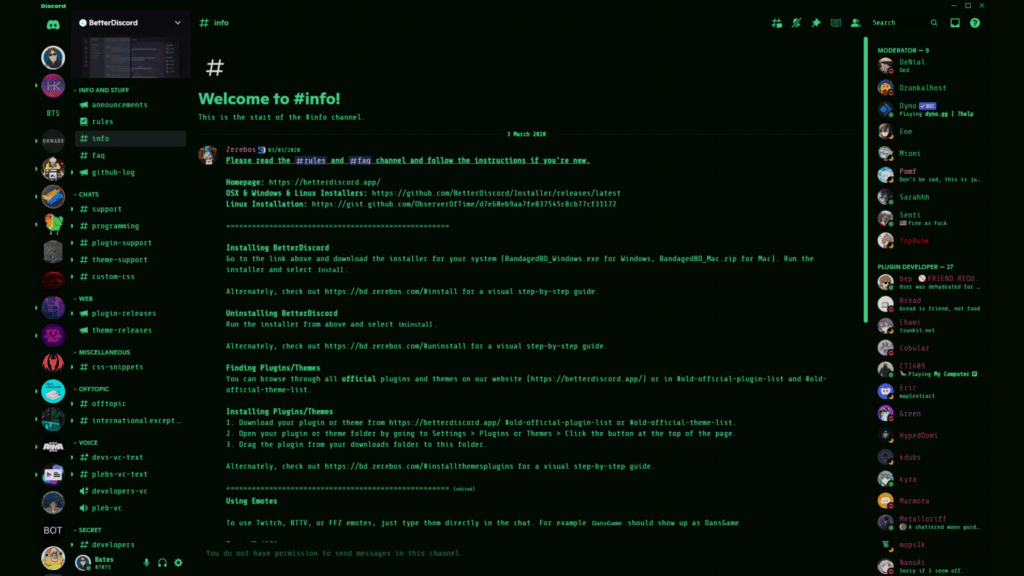 If you like role-playing games like those of the Fallout series or simply want to live up to the "Hackerman" meme, we got you! The Fallout 4 Terminal theme by Bates emits an edgy and futuristic vibe inspired by Fallout 4's Vault-Tec terminals. With the green programming font over the all-black background, it makes the perfect theme for those who want to look like they're hacking to save the world from domination. Definitely a classic portrayal of hackers in movies!
In terms of functionality, this The Matrix-like theme contains all of Discord's base features. While the green font is the theme's trademark, the font color can still be customized by editing the variables through its .theme.css file. There's no need to study the programming language. As long as you follow the instructions on the theme's website, you can utilize any color you like in no time!
Dark+
If you ask me, Dark Themes are the best thing to have come out, obviously after Ranch Sauce. Being a gamer, there are bound to be late-night sessions and if you too don't want your eye to get burned off by the bright themes then the Dark+ theme by DevEvil is your savior.
The theme is paired with purple as the accent color and oh boy! it doesn't disappoint. Purple really stands out against the charcoal gray background and makes every element pop. Aesthetics isn't the only good thing about the theme because it is highly customizable as well. If you don't like the default configuration then you can makes changes using the theme.css file without having to learn a programming language.
LilyPichu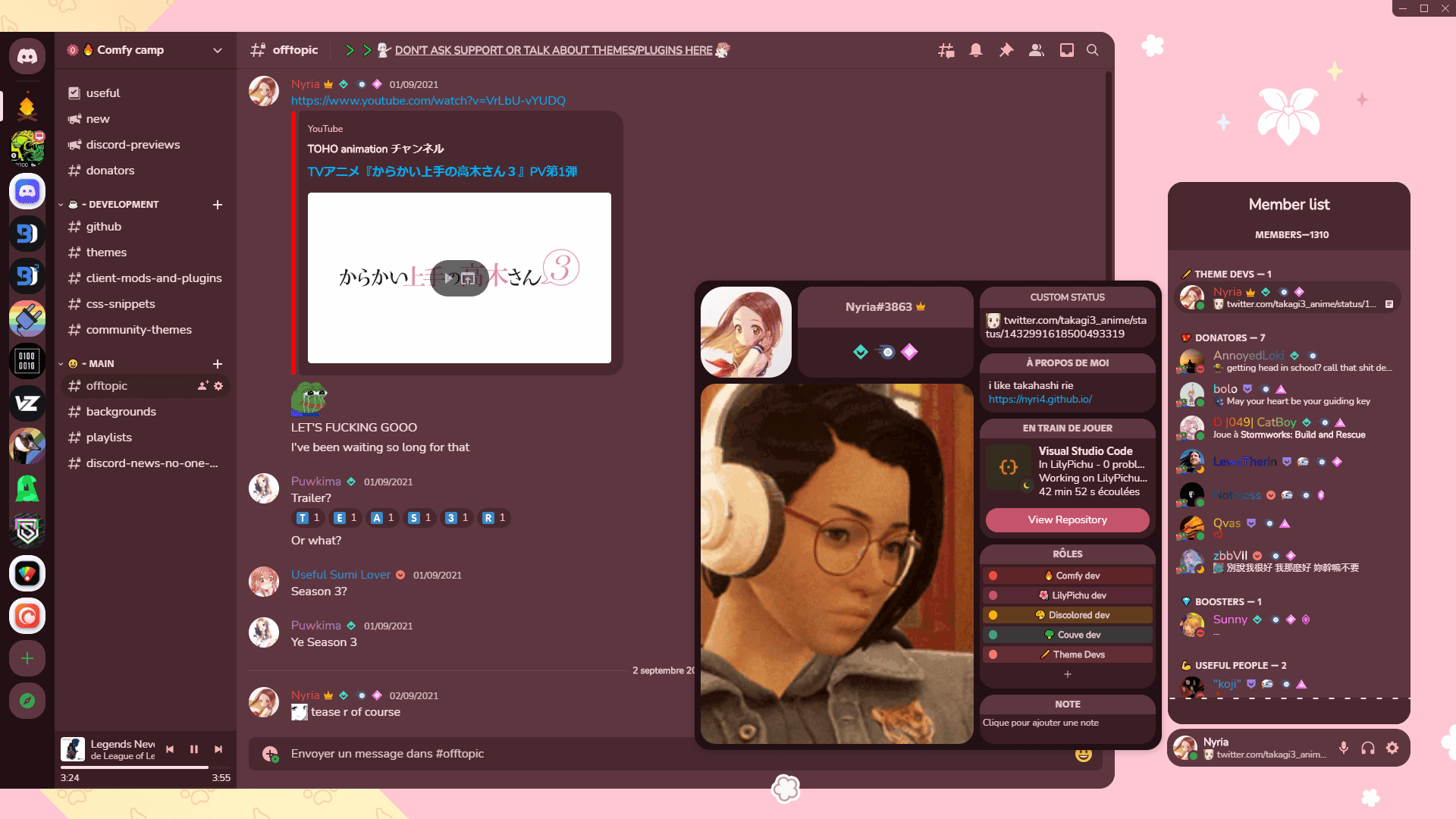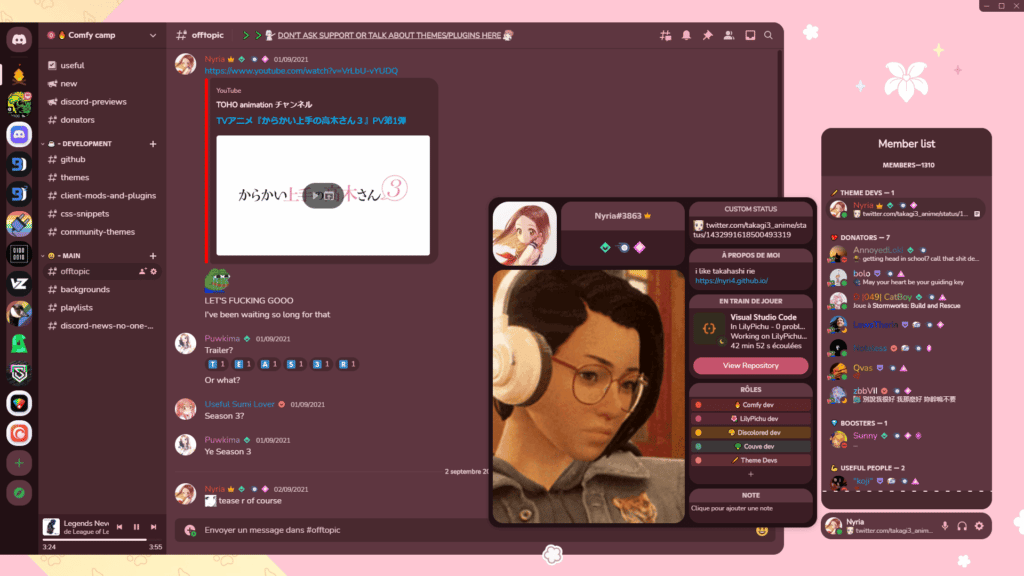 Another kawaii Discord theme on our list is the LilyPichu theme by Nyria, which is named after the famous YouTuber, Twitch streamer, and Genshin Impact voice actress LilyPichu. According to its description, the theme's overall design mirrors graphic designer @Melonturtle_'s stream overlay. The pink background with floral icons overwhelms the whole UI, which is common for most kawaii streamers in gaming communities.
The LilyPichu theme makes a few alterations to the position of Discord's base layout. It pushes the servers and conversations to the left side of the screen and makes a separate floating bar of the member list on the right. Your profile together with the microphone, headphones, and gear icon also goes to the lower right side of the theme's UI. While the empty space on the top right corner may be a bit out of place, the theme nails the kawaii streamer vibe for your desktop.
Black Hole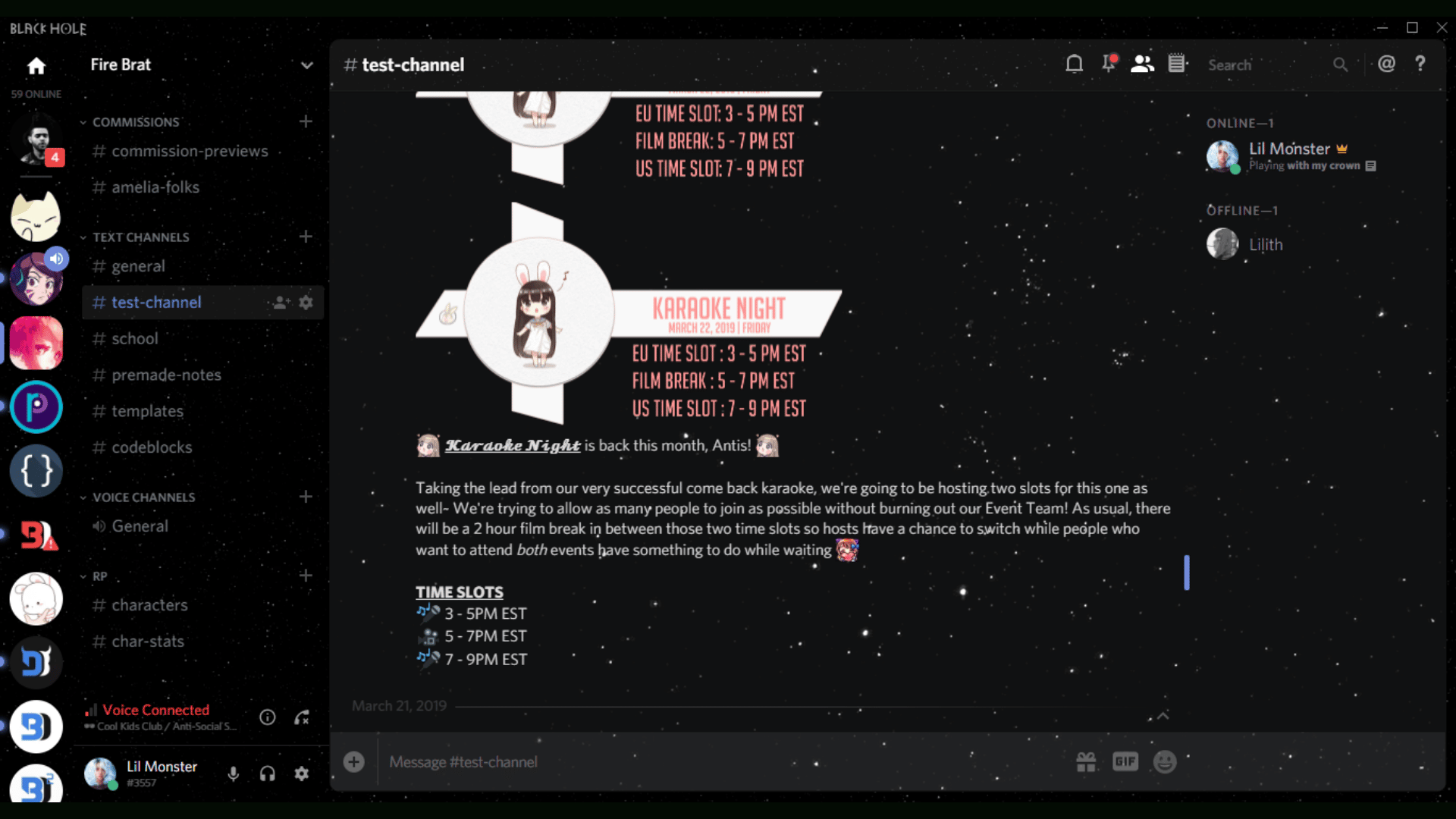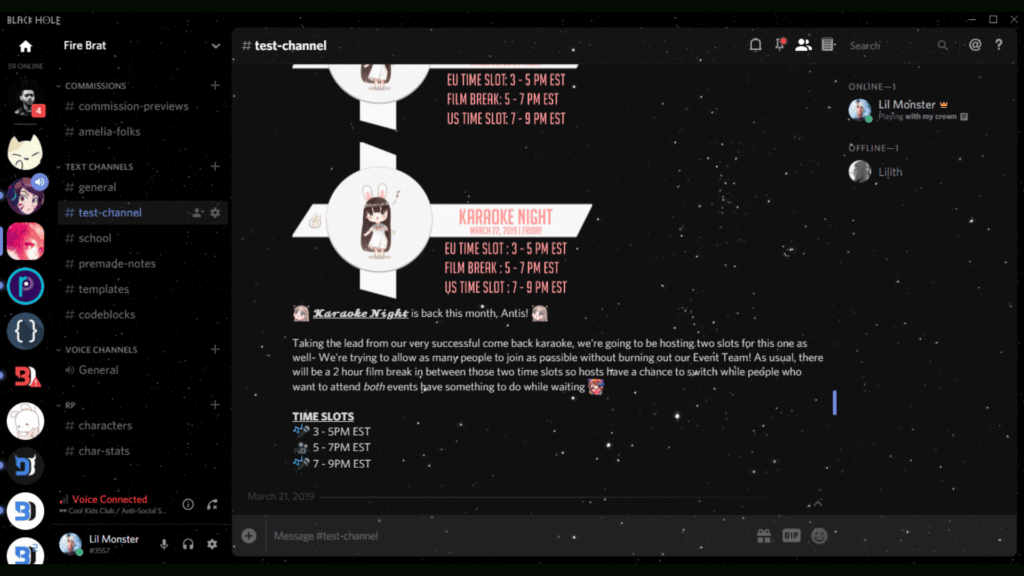 You can take your Discord chat experience 'out of this world' with the Black Hole theme by Monster Dev. This sleek and edgy theme uses a monochromatic pitch-black background speckled with stars to imitate a vast galaxy. On the other hand, it features Discord's iconic 'blurple' (blue and purple) as an accent color for a little bit of contrast. If you're into gazing at the night sky, you'll definitely appreciate the simplicity of this stunning design.
As a representation of a mysterious void, the color of the Black Hole theme is not customizable. Moreover, selecting either Dark or Light mode will also not make a difference to this Discord theme's appearance. This can be a disadvantage for some, but its straightforward layout is something minimalists wouldn't want to alter. A simple change in color definitely revamps the overall vibe of the platform!
Discord Night
Are you so light-averse that even Discord's dark mode is offensive to your eyes? Well, Discord Night by KillYoy might just be what you need. This is a simple visual overhaul that cranks Discord's dark color scheme down a notch, making it as easy on the eyes as possible. It's not as flashy or dramatic as some of the other Discord themes on this list, but it doesn't need to be.
While Discord Night is a simple and elegant theme, it does come with a wealth of easy customization – granted you need to know a bit of CSS to fully take advantage of it. Those who do dabble in web design will find themselves able to edit practically anything they want about the theme, making this one of the more customizable Discord Themes out there – you just need to know what you're doing.
Radial Status
Sometimes, it's the smallest changes that have the most impact on how something looks or feels. That's absolutely the case with Radial Status by Gibbu. This isn't exactly a theme by itself. It won't overhaul the look, feel, appearance, or colors of your Discord UI. What it will do, though, is change how status icons are displayed.
With Radial Status active, you'll get either a green, orange, red, or grey ring around the profile picture of everyone you look at – whether on your friends list or in an active server. These rings represent that person's Discord status. Green represents online, orange is idle, red is do not disturb, and grey is offline. This is a simple quality-of-life improvement that you can run on top of your theme of choice. Installing it really is a no-brainer.
Pyrite
Pyrite by LeafyLuigi is effectively a light mode for ClearVision, granted it's still easy to look at in a dark room despite the brightness changes. It features rich, oceanic blues that bring livelier vibes than that of ClearVision, so if that's your sort of thing, you'll enjoy Pyrite over some of the more popular Discord themes on BetterDiscord.
Like ClearVision, Pyrite has customization options, granted their not as exhaustive or accessible as the former's. One thing worth keeping in mind is that Pyrite is built for Discord Canary, so the theme's CSS complies with that version of Discord's structure and naming conventions. This means that, on occasion, Pyrite may not apply to a certain area of your Discord UI. If this happens, you can join the Pyrite official theme server and ask for support. Alternatively, you can fix it yourself, but that requires a bit of know-how with CSS, HTML, and JavaScript.
Conclusion
Which BetterDiscord theme on this ranked list have you already downloaded and used? If your favorites are not here on our picks, comment them down below so we can also share them with other users. Hopefully, you've found the perfect custom theme to suit your aesthetic along with the best Discord PFP to express your digital identity!
If you want to streamline and make the most out of your experience on this platform, also check out our ultimate list of the best Discord bots for tons of entertaining server features.