WIG's experts use Discord for communication and gaming on a daily basis. Some of us (including myself) use BetterDiscord as it allows for better customization and control over the app. You can also install custom themes on it. I've handpicked the 10 best themes for you to use on your Discord based on how cool they look & how easy on the eyes they are.
Here are a few cool themes you can use with BetterDiscord:
ClearVision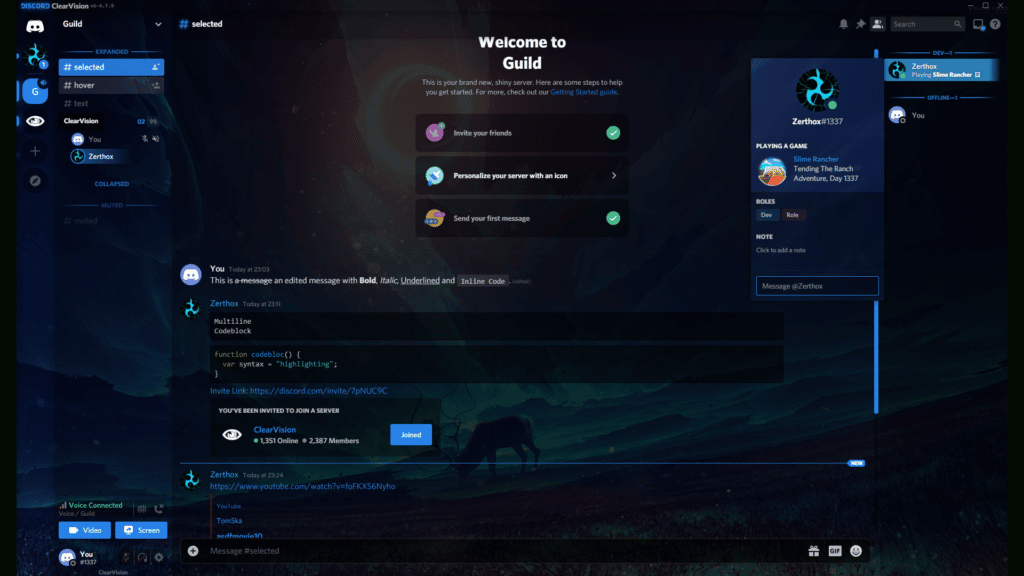 The ClearVision theme is one of the highest-rated themes on BetterDiscord because of the sheer customizability it allows. You can change your theme's font, element sizes, colors, background images, brightness/contrast/saturation/hue, and even the positioning of some UI elements.
You can make all of these changes and preview what the theme will look like even before downloading it.
Dark Matter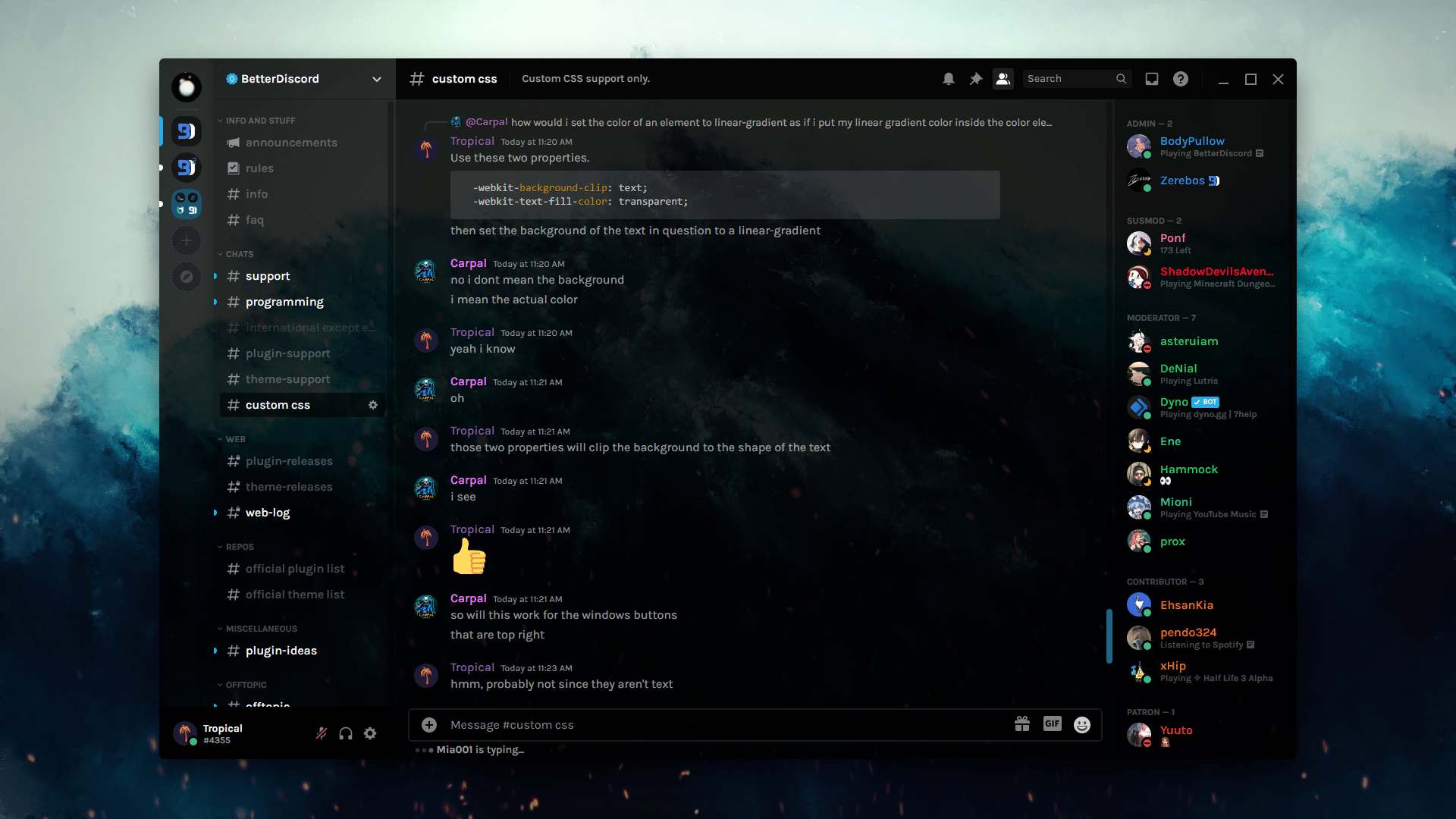 Dark Matter by Tropical is a simple theme that pushed the slightly translucent all-black and clear approach with minimal changes to how Discord originally looked. I've used this theme for quite some time.
This theme also slightly reduces the server and member icon sizes to ensure that more information can fit within each scroll. Overall, a very light and easy-on-the-eyes theme that you should definitely try.
Discord+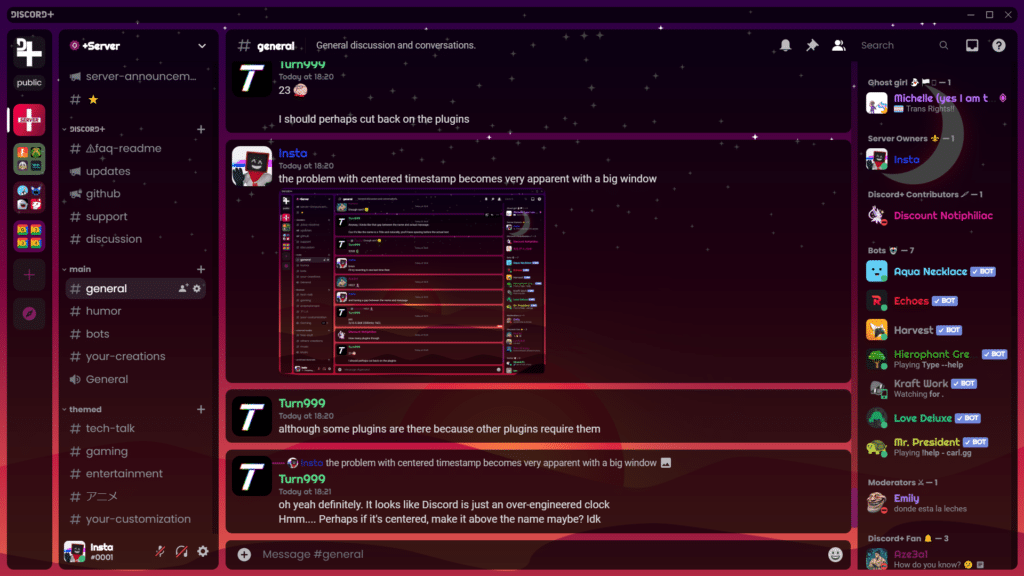 Discord+ is the perfect theme for those looking to change a lot of stuff within Discord's UI, such as spacing, where some elements are, their colors, the fonts, icon sizes, etc.
Once you dive into Discord+'s 'Edit' function, you can easily change almost every aspect of the UI. You can replace the image by pasting the URL of your desired background, recolor the accents and fonts using the built-in color picker, and resize the icons by inserting random values.
Frosted Glass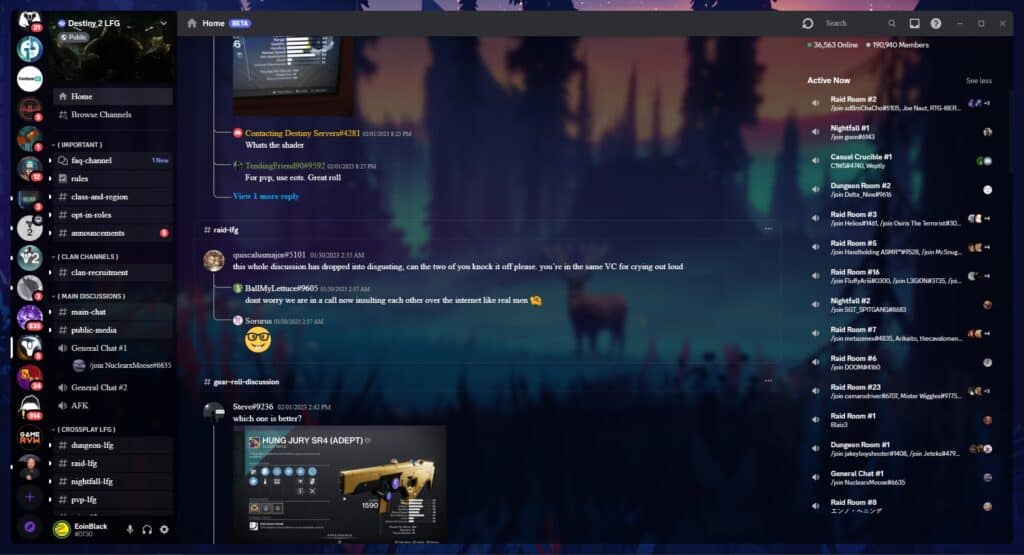 The Frosted Glass theme by Gibbu lets you adjust the background image and its blur intensity and provides a very frosted glass look. (lol, the hint might be in the name)
It doesn't have too much in the way of customization beyond that, but it doesn't need to – it does its job, and it does it well. An excellent theme for people who like non-invasive, easy-to-use themes.
GGO Kirito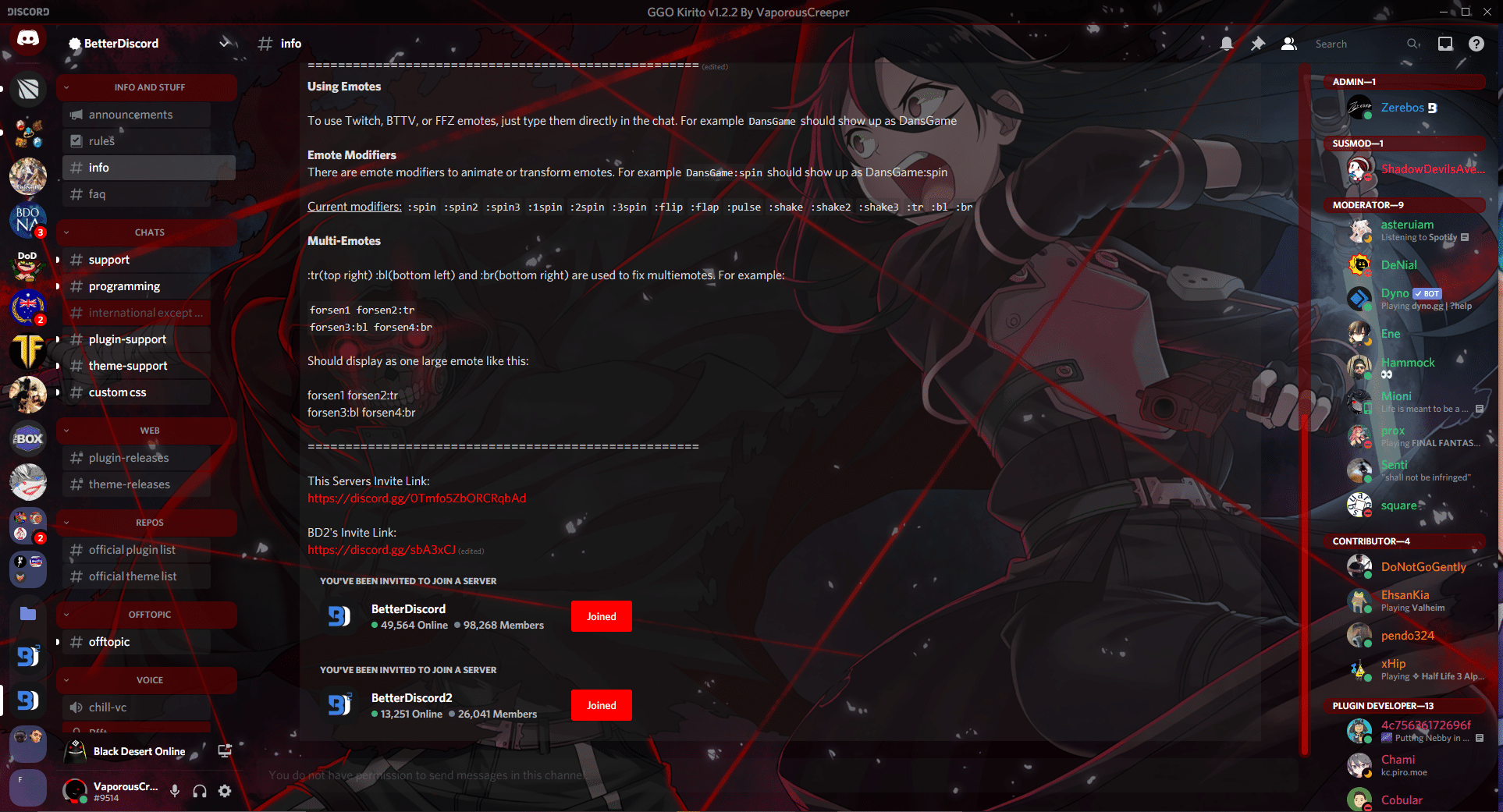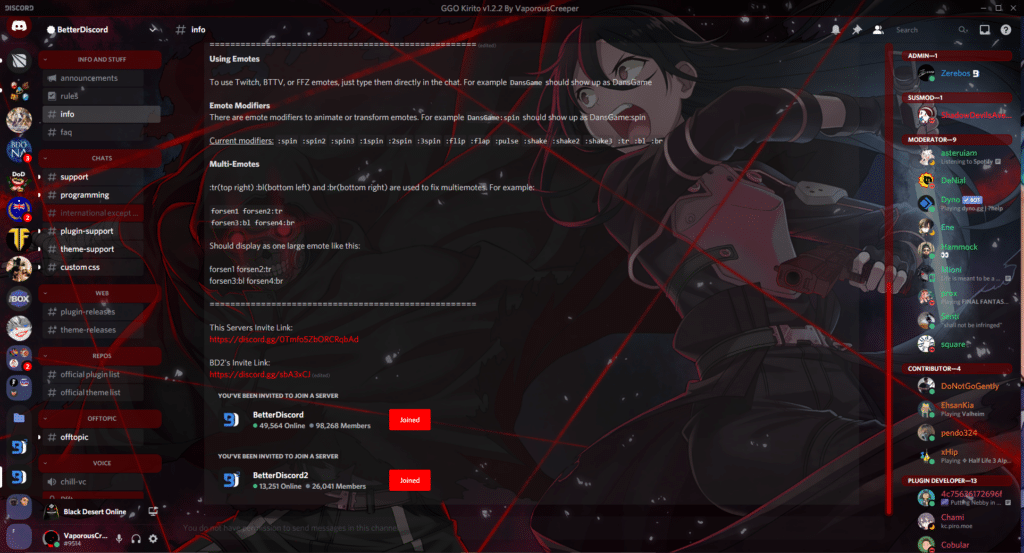 This one is for all the Sword Art fans. The theme features a bloody-red accent to give the UI a more dramatic look. The theme is not static and lets you customize most of the elements by making changes in the GGO_Kirito.theme.css file.
So if you are not a fan of the translucent window or any other default configuration then you can make changes to make the theme your own.
Translucence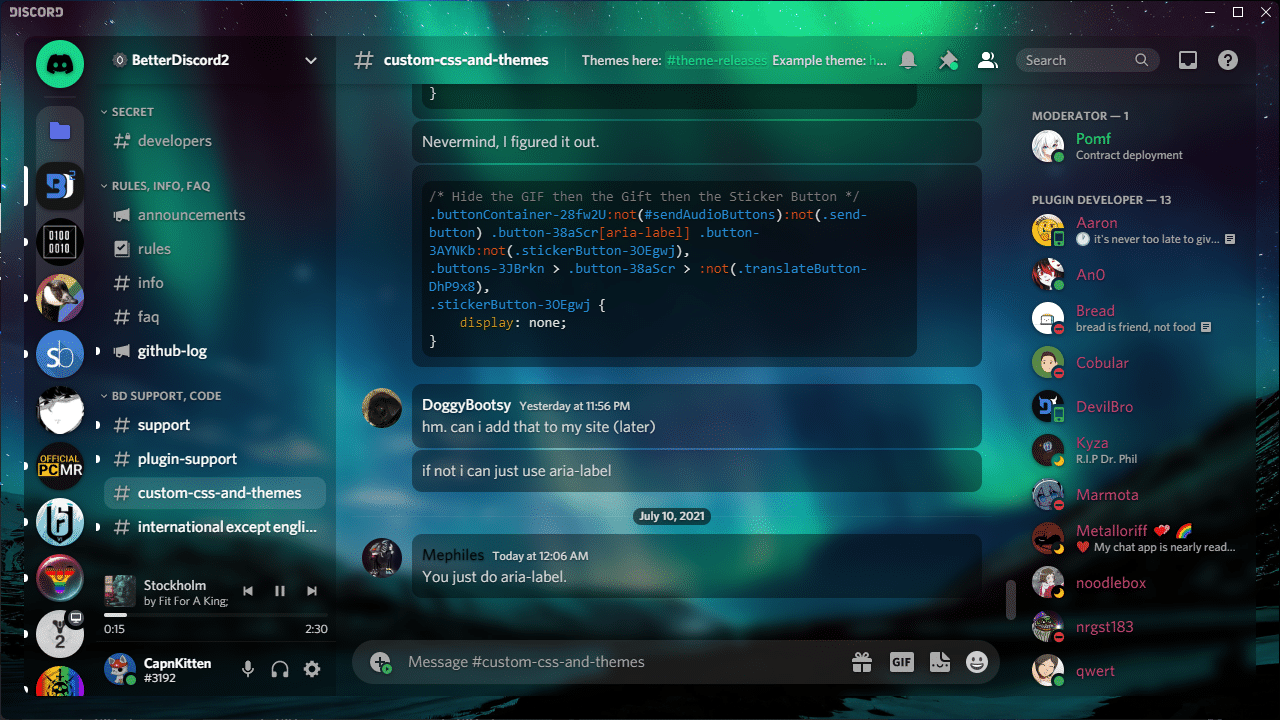 The Translucence theme by CapnKitten is very comfy on the eyes with every element carefully designed to be easily visible against the translucent background.
The text, the icons, the every other UI element have been given a slight lift, a shadow to make it stand out. In terms of customization, there is a plethora of options allowing you to configure everything from blur all the way to the padding and margins on the buttons.
Basic Background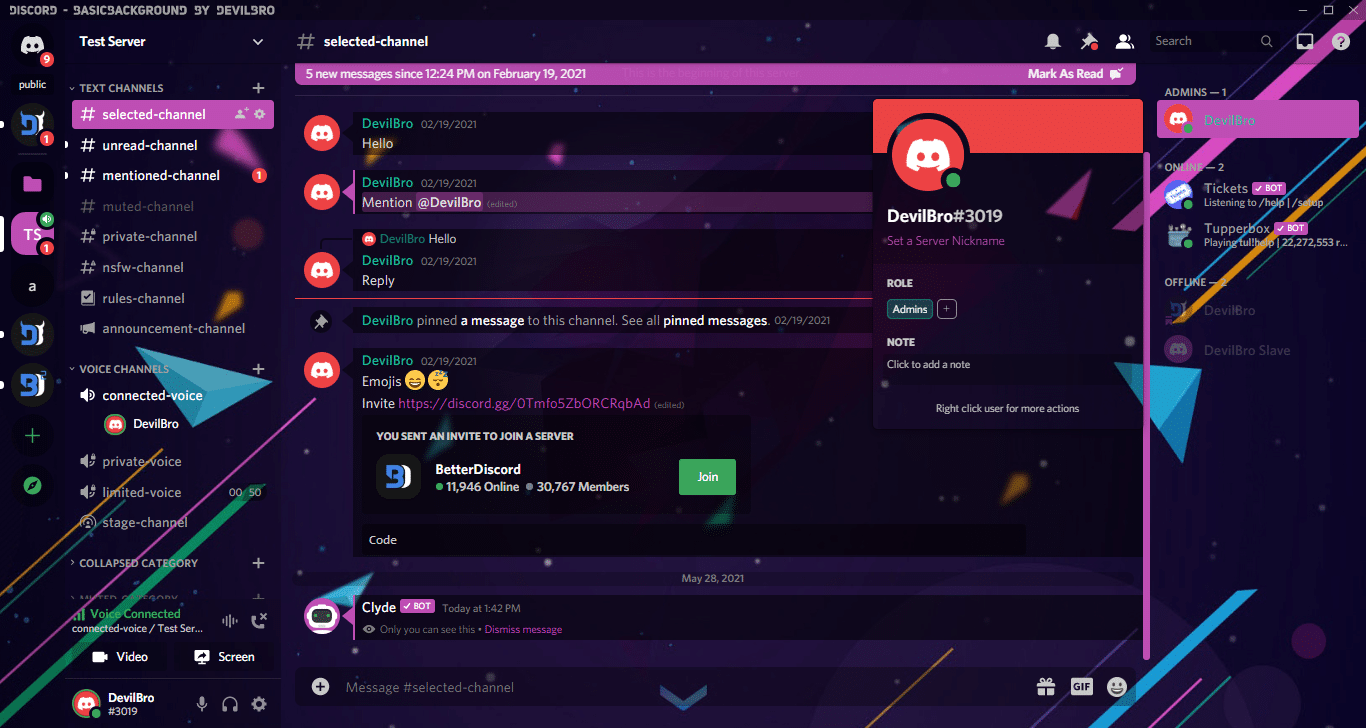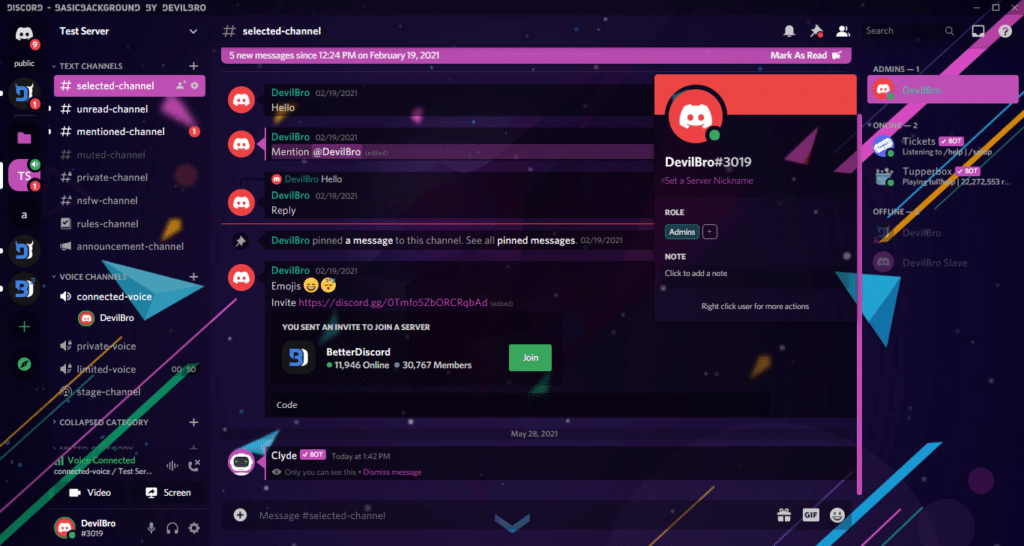 If you are someone who prefers balanced looks that are neither too muted nor too vibrant then you can go for the Basic Background theme by DevilBro.
The theme lets you change the background without having to change the whole layout of the app. A fairly simple theme that is meant to appeal to the masses.
Fallout 4 Terminal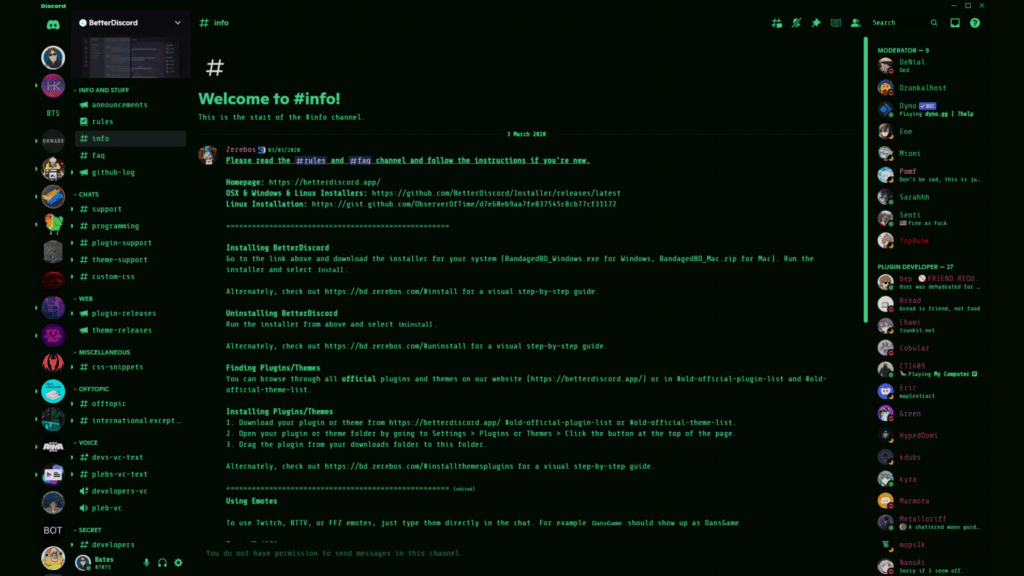 If you've ever wanted to turn your Discord into a literal Pip-Boy, then this is going to be the best theme for you.
The Fallout 4 Terminal theme by Bates is inspired by Fallout 4's Vault-Tec terminals. With the green programming font over the all-black background, it makes the perfect theme for those who want to look like they're hacking to save the world from domination. Definitely a classic portrayal of hackers in movies!
You can also customize the font colors and other stuff by messing with the .css file. Instructions to do so can be found on the mod page.
Black Hole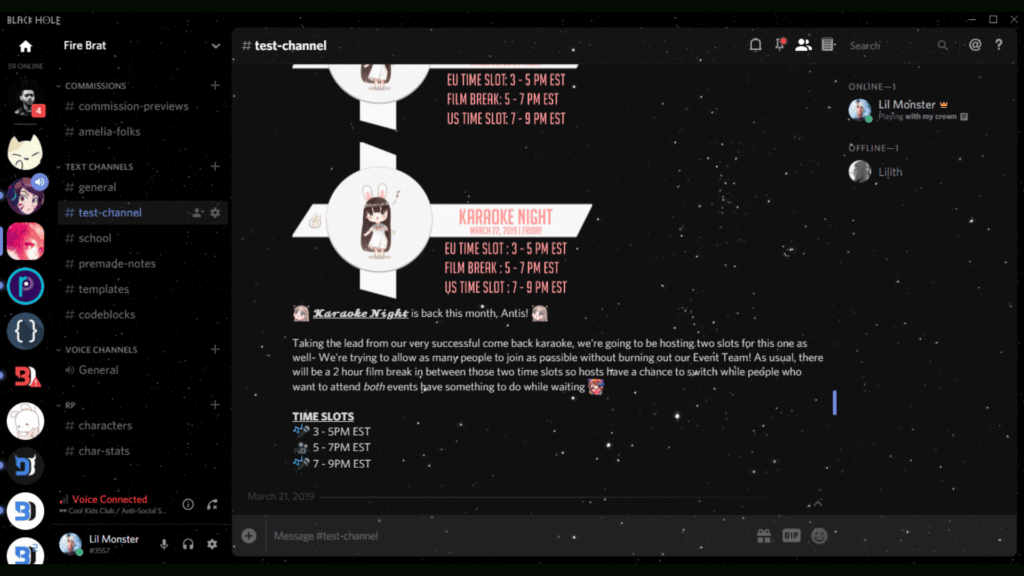 The Black Hole theme by Monster Dev uses a monochromatic pitch-black background speckled with stars to imitate a vast galaxy. This background is not customizable. A fairly basic theme for those looking to give their Discord a pitch-black and kinda spooky look.
Pyrite
Pyrite features rich, oceanic blues that bring livelier vibes than that of ClearVision, so if that's your sort of thing, you'll enjoy Pyrite over some of the more popular Discord themes on BetterDiscord.
Pyrite is built for Discord Canary, so the theme's CSS complies with that version of Discord's structure and naming conventions.
---
These are some of the best Discord themes I have encountered while using BetterDiscord. I hope that you end up liking and using some of them. Now that your theme is set, why don't you check out suggestions for some cool Discord names?