Discord has been one of the best free communication platforms jam-packed with user-friendly features. With its clear yet intuitive user interface (UI), you have the option to switch from a dark to a light theme through the user settings, similar to other messaging applications. However, Discord can get even more creative with extensions to make your interface more fun and expressive with seamless designs. One downloadable third-party software for this is BetterDiscord, which offers a variety of customizable Discord themes and plugins.
Primarily, BetterDiscord takes pride in its collection of customized themes contributed by users all over the globe. Sleek, minimalist, old-school, edgy, cute—you'll find the perfect pre-made or customizable theme to match your desktop's aesthetic. Fret not as it's not required to dabble in CSS or any programming language if you're unfamiliar just to jazz up the look of your Discord.
With that, let's jump into the ranked list of the best Discord themes you can download from BetterDiscord!
Fallout 4 Terminal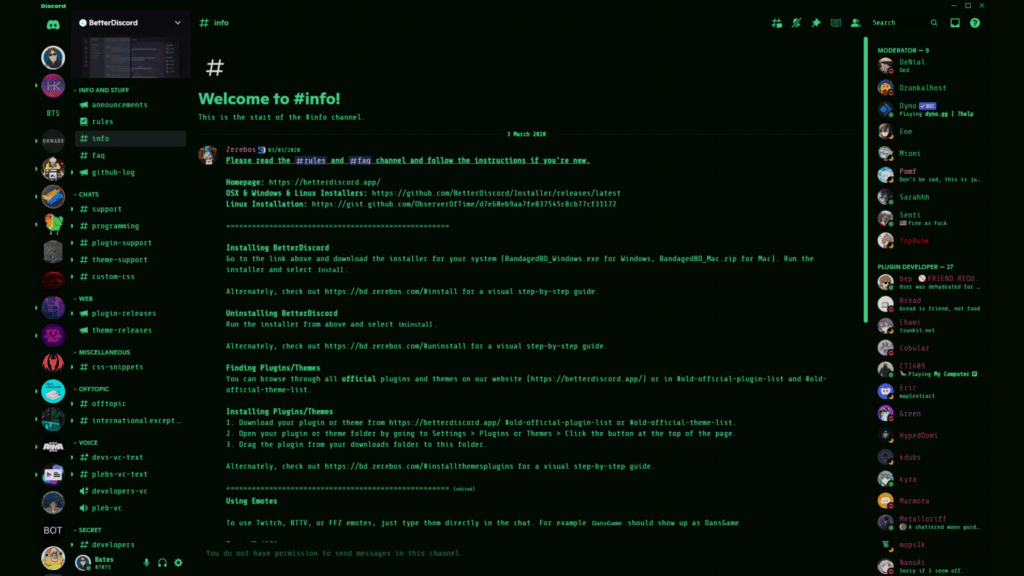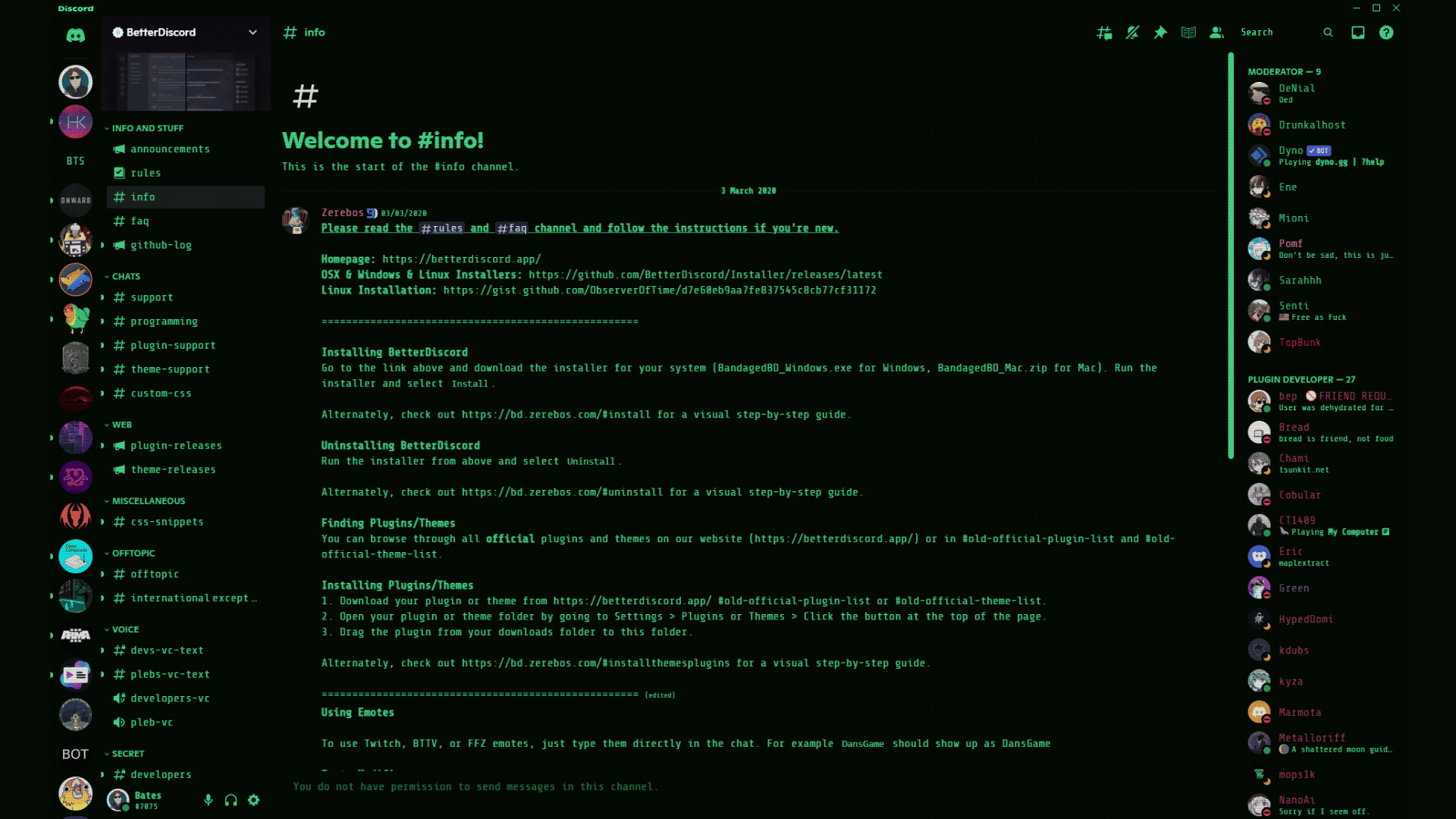 If you like role-playing games like those of the Fallout series or simply want to live up to the "Hackerman" meme, we got you! The Fallout 4 Terminal theme by Bates emits an edgy and futuristic vibe inspired by Fallout 4's Vault-Tec terminals. With the green programming font over the all-black background, it makes the perfect theme for those who want to look like they're hacking to save the world from domination. Definitely a classic portrayal of hackers in movies!
In terms of functionality, this The Matrix-like theme contains all of Discord's base features. While the green font is the theme's trademark, the font color can still be customized by editing the variables through its .theme.css file. There's no need to study the programming language. As long as you follow the instructions on the theme's website, you can utilize any color you like in no time!
SkeuoCord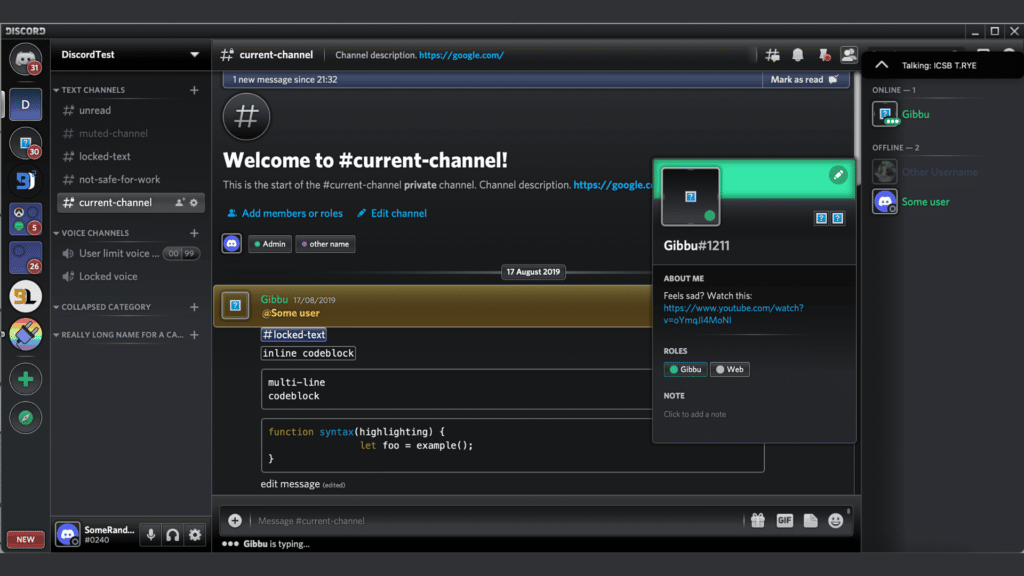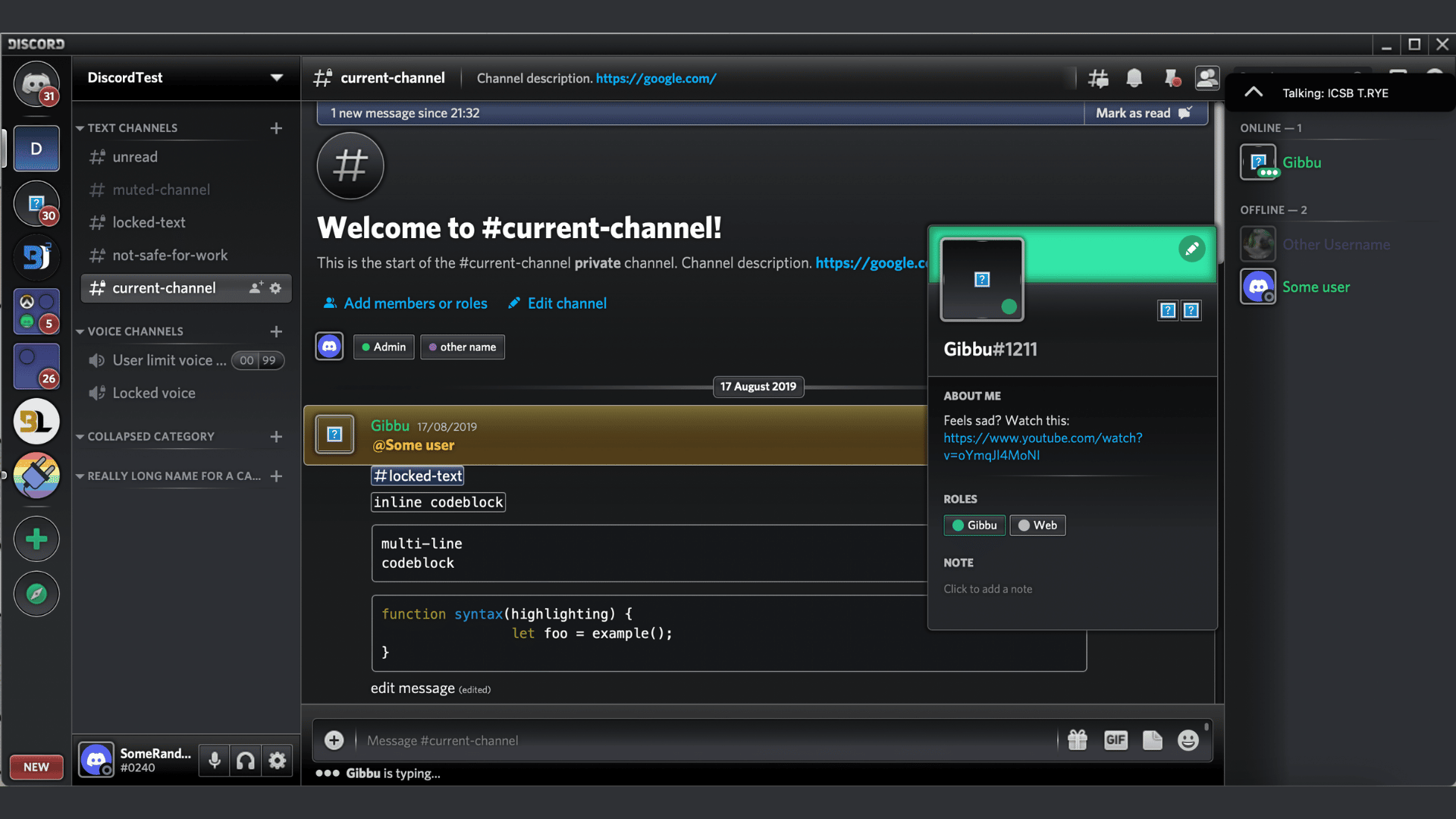 The SkeuoCord theme by JustCursedRedLuigi is a retrospection to the 'dead' concept of skeuomorphism. In the field of design, skeuomorphism refers to an interface design that closely represents real-world counterparts. Take Apple's old UI, for example, where YouTube still had a vintage TV icon. If you're into reminiscing the old-school looks of the digital sphere through Discord, then SkeuoCord will revive this design for you.
Based on the theme's description, nearly all of Discord's features have been redesigned to fit the retro aesthetic. You can also switch between the Light and Dark modes on Discord's default settings so you can get the feel of skeuomorphism both day and night. Unfortunately, the theme's color palette is not customizable, but the default neutral hues make SkeuoCord suitable for any setup.
Spotify Discord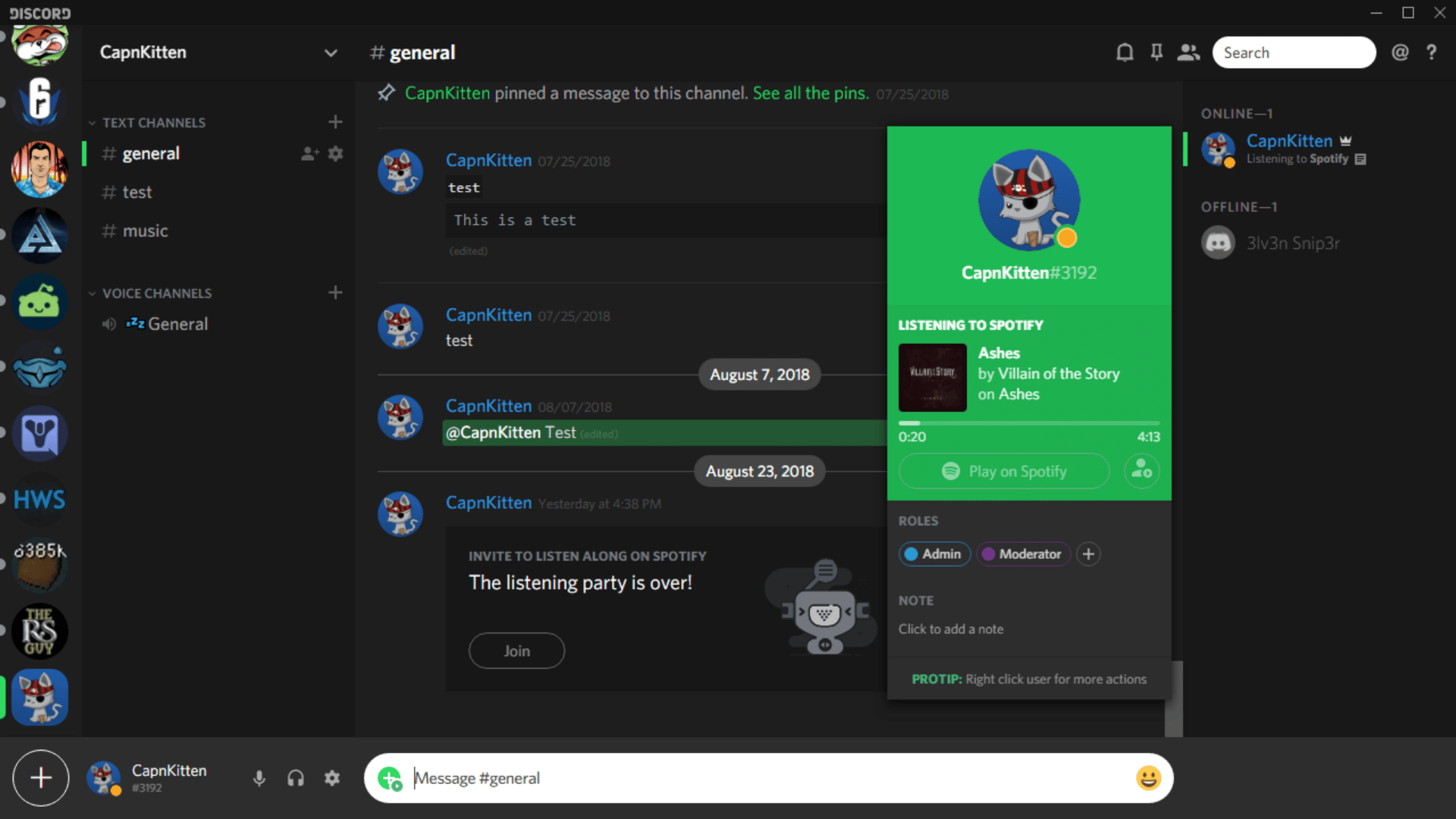 We know there are tons of music bots in Discord you can use for free, but we sometimes can't help but appreciate the sleek black and green UI of the music streaming service Spotify. That's where the Spotify Discord theme by CapnKitten comes in! This Discord theme combines the user-friendliness of Spotify and the broad-ranging functionality of Discord. It excellently tones down the visual noise and the look of Discord's numerous features without compromising what the platform has to offer.
As the theme mimics the overall UI of Spotify, it uses a fixed green accent color on top of a black background. However, you can also try to play with the values on the .theme.css file to alter the text's color and other features. Overall, Spotify Discord is a great theme for a flat and minimalist aesthetic. It also does a good job at making your servers look like curated playlists!
Moon Rabbits Dream About Virtual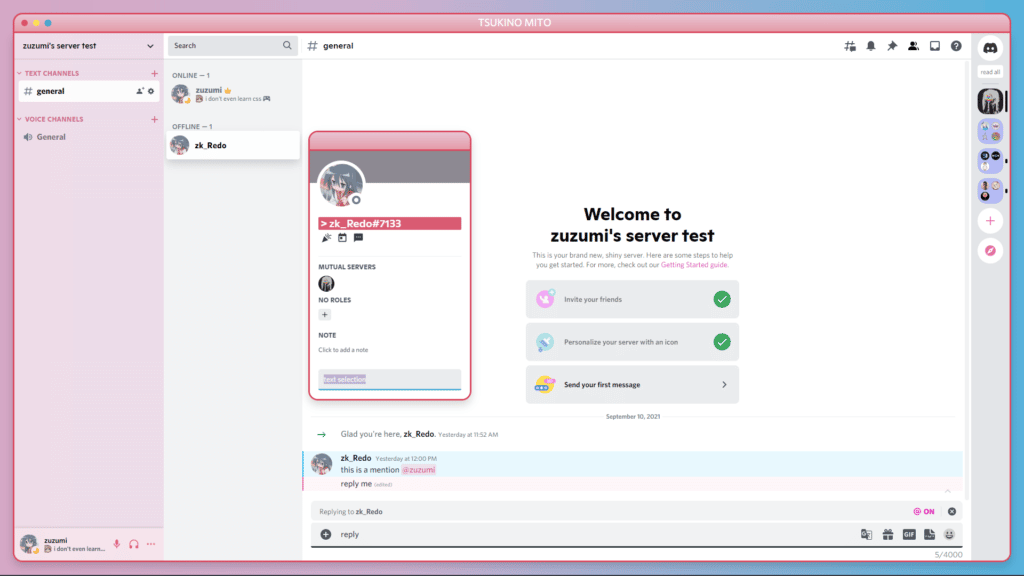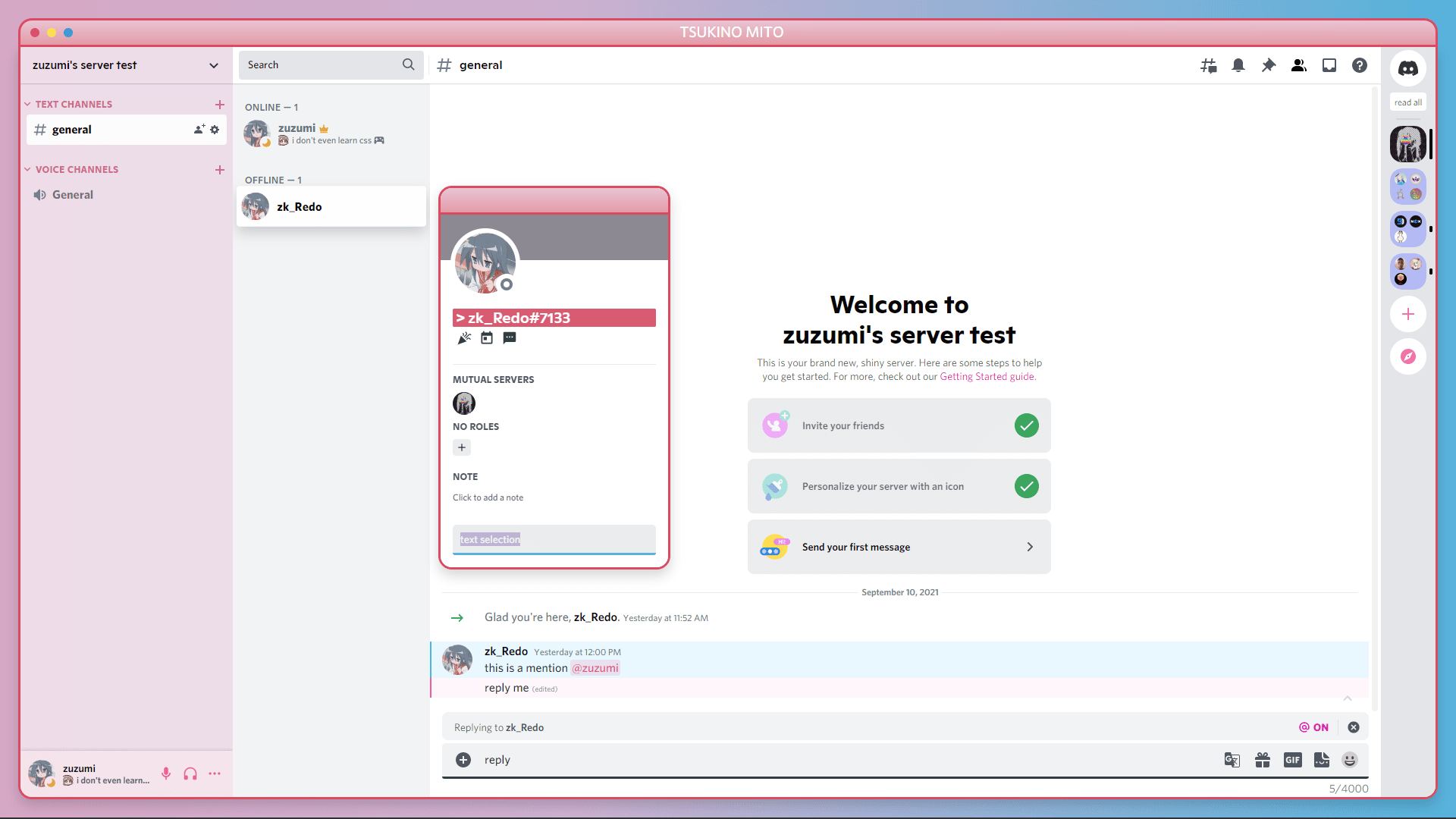 For those looking for kawaii Discord themes, the Moon Rabbits Dream About Virtual theme by zuzumi hits the spot! This soft and adorable theme derives its blue and pink hues from the cover art of virtual YouTuber Tsukino Mito's album called 'Moon Rabbits Dream About Virtual.' Aside from its total redesign of Discord's default palette, the background is also animated with the pink hue fading to blue and vice versa.
The theme also allows you to switch between Light and Dark modes and toggle Dark Sidebar via Discord's base settings. By default, the servers are assigned to the rightmost part of the UI on this theme. However, if you're not used to this setting, you can simply copy the given text on BetterDiscord and paste it onto the theme's .theme.css file to revert to the old left sidebar.
LilyPichu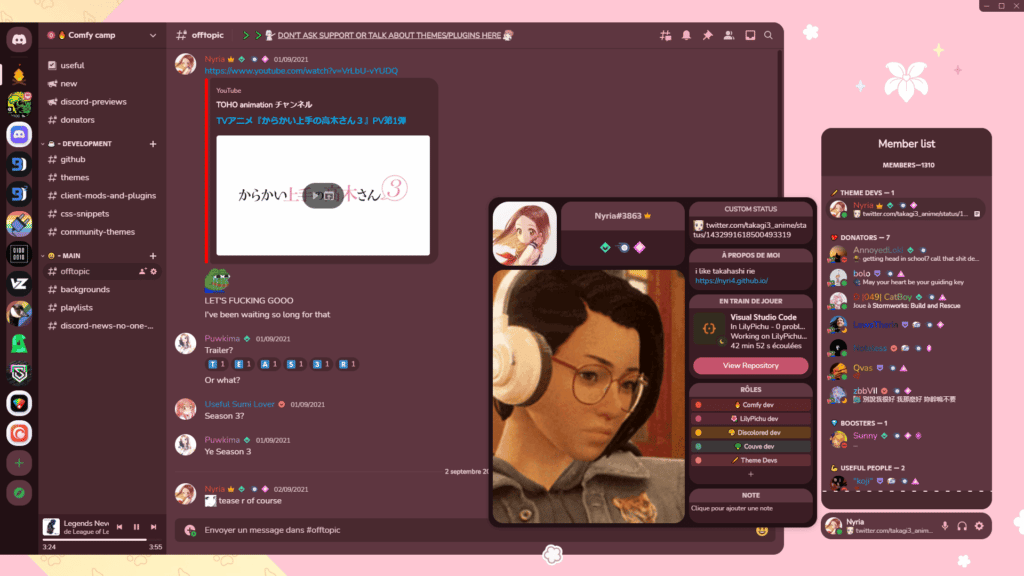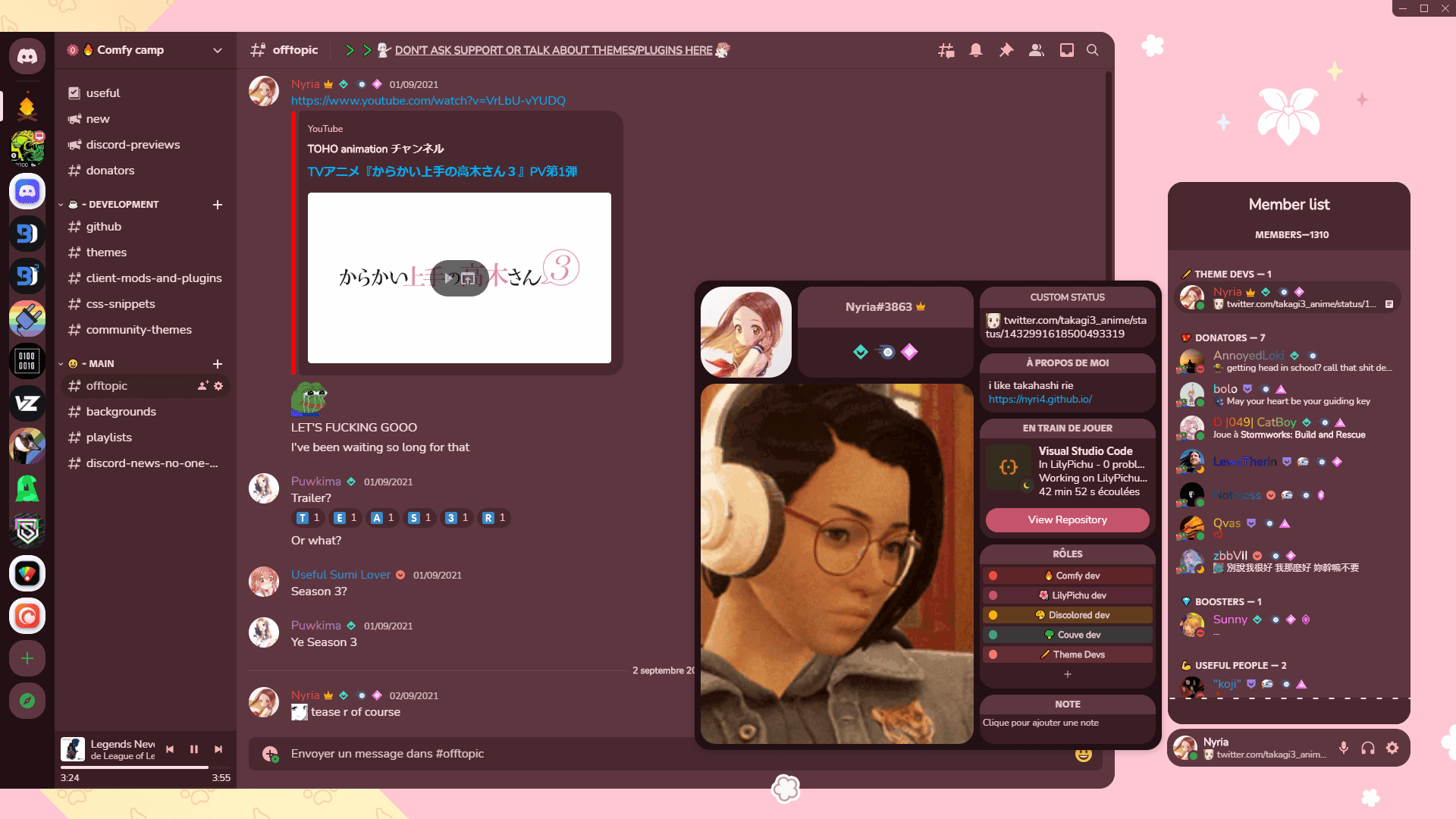 Another kawaii Discord theme on our list is the LilyPichu theme by Nyria, which is named after the famous YouTuber, Twitch streamer, and Genshin Impact voice actress LilyPichu. According to its description, the theme's overall design mirrors graphic designer @Melonturtle_'s stream overlay. The pink background with floral icons overwhelms the whole UI, which is common for most kawaii streamers in gaming communities.
The LilyPichu theme makes a few alterations to the position of Discord's base layout. It pushes the servers and conversations to the left side of the screen and makes a separate floating bar of the member list on the right. Your profile together with the microphone, headphones, and gear icon also goes to the lower right side of the theme's UI. While the empty space on the top right corner may be a bit out of place, the theme nails the kawaii streamer vibe for your desktop.
Black Hole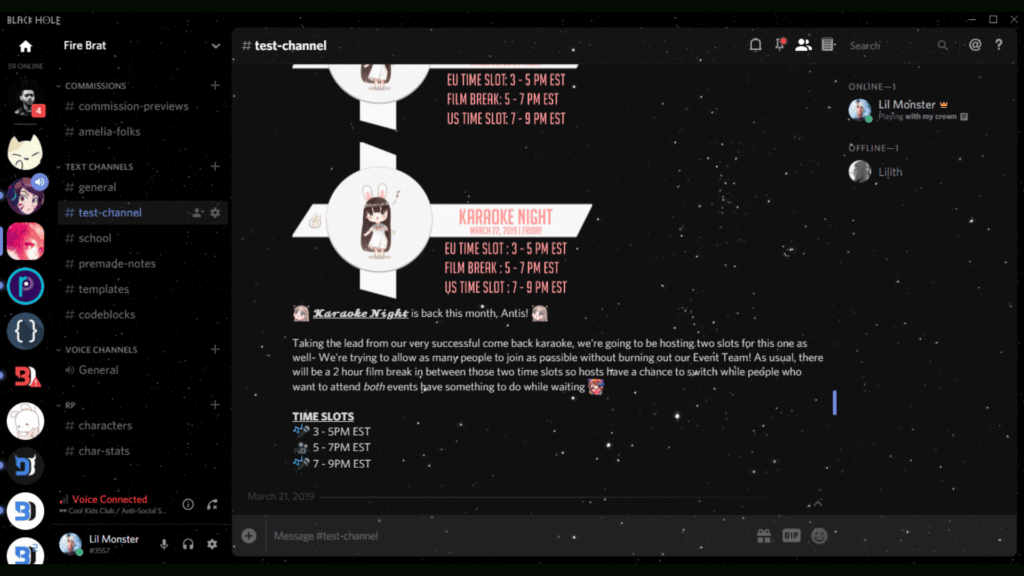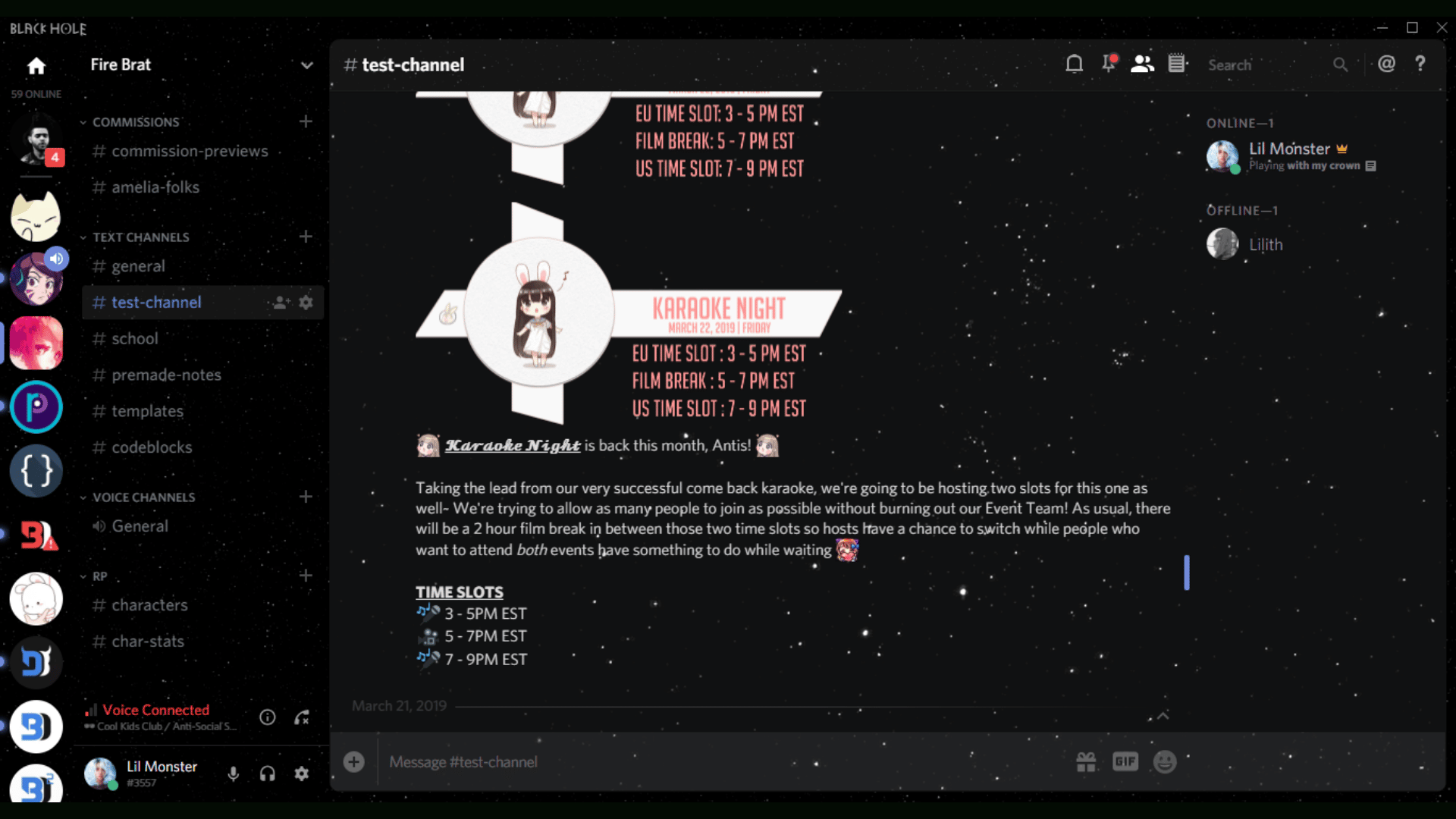 You can take your Discord chat experience 'out of this world' with the Black Hole theme by Monster Dev. This sleek and edgy theme uses a monochromatic pitch-black background speckled with stars to imitate a vast galaxy. On the other hand, it features Discord's iconic 'blurple' (blue and purple) as an accent color for a little bit of contrast. If you're into gazing at the night sky, you'll definitely appreciate the simplicity of this stunning design. 
As a representation of a mysterious void, the color of the Black Hole theme is not customizable. Moreover, selecting either Dark and Light mode will also not make a difference to this Discord theme's appearance. This can be a disadvantage for some, but its straightforward layout is something minimalists wouldn't want to alter. A simple change in color definitely revamps the overall vibe of the platform!
DTM-16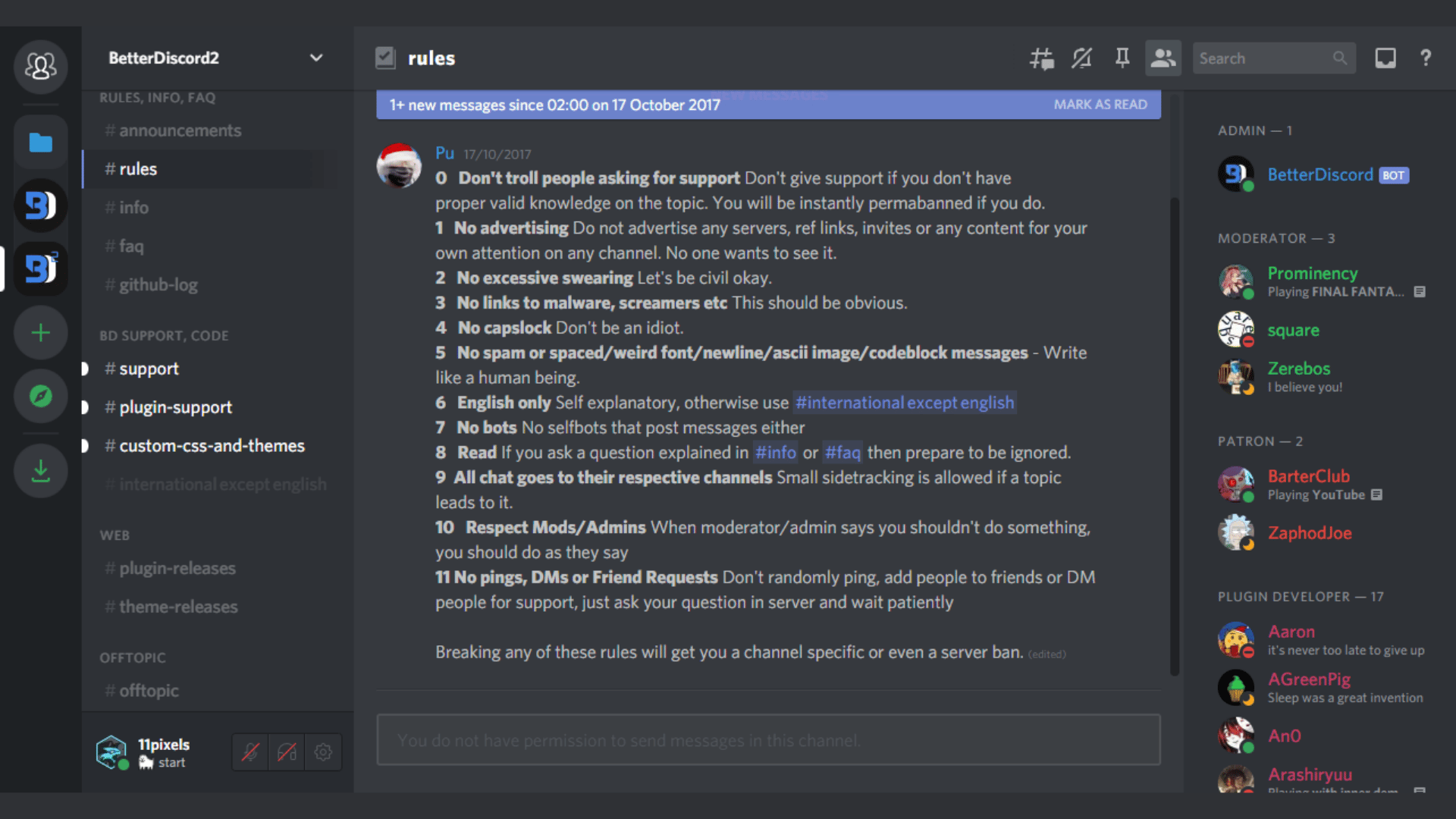 Travel back to the recent past with the DTM-16 theme by 11pixels, which is short for Discord Time Machine 2016. This theme is part of the author's Discord Time Machine series, which includes the skeuomorphic design of Discord in 2008 with DTM-08. While the theme would seem not to make a difference at first glance, long-time Discord users would notice even the slightest alterations in some essential icons. It does give a nostalgic feel if you've been chatting in Discord for some years now.
Specifically, the DTM-16 theme brings back the square icons on the microphone and other features. The lines between messages also make a return as well as the edgier text box. While Discord's latest UI leans more on minimalism now, we can't help but appreciate the understated details of the 2016 version. In terms of functionality, you can definitely turn on and off either Dark or Light mode, including the Dark Sidebar feature.
Float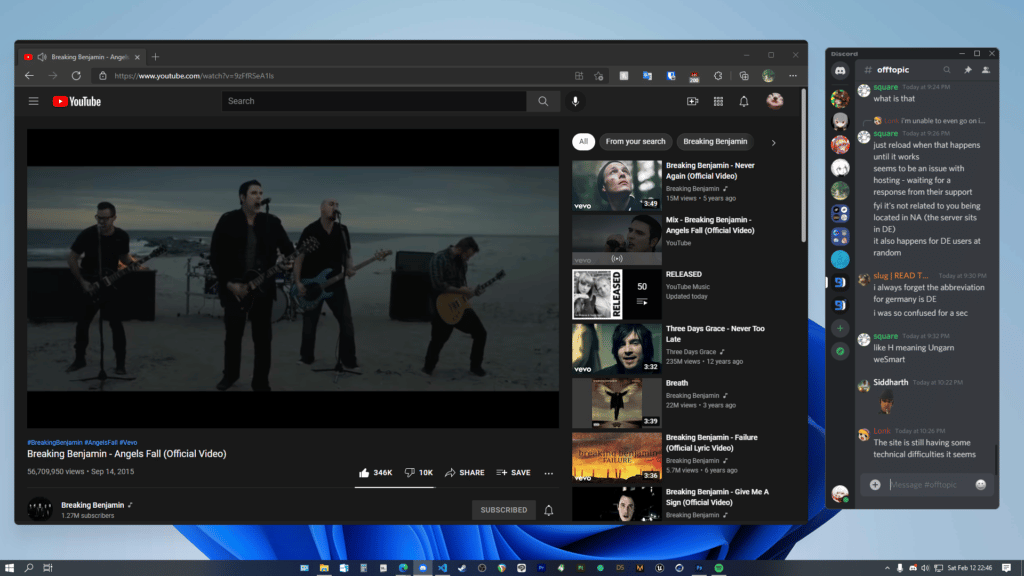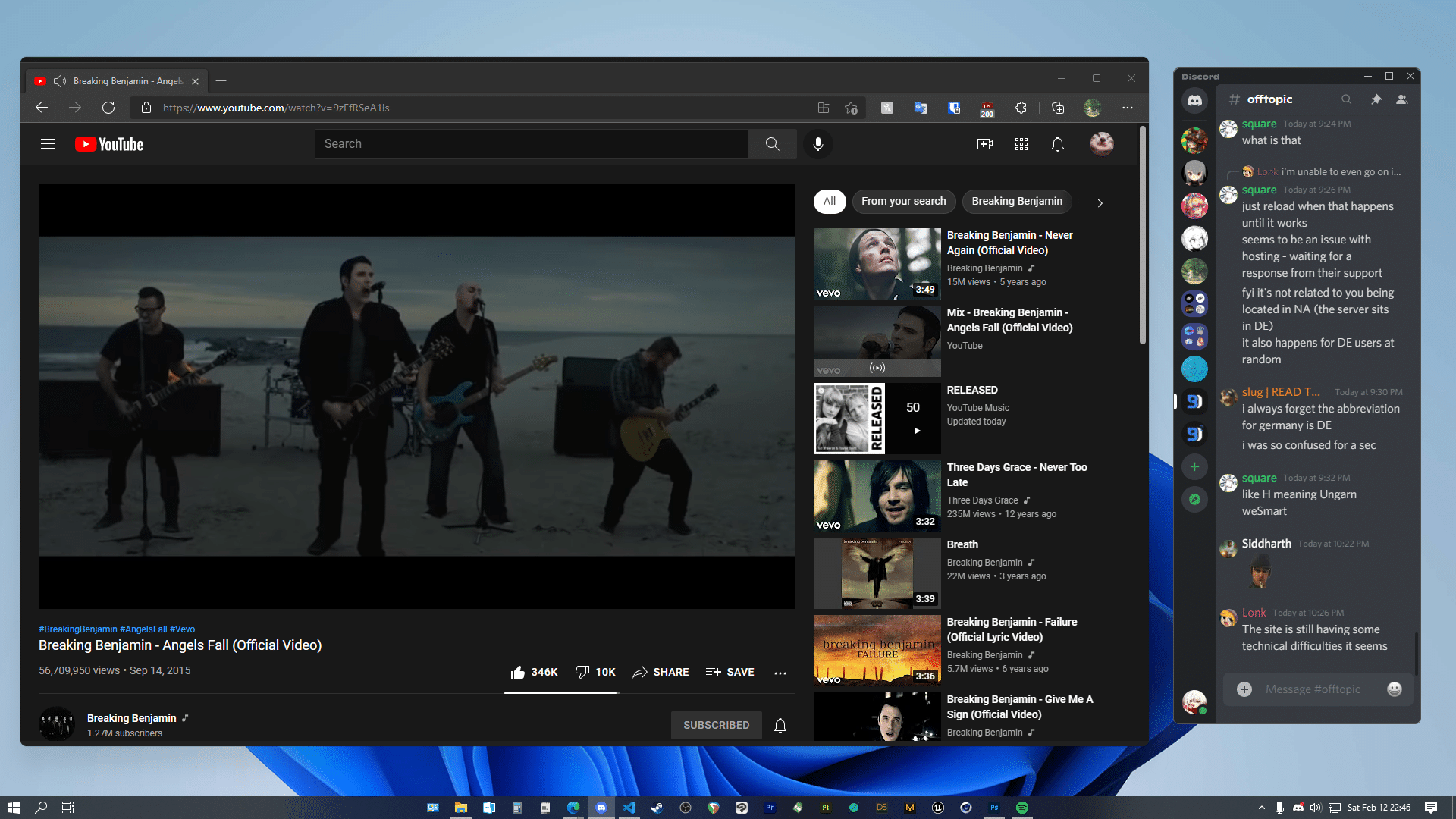 If you will check the preview of your Discord's Appearance under User Settings, you'll see a default message regarding the arrival of Compact mode on Discord. While the platform has yet to add this function, the Float theme by Disease has already made it a reality. By far, this theme is likely one of the most practical Discord themes available on BetterDiscord. Multitasking has surely become easier as users can now open Discord side by side with other apps on their desktop.
To use Float, you need to go to BetterDiscord's settings and toggle 'Remove Minimum Size' under Window Preferences. From there, you can simply drag the sides of the window according to how wide or narrow you want your compact Discord to be. You can also select 'Enable Transparency' so that your window can be see-through. As of the moment, you can't make changes to the default colors and design of Float. However, you can always simultaneously use this theme together with another that's more aesthetic-focused.
Discord+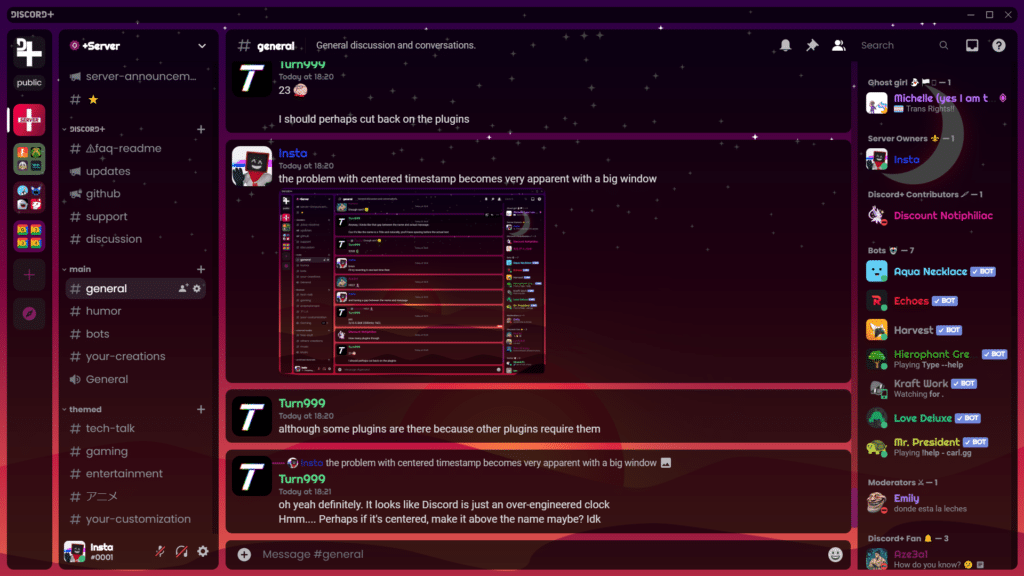 If you want to get a little more creative with your Discord's UI, then you'll need the freedom to customize it yourself. Luckily, one of the most popular and customizable Discord themes for you is the Discord+ theme by Insta. Here, you start off with a default redesigned interface displaying clean, see-through, and evenly spaced elements. Discord's Dark and Light modes can also be applied to this theme to alter the bars' colors.
Once you dive into Discord+'s 'Edit' function, you can easily change almost every aspect of the UI. You can replace the image by pasting the URL of your desired background, recolor the accents and fonts using the built-in color picker, and resize the icons by inserting random values. Apart from that, there are much more details that you can edit by yourself. Still, if you find it difficult to edit the theme's back end, you can join the creator's Discord server for assistance.
ClearVision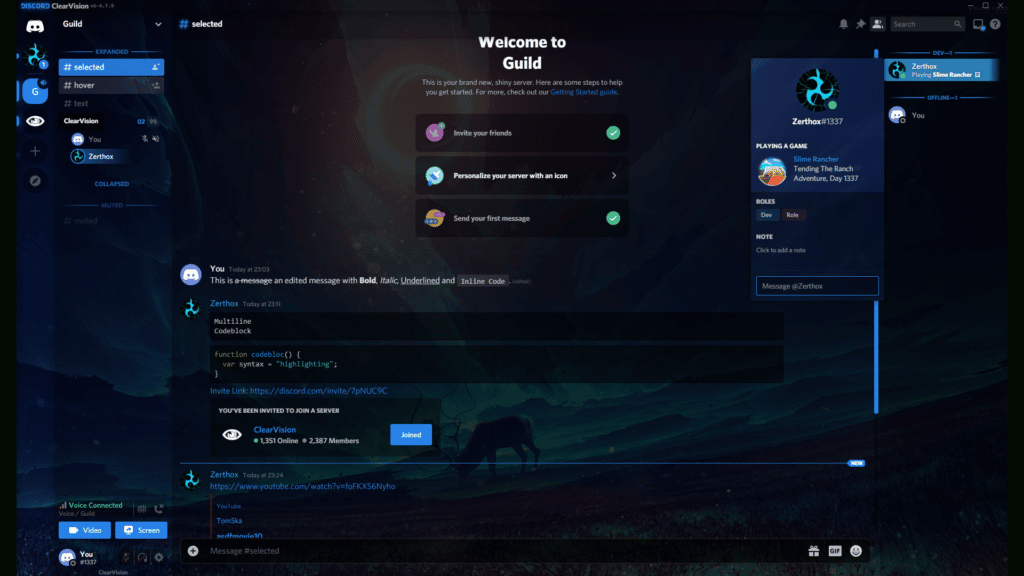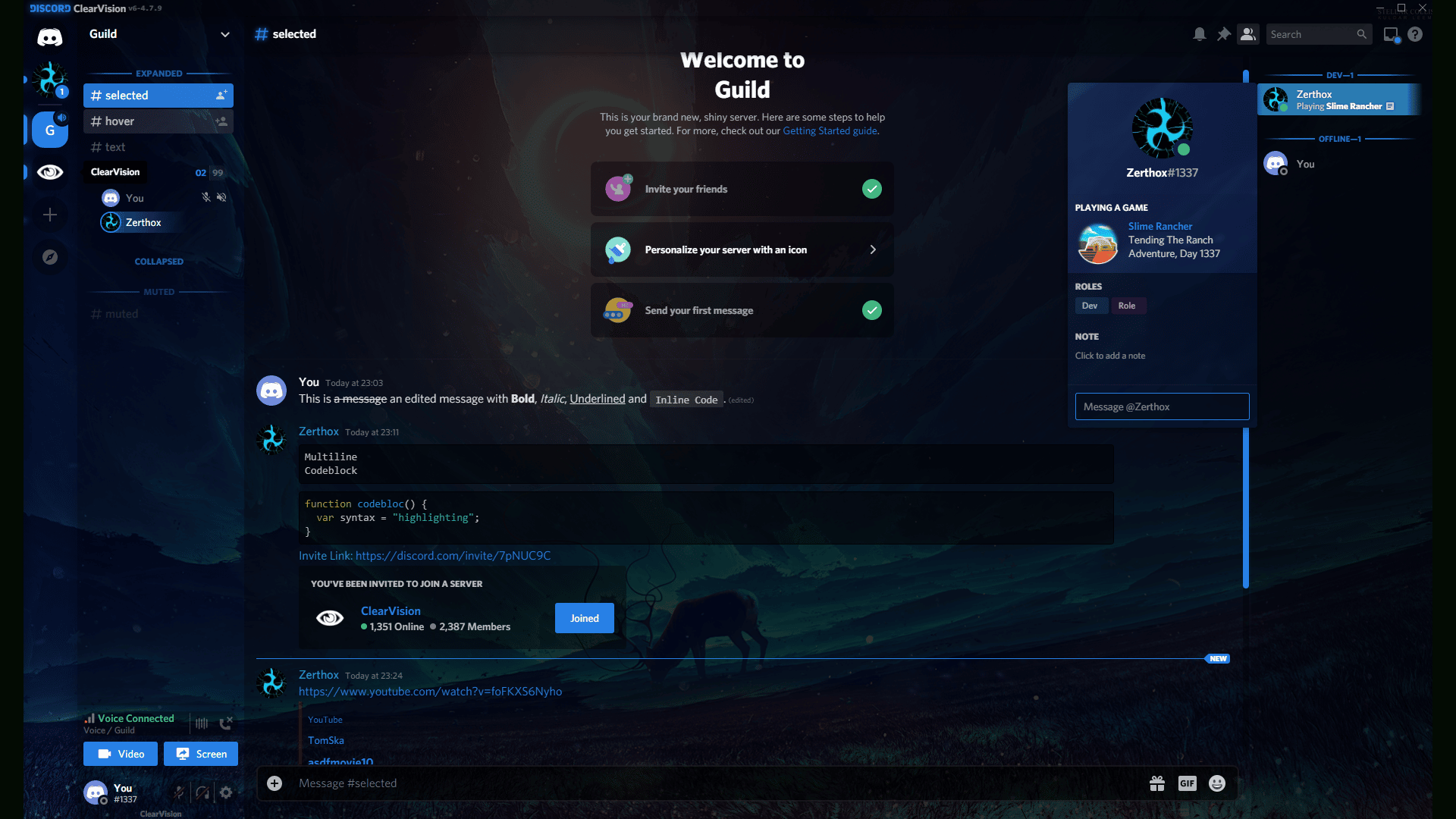 The last theme on this list is our best pick in terms of customizability and user-friendliness. The ClearVision theme by unturned features the see-through version of Discord's original UI, but it gives you the option to change the background image, fonts, colors, element sizes, and many others. You can also fix the brightness, contrast, saturation, blur, and position of some features. The best thing? You can do this all on their straightforward Theme Editor before downloading so you can first check your own crafted layout's preview.
Being highly intuitive and customizable. it makes sense that it is the most popular theme on BetterDiscord with over a million downloads. Furthermore, despite the creative freedom it offers to users, ClearVision ensured that Discord's original layout is kept for uniformity. Since you have the option to change the UI to any color, only the Dark mode of Discord's base settings works with ClearVision. Nonetheless, it proves to be worthy of being the 'best' with its easily modified expanse of features.
Conclusion
Which BetterDiscord theme on this ranked list have you already downloaded and used? If your favorites are not here on our picks, comment them down below so we can also share them with other users. Hopefully, you've found the perfect custom theme to suit your aesthetic along with the best Discord PFP to express your digital identity!
If you want to streamline and make the most out of your experience on this platform, also check out our ultimate list of the best Discord bots for tons of entertaining server features.
Thanks for reading this article!