When Eula Lawrence, the Captain of the Knights of Favonious Reconnaissance Company, first became a wishable character around May of 2021, hundreds of Genshin Impact players couldn't wait to bring her home. The 5-star Cryo waifu character came right after Hu Tao's banner. Graceful, spunky, yet kindhearted- Eula won the hearts of many players.
Are you wishing on her first rerun banner or on the Alchemist Albedo's banner? If you were lucky and managed to bring her home finally but don't know how to build her, you've come to the right place. Continue reading our complete and updated Eula guide.
Breakdown of Talents and Playstyles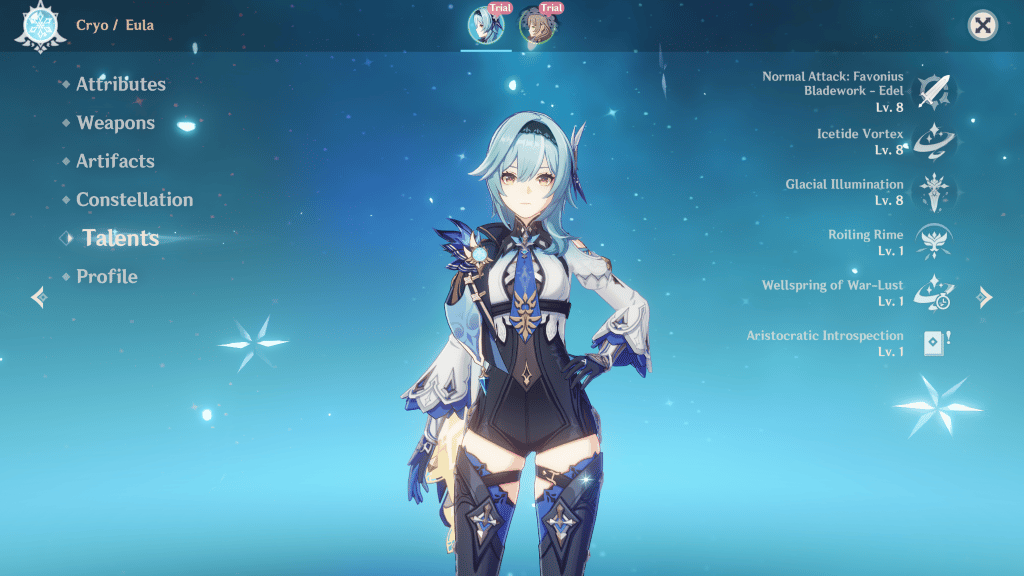 The Spindrift Knight is a physical damage queen. Her central role in any party is the main DPS. Eula's Normal Attack: Favonius Bladework-Edel deals different amounts of damage based on the number of hits and if it's a charged or plunge attack. She performs up to 5 consecutive hits, with the 5th hit dealing 128.8% plus 122.8% damage. If you want a detailed breakdown of her Normal Attack hitpoints, check out honeyimpact's Eula guide.
Next, her Elemental Skill, Icetide Vortex, can be pressed or held to activate. When you tap her Elemental Skill, Eula swiftly slashes her opponents and deals Cryo Dmg. Simply pressing her Elemental Skill has a short cooldown of four seconds, while holding it has a 10-second cooldown. Holding her skill to activate does more damage and reduces surrounding enemies Physical and Cryo RES or resistance. In addition, activating Grimheart Stacks increases Eula's DEF.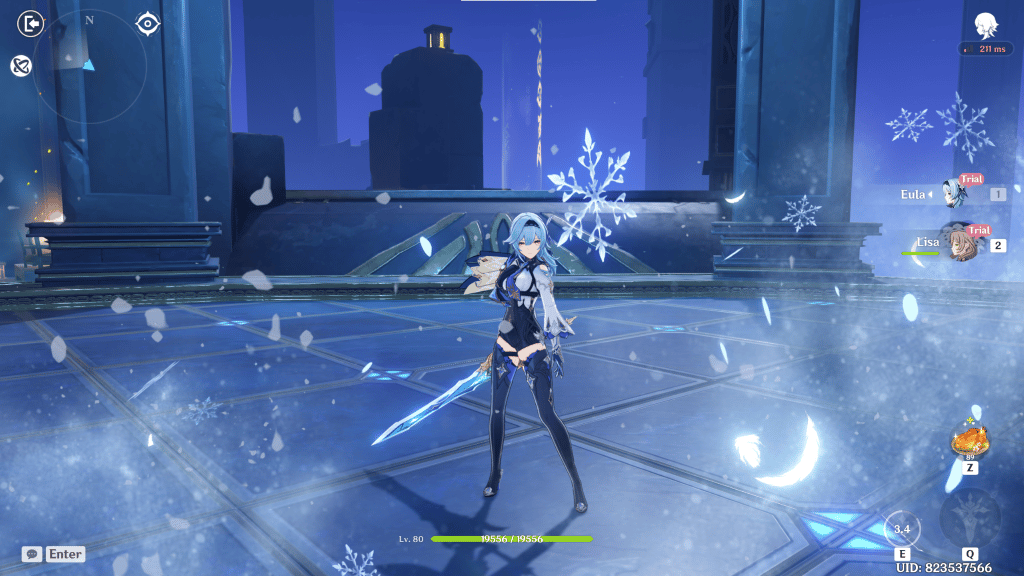 Most of Eula's damage comes from her Elemental Burst, Glacial Illumination. Once pressed, Eula sweeps off her opponent's feet with a massive wave of Cryo DMG. It also creates a Lightfall Sword that follows her around for up to 7 seconds. This sword deals Physical DMG to nearby opponents and stacks on every hit Eula takes. She charges her Lightfall Sword on every Normal Attack, Elemental Skill, and Elemental Burst damages opponents. So make sure to swing her Claymore around after activating her Burst.
According to Zy0x's updated Eula guide, the maximum number of stacks you can get on her Lightfall Sword at a C0 optimized rotation is 14. The maximum number of stacks you can get with constellations is 30. A downside of her Elemental Burst is the high Energy Cost of 80; that's why it's crucial to pair her with battery characters like Diona, Rosaria, and even Raiden Shogun.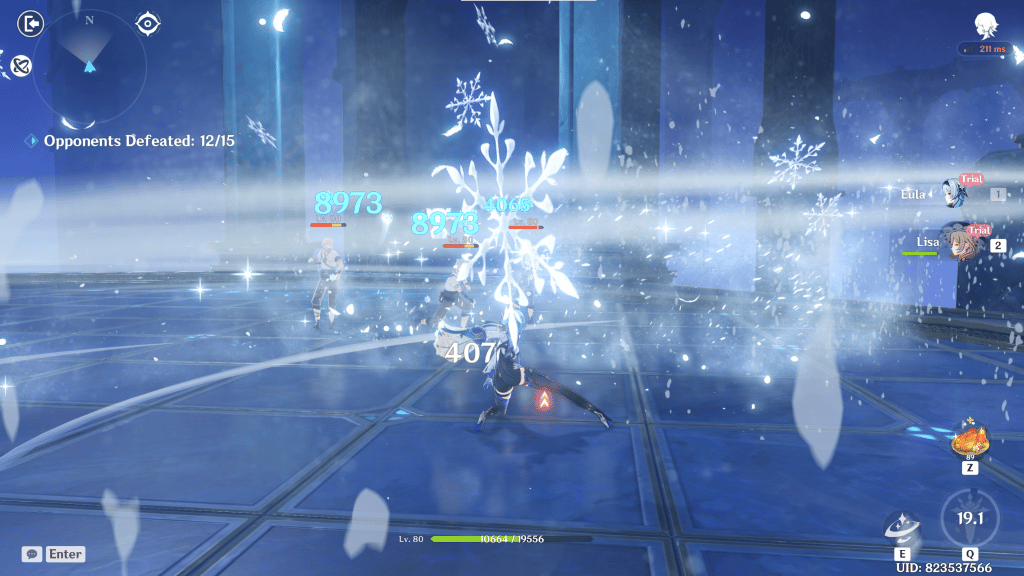 The optimal rotation for a Eula team composition typically goes like this:
Tap Eula's Elemental Skill (E) to stack the first Grimheart.
Hit with Normal Attack.
Tap Elemental Skill (E) again to stack second Grimheart.
Hit once more with Normal Attack.
Hold Eula's Elemental Skill (E) to release stacked Grimhearts and deal AoE Physical DMG.
Use Eula's Elemental Burst (Q) when it's up.
Attack to unleash her Lightfall Sword.
An easy to execute and standard Eula rotation, as told by Xlice, goes like this:
Tap Eula's Elemental Skill (E).
Activate Eula's Elemental Burst (Q).
Hold Eula's Elemental Skill (E).
Spam Normal Attacks.
It's worth mentioning that Eula's skill combos change with constellations; the more constellations you have, the more complex they become. Many Eula mains also say that you create your own burst combo rotations depending on the opponent after hours of playing her.
Weapons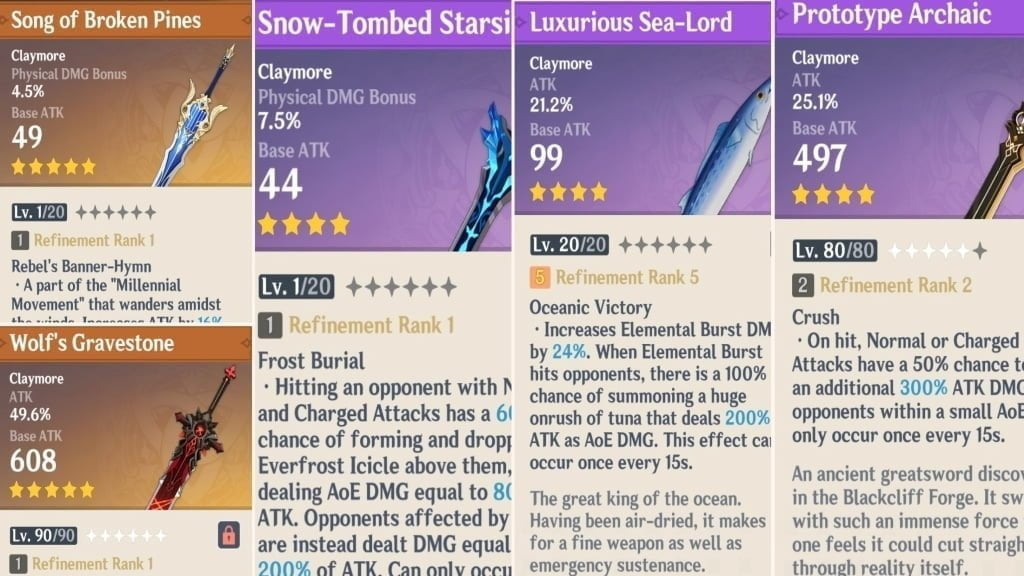 Arguably, the best weapon for Eula is the 5-star Song of Broken Pines that increases her ATK and ATK SPD. Another great 5-star weapon for her is Wolf's Gravestone for its high Base ATK, ATK substat, plus a passive that increases ATK by 20%. However, not everyone has enough gems or is lucky to get these high-cost 5-star weapons. So here are alternative 4-star and F2P options.
The 4-star Snow-Tombed Starsilver, available by completing a quest, and the 4-star Luxurious Sea-Lord are both good F2P options for Eula. However, if you missed the event to get this fish Claymore, you can also go for the craftable Prototype Archaic. Lastly, if you don't mind spending a couple of dollars on the Battle Pass, the included 4-star Serpent Spine is the best alternative after the two 5-star weapons.
Artifacts
All Genshin Impact content creators, whether on YouTube or popular sites like paimon.moe or Genshin Impact Wiki, point to one optimal artifact set for Eula Lawrence- the Pale Flame. A 2-piece Pale Flame set increases the bearer's Physical DMG by 25%, while a 4-piece increases ATK by 9% for seven seconds whenever an Elemental Skill hits an enemy. The ATK buff can stack twice and trigger once every 0.3 seconds.
Although the 4-piece Pale Flame set is the best for Eula, you can also run a 2-piece Pale Flame paired with a 2-piece Bloodstained Chivalry for an additional 25% Physical DMG Bonus for a whopping 50% increase in Physical DMG. Alternatively, you can also go for any two of these four sets: 2-piece Pale Flame, 2-piece Bloodstained Chivalry, 2-piece Gladiator's Finale, and a 2-piece Shimenawa's Reminiscence. The last two sets increase the bearer's ATK by 18%.
For the Main Stats, go for an ATK% Sands, Physical DMG Goblet, and a CRIT Rate/DMG Circlet. As much as possible, try to get these following substats: Crit Rate/DMG, Energy Recharge, ATK%, and flat ATK. The ideal ER for Eula is around 120-160. This highly depends on your team composition and your artifact stats.
Substats:
CRIT Rate/DMG
ER
ATK%
Flat ATK
Conclusion
So, what do you think? Is it worth pulling for the Ice Queen from Mondsadt? If you do decide to spend your remaining gems to pull for Eula, we wish you the best of luck! It's only a few more days until Arataki Itto and Gorou's banner becomes available. We don't know about you, but we're pretty excited about it.