I'm going over the 12 best Exotic weapons in Destiny 2 because, let's be honest, a lot of them suck. There are over 100 Exotic weapons in Destiny, so it's only natural that not all of them break the game. That being said, a vast majority of them aren't worth using at all.
I've been playing Destiny for the better part of a decade, so I've done the hard work of playing with Destiny's Exotics – good and bad. I've digested that experience down into a top 12. If you don't know what Exotics to be running, pick one of these and chances are you'll be good to go.
Witherhoard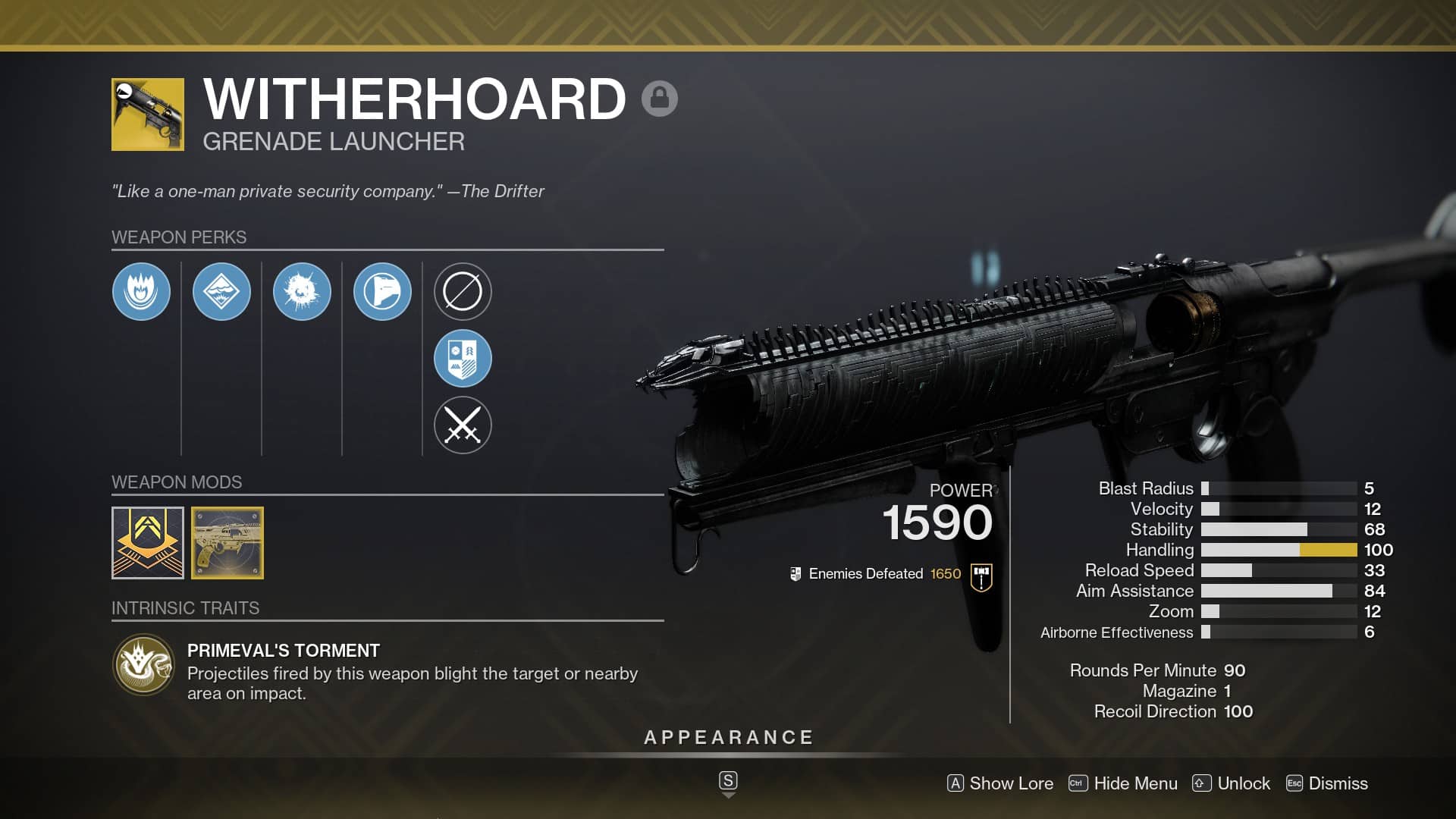 Element: Kinetic
Source: Monument to Lost Light
Best For: PvE
When someone asks me what the best Exotic weapons in Destiny 2 are, Witherhoard is always at the top of my list. Despite Bungie's best attempts, Witherhoard remains a META staple that's not going away any time soon. Why? Well, when you fire this Kinetic Grenade Launcher, it spawns a pool of Taken Blight where the shot lands.
This Blight lasts for a few seconds and deals high damage over time to anything inside it. This can wipe waves of adds, amplify DPS as Witherhoard's Catalyst makes it Auto-Loading, and pair with Exotics like Starfire Protocol that benefit form high-rate tick damage. It's the highest-value Exotic in Destiny 2, and it always will be.
Osteo Striga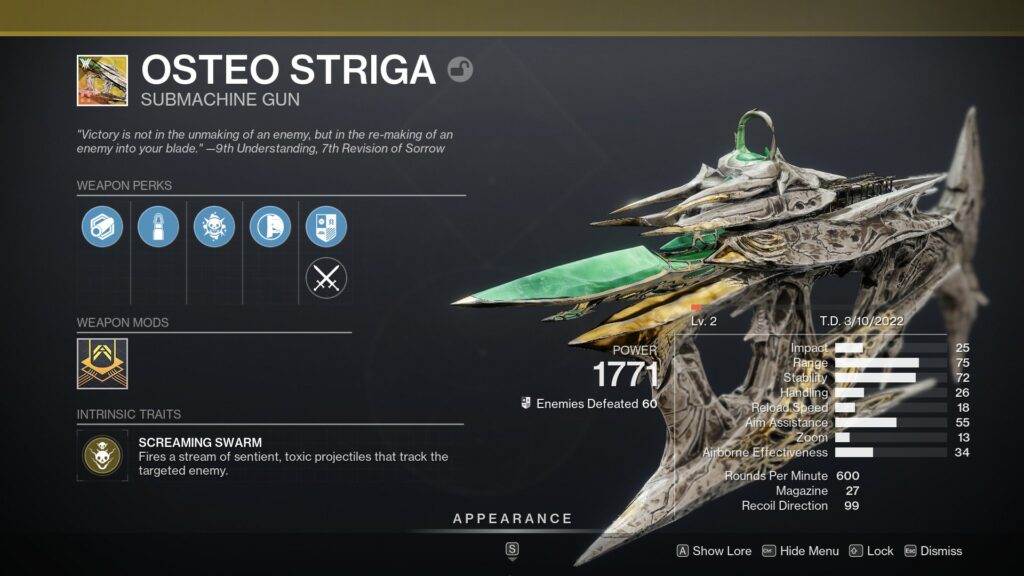 Element: Kinetic
Source: Exotic rotator mission launching after Season 20
Best For: PvE
When it first launched, Osteo Striga was good. Personally, though, I didn't consider it among the Destiny 2 best Exotics weapons candidates. That all changed with the Lightfall campaign when I saw just how powerful this primary really is.
It offers all the power of an SMG, with tracking bullets that don't fall off – letting you keep your distance while still clearing adds. On top of that, kills with it trigger position explosions that spread to nearby targets – which is exactly what you want from a primary. If you've never run Osteo Striga before – hop into some difficult activities and give it a try. You won't be disappointed.
Gjallarhorn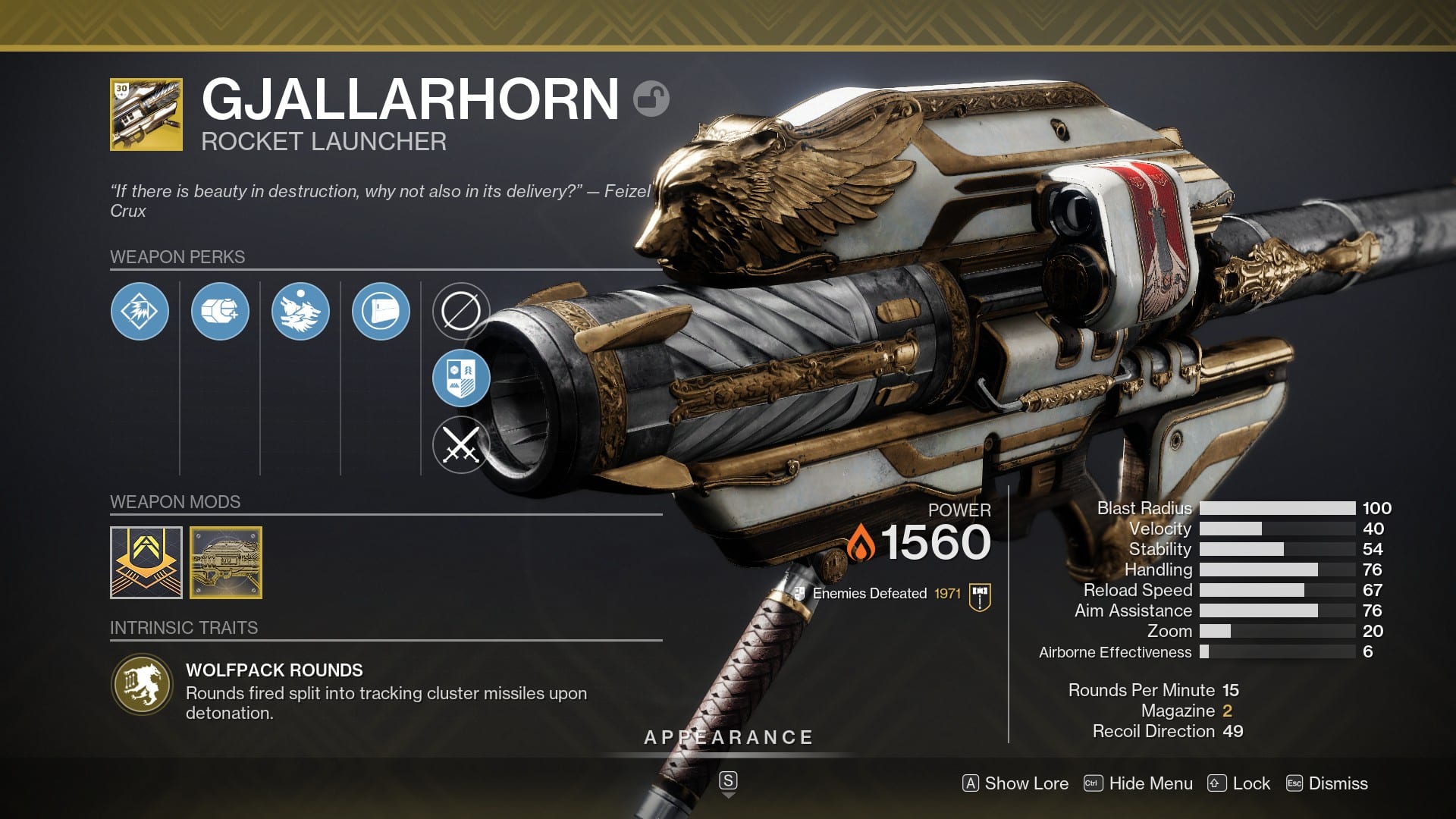 Element: Solar
Source: 30th Anniversary Pack exclusive quest
Best For: PvE and PvE
These days, unlike Destiny 1, Gjallarhorn isn't used for its damage. Rather, it gives your allies Rockets Wolf-Pack rounds, which spawn tracking cluster missiles off of the original Rocket explosion.
For three-man Fireteams, this isn't a big deal. For a coordinated Raid team using Auto-Loading Rockets, it is. The current best DPS META as of Season 20 is to have one Guardian running a Gjallarhorn, with the other five running Explosive Light Hothead. That's over a full year later, and several years since the original Gjally in D1.
Izanagi's Burden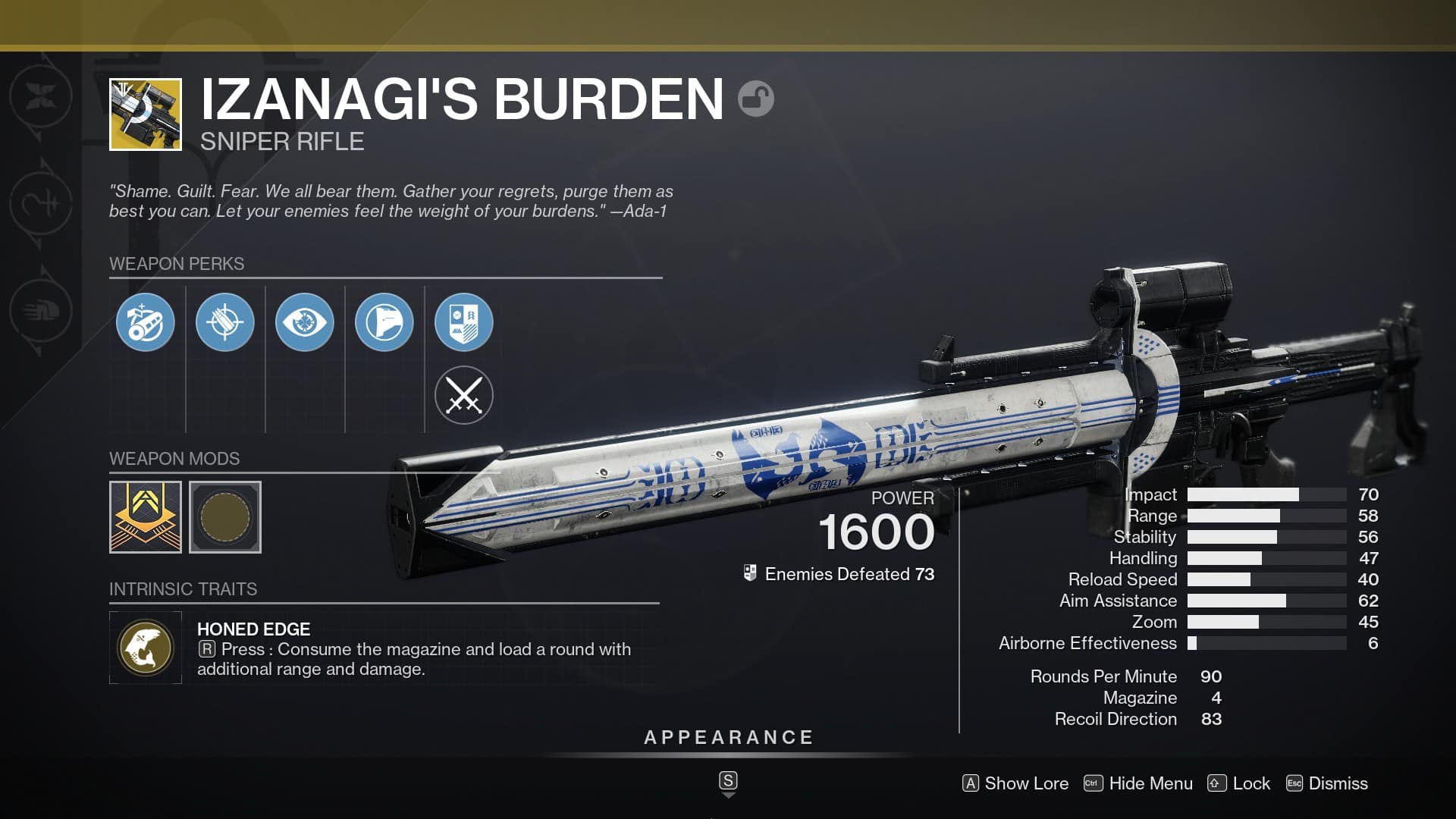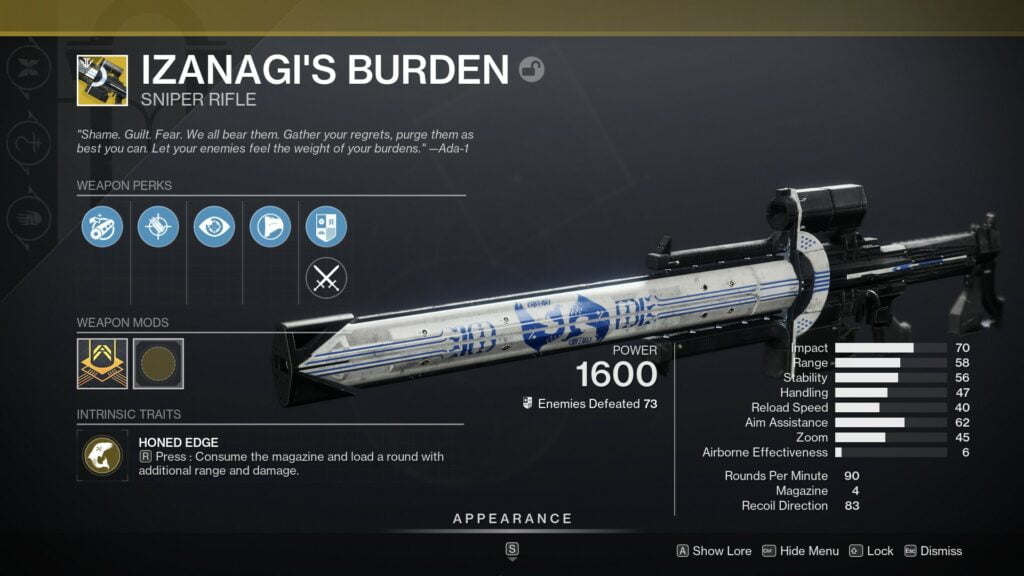 Element: Kinetic
Source: Monument to Lost Light
Best For: PvE
Izanagi's Burden benefits greatly from its Catalyst. With the Catalyst active, you can hold reload to convert your four-round mag into a single bullet that deals insane damage. It's possibly the highest single shot in the entire game, hence why it's one of the best Exotic weapons in Destiny 2.
The weapon's power goes beyond that, though. Izanagi's Burden suffers from its slow reload speed, killing its damage over time. If you can supplement it with something like the aforementioned Hothead with Wolf-Pack Rounds and Auto-Loading, you'll genuinely be putting up the best possible damage in Destiny 2 as of Season 20.
Arbalest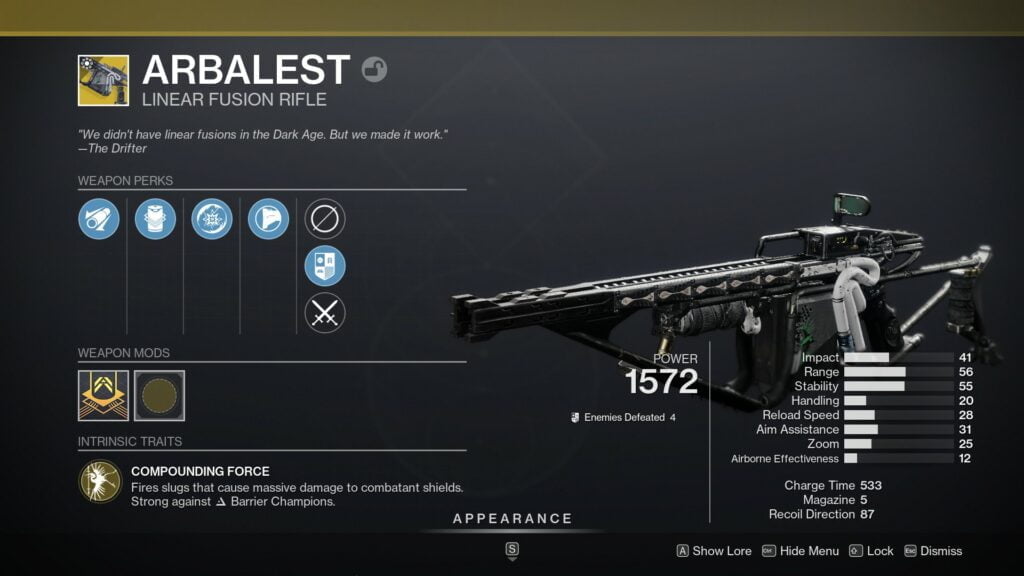 Element: Kinetic
Source: Exotic Engrams
Best For: PvE
Arbalest was one of the best Exotics weapons in Destiny 2 for a short spell, but Bungie took care of that with a nerf. Despite that, this inherent Anti-Barrier Champion weapon is well-deserving of a spot in your end-game loadout.
On top of the aforementioned Champion benefits, Arbalest is a Kinetic Linear Fusion Rifle, so it sits in that slot instead of your heavy and consumes special ammo. It doesn't pack as much punch as a heavy, but having another Linear strapped to you is invaluable in long DPS encounters like Oryx. You'll hear a cacophony of these things going off anytime you run King's Fall – just listen out for them.
Parasite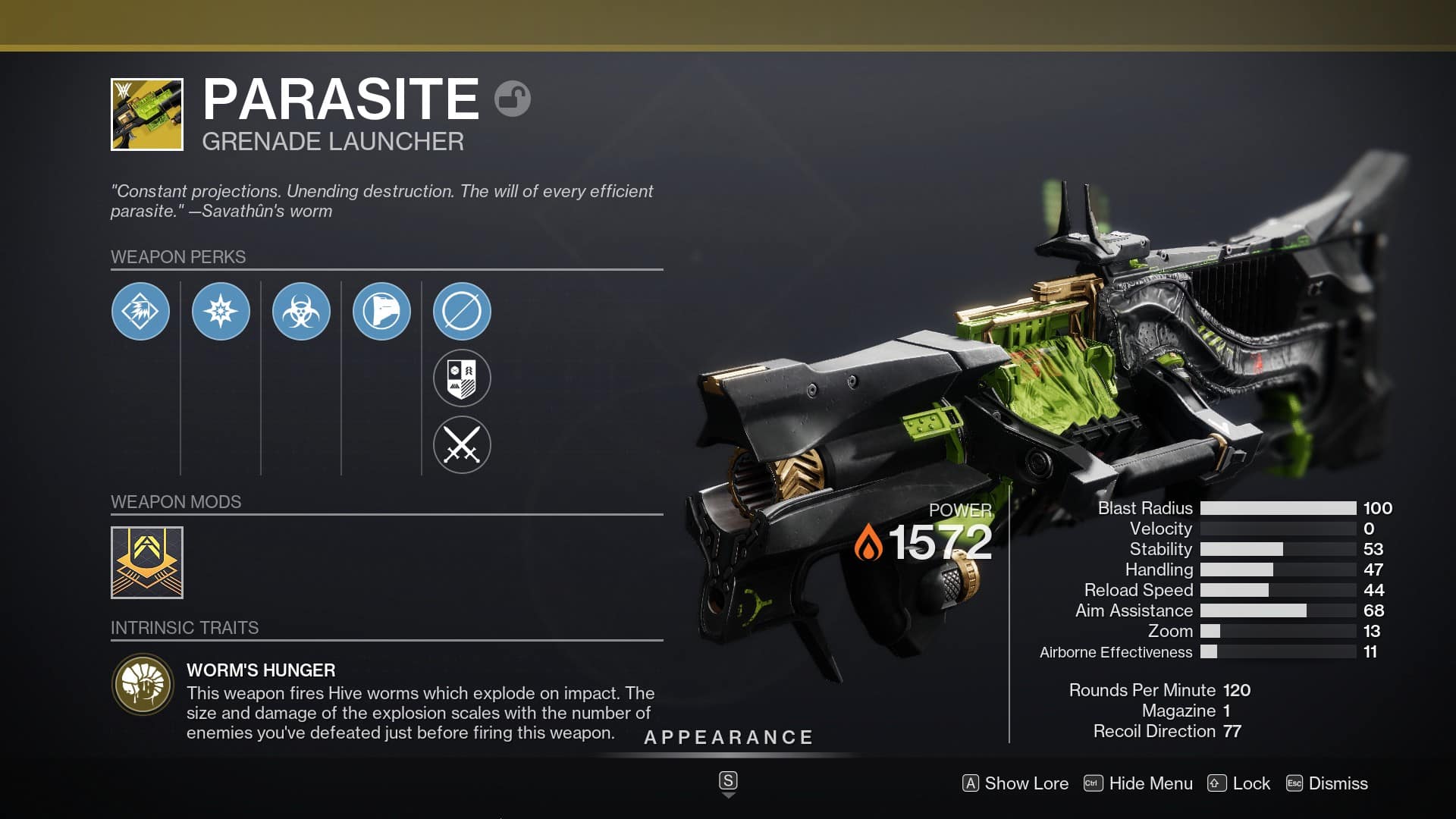 Element: Solar
Source: Witch Queen Exotic Quest
Best For: PvE
In terms of raw burst DPS, Parasite is the best Exotic weapon in Destiny 2, bar none. This launcher works off of its Exotic perk which provides the Worm's Hunger buff. This buff maxes out at x20, at which point your next Parasite shot packs enough power to ones-shot a Master Champion.
You only get one shot per reload with Parasite, and your first shot eats up that buff, so it's a terrible long-term DPS weapon. For something like Atraxs, though, it's the go-to strategy every time. It's a pocket "kill everything" button – and that can be invaluable.
Trinity Ghoul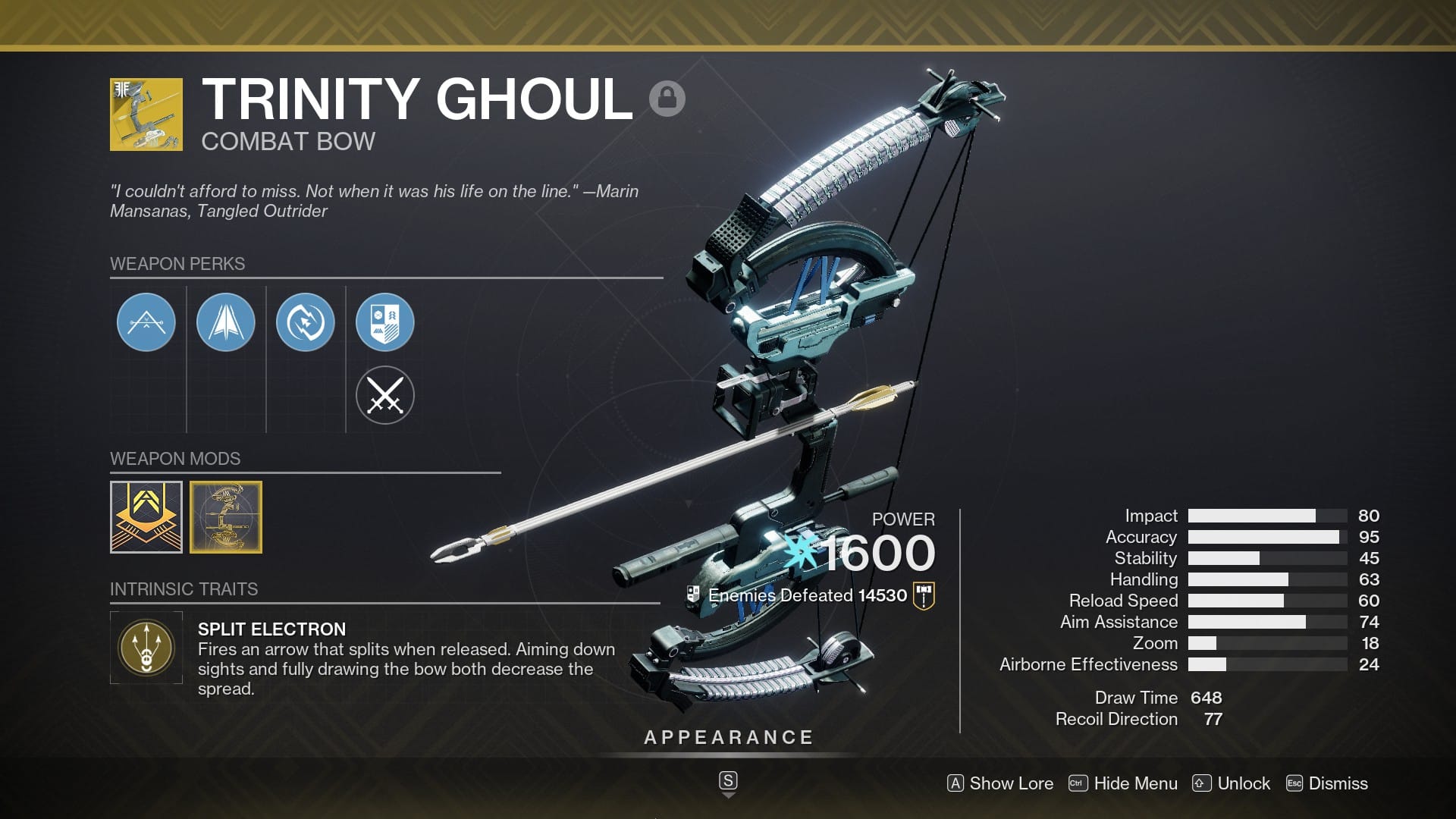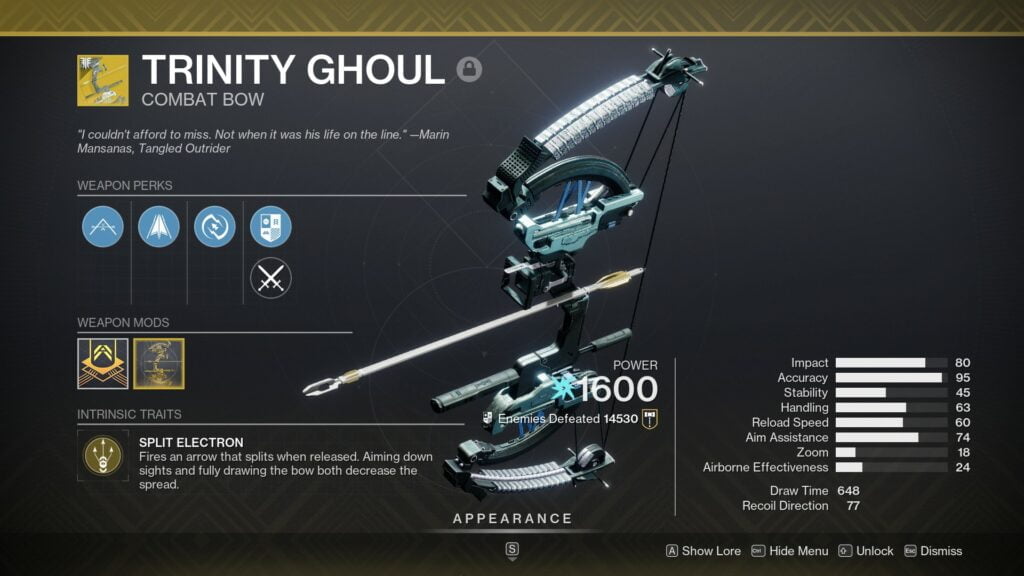 Element: Ark
Source: Exotic Engrams
Best For: PvE
It's rare that a weapon in Destiny 2 is so powerful that it eventually becomes boring to use, but that's the case with Trinity Ghoul. This weapon is the original Voltshot, and it's a bow, so you'll be jolting groups of targets on hit.
This isn't Ark 3.0 Jolt, though. Instead, your arrow acts as a conductor – striking any enemies close to where it lands and chaining lightning. The result of this is a weapon that can single-handedly clear rooms, that doesn't even require you to pay attention and aim. You don't even bother fully drawing this bow most of the time. You just shoot it at the ground, and everything dies.
Le Monarque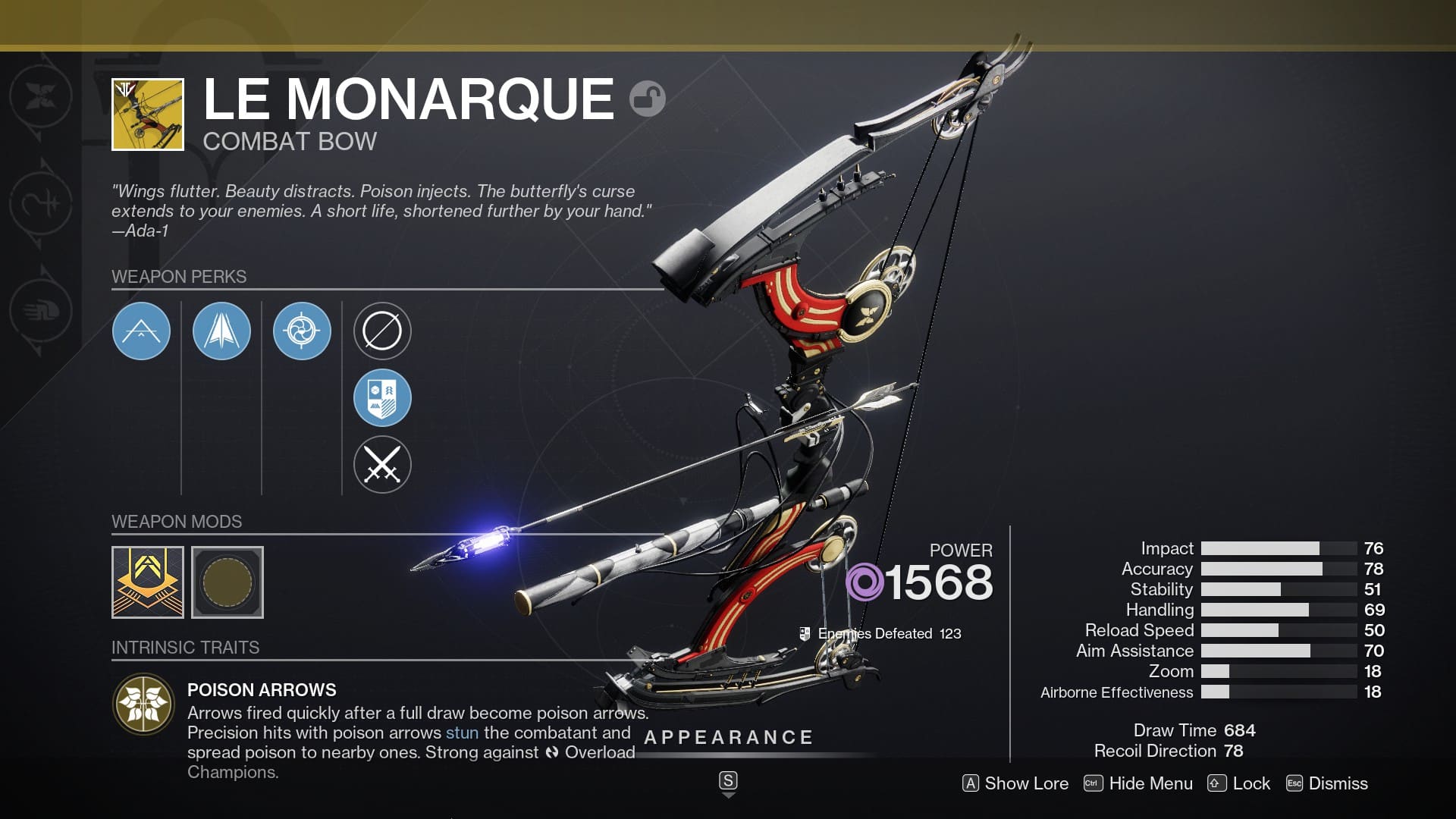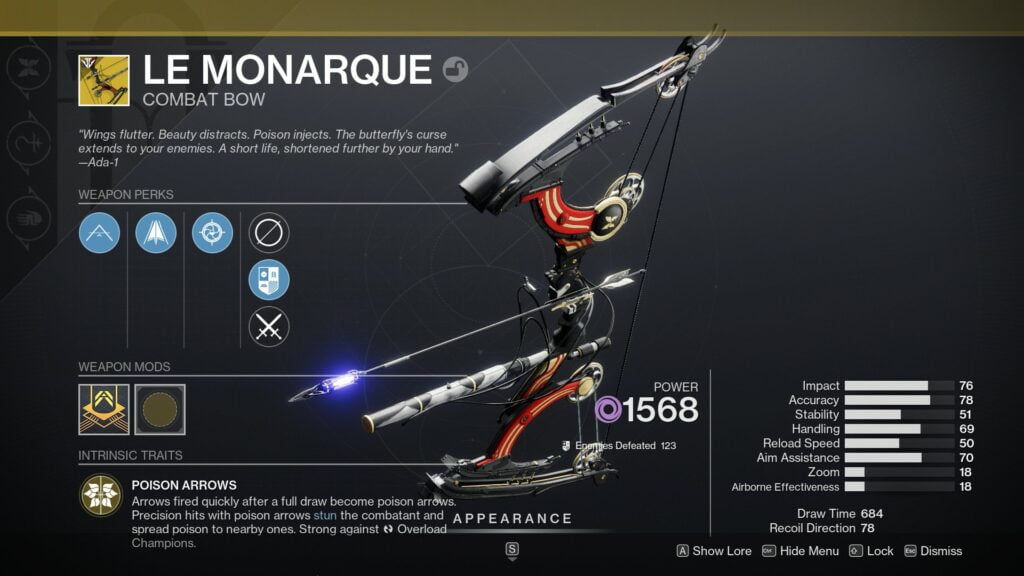 Element: Void
Source: Monument to Lost Light
Best For: High-end PvE and PvP
Le Monarque is almost exclusively used in PvE for Legend, Master, and Grandmaster content. It's a bow that deals damage over time through a poison effect like Osteo Striga. However, it also has inherent anti-Overload, and the tick damage applies that stun.
A single Le Monarque on a GM team when the Nightfall is Overload heavy is a META staple. Its ability to single-handedly lock down the most annoying Champion type in the game is enough to propel its popularity. If you run Legend Lost Sectors, you know what I mean.
Dead Man's Tale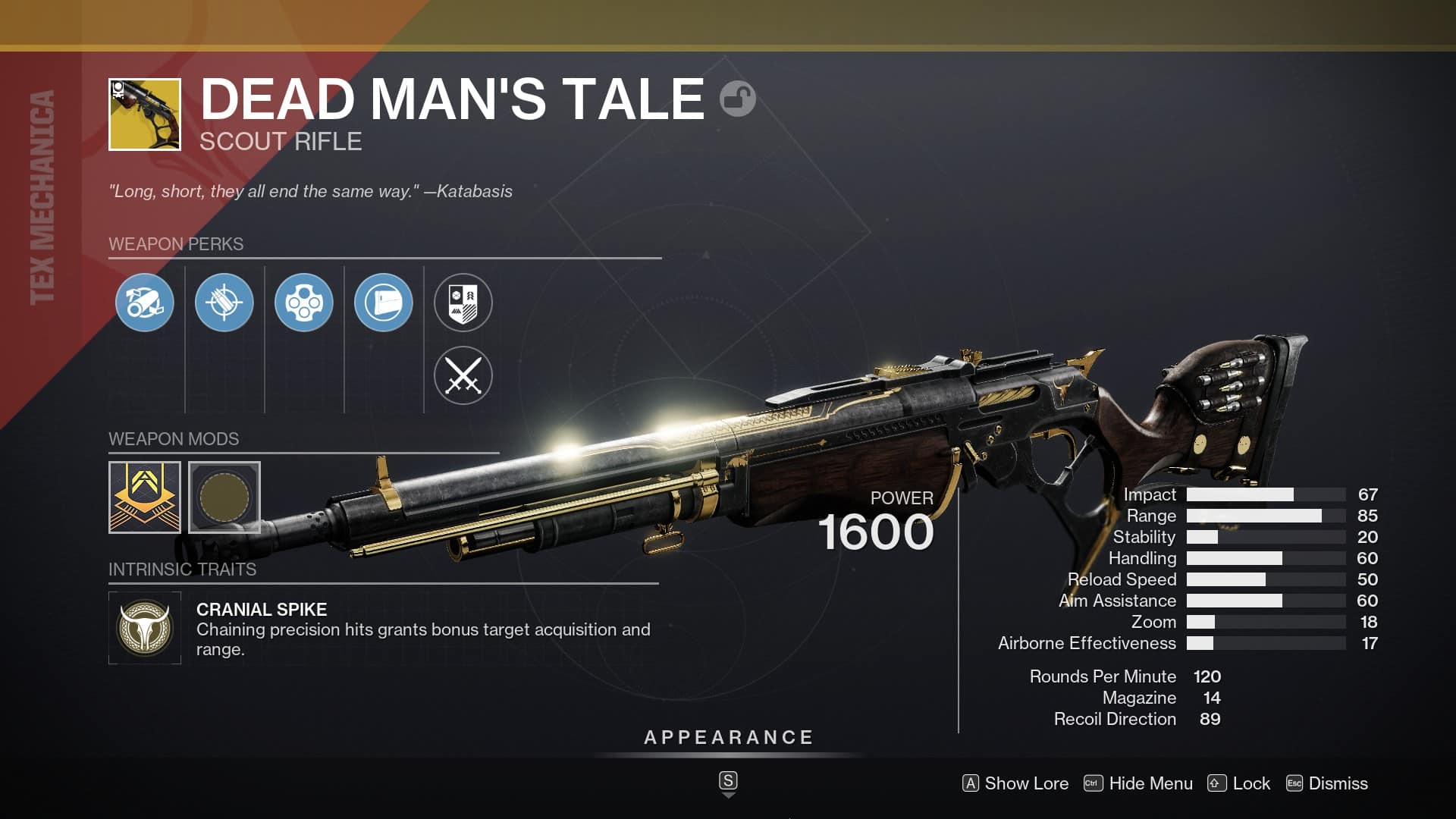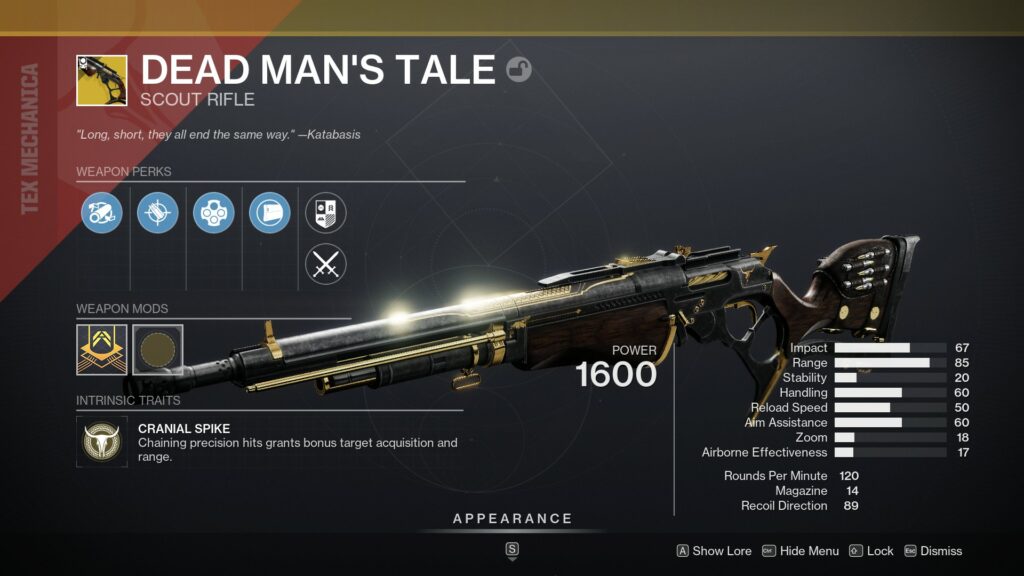 Element: Kinetic
Source: Exotic Rotator mission launching after Season 20
Best For: PvP
Ever wanted to turn Destiny 2's Crucible into a point-and-click adventure game? Then you need Dead Man's Tale. This Scout Rifle's insane base stats and damage combine with an Exotic perk designed for hip firing to give you one of the most fundamentally powerful PvP Exotic weapons in Destiny 2 history.
It's not like Dead Man's Tale has any crazy effect or damage buff that makes it great. There's no Memento Mori here. It's a simple rifle by any standards, but everything about it isn't just solid – it's excellent, and sometimes that's all you really need.
Vex Mythoclast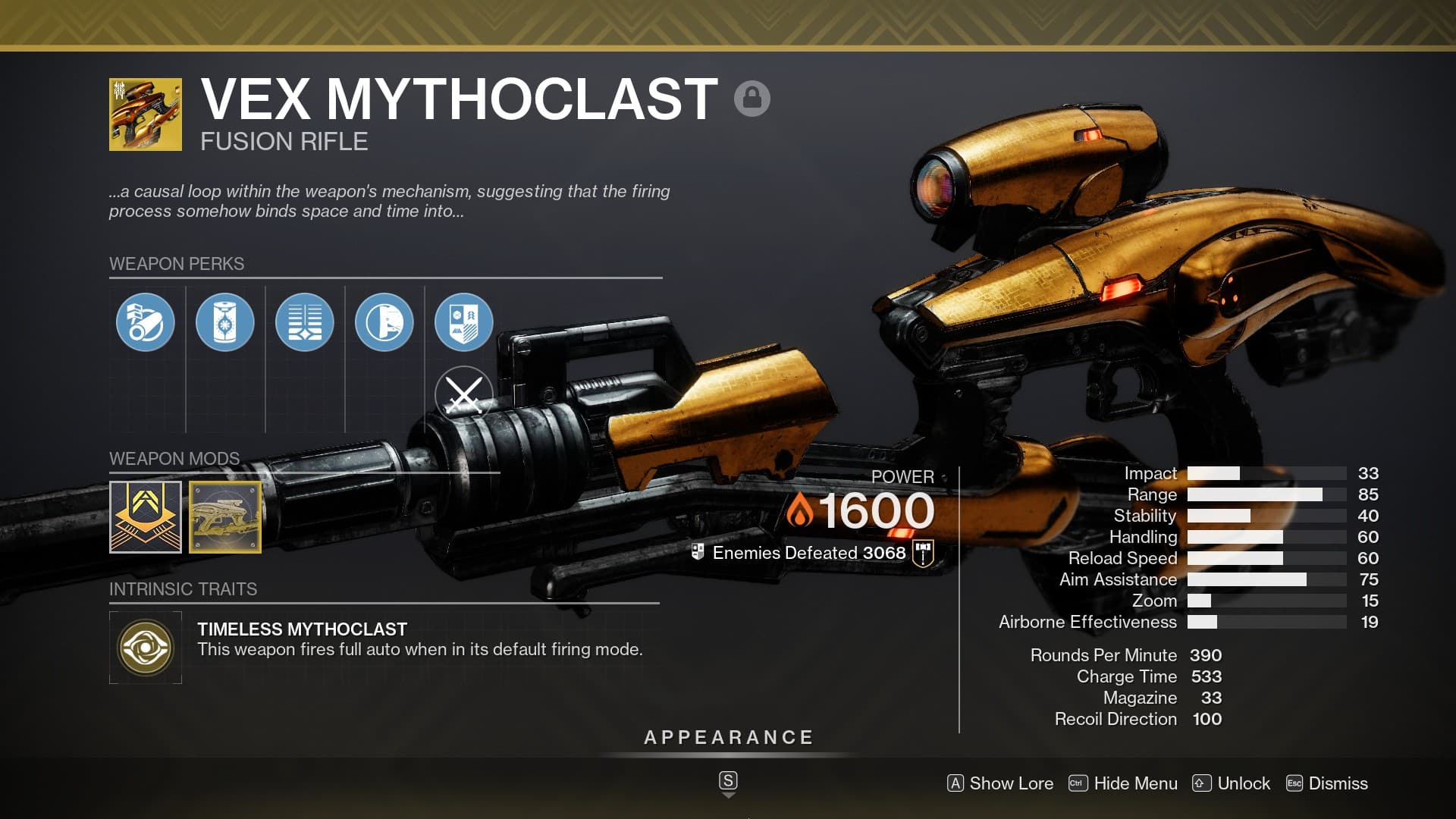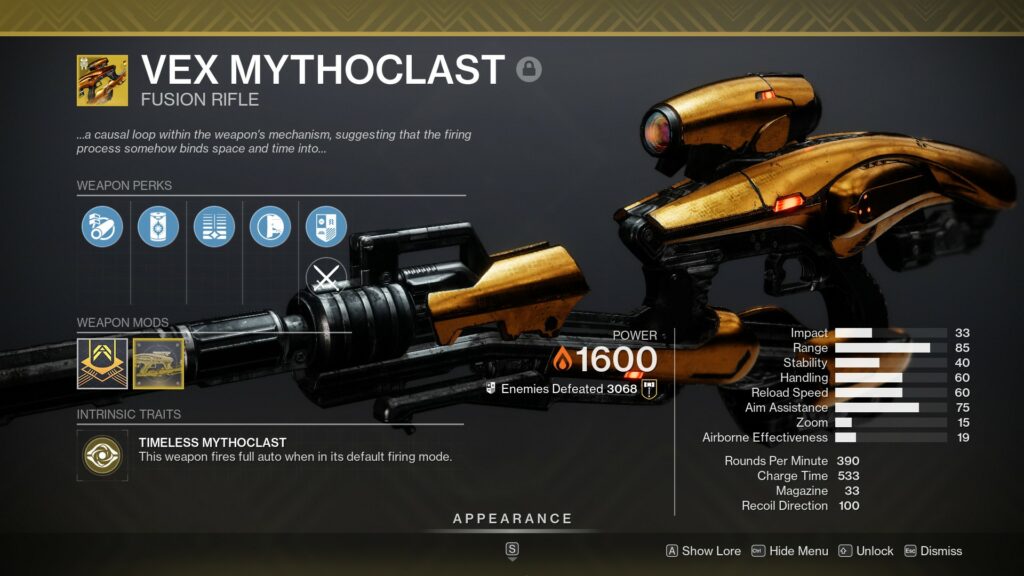 Element: Kinetic
Source: Vault of Glass Raid
Best For: PvP
Don't hate me, but I sort of main Vex Mythoclast in PvP. You can complain and moan all you want about it – but that's because you're mad about how overpowered it is, and you would be right.
Vex Mythoclast is what an Auto Rifle would be if Auto Rifles were good. Its rate of fire and stability let you beam people with it, not to mention the fact that its alt fire mode one-shots to the head. This thing has carried me through some tough games, and that alone gets it a spot on my list of Destiny 2 best Exotic weapons.
Winterbite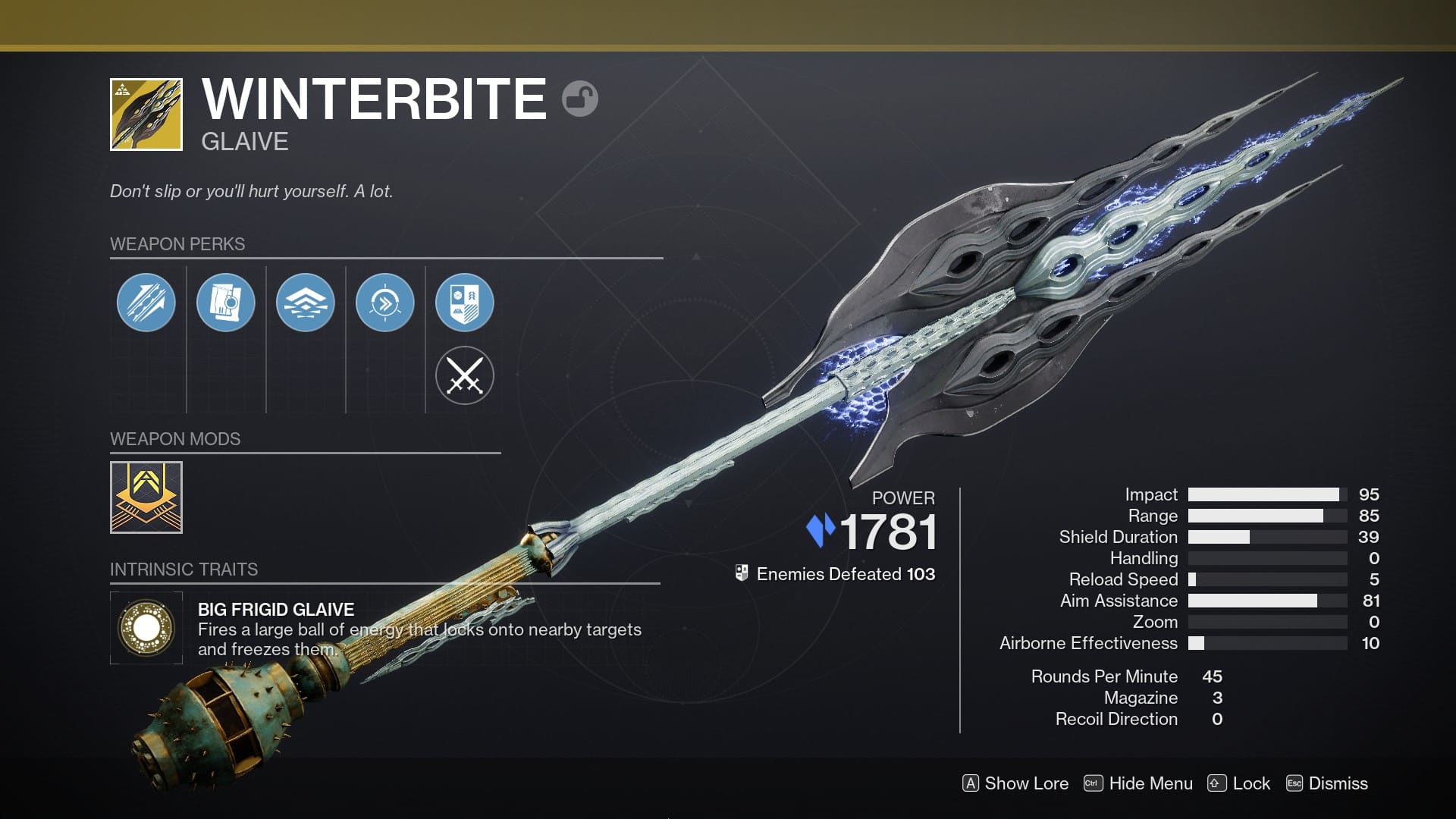 Element: Stasis
Source: Strider Exotic Quest
Best For: PvE
As a heavy Galive, it's natural to be skeptical of Winterbite. Its primary fire is a massive Stasis Orb that travels in a line, freezing targets in its wake. It's a remarkably powerful add-control too, but the real appeal of this weapon is its melee.
When you have ammo loaded into Winterbite, your melee attacks with it deal more damage and apply Slow, letting you Freeze and Shatter. The damage you get from this is insane and costs no ammo. What's more, you can combine it with Strand to essentially never have to worry about Champions again. Once the Youtubers catch on to this one, expect it to be META.
Tractor Cannon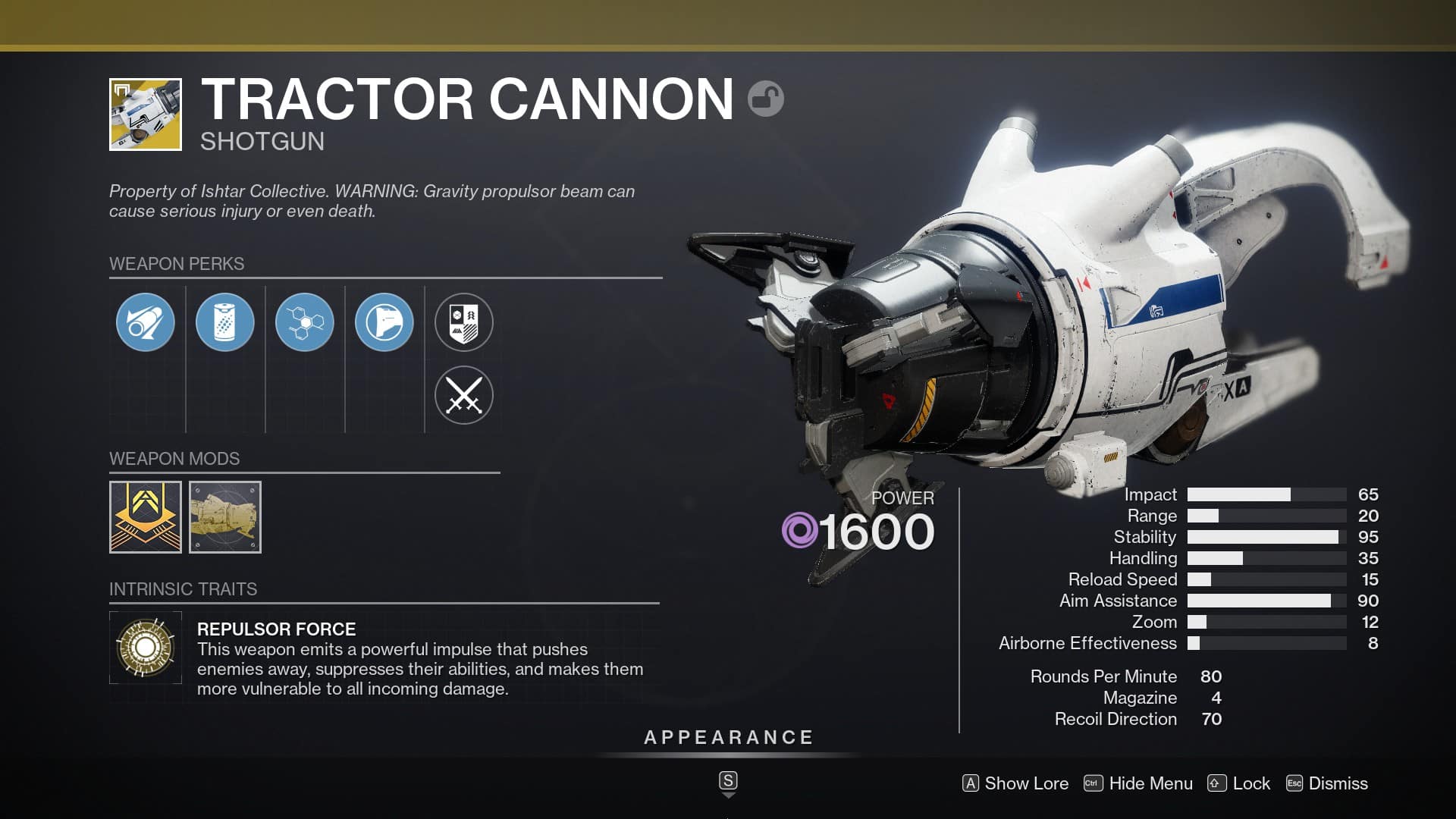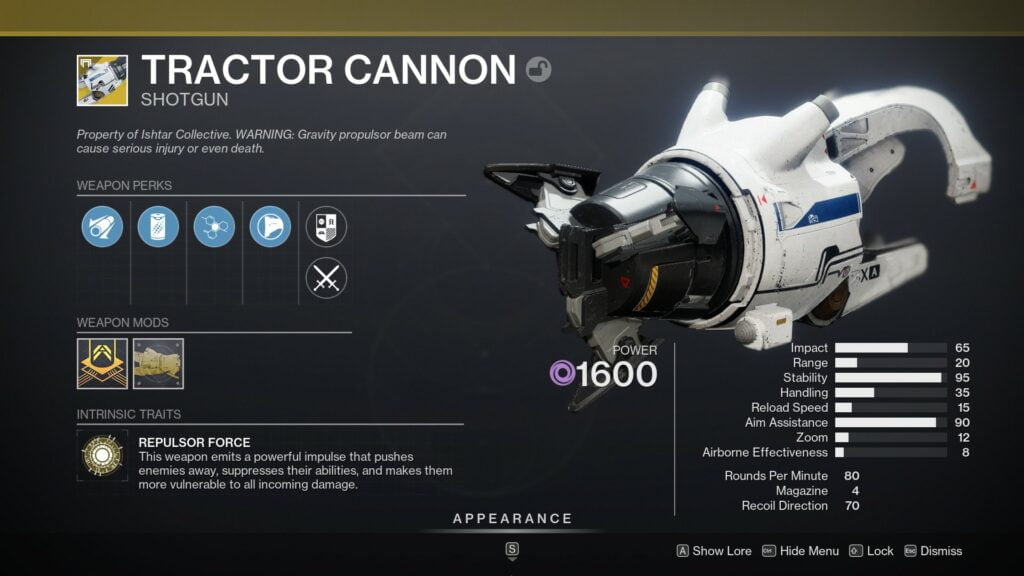 Element: Void
Source: Exotic Engrams.
Best For: PvE
Once upon a time, Divinity gave players a 30% damage buff. However, Bungie didn't let that stand – reducing its effectivity to 15%. Since then there have only been two reliable ways of inflicting a 30% DR debuff. Those are Shadowshot and Tractor Cannon.
This automatically skyrockets Tractor Cannon in terms of power, especially when it was already META for high-DPS melee builds. A free 30% damage buff in your back pocket that stacks with your other buffs is remarkably powerful, for all levels of gameplay.
Conclusion
That's it for what I consider the 12 best Exotic weapons in Destiny 2. The META may twist and turn between now and the Final Shape, but you can guarantee that most, if not all, of these Exotics will still be relevant this time next year. If you're missing any of them – hurry up and get farming.