As soon as Genshin Impact released the 2.0 update, players worldwide couldn't wait to get their hands on the featured 5-star character Kamisato Ayaka. A role model to many, the eldest daughter of the Kamisato Clan of the Yashiro Commission carries herself with utmost grace and elegance. Her character design is unique and fits perfectly with the new Inazuma region. The 5-star Cryo character wields a sword and has versatile gameplay that can fit in many team compositions. In this article, we at WhatIfGaming are here to help you F2P (free to play) players build the best weapon for your Shirasagi Himegimi.
Before we discuss the best weapons for Ayaka, we'll quickly give an overview of her playstyle. Ayaka's normal and charge attacks, Kamisato Art: Kabuki, can be buffed with her E, Kamisato Art: Hyouka, which translates to ice cream or sherbet in English. Once Ayaka's normal attacks are infused with Cryo, the colour animation changes from golden yellow, physical, to cyan, cryo-infused. The only other sword character in the game that can do this self-elemental sword infusion is Keqing.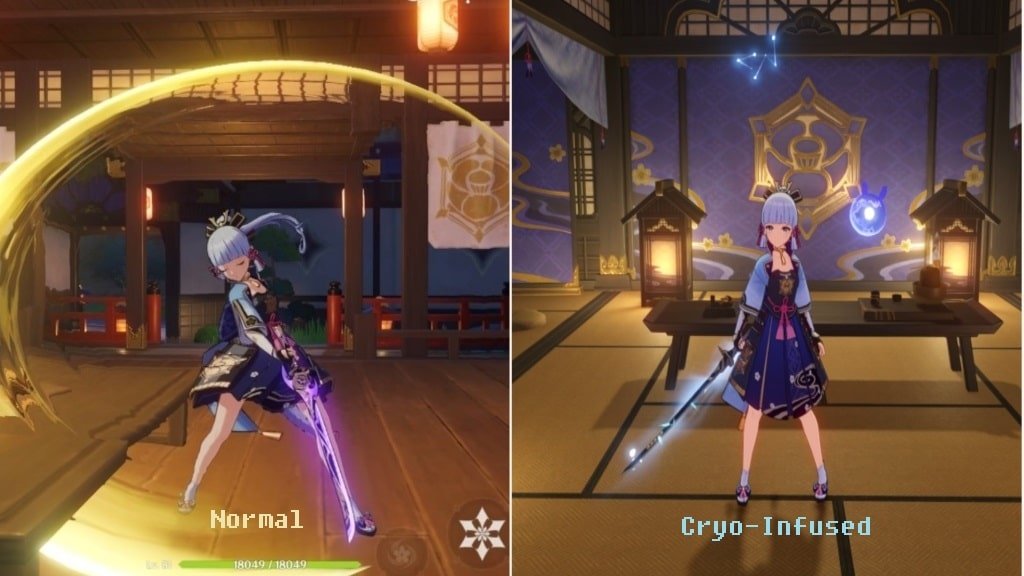 Next, Ayaka's E, Kamisato Art: Hyouka AoE, deals Cryo DMG and gives you around four or five particles once every 10 seconds. Her elemental burst skill, Kamisato Art: Soumetsu, is one of Ayaka's biggest strengths. It is a powerful ability with massive scaling, depending on the number of times it hits. Many players build their Ayaka centred on her elemental burst skill or Q. This burst skill can hit up to 20 times, then explodes and deals more damage. In English, it means "Extinguishing Frost." Ayaka's burst attacks are her primary source of damage, with her charged attack coming in second.
According to Zy0x's complete Ayaka build, when leveling up Ayaka, her burst skill, Kamisato Art: Soumetsu, should be prioritized, followed by her regular attacks and then her talent Kamisato Art: Hyouka. Ayaka's dash skill, similar to Mona's dash, is helpful for both exploration and combat. It even applies Cryo to enemies after dashing out.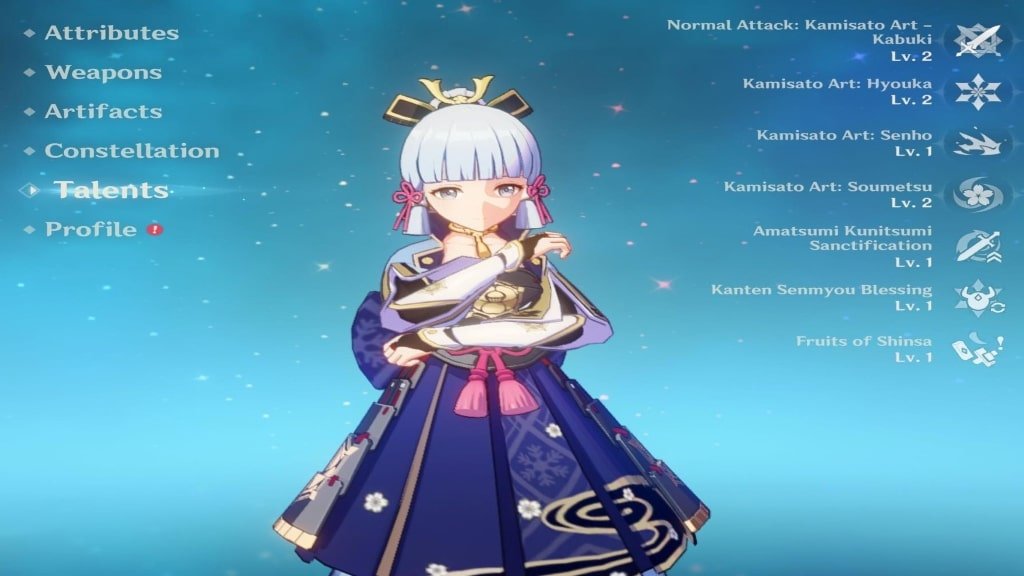 Best F2P Weapons
Note that the weapons we've picked are best used alongside the 4-set Blizzard Strayer artifacts. We've picked out three great weapons for a main DPS Ayaka build based on the utilization of Ayaka's skillset and damage output.
Amenoma Kageuchi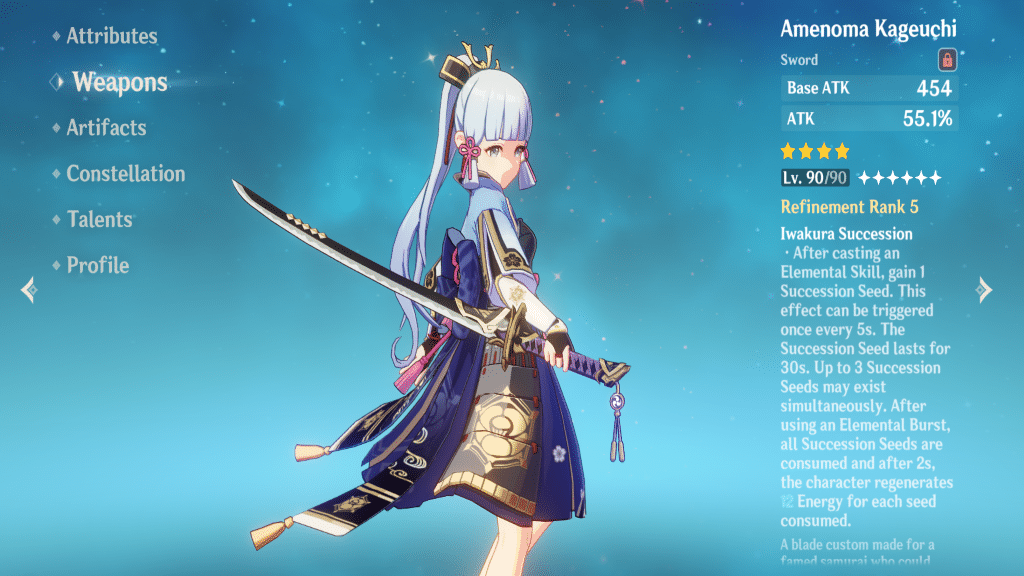 By far, the best F2P weapon for Ayaka is the new craftable Inazuma sword Amenoma Kageuchi. Not only does this sword's design match with Ayaka's royal aesthetic, but it also gives you a lot of attack percent with a passive skill that regenerates your energy. You can get up to 18 energy at refinement 1. The sword is locked to a series of quests that can initially appear taxing, but don't give up! Once you've completed the quests, you'll be able to craft the sword at the forgery. You'll only need 1 Northlander Sword Billet, 50 Amethyst Lump, 50 White Iron Chunk, and a measly 500 Mora to craft this sword.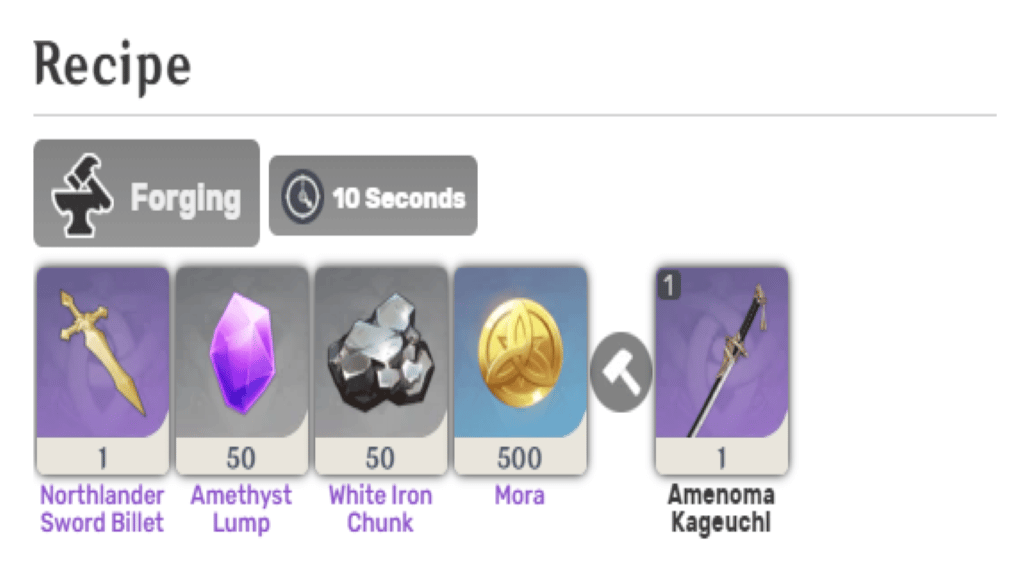 If you want to see an in-depth guide comparing the Amenoma Kageuchi to the 4-star Blackcliff Longsword and the 5-star Mistsplitter, check out IWinToLose Gaming's ultimate weapon guide. The guide breaks down why the Amenoma Kageuchi is worth building and shows its damage output side by side with the other two weapons.
Blackcliff Longsword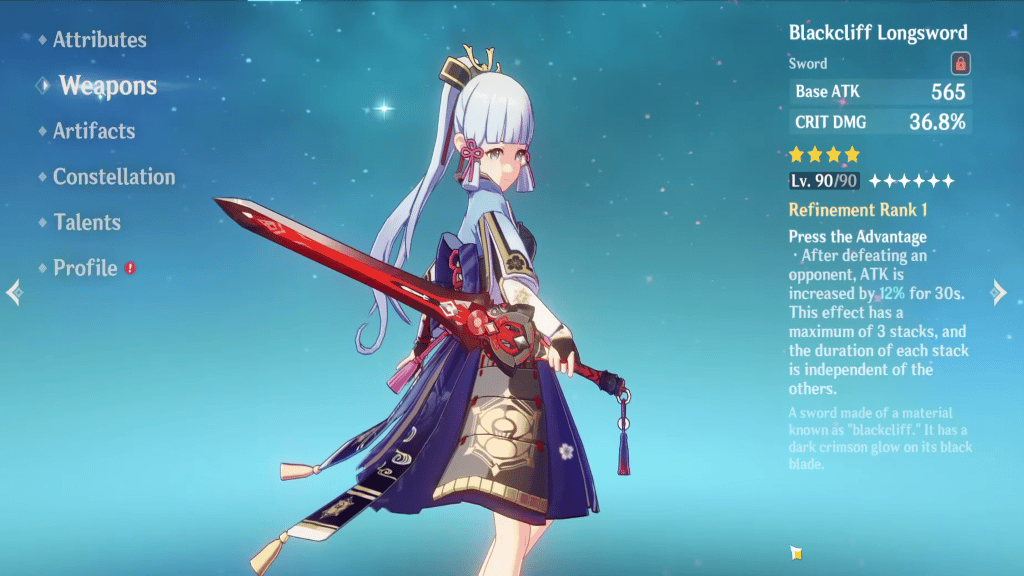 The second weapon on our list is the Blackcliff Longsword, a 4-star sword obtained in the shop for 24 Starglitters. The Blackcliff Lonfsword is an excellent weapon for Ayaka because of its high base ATK and CRIT DMG. The sword's passive skill also increases a character's ATK by 12% for 30 seconds after an opponent is defeated. This can stack up to three times for a total ATK increase of 36%! Even though this is a F2P weapon, it can be difficult for players who have used up their Starglitter in the monthly wish exchange option. Saving enough Starglitter to purchase this sword without spending can take a while.
The Flute
Last up is the gacha 4-star weapon, the Flute. As a F2P player, decision-making in building weapons and characters is not a walk in the park. Because of the limited resources available to you, there are so many factors to consider. If you don't want to spend your Starglitter, we have another weapon that you might like. The Flute is a 4-star weapon that most players, F2P or not, will have lying around in their inventory. This sword gives Ayaka a lot of attack damage and also pairs well with the Blizzard Strayer set. Thanks to the sword's passive skill called Harmonics, Ayaka's damage output will be increased.
Here's another handy guide for players who want to see how the swords Amenoma Kageuchi, Blackcliff Longsword, and the Flute will look like on Ayaka. The guide splits the screen into three and shows players what Ayaka's normal/charged and skill/burst attacks look like with the said swords. If the sword's overall design is a significant factor for you when picking out weapons, this is the perfect guide to check out.
Bonus Feature: Mistsplitter Reforged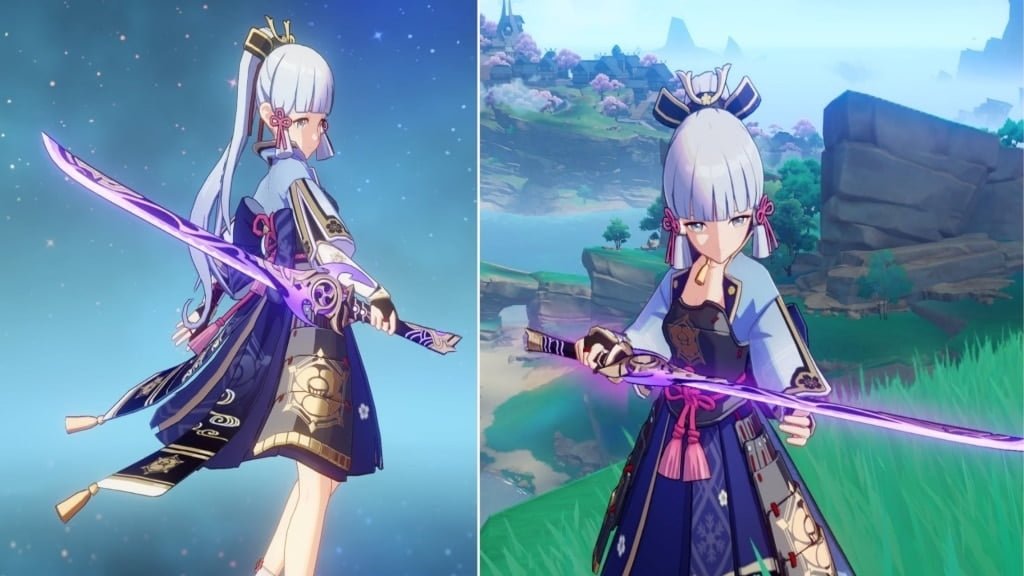 Although not a F2P option, it's worth mentioning that the best overall weapon for the eldest daughter of the Kamisato Clan is the Mistsplitter Reforged. This 5-star weapon was available in the weapon banner alongside Ayaka's character banner: The Heron's Court. With a high base ATK and CRIT DMG plus a passive skill that utilizes Ayaka's abilities to their fullest, there's nothing to hate about this weapon, apart from the fact that it's impossible to get without cashing in many dollars.
Conclusion
If you've been saving your primos for Miss Kamisato, we hope you were able to bring her and maybe even her weapon home! For those who have skipped multiple banners waiting for the best waifu or husbando, maybe the release of the Electro Archon will be the day you part with your gems.
Tune in with us for the latest Genshin Impact news, builds, guides, and a whole lot more! 'Cheers' to miHoYo for blessing players with top-tier content that casual and hardcore gamers can enjoy.