Fortnite Prop Hunt is a game mode that saw a lot of popularity in games like Call of Duty and Garry's Mod. Played by various pro players and streamers, let's check out and rank the best Fortnite prop hunt maps. 
If you're not familiar with prop hunt or never heard of it, here's a quick explanation. Basically, players are split into two teams – seekers and hiders. Hiders can take on the shape of a prop that is scattered around the map, whilst seekers try to seek out the hiders in their prop forms. The seekers have a certain amount of time to find the hiders, and if they don't, the hiders win the game.
With that said, let's jump into the list.
Horror House Prop Hunt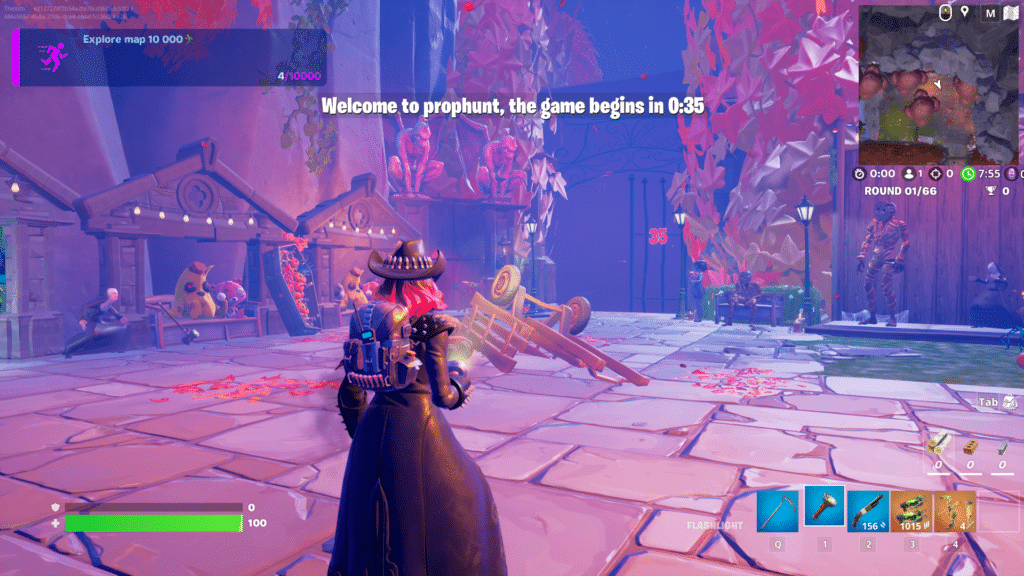 Map Code: 0810-0445-9502
Horror House Prop Hunt comes in to give you an experience that is truly scary. Not only will you have to hide from seekers, but the environment you're supposed to be hiding in is straight out of a horror movie. The props that you can turn into are as scary as the next one, but the seekers are what you should actually be afraid of.
There are plenty of places for you to escape on this map. The main castle in the middle is great for anyone trying to find a good hiding spot. But, there's also a courtyard that you can use to your advantage if you're ever spotted. This is one of the best Fortnite prop hunt maps to date. Give it a try.
Horror maps are very popular in Fortnite Creative, which is why we've made a list of the best horror map codes in Fortnite.
Family Man Prop Hunt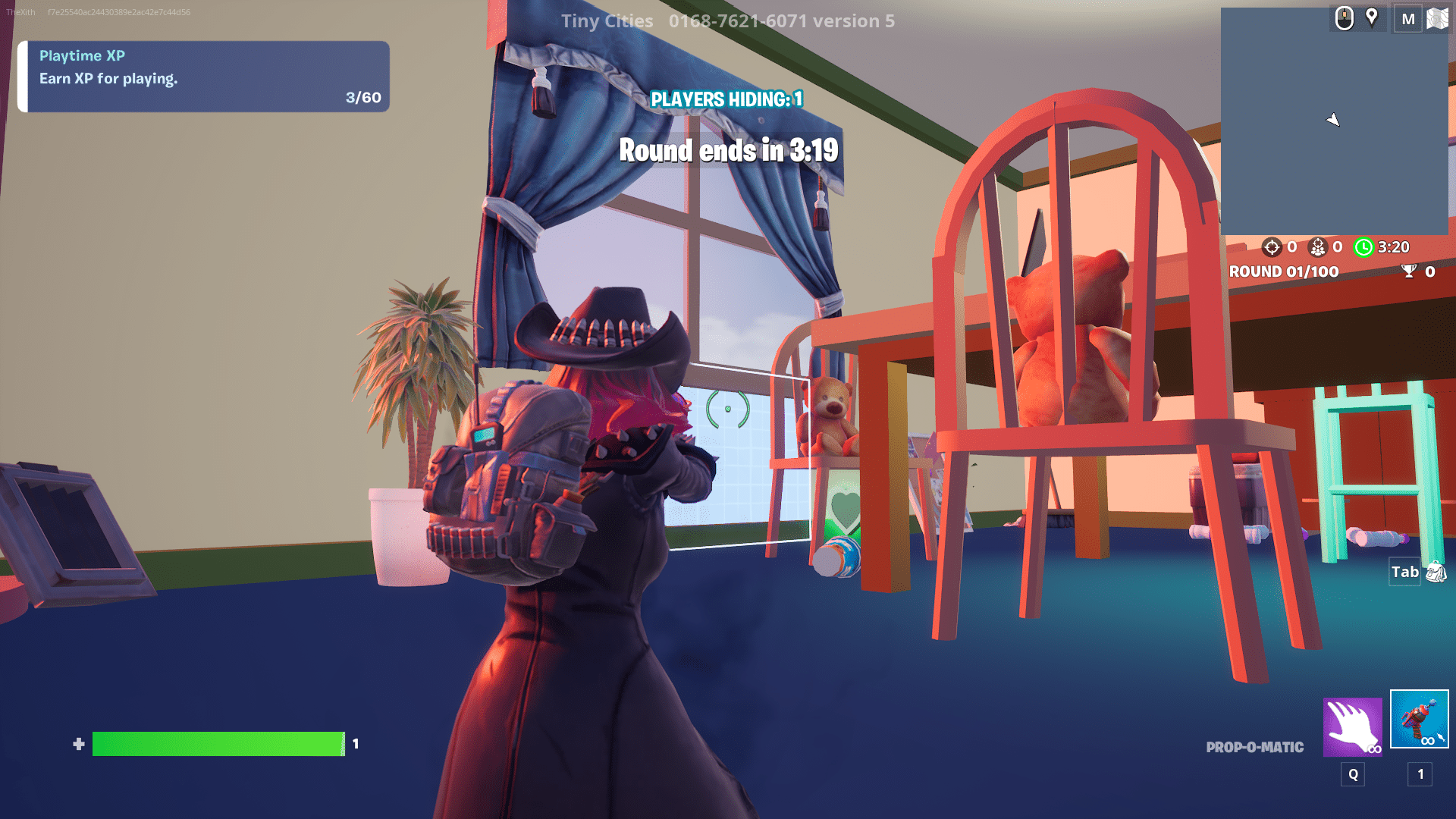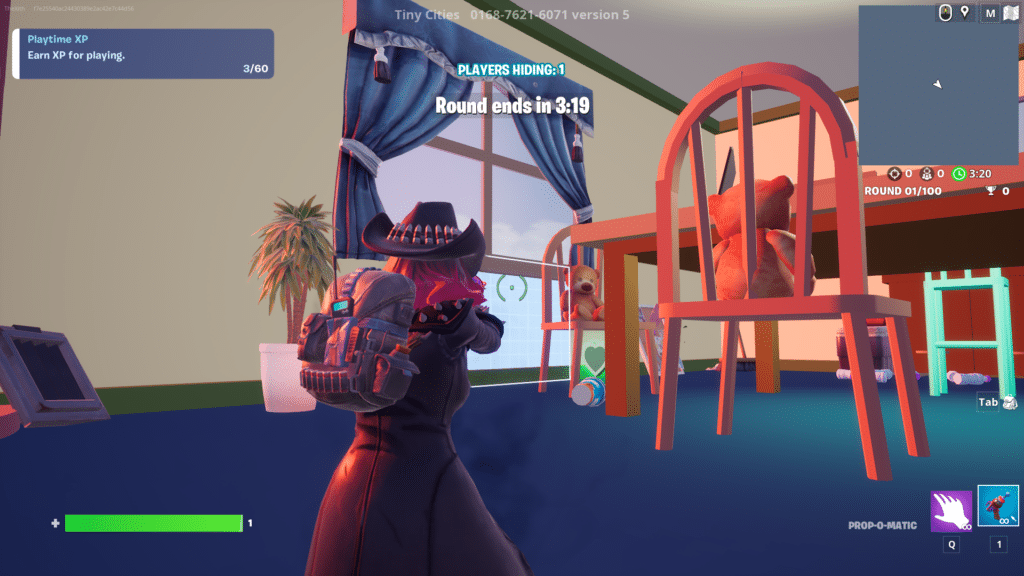 Map Code: 0168-7621-6071
Family Man Prop Hunt is a map that is inspired by the popular animated TV show called Family Guy. If any of you are fans or have watched Family Guy, then this map is perfect for you. You get to explore a map similar to the one in the show whilst also getting to hide and blend in with what makes it special. The only downside to it all is the size. Seekers might have an easier time here.
Furthermore, there are secret hiding spots for you to utilize in your war against the seekers. Spots that they might not be able to find on their first try. If you get bored of hiding in the house, there's also a nice scenic backyard that you can take advantage of. This map is bound to make you feel like a true family man. Give this prop hunt code a go.
The Beach Prop Hunt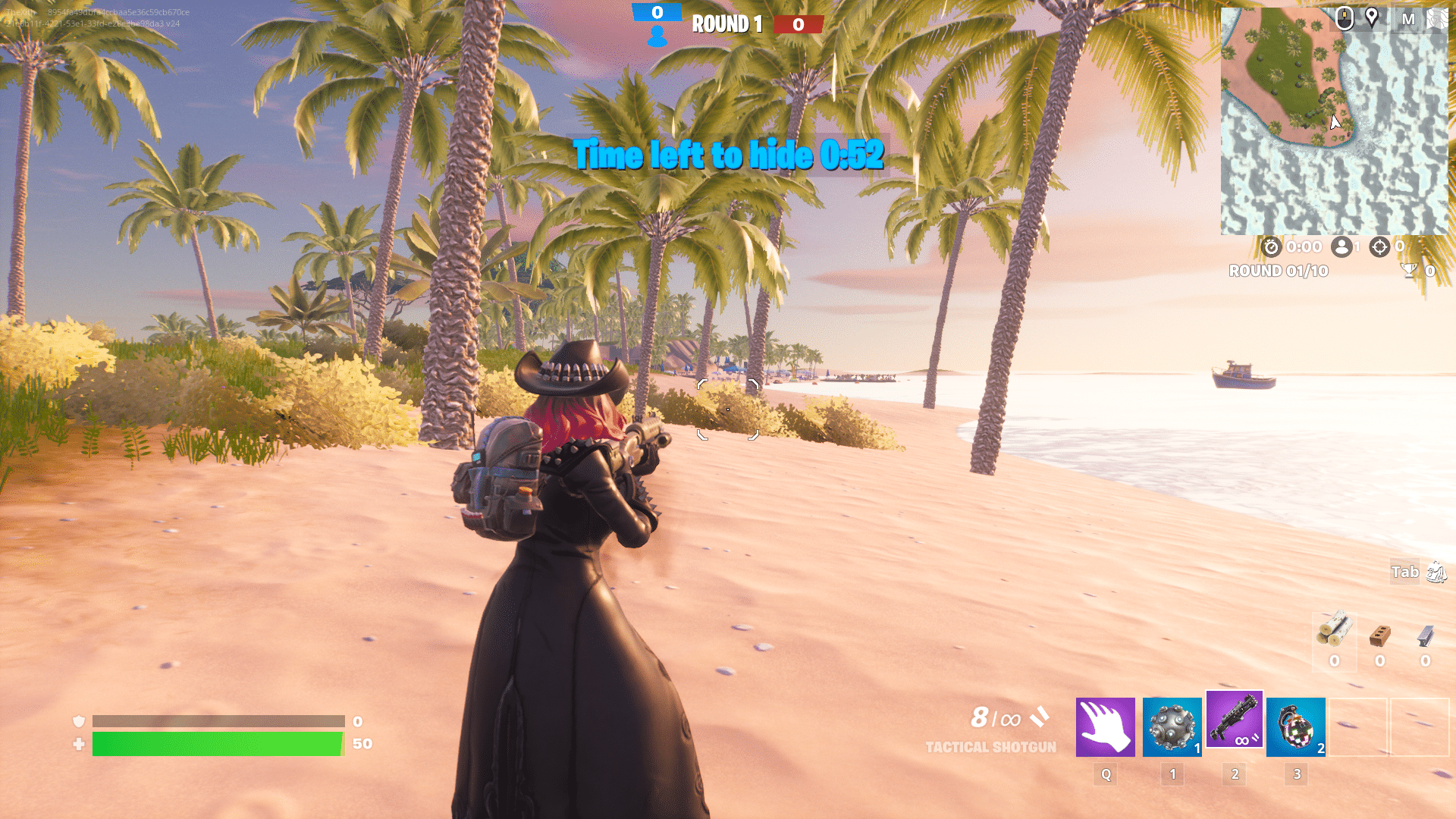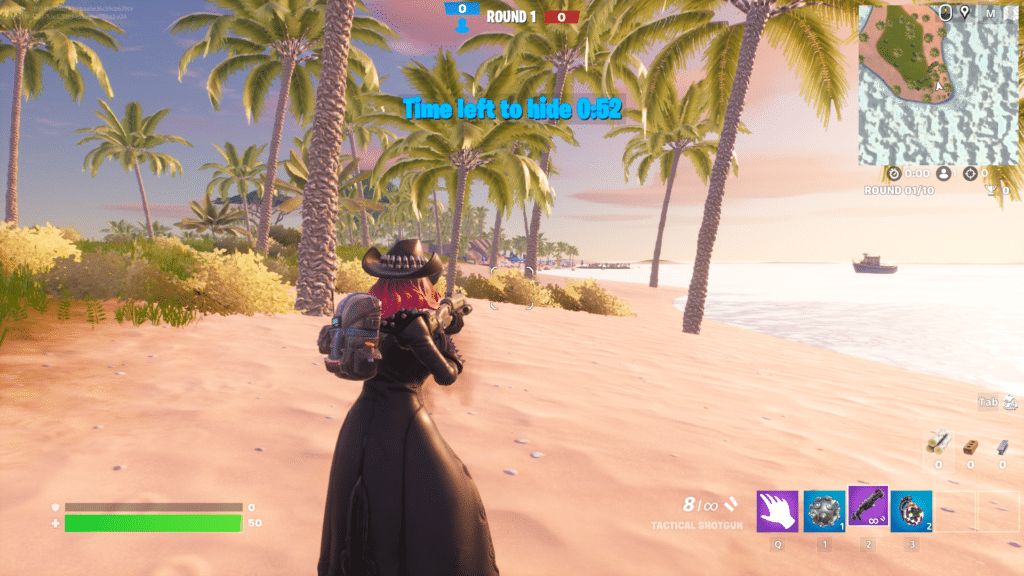 Map Code: 2355-5426-1194
Going to the beach is always a pleasant thing, and being able to play prop hunt on a beach is even better. The Beach Prop Hunt offers exactly what the name implies. On this map, you can play Fortnite on a beach, all whilst hiding from a seeker who is out to get you. There are plenty of themed props around for you to transform into, letting you enjoy the scenery in relative peace.
Although a game mode like prop hunt may make you feel uneasy, there's enough visual beauty in this map to make you want to play it. Prop hunt maps are usually themed after something scary or funny, but this one obviously takes a different approach. The best Fortnite prop hunt maps aren't usually as cinematic as this one.
Candy Corner Prop Hunt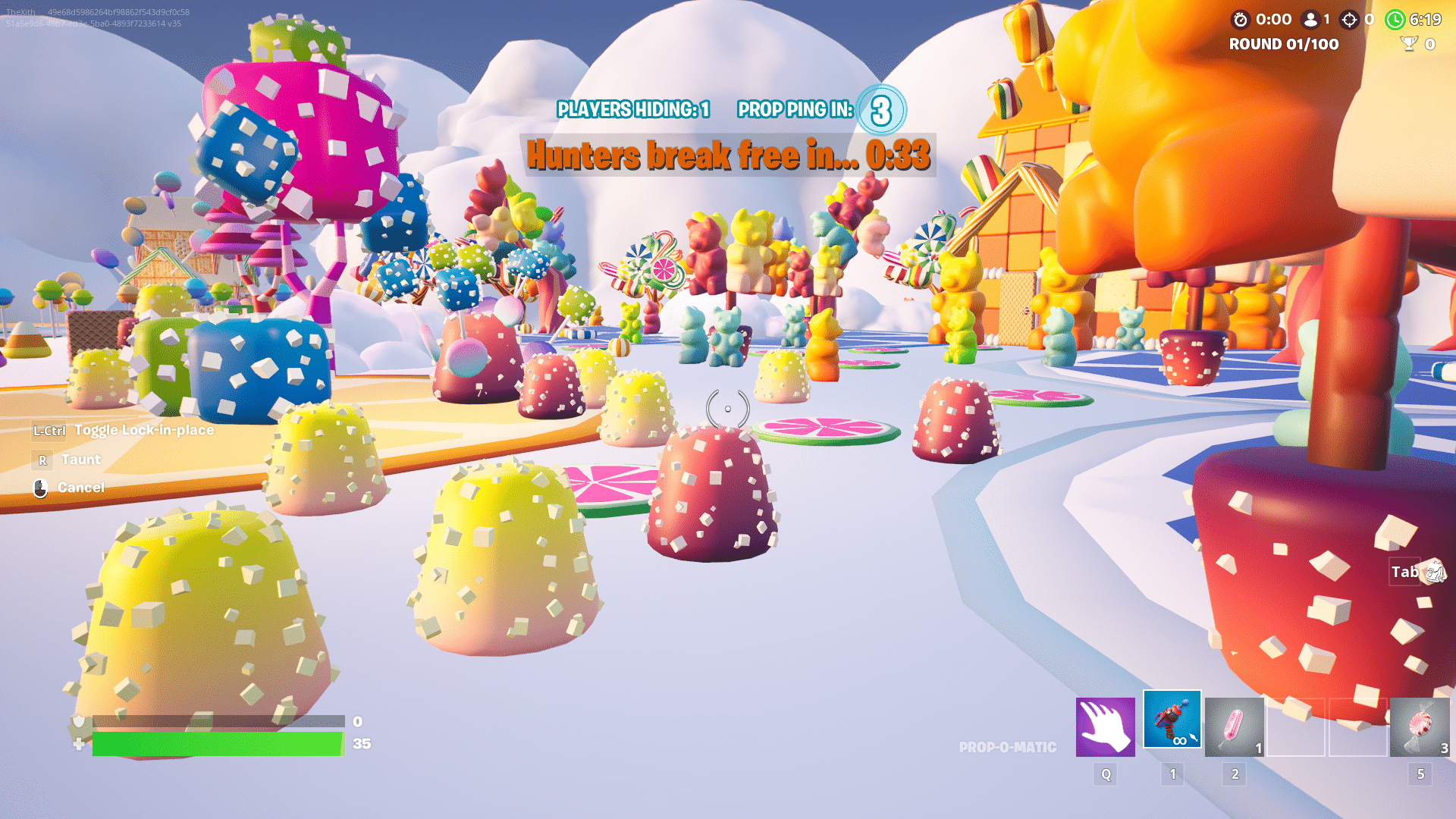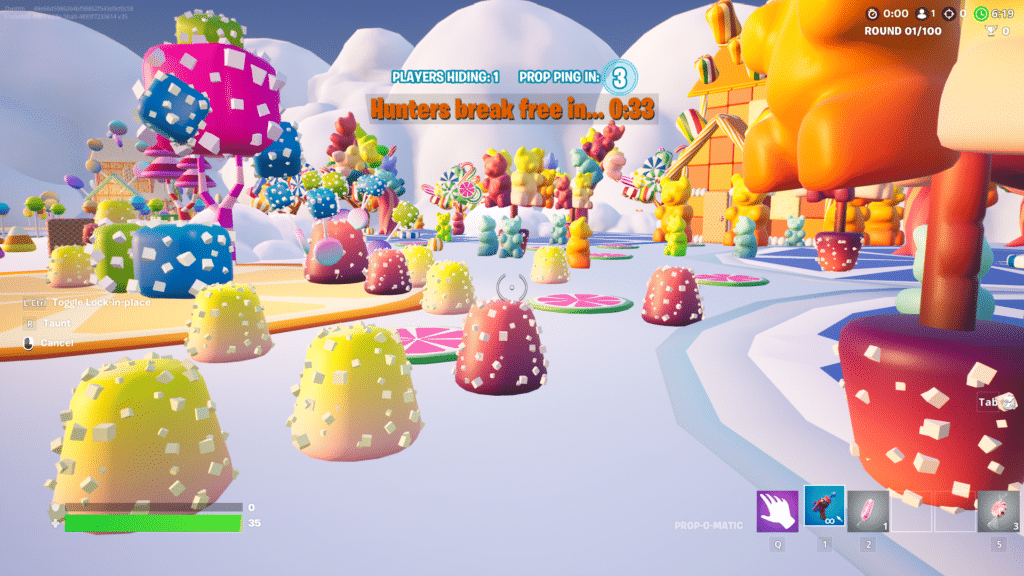 Map Code: 6240-5058-4713
Candy Corner Prop Hunt is a beautiful and colorful map that lets you experience prop hunt in a brighter tone. As soon as you spawn in, you're met with a sight to behold. Candy everywhere, and a house made of ginger – what better place to hide than in something your eyes can't even comprehend?
If simply playing on a map like this wasn't good enough, then take solace in the fact that hiders can mask as all of the props that are scattered around the map. There are also two secret areas on the map, areas that won't be known to seekers until they actually put in the work to find you. Here's a word of advice – don't get lost in the colorful aesthetic of the map, especially not if seekers are on your tail.
Meme House Prop Hunt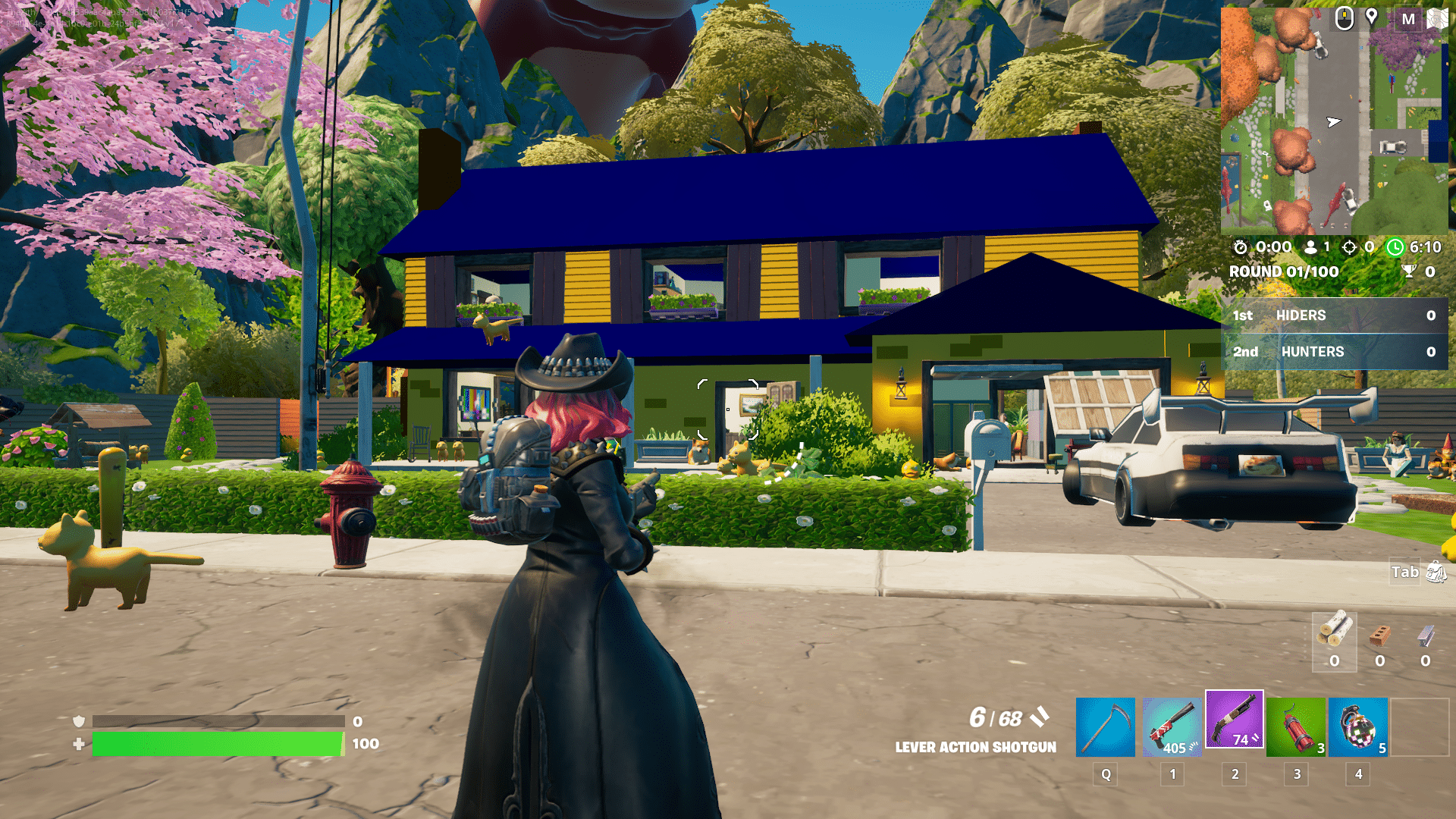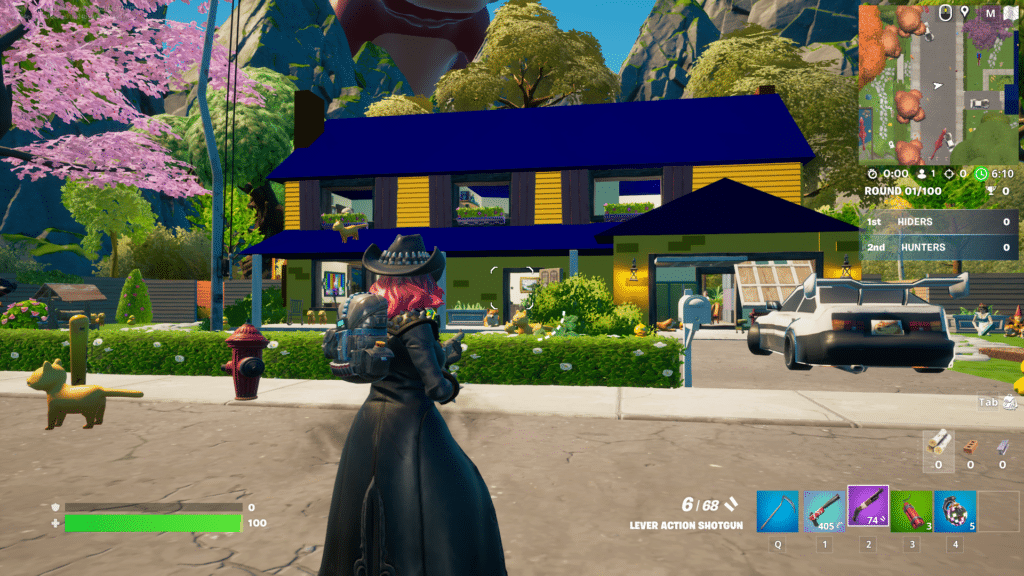 Map Code: 5860-6981-7291
Memes are something nearly all of us share in. We send them to friends and form our entire personalities around them for a couple of months. This map takes a lot of those beloved memes of ours and fuses them together with the prop hunt game mode. What makes it so unique is that you'll be able to interact with and even use memes from around the map as props.
Some might not like this map due to how simple the layout is. It's basically a map that consists of one house, with not much else to explore. However, given the unique theme and props in it, we think it deserves a spot on this list. If you're an avid member (which I'm sure you are), make sure to hop onto this map with your friends and give it a try.
Uni's Hotel Prop Hunt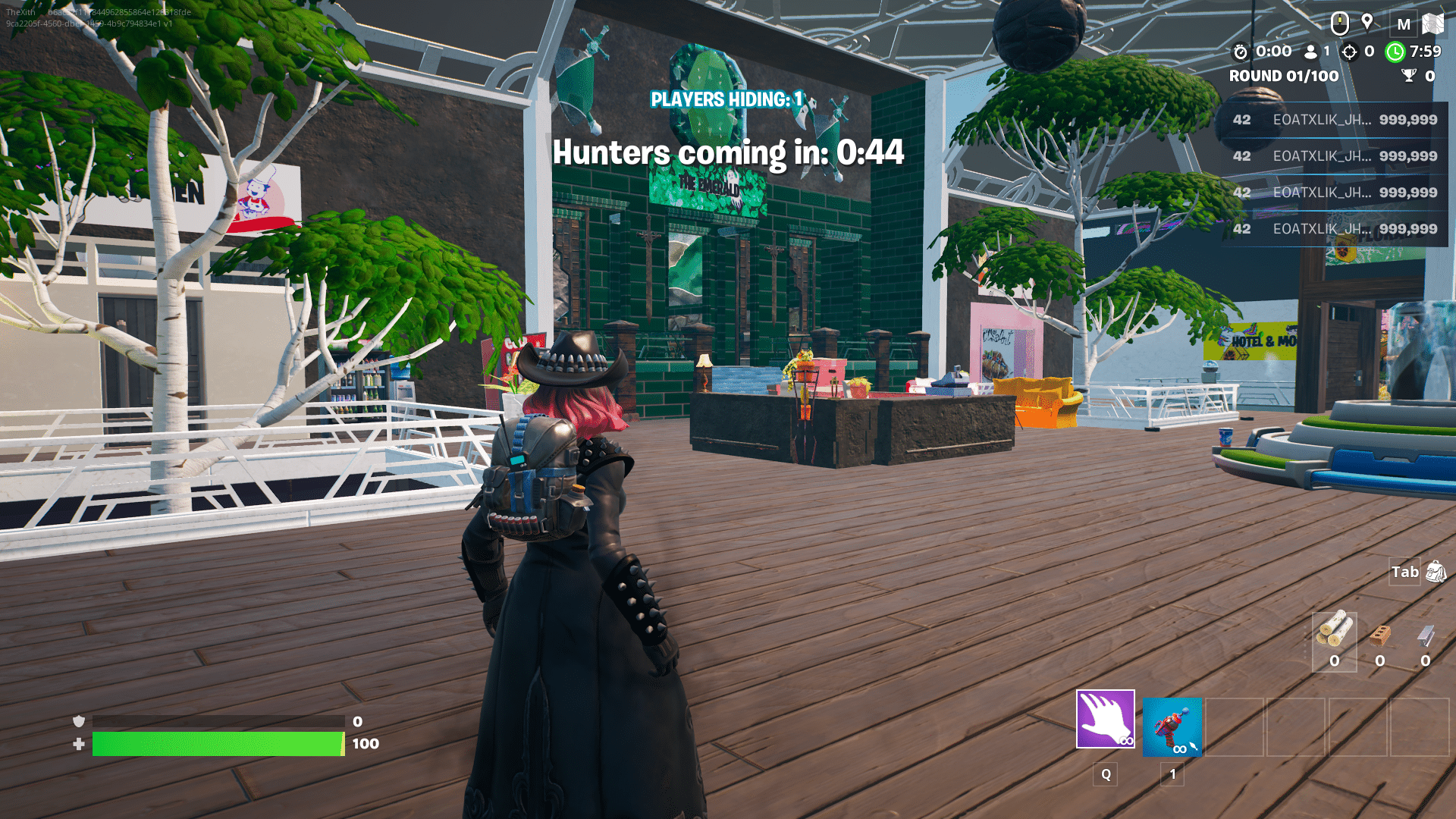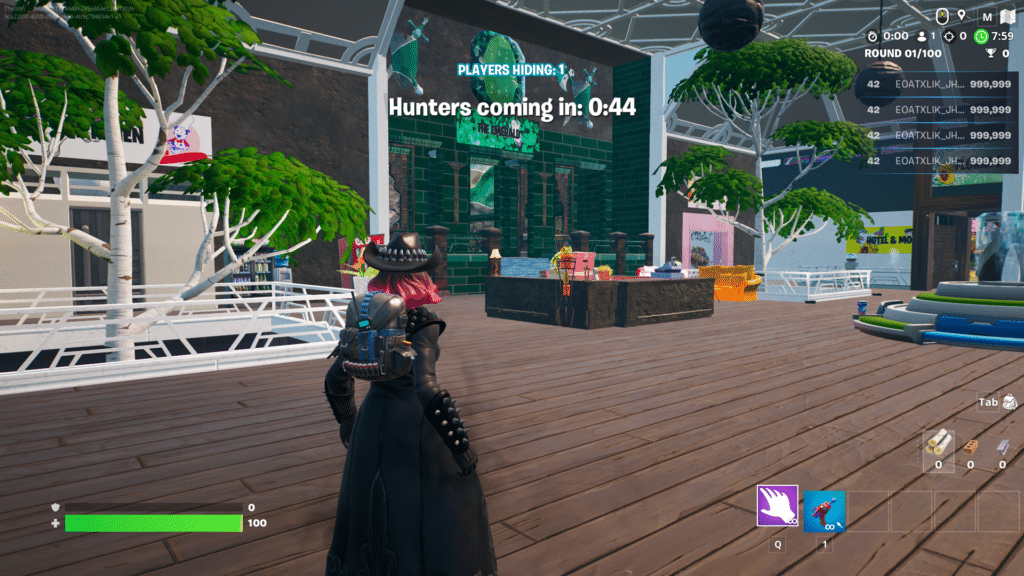 Map Code: 3226-8457-4006
Uni's Hotel Prop Hunt is a diverse map that has a unique tropical theme to it. It's unlike most prop hunt maps in the way that it handles level design. There are multiple themes and structures in this map that you can hide in. Whether you're looking to hide in a stylish house or an old temple – Uni's Hotel Prop Hunt has it all.
As opposed to many other prop hunt maps, Uni's Hotel is diverse in what it offers. If you bring a large amount of friends, you're bound to find fun places to hide in. Even then, if you're not in the mood to play prop hunt, there are things you and your friends can play with around the map. Jump in and enjoy this tropical paradise.
Prop Hunt Mania – The BurgerKing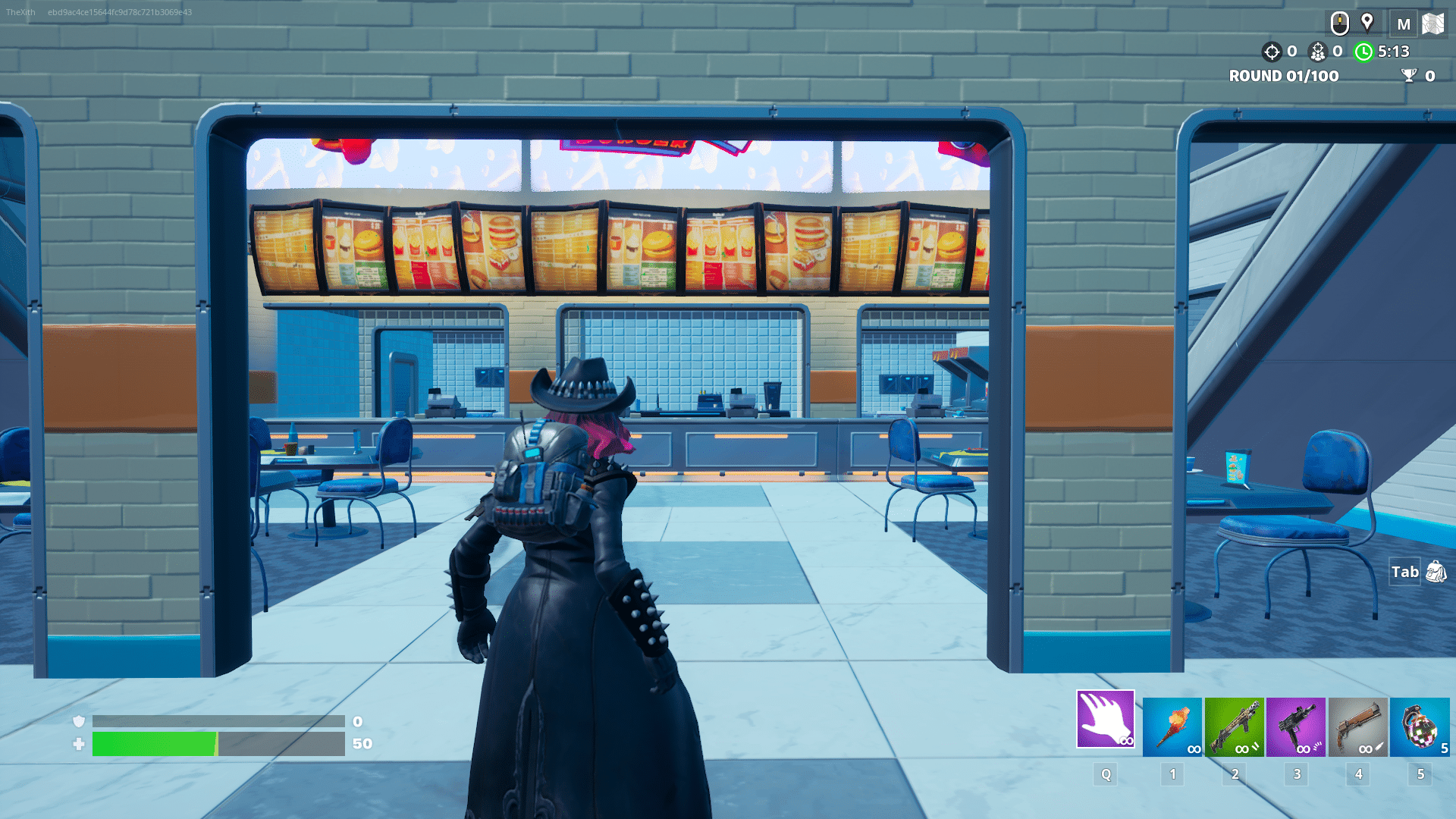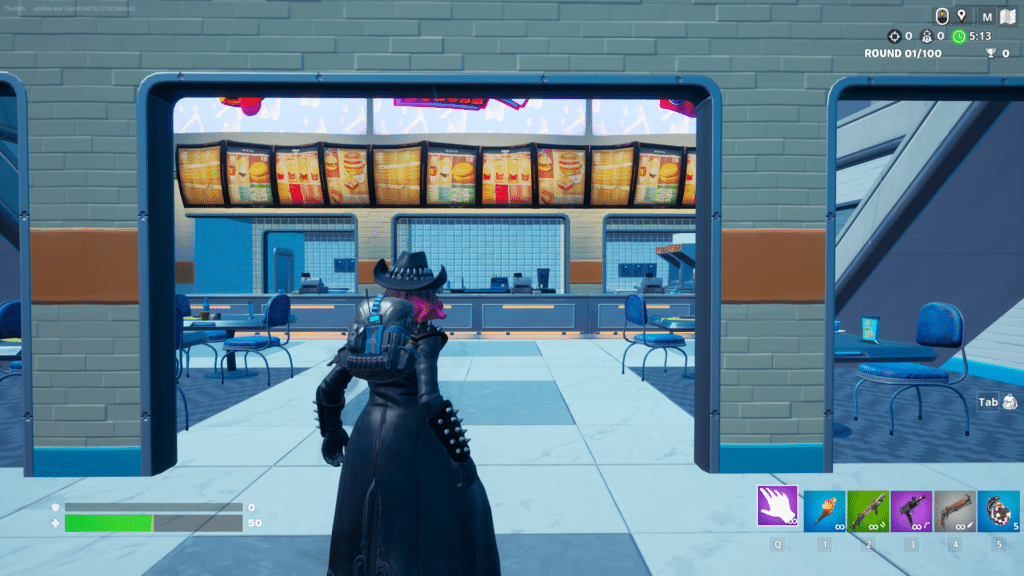 Map Code: 8398-6504-5836
The Burger King skin is one of the most popular skins Fortnite has ever seen. And that's largely due to how cool the skin looks. This map is all about the Burger King and its chain of restaurants. You're put on a map that allows you to hide as props from his restaurant, a key component to what gives this map its unique touch.
You'll get plenty of chances to explore the restaurant. Bring a couple of your friends and get to work. Those patties won't grill themselves. Just watch out for the Burger King. He might be looking to eliminate you.
Medieval Square Prop Hunt
Map Code: 0001-7602-6371
Medieval fantasy is a genre that people love. Medieval Square Prop Hunt does just that. It puts you in a medieval world that has a lot to offer. It's full of medieval props that you can transform into. To add to that, you get to play in a world that looks stunning and cinematic.
Frankly, this map is bigger than most of the maps on this list. You won't really have a lot of time to explore everything. But that only means you won't get bored of the map as quickly. Take this chance to roleplay as a medieval peasant hiding from the local lord.
All in all, these are our picks for the best Fortnite prop hunt map codes. If you're interested in similar map codes, be sure to check out our list of the best Puzzle map codes in Fortnite.