Squid Game is the most popular show that has ever been released on Netflix. It has more than 1.65 billion hours streamed on the platform. So, if you're a Fortnite player and want to bring that action to creative, you're not the only one.
Squid Game Maps are a thing, and you can easily play the games from the show with your friends on Fortnite. With that said, here are the best Fortnite Squid Game map codes to play in 2023.
PWR's Squad Game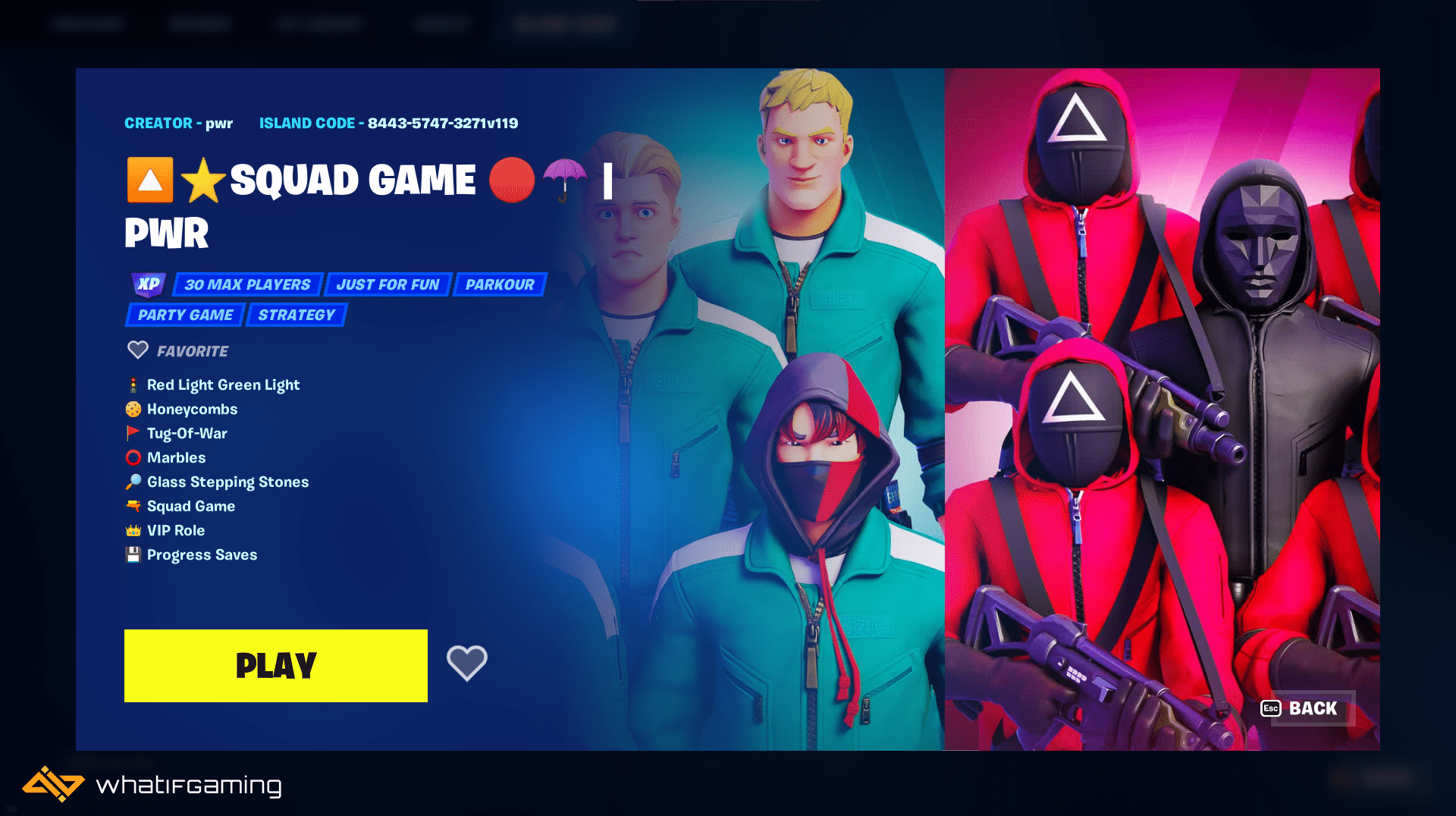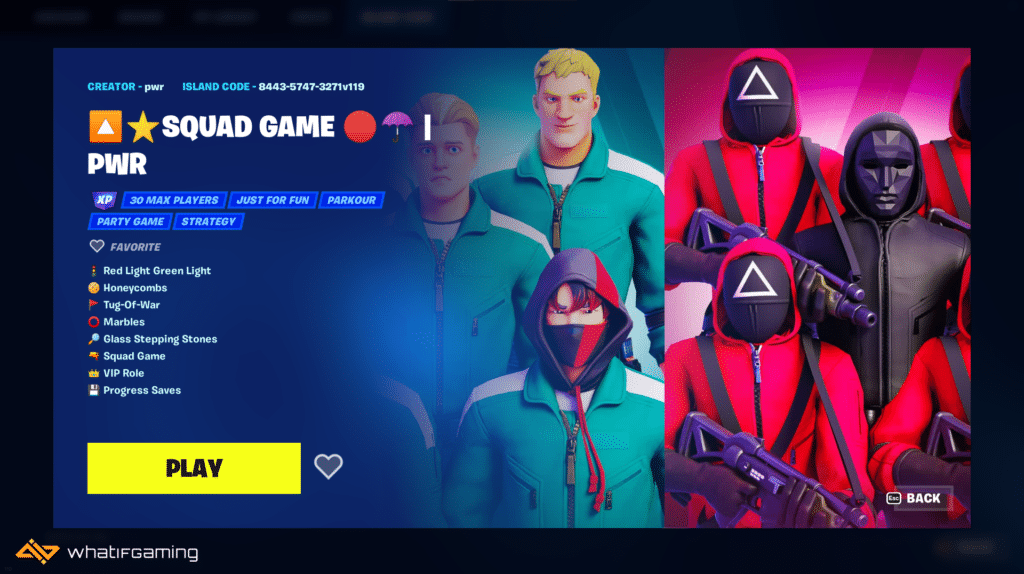 PWR's 'Squad Game' is probably one of the best Fortnite Squid Game map codes in terms of functionality. This map is definitely the map with the biggest player base on this list. It's nowhere as popular as your typical 1v1 map codes, but regardless, finding a match here shouldn't be that difficult.
PWR's Squad Game has all the games from the Squid Game show. Red Light Green Light is simple. There are popups on the screen that makes it a little easier to stop in time. Honeycombs will make you shoot targets placed in the shape of the object you selected.
PWR's previous implementation of the Tug-of-War was a little different. There used to be targets that each team had to shoot. Whichever team was able to shoot it quicker would win. But PWR changed this level to a deathmatch kind of level where players need to use a harpoon gun to pull the other team. This isn't super similar to what we saw in Squid Games, but it's still fun nonetheless.
Overall, it's a pretty neat little replica of Squid Game and probably has the most thought-out levels out of all the maps we mentioned here. Visually, it's definitely the prettiest map.
Vysena's Octo Game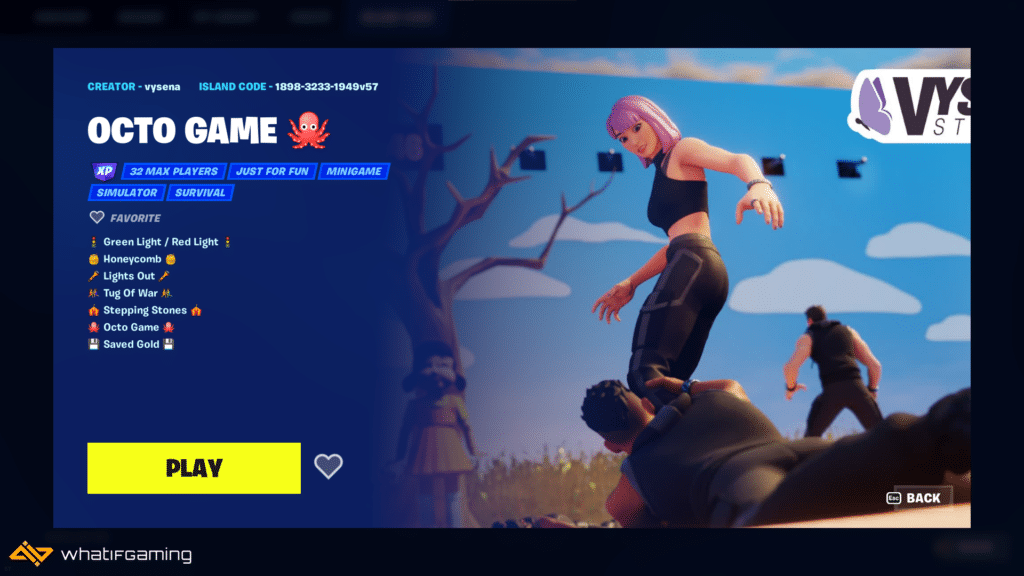 Vysena's Octo Game is another really decent Squid Game map. However, this one stood out for its capability of closely resembling the show. But at the same time, it's not resembling the show. Most games had very similar ideas to implement the games from Squid Games. But, Vysena put their own little twist on each game.
Red Light Green Light is standard. The Honeycomb is a parkour map with a really thin line path that you'll need to follow. This is a fun take on the challenge, as most maps just give you a design to shoot.
Unlike PWR's map, Tug-of-War is an actual Tug-of-War. Bu,t there is no animation response other than players getting teleported a step back when they're spamming 'E' faster. The rest of the games are pretty standard.
Sypher's Squid Game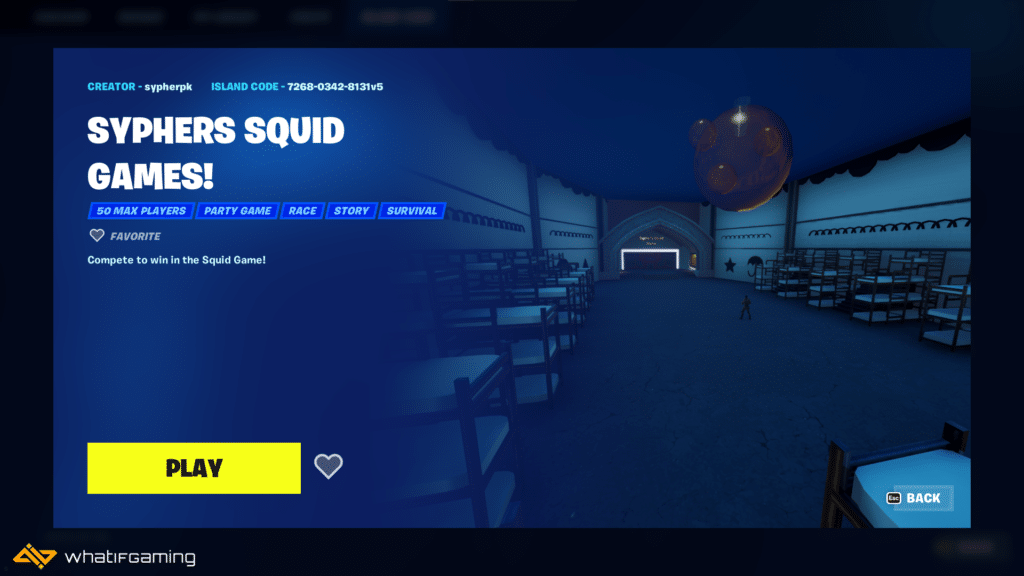 This version of Squid Game was created by none other than the popular Fortnite content creator, SypherPK. This game picked up popularity because of SypherPK's involvement in its development. But, other than that, there really isn't anything too impressive here.
The map only features two games from the show; Red Light Green Lights and the Lights Out fight. Both are pretty standard. But, what helped this game stand out is the fact that you can play as an overseer in this game.
The overseer is responsible for manually triggering the lights in Red Light Green Light. If anyone moves, he has to kill those people with a sniper rifle. In Light Out, the overseer can just turn the lights off. The players have to fight to the death until there is a winner. You could team up against enemies here. But, since this level has to produce one winner, you're better off leaving your teaming for 2v2 map codes.
This isn't really a game with the most attention to detail to make the game close to the show. The overseer mechanism definitely makes it a bit more fun to play with friends.
Crab Game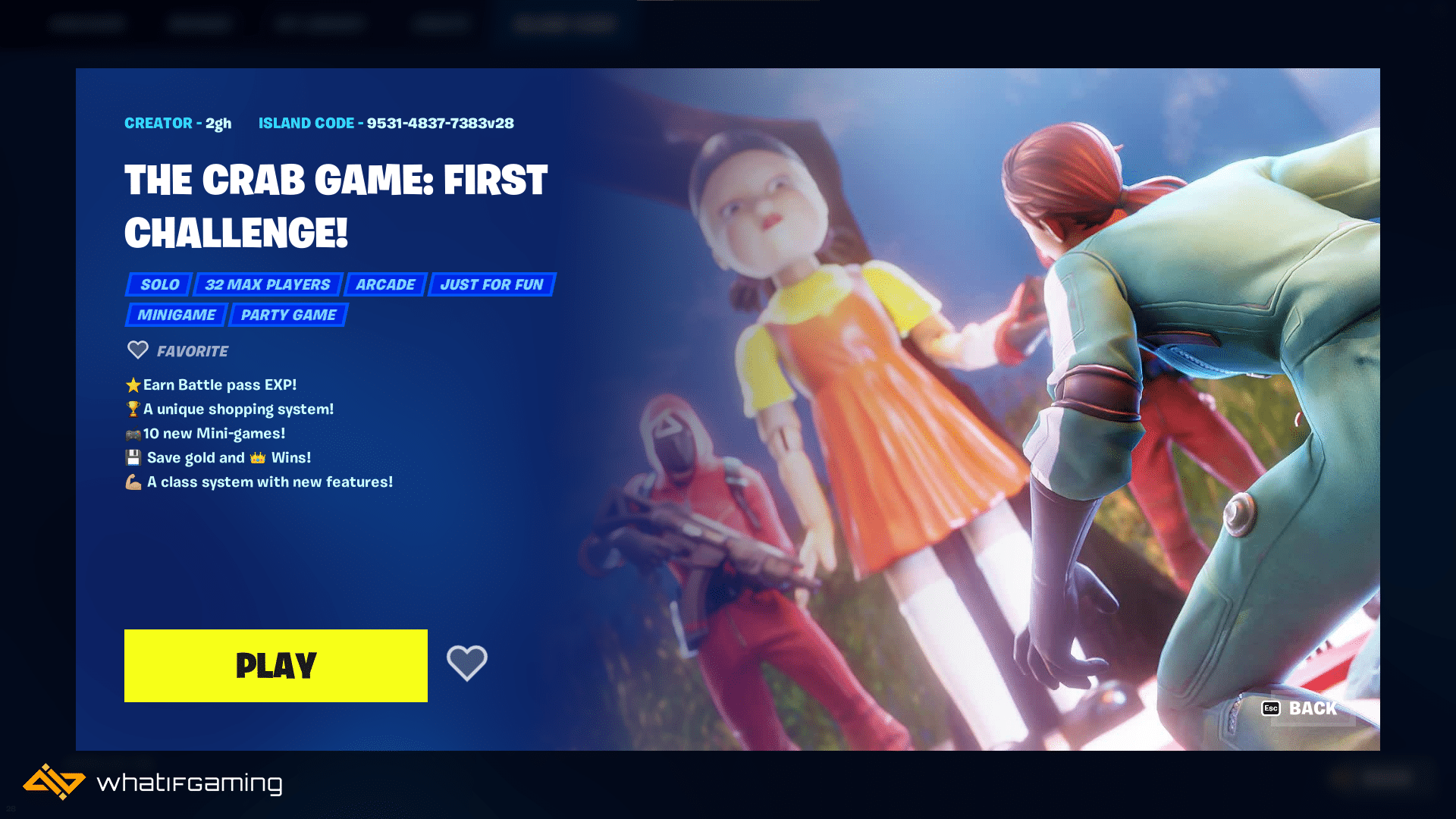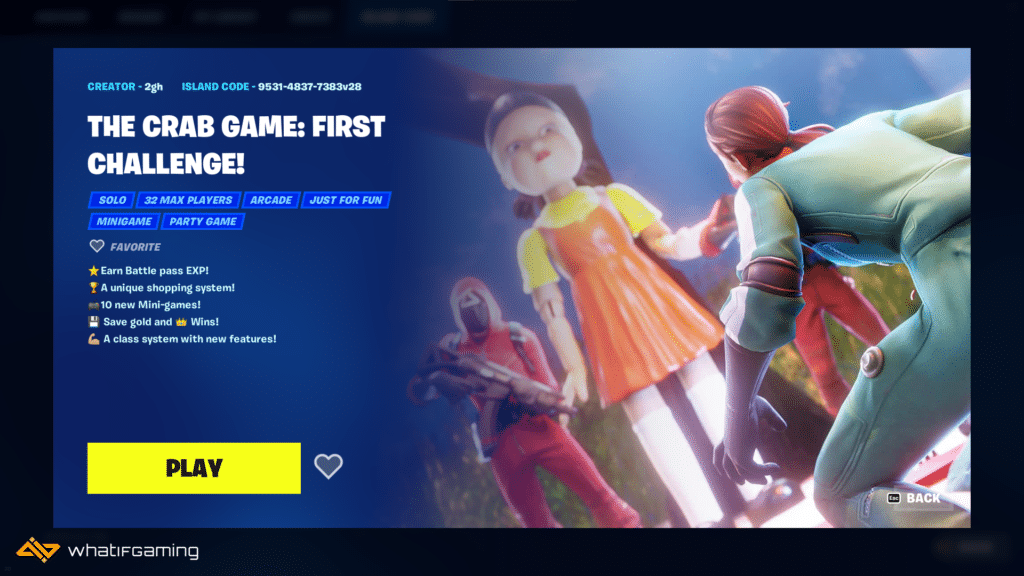 First Challenge – 9531-4837-7383
Second Challenge – 4031-4880-1125
Crab Game, not to be confused with Dani's Crab Game on Steam, is another Squid Game map code that doesn't lack imagination. The game has a bunch of different minigames apart from the regular games from the show.
The game is divided into two challenges, hence the two different map codes mentioned above. The fun part about this game is that if you die in a game, you won't necessarily have to go back into the lobby and find another match.
Overpowered2019's Survival Game
Overpowered2019 is a Fortnite map creator with somewhat of a replica of Squid Game. It doesn't feature as many games as the other maps on this list but it's still worth a mention. The game has Red Light Green Light, Tug-of-War, and Glass Stepping. Functionality-wise, all three games are pretty good.
However, the map is not built in a way to take you through all three games. Instead, it will just let the players choose what kind of game they want to play. Overall, this isn't a bad game, but if you're looking for a closer replica of Squid Game, PWR's game is your best bet.
Closing Thoughts
While there are a ton more decent maps out there, these five are probably the best Fortnite Squid Game map codes ever made. However, it is important to keep in mind that Squid Game has fallen out of popularity in 2023. So, there are not a lot of people that will be playing on these servers. You should expect longer queue times, and there's also a chance that you might not find a game altogether.