Experience octane-infused gaming without worrying about your wallet with our best free VR games of 2023! You've already paid big bucks for your VR headset, there's no need to spend more to utilize it – we're here for that!
It's time to jet off into a virtual cosmos, brimming with excitement, realism, adventure, and plain unadulterated FUN! Ready to get your mind boggled for exactly $0.00? Let's jump right in!
Rec Room
Release date: June 1, 2016
VR Platforms: Meta Quest / 2, PSVR, Steam VR
Rec Room is a free VR game that puts the community (that's you!) at the forefront. It offers a dizzying array of activities and user-generated rooms to explore, making it one of the best VR games in terms of replayability.
Some game modes that you can find in these rooms include Haunted Manor, Laser Tag, Paintball, and Rock Climbing. That said, just like Minecraft, the game offers all the tools and features to devise a room of your imagination. Want to create a game of your own? Round up some friends; that's entirely possible with Rec Room. Want to meet new people from around the world? Rec Room offers that too in a fun and stimulating environment.
Propagation VR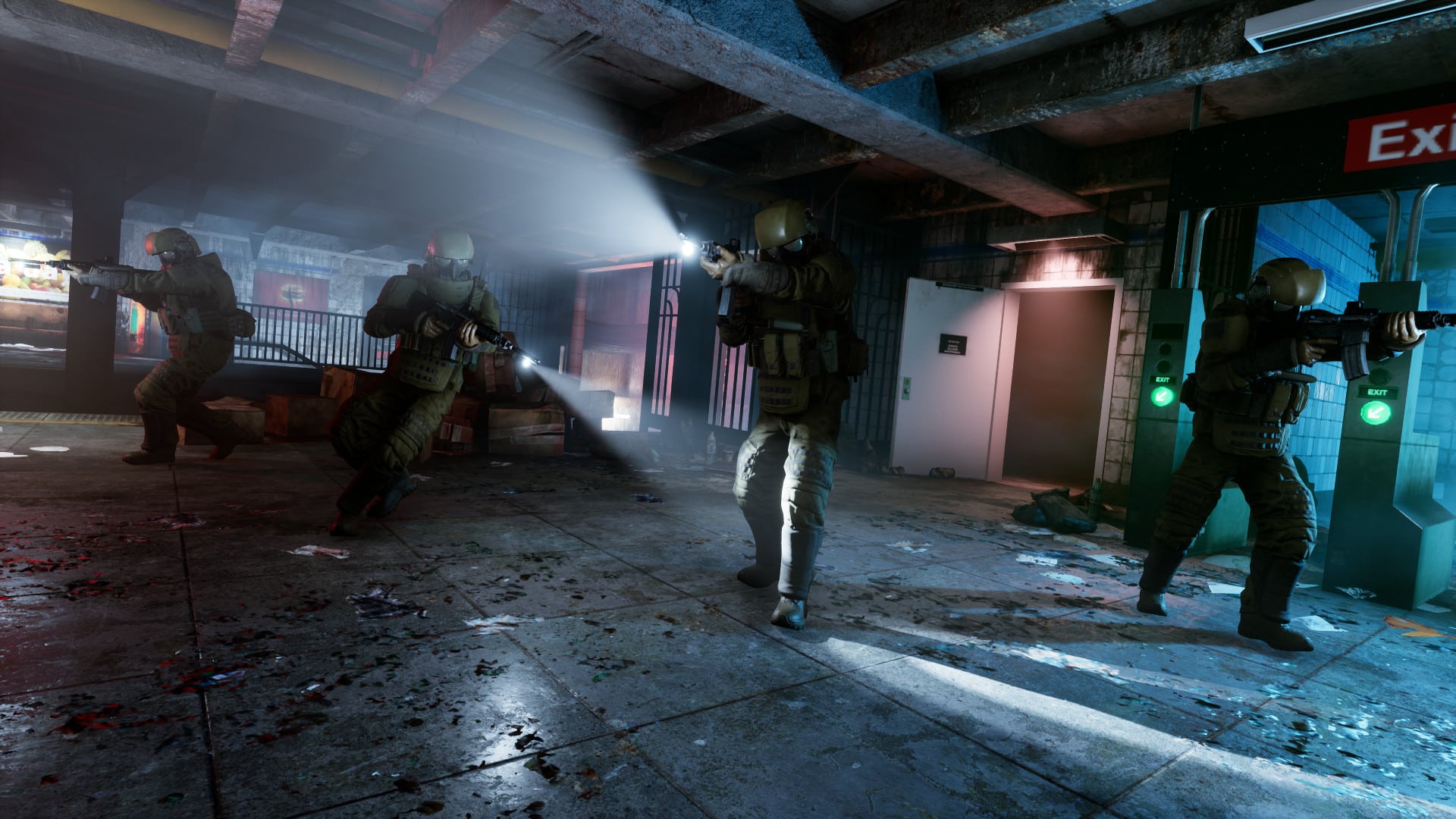 Release date: September 25, 2020
VR Platforms: Steam VR, Meta Quest / 2
Do you love adrenaline-filled situations where the line between thrill and horror feels bleak? Propagation VR sets you right in the middle of an active zombie apocalypse. Fight, or die struggling, it's all up to you!
Whether it's the realistic handling of weapons, or the underlying tension in the dark and gloomy environment, or just the simple fact that any misstep will be your last, Propagation VR knows how to do VR right.
If you enjoy ending your gaming sessions with a pulse of 150, then Propagation VR is the one for you, just don't accidentally injure someone in real world, alright?
Digital Combat Simulator World VR
Release date: March 18, 2018
VR Platforms: Steam VR, Meta Quest / 2
If you're a fan of flight simulators, Digital Combat Simulator World VR is a must-try.
Digital Combat Simulator World VR is a military flight combat simulator that lets you experience what it's like to pilot some of the most advanced aircraft in the world. The game features a vast free map that allows you to explore the regions of the Black Sea and the Mariana Islands.
Besides soaring up in the air with a military aircraft, you can also handle tanks, ground vehicles and ships at your disposal. Just be warned, the controls can be pretty complex and take some getting used to. But if you're willing to embark on a challenging learning curve, you'll spend countless hours playing this game.
The Lab
Release date: April 5, 2016
VR Platforms: Steam VR, PSVR
The Lab is a set of eight mini-games that Valve created to demonstrate the expansive potential of virtual reality.
You enter a pocket universe called Aperature Science, where you can play fetch with a robot dog, see outer space up close, or perform a highly-detailed medical scan on a human body, among other things. Everything is up to you!
The games are short but sweet, and while they may not be the most fleshed-out VR experiences around, they're a fun way to spend an afternoon. These games are also especially good in a room-scale environment, so be sure to take full advantage of that if you can.
VRChat
Release date: February 1, 2017
VR Platforms: Steam VR, Meta Quest / 2
Rather than being an experience designed for your enjoyment, in VRChat, the player base is the source of entertainment.
This free VR title is an online social platform where users can create and upload their own 3D avatars to show up as. You can take up virtually any avatar you want; from a black-haired anime girl to a character as silly as Sonic the Hedgehog. The rooms and experiences are all a product of the community's imagination too, making for some hyper-personalized environments.
The possibilities are endless with VRChat, as each room will be filled with different players and community-built games for everyone's enjoyment. Capture the Flag, Battle Discs, Bowling are some games, to name a few, that you can play at your leisure in this title, all for free.
PokerStars VR
Release date: November 8, 2018
VR Platforms: Steam VR, Meta Quest / 2
Are you a fan of Texas Hold'em and casual poker games? Then you'll love PokerStars VR.
This free-to-play game lets you experience what it's like to play at a casino table, without any of the risks that come with gambling. You can play and chat with other players from all over the world in a variety of settings, including a Galaxy Space Station and Macau at night.
And unlike your typical online poker setup, you have an array of props (guns, balloons, and cards to name a few) and chips you can interact with in real-time. This makes the game all the more immersive.
If you're feeling competitive or lucky, you can also enter the high-stakes PokerStars Arena to test your wits against other players. For some authentic poker action, PokerStars VR is well-suited for your needs.
War Thunder
Release date: December 21, 2016
VR Platforms: Steam VR, PSVR
War Thunder takes the title as one of the most realistic military simulators in the VR space, and rightfully so. With a vast catalog of aircrafts, tanks, and ships that have been carefully recreated to perfection, you'll be hard-pressed not to find some level of enjoyment in this title.
Whether you're engaged in aerial dogfights or large-scale ground battles, the level of immersion you'll experience in War Thunder is unrivaled. While the game's virtual reality features are secondary to its primary keyboard-and-mouse game mode, it's still a blast to play in VR. For a free-to-play title, this game is a total catch.
Dagon: by H. P. Lovecraft
Release date: September 24, 2021
VR Platforms: Steam VR
Dagon: by H. P. Lovecraft is a Lovecraft-inspired work of fiction that puts you in the role of a hapless sailor who washes up on the shores of an atmospheric Eldritch island. A horror game at heart, Dagon is a fully-fleshed narrative experience that stays faithful to the original story made by the author.
While the game is only 30 minutes long, the feelings you'll take with you long after you've played the game will stay. For fans of the weird, wacky, and horrifying, you'll feel right at home with this highly-acclaimed VR horror title.
SCP: Labrat
Release date: May 18, 2021
VR Platforms: Steam VR
SCP: Labrat is an oppressive horror game where you play as a prisoner trapped in an underground facility. If you wish to escape, you'll have to make use of strange objects and valuable resources around this eerie facility.
This first-person game pays homage to the 2012 title, SCP – Containment Breach made in 2012. SCP: Labrat improves and adds new environments, items, and an original story that fits well in the virtual reality space.
Be warned, this game can be terrifying at times—especially if you're not used to horror games. But if you think you can handle it, the world in this game is worth exploring.
Echo VR
Release date: November 15, 2018
VR Platforms: Meta Quest / 2
Available exclusively on the Oculus platforms, Echo VR is a free multiplayer VR game where you have to score goals in a team-based, zero-gravity environment.
It's an exhilarating, heart-pumping experience that provides a fun experience for people who are diehard fans of team-based sports like soccer. But even if you're not the biggest sports fan out there, there are more than enough features in the game to provide you with some no-holds-barred entertainment. This is especially true if you can play VR multiplayer games with a group of friends.
On top of it being a hit among buddies, Echo VR also hosts online tournaments where you can compete against people from around the world. If you enjoy working up a sweat in VR, Echo VR is one title you must pick up.
Spider-Man: Far From Home VR
Release date: June 25, 2019
VR Platforms: PSVR, HTC Vive, Oculus Rift
Based on the movie of the same name, Spider-Man: Far From Home VR puts you in the shoes of the wall-crawling superhero. Climb, scale, and stick the landing as you take on the role of the friendly neighborhood Spider-Man.
This title does a great job of making you feel like a superhero with its smooth mechanics and thrilling landscape. Just like in the movie, you'll be swinging past skyscrapers in New York City, and it's an absolute blast.
Even if you're not the biggest fan of the Spider-Man franchise, this free VR game is worth a download into your system. It's not long by any means, but it makes for some amusing entertainment, especially if your finger is on the pulse of the Spiderman universe.
Republique VR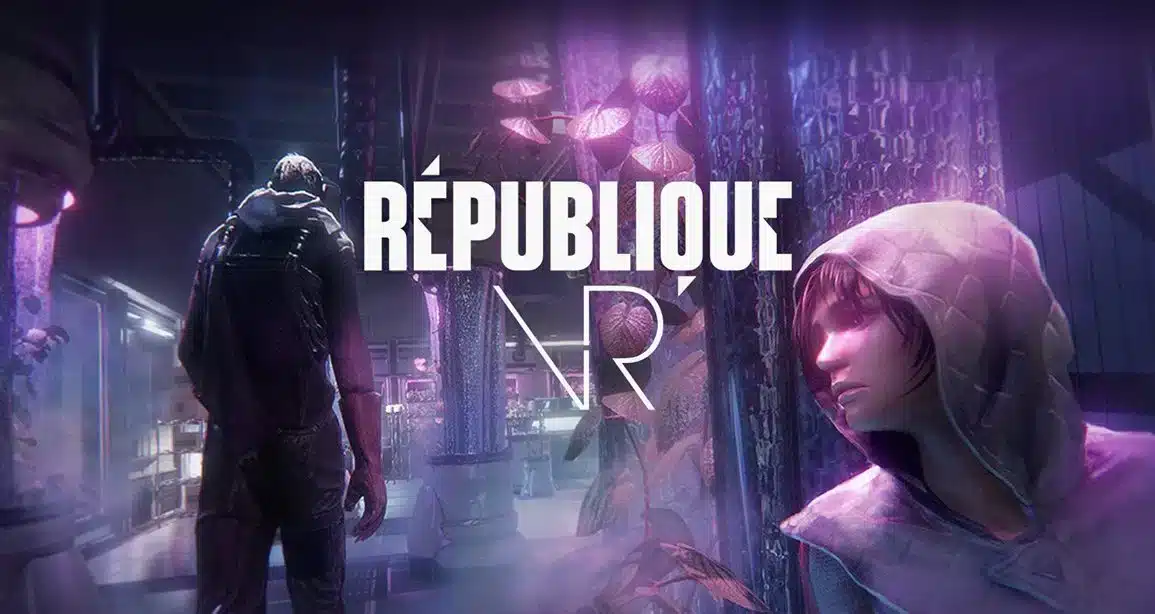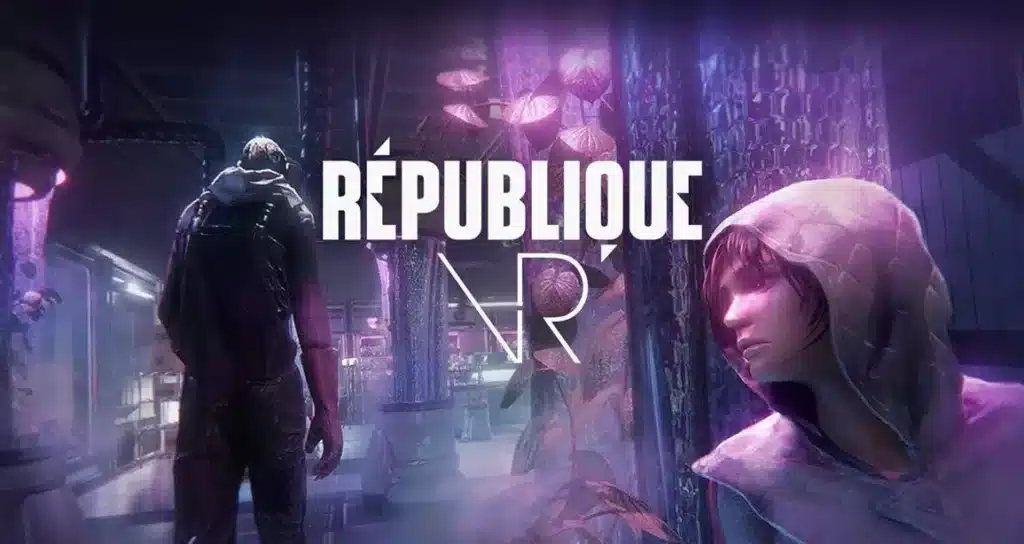 Release date: April 19, 2018
VR Platforms: Steam VR
It's time to live your wildest dreams as you face the perils of government surveillance in the internet age. Seek guidance from a woman called Hope, and navigate the perils of the modern society in this 5-episode thriller.
From incredible voiceovers to the joint effort from the developers of Metal Gear Solid, Halo, and F.E.A.R, this game has it all!
Explore the story, seek the truth, and try to survive, as the weight of this world bores down on you. Adding the VR element is just a cherry on top, the 'free' doesn't get more valuable than this!
Surgeon Simulator VR: Meet The Medic
Release date: April 5, 2016
VR Platforms: Steam VR
Have you ever wanted to see what it's like to perform on the surgeon's table, without all the stress that comes with it? If so, Surgeon Simulator VR: Meet The Medic is a game you must try out.
In this free VR medical game, you play as the Medic in Team Fortress 2. You're in charge of performing life-saving surgery on the largest combatant class in the game, the Heavy.
The fun thing about the game is that it doesn't fail to be goofy at times. Your table isn't only filled with medical tools, it also carries the most ridiculous things—an axe, a sandwich, and a baseball bat to name a few.
This game shines in its absurdity, and is a fun way to pass the time no matter where you go with your procedure.
Adventure Climb VR
Release date: April 16, 2019
VR Platforms: Steam VR
Adventure Climb VR is a room-scale VR game made by veteran mountain climbers that can make you work up a sweat.
In this title, you'll need to use your entire body to scale a rock wall—some with heights so high you'll feel dizzy! The best part is, you can scale walls of varying difficulties, so you can always find a challenge that's suitable for your skill level.
With beautiful graphics and an immersive gameplay experience, Adventure Climb VR is a physically-demanding game that's a whole lot of fun. The first five levels are free, however, you'll have to pay more to play the next batch of levels. Regardless, it's a fun way to get some cardio in without spending a dime.
Epic Roller Coasters
Release date: March 7, 2018
VR Platforms: Steam VR
If you want to take a backseat and enjoy a game more passively, Epic Roller Coasters is a free rollercoaster simulator that may be up your alley.
This game puts you on a rollercoaster, as the name would suggest, but it's not your average VR coaster experience. Instead of your standard rollercoaster track, you'll be riding through some falling rocks and jumping off platforms—something that clearly won't fly in real-life coasters.
One drawback about this game is that many of the tracks are locked behind a DLC. However, the main one that's available for free is already a delight to ride on its own. If you're looking to test your fear and ride a rollercoaster, this game is definitely worth a shot.