The playable 5-star character Ganyu first appeared in Genshin Impact during the Teyvat Chapter Storyline Chapter 1, Act 2: Farewell the Archaic Lord. She holds a Cryo Vision and fights with a bow. Graceful and adorably awkward, Ganyu is a half-qilin Adeptus with sky-blue hair.

Thanks to the double event wish feature, she's currently available in Genshin Impact 2.4's 2nd phase. Players can wish for her until February 15, 2022. Continue reading to learn about her playstyle, talents, weapons, and artifacts. This Ganyu build will teach you how to build the Secretary of the Liyue Qixing.
Breakdown of Talents and Playstyles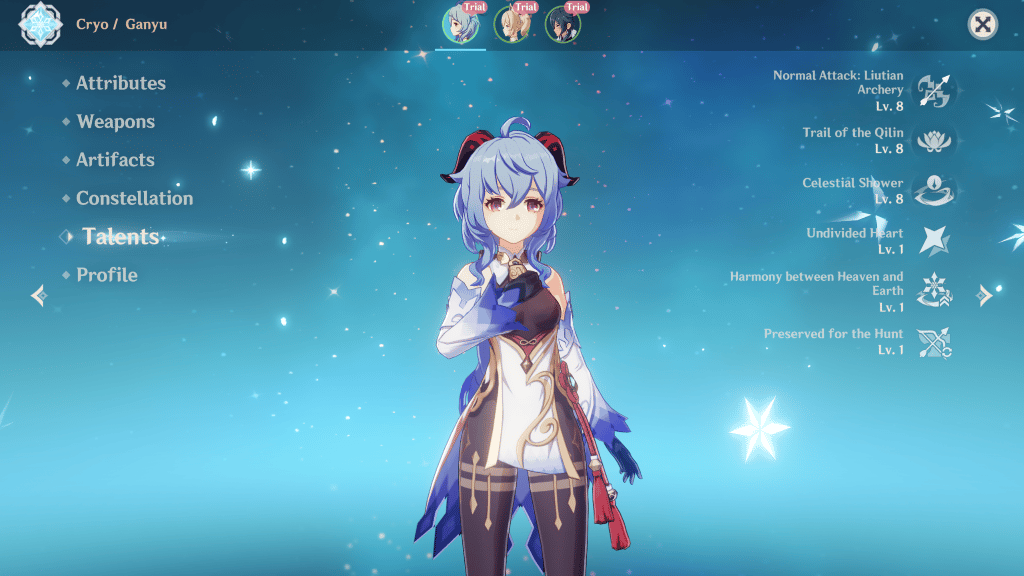 Considered one of or even the most powerful DPS in the game, Ganyu is a force to be reckoned with. She is typically played as a DPS focusing on either Melting or Freezing team compositions.
If you're interested in learning about these two builds in detail, you can check out Genshin.gg's complete Ganyu guide. The blue-haired Adeptus can also be played as a sub-DPS or Cryo support. However, she's mainly played as the main DPS in most parties.
The first thing we need to talk about is her talents. Unlike many characters in Genshin, where Normal Attacks are overlooked and not levelled up as high as other talents, Ganyu's Normal Attack: Liutian Archery begs to differ. Her Normal Attack has insane DMG scaling, especially when charged.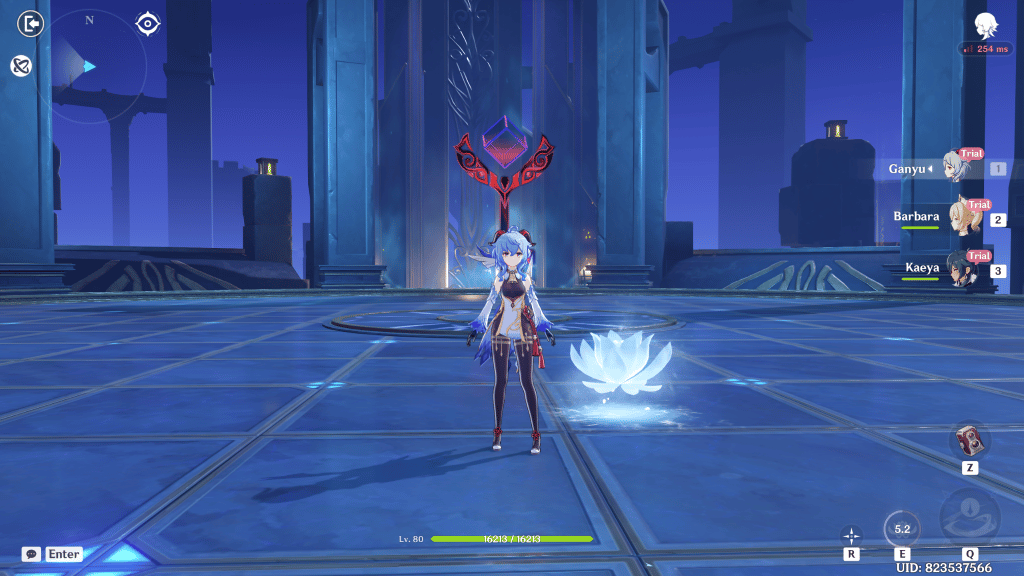 Her Charged Shot has a Level 1 and 2, with the latter dealing more damage after impact. When Ganyu charges her Charged Attack to Level 2, referred to as a Frostflake Arrow, she deals AoE Cryo DMG in a small area.
Next, Ganyu's Elemental Skill, Trail of the Qilin, summons a single Ice Lotus on the battlefield that deals AoE Cryo DMG and taunts enemies in the surrounding area. Once activated, Ganyu dashes backwards, leaving behind an icy trail. The Ice Lotus deals another burst of AoE Cryo DMG when it expires or is destroyed.
Lastly, the Secretary of Liyue Qixing's Elemental Burst, Celestial Shower, has a pretty cinematic when activated. Similar to the meteor Zhongli summons for his Burst, Ganyu summons a Sacred Cryo Pearl that continuously deals AoE Cryo DMG through shards of ice. Generally, the Sacred Cryo Pearl summons around 50 icicles for 15 seconds. The ability costs 60 Energy.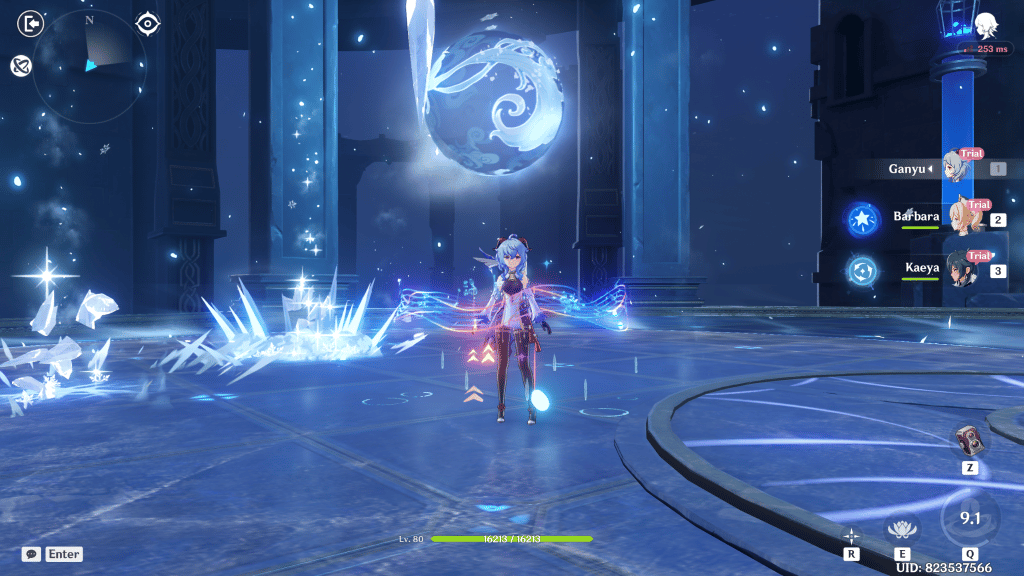 The optimal rotation for a Ganyu team composition typically goes like this:
Use your supports and activate their buffs and skills.
Swap to Ganyu and activate her Elemental Skill (E).
Move away from enemies, attack, and gather Energy.
Use Elemental Burst (Q) when it is up.
Spam Charged Attacks to opponents.
In a Freeze Team, you'll rely on dealing DMG through Elemental Reactions. Here, Ganyu permanently or temporarily freezes enemies with the help of Anemo units like Kazuha and Venti and Hydro units like Mona. On the other hand, a Melt Team is comprised of Pyro supports like Xiangling and Bennet, who applies Pyro to opponents quickly. Then, Ganyu's Charged Shots will Melt or Reverse Melt the opponents.
Weapons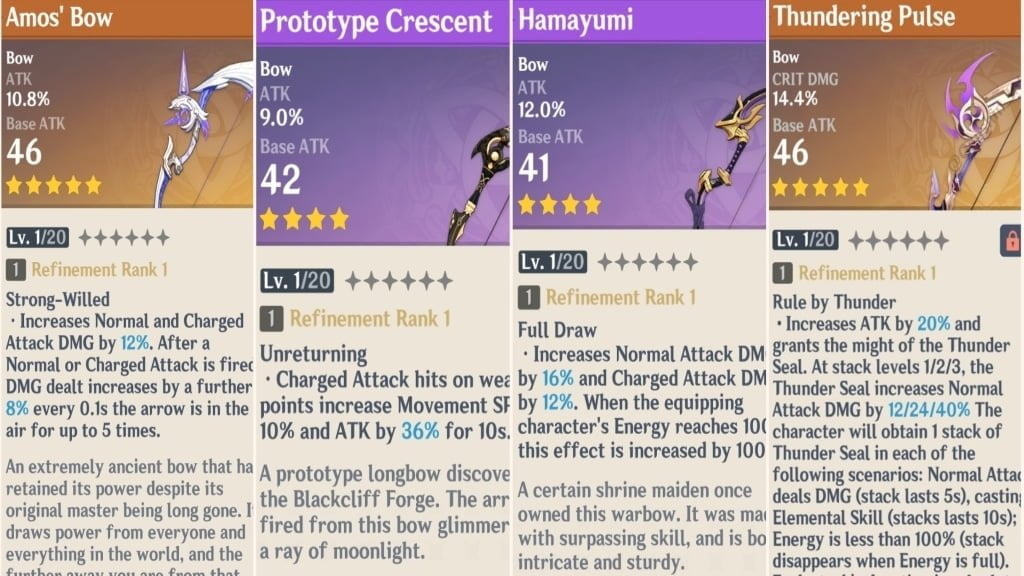 Ganyu is a 5-star character that can use a range of bows- 5-star and 4-star alike. For a Melt Team, the best weapon slot for Ganyu is the 5-star Amos' Bow for it increases Normal and Charged Attack DMG. Alternatively, the 4-star Prototype Crescent is also great on her for it increases her ATK%. Lastly, the 4-star Hamayumi is also ideal for it also increases the user's Normal and Charged Attack DMG.
In a Freeze Team, the 5-star Amos' Bow also works well in the team synergy. However, the 5-star Thundering Pulse and Polar Star are great alternatives. Again, the 4-star Prototype Crescent works great in a Ganyu Freeze Team.
Artifacts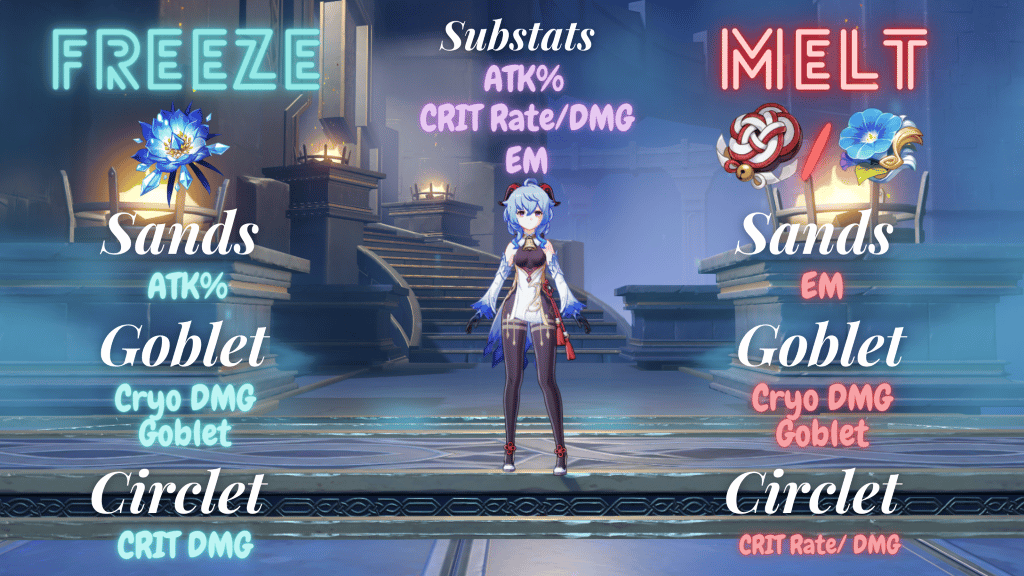 According to well-known Genshin players like Zy0x, TenTen, and Xlice, these are, by far, the best and most optimal artifact sets to build on Ganyu.
Moving on to the last portion of this Ganyu build, let's discuss the different artifact sets you can build on her depending on her role in the team. In a Ganyu Freeze Team, where she's paired with Hydro and Anemo supports, you can build a 4-piece Blizzard Strayer on her. A 2-piece set increases Cryo DMG by 15%, while a 4-piece set increases the user's CRIT Rate when they attack enemies affected by Cryo or are frozen.
Here, get an ATK% Sands, a Cryo DMG Bonus Goblet, and a CRIT DMG on a Circlet.
However, if you're running Ganyu in a Melt Team, you can go for a few different artifact sets. You can go either for a 4-piece Wanderer's Troupe or a 4-piece Shimenawa's Reminiscence. A 2-piece Wanderer's Troupe increases Elemental Mastery by 80, while a 4-piece increases the bearer's Charged Attack DMG by 35%.
On the other hand, a 2-piece Shimenawa increases her ATK by 18%, while the 4-piece set makes her lose 15 Energy whenever she uses her Elemental Skill. The good news is that, for a Melt Team, Ganyu won't be casting her Elemental Skill that much. For a Melt Team, it's recommended that Ganyu has around 200 or more Elemental Mastery.
Here, get an Elemental Mastery Sands, a Cryo DMG Bonus Goblet, and a CRIT Rate/DMG Circlet.
Substats:
Conclusion
If you were lucky and brought home the DPS Queen without emptying your savings account, use this guide to build your new 5-star character. If you're still pulling for Ganyu, we wish you all the best and hope you bring her home early or win your 50/50! See you next time, Travellers!