Genshin Impact is a fun game that took the world by storm when it came out. Due to the addicting nature of gacha games, Genshin Impact has built a community of players that cannot stop playing the game. If you are tired of roaming around the massive map alone, it's time to join a Discord server and find like-minded players to join your party.
Playing in a team can make the game easier and earn you more rewards as well. If you are stuck on a boss or want to farm materials, make sure that you call a high-level player to help you out. With that said, let's dive right in and take a look at the best Genshin Impact Discord servers.
Genshin Impact Community Discord Servers
There are tons of servers that have many players willing to play with you. However, since the game is extremely popular, most of the servers are – let's just say – not really worth it. Since it can take a lot of trial and error to find the ideal server, we've gone ahead and listed down the 5 best ones just for you.
Genshin Impact Official Discord
Starting with the official Discord server of the game, you can find a lot of active players that are ready to talk about the game or play it all the time. This server is almost always completely full so you'll have no issues finding players.
However, since the capacity is 800,000, it is always full. You'll have to wait to enter it, which can take a long time in some cases. Worry not because we've listed some unofficial servers below that are just as good!
Invite Link: https://discord.com/invite/genshinimpact
‧₊˚↷Blush↶‧₊˚ | Anime ∘ Social ∘ Gaming ∘ Emotes ∘ Genshin Impact
From talking about anime, gaming, various other social stuff, and most importantly Genshin Impact, this server has it all. You can find tons of people with whom you will have a fun time interacting. Plus, the moderators are quite nice so you can always report any issue to them.
As of right now, the server has over 100,000, making it one of the largest unofficial Genshin Impact servers. Plus, out of all those people, there are tons of active users as well. So, you'll have a fun time being a part of this group.
Invite Link: https://discord.com/invite/6cNa84peRy
Eula Mains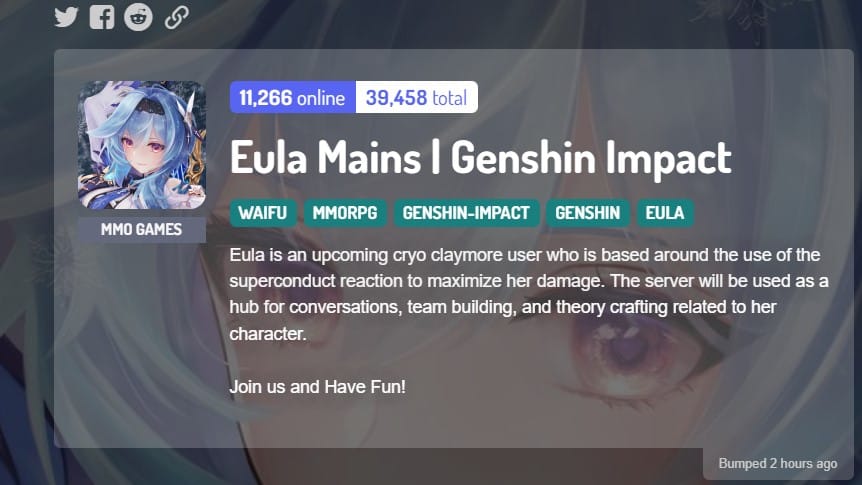 Hosting almost 40,000 members, this Discord server primarily focuses on PvE content. If you are new to the game, the community here is extremely helpful. I've had people explain things about the game that I didn't know before. Plus, you can find a party that will help you farm materials faster and easier.
On the other hand, if you prefer PvP content, you can even find people that are willing to help you learn about it here. There are a lot of Genshin veterans on this server so you are guaranteed to find one that will teach you about the game.
Invite Link: https://discord.com/invite/Fs2D4SS5NK
Genshin Impacters | Friendly Genshin Community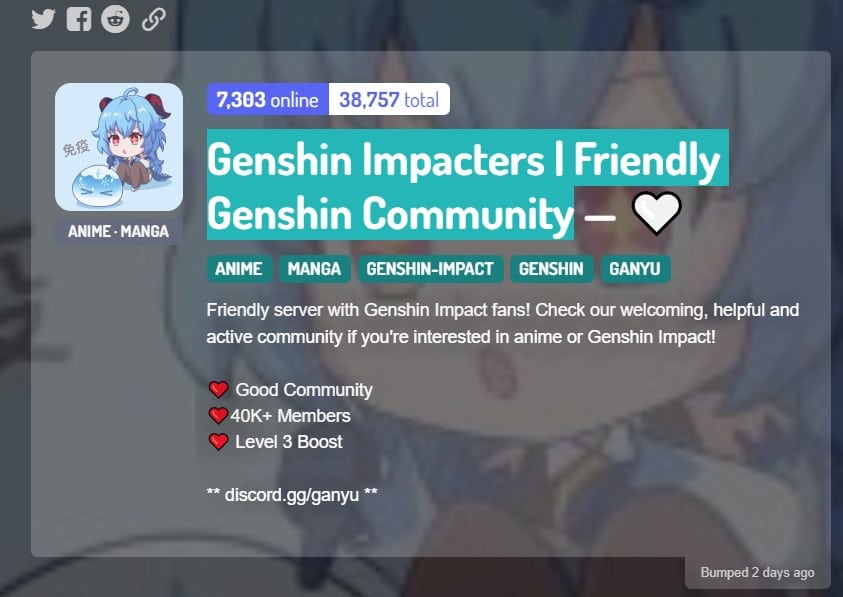 This is one of the most wholesome communities that I have seen in a long time. If you are new to the game, there is no better place than here. It's like almost every person on this server woke up and decided to be the friendliest person alive. Obviously, there are a few not-so-nice people here but you can always contact a moderator for that. Overall, this community is extremely helpful and will tell you about the mechanics of the game and any working codes for Primogems.
Invite Link: https://discord.com/invite/kH3uKz2
Genshin Impact Unofficial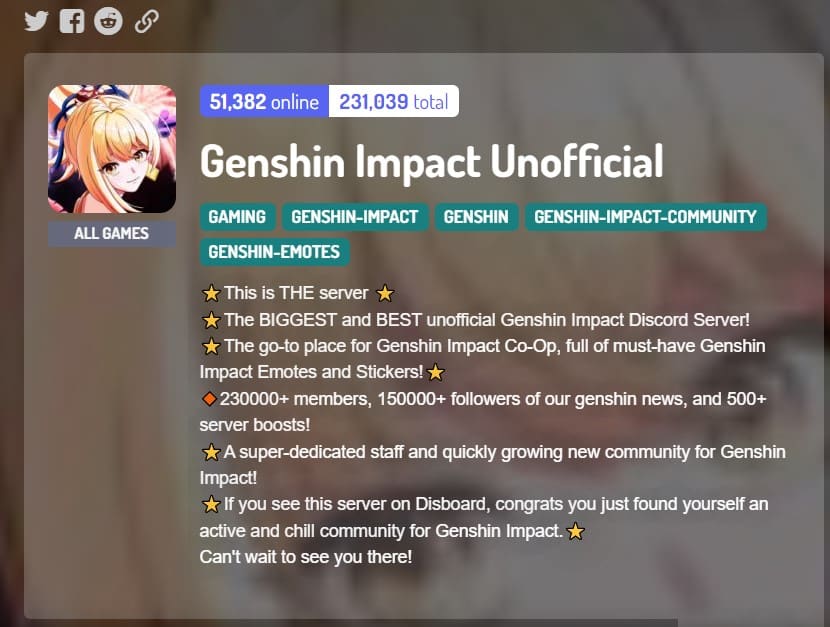 Since the official Genshin Impact Discord server is always full, the community created an unofficial one. While the members are quite fewer than the official, it is still one of the best alternatives to it. This is a dedicated server that has a helpful community. Plus, regardless of what time you want to play the game, there are always active members willing to play with you.
On top of that, there are many players that are extremely knowledgeable about the game so they can teach you new things or explain how the mechanics of the game works. If you are looking for a server that focuses on everything about Genshin Impact, then this is the place where you want to be!
Invite Link: https://discord.com/invite/g5zGSvr7jC
---
There you have it, those are some of the best Genshin Impact Discord servers in 2022. If you know of any other server, we would love to know about it as well! Let us know in the comments below which server you think is the best and did you find a good party there?
Alternatively, if you are a Roblox player, you can check out our best Roblox Discord server guide as well to find the best one for yourself.