Genshin Impact has taken the world by storm. It's quickly risen to become one of the most popular games on the planet – thanks in no small part to the massive community that has emerged around it. This top 10 best Genshin Impact Discord servers list aims to show you where to seek that community out.
It's hard to say that there's a definitive best Genshin Impact Discord server. All of them offer something unique in their own way. Still, here are the 10 that we think are a cut above the rest.
Genshin Impact Official Discord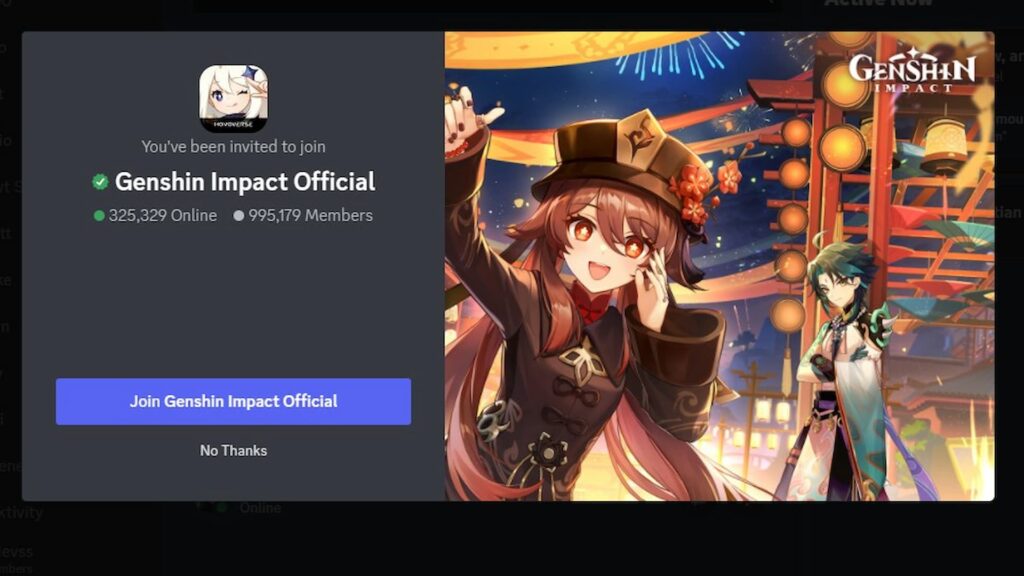 Starting with the official Discord server of the game, you can find a lot of active players that are ready to talk about the game or play it all the time. This server is almost always completely full so you'll have no issues finding players.
However, since the capacity is 999,999, it is always full. You'll have to wait to enter it, which can take a long time in some cases. Worry not because we've listed some unofficial servers below that are just as good!
Invite Link: https://discord.com/invite/genshinimpact
‧₊˚↷Blush↶‧₊˚ | Anime ∘ Social ∘ Gaming ∘ Emotes ∘ Genshin Impact
From talking about anime, gaming, various other social stuff, and most importantly Genshin Impact, this server has it all. You can find tons of people with whom you will have a fun time interacting. Plus, the moderators are quite nice so you can always report any issue to them.
As of right now, the server has around 100,000 members, making it one of the largest unofficial Genshin Impact servers. Plus, out of all those people, there are tons of active users as well. So, you'll have a fun time being a part of this group.
Invite Link: https://discord.com/invite/6cNa84peRy
Semeru Akademiya
Semerus Akademiya is about as straightforward as a Genshin Impact Discord server will get. It's got just over 50,000 users – all dedicated to Genshin.
The server regularly sees exclusive Genshin leaks and has a ludicrously active player base. No matter what time or day, or night it is, there's going to be someone online to help you with whatever it is you're stuck on. Guides and coop help are bread and butter to Semeru Akademiya, so if Genshin is the first and last line of what you care about in a Discord server, this is the one for you.
Invite Link: https://discord.com/invite/kYWkHtskff
Genshin Impacters | Friendly Genshin Community
This is one of the most wholesome communities that I have seen in a long time. If you are new to the game, there is no better place than here. It's like almost every person on this server woke up and decided to be the friendliest person alive. Obviously, there are a few not-so-nice people here but you can always contact a moderator for that. Overall, this community is extremely helpful and will tell you about the mechanics of the game and any working codes for Primogems.
Invite Link: https://discord.com/invite/kH3uKz2
Genshin Impact Unofficial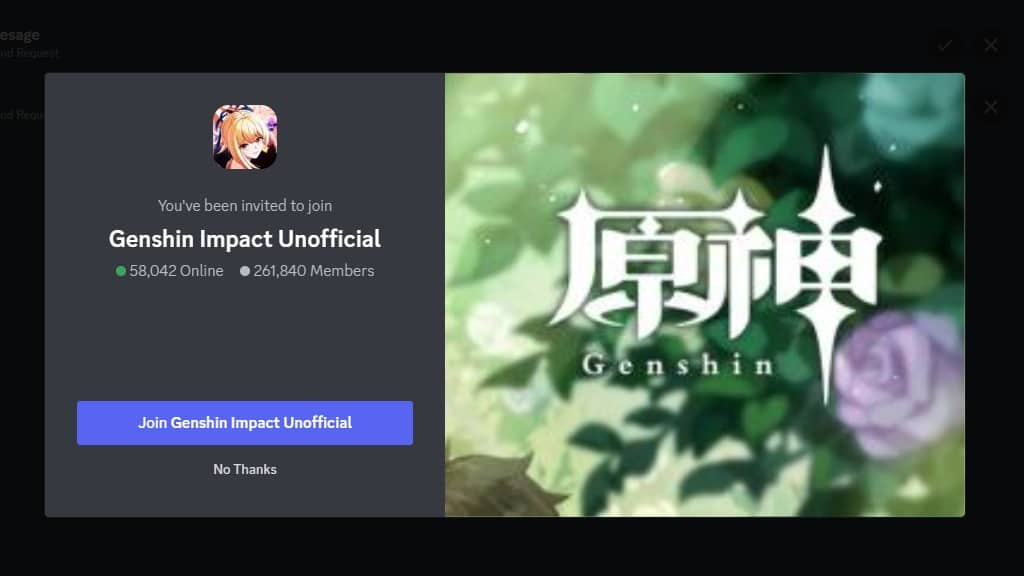 Since the official Genshin Impact Discord server is always full, the community created an unofficial one. While the members are quite fewer than the official, it is still one of the best alternatives to it. This is a dedicated server that has a helpful community. Plus, regardless of what time you want to play the game, there are always active members willing to play with you.
On top of that, there are many players that are extremely knowledgeable about the game so they can teach you new things or explain how the mechanics of the game works. If you are looking for a server that focuses on everything about Genshin Impact, then this is the place where you want to be!
Invite Link: https://discord.com/invite/g5zGSvr7jC
Paradise Isle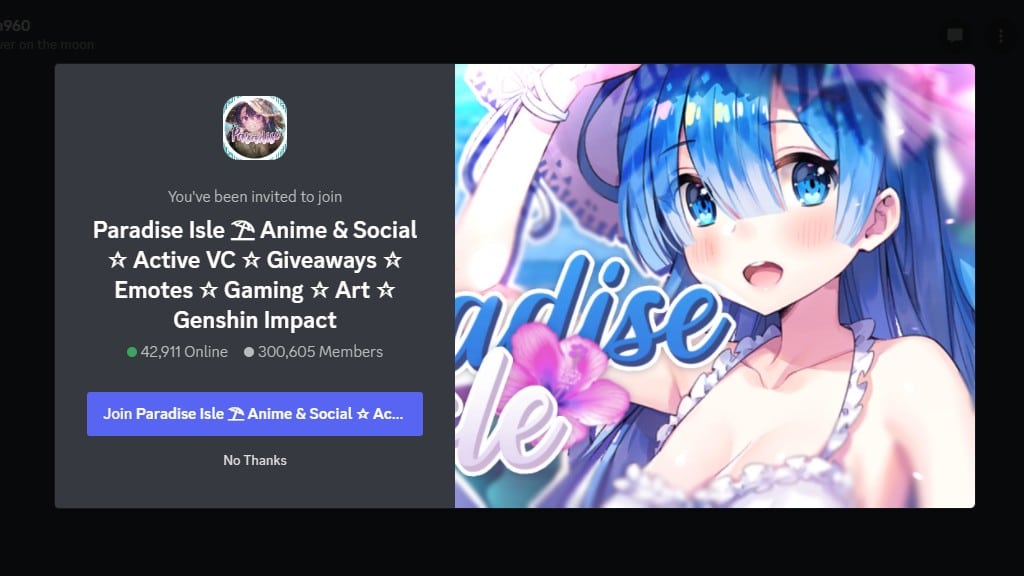 Paradise Isle is a massive Discord community with just over 300,000 members. It's a general anime social server, meaning it's not necessarily geared toward Genshin Impact. That being said, you're bound to find countless Genshin players here – I mean, everyone plays it.
You'll get the most out of Paradise Isle if you go in looking for a social experience rather than looking purely to engage with Genshin. If you're a fan of anime and manga, which I'm guessing you are, then it's a great spot to find other like-minded individuals to chat with, play with, and otherwise revel in all your favorite media.
Invite Link: https://discord.com/invite/kesA8UtAGs
Koma Cafe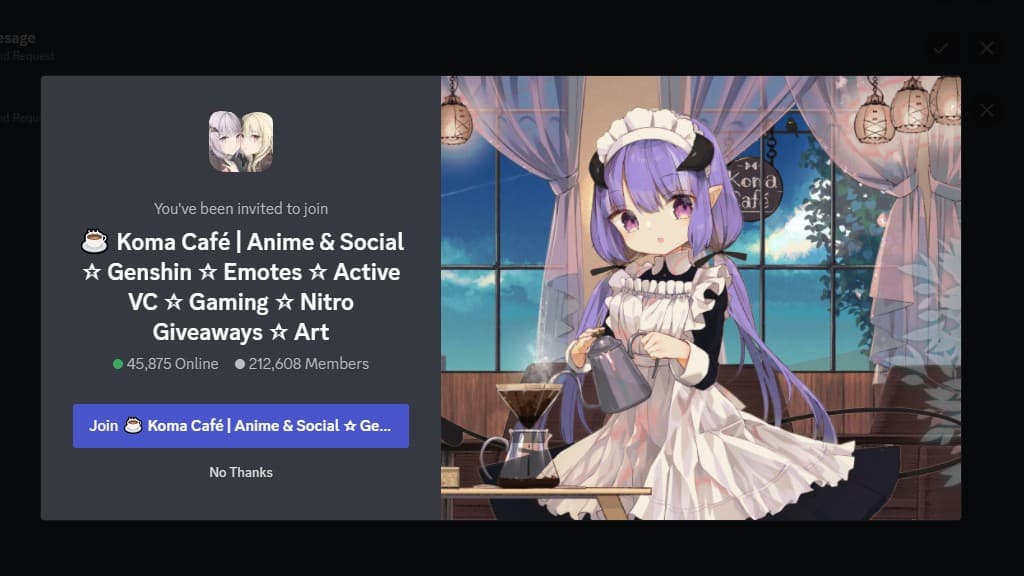 Similar to Paradise Isle, Koma Cafe is a general anime social Discord server, not a Genshin Impact one. Despite that, it has a massive Genshin scene that's as big as it is welcoming.
Koma Cafe's Discord server is one of the best-built servers I've personally ever had the pleasure of using. They've constantly got events ongoing, as well as an integrated gambling economy and shop system. If you're looking for a social server with a bit more to chew on than Paradise Isle, this is the one.
Invite Link: https://discord.com/invite/KRtZa8hwgP
Weeb Kingdom
Weeb Kingdom is the last anime social server that we'll be talking about on this best Genshin Impact Discord servers list – promise.
It's more modest than Paradise Isle and Koma Cafe, with over 80,000 members. That's still a staggering number of users, though, a large portion of which as massive Genshin fans. If you're looking for a social server with a side of Genshin that's not as initially intimidating as those massive servers – consider Weeb Kingdom.
Invite Link: https://discord.com/invite/EZeGswNZFQ
Eula Mains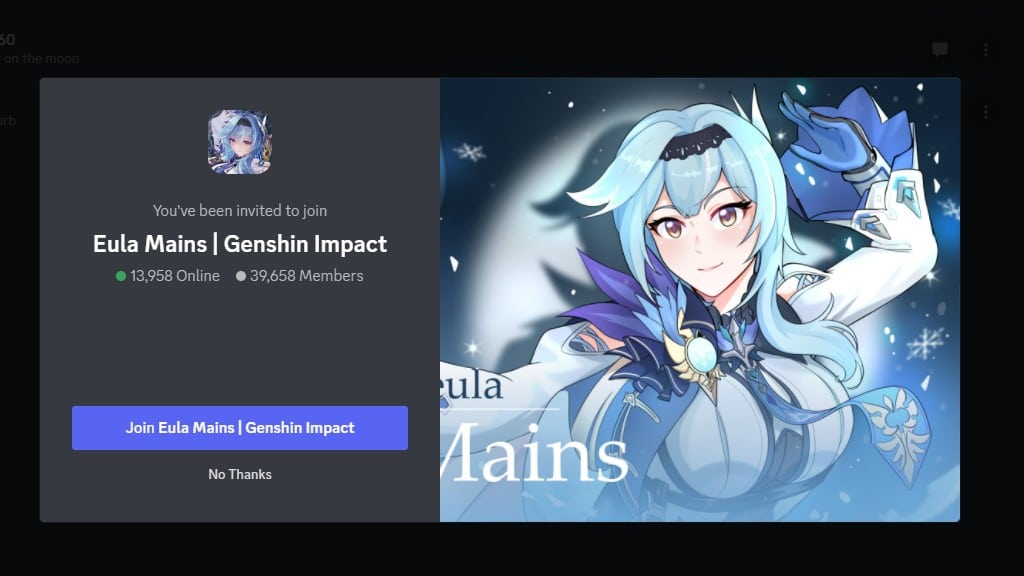 Hosting almost 40,000 members, this Discord server primarily focuses on PvE content. If you are new to the game, the community here is extremely helpful. I've had people explain things about the game that I didn't know before. Plus, you can find a party that will help you farm materials faster and easier.
On the other hand, if you prefer PvP content, you can even find people that are willing to help you learn about it here. There are a lot of Genshin veterans on this server so you are guaranteed to find one that will teach you about the game.
Invite Link: https://discord.com/invite/Fs2D4SS5NK
Genshin Abode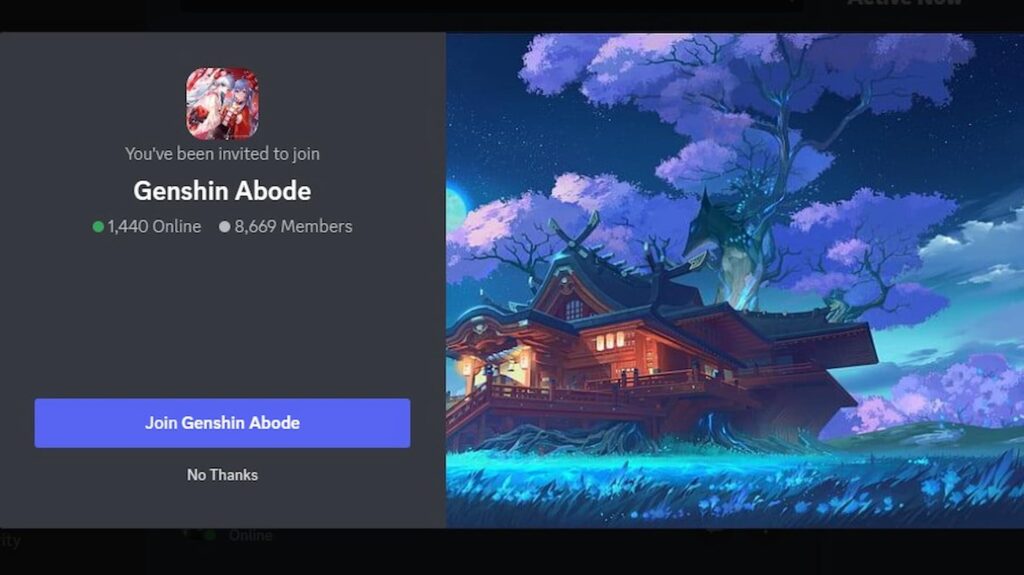 Genshin Abode is our underdog pick for the best Genshin Impact Discord server. It's a much smaller community than the others we've featured – clocking in at around only 8,500 members. Despite that, it's still full of knowledgeable and welcoming players willing to help you with anything from getting started to advanced build crafting.
You won't quite get the responsiveness or resourcefulness of one of the larger servers here, but it is a good option for anyone worried about jumping into those truly massive servers.
Invite Link: https://discord.com/invite/HGARxbNRrn
Conclusion
The definitive best Genshin Impact server is the game's official server. It has the highest player count, by far, so you'll never struggle to find help or conversation there.
There you have it, those are some of the best Genshin Impact Discord servers in 2023. If you know of any other server, we would love to know about it as well! Let us know in the comments.
Alternatively, if you are a Roblox player, you can check out our best Roblox Discord server guide as well to find the best one for yourself.