It's hard to talk about the best Glaives in Destiny 2. From a pure power standpoint, the weapon archetype as a whole isn't great. However, they are stupidly run to use if you can get away with it. So, I feel like their strength lies there rather than in their combat prowess.
You and I both know that already, though, and are prepared to accept the consequences that come with using them – in which case, I've ranked them all.
Winterbite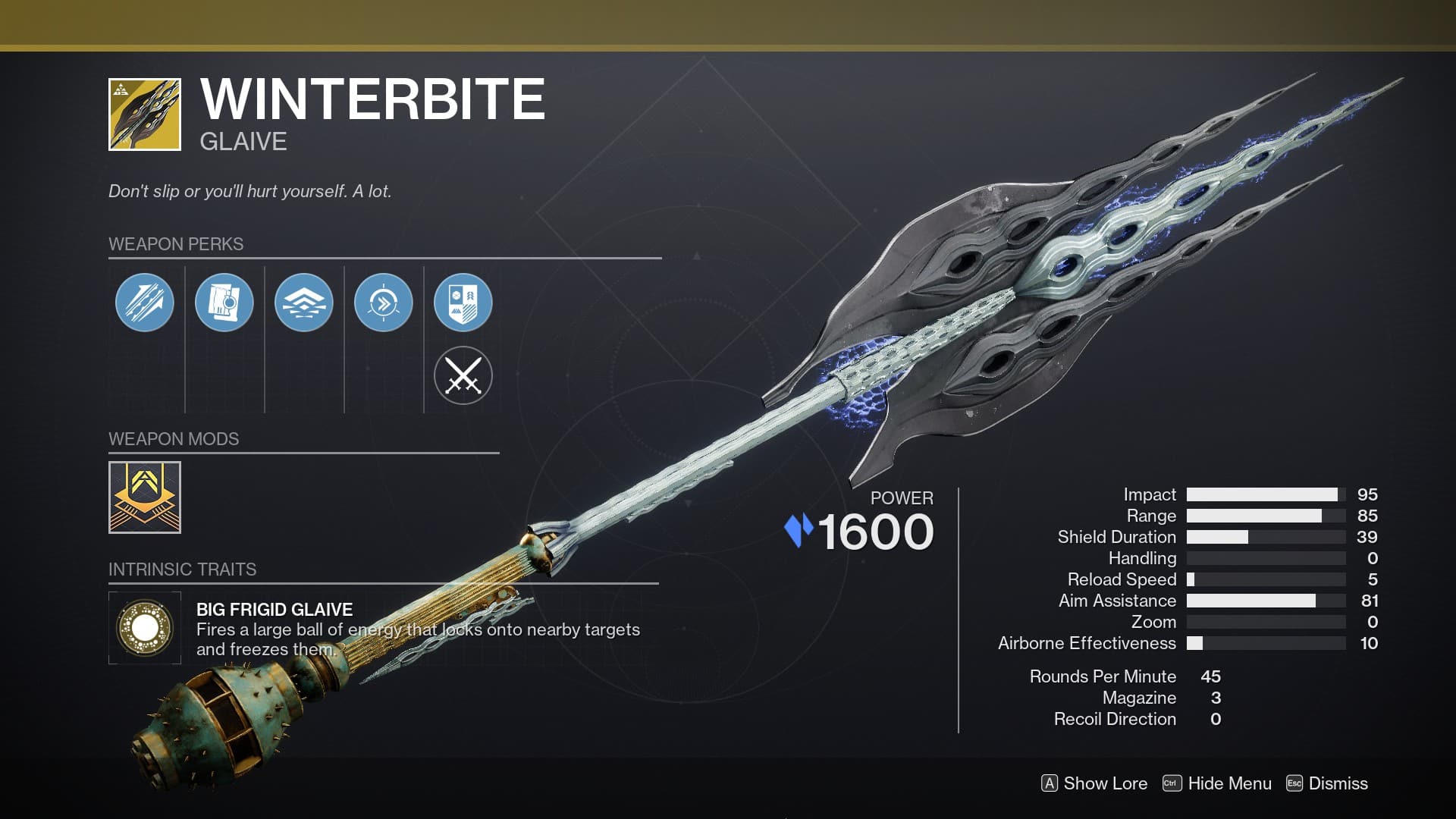 Element: Stasis
Source: Lightfall Exotic quest
Best For: PvE
Lightfall launched with a lot of broken stuff, perhaps none moreso than Winterbite. This brand new Exotic Glaive is a heavy Stasis weapon, and it's the best Glaive Destiny 2 has as of Season of Defiance, and was the best weapon in the entire game for a short while. This is thanks to a damage bug that, much like the Bump in the Night bug, was obliterating boss' health bars to the point it glitched the UI.
That's obviously since been fixed, but Winterbite is still a mean weapon that you should be using in certain encounters. Not for its DPS potential, but rather its Add-clear. When you fire the Winterbite's projectile, it shoots a slow, massive ball of Stasis energy. This ball travels in a line and fires freezing shots at any targets near it. You can pop one of these in the middle of a room and freeze the whole thing – great for high-difficulty activities.
Ecliptic Distaff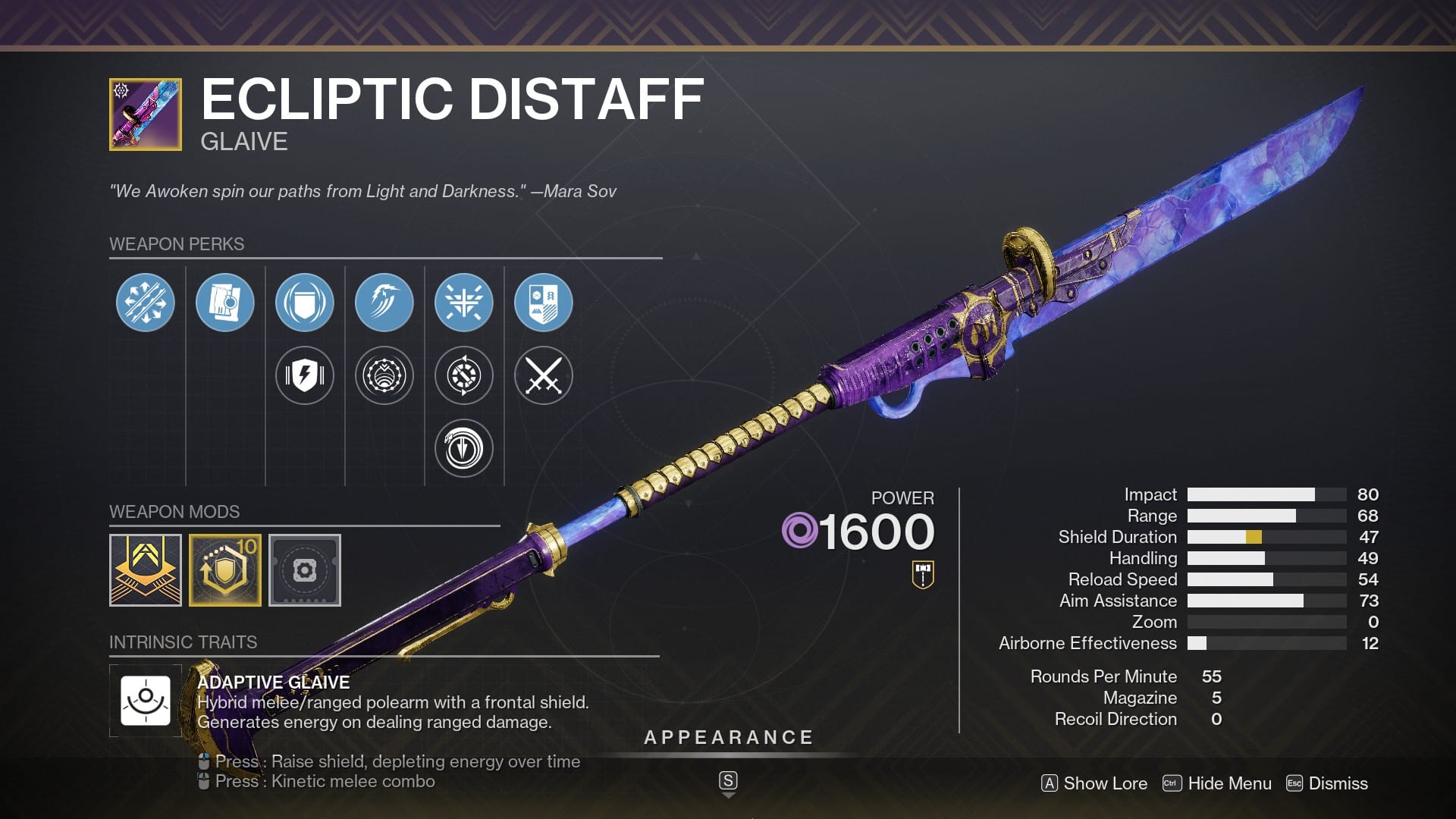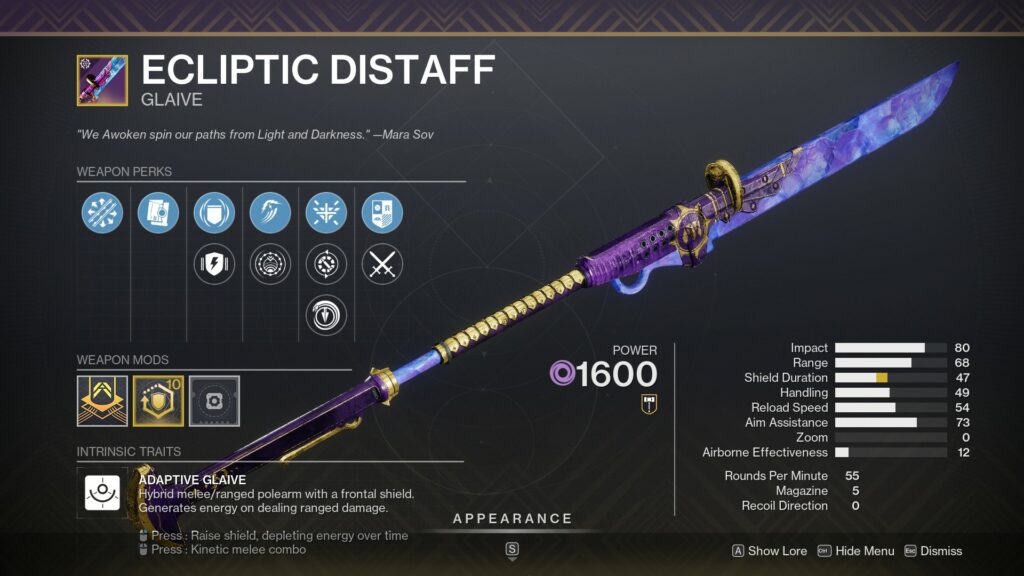 Element: Void
Source: Season of Defiance Ritual Weapon
Best For: PvE
I've been a Void Hunter main ever since that class dropped in The Taken King back in Destiny 1. So, I'm a sucker for anything that plays into the game style. Ecliptic Distaff is just that by being a Glaive that comes with Destabilizing Rounds and static rolls. Void Hunter already works great with Glaives, as I discovered by using one to solo the Legendary Witch Queen campaign, so a weapon like this is a dream for Void mains.
Ecliptic Distaff's column three perks aren't great, and that's what's holding it back from being the best Glaive in Destiny 2. However, column four's Destabilizing Rounds causes your final blows to make nearby targets Volatile. If you combine that with something like Gyrfalcon's Hauberk, you can run around meleeing enemies, and be given Invisibility after every kill. It's like Arc Hunter builds on steroids. The playstyle isn't for everyone, but it's powerful enough to try at least once.
Nezarec's Whisper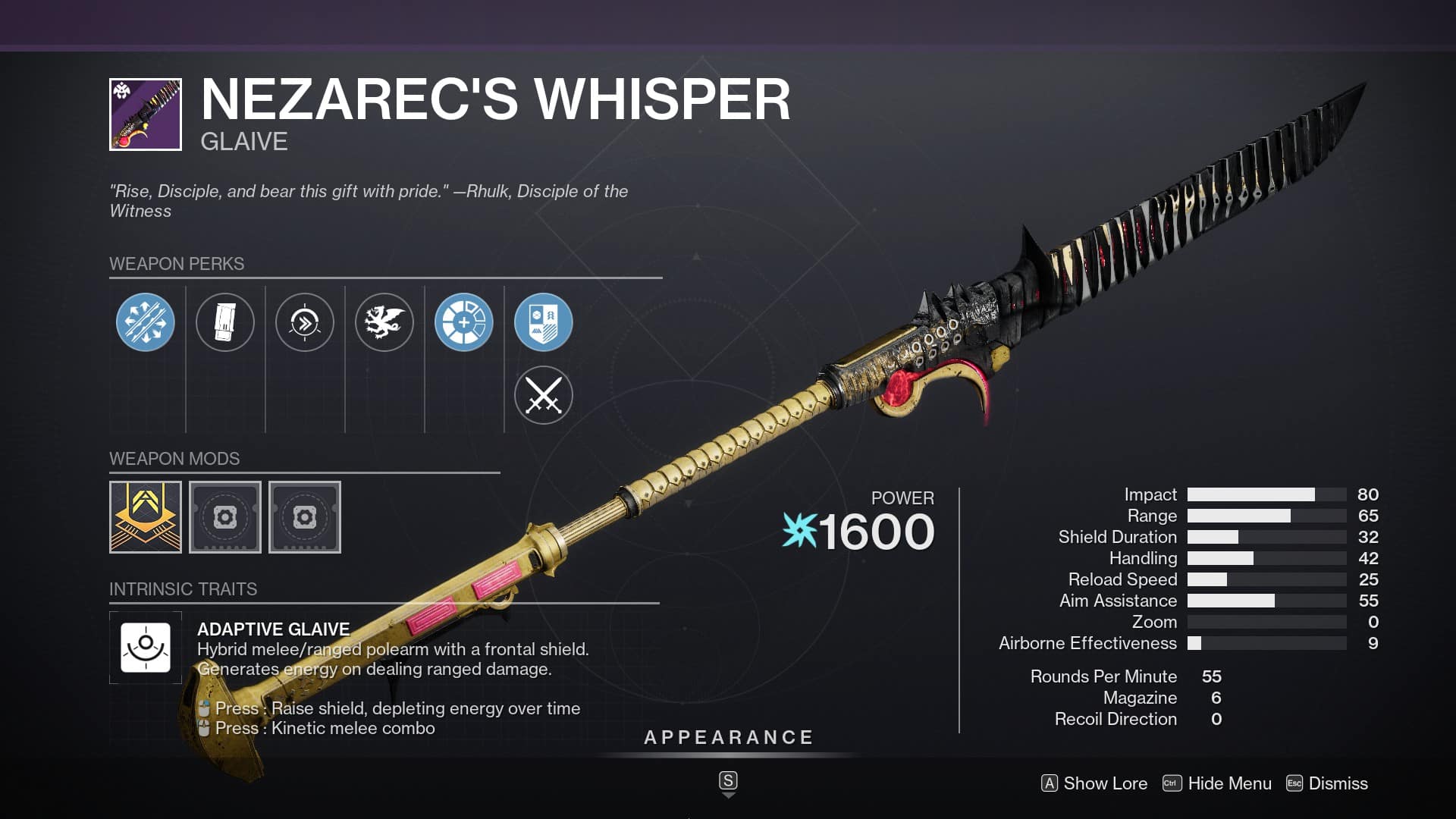 Element: Arc
Source: No longer obtainable
Best For: PvE
Glaives have struggled to carve out a path for themselves in the META ever since their release. The weapon type has struggled to compete with the likes of Swords and Rockets, and that's not for a lack of trying. While some Glaives succeed on the merits of their offensive or control capabilities, like Winterbite and Distaff, Nezarec's Whisper excels due to its utility usage.
This particular Glaive rolls with Demolitionist/Adrenaline Junkie, allowing for a constant damage buff while refunding quite a lot of grenade energy. This lets Nezarec's Whisper seamlessly fit into a lot of builds, including Solar setups with Healing Grenades. In terms of Demolitionist weapons, it's possibly the easiest to quickly refill your energy with, granted it comes with the downsides that all Glaives have – namely needing to get up close and personal to use it effectively.
The Enigma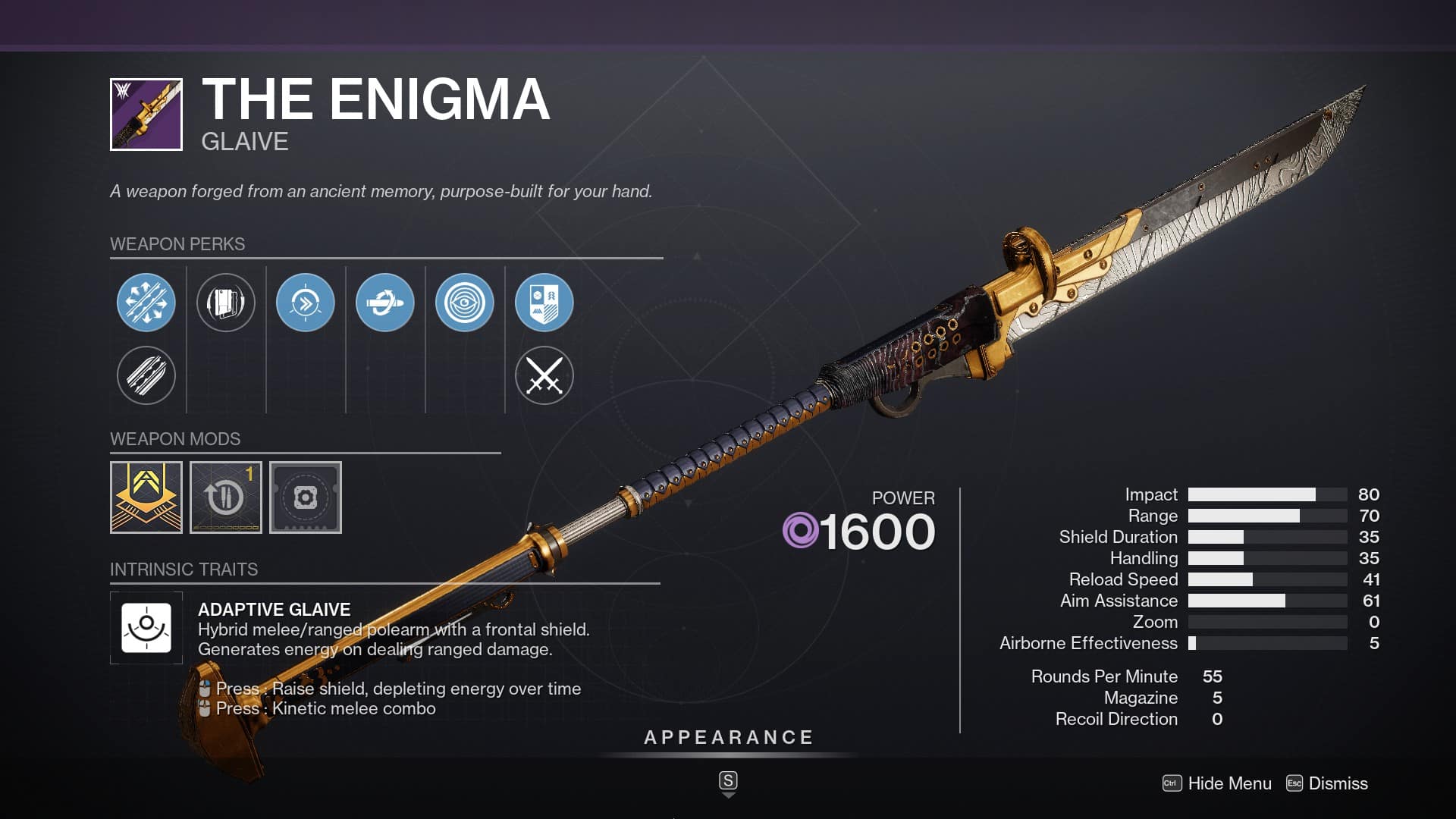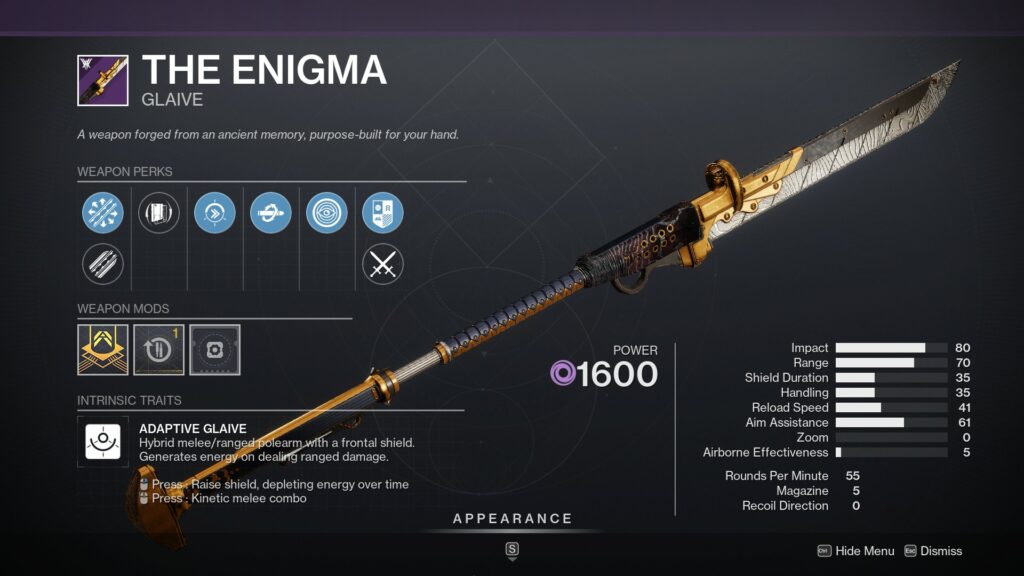 Element: Void
Source: Witch Queen campaign
Best For: PvE
The Enigma was the first Glaive introduced to Destiny 2, and it remains one of the best Glaive options in the game a full year later. Why? It's as foundationally solid as a Glaive can be. Unlike modern additions to the weapon family, The Enigma isn't trying to do anything insane or iterate on the idea of Glaives. Instead, it's a proof of concept and a pretty powerful one at that.
Grave Robber/Frenzy is going to be your best bet here. Glaives melee attacks don't trigger non-melee perks, so damage perks that don't require kill activations like Frenzy are top tier here. Unfortunately, that does mean that The Enigma, along with most other Glaives, really struggle in the god roll department – nobody is using Glaives for their projectiles. Still, this is about as good of a workaround as you're going to get, and it's an easy Glaive to acquire and craft.
Judgment of Kelgorath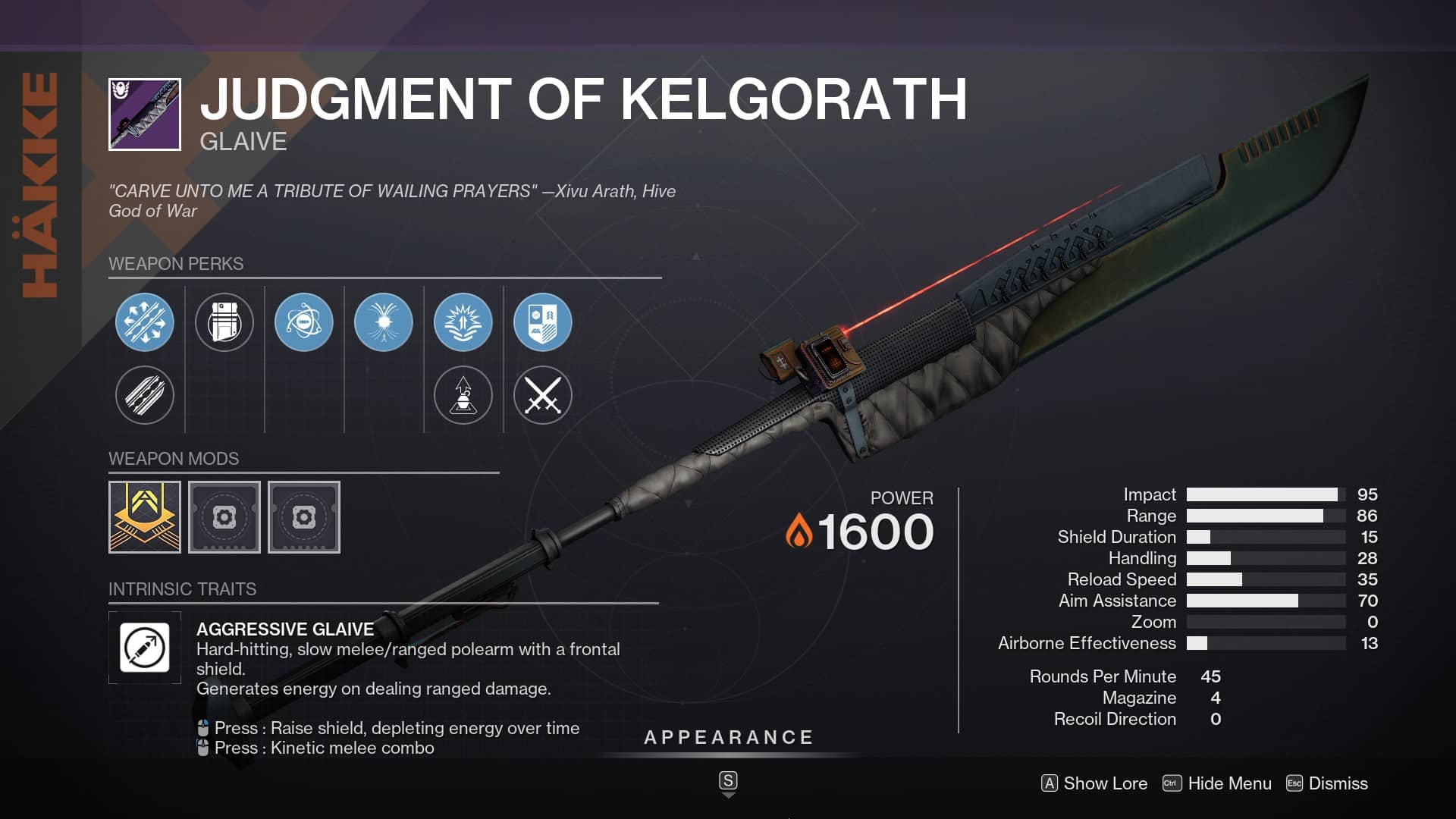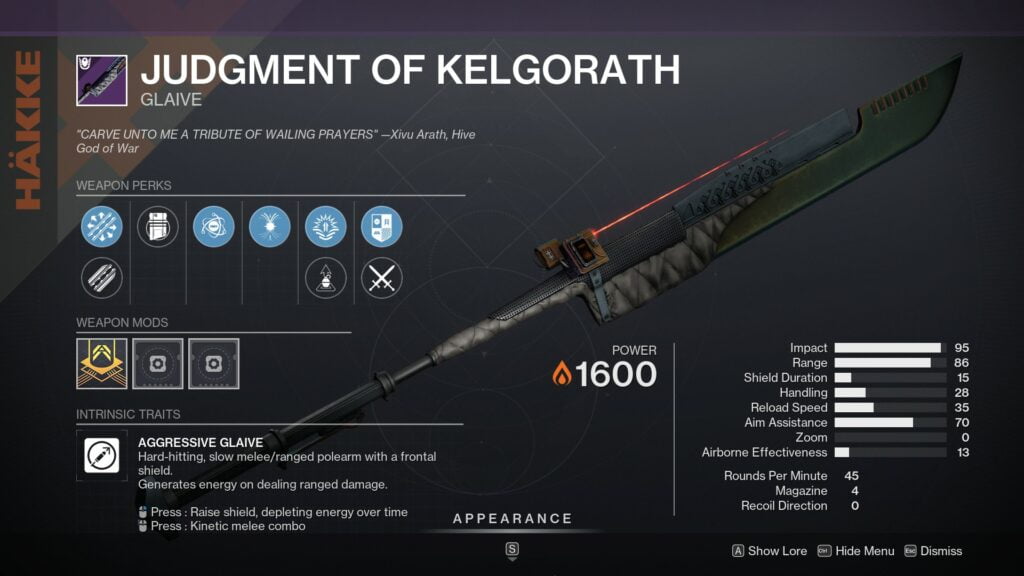 Element: Solar
Source: No longer obtainable
Best For: PvE
Judgment of Kelgorath is a significant Glaive for two reasons. First, it rolls with Surrounded, which is potentially the best Glaive damage perk in the entire game. More important, though, is the fact that Incandescent is an option in column four. If you never got to craft this thing during Season of the Seraph, you've missed out big time.
While I prefer the Volatile Rounds given by Ecliptic Distaff, Incandescent is a great second-choice pick for strong Add-clear. Of course, you don't get the Scroch procs from melee hits, so how useful this actually is can be debated – although that can be said for all Glaives. If you're not a fan of that idea, Surrounded is still a great option to add some consistent damage to your loadout. Just remember that you're going to be getting battered by enemies to keep that perk up.
Vexcalibur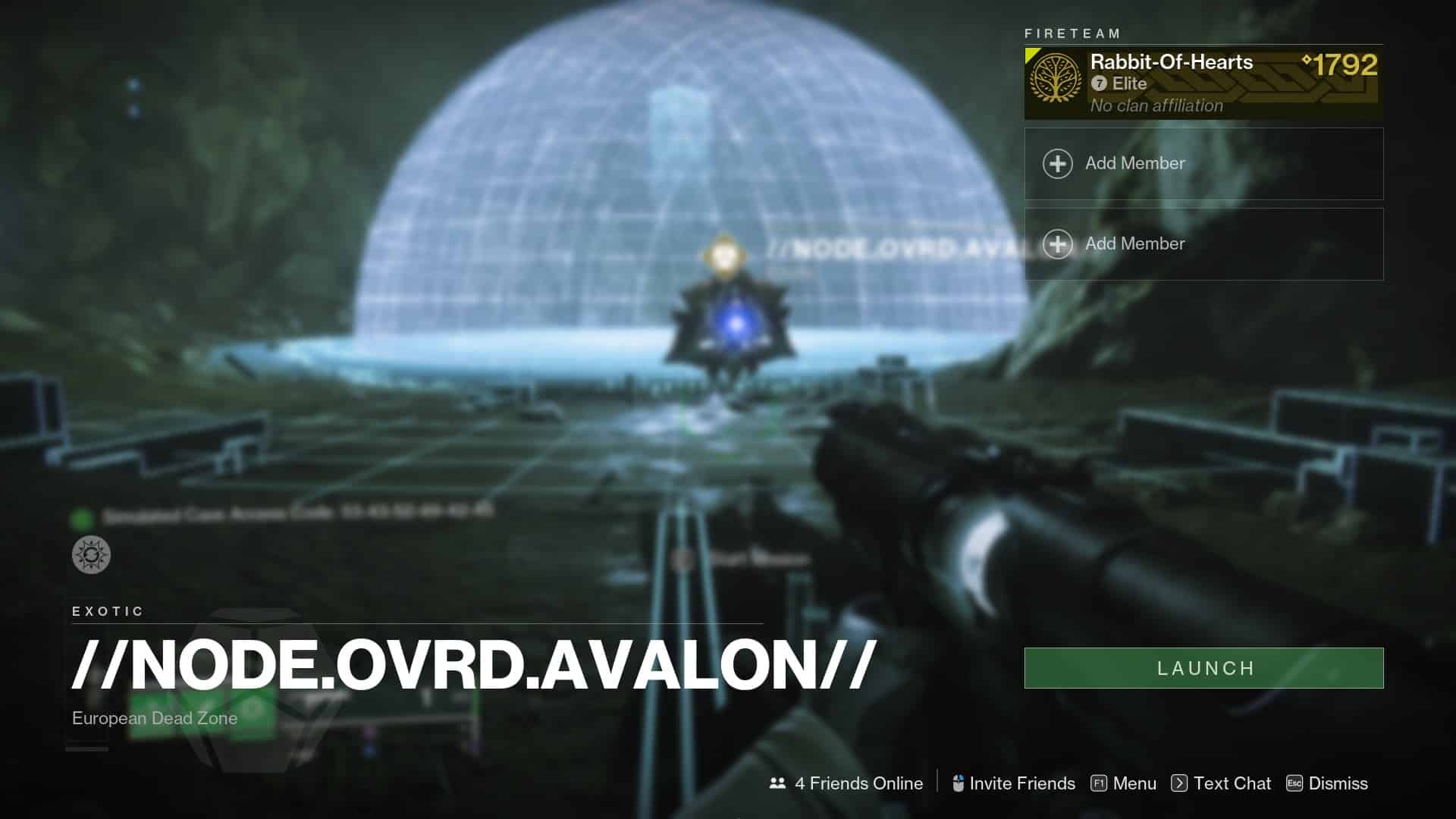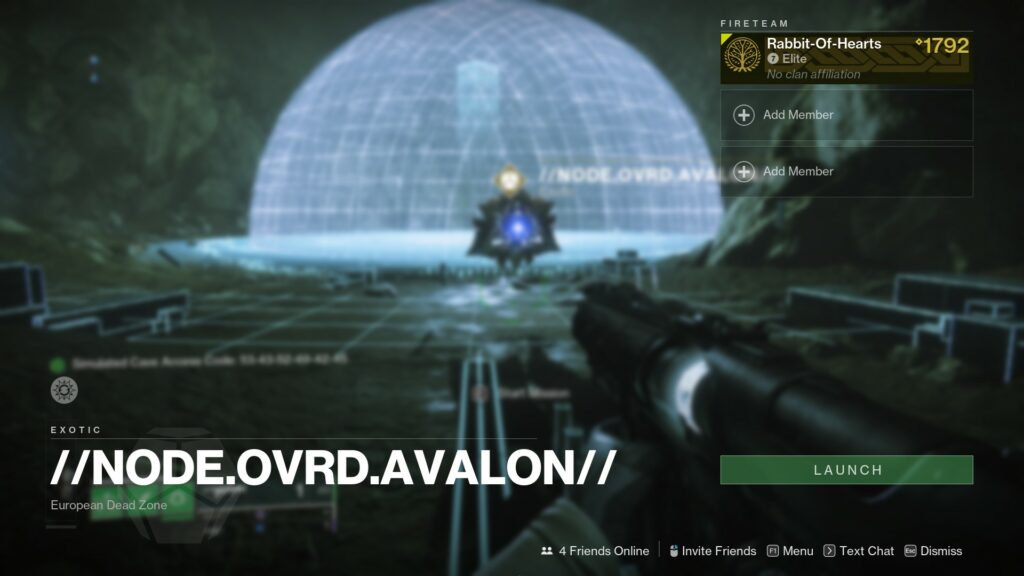 Element: Void
Source: Lightfall Exotic mission
Best For: PvE
When we talk about support weapons in Destiny 2, guns that typically come up are the likes of Divinity and Lumina. Weapons that are offensive in nature and increase your team's total damage output. Vexcalibur flips that and instead is a support weapon that's totally defensive in nature. This limits its use in regular Raid and Dungeon content, but it does make it viable for Masters and GMs.
When you block with Vexcalibur, it provides you and your teammates with a Void 3.0 Overshield. This Overshield can take advantage of any Void Fragments and Aspects, letting you do some pretty powerful stuff. Vexcalibur is also craftable, so you can fine-tune the weapon to your liking. Nothing you do will turn this into an offensive powerhouse, but it's a phenomenal survival tool.
Edge of Concurrence
Element: Arc
Source: Witch Queen Exotic quest
Best For: PvE
There's a funny story from back when Witch Queen launched. Glaives were brand new, and community sentiment was at an all-time high. We got access to The Enigma and wanted more. We got more with the DLC in the form of three Exotic Glaives – with each one exclusive to each class. Well, those Glaives were terrible, and I mean terrible. All three were unusable, and most of them remain in that state now.
Edge of Concurrence is that Glaive and it just so happens to belong to the Hunters. Thanks to a potent buff a few seasons ago, Concurrence's lightning attack is actually quite powerful.
When you fire this weapon's alt-mode, it shoots a lightning bolt across the ground that chains enemies in its path. As I said, this does good damage now, but there's no reason to run it over something like Risk-Runner or Trinity Ghoul, especially since both of those weapons have infinite ammo.
Edge of Action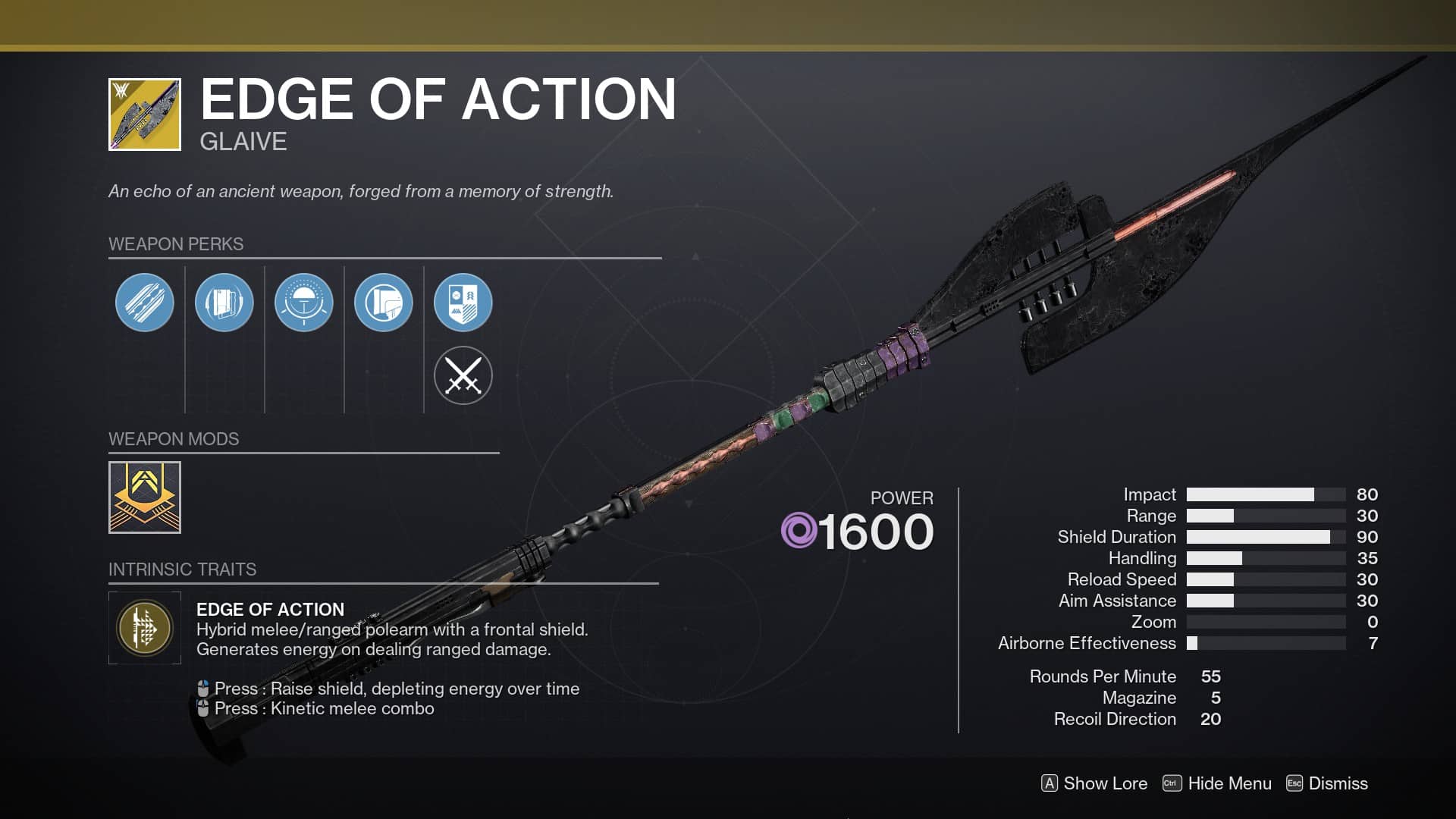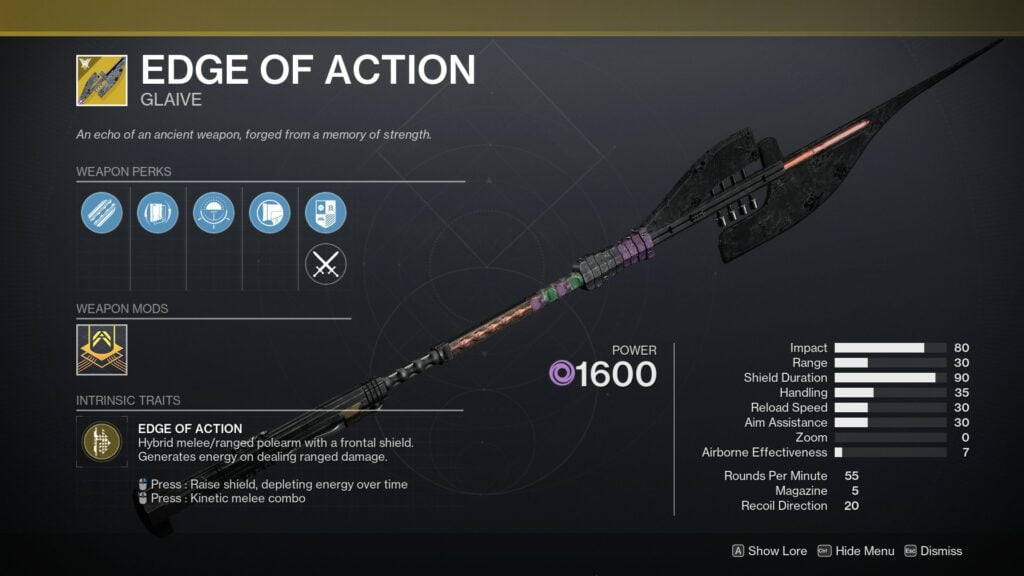 Element: Void
Source: Witch Queen Exotic quest
Best For: PvE
Edge of Action is the Titan-variant of the Witch Queen Exotic Glaives, and it had all the potential in the world. Rather than its alt-fire chaining lightning, Edge of Action's drops a mini Titan shield. This sounds great in theory, but it's rubbish in execution. The shields are small, take no damage to break, and don't provide you with an Overshield without the Helm of Saint 14.
That interaction with the Helm is what stops Edge of Action from being at the bottom of this list. However, we just talked about Vexcalibur – which gives you an Overshield just for blocking. You need to run a specific Exotic and charge an alt-fire to do the same thing with this Glaive, meaning there's no reason to run it over Vexcalibur.
Lubrae's Ruin
Element: Arc
Source: Vow of the Disciple Raid
Best For: PvE
Lubrae's Ruin is pretty weak, which is a massive shame. It's meant to be Rhulk's own Glaive from Vow of the Disciple, but it's like a nerf version of the original. It is craftable, though, so that's one thing Lubrae's Ruin has going for it. Beyond that, though, there's really not too much to write home about. Still, it's not the worst Glaive in Destiny 2 – you'll see why soon.
What makes Lubrae's Ruin feel so bad to use is a combination of things. Some of its melee-related perks don't trigger with it, its ranged attack is weak, as is its melee strings. It has practically nothing going for it with the exceptions of Unrelenting and Surrounded in the fourth column. The presence of these perks means that Lubrae's Ruin can be usable – but only just. You'd want to have no other options if you plan on using this Glaive.
Edge of Intent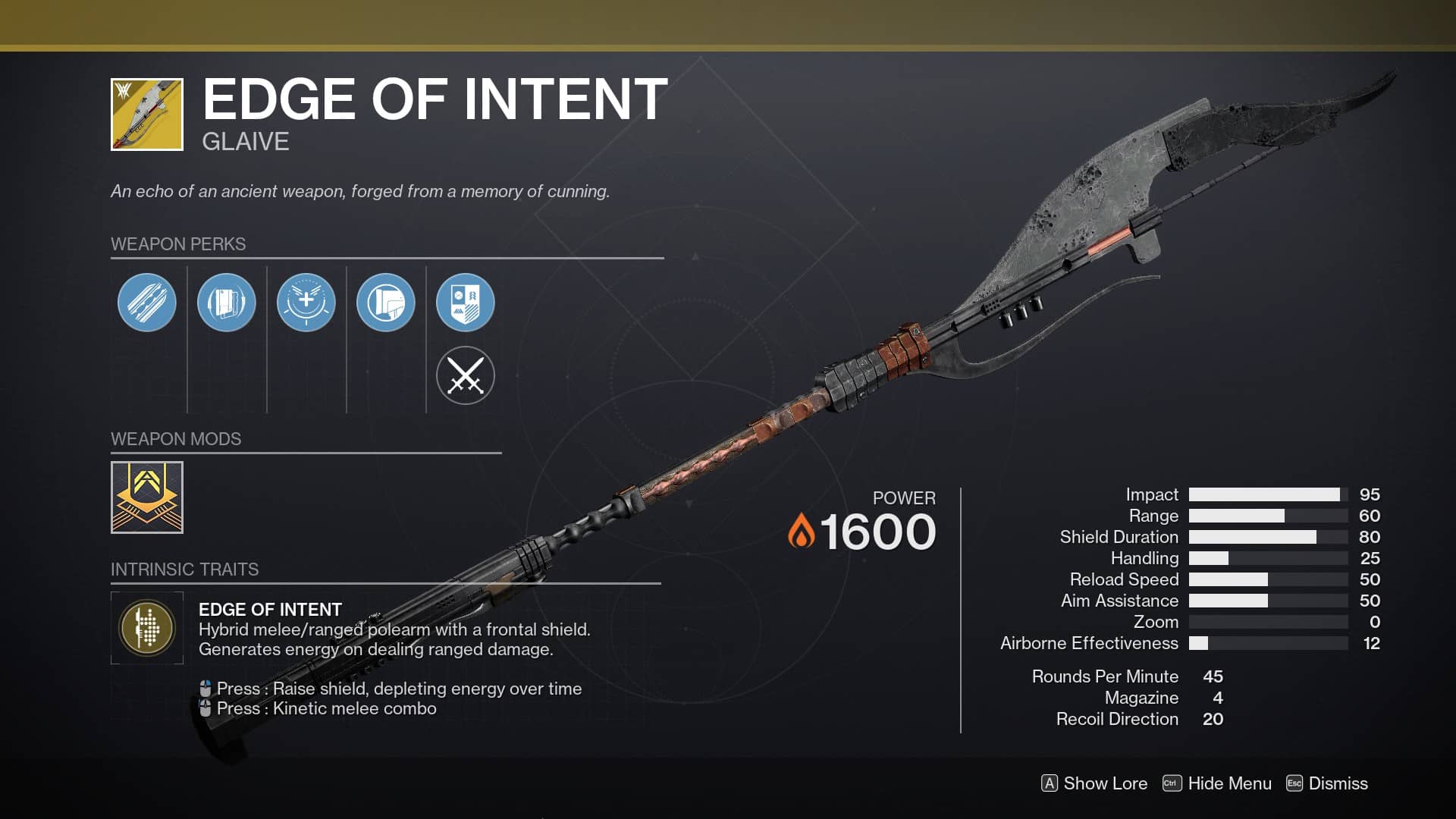 Element: Solar
Source: Witch Queen Exotic quest
Best For: PvE
Last and absolutely least we have Edge of Intent, the Warlock-variant closing out the Witch Queen trio. Like the others, it had a lot of potential to be really powerful. Bungie never let it reach that potential, though, so much so that most players don't even bother getting this one from the Evidence Board on Mars. If you do suffer through the process to obtain one, you'll be met with some disappointing features.
Edge of Intent's big selling point is its alt-fire healing. It has a chargeable mode like the others, with this one deploying a healing turret on impact. If this turret was good, this Glaive would be great. However, it is not.
Not only is the healing from the turret minuscule, but it doesn't synergize well with Warlock's Solar 3.0 subclass. You've got way better options that do the same thing without wasting an Exotic slot, so there's no reason to ever run this thing, at all.
Conclusion
There are only 10 Glaives in Destiny 2 as of Season of Defiance. Some of them are alright, but quite a few of them are terrible. That being said, all of them are very, very fun to use. I wouldn't recommend taking one into a Grand Master, but if you're bored running Strikes or Battlegrounds, you might just be able to get away with it.