The Glock-18 isn't exactly the most exciting weapon in CS:GO. To be honest, it's not even the most popular pistol. That honor likely belongs to the Desert Eagle. However, it still makes sense to buy a Glock skin, mainly because you'll get to see it a lot. It is the Terrorist spawn pistol, after all.
Luckily, most Glock-18 skins are very cheap, allowing you to purchase a good one without breaking the bank. To help you with your decision, here are our picks for the best Glock skins.
Vogue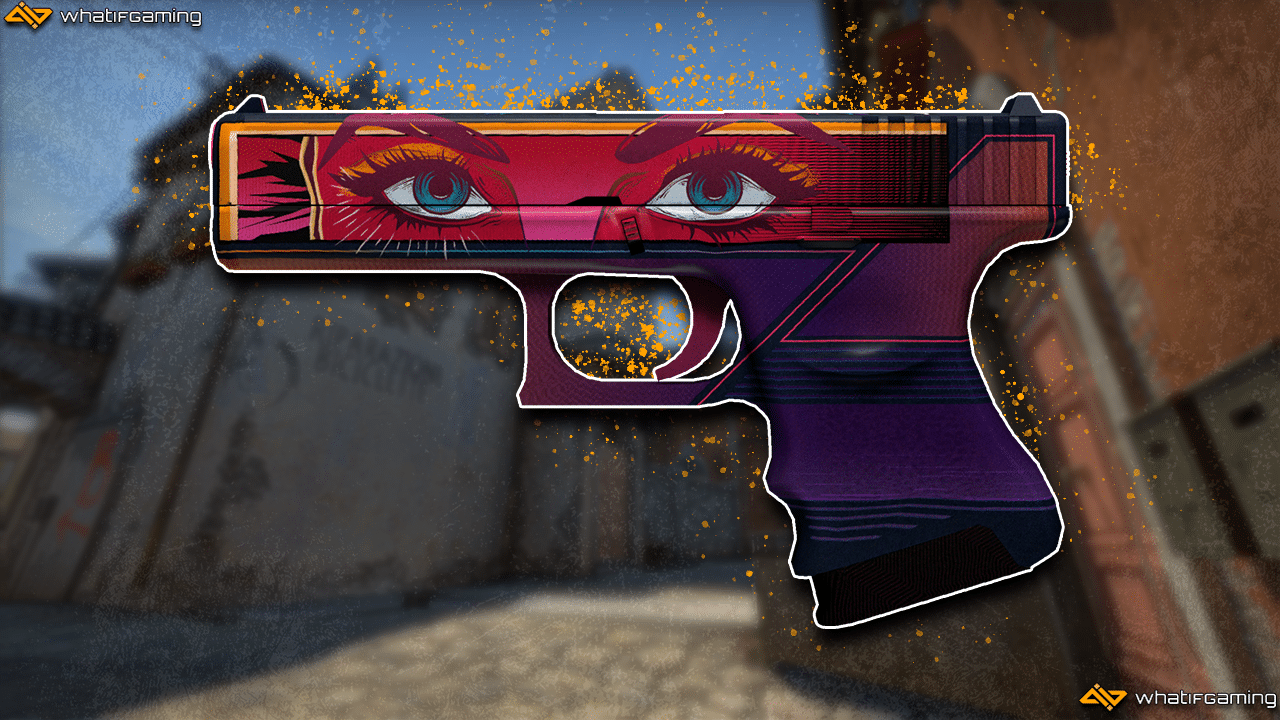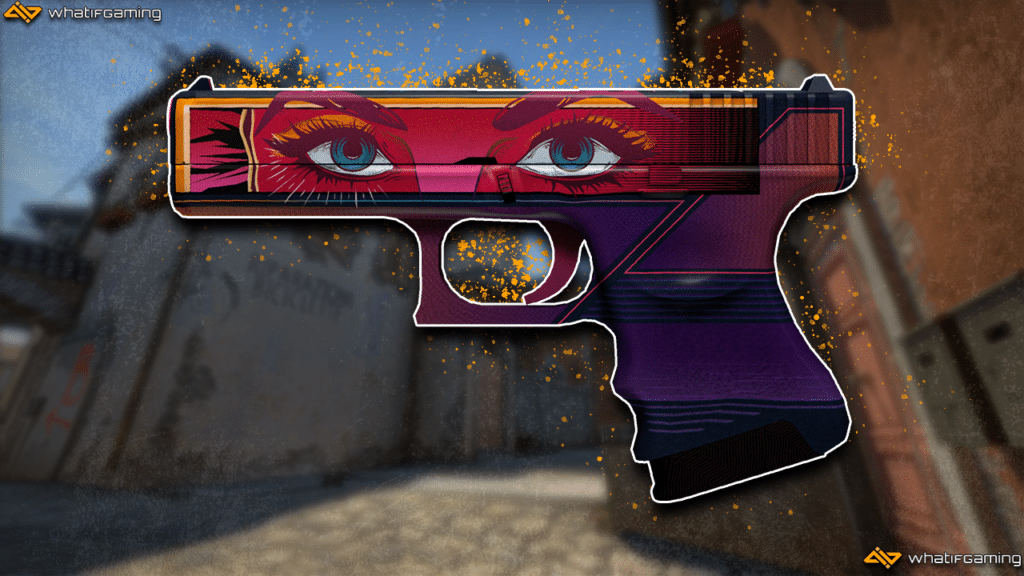 Date released: August 6, 2020
Price range: $2.50 – $24.00
Case: Fracture Case
Let's start things off with style and glamour. The Vogue is the best Glock skin in CS:GO in our opinion, because of the way it serves looks. It doesn't have the flashiest design, but it definitely screams, "Buy me!"
It has bright shades of purple and red as the base color with various lighter shaded accents. The main object of the skin is the mesmerizing blue eyes painted on the body of the weapon. You just can't say no to those eyes, which is why it sits at the top of our list. It's simple, yet it still stands out.
Bullet Queen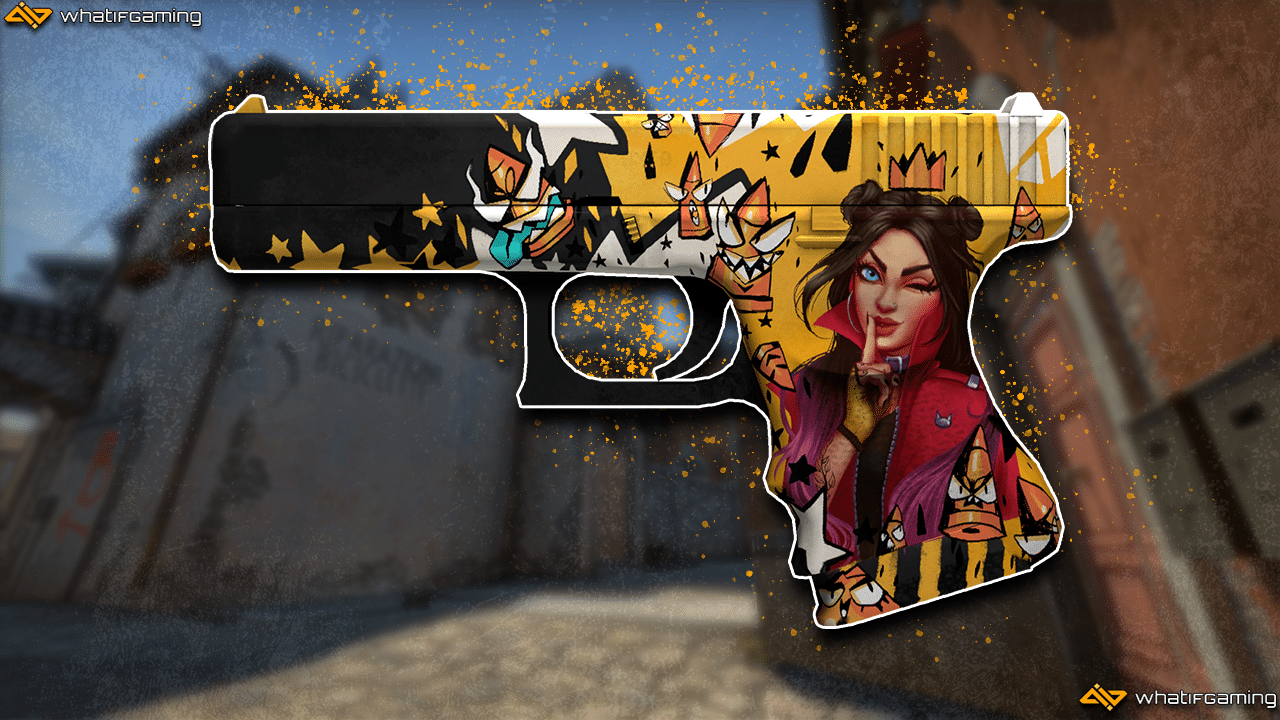 Date released: March 31, 2020
Price range: $4.40 – $160.00
Case: Prisma 2 Case
The runner-up is none other than the Bullet Queen. The Bullet Queen has a timeless black and yellow color scheme that makes for a perfect fit in almost any collection of skins. Front and center is the Bullet Queen herself, holding up a finger near her mouth while winking.
Topping off the weapon are various cartoon-style bullets with goofy faces flying around. The look is then completed with black, white, and yellow accents of stars, lines, and other shapes. Overall, it has a solid look that could've easily taken the best Glock skin spot on our list.
Water Elemental
Date released: July 1, 2014
Price range: $3.70 – $53.00
Case: Operation Breakout Weapon Case
Water Elemental is a relatively older skin, being released back in 2014. Luckily, it has kept its charm throughout the years and still remains one of the best Glock skins in CS:GO. The Water Elemental has a pretty simple design. It has a glossy red base color that helps the pistol stand out.
It then features a blue creature made up of water following a wave-like body. Various water droplets can also be found on the weapon, which adds a bit of texture and accent to the skin. That's pretty much it. This simple design fits the Glock-18 just right.
Neo-Noir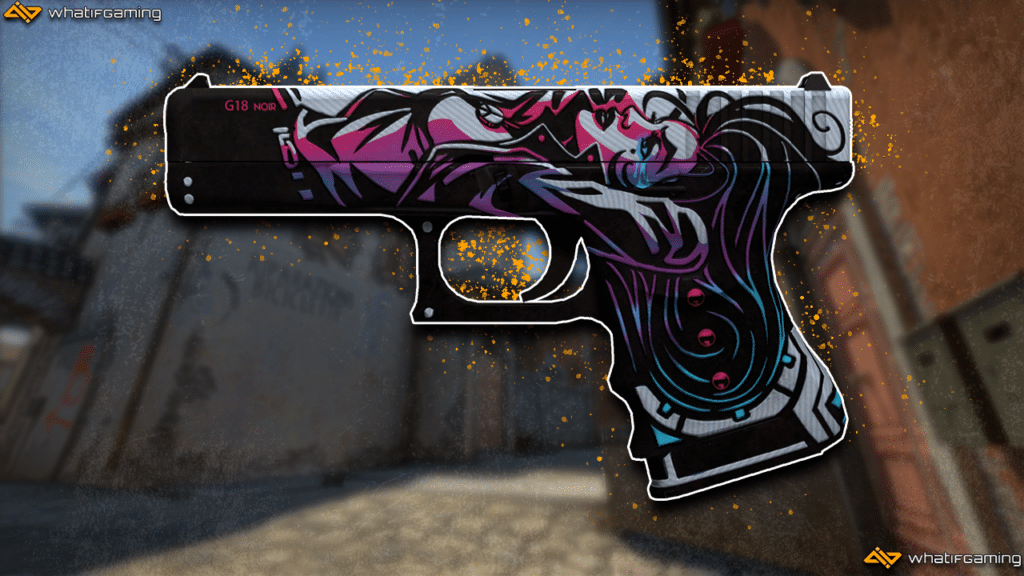 Date released: December 3, 2020
Price range: $6.60 – $200.00
Case: Operation Broken Fang Case
The Neo-Noir line features some of the best skins for the M4A4, USP-S, AWP, and of course, the Glock-18. They all follow the vintage look of neo-noir comics and feature black, white, magenta, and cyan colors. It's a classy look that will never go out of style, in CS:GO, at least.
The Neo-Noir Glock-18 has a white base with a paper-like texture. The focus of this piece is the magenta, purple, and cyan lady lying down on the body as her hair falls through the handle. There's also a pink "G18 Noir" lettering near the muzzle of the weapon.
Clear Polymer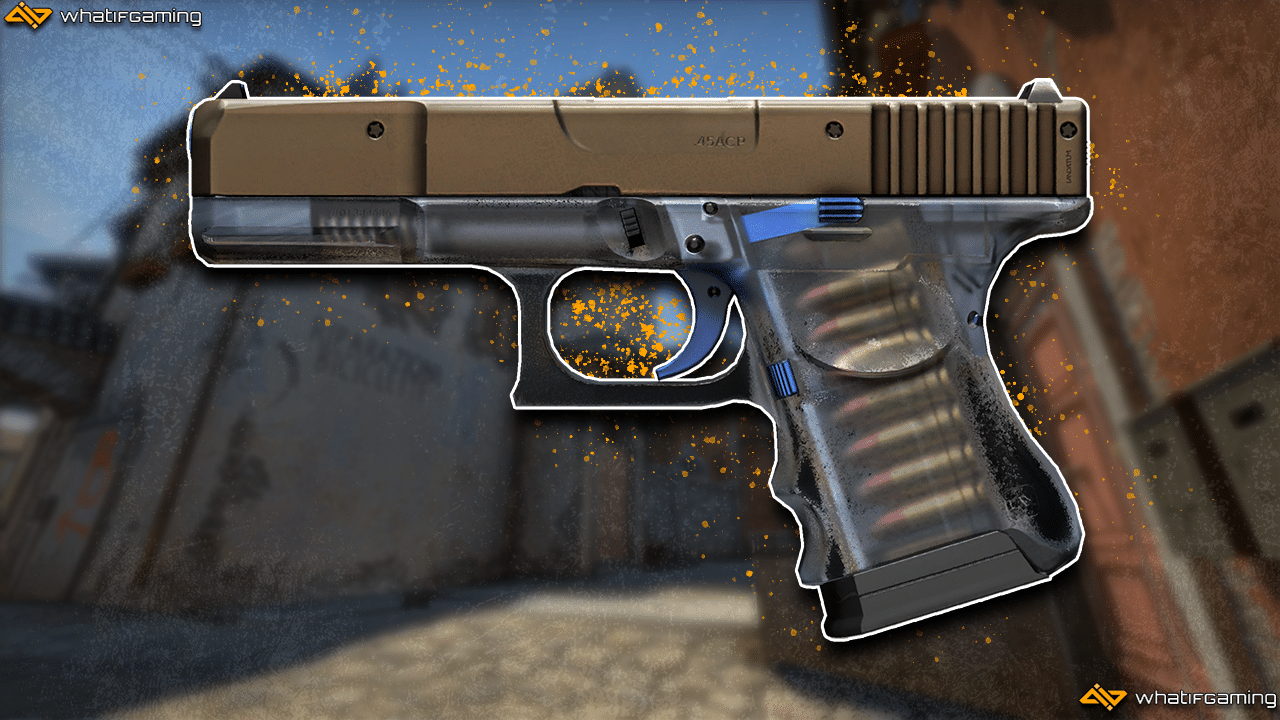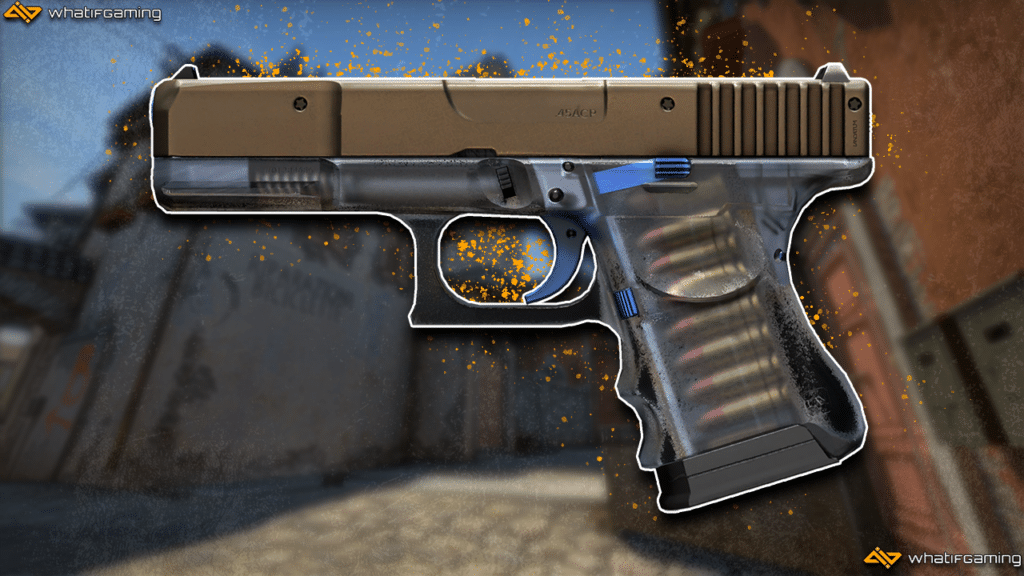 Date released: May 3, 2021
Price range: $0.05 – $3.00
Case: Snakebite Case
Next up, we have one of the most unique and fun concepts across all CS:GO weapon skins. The Clear Polymer has the top of the Glock painted in a solid brown color. The rest of the weapon is then encased in a translucent plastic cover that allows players to see through the weapon. One of the best parts is being able to see the bullets lined in the Glock.
There are subtle metallic blue accents that give a bit of pop to the skin. The best part about the Clear Polymer skin is that it's dirt cheap. It's not only one of the cheapest skins on this list, it's one of the cheapest skins in CS:GO. This makes it one of the best Glock skins for players on a tight budget.
Umbral Rabbit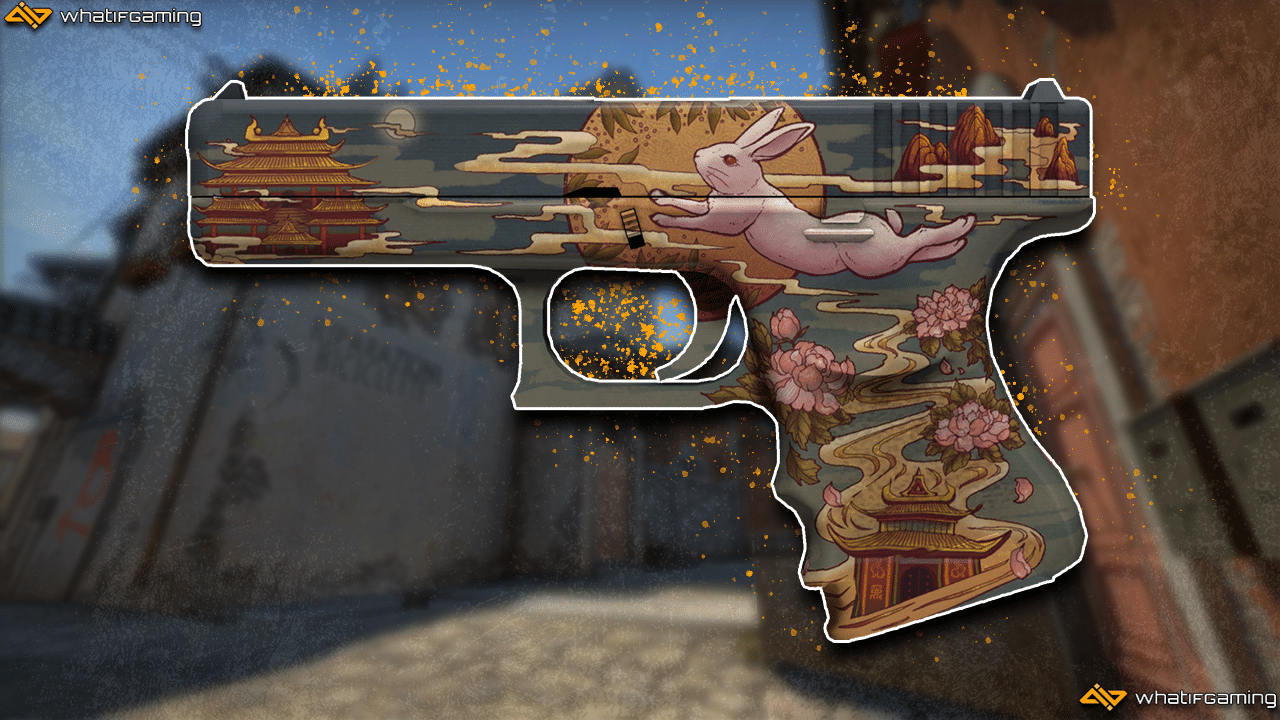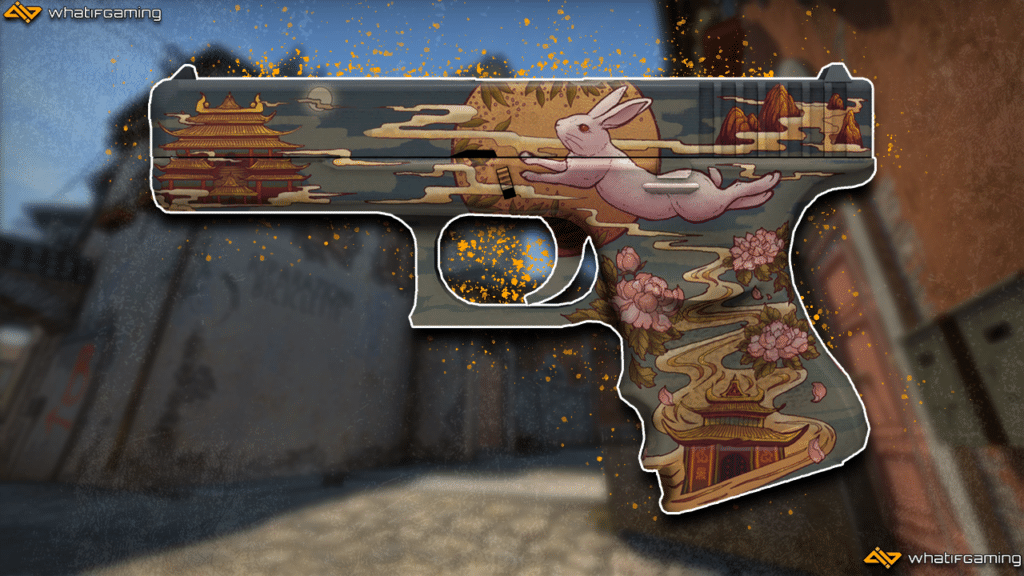 Date released: February 9, 2023
Price range: $0.90 – $12.00
Case: Revolution Case
The Umbral Rabbit is the newest Glock-18 skin on our list since it was released in February 2023. It features a unique design inspired by traditional Chinese artwork. It has a jade-colored base and features warm colors all around.
The centerpiece of the Umbral Rabbit is the Rabbit leaping past a full moon. In the background, there are visible Chinese temples, mountain ranges, and pink flowers, all covered in a white mist. It's definitely one of the more relaxing skin designs for sure.
Weasel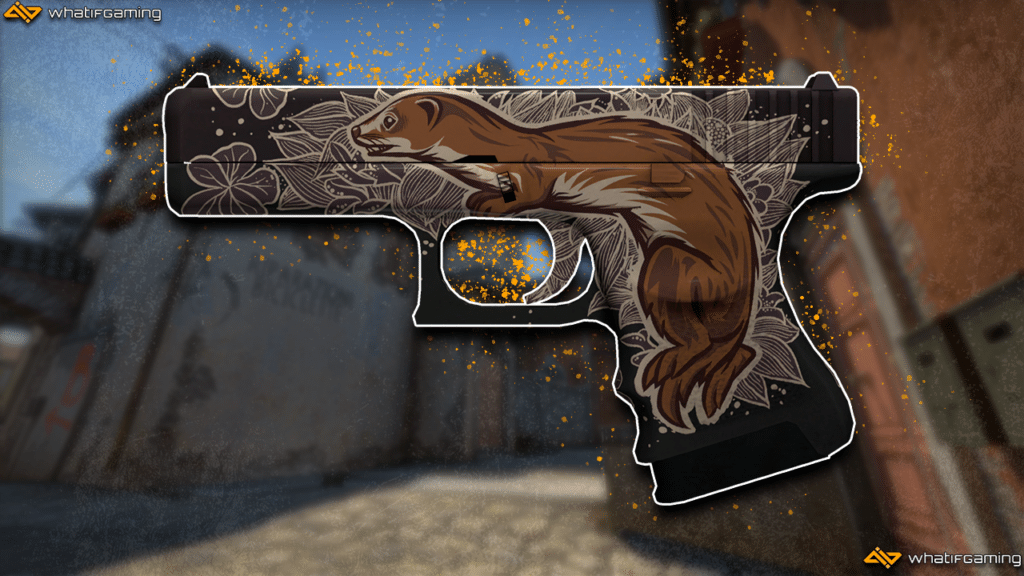 Date released: August 18, 2016
Price range: $0.25 – $9.50
Case: Gamma 2 Case
This next skin is perfect for animal lovers out there because it features a cute little weasel. The Weasel skin has a dark brown color for its base. It is then decorated with numerous beige flowers that add a ton of texture to the weapon.
Of course, the weasel itself can be found in the middle of the weapon. It has its lower body bending near the handle while the rest follows the length of the Glock. It's a pretty straightforward design that features a furry little friend.
Snack Attack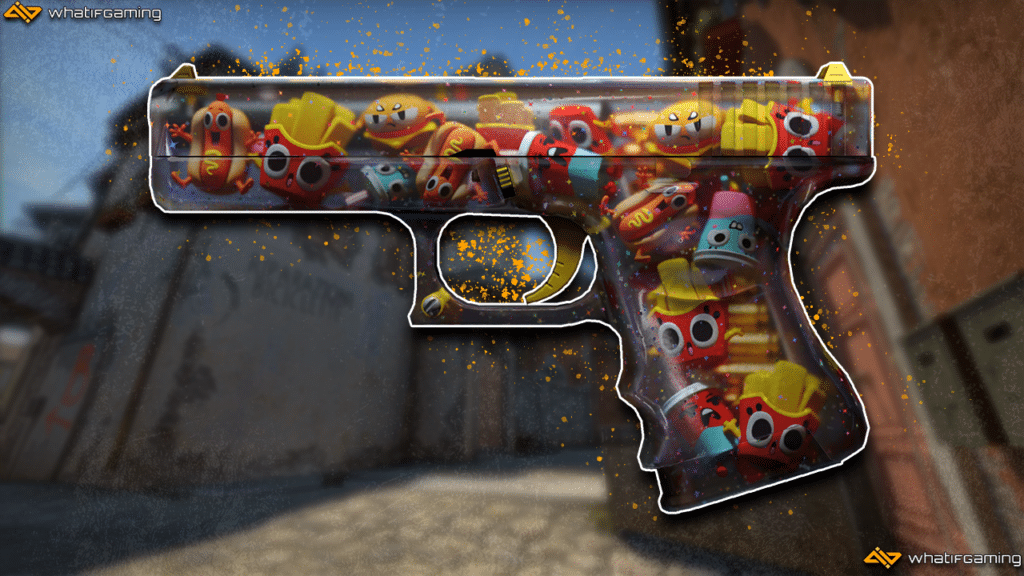 Date released: September 21, 2021
Price range: $2.25 – $76.00
Case: Operation Riptide Case
Snack Attack is the best Glock skin for you if you're looking for a light-hearted and goofy skin. It reimagines the Glock-18 in a translucent plastic-like container and fills it with a variety of cute and cartoony snacks.
Hotdogs, burgers, fries, and sodas are found inside the weapon, each with huge eyes and wide mouths. It's cute, charming, and brings a ton of color. There's nothing to hate about this skin. It's definitely a Glock-18 skin that'll have you hungry both for kills and actual food.
Synth Leaf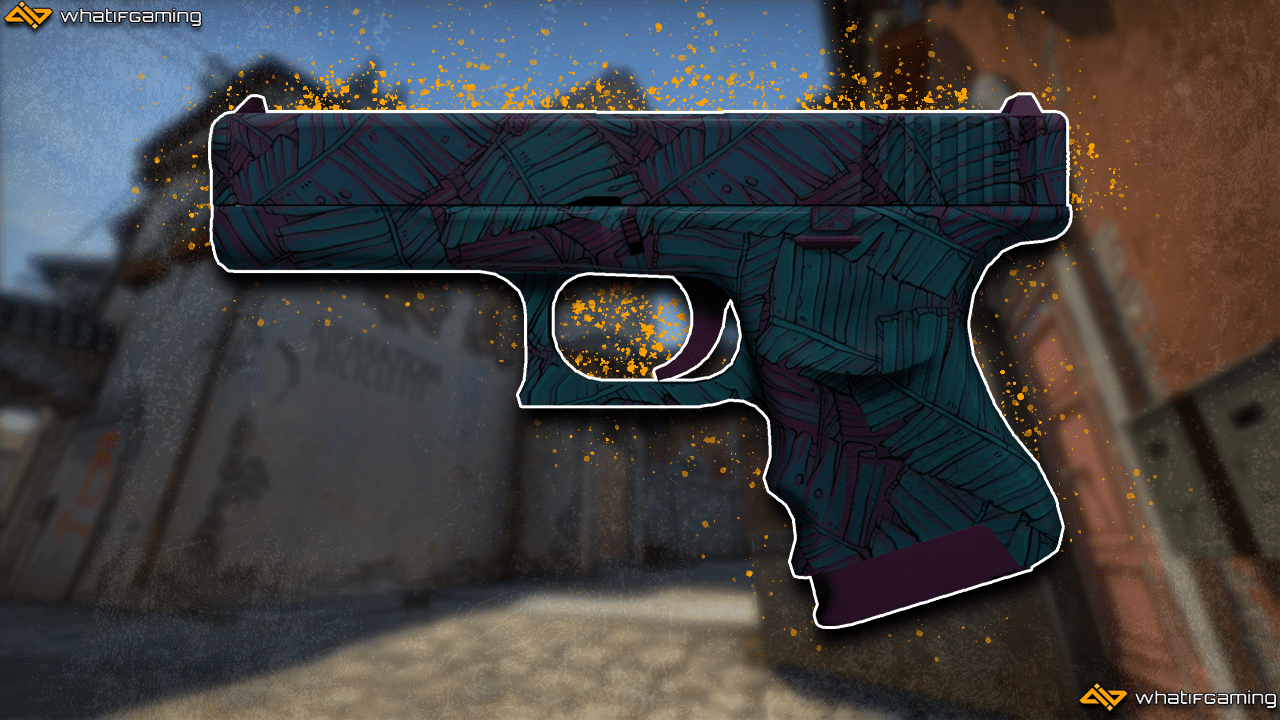 Date released: November 18, 2019
Price range: $200.00 – $1,280.00
Case: N/A
Next up, we have the most expensive weapon skin on the list. That honor belongs to the Synth Leaf Glock-18. It's a rare skin that can't be found inside any cases and was only available as a drop during Operation Shattered Web and is a part of the St. Marc Collection.
The Synth Leaf is covered in dark hues of green and violet. The entire pistol is covered in a banana leaf pattern, giving off a jungle-type vibe. Some parts are then painted in a dark purple shade as accents.
Wasteland Rebel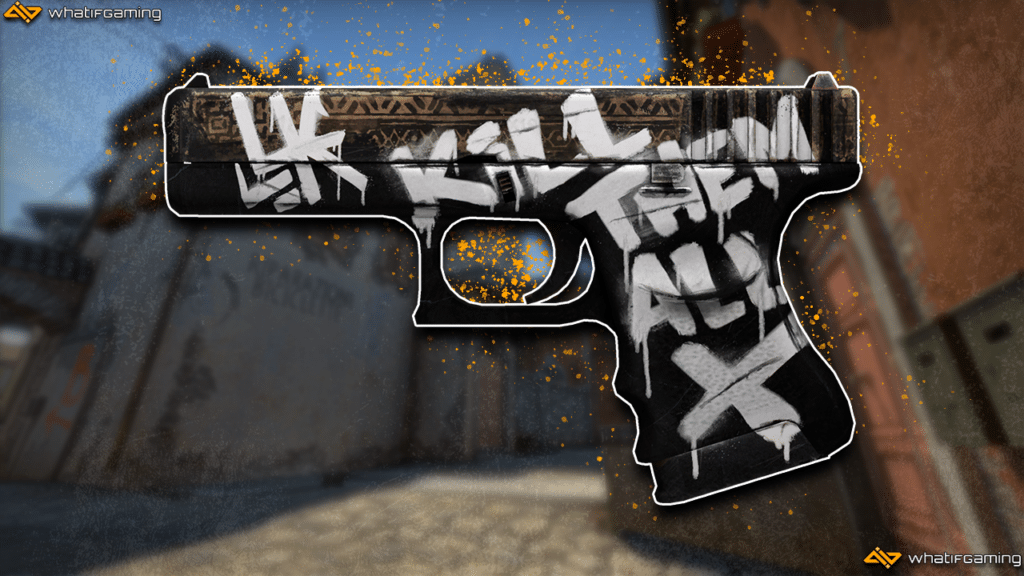 Date released: June 15, 2016
Price range: $4.30 – $30.00
Case: Gamma Case
The final weapon on our list of the best Glock skins in CS:GO is the Wasteland Rebel. The Wasteland Rebel skin features a black base with a beige upper portion. It also has some ethnic-looking markings that give the skin an authentic feel.
It's a pretty simple skin that is completed by graffiti writing of "KILL THEM ALL" in white paint. It's then finished off with an X and another symbol. The Wasteland Rebel is a pretty simple yet unique skin that still provides a different feel to the Glock.
Conclusion
The Vogue tops our list of the best Glock skins in CS:GO because of its elegant look, popping colors, and great sense of style. It's something totally different and would definitely help you stand out in a lobby.
Do you know of a different Glock-18 skin that didn't make the list? Comment it below.