I've put together a list of the 12 best Hand Cannons Destiny 2 has during 2023 for two reasons. First, I know what they are, and you don't. Second, Hand Cannons have consistently been the most powerful weapon archetype in the game. They dominated both PvE and PvP for years – so having a few god rolls is mandatory for any self-respecting Destiny player.
This list features both Exotics and Legendaries, as well as PvE and PvP weapons. There's a Hand Cannon for everyone here – regardless of your tastes.
Fatebringer
Element: Kinetic.
Source: Vault of Glass Raid.
Best For: PvE and PvP
Fatebringer v1, Imago Loop, Fatebringer v2. Every single iteration of this Hand Cannon has been META, and I don't think any other weapon can lay claim to that accolade. It's remained at the top of the PvE sandbox since Destiny 1, even during periods of Hand Cannon stagnation.
Fatebringer always had T1 rolls, but much of its popularity in Destiny 2 comes from the guaranteed god roll of Explosive Payload/Firefly when you get an Adept Fatebringer from Master Templar in the Vault of Glass raid. Its ability to just combust groups of adds is spectacular – it's one of the best Hand Cannons Destiny 2 has ever seen, and it's only Legendary.
Sunshot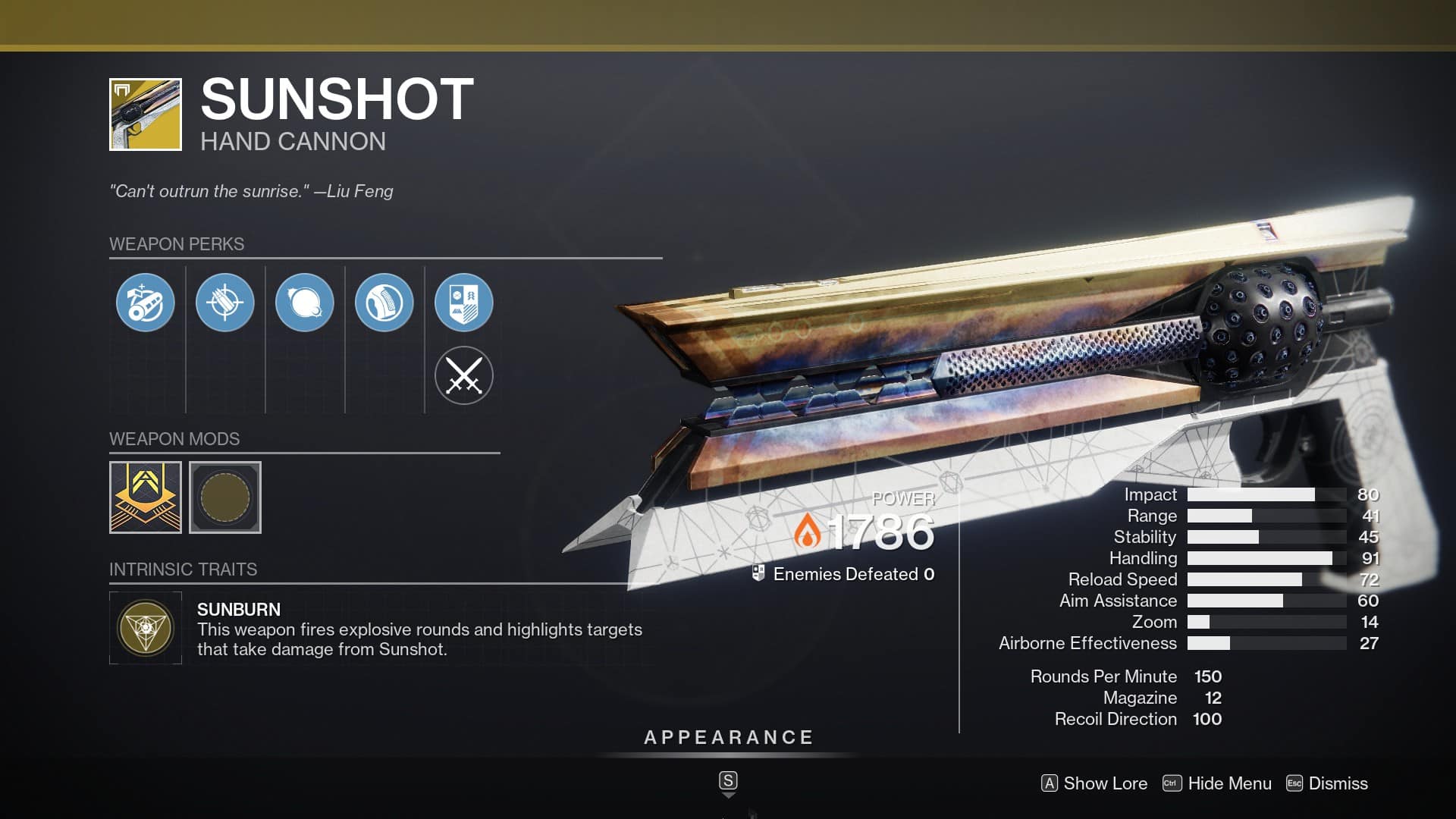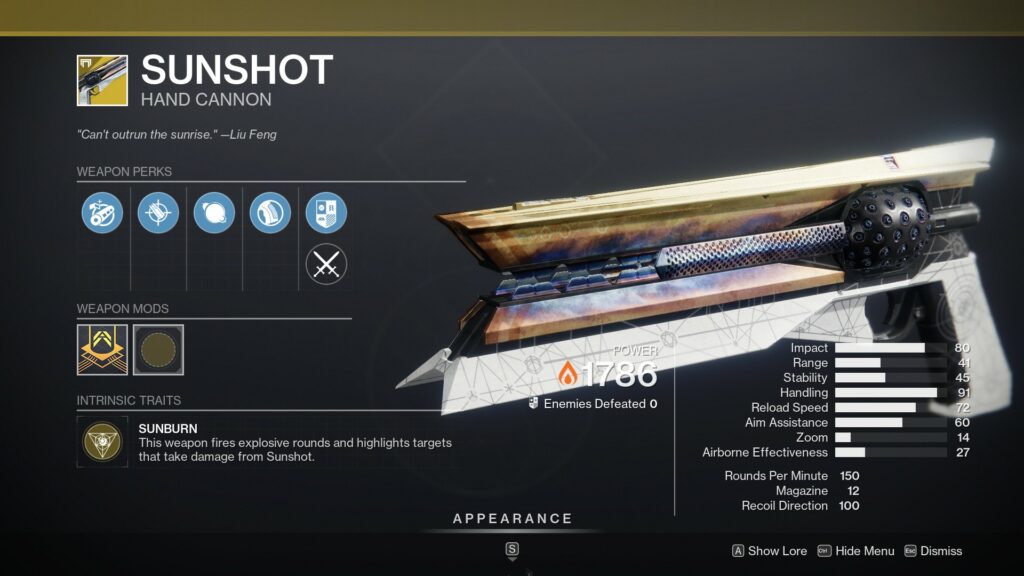 Element: Solar.
Source: Exotic Engrams.
Best For: PvE
Sunshot is the best add-clear Hand Cannon in Destiny 2, and it's not even close. It's an Exotic, sure, but its perk is Incandescent on steroids before Incandescent was even a fledgling idea in some Bungie developer's head.
It fires explosive shots, and enemies killed by Sunshot also explode. It's also not impacted by the Scorch and Ignition system, as of Lightfall – so there's no need to spec into Solar with it. You can use Sunshot with whatever you damn well please, and it'll still clear adds like a Machine Gun.
Ace of Spades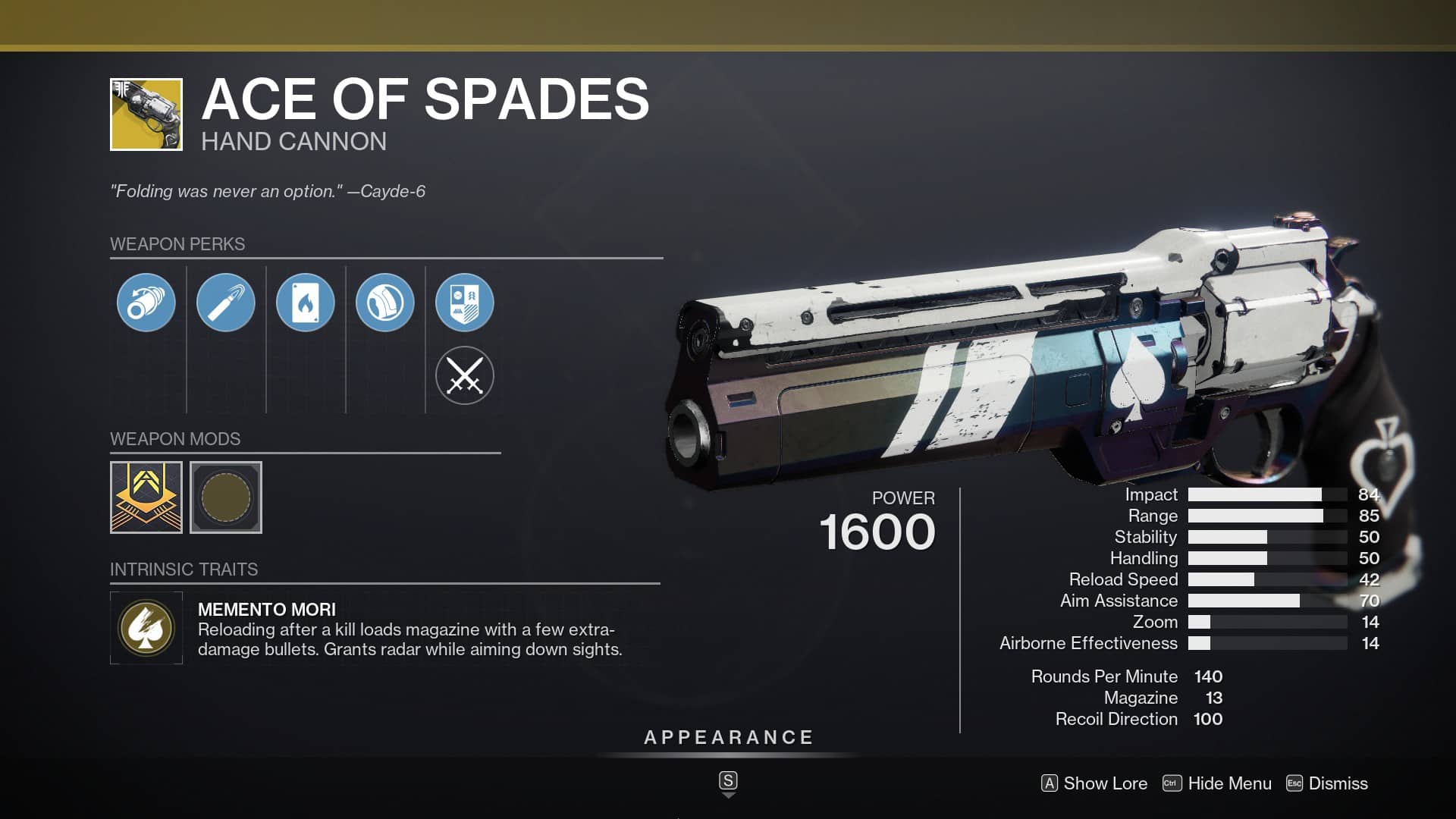 Element: Kinetic.
Source: Monument to Lost Light.
Best For: PvP
Ace of Spades was the king of the Destiny 2 PvP META for so long. It's not the top dog anymore, but it's still hovering around that top-three position, and it's never going to leave. This is the penultimate 140 RPM. It's a consistent three-tap, and you can build into it to enable two-tap kills – albeit inconsistently.
The Exotic perk, Memento Mori, triggers when you reload after a precision kill. This loads six high-damaging bullets into the top of your magazine – essentially giving you Hawkmoon's lucky bullets without the RNG. With Memento Mori active and the right active armor mods, it's possible to two-tap Guardians in the head. Any Hand Cannon that can do that is going to be good in PvP.
Zaouli's Bane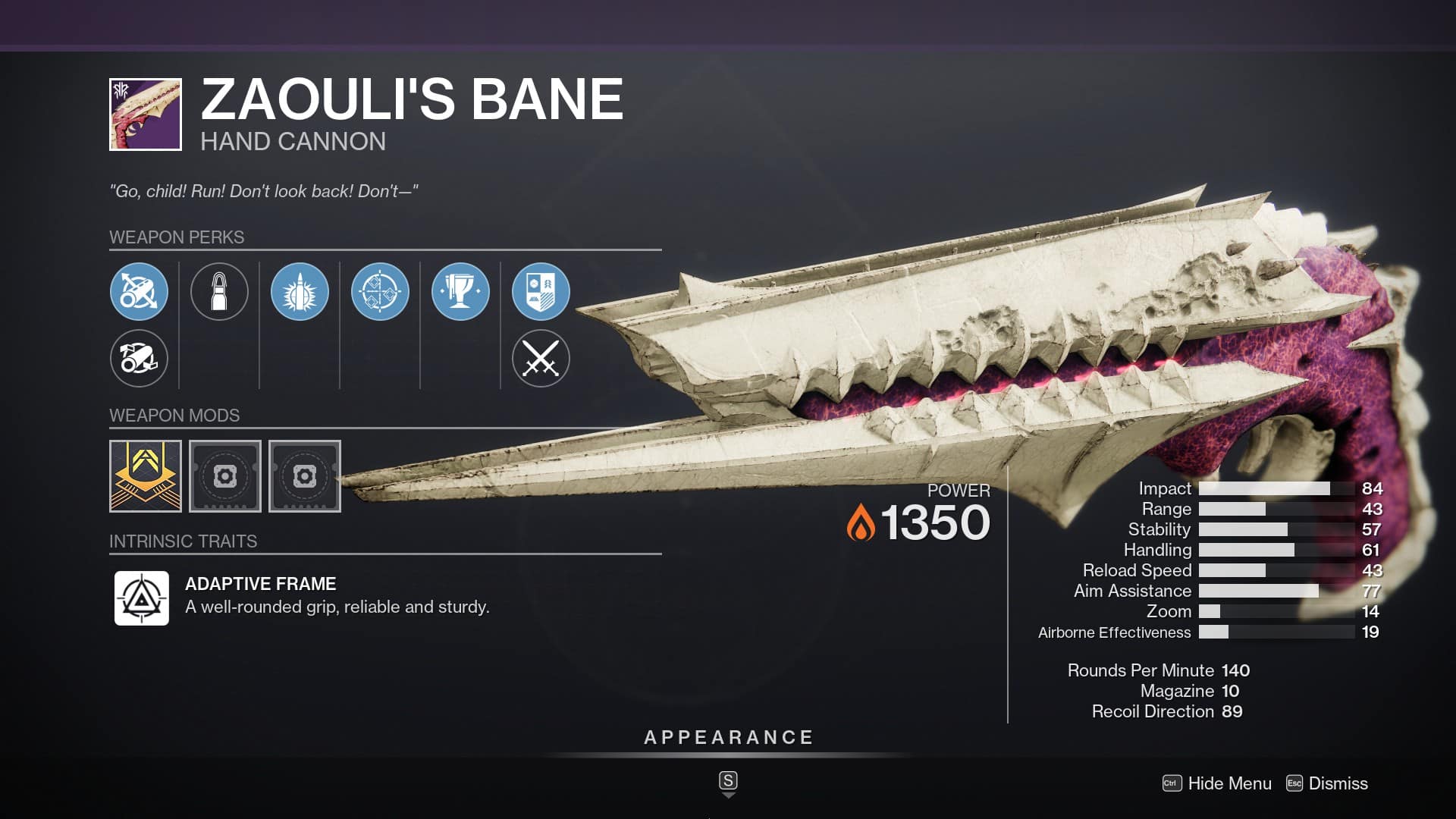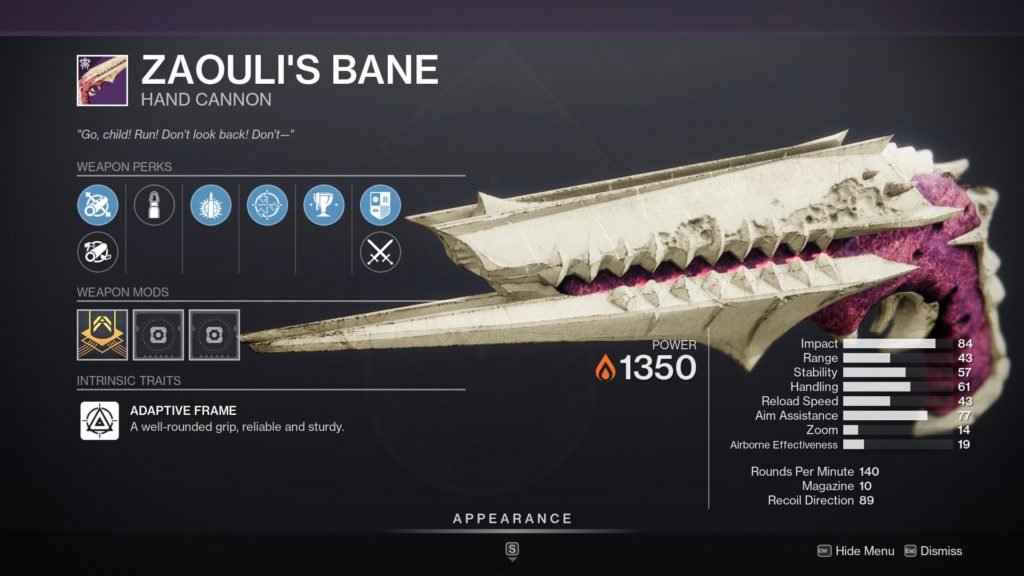 Element: Solar.
Source: King's Fall Raid.
Best For: PvE
Add-clear in Destiny 2 is essentially dominated by two perks: Voltshot and Incandescent. We'll be talking about a Voltshot Hand Cannon in a little bit, but before that – we've got to cover the other perk. Incandescent is a Solar-compatible perk that makes your shots deal Scorch to targets. Apply enough Scorch, and the target will explode. Zaouli's Bane is perhaps the best Incandescent weapon in the game.
You do need to spec into Scorch and Ignition via the Solar subclass to get the most out of this perk – but it's not mandatory. Especially when you combine it with something like Firefly as you can when you craft Zaouli's Bane. It's another Raid weapon, too, so you've no excuse to not farm one.
Austringer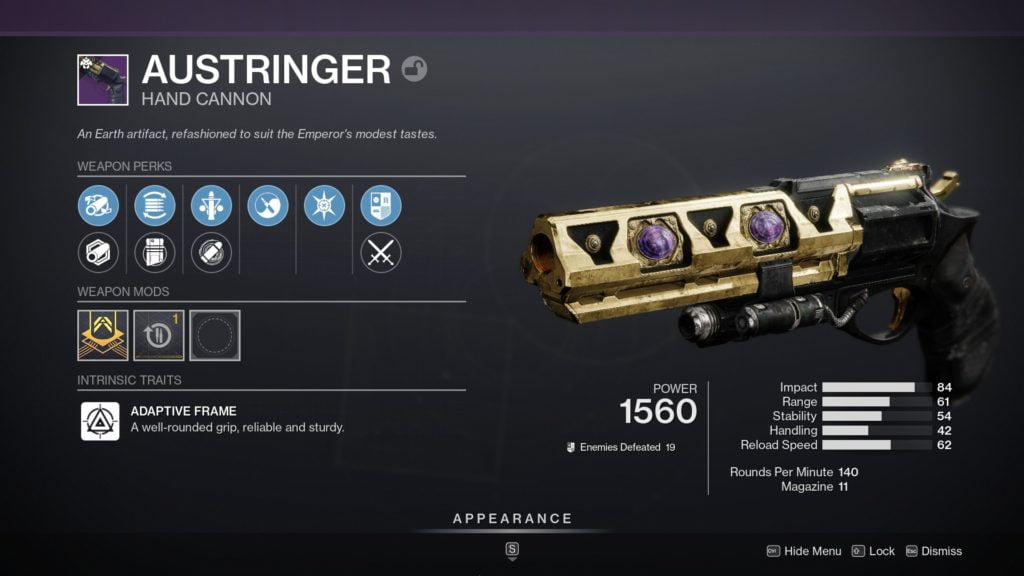 Element: Stasis.
Source: No longer obtainable.
Best For: PvP
Whereas Fatebring and Eyasluna are both reprised Destiny 1 weapons, Austringer is ripped straight from Destiny 2's Season of Oppulance. With the return of the Leviathan in Season 17, old-school weapons like the Mini-Tool and Austringer returned with a brand new look and brand new perk pool.
This wasn't as exciting for Austringer as it was for the Mini-Tool, but it's still a weapon worth hunting. Really, Austringer is a Kinetic alternative to Eyasluna. It shares the quality of being a solid 140 Legendary RPM, so what people run generally depends on perk preference. Eyasluna has access to Kill Clip, whereas Austringer has Frenzy and Rampage.
Rose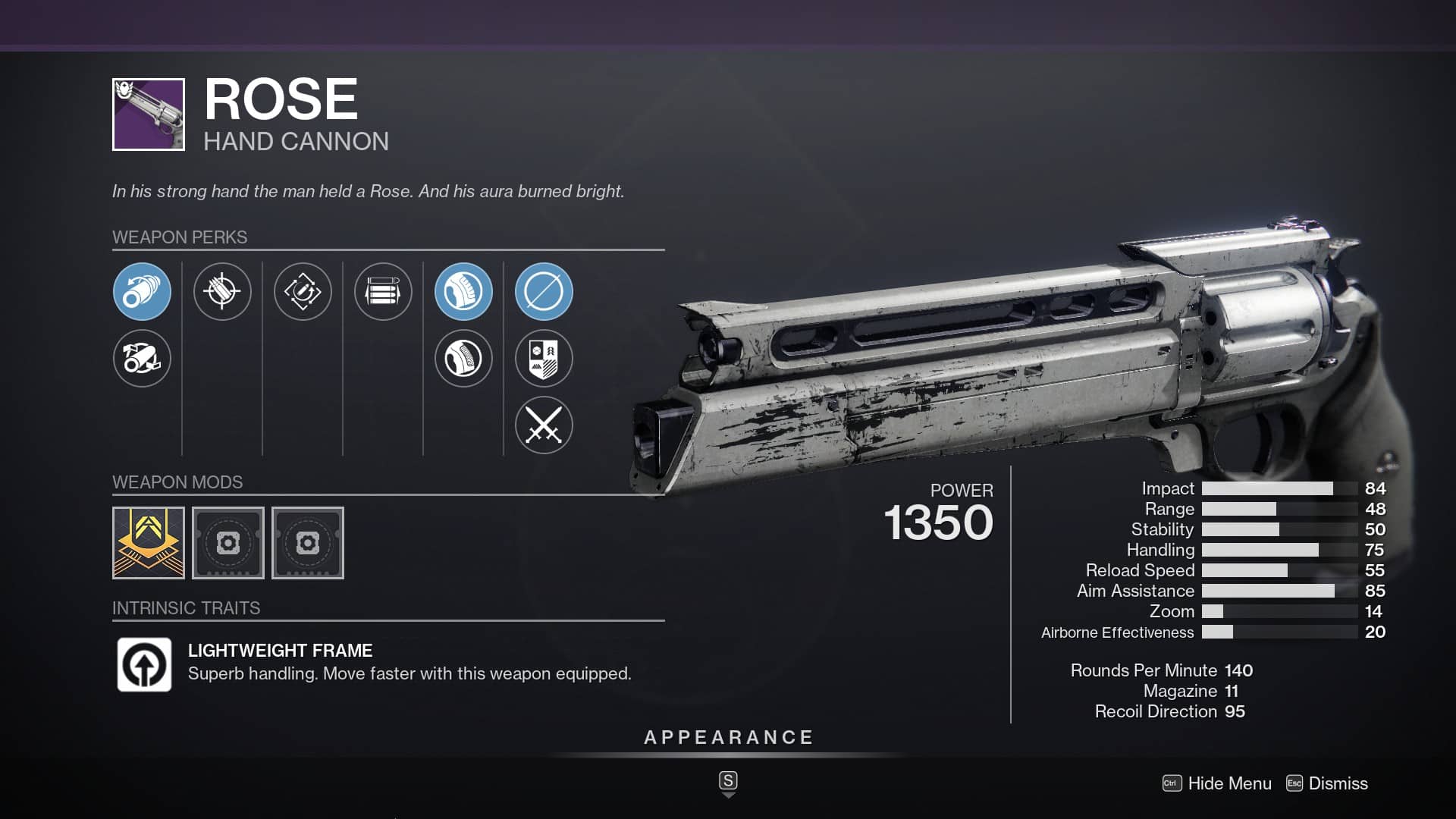 Element: Kinetic.
Source: Competetive Crucible Playlist.
Best For: PvP
Rose is a 140 RPM Hand Cannon locked behind the Glory competitive playlist in the Crucible. So, that should tell you everything you need to know about it. It's another Legendary 140 RPM Hand Cannon, except just fundamentally better than both Austringer and Eyasluna.
It has a less traditional perk pool, with a Rapid Hit/Explosive Payload PvE god roll that can easily be used in PvP, too. If you're not a fan of that, there are plenty of "Crucible-only" perk combinations that can enhance Rose's stats in practically whatever way you want. It's a remarkably frustrating weapon to grind for, but it's locked behind competitive PvP for a reason.
Thorn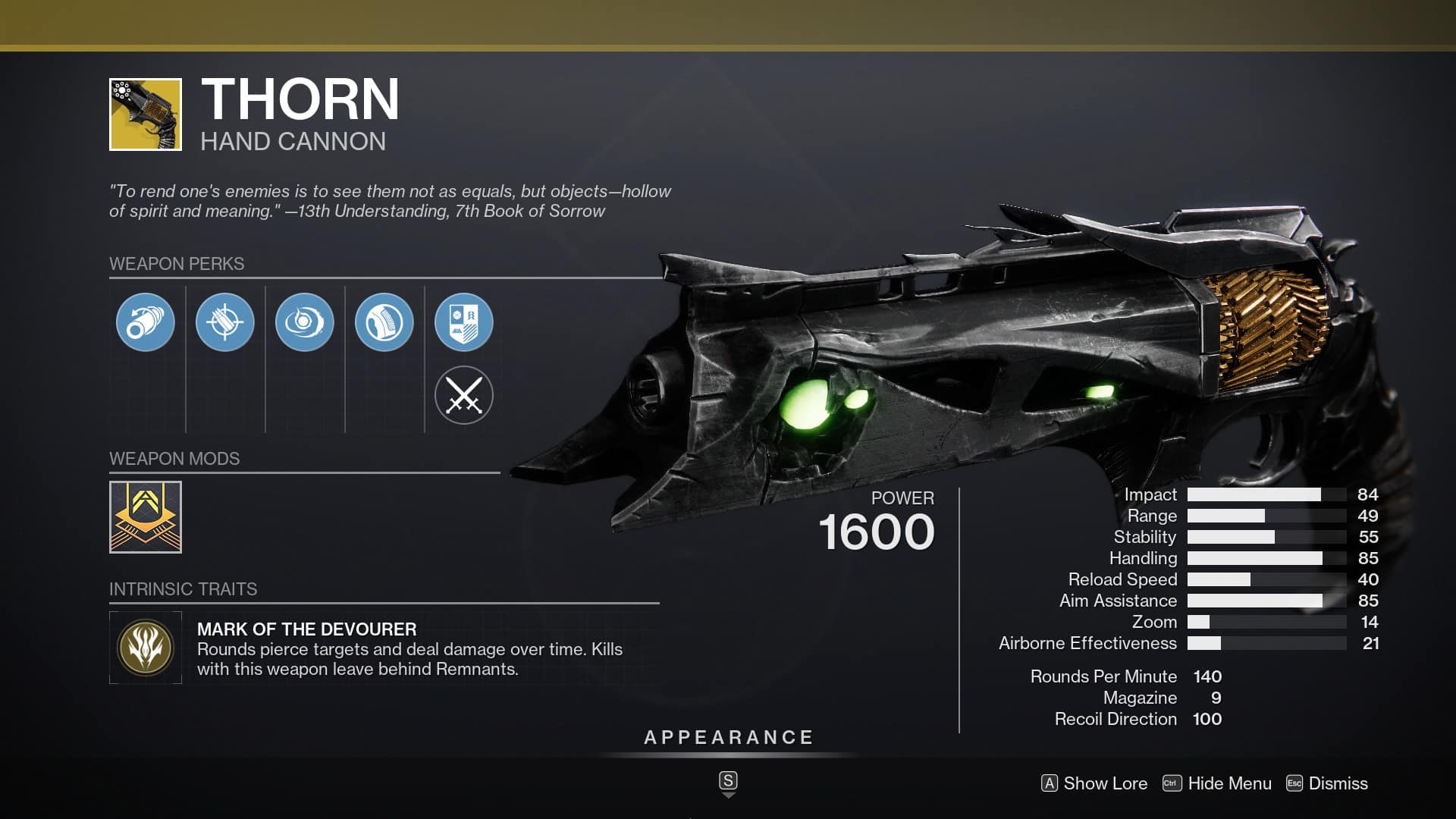 Element: Kinetic.
Source: Monument to Lost Light.
Best For: PvP
Destiny's lore isn't done justice in the game, largely in part to exclusive timed content that goes away after a while. That's the case with Thorn – and the story of its creation by the fallen Guardian Dredgen Yor. It's all interesting stuff, but you wouldn't know that just by buying this thing from the Exotic Kiosk.
In PvE, Thorn isn't the most META weapon. Warlocks can make it work with Necrotic Grips, but there's no reason to run it over something like Osteo Striga. In PvP, though, Thorn is one of the most frustrating weapons to play against. It's a really solid 140 RPM at a base level. Its Exotic perk, though, deals damage over time. In Crucible, this stops you from regening your shield – so you can see the issues.
Eyasluna
Element: Stasis.
Source: Grasp of Avarice Dungeon.
Best For: PvP
Eyasluna has a long, prestigious history with the Destiny franchise. It's a legendary version of Hawkmoon and was first introduced in The Taken King in Destiny 1 as a Crucible reward weapon. Ever since then, it's been a fan favorite – so much so that it returned in Bungie's 30th Anniversary event alongside the legendary Gjallarhorn.
The fan-favorite returned as a Stasis Hand Cannon drop from the final boss of the Grasp of Avarice Dungeon. It's as fundamentally solid as its D1 counterpart, and that's why it's so good. You'll struggle to find a Legendary 140 RPM with solid god rolls like Eyasluna. It's not a complicated or flashy weapon – but it's a must-own for PvP Hand Cannon mains.
Lumina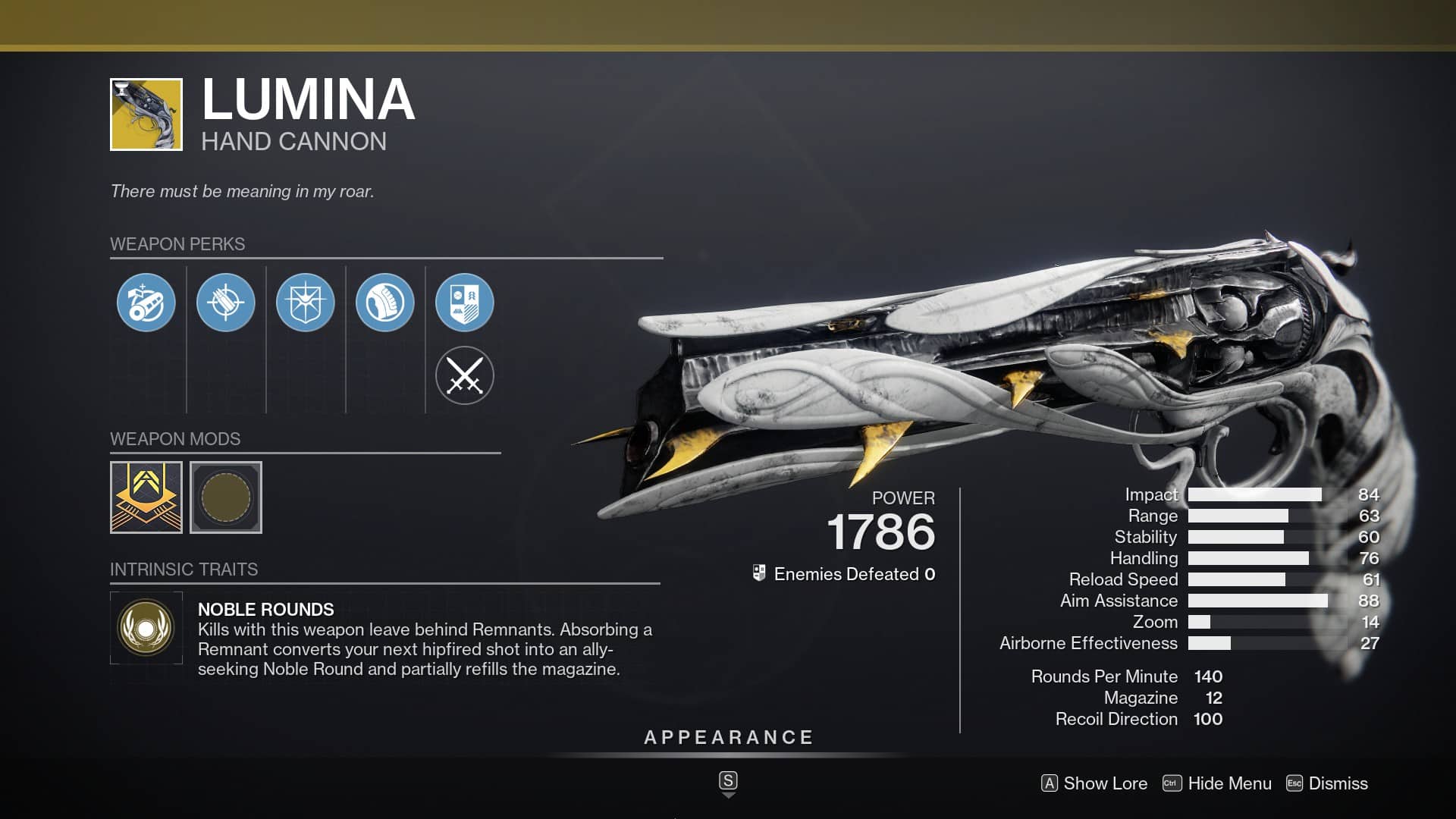 Element: Kinetic.
Source: Monument to Lost Light.
Best For: High-end PvE
You would have to be a very interesting person to run Lumina in PvP. Inside PvE, though, it's phenomenal. You're not using this weapon for its damage output – rather as a support option. Its perk drops Remnants on kill. When you pick one up, it loads an ally-seeking Noble Rounds to your mag.
Shooting from the hip fires this Noble Round. When you shoot an ally with it, it gives both you and them 35% more damage for 10 seconds. This is the highest damage buff of this type in the game – better than Well. This makes Lumina META at the very tip top of the PvE META. You can expect to see plenty of these during a World's First Raid Race, but not many beyond that.
Last Word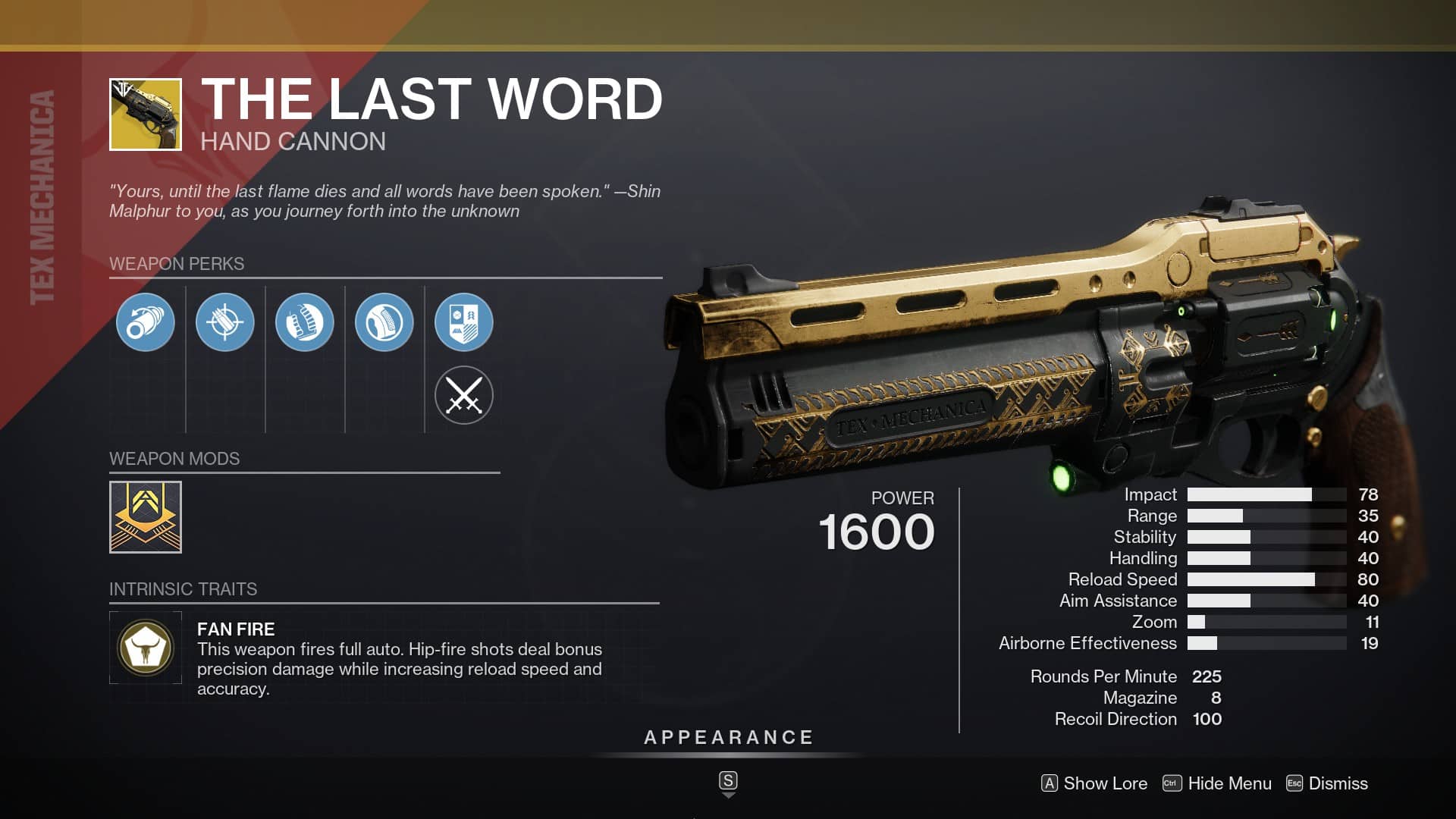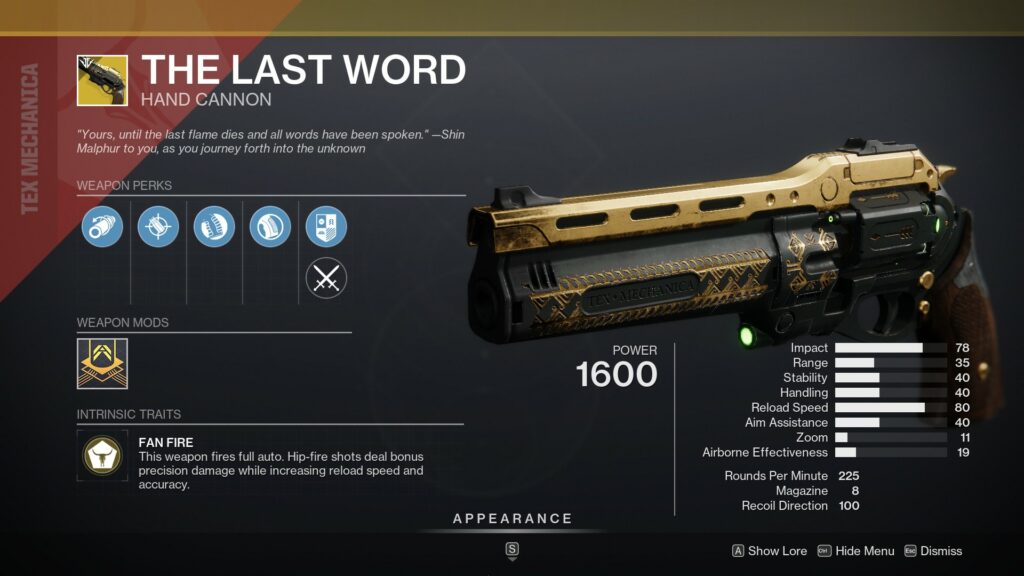 Element: Kinetic.
Source: Monument to Lost Light.
Best For: PvP
Story-wise, the Last Word is the foil to Dredgen Yor and Thorn. Gameplay-wise, it's a hit-or-miss Hand Cannon that's got a dedicated fanbase. Last Word's gimmick is its Exotic perk "Fan Fire." This lets you fire the weapon as fast as you can press your fire button – like a cowboy fanning his hammer.
In PvE, this really doesn't mean anything and shouldn't be used. When you bring it into the Crucible, though, a talented Guardian can absolutely dominate with this thing, especially if they combine it with certain buffs and Exotics like the Hunter's Lucky Pants. It's one of the best Hand Cannons in Destiny 2 for PvP, even if it doesn't see as much play as the usual 140 RPM suspects.
Vulpecula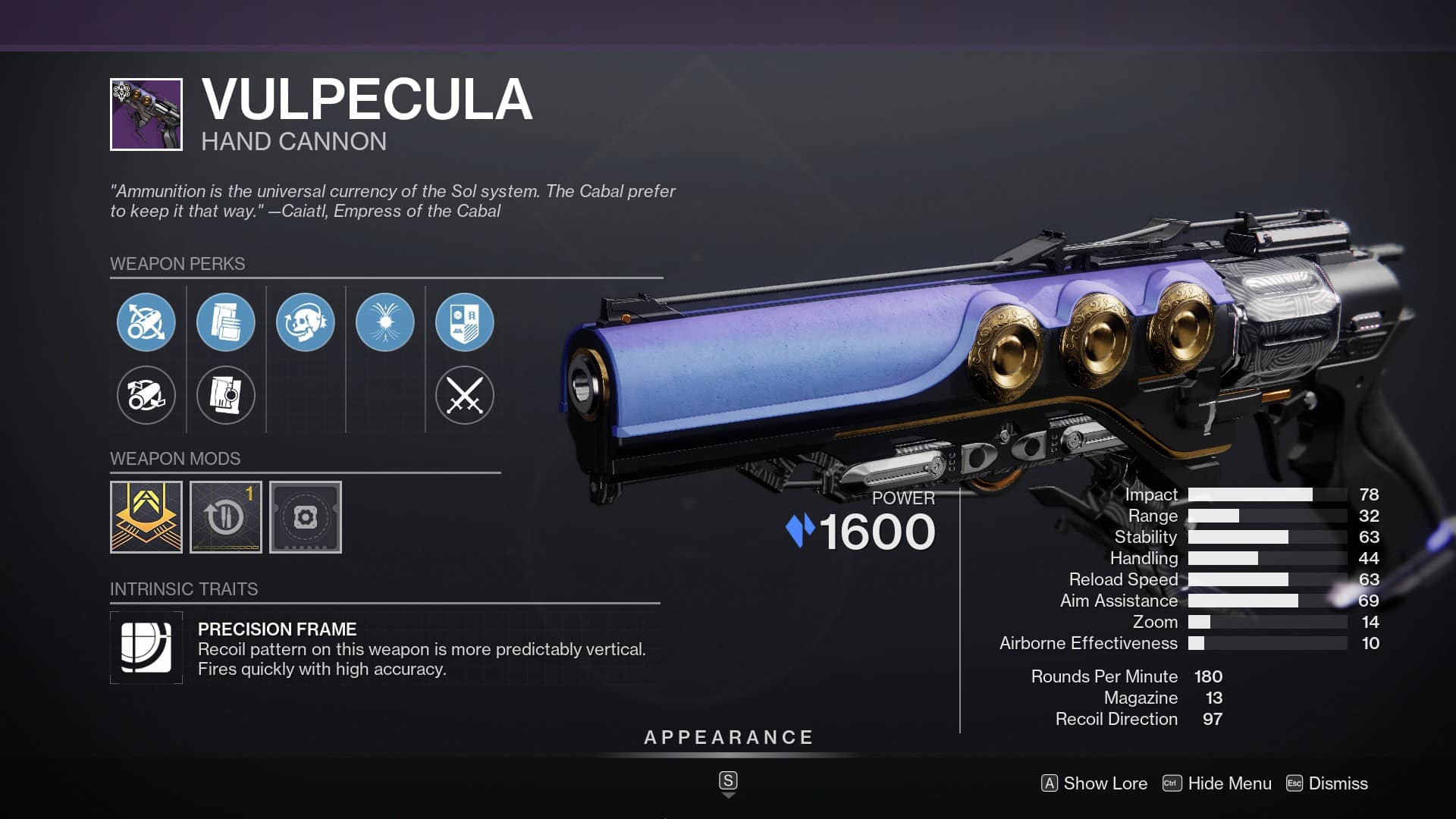 Element: Stasis.
Source: No longer obtainable.
Best For: PvE
Stasis really set the stage for the future of Destiny's build system. It preceded the 3.0 Light subclass reworks, and was the first subclass to introduce a synergistic weapon perk in the form of Headstone. Before the likes of Krait gained popularity, the best weapon to run with that perk was Vulpecula.
There were plenty of good PvP Vulpecula rolls. Being a 180 RPM, though, means that it's always been outclassed by META 140s like Ace of Spades. In PvE, though, it could roll with a perk called Headstone that generates Stasis Crystals on precision kills. This was the first perk of this kind, and to this day is a great addition to Stasis builds. If you're a Stasis main, having a good Vulpecula in your Vault is a major boon.
Posterity
Element: Arc.
Source: Deepstone Crypt Raid.
Best For: PvE
Posterity is the Arc equivalent of Zaouli's Bane. It's also a Raid Hand Cannon – dropped from Deep Stone Crypt this time. Rather than relying on Incandescent, you'll have access to Voltshot, arguably the better perk of the two. Interestingly, Voltshot rolls in column three on this weapon, leaving that all-important fourth column open to some unusual combinations.
This almost works against Posterity, though. It doesn't get to combine Voltshot with typical third-column perks like Feeding Frenzy, so you've no real way to supplement your reload speed. Given that Voltshot procs after reloading, this isn't ideal. Still, you can craft Posterity, so make a point of prioritizing it when you run DSC.
Conclusion
Those are the 12 best Hand Cannons in Destiny 2. Most hardcore Destiny players will have at least one roll of each weapon on this list in their Vault. If you're missing some of them, make it a point to get them. You'll be thankful for them once the Hand Cannon META comes back around.