Katanas are agile blades that primarily scale with your Dexterity stat. They deal a lot of physical damage, and each of them also has unique effects that will help you gain an advantage over other players. That is why we will look at the best katanas in Elden Ring and rank them accordingly.
Keep in mind that you might not agree with all of my picks here. However, after carefully trying out all the katanas in the game, I made this list based off of the results I got in PvP and against bosses. With that said, let's dive right in and get started.
Rivers of Blood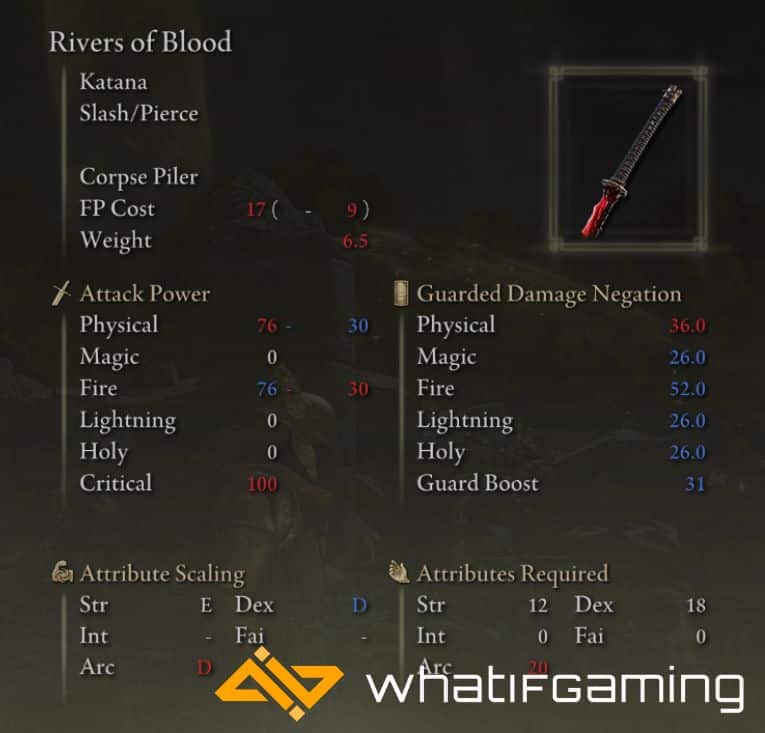 This doesn't come as a surprise to anyone that Rivers of Blood is the best bleed weapon in Elden Ring. It has dominated the PvP meta for a long time since the launch of the game. Plus, despite being nerfed a lot, Rivers of Blood is still extremely strong and will lead you to victory.
Not only is it the best bleed weapon, but you can also use its skill – Corpse Piler – to increase fire and physical damage as well as increase the amount of blood loss. Once you get used to this weapon, there is no way you can go back to any other bleed weapon in the game.
Moonveil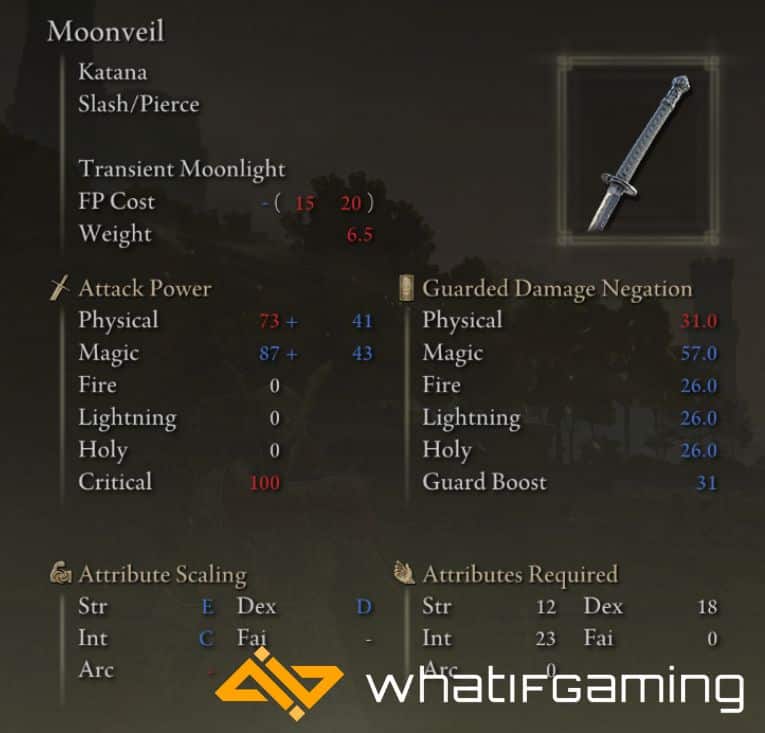 The Moonveil katana is one of my favorite weapons in Elden Ring. It does a mix of magical and physical damage with every hit. Plus, it also has the bleed effect which is always a welcomed addition. On top of that, its skill – Transient Moonlight – is extremely effective against a lot of enemies in the game.
When you use it, your character will fire a straight wave while unsheathing the katana. This can be used to force the enemy to either dodge and be vulnerable or take the damage in PvP. With all these effects, bleeding takes the backseat with this weapon.
Nagakiba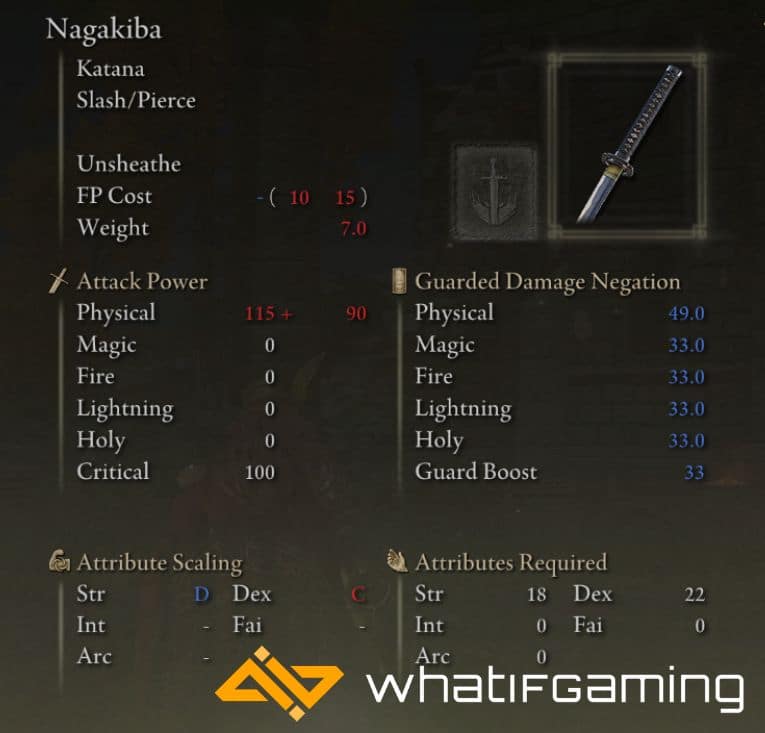 The Nagakiba is extremely good, especially for the early/mid-game. Its scaling is quite good at first but becomes superb once upgraded. At first, STR is D, and DEX is C. You will need to have 18 STR and 22 DEX to properly equip this katana.
On top of that, it also applies a bleed debuff on enemies which is always a good passive to have. Using its skill – Piercing Fang – will allow you to thrust your weapon quickly in a straight direction to deal tons of damage. While it is a telegraphed attack, you can take out enemies easily with it.
Hand of Malenia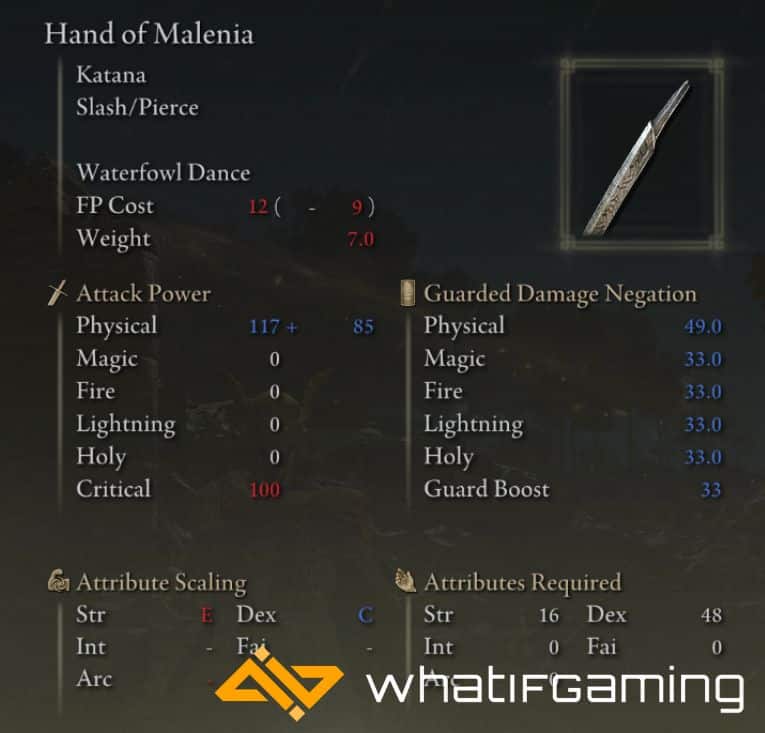 The Hand of Malenia scales primarily with Strength and Dexterity and is a good weapon for Samurai Build and Bleed Builds. This Katana has a scaling of E in STR, and C in DEX. You need to have 15 STR and 48 in DEX to properly equip it.
To get this amazing weapon, you need to interact with Enia and use the Remembrance of the Rot Goddess at the Roundtable Hold, obtained after killing Malenia, Blade of Miquella. Keep in mind that Malenia is the hardest boss in Elden Ring so you'll have to try extremely hard to defeat her.
Uchigatana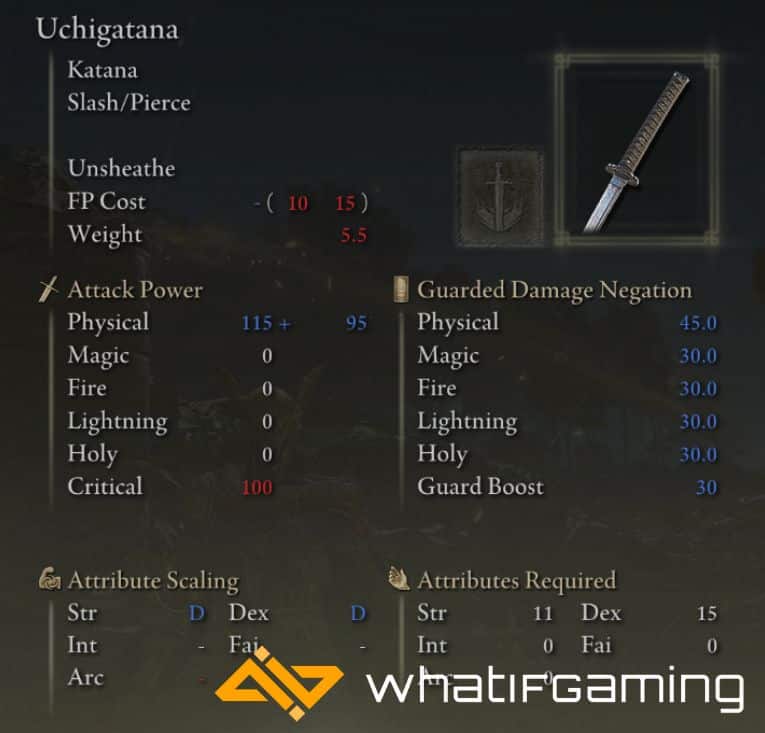 If you pick the Samurai class, the Uchigatana will be your starting weapon. Players might think that a starting weapon won't be this good, but this katana is superb from early to late game. However, if you didn't pick the Samurai class, worry not because you can still find this weapon pretty early in the game.
For this, you need to head over to the Deathtouched Catacombs in the Stormhill area and explore the dungeon. You'll find this katana when you loot a corpse hanging in the catacombs. While it doesn't have the best scaling at first, you can quickly boost it after upgrading it a few times. Plus, the Uchigatana has a bleed effect that is always good to have.
Meteoric Ore Blade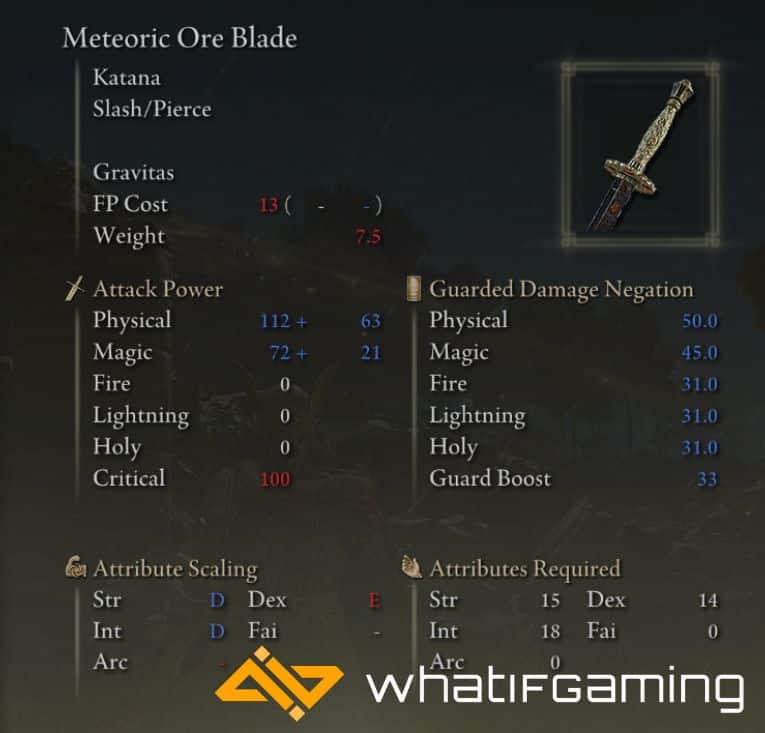 Meteoric Ore Blade scales primarily with Strength, Dexterity, and Intelligence and is a good weapon for dealing melee Slash and Pierce damage in combat. Its accompanying unique skill can also allow the user to thrust their weapon into the ground to create a gravity well to pull in enemies and damage them in the process.
The Meteoric Ore Blade can be found inside a chest in a small room at the back of an underground hall filled with sarcophagi and Prawn Miner enemies. The entrance to the area is found in the northwest section of the ruins.
Dragonscale Blade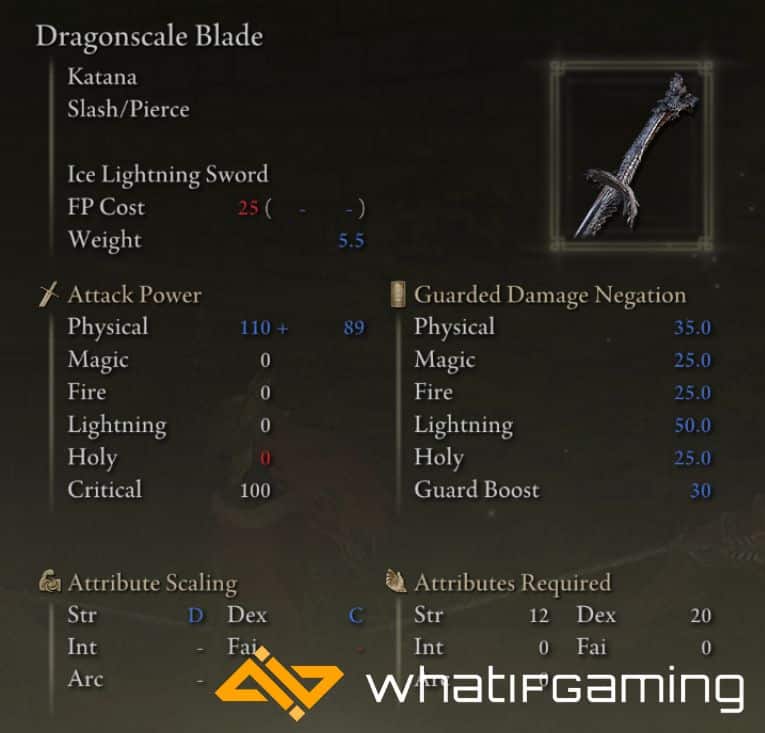 The Dragonscale Blade scales primarily with Strength and Dexterity and is a good weapon for Slash and Pierce damage. Its skill – Ice Lightning Sword – calls down a bolt of ice lightning that damages an enemy.
It also leaves the blade with extra lightning damage and frostbite buildup for the next 20 seconds. You can get it by killing the Dragonkin Soldier in the Lake of Rot. Plus, look at the amazing design of this blade. It is one of the best-looking weapons in Elden Ring!
Serpentbone Blade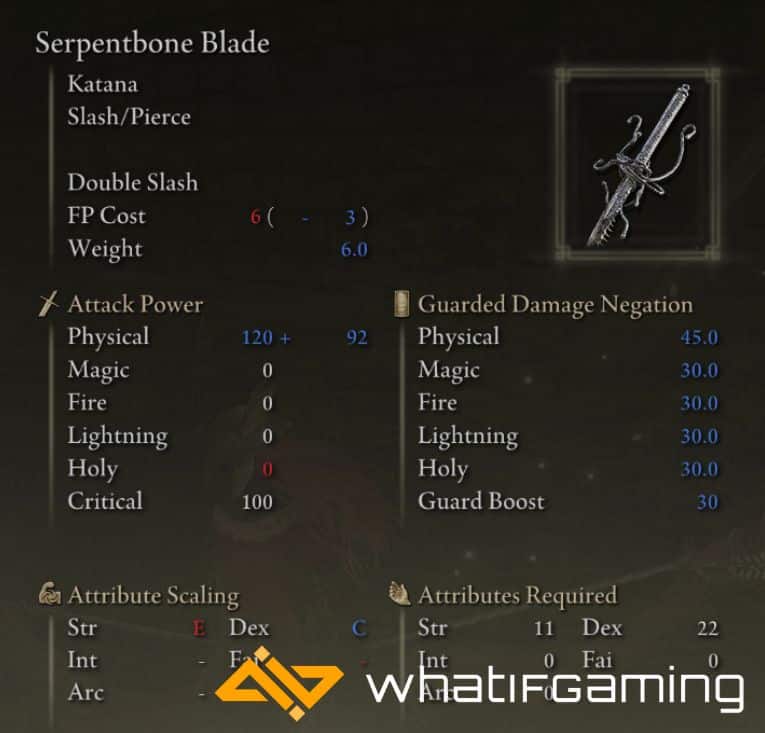 Finally, the Serpentbone Blade looks cool but it doesn't provide useful stats to be ranked higher than this. That's not to say that it is a bad weapon. You can easily deal tons of physical damage with this katana and also build up poison swiftly. Plus, it has a cool three-phase weapon art which is good to look at.
The good news is that you can build up the poison by upgrading the weapon rather than investing points into your Arcane stat – like you would with the Serpent Bow. The reason why it's ranked at the bottom of the katana list is that you can easily be interrupted during your weapon art.
Plus, you cannot infuse other Ashes of War on this weapon which deducts a few points.
Conclusion
And there you have it; those are the best katanas in Elden Ring. If you are planning to use katanas in your next playthrough, make sure that you pick up one of the weapons mentioned on this list and try them out. All of them are great choices but some are clearly better than others.
Which katana do you like most in Elden Ring? Do you prefer using other weapons instead? Let us know your thoughts in the comments below!