When I'm talking about the best Machine Guns in Destiny 2, I'm really talking about the best Add-clear weapons in the entire game. Ever since the archetype's buff with Lightfall, MGs have been taking over the end-game META. I've been playing Destiny for about a decade, and I've never seen the kind of Add-clear these things offer before. If you're still struggling to swap out your old Linear Fusion – take this as a sign to give one of these 12 a try.
Grand Overture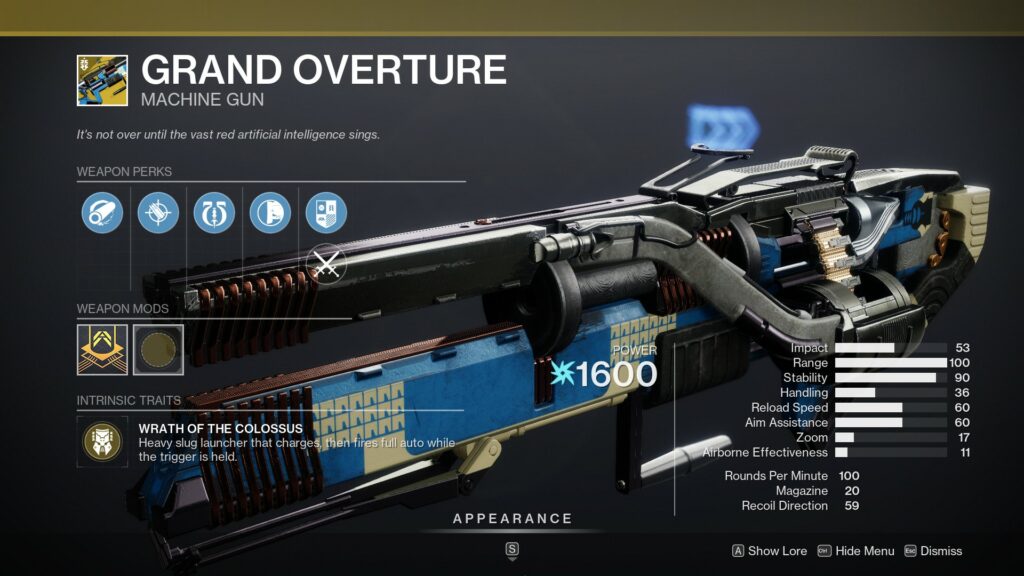 Element: Arc
Source: Monument to Lost Light
Best For: PvE
In my opinion, Grand Overture is the best Machine Gun in Destiny 2, hands down. It has the kind of burst-DPS that rivals Parasite but doesn't massively fall off over time as that launcher does. It's also great for Add-clear as a Machine Gun, and it's actually designed for both that and boss damage, making it incredibly versatile.
Grand Overture fires slow, heavy shots. Each shot you hit loads a missile into Grand Overture's alt-fire mode. This maxes out at 20. By holding your reload button, you'll load all those rockets into the weapon – firing them off in one volley. The damage this does is incredible – I used it to solo two-phase the final boss in Spire of the Watcher. It's easy to use, versatile, and packs a punch – everything you want from an MG.
Retrofit Escapade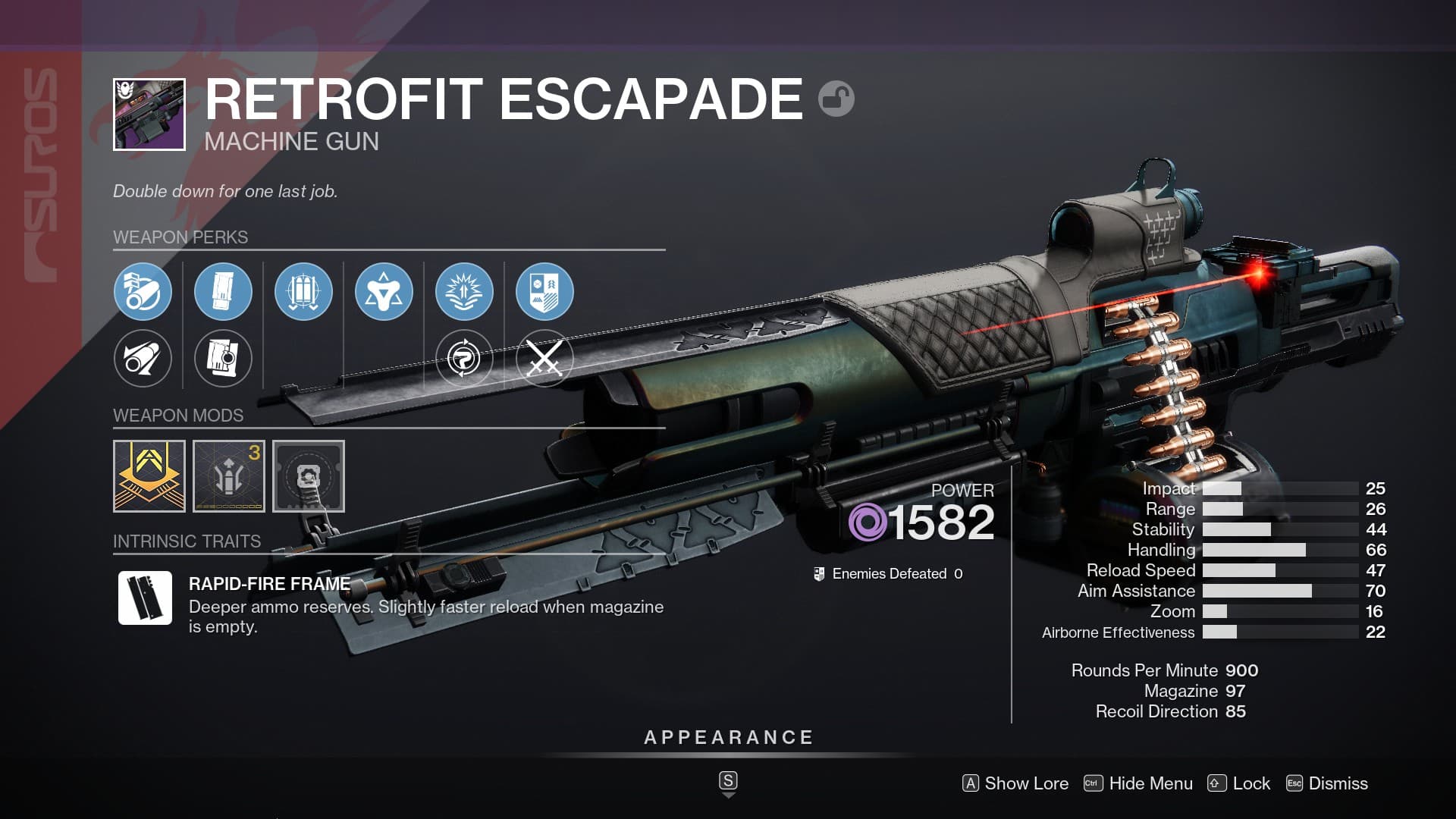 Element: Void
Source: No longer obtainable
Best For: PvE
For a brief time in Season 19, Retrofit Escapade broke the game. The combination of Fourth Time's the Charm with Target Lock, and the Retrofit's massive 100+ mag size meant that this thing's ammo economy was, and still is, ludicrous. Throw Volatile on top of that, which was triggering way too much at the time, and you had DPS that actually broke the game.
Bosses' health bars were glitching out with how much damage the Retrofit Escapade put out. Not only was it the best Machine Gun in Destiny 2, but it was the best weapon in general. The Volatile bug has since been fixed, so the DPS is no were near what it was. However, the damage you get compared to the weapon's ammo economy still makes it an S-tier PvE option.
Thunderlord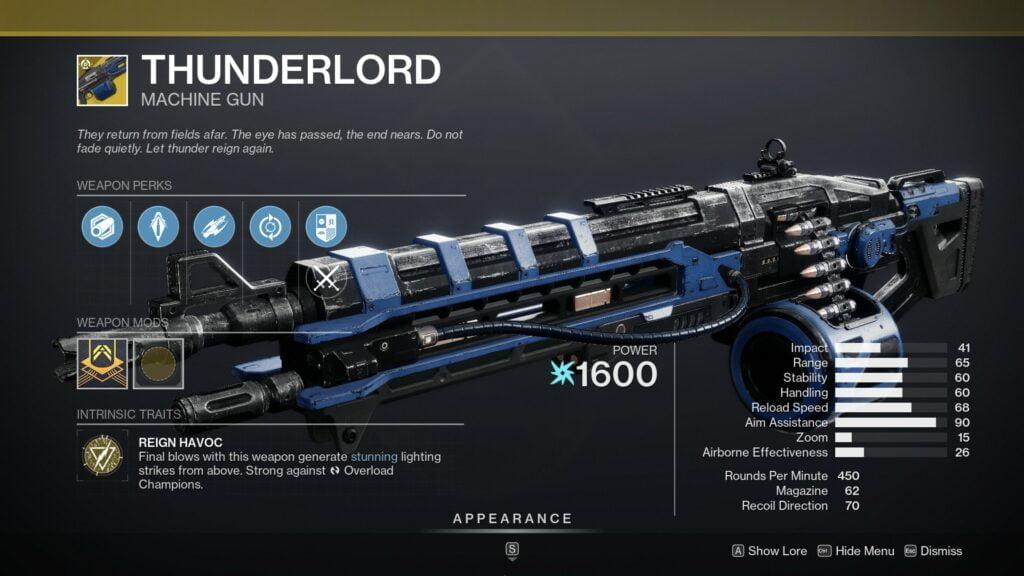 Element: Arc
Source: Exotic Engrams
Best For: PvE
The power of Thunderlord has never been quite as obvious as now. Despite launching all the way back in Destiny 1, everyone's favorite Arc Machine Gun is back in the META thanks to a Lightfall-era buff to the archetype. Thunderlord is so strong this year that it's actually a go-to strategy for Nezerac in the Root of Nightmares Raid.
Thunderlord is one of the best Machine Guns in Destiny 2 for both Add-clear, and DPS in certain scenarios. With how popular double special loadouts are, it's never been easier to keep yourself stocked up on heavy ammo. Take advantage of that ammo with Thunderlord, and you'll never look at Add-clear the same.
Xenophage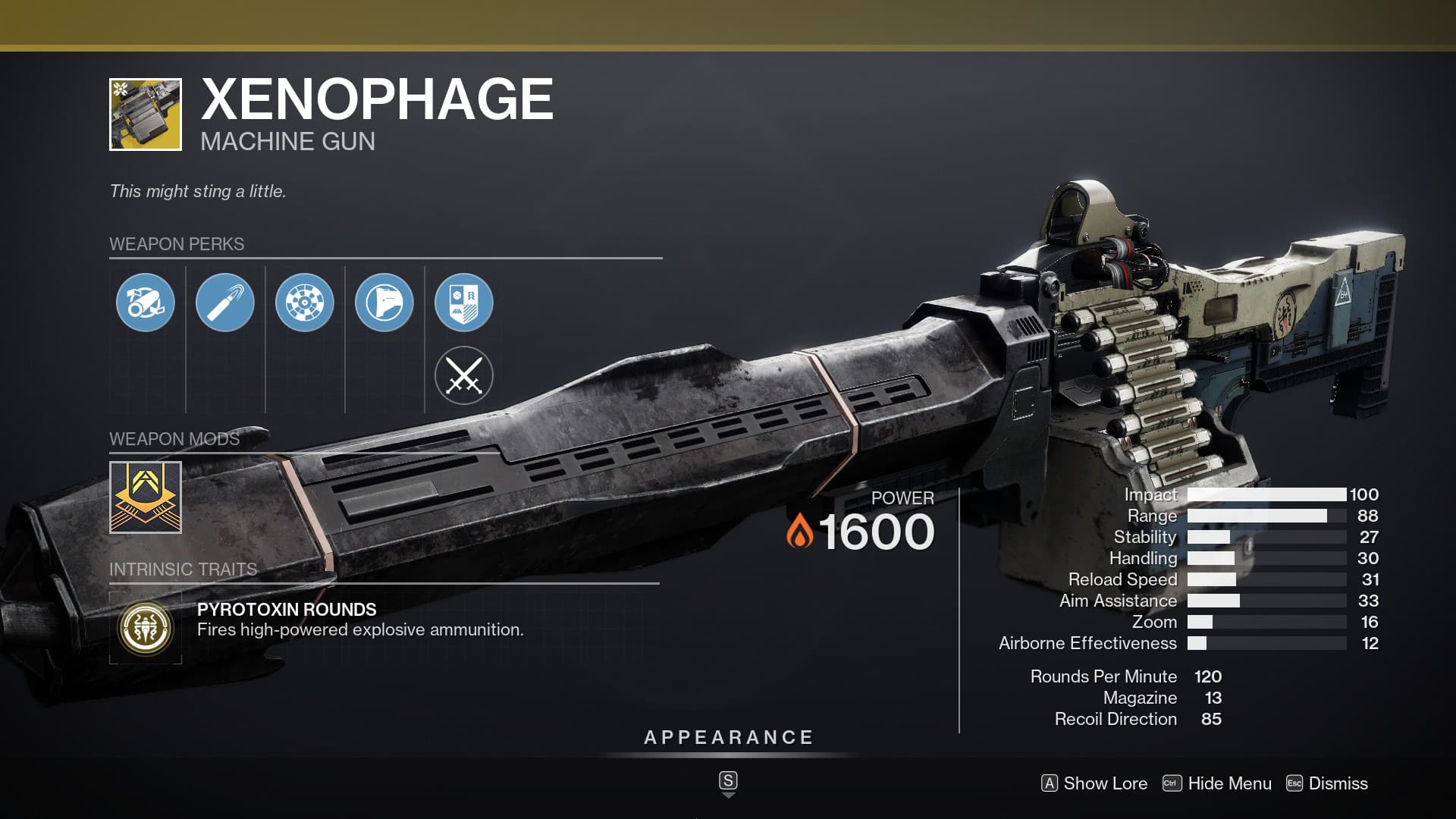 Element: Kinetic
Source: Shadowkeep Exotic quest
Best For: PvE and PvP/Gambit
Xenophage is one of Destiny 2's more unique Machine Guns. It's a single-fire weapon, more akin to a strange shotgun than an automatic. What's more interesting than that, though, is the fact that Xeno doesn't do precision hit damage.
In exchange for not being able to take advantage of precision hit bonus damage, Xeno's base damage is incredible. This makes it META for any bosses that either don't have or have difficult-to-hit crit spots. You'll always see this thing in the first encounter of Deep Strone Crypt. This high base damage makes it a menace in Crucible, too, if you want to swing that way.
Commemoration
Element: Void
Source: Deep Stone Crypt Raid
Best For: PvE
Not only is Commemoration craftable, but it has a stupid number of god rolls. It's actually worth crafting two or three of these, just to have in your Vault for various different encounters. It's about as versatile as a Machine Gun is going to get, and that's in large part thanks to it being Void.
Unlike most other Void Machine Guns, Commemoration has access to the Void-specific Repulsor Brace. Combine that with Subsistence and Volatile Rounds and it'll be practically impossible for you to die while you're Add-clearing. Or, if that's not your style, you could go for a Fourth Time's the Charm roll with Killing Talley or Unrelenting – and those are just a few of the possible god rolls Commemoration has access to.
Chain of Command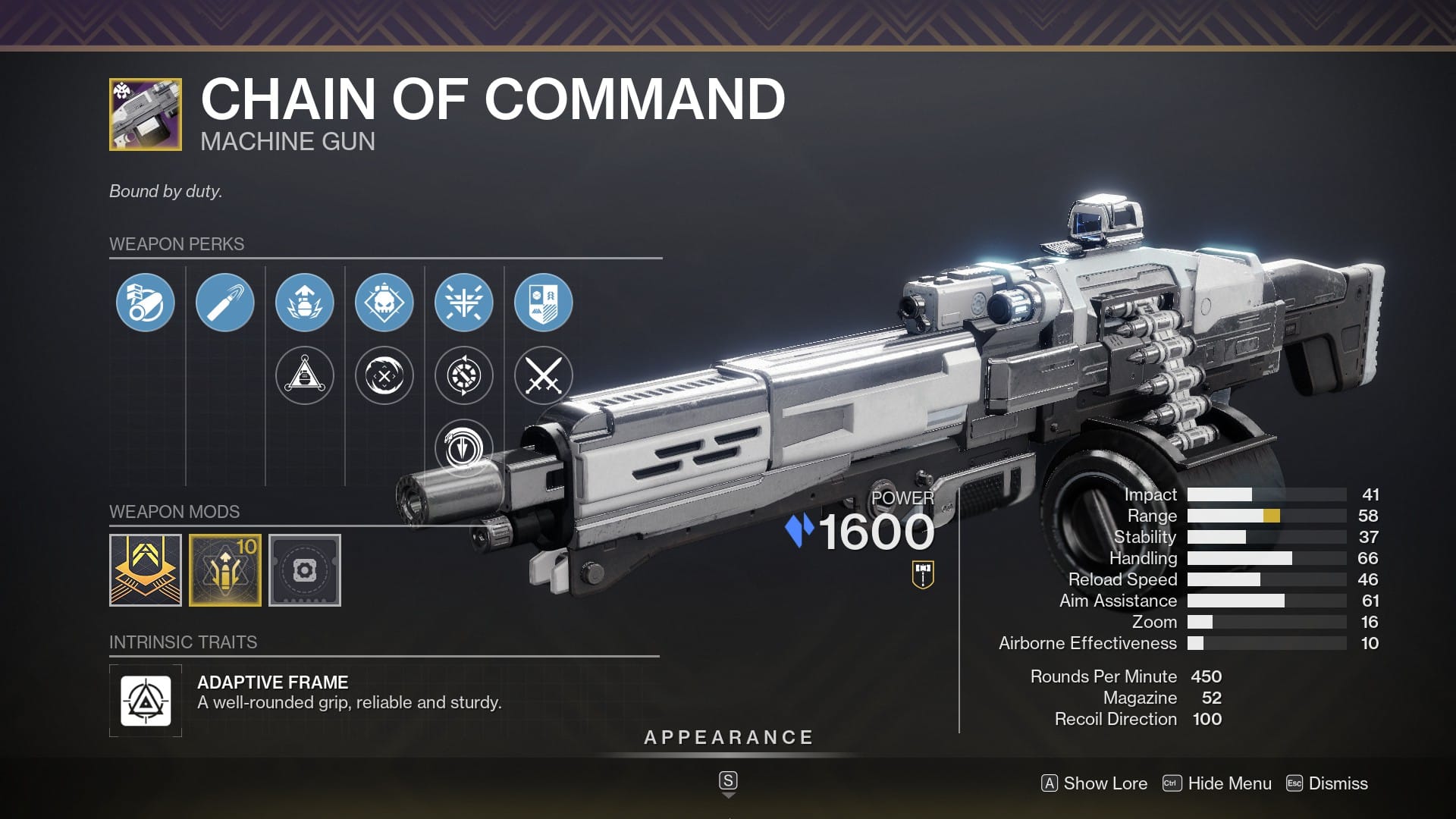 Element: Stasis
Source: Monument to Lost Light
Best For: PvE
Chain of Command was the ritual weapon during Season of the Haunted. So, it's obviously going to be one of the best Machine Guns in Destiny 2. It's got static rolls, so it doesn't take any effort to get. All you have to do is splash the cash for it at the Monument to Lost Lights in the Tower.
In column three, Chain of Command has Adrenaline Junkie or Osmosis. In Column four, you have Demolitionist or Adaptive Munitions. You don't need me to explain why any combination of those perks is incredible. You can make Chain of Command deal incredible damage while charging your grenade, or have it charge your grenade and then change element based on your grenade type. It's a match-game dream.
Avalanche
Element: Solar
Source: The Dawning
Best For: PvE
Don't let its small size fool you, the Avalanche packs a mighty punch. It's got a handful of phenomenal god rolls, most of which are made possible by either Auto-Loading Holdster or Subsistence in column three. What you'll take out of the two will depend on whether you're looking for an Add-clear Avalanche or one more inclined to DPS.
My first-choice roll is Subsistence/Incandescent. With the right Solar build, I stand confident in saying this is the best Add-clear gun in the game for high Add-density encounters. However, you do have access to Adrenaline Junkie or Swashbuckler, as well as the ever-present Target Lock if you're not a Solar fan.
Circular Logic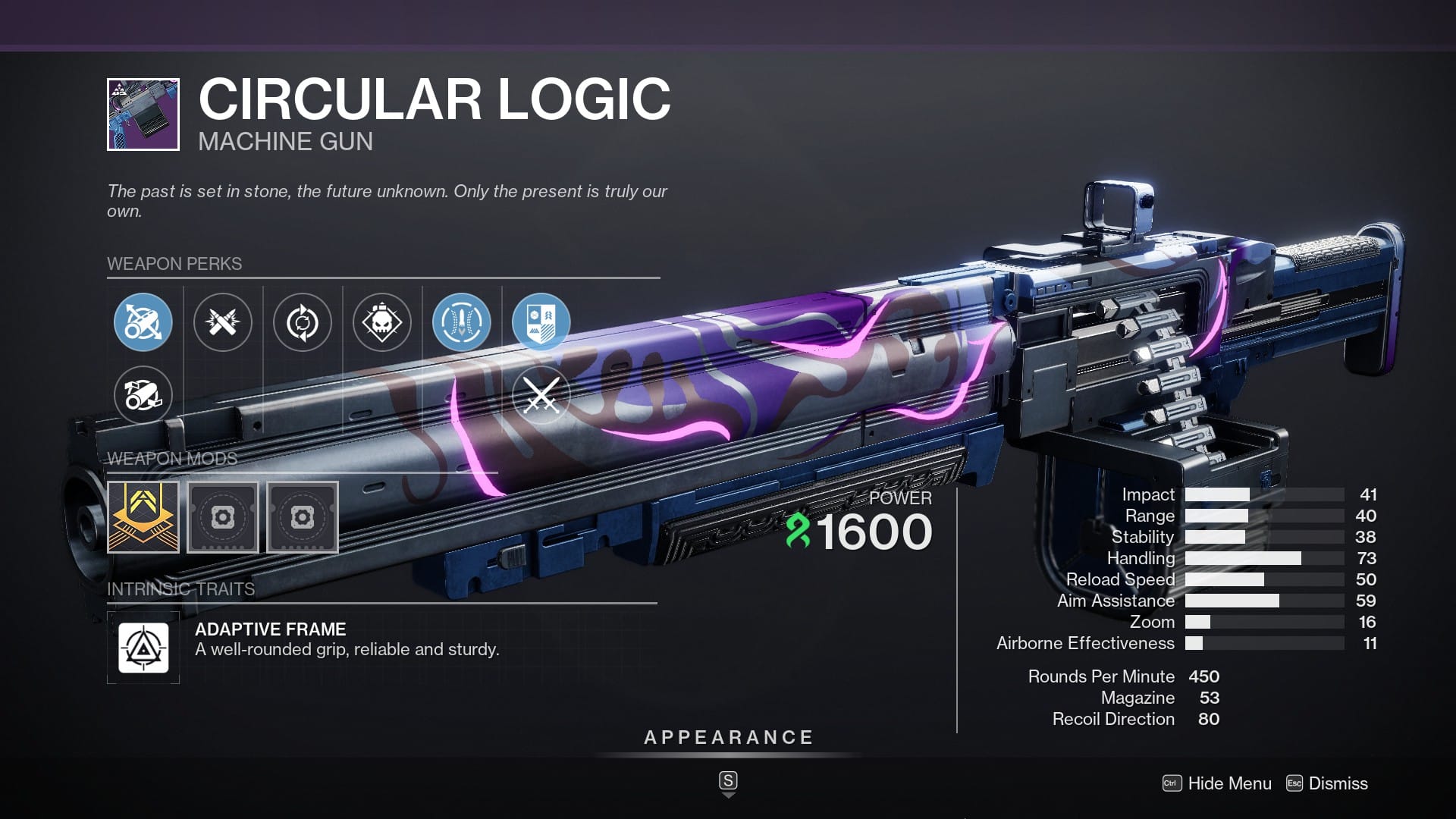 Element: Strand
Source: Terminal Overload (Zephyr Concourse)
Best For: PvE and PvE
Circular Logic is a new Machine Gun introduced to Destiny 2 with Lightfall – and yet it's already one of the best Machine Guns in the game. Granted, it's sole-use is for its Strand-related capabilities. If you're not a fan of Strand, there are far better MGs than this.
Column three is unfortunately pretty light. However, Feeding Frenzy saves it from being a complete wash, as does Envious Assassin and Keep Away for PvP. You'll want to combo this with Hatchling in column four. There are other good options here, but there are better Mgs with rolls like that. By using Hatchling, you'll be taking advantage of this weapon's unique advantages, and getting some great Add-clear for the trouble.
Unwavering Duty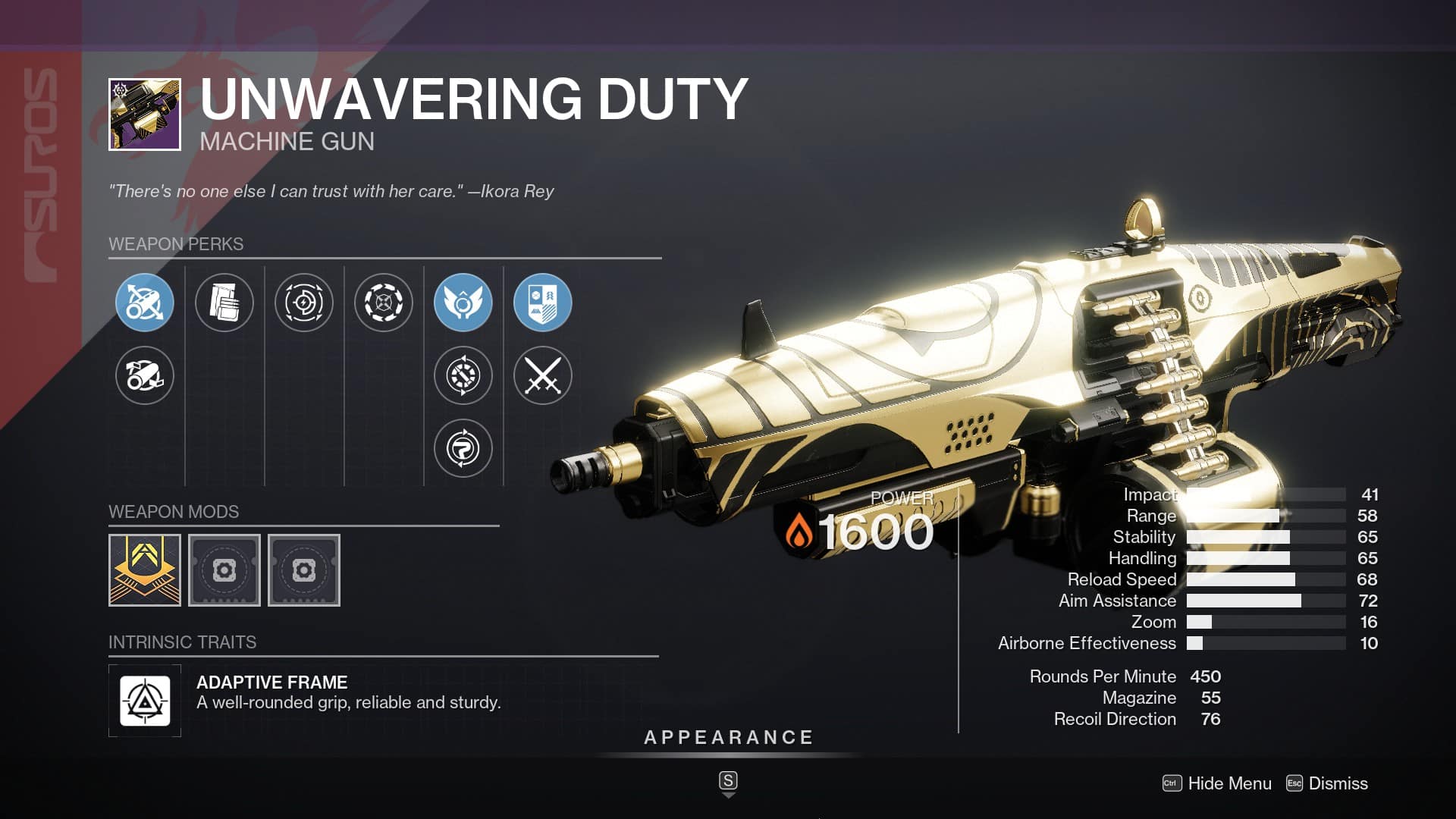 Element: Solar
Source: Trials of Osiris
Best For: PvE and PvP
Trials of Osiris weapons are typically only good for PvP – granted they tend to be incredibly at that. Unwavering Duty breaks that mold by not only being a phenomenal PvP weapon, but a PvE one on account of that much-desired Subsistence/Incandescent roll. If you're stuck for an Incandescent MG, it might be worth grinding this one out in Trials, even if you're a PvE player.
Of course, PvP players have a lot to love here, too. There's a Dynamic Sway Reduction/Tap the Trigger roll that'll grant you incredible stability, granted Unwavering Duty's base stats are already great. Killing Wind is also a decent PvP option, and you also have Killing Talley for those interested in that sort of thing.
Qullim's Terminus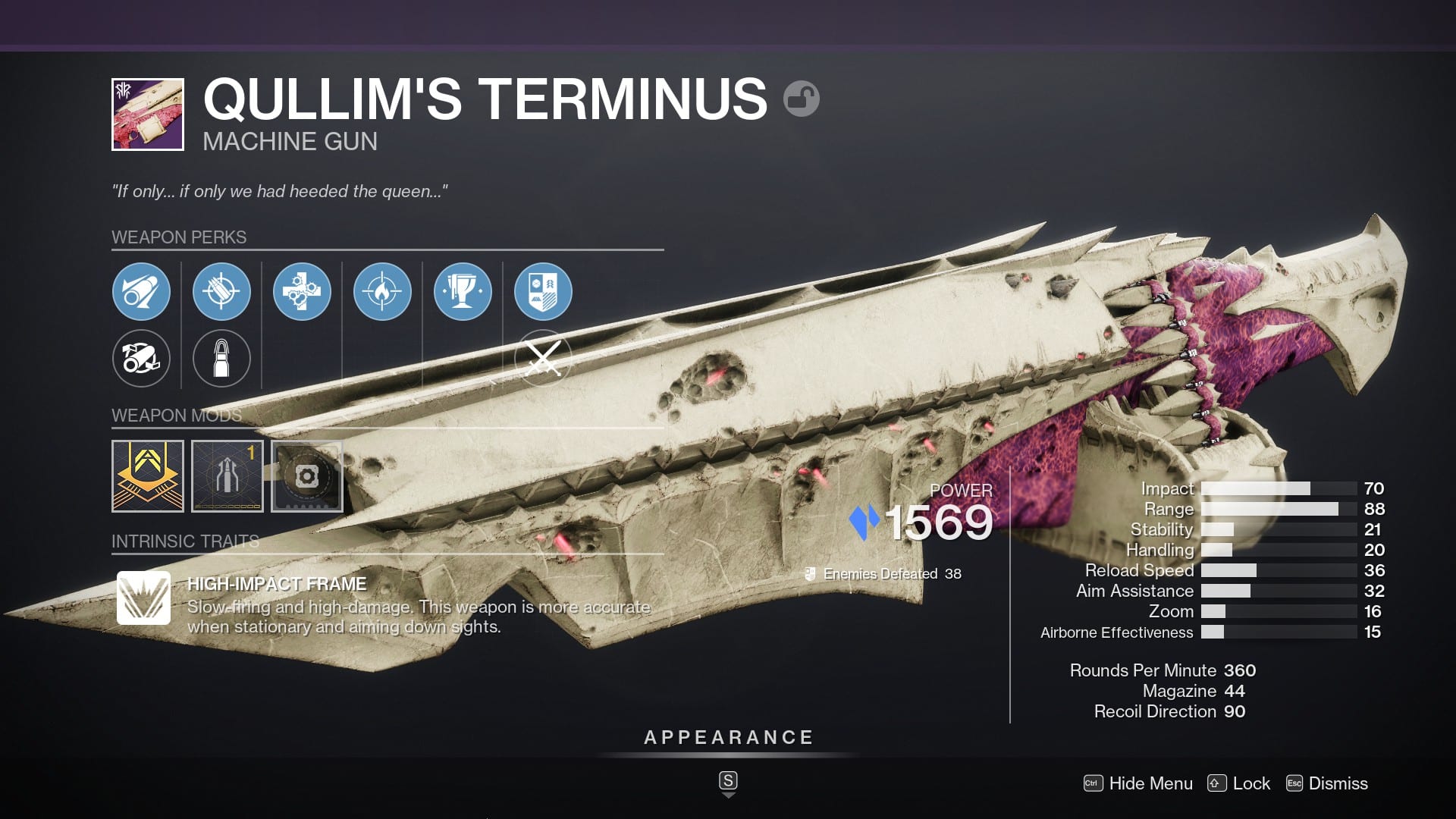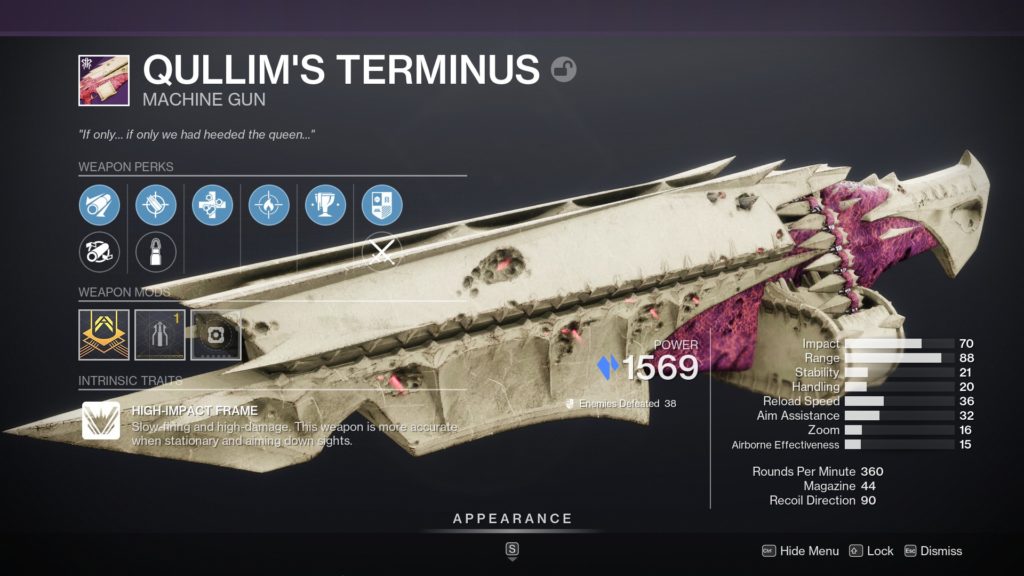 Element: Stasis
Source: King's Fall Raid
Best For: PvE
Raid weapons, for the most part, tend to be bangers. That holds true with Qullim's Terminus. It's not the best Machine Gun in the world on account of not having any ammo economy perks in column three. That being said, its assortment of column four perks more than makes up for it.
You'll typically be combining Unrelenting with either Headstone or Killing Tally. Headstone is obviously a T1 choice for any Stasis users out there while Killing Tally remains one of the best PvE damage perks for weapons with large mag sizes. Unfortunately, a lack of something like Subsistence limits this thing's potential, but it's still a great craftable Stasis tech option.
Corrective Measure
Element: Void
Source: Vault of Glass Raid
Best For: PvE
Corrective Measure may feel like an old man compared to the fancy new Machine Guns we've been getting lately, but the Vault of Glass' resident MG still hangs with the rest of them. Granted, that's in part thanks to it luckily being Void – making it work with Volatile Rounds, which is arguably the best subclass verb-related buff.
Column three is dominated by Subsistence, as is the case for any Machine Gun that rolls with it. Rewind Rounds is also an option. You combo that with either One For All for a substantial damage buff or Firefly for better Add-clear. Either way, this thing will clean house if you use it with the right Void build.
Terminus Horizon
Element: Arc
Source: Spire of the Watcher Dungeon
Best For: PvE
Terminus Horizon is a strange Machine Gun. This isn't an archetype you would think lends itself to Voltshot, and yet that perk on this weapon works remarkably well. If that doesn't sound like something you're interested in, the only other decent roll here is Target Lock – and why would you bother when Retrofit exists?
Trust me, the roll of Rapid Hit and Voltshot works a lot better than you might think – especially with the right ammo perk and Terminus' already low 46-round mag. If you're not too greedy about your Volthost, you can get some surprisingly effective Add-clear out of this thing.
Conclusion
Those are what I consider to be the 12 best Machine Guns in Destiny 2 as of Lightfall. MGs are all the rage right now, and if you've been too stubborn to take off your Linear, now's the time. Trust me, you've never seen Add-clear this effective before. I know I haven't.