Minecraft is the ultimate sandbox game! You can play it in endless ways! And one of the best ways is to play is by completing Minecraft adventure maps. But which ones should you try out? That's what you're about to find out in today's blog post. So without further ado, let's get into it.
Heart Of Darkness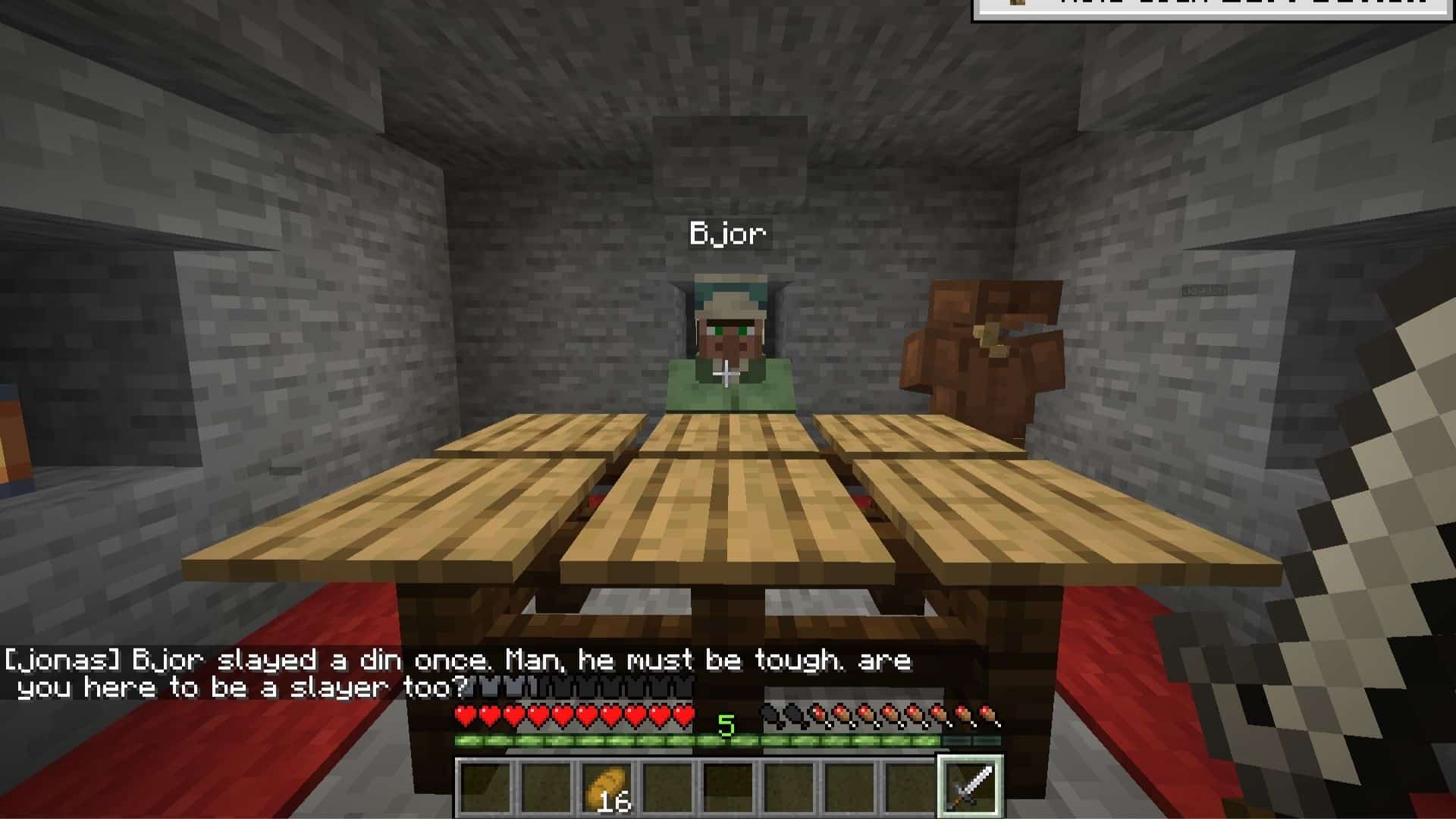 Minecraft Version: 1.16.5
Starting off this list is a Minecraft Adventure map by Voleshads named "Heart Of Darkness." In this RPG adventure, you spawn on an island where several rifts have been opened. And from those rifts, many evil monsters pour out. Your objective is to trace them back to the root and banish them from this island.
You'll be fighting customized enemies and exploring many custom structures. All of this gives you about 3-5 hours of fun.
Diamond Sword RPG: Full Remaster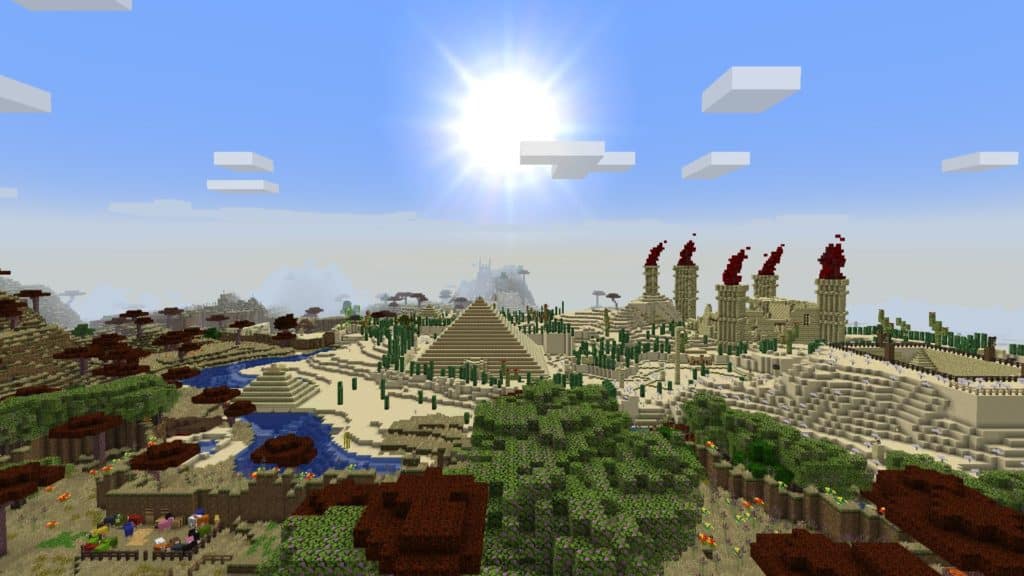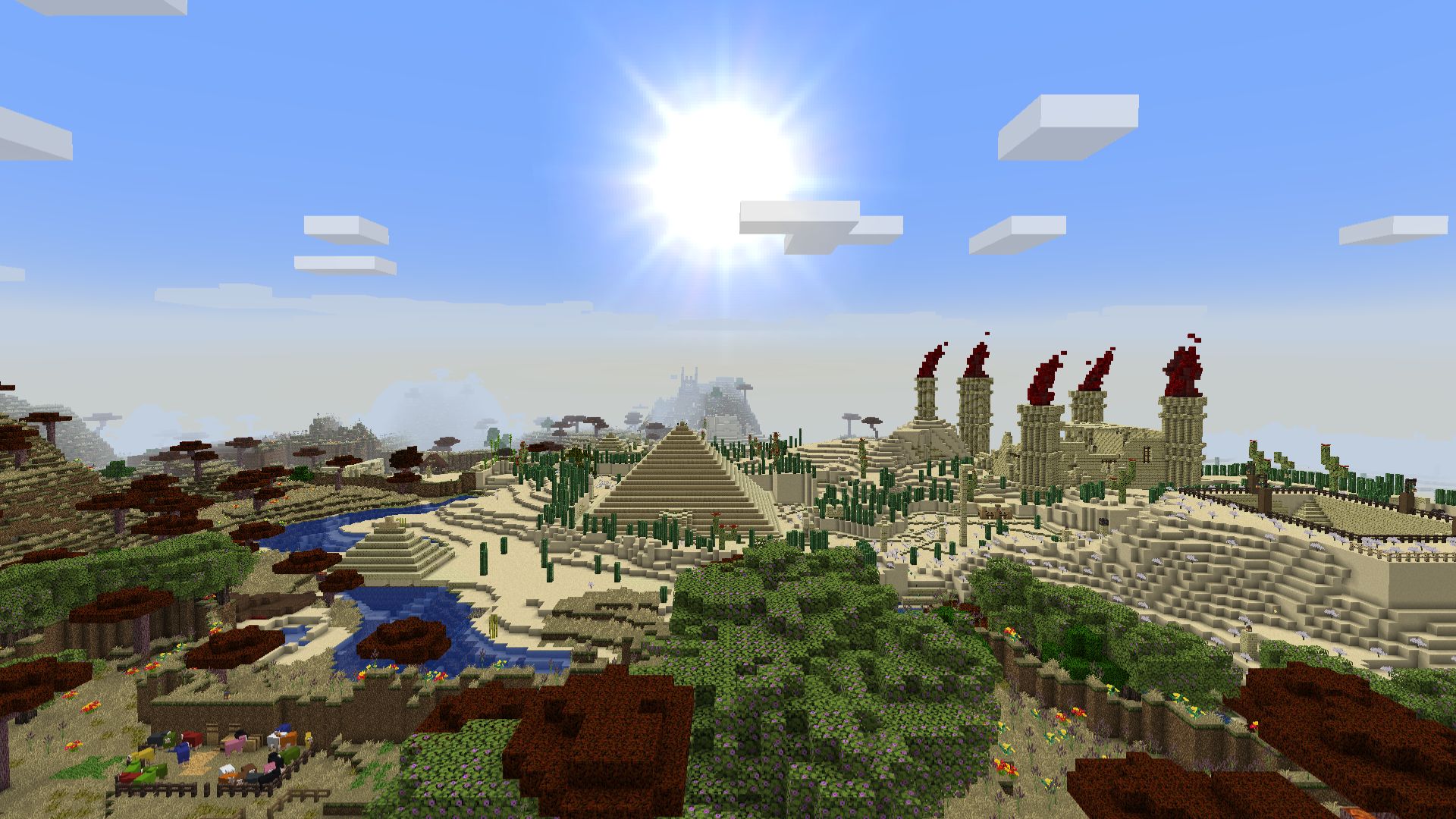 Minecraft Version: 1.17.1
The following map is a remaster of the original map "Diamond Sword RPG". However, that's quite an understatement.
This map is incredible because it didn't only update to 1.17 and made it support two players. It adds a lot of new content. You'll be able to discover three entirely new dungeons, experience the new quests, and so much more.
You'll have hours of new content! So if you're looking for a unique RPG experience in Minecraft, this is a great map to try out.
Casino Night Hitman
Minecraft Version: 1.17.1
IO Interactive's trilogy of hitman games is incredible! You can kill your targets in the most creative ways! Well, with Casino Night Hitman, you'll be able to experience something similar in Minecraft!
In this adventure map, you play Agent 47. You arrive at a casino where you're tasked to kill three targets. You need to try to avoid the guards and not kill any civilians. You can also kill three optional targets that you first need to get some intel.
So if you're looking for more hitman gameplay, then this Minecraft adventure map is for you!
The Tourist Remastered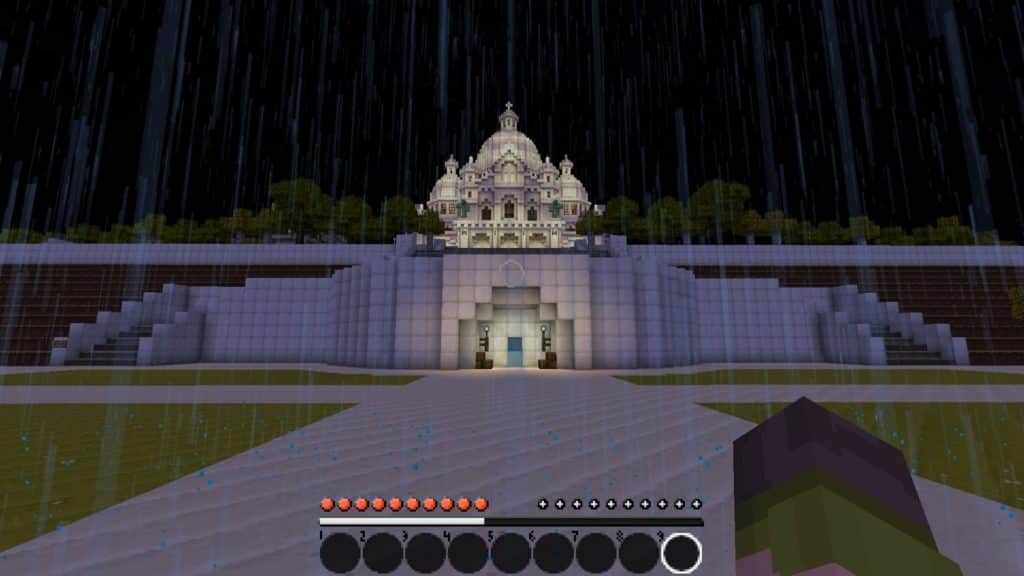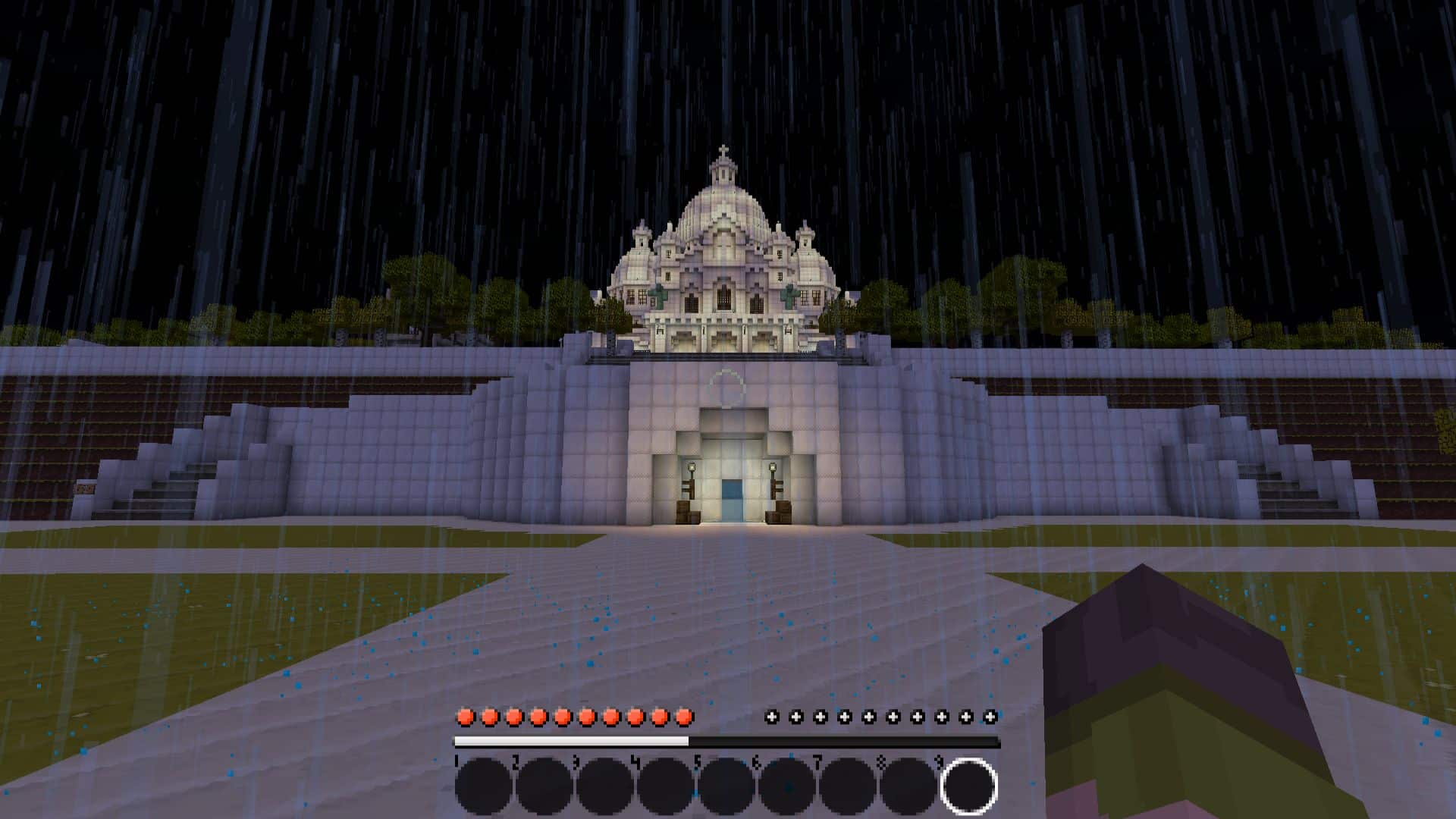 Minecraft Version: 1.18.1
This map is yet another remaster of a famous adventure map made in 2012. It was pretty popular during that time, but now it is pretty old.
So fans named Stratocrafteur, Kazerlight took it upon themselves to remaster and give new players the ability to play this great map. Unlike Diamond Sword RPG, this remaster didn't add any new content. Instead, it wants to modernize the map and make it play better.
You're a tourist of Paris on the map, but there was something off. Nobody was around you! So your objective is to find out what happened to them. So if you're looking to solve this mystery, you can download it and find out.
Poison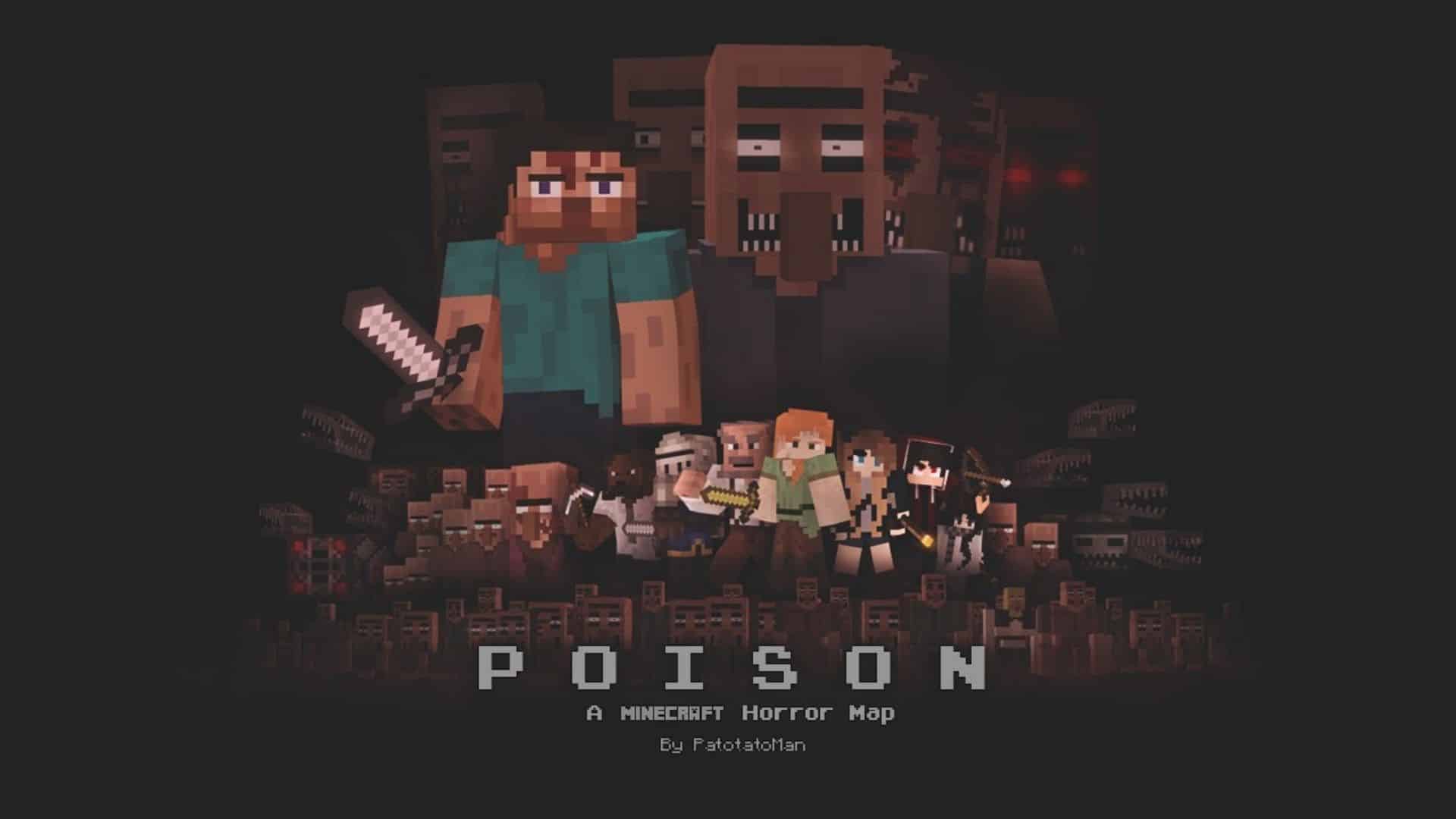 Minecraft Version: 1.16.5
Not into RPG adventures? Then this Minecraft Adventure map might be for you. PatotatoMan made this horror map. The game works similar to five nights at Freddy. On the map, you're hunted by some creepy and blood-thirsty villagers. And your only mission is to survive.
You can play this map alone or with friends. Either way, you'll have hours of fun if you're willing to get a little scared.
A Fox's Life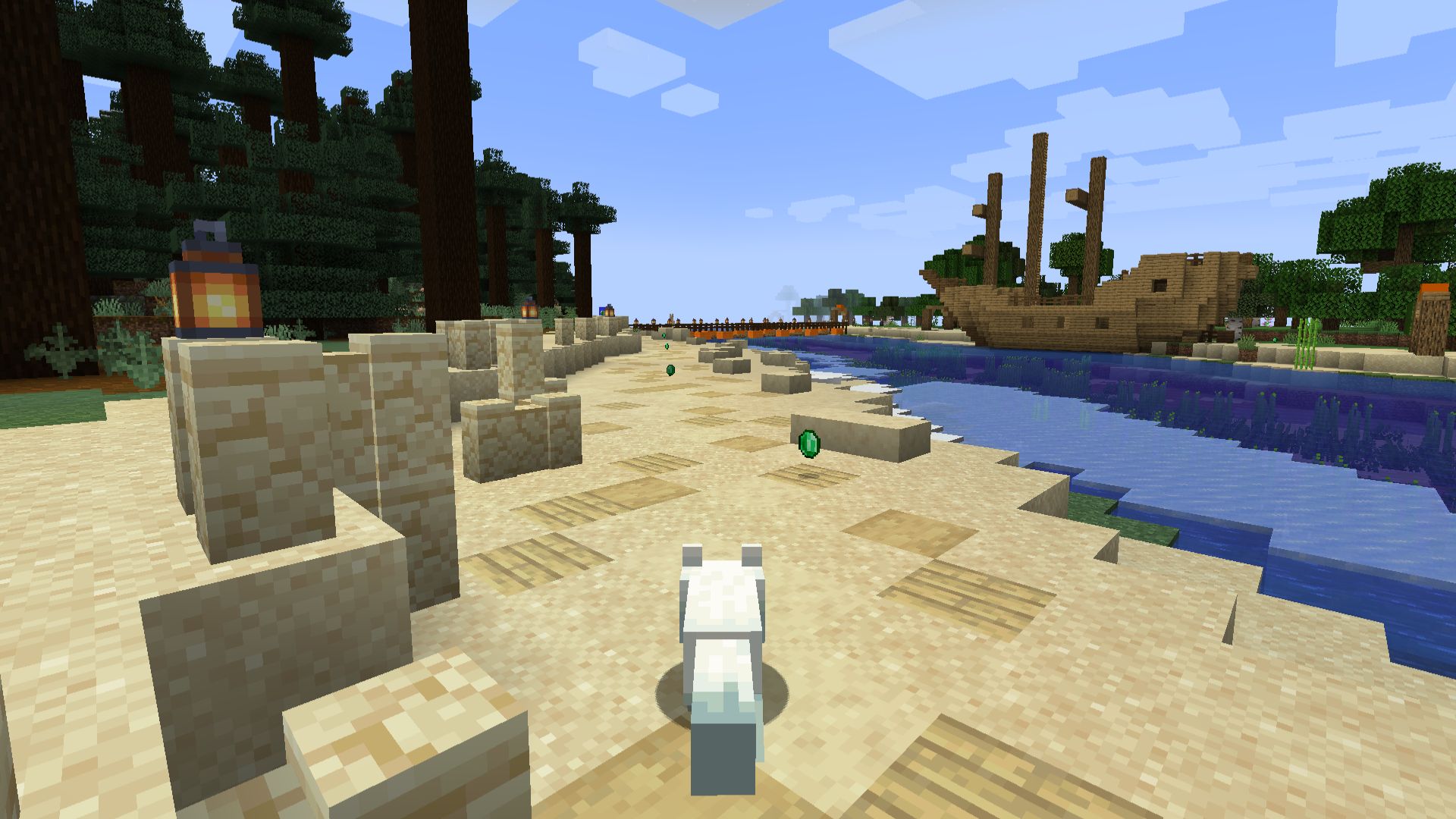 Minecraft Version: 1.17.1
If nothing has piqued your interest yet, then you might be interested in this adventure map. In here, you and one of your friends are playing as a fox, who go on quite an adventure.
A player named "Stevo" got bored with his hardcore survival map in the adventure map. So he added some commands to make the game more interesting. However, this had some consequences! Those commands gave all the mobs sentient AI.
So in this adventure map is to explore, solve puzzles and find the player!
Toy Story 2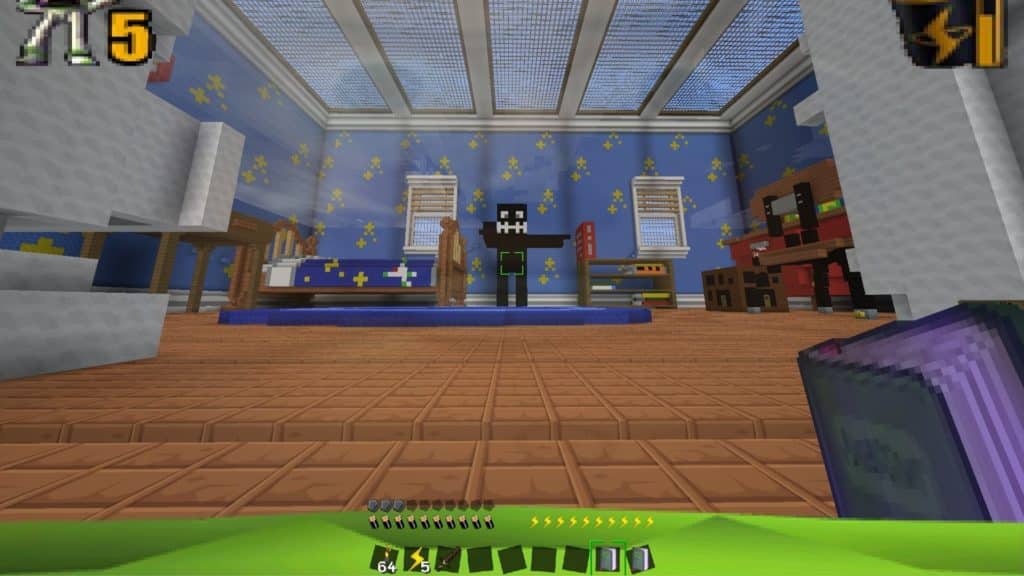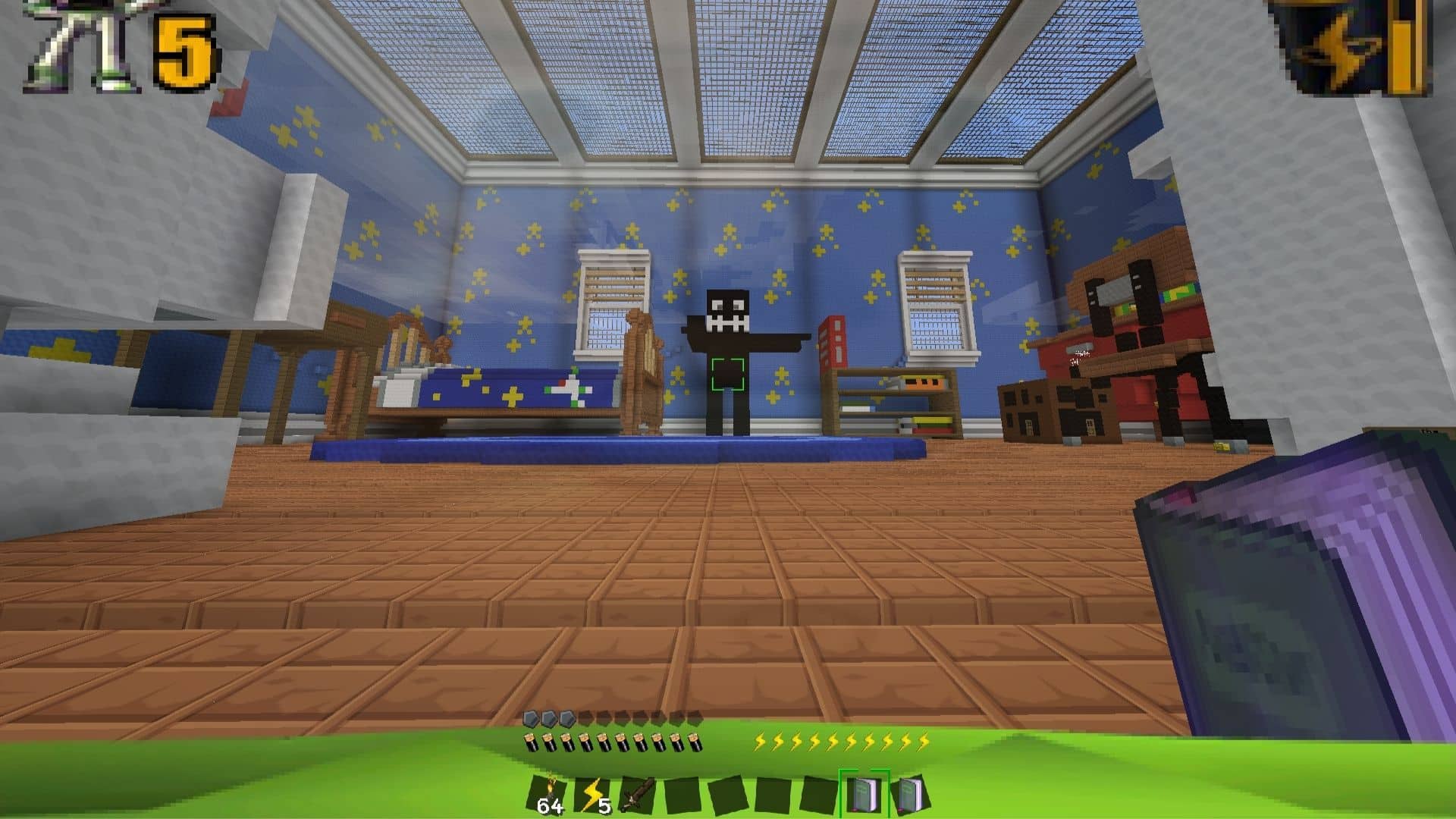 Minecraft Version: 1.16.1
PitchBlackPL made this map, and as the name suggests, it's based on Pixar's Toy Story universe. You'll start in Andy's Room, where you'll have many quests to complete! And with each completed quest, you get many points.
You have much to discover on this map, and you can play it with or without your friends. So boot up this map and enjoy the massive world.
Witchcraft and Wizardry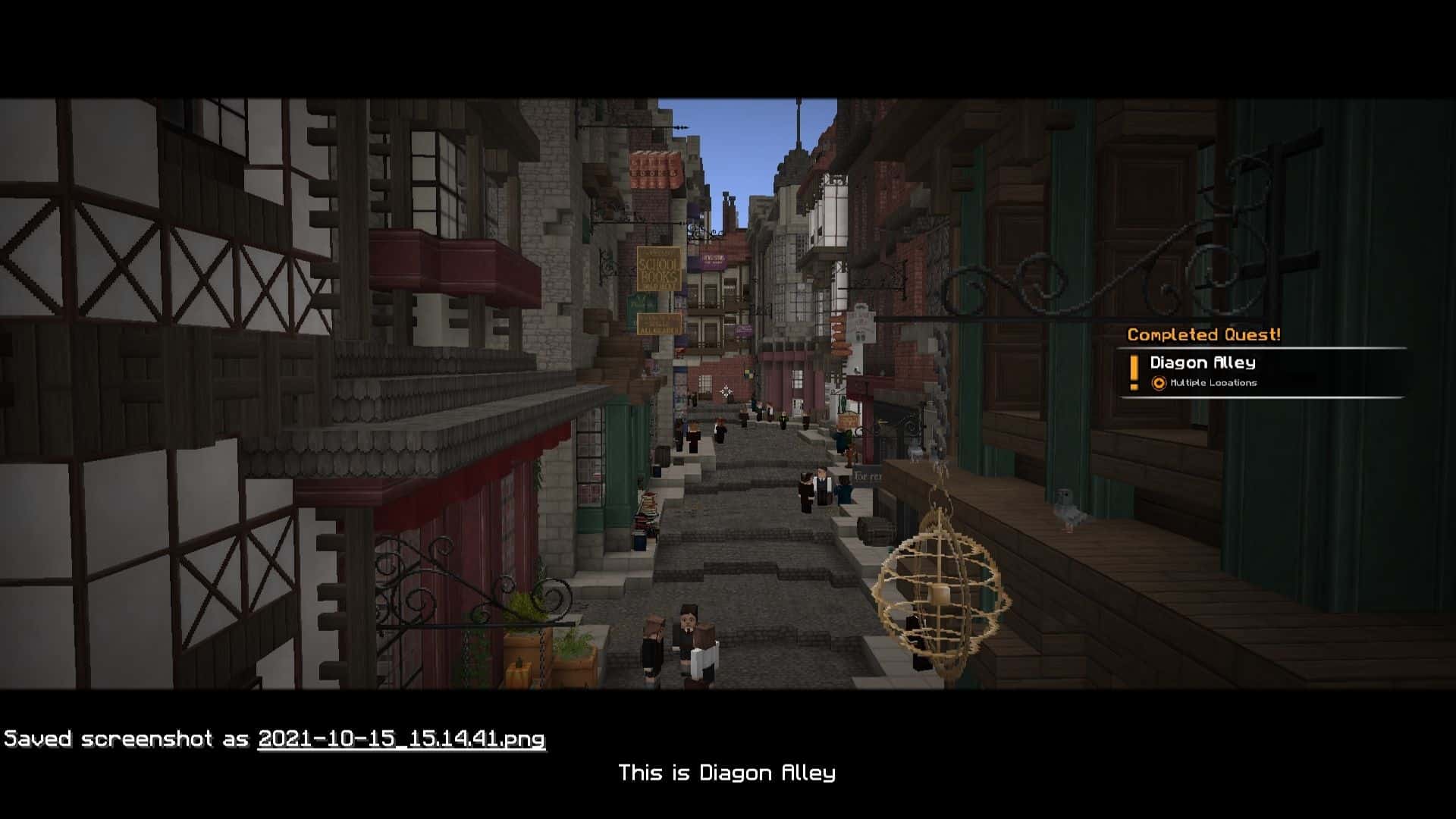 Minecraft Version: 1.16.5
Are you a fan of J.K. Rowlings Harry Potter universe? Then you're going to love what The Floo Network made! On this map, you'll be attending the magical school of Hogwartz.
There's a lot to do in this world! You can attend lessons to learn new spells, trade in the Dragon Alley, and even ride a broom. Basically, you'll be able to do anything you've seen in the movies. You and three other friends can play this for many hours.
Related: Want to experience more magic? Then you might want to install 20 BEST Minecraft Magic Mods
Star Wars Breakout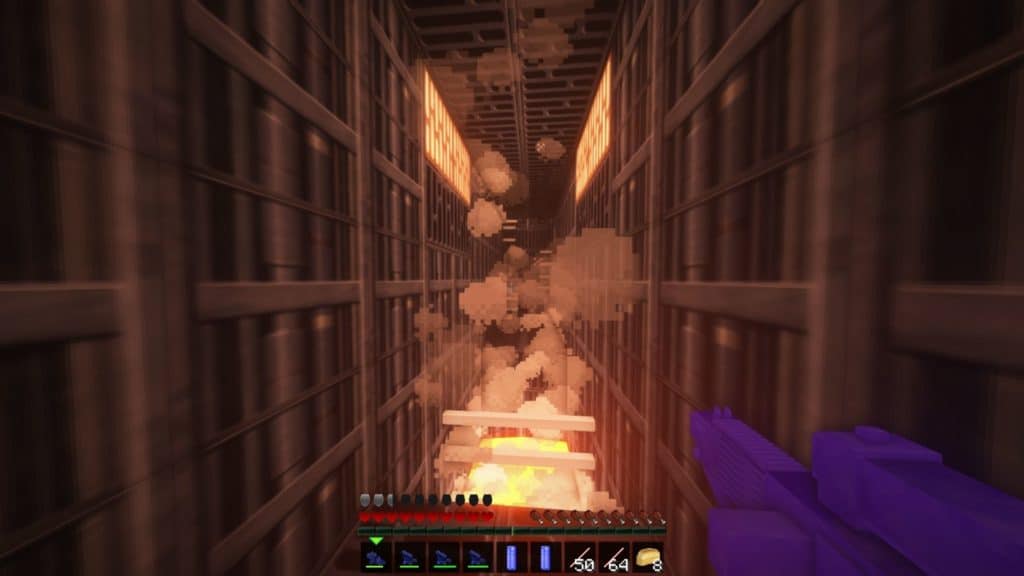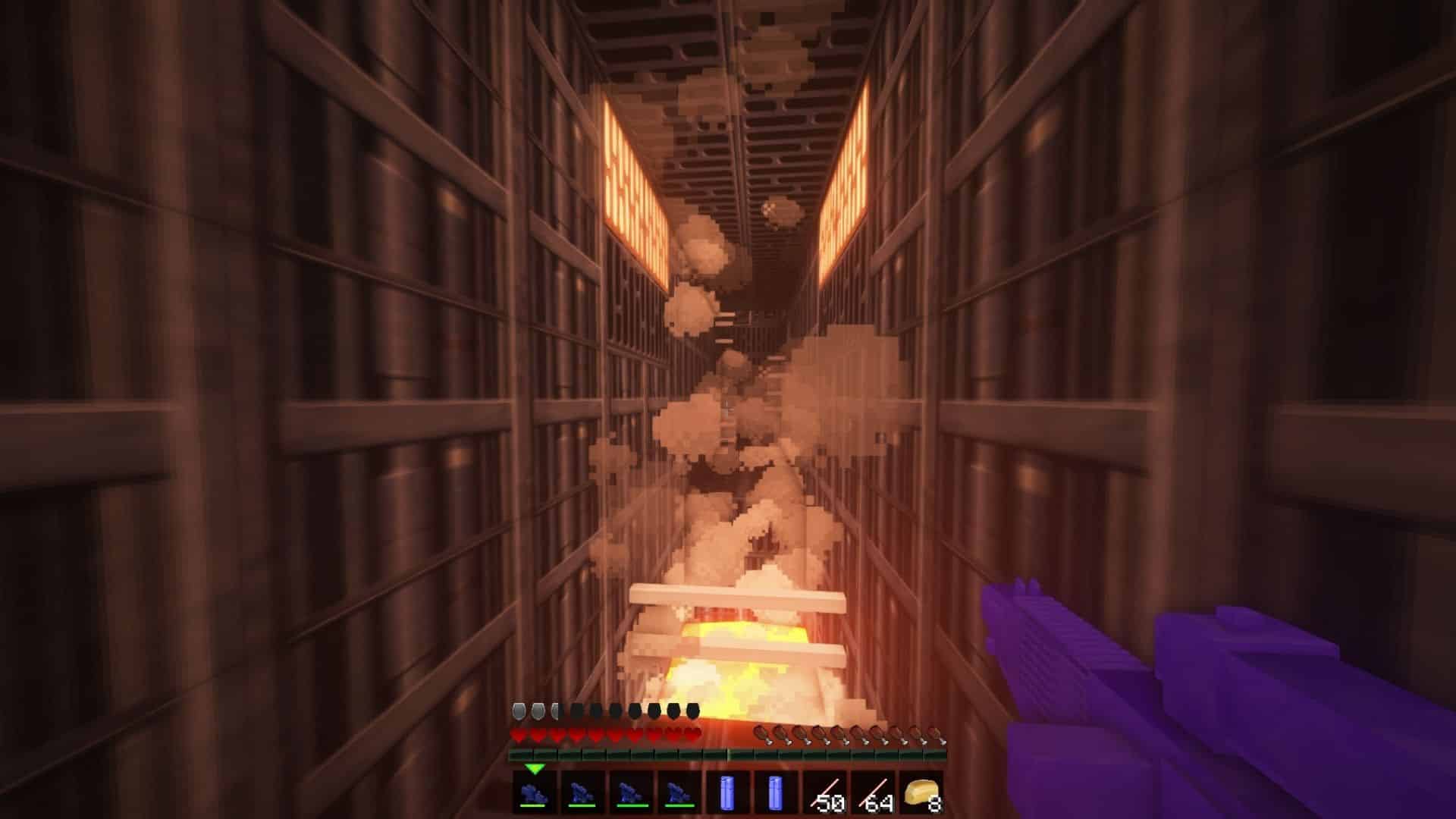 Minecraft Version: 1.14.4
Don't want to play in Toy Story or Harry Potter universe? Then let me introduce you to Star Wars Breakout. In this Minecraft adventure map made by PanR4in, you're in the middle of a conflict between the evil Galactic Empire and a group of dangerous mercenaries.
Your main objective is to get an upper edge of this battle and escape your captivity from the soldiers of the empire. In there, you'll be fighting against many custom enemies. To stand a chance, you'll be using custom blasters. You can play this map alone or with a friend, and the duration is 30-60 minutes.
Related: Want Minecraft to look like in the picture? Then you might want to install one of the 10 BEST Minecraft Shaders For 1.17.1 in this article.
Love an outer space experience, but want something more than just Star Wars? Then this adventure map is for you. In this map, you're a part of a spaceship crew where you journey through space.
There will be many enemies to fight. But what makes this map unique is that it's not a linear story! Instead, you'll have to make choices along the way, giving you a special ending. This adventure map is singleplayer only, and you'll complete this in about 15-30 minutes.
Revive The Planet
Minecraft Version: 1.15.2
Continuing with the space fantasy is "Revive The Planet." In this adventure, you land on a dead planet. Your objective is to revive the planet back to its glory by solving riddles and entering five different temples.
You'll discover yourself in places out-of-this-world! The map is intended for a single person, but you can play it with your friends as well.
Minecraft Odyssey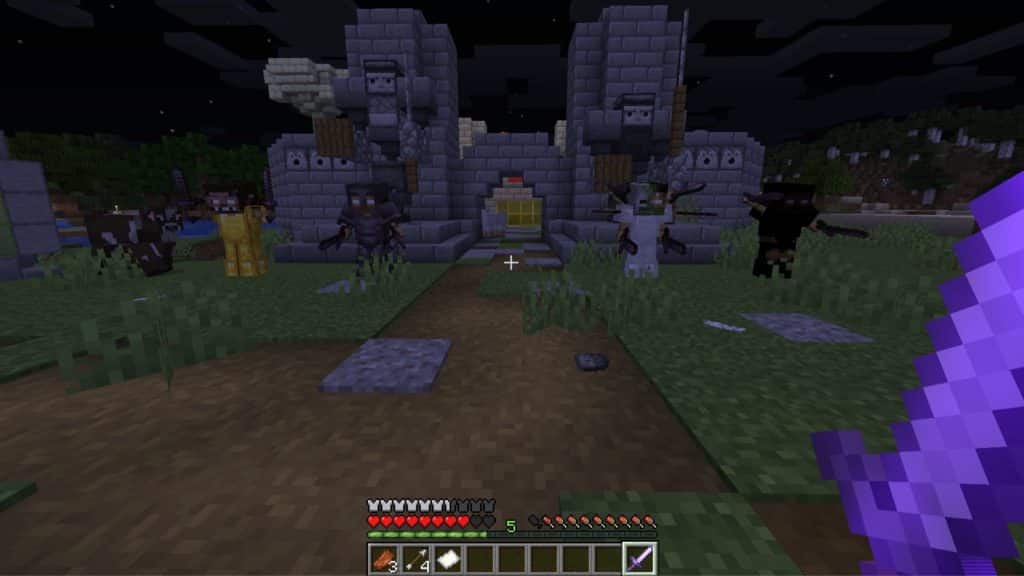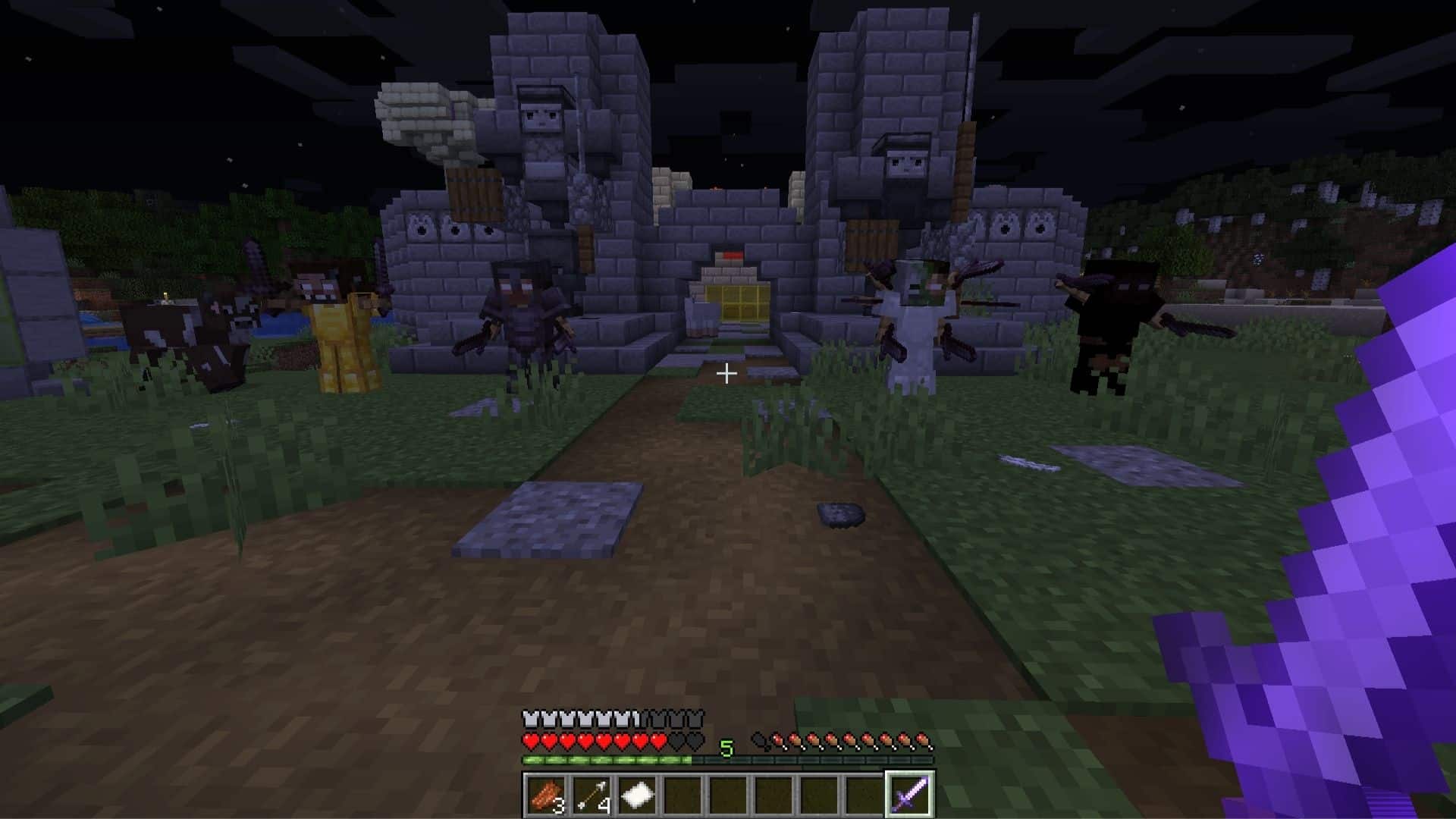 Minecraft Version: 1.16.1
Probably_A_Duck made this map. Here, your main objective is to defeat the evil forces surrounding the world by entering the four temples: Deku temple, desert temple, fire temple, and water temple. Once completed, you're ready to face the enemy with your hero sword and armor.
The map is filled with many secrets and challenging puzzles. So be ready for the difficulty!
Related: To immerse yourself, even more, I recommend you install 10 BEST Minecraft Medieval Texture Packs
Finding Toast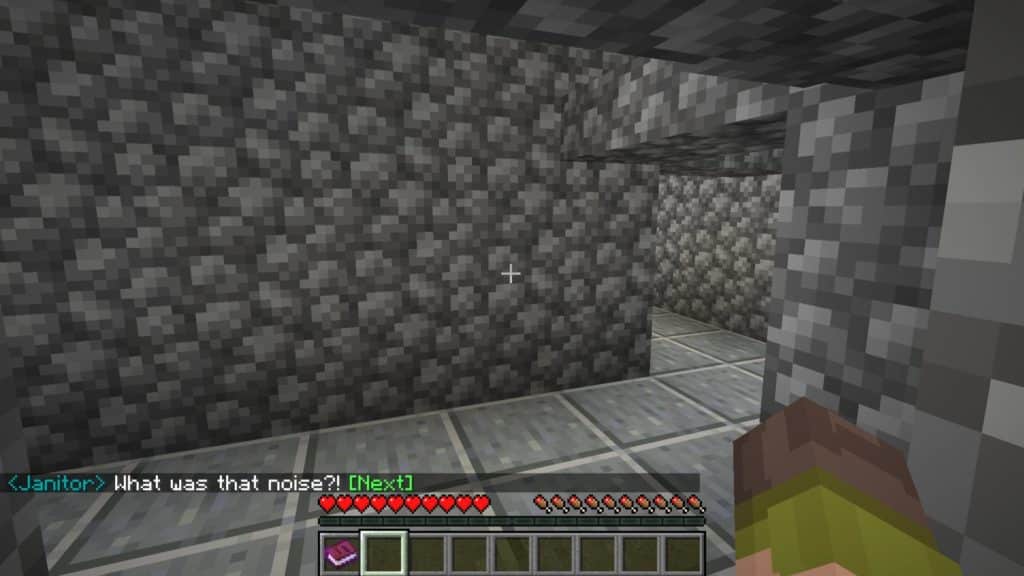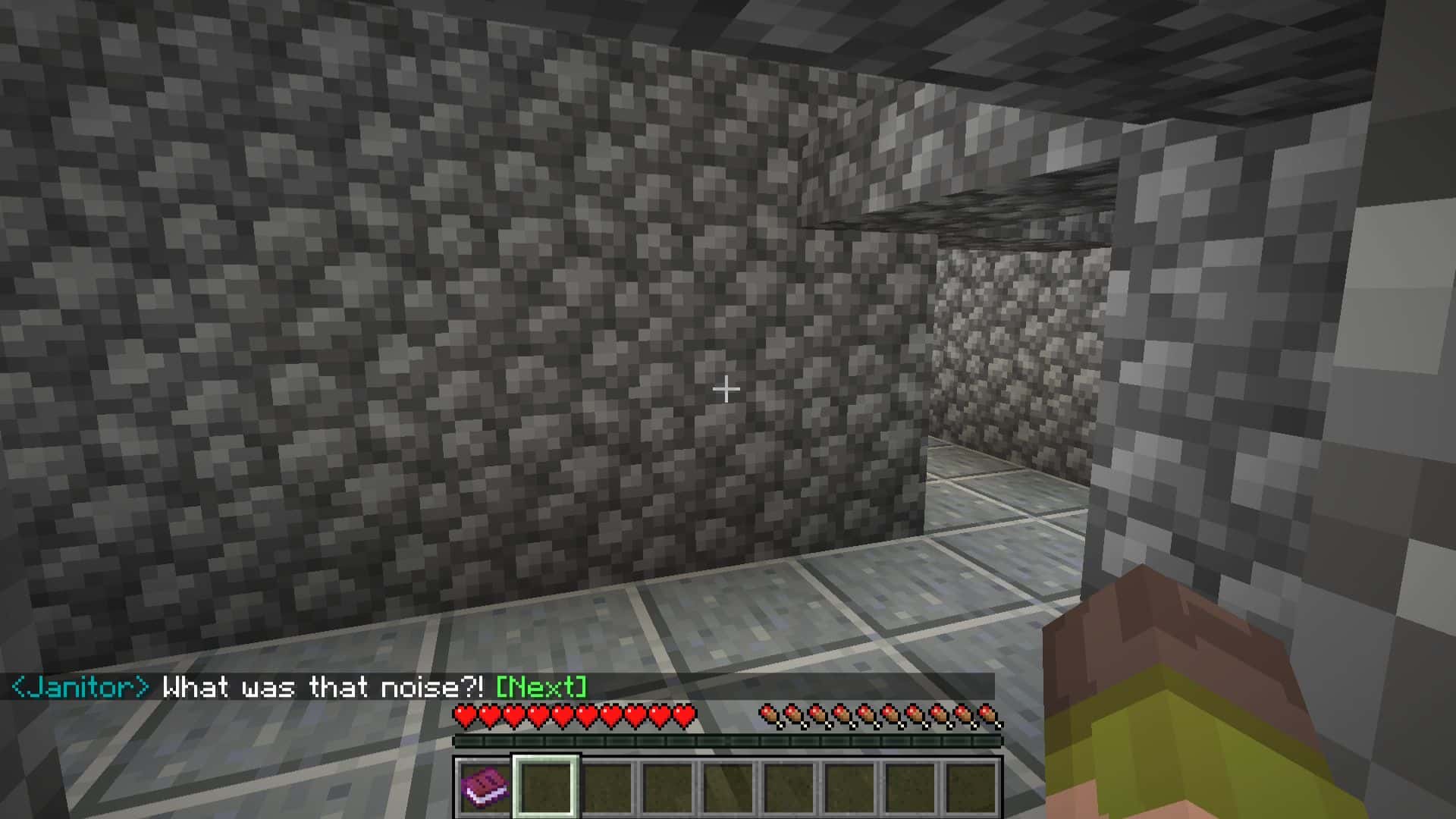 Minecraft Version: 1.18.1
Are you not looking for epic adventures or space explorations? Instead, you are just looking for some 10-minute fun? Well, then this adventure map is for you!
On this map, your story starts in a café. You just had a cup of coffee with your partner. When you spotted a rat running by into a sewer, could this have been your long lost pet named "Toast"?
Now your mission is to find it out and see if you could save your long-lost pet rat! The whole story is humorous and fun, so it's well worth the time!
Monkey's Illusion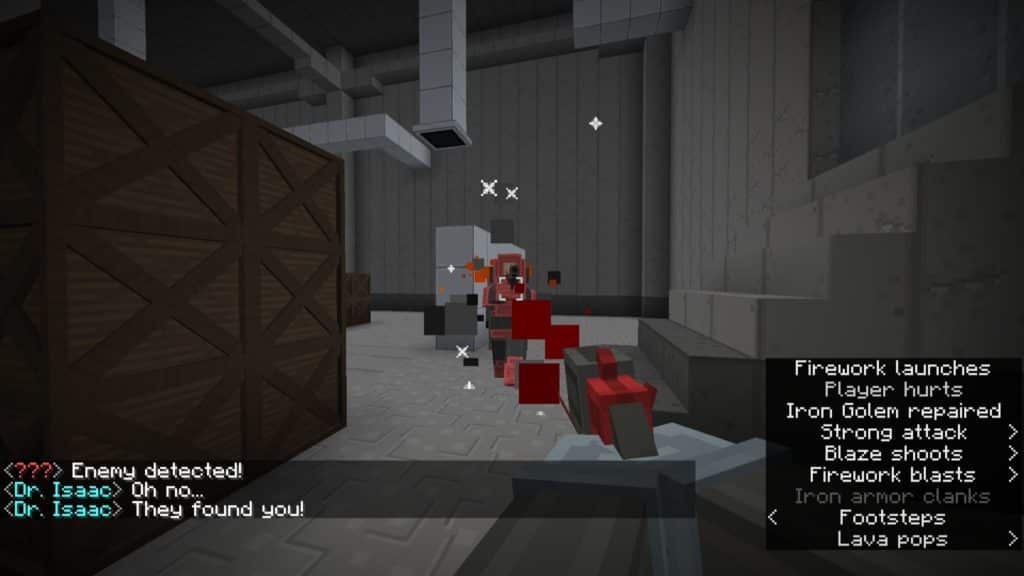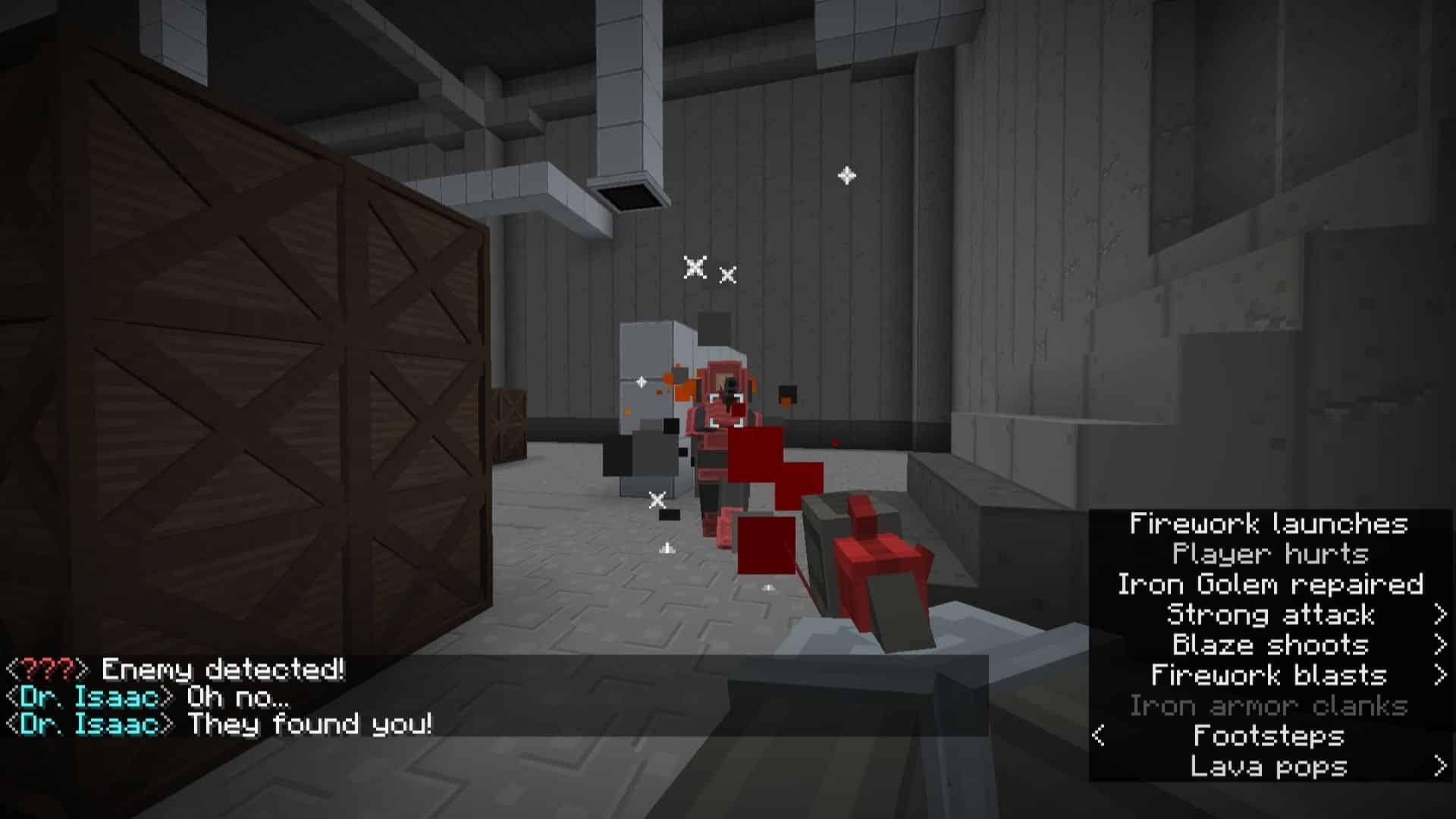 Minecraft Version: 1.16.5
This is one of the best Minecraft adventure maps out there. You wake up in a strange place and meet a strange man called Dr.Isaac. With his help, you'll escape the maze using custom weapons to defeat monkeys and solve puzzles in a matrix-like world.
You can play this adventure map alone or with your friends. Either way, there's lots of fun to be had on this map.
The Curse of Beacon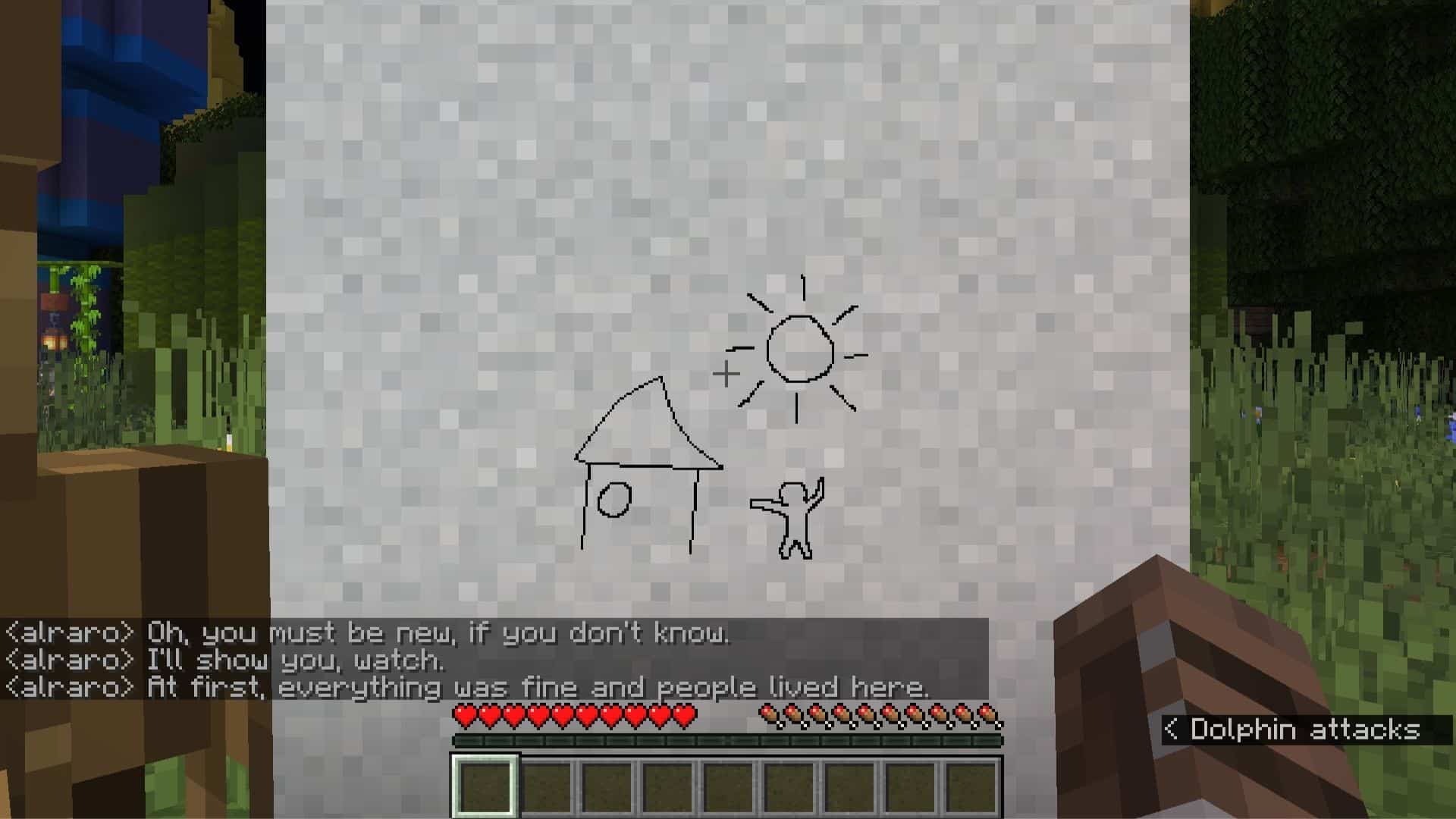 Minecraft Version: 1.14.4
And last on our list is The Curse of Beacon. The map was made by Gahlifrex. An evil wizard has created a beacon in this world, which turned every person into stone. So, your mission is to stop this evil magician by going to the mountain and destroying his beacon.
To finish your quest, you'll use custom tools and weapons like a knife, poison sword, and gravel shovels. The game is meant for only one player.
How Do You Install Adventure Maps?
So you found something you like? That's awesome, but you don't know how to install them.
Don't worry! It's fortunately pretty easy.
Step #1 – Download Your Adventure Map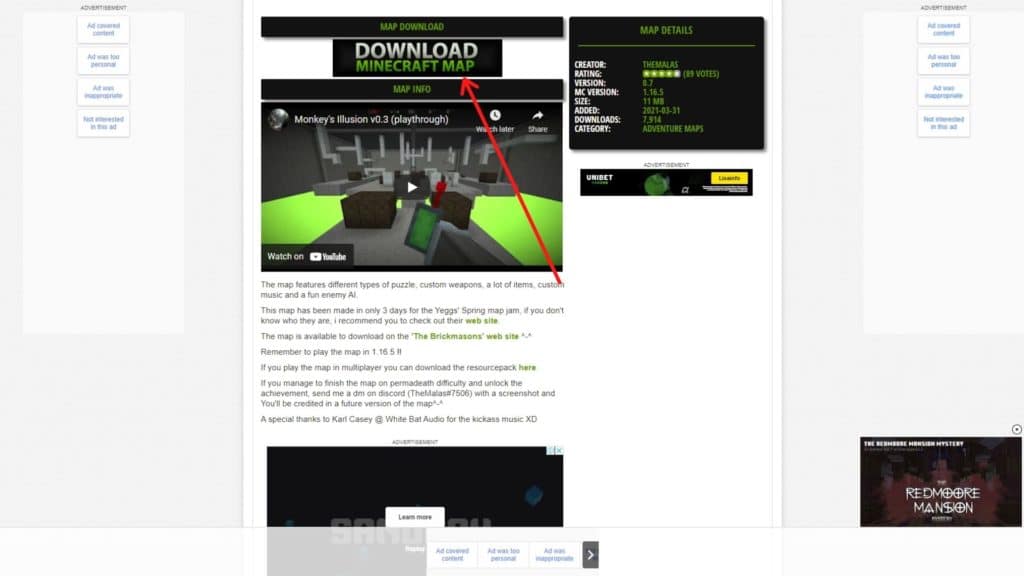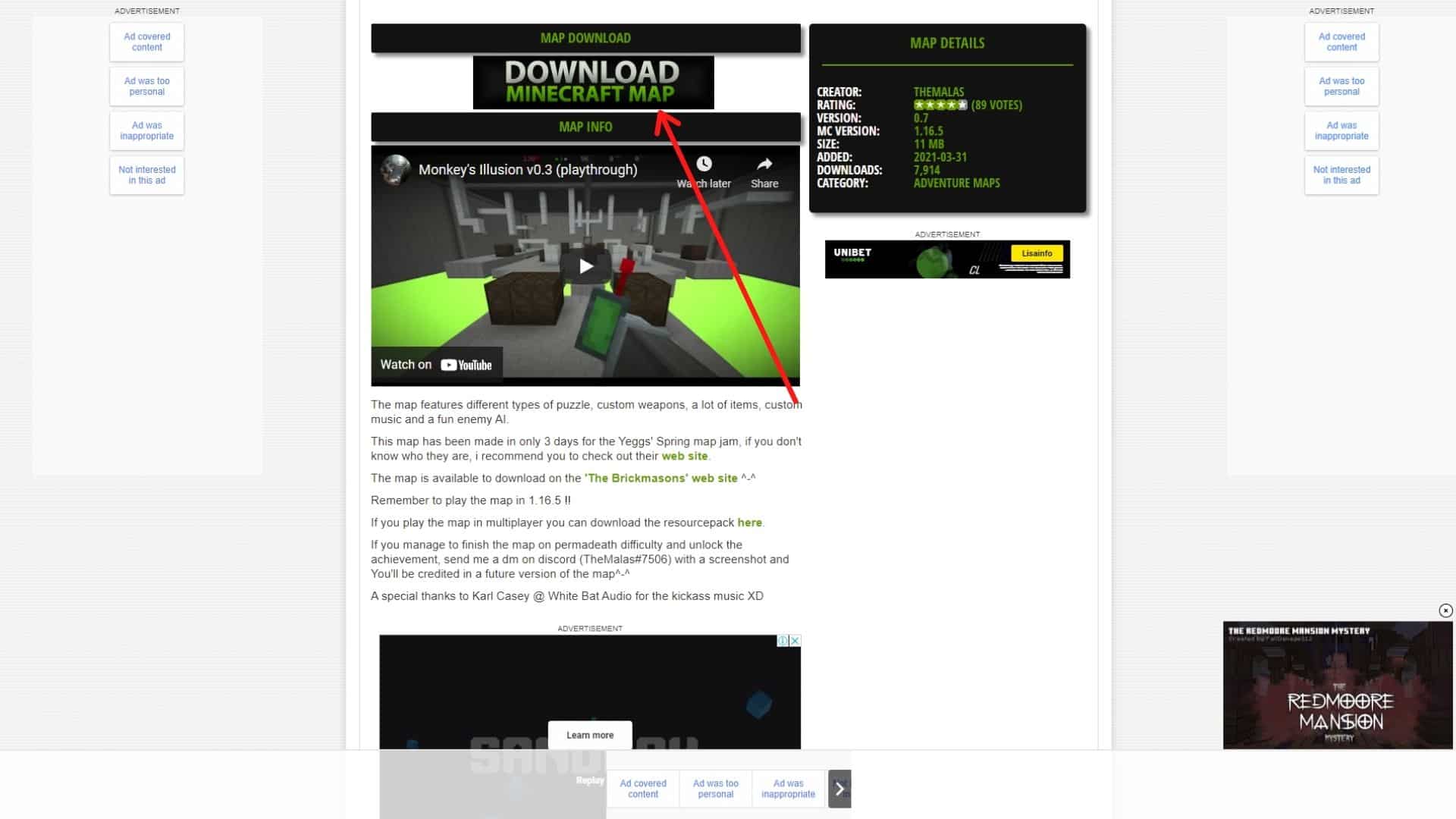 For starters, you're going to need to download the adventure map files. The best place to find them is on a website called minecraftmaps.com! Then look around until you find your favorite.
For this example, I'll be installing Monkey's Illusion. To download, you need to scroll down until you see a "Download Minecraft Map" button. It should look like in the picture above. Click it, and you've downloaded your files.
Step #2 – Drop the Files into your saves folder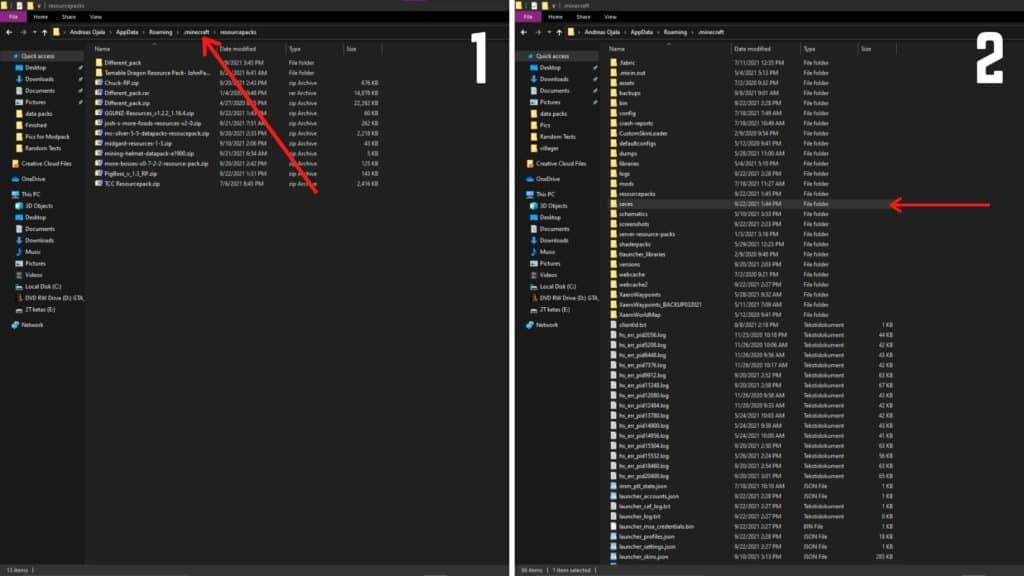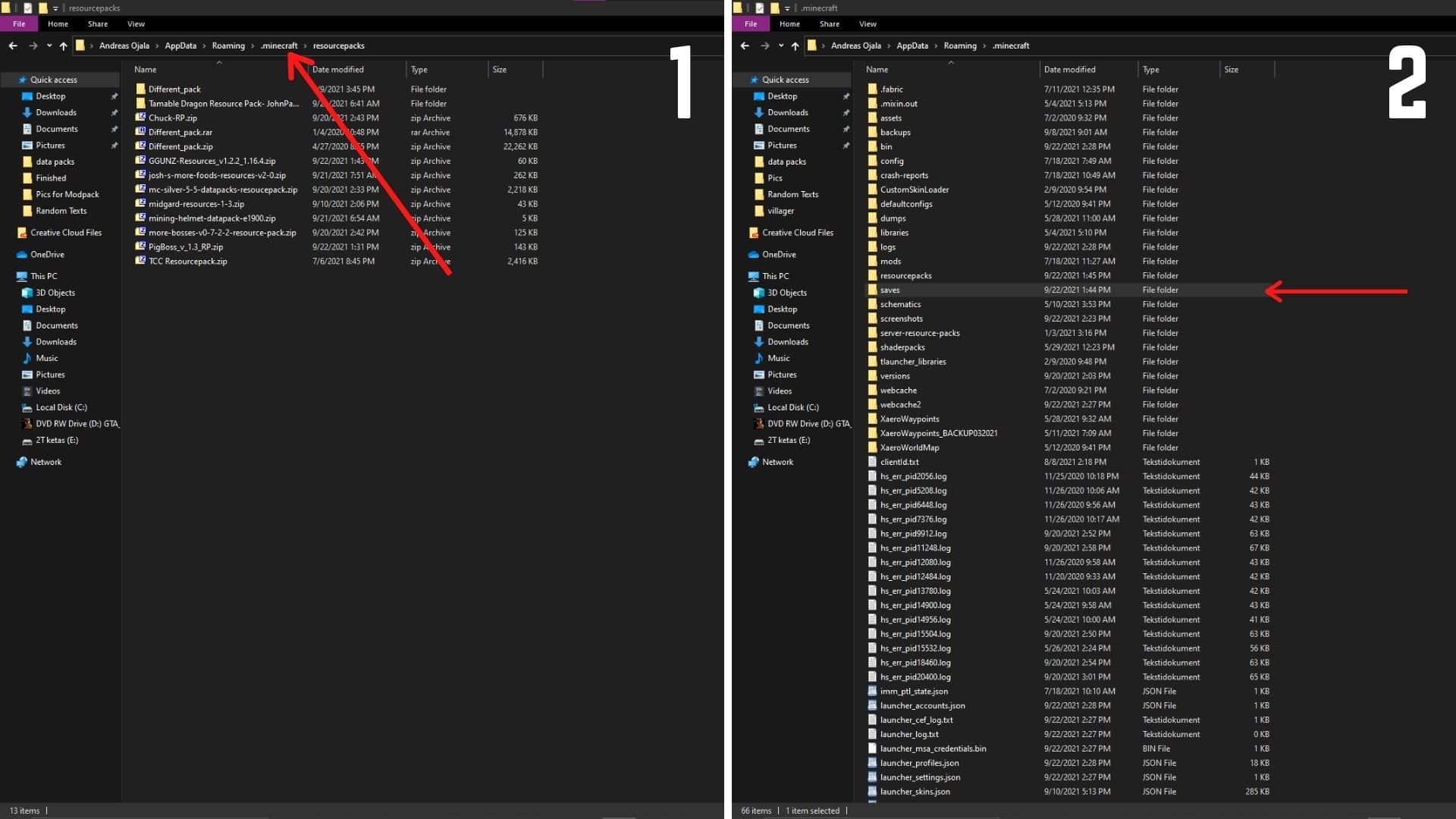 Once downloaded, open the zip file. There you should see a folder. That is the world folder. Now, you need to find your way to the saves folder.
Here's how you do it!
You launch your Minecraft as usual (don't worry about your version just yet). Then go to settings > Resource Packs > Open Resource Pack Folder.
Once there, you should be greeted with an open folder. Once there, go back to .minecraft. If you're using Windows, you can do it like in the picture (on the left).
Then find the "saves" folder, and drop the folder there.
Important: For some adventure packs, (usually older) you have to install other things. These include Minecraft Mods, Data Packs, and Resource Packs. So make sure you install those as well!
Step #3 – Launch Minecraft and Start Playing!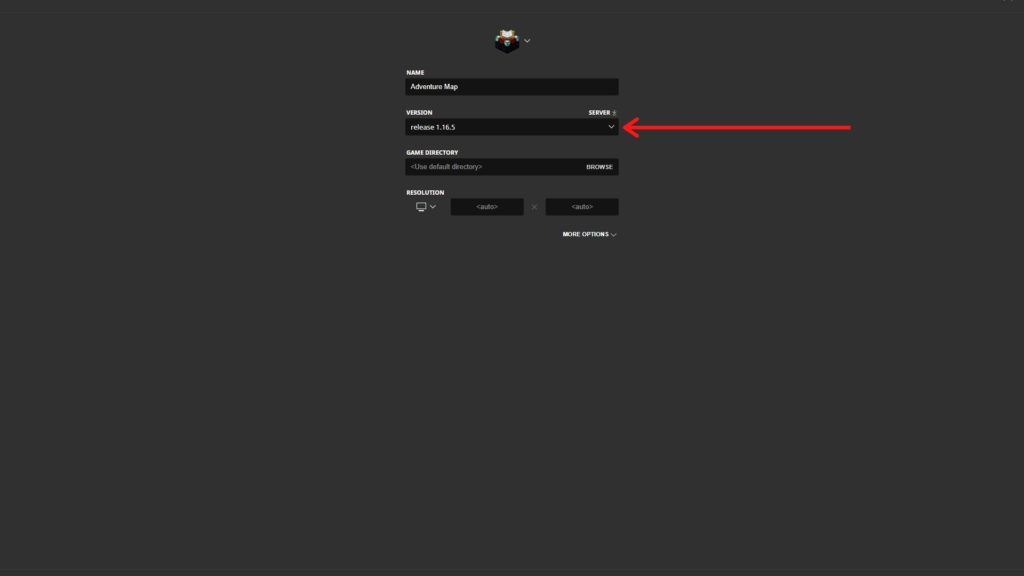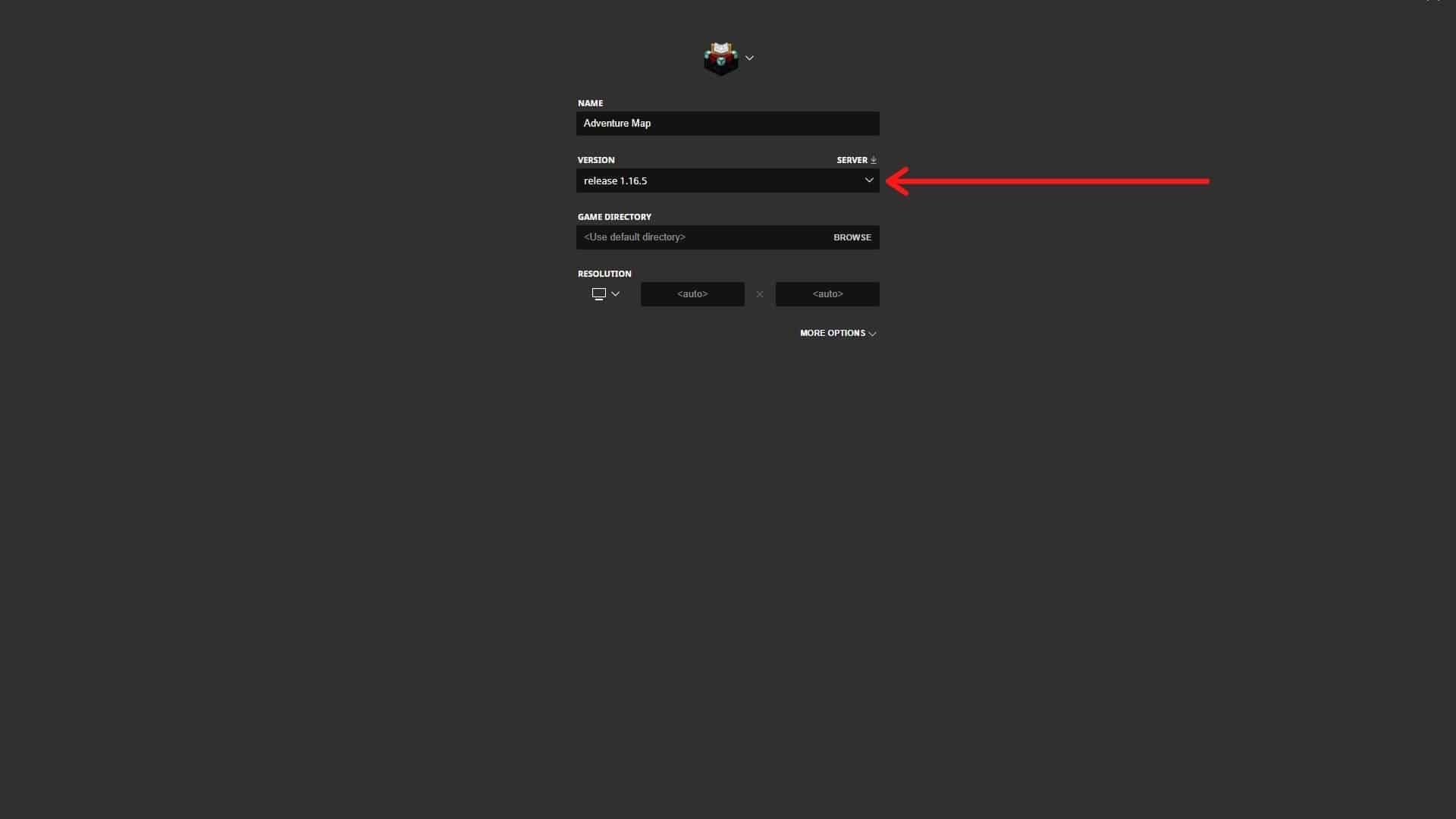 Now all that is left to do is to launch Minecraft. However, before you do that, make sure you're playing the correct version and have everything installed!
To make sure you're playing the correct version, check the page you downloaded the map on and see which Minecraft version you should play.
Then go to your Minecraft launcher. On the top left, you should see a button called installations. Click it, press the "New installation" button, and create one with the correct version.
And now, all you have to do is enjoy the best Minecraft adventure maps!
Related: If you'd like to play with your friends, you might want to get the BEST Minecraft Server Hosting In 2021.
Conclusion
And this is my list of the best Minecraft Adventure Maps! I hope you found one that interests you. So go and have fun with your friends. Also, do you know any other maps I should have mentioned? Comment them down below; I'd love to know.
Related: For more fun maps, check out our article "The 15 Best Minecraft PVE Maps"