If you finished creating your home base's exterior, your next step is to find some of the best Minecraft decoration ideas to spruce your base up.
This list will cover some great Minecraft decorations that you can use both inside and outside your home.
Let's take a look at some of the community's finest Minecraft decoration builds!
Minecraft Decoration Ideas – Top 10 List
Couch with Pillows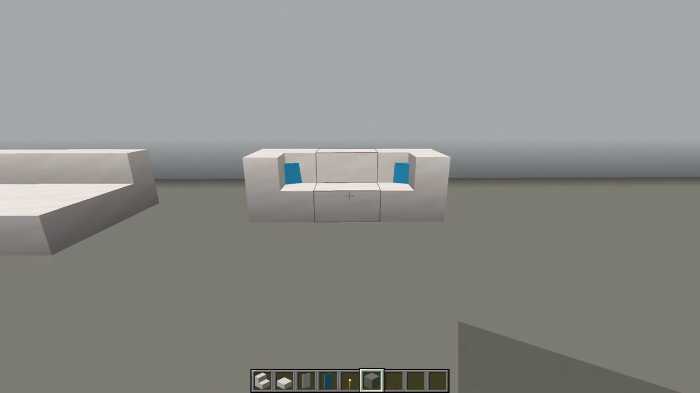 Perhaps you're already well-aware by now of how to make a simple couch in Minecraft with Quartz Stone Slabs and Quartz blocks. But did you know that you can make it look even better by placing a banner one block beneath the couch to create an illusion of a pillow? That's exactly what BBlocks did in this video – and I must say, it looks even better than it sounds!
The cool thing is that you can design the pillow into virtually any sort of design. Want to create pillows in your favorite color and style? You're more than welcome to do so. Not into Quartz sofas? You can use other materials such as Wooden Logs or colored Concrete.
If a banner design permits it, you're imagination's the limit.
Slim Table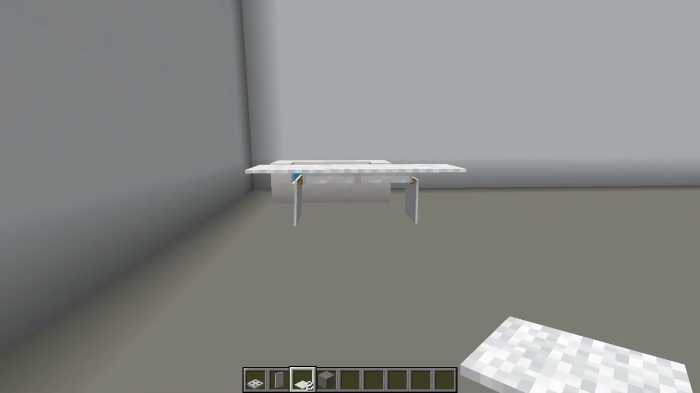 There are many variations of Minecraft table designs out there – but this one by BBlocks is one that I'd consider one of the best. It's sleek, slim, and doesn't go the full-on blocky route that most Minecraft creations end up becoming. The main highlight of this Minecraft decoration idea is the use of Banners as the table legs. Not only does it take up lesser room, but it also complements the slim White Carpet tabletop.
It's one of the best Minecraft decoration ideas you're bound to use in a room or two in your Minecraft base.
Flower Pot Table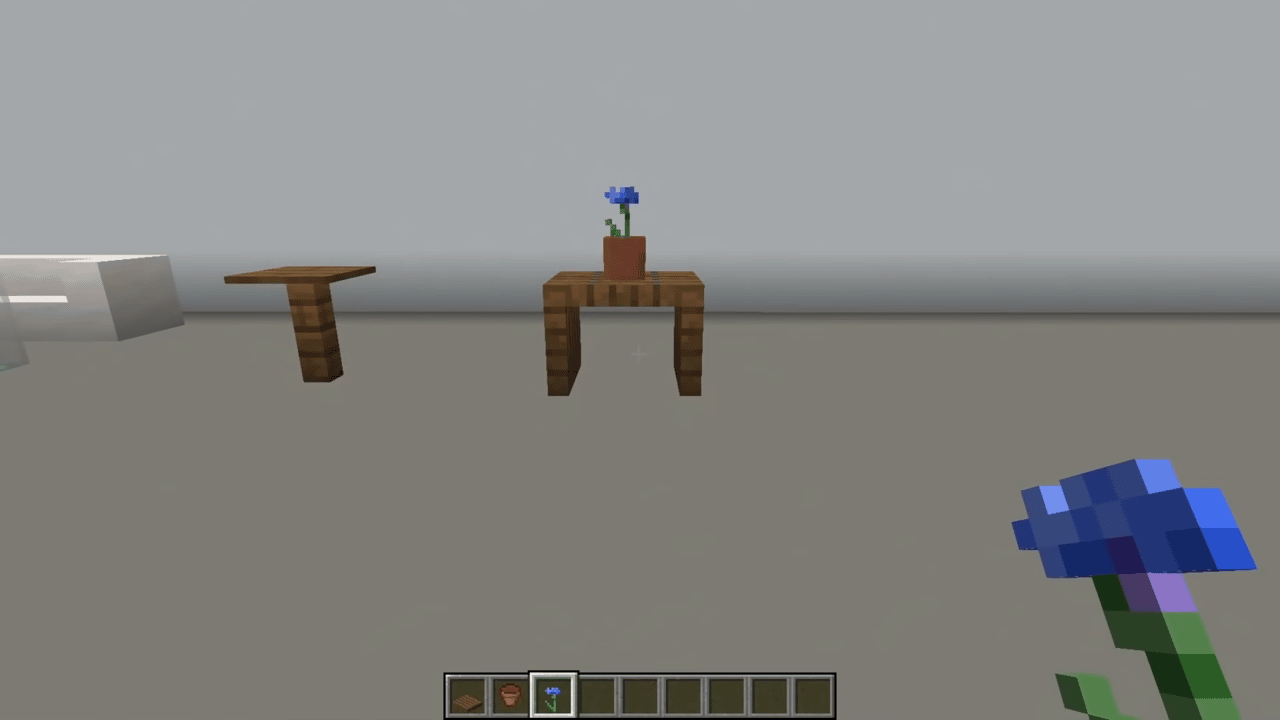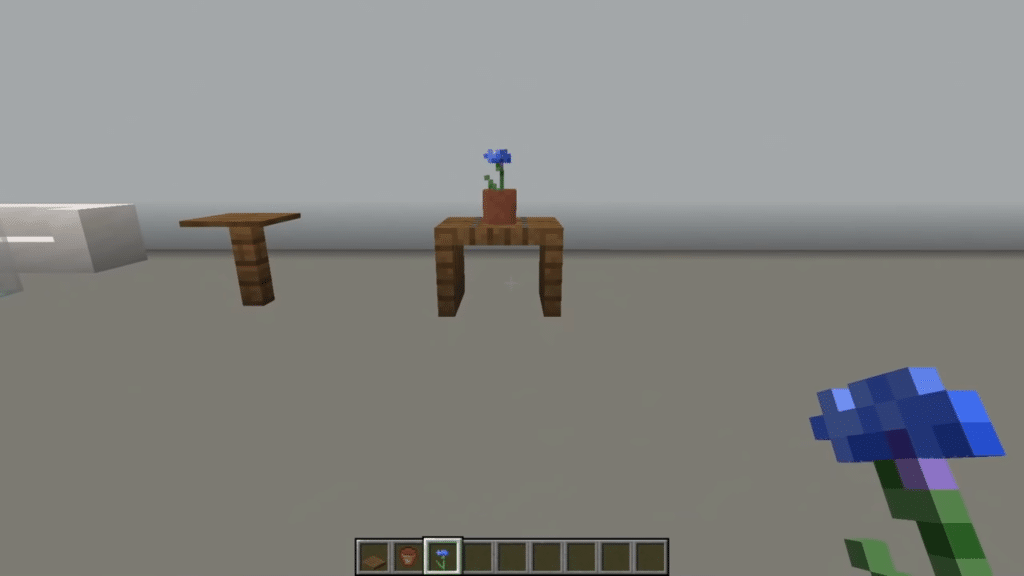 Here's another cute table by BBlocks! This one is made from just three pieces of one material – Spruce Trapdoors – making it ridiculously easy to recreate. But don't let its simplicity fool you; this table design is great to include in almost all room styles. You can fit this design in a tavern, a school, or a simple living room setting, and this simple Minecraft table will fit in all of them perfectly.
Of course, the cherry on top of this creative Minecraft decoration idea is the flower pot above it, with a natural touch cut fresh from your garden or the great outdoors. You can also extend the table length as much as you need to by adding an extra Spruce Trapdoor on top, making it hold even more of your belongings.
Flat Screen TV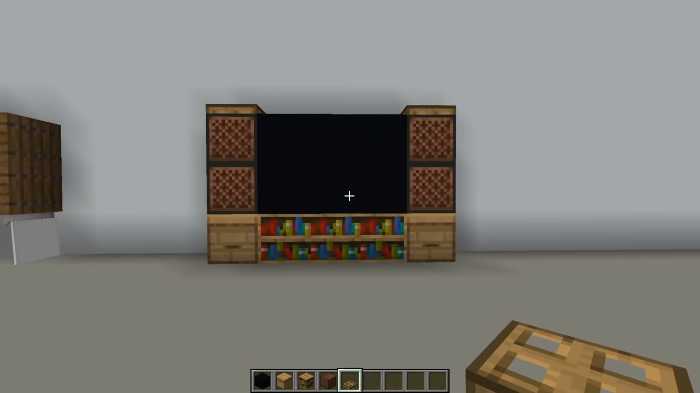 Wouldn't it be nice to just kick back and rewatch your favorite shows on TV? While many of us would prefer mining and adventuring across the vast Minecraft world, having a TV at least gives us the liberty of choice!
If you're looking for a television set that's easy to make and realistic, this Flat Screen TV by BBlocks is the perfect design for that. All you need are some black blocks, some Iron and Spruce Trapdoors, a banner as the table legs, a beehive as a drawer, and a carpet to act as the table topper – and voila! An instant Minecraft flat screen!
Floating Shelves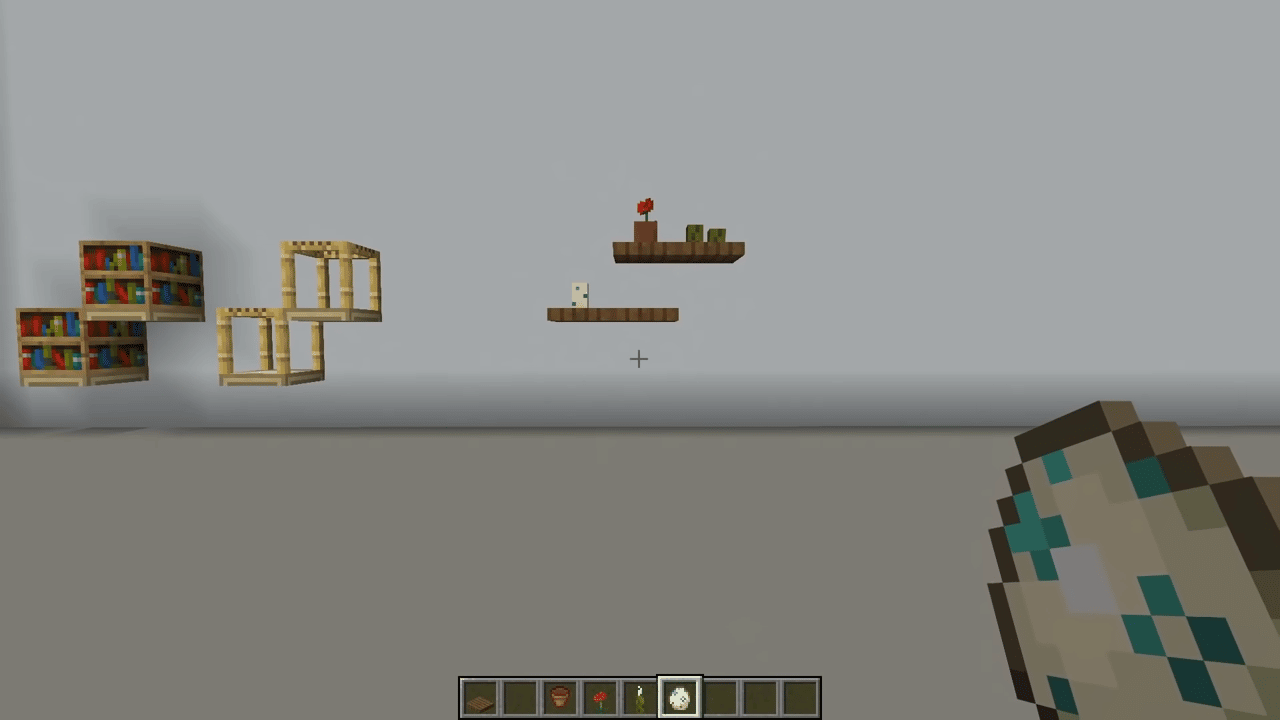 Floating shelves is another one of the great Minecraft decoration ideas on the list, and it's easy to see why. This creative Minecraft decoration idea makes use of Spruce Trapdoors and, of course, any decoration of your desire on top.
This design is perfect for showcasing your most prized possessions without taking up walking space in your living room or bedroom. It complements many different styles – whether modern, rustic, or even medieval. Since you can top this decoration with any item of your choice, the possibilities are endless! Personally, I'm a fan of displaying decorative dragon heads.
Indoor Bamboo Grove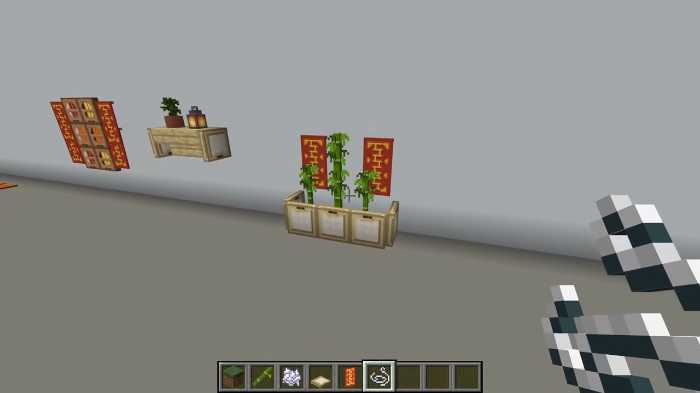 It's always a good time to include flowers and plants in your base's interior – and this mini bamboo garden does the trick well. The neat trick that's employed in this Minecraft decoration is the use of some string to prevent the bamboo from growing to the ceiling.
While the bamboo alone is a nice floral touch, some banners behind add a thematic element to the entire piece. Trapdoors act as the bamboo's pot, and also give off zen and oriental moods to the overall design. Overall, a highly underrated piece that looks great in empty corners around your starter home.
Torii Gate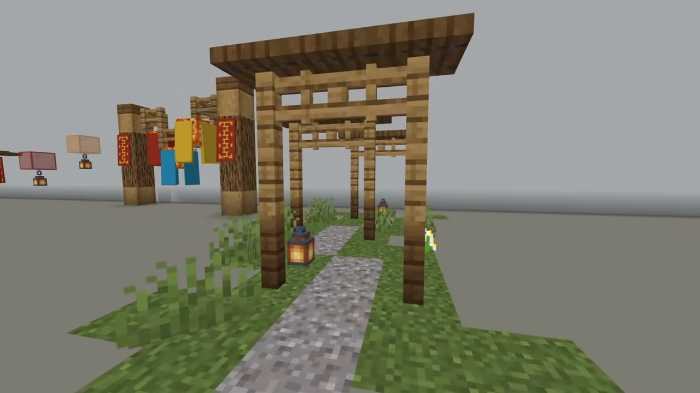 While we love furniture at home, there are many outdoor Minecraft decorations that can be great additions as well. This Wooden Torii Gate, for instance, is perfect if you want to exude a Japanese touch around your Minecraft base.
While the build itself is relatively straightforward and uses conventional materials, it's refreshingly different from what most beginner players tend to think of when building out their own bases. It might take up quite some space in your backyard, but it looks great and can be easily supplemented by other thematic decorations such as Japanese lamps, a koi pond, and fascinating Japanese-style walls.
Flower Stall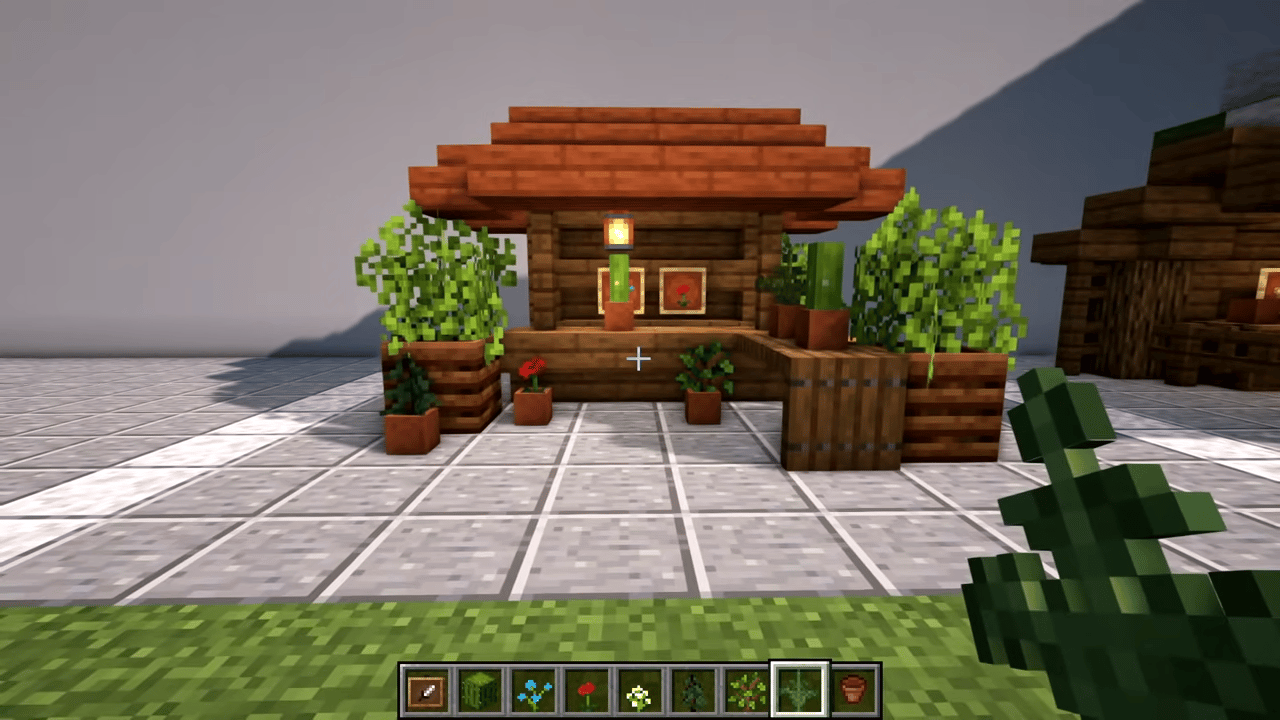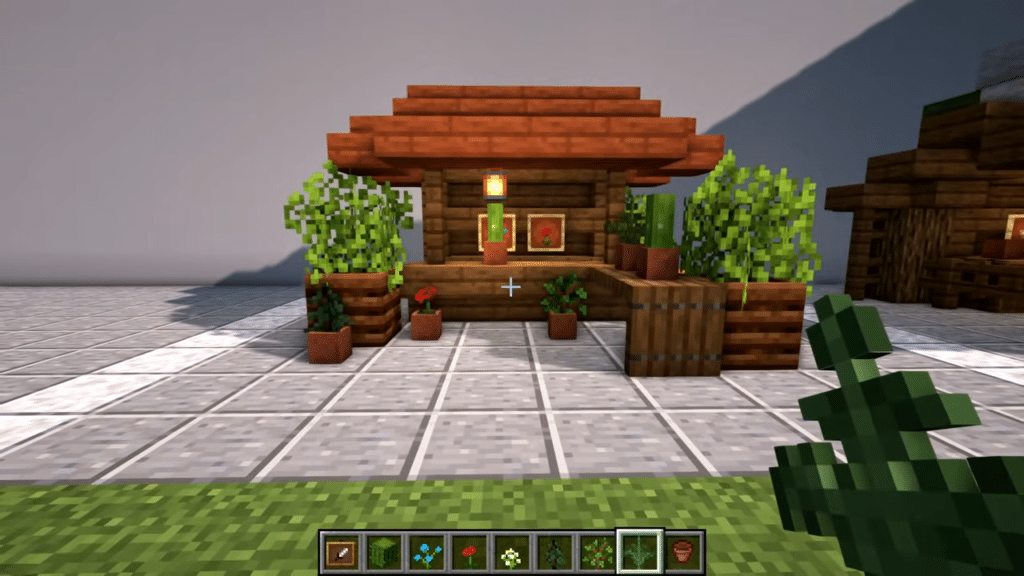 This Flower Stall by BlueNerd Minecraft is another outdoor Minecraft decoration design that can serve as a stellar inspiration piece.
The structure nearly resembles a miniature version of a small starter house, but it holds on its own as a tiny shed with a flat roof and an open facade. Peer inside, and you can see various plant species sitting on pots that are placed across various corners of the stall. In addition, this flower stall also has a warm light source to provide brightness.
The best part about this build is that all the materials needed are all easy to find. As long as you're situated in a forest biome or someplace similar, you can recreate this flower stall as early as Day 1!
Hay Bales (Minecraft Filler Ideas)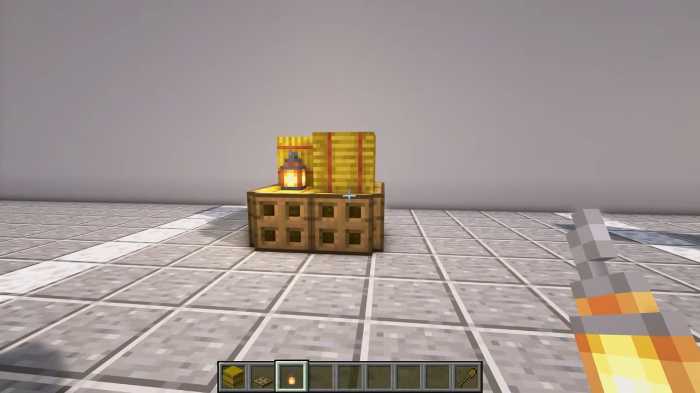 Do you want an easy and quick Minecraft design for the outdoors whose main purpose is to make your land feel less empty and drab? Hay bales got you!
True, this Minecraft decoration idea may not be the decoration that tops the rest of the list. But, it's an uncomplicated design that you can use in various corners of your base's vicinity to add depth to it.
If you don't have the creativity to come up with random Minecraft filler designs, throw in some hay bales, add a light source and trapdoor or two, and call it a day.
Water Tower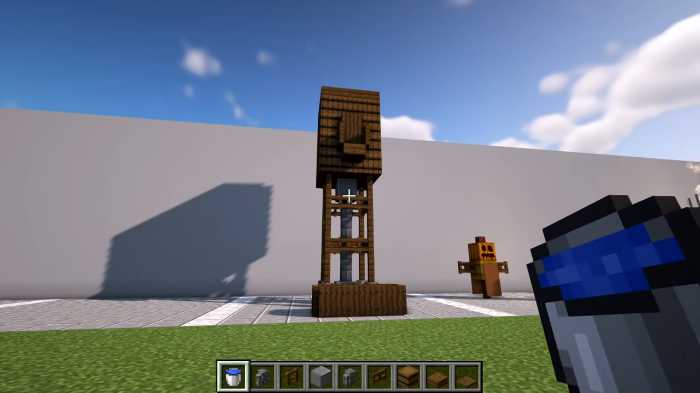 Saving the best for last, this enormous water tower is the final boss in this Minecraft decoration ideas list. It requires a lot of vertical room and effort to build, so I recommended you guys erect this decoration outside where there's a good amount of flat land surrounding it.
This water tower is a great decoration piece to add to your Minecraft villages. Aside from the main structure itself, a water trough is situated directly in front of it to serve as a water source. If you're looking for a grand project, this decoration can give you exactly that!