Are you looking to find some of the best Minecraft furniture ideas to spruce up your home base? Well, you're in luck.
Minecraft offers an amazing array of blocks and items to help bring your ideas to life.
If you want to recreate the Among Us player or a replica of the Pantheon, you absolutely can.
But for some of us, coming up with great ideas for their home base on the spot doesn't always come naturally.
To that, we say: don't worry about it.
Browse through this list to get the inspiration you need! If you're looking for more things to build, make sure to check out our ultimate list
A Banger Aquarium (or Terrarium)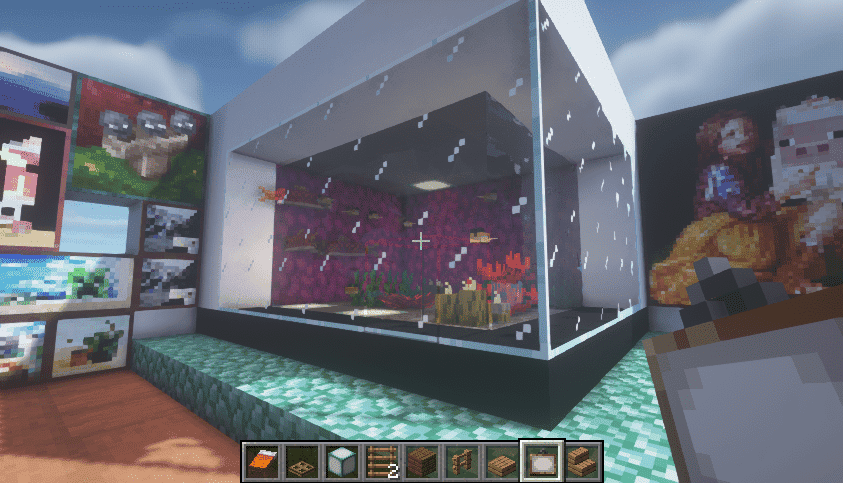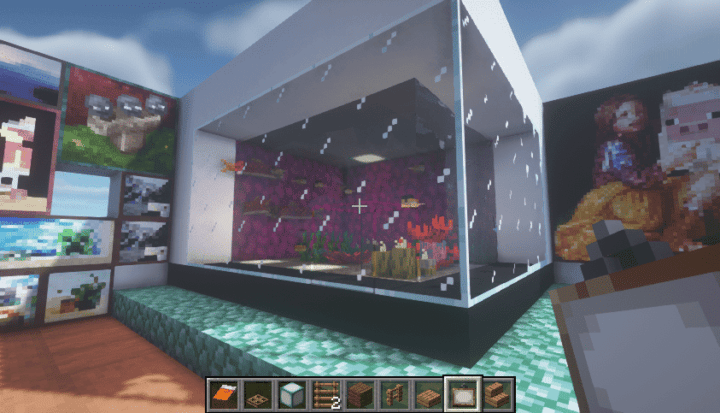 Is your home base getting a little… dry? (I'll see myself out)
An aquarium can be just the thing your Minecraft home needs to give it a lively kick. There's nothing more relaxing than looking at some colorful tropical fish swimming around your aquarium. The dancing corals and plant life also add a touch of vibrancy to the artificial ocean floor.
And, unlike other Minecraft furniture ideas, you don't have to limit yourself with a rigid step-by-step creation process. Perhaps the most entertaining and liberating aspect of this build is the absolute freedom you can house within its glass walls. Absolutely anything.
Want to recreate a bamboo shoot forest with a family of pandas instead of a water-filled aquarium? You got it. Want to fill the aquarium with an endless supply of Salmon and test the limit of your RAM? Go knock yourself out. Want to create your own spider enclosure and a platform to push your unsuspecting friends into? What a vile idea. I like you.
Regardless of your choice, an aquarium's size, build, and shape doesn't need a whole lot to get started. You can follow the materials I've used, but you're more than free to mix and mash the items you've got in your Chest already!
In the build above, I've used Glass Panes and Smooth Quartz Blocks as the outside layer of the aquarium.
Within, I lit up the ocean floor with well-spaced Sea Lanterns and some Sea Pickles as well. For the wall or wallpaper, I've decorated it with some aptly-placed Bubble Coral Blocks. For the base layer, I placed a couple of Gravel blocks to make it more sea-like and for sea plants to grow.
I also used Black Concrete as the base of the outer shell of the aquarium for a nice touch of aesthetic contrast. The final touch is the Prismarine Slab to frame the aquarium from the outside with a thematic touch.
Put this aquarium in your Minecraft bedroom, Minecraft kitchen, or Minecraft home foyer—wherever! A good-looking aquarium can steal the spotlight of any Minecraft room if made right.
A Cozy Library Chair and Desk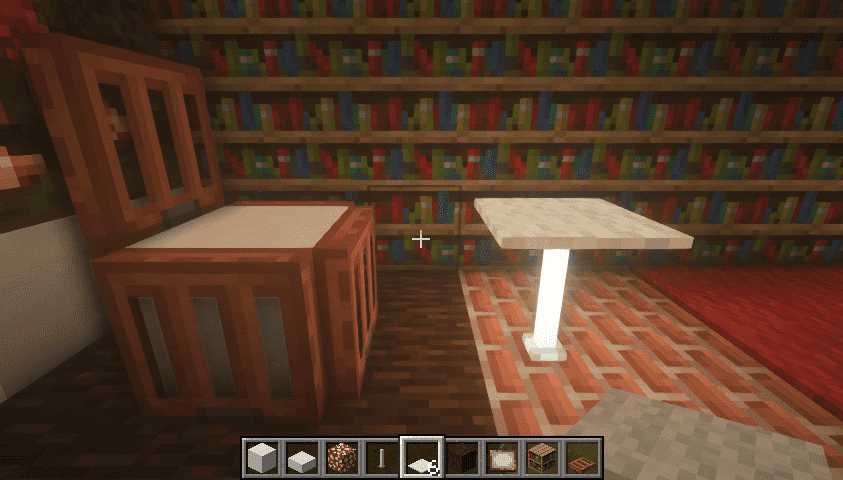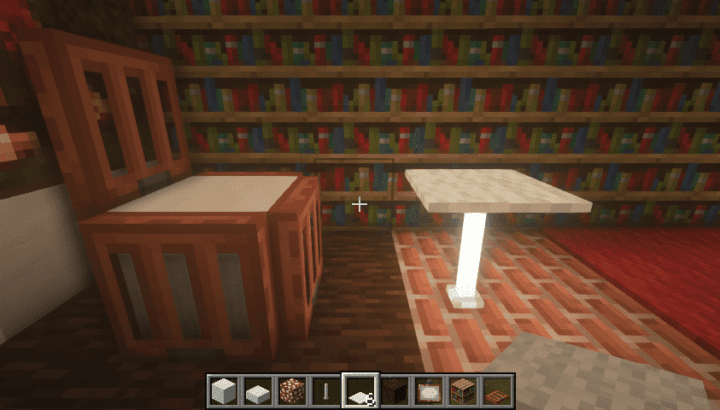 Doesn't some time away in an expansive library with nothing else but the company of good books sound like a good time?
Anyone? No? You'd rather play Minecraft survival mode instead? Ok.
Then, how about this. How about doing the same thing above: but on Minecraft.
Now, now, calm the applause. If you want a decorative chair and table fixture, the build above won't demand much to recreate at all.
Here is the crafting material I've made for this best Minecraft Furniture nominee:
1 Smooth Quartz Block
1 White Carpet
5 Trapdoors (Your Choice)
1 End Rod
1 of Any Building Block
That's really it. I mean, you could technically say you'd need a couple of bookshelves to round off the vibe of the building. But the backdrop is self-explanatory and mindlessly simple to make, so that's up to you.
The End Rod is probably the most controversial part of this piece. Being blindingly shiny and all.
You may even wonder: Wouldn't the End Rod also draw away from realism since the light is shining against you as you read? And what table stand has a bright light that emits off of it?
Here's my response: ¯\_(ツ)_/¯
But seriously, if you have an outdoor 2nd-floor library, for instance, a build like this can serve as a waypoint to help you find your way back home. It doubles down as both a Minecraft light source and a lounging area. What's not to love?
A Warm Hearth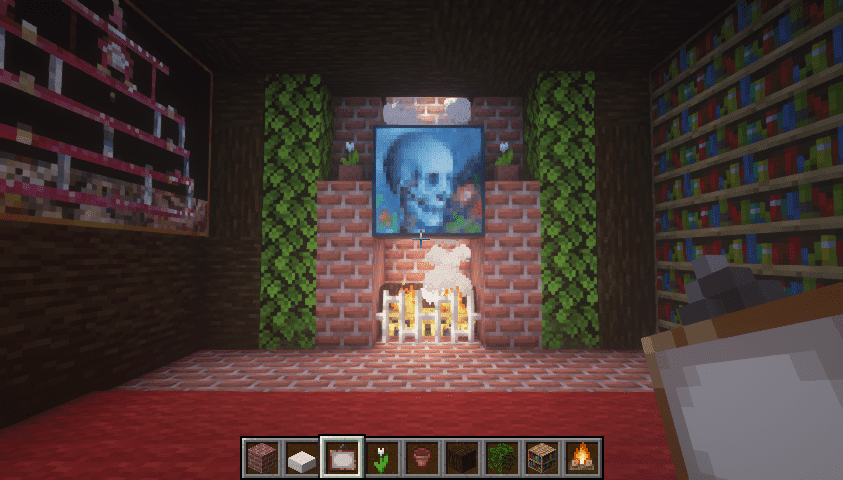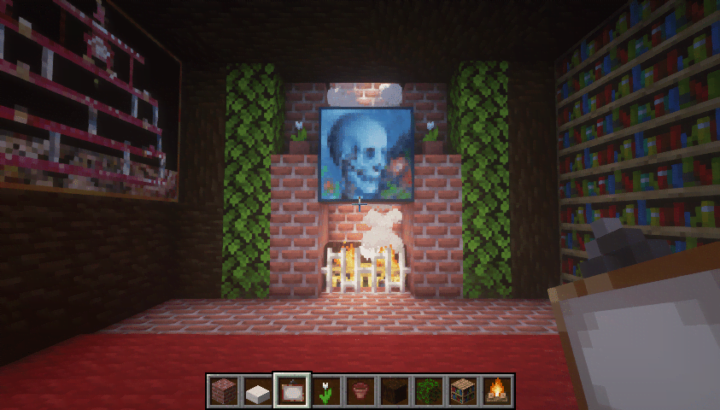 Nothing beats the ambient pitter-patter of rainfall in Minecraft… wait—wrong script.
Nothing beats the ambient crackling sound of a fireplace in Minecraft. It washes a warm, cozy, and snuggly feeling all over you.
If your Minecraft base feels empty and soulless, a fireplace could be just what you need to add a little bit of heart to your home.
Not only does it provide a light source to your home, but it also makes for a pretty fantastic decorative piece overall.
I mean—aren't fireplaces usually the centerpieces of the room? If you decorate your fireplace even better than the one above, you can get all the Lady Villagers swooning. (Trust me, I'm a professional.)
If you want to recreate the build above, here are the materials you would need:
Bricks
Campfire
Oak Leaves
Painting
Iron Bars
Pot and Tulips
Oak Wood
That's pretty much it! With how simple it is to acquire most of these items, you can make your new Minecraft house a hearth right during the early game.
And just to make it clear, you don't have to follow the exact replica above. Your imagination is a powerful tool—so go make an even better fireplace!
A Hot Spring / Jacuzzi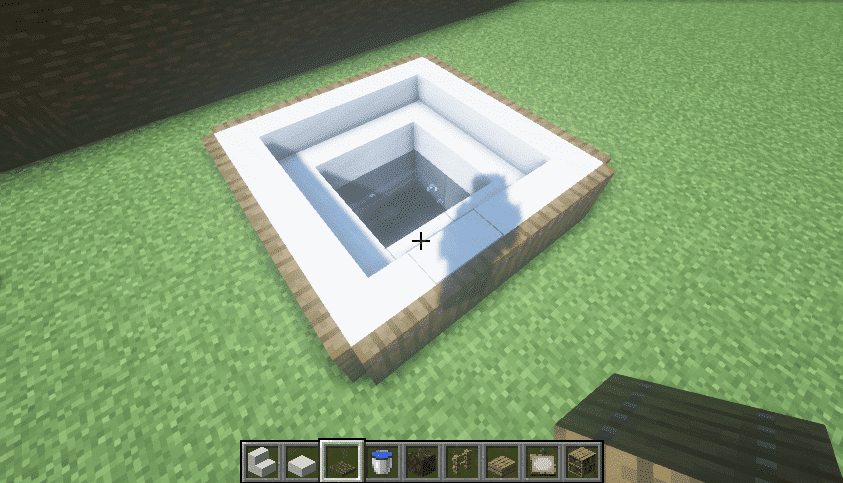 Before you ask, yup, that little cyan blob on the screen above the pool isn't screen blemish.
Your eyes don't deceive you; the water's bubbling!
The reason? Soul Sand.
To get the water to bubble, you'd have to place Soul Sand down at the base of the body of water.
Then, some sort of magical sorcery happens in-between.
Then, right as soon as you've combined the two in one place—voila! You get yourself a working jacuzzi.
Can you take a dip or swim on it? Not really; it's actually too hot and forces your character out the moment you dip in.
Can you put fish in it? Oh, I've tried. Yes, but it'll end up the same case as the player—the fish will jump and flop all over due to the steaming heat.
Here are the ingredients I've used to build this contender to make this best Minecraft furniture idea:
12 Quartz Stairs
4 Soul Sand
16 Spruce Trapdoors
Bucket of Water
4 Smooth Quartz Stone
To create it, make a square-shaped area with the Quartz Stairs with the Spruce Trapdoors being the outer barrier. Find the space in the middle and dig two spaces down on all sides.
Once you've done that, cover the Dirt on the sides of the ground with Smooth Quartz Stone to polish and make it look clean.
Then, fill up the bottom layer with the 4 pieces of Soul Sand. Spill the bucket of water inside your tub, then that's pretty much it!
You'll see bubbles fizzing out of the hot tub as soon as you added that final touch. A wicked touch for one of the cooler Minecraft furniture ideas!
Ceiling Lights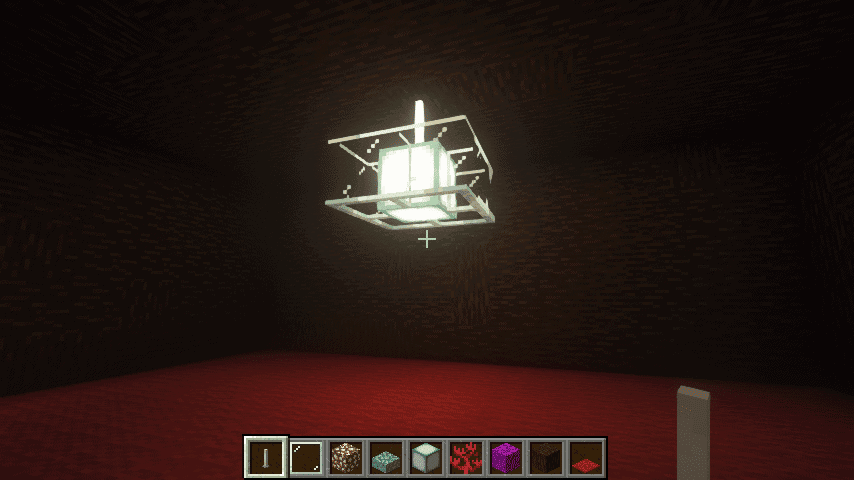 I won't lie, the picture above might look menacing and somewhat eerie.
But you got to admit, it's much better than seeing nothing but pure darkness.
Say hello to this simple but effective ceiling light. It's incredibly easy to build and doesn't require a whole lot of effort once you get all the materials on-hand.
You only need three types of materials too. Here's what you need for one of the easier Minecraft furniture ideas out there:
End Rod
Glass Panes
Sea Lantern
If you can reach the ceiling from the ground, prop an End Rod facing downwards, then directly below it, add the Sea Lantern.
You might have to use a few building blocks to increase your height for the next step. But it'll be worth it. Surround the Sea Lantern with Glass Panes—then cut down the building blocks.
And there you have it! Say goodbye to torches, and hello to this beauty. A functional, minimalist, and pretty good ceiling to light up your Minecraft base.
Bench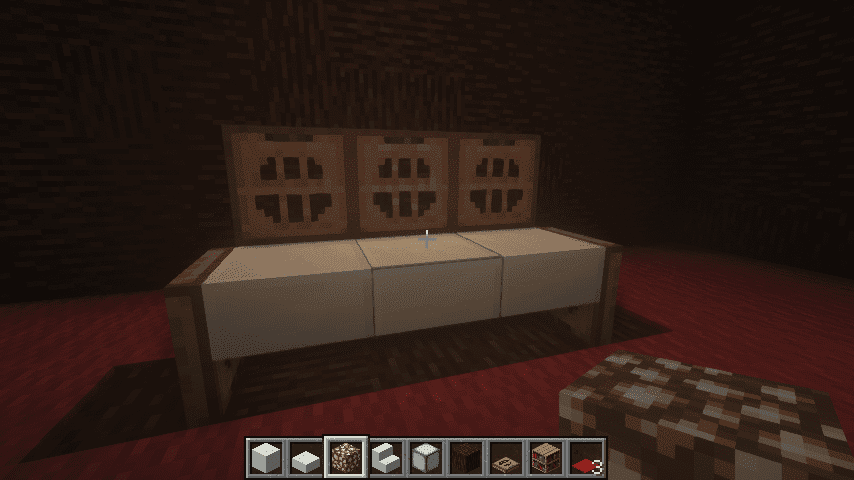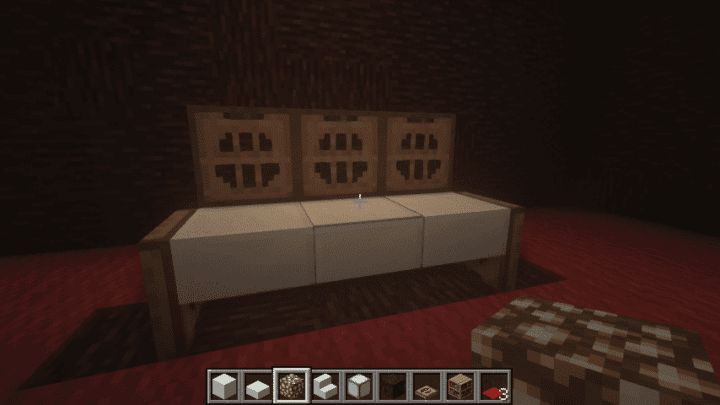 Why don't you take a seat… at this 'ere bench!
This Bench is not difficult to build and can look great on almost any occasion. While it can look great indoors, it truly shines when added on outdoor areas that resemble parks or outdoor lounges.
It only needs two types of materials to build it: Trapdoor and Smooth Quartz Slab. You can, of course, pick and choose any type of slab of your desire as well.
To make it, you'll have to add a supporting building block at the left and right sides of the three slabs first. This is so that you can allow your Quartz Slab to float.
Once you're done with that, add three building blocks on top of each Quartz Slab. Then on the backside of your bench, add the trapdoors, then break the three Smooth Quartz blocks after. Then add the remaining Trapdoors on the sides to resemble the bench's legs.
Once finished, you'll get yourself a good decorative bench.
Bunk Bed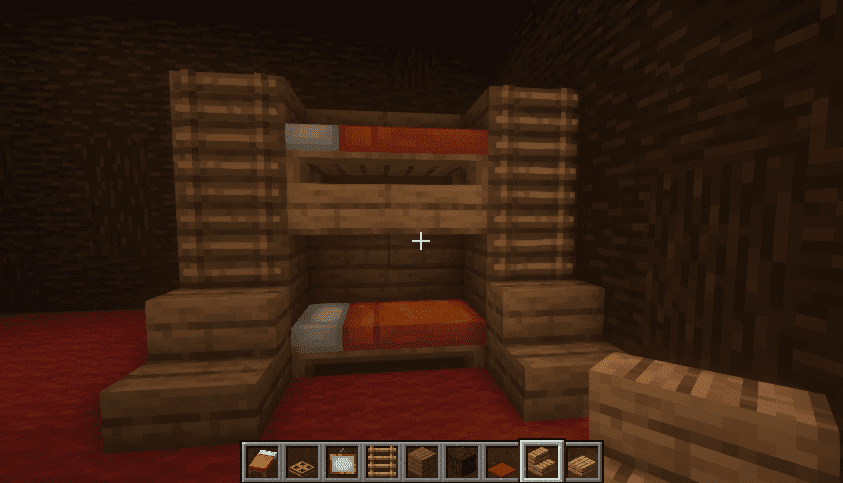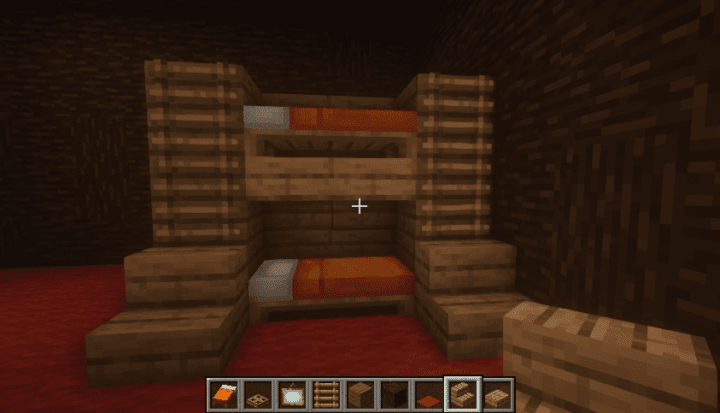 Playing Minecraft in multiplayer mode? We've got some ideas you can try with your beds.
Placing your beds beside each other is old school. Try to switch things up with a functional double-decker bed or bunk bed.
This build might take a little bit of finesse to build (putting those Slabs in the right place is tough work!), but the good thing is that the items you'd need are easily accessible.
Here are the materials you'd need to get started on one of the best Minecraft furniture ideas:
Wooden Stairs
Ladder
Bed
Wooden Plank
Wooden Slabs
Let's be real, you probably already have those easily accessible Day 1 resources. And if by chance you don't—just take a short stroll outside and cut down a tree or two. Hunt some sheep. Then you'll get all you need.
A good night's rest should follow suit.
Canopy Bed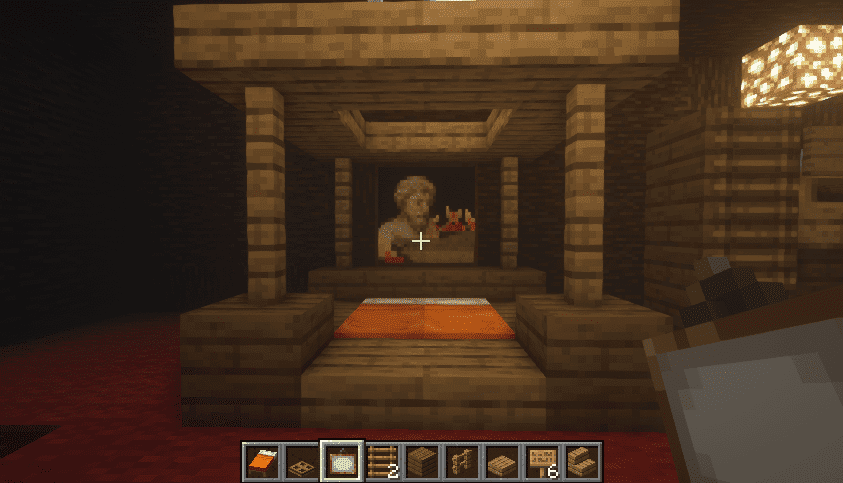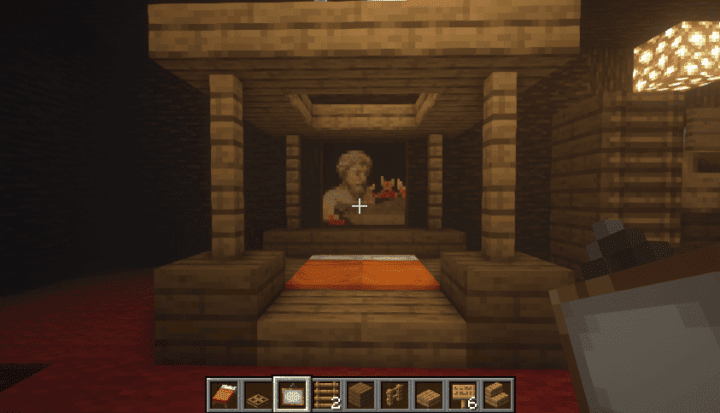 While a bunk bed looks functional and nice, perhaps you'd prefer the old-fashioned double-style king bed instead.
And I don't blame you. There are many awesome build ideas you can come up with just two beds beside each other—one of them is this canopy bed.
Just like the bunk bed, all you need are wooden materials to surround your bed with. This would include some Wooden Slabs, Wooden Blocks, and Wooden Fences.
Fill the corner edges of the bed with Wooden Planks. This would also act as the support for your Fences later on. On the remaining base layer surrounding the bed, place down Wooden Slabs.
Build the Wooden Fences two sizes up. Then, create a rectangular formation on top using Wooden Slabs while leaving a hole in the middle.
Apply some finishing touches to your build by adding some cool decorations like a Painting. You could also switch out a Wooden Slab for a Double Chest instead—whichever floats your boat!
Throne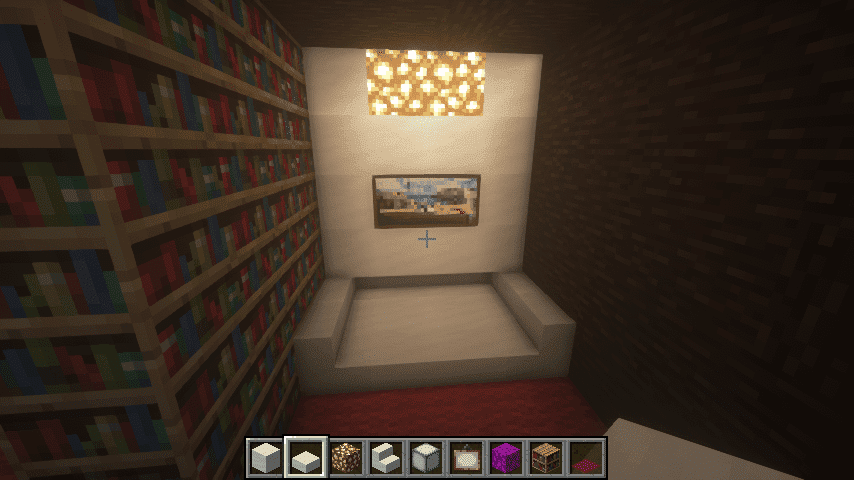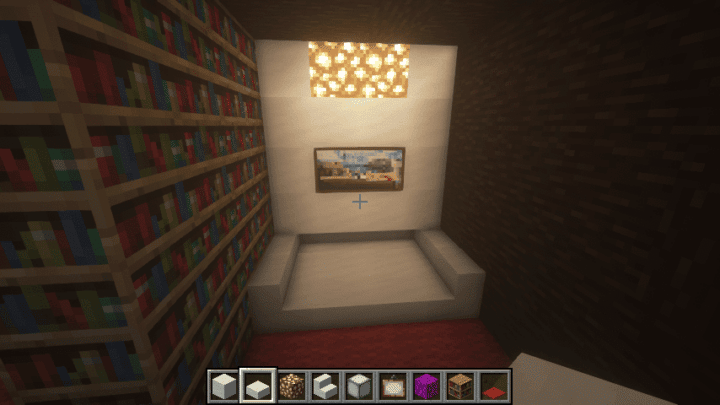 As for the final idea, wouldn't it be nice to have some quarters all to yourself?
A place brimming with regality, royalty, and luxury?
If that interests you, maybe a throne would suit your fancy.
In the build above, I used Quartz to make up the build to make the throne look clean and appealing. But you're more than welcome to tinker around with what materials suit you best.
To build it, you'd need:
Glowstone
Quartz Smooth Block
Quartz Smooth Slab
Painting
Quartz Stairs
Position the Quartz Stairs as the arms of the throne. Then in the middle of it, add the Quartz Slabs as the cushion or part where you'd sit on.
At the backside, build the backside with some Quartz Smooth Block. Add a Glowstone for some lighting—or some other decorative piece if the lighting doesn't concern you. As for the finishing touch, include a Painting to provide visual interest to the throne room.
Minecraft Furniture Ideas Conclusion
We hope that you've taken some notes with this Best Minecraft Furniture ideas list!
What furniture are you planning to use on your Minecraft home? Do you have any suggestions?
Feel free to leave a comment below.