From towering castles to underwater cities, Minecraft allows you to build your dreams from the ground up. Among the diverse biomes within the game, the lush and exotic jungle appeals to those who seek a tropical retreat.
In this article, we've scoured the internet to give you some of the best Minecraft jungle house ideas that blend seamlessly within the dense foliage of the jungle biome. 
A jungle house isn't just a shelter but could be an architectural marvel that blends with nature. Known for its towering trees and wildlife, the jungle biome presents a unique challenge for Minecraft players who want to set up camp. 
Hobbit Hole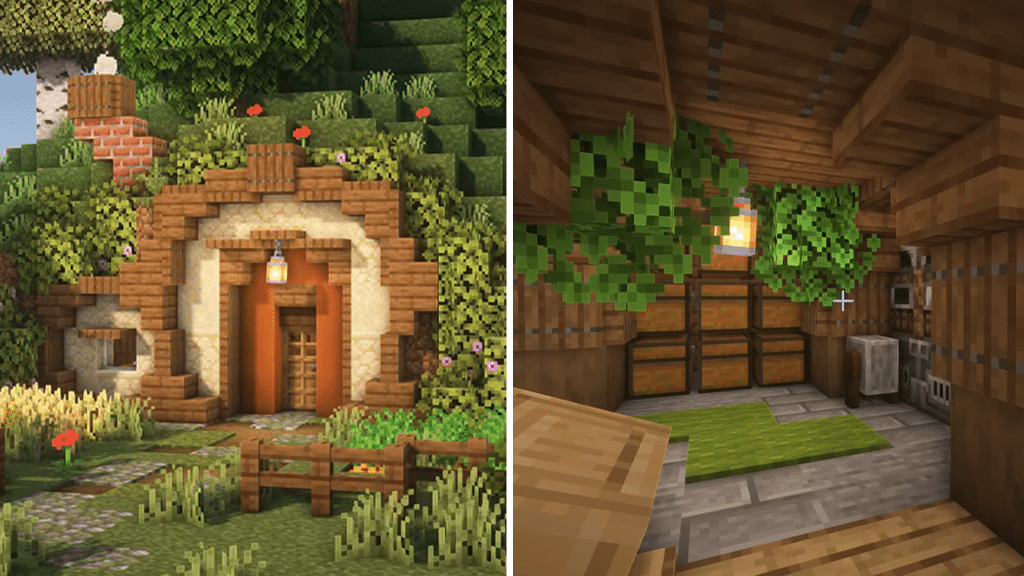 Want to replicate Bilbo Baggins' house in The Hobbit? This Hobbit Hole design from Goldrobin is great for players who are looking for a compact starter home that isn't too complex to build. 
The exterior of the house features a small garden where you can plant some crops and flowers. Being inspired by Hobbit houses, the house protrudes at the mouth of a hill and features circular windows and a main entrance. The interior features a dedicated workstation where you can access the crafting table, anvil, enchanting table, and more.
Although the Hobbit Hole isn't the fanciest jungle house out there, it is a great starting base for new players.
Reimiho Jungle Mansion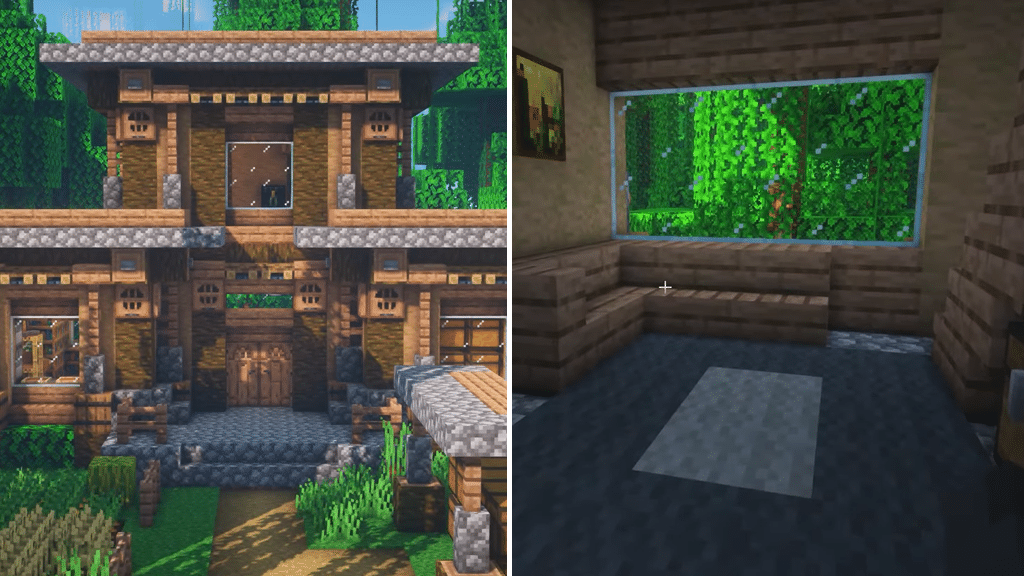 If your plan is to impress your friends with a mansion hidden in the woods, this jungle house by Reimiho will deliver just that. This jungle house showcases a modern design by seamlessly combining cobblestones and wood planks in its exterior, harmonizing with the lush green surroundings of the jungle.
Upon entering, you'll be greeted by a spacious living area that features a large window that allows you to appreciate the jungle biome. On the right side, you'll find the storage and crafting room that houses your crafting table, anvil, armor stand, and other essentials.
There's also a dedicated room for enchanting and smelting which contains your brewing stands, furnaces, and enchanting tables.
Modern Treehouse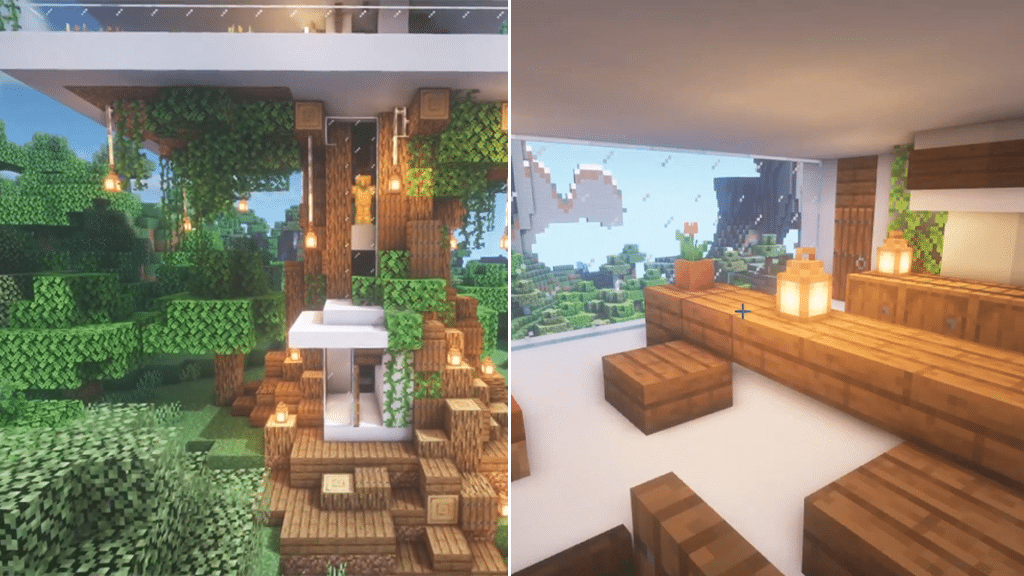 If you truly want to be one with nature, why not build a treehouse in the jungle? Instead of clearing out the area to accommodate your home, this Modern Treehouse by 6tenstudio expands vertically, saving some trees in the process. 
This house features a balance of natural and modern design. From hanging lamps, natural lighting, and modern furniture, you get a whole package with this Minecraft treehouse.
The most appealing feature of this modern treehouse from 6tenstudio is the functional elevator that transports you from floor to floor.
Large Spruce Mansion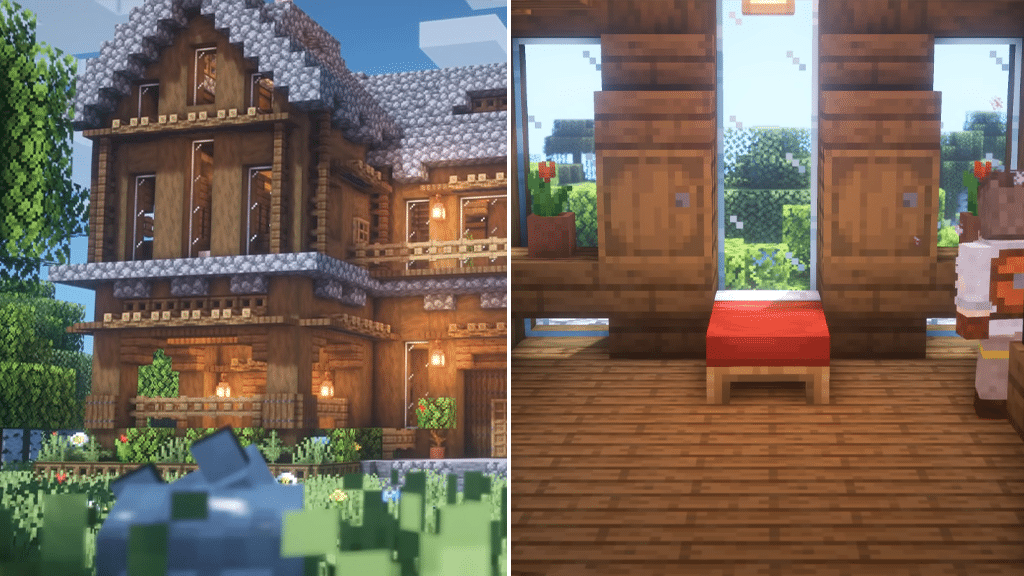 A house made of advanced materials such as concrete will turn out great. However, making something great out of the simplest materials in Minecraft is another story.
This Large Spruce Mansion by Folli manages to deliver just that. With some wood blocks and cobblestone, you can make an amazing two-story mansion that will look great in any jungle biome.
What's great about this build is that wood and cobblestone are readily available in the jungle.
Inside the spruce mansion, you'll find a dedicated smelting area, a storage and crafting room, and a library. It also has a stunning bedroom with massive windows, allowing you to see the beauty of the forest.
Floating Treehouse
This Floating Treehouse by Reimiho is one of the best structures we've seen by far. It features a unique base that is suspended from the ground. It is also built at the center of a cave, which opens up opportunities for mining ores.
Building a floating treehouse comes with some challenges, however, since you'll have to make some bridges to connect bases. Some of the materials you'll need include jungle logs, planks, slabs, stairs, and trapdoors. 
Reimiho's Floating Treehouse also features a Nether Portal, allowing for easier travel to the Nether.
DiddiHD's Treehouse
Building a treehouse is one of the best house ideas for a jungle biome. DiddiHD's treehouse features an artificial tree as its base, allowing you to set up camp anywhere in the jungle. This means that you'll have to build the tree from the ground up using jungle wood.
The treehouse features multiple layers which contain living spaces, gardens, workstations, and storage rooms.
One of the best things we liked about this treehouse is the mini sky garden at the top. It also has a view deck that allows you to scout the surrounding area so you can plan your next adventure and find safer routes.
Foxel Jungle House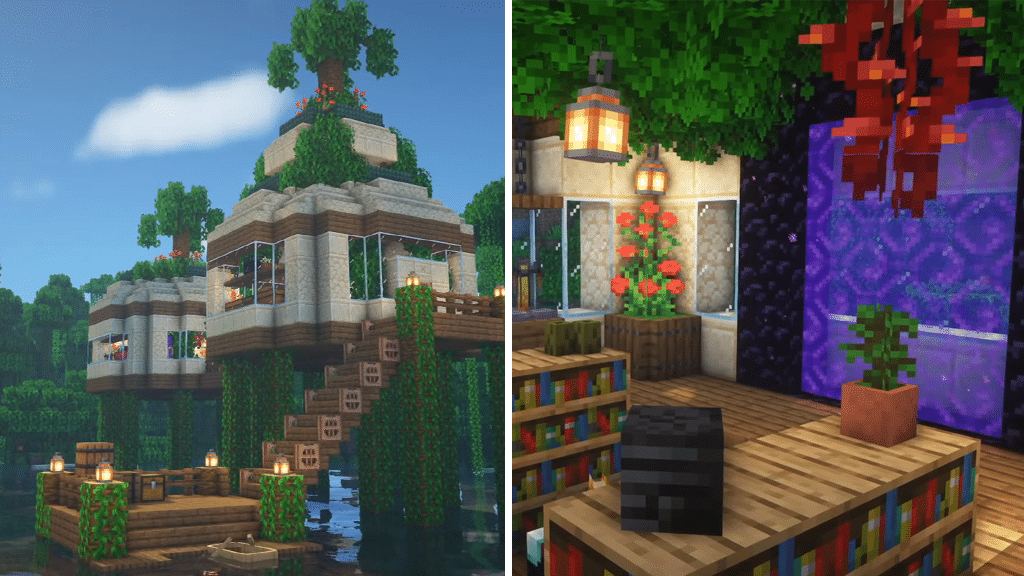 This jungle house by Foxel has two structures in the middle of a shallow lake. The two structures serve as small towers and are made from sandstone along with dark oak wood planks. A small wooden bridge can be found in the middle, which connects the two towers.
Each tower features dozens of plants growing on it and a tree. Staircases lead up to each of the towers and each tower has a different setup.
Inside, you'll find a work area that houses a small library with an enchanting table, some furnaces, and brewing stands. There's also a Nether Portal in one of the towers. The other tower has a small farm and storage area. 
Survival Jungle Treehouse
This survival treehouse from Mr Mirror is the definition of a studio-type condo in the middle of the jungle. Building this treehouse makes sense for new players since the materials needed are mostly made of wood. 
The treehouse itself is built in the middle of a tall tree, keeping you safe from hostile mobs at night. Windows are made from trapdoors, saving you the trouble of making glass.
Everything you need such as the crafting table, furnace, and anvil is found inside the cabin next to your bed.
This treehouse may not be as flashy as some jungle mansions, but it is one of the best starting houses you can make in Minecraft.
Wooden Jungle House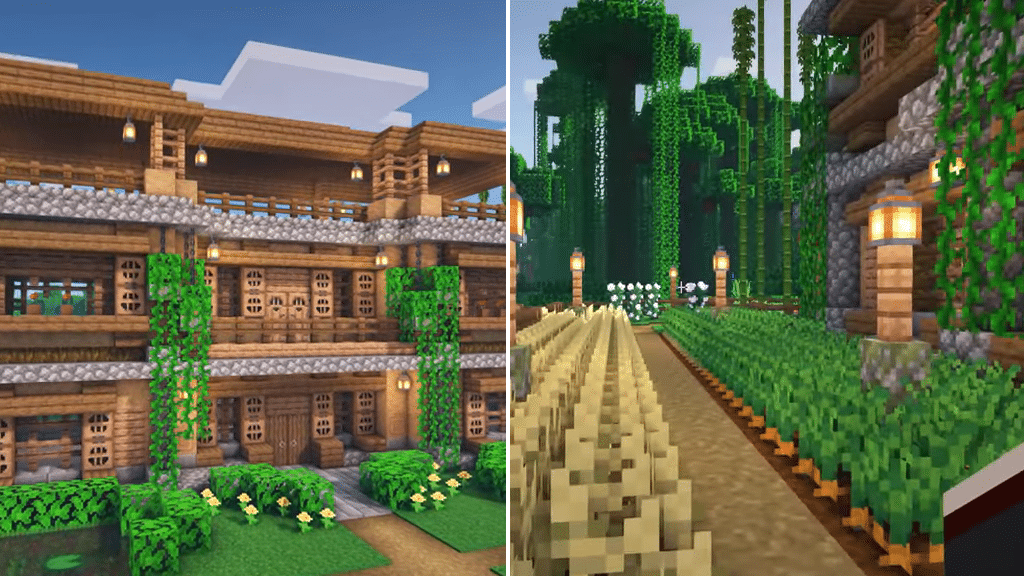 If you want a multi-story jungle house, then this Wooden Jungle House by VexelVille is the one for you. This jungle base will surely give you the feeling of a billionaire living on his private island.
While this jungle house packs some flair, it is built from common materials such as spruce wood and cobblestone.
Upfront, you'll immediately notice the towering roof deck and the two stairs on the side that leads directly to the second floor. There are also two small ponds on the side of the main entrance. It also features a small farm at the back and a water well. 
Small Survival Jungle House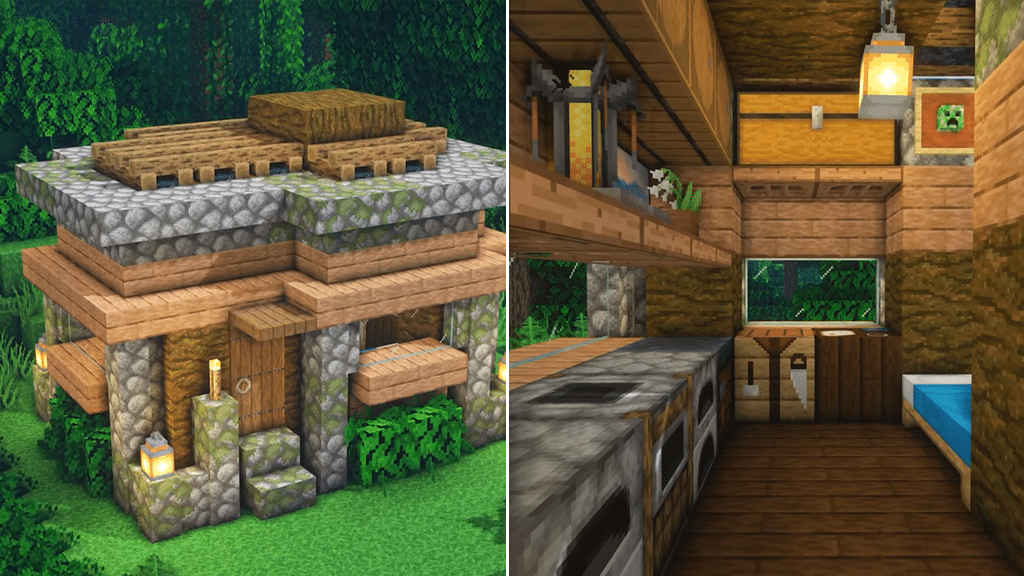 Last on our list is this small survival jungle house from Otama The World. This house features a compact design that doesn't compromise functionality. Most of the house is made from jungle wood and cobblestones.
This jungle house features elevated floorings, a stone roof, and glass windows. Having a small footprint, this build blends well with the jungle biome, giving a minimalist feel to your world.
Despite having a small floor area, this jungle house features multiple storage chests for your materials. Next to your bed are your basic tools such as the crafting table, smithing table, grindstone, and more.
Basically, this house will have everything you need to help survive the harsh conditions of the jungle.
The best thing about Minecraft is that you're free to build anything you want. For us, the best house design is the one that reflects who you are and how you play the game. As for our list, they are just inspirations that you can replicate or improve.