While the OG launcher (Mojang) is superb, it's not a great fit for playing modded Minecraft.
If you're like me, who fell in love with mods and realistic texture packs, having a Minecraft launcher is a must.
Join me as I compare and rank the best Minecraft launchers you can use for modded and vanilla Minecraft.
CurseForge Launcher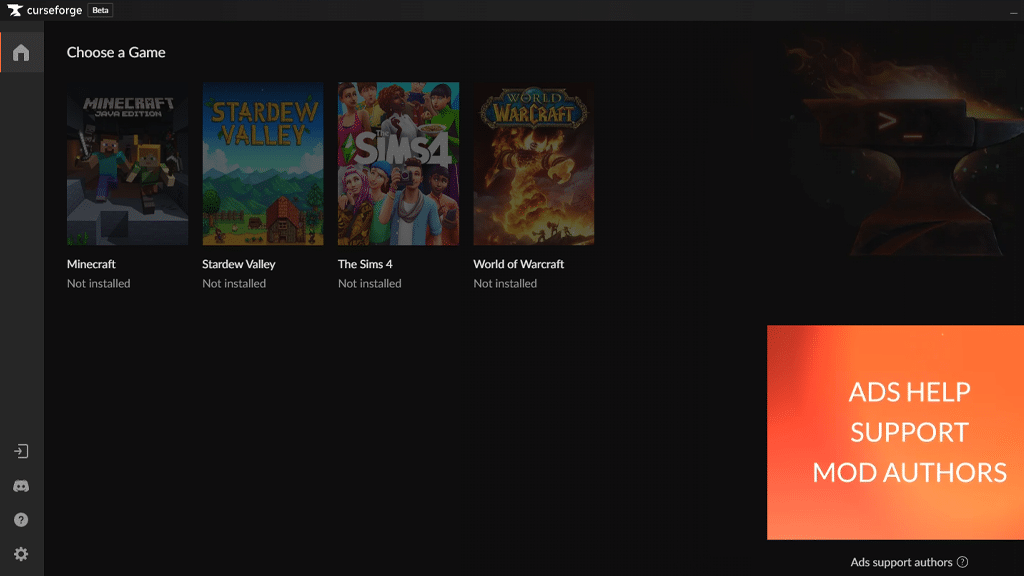 | PROS | CONS |
| --- | --- |
| Download mods directly from CurseForge | Contains advertisments |
| Auto-update feature for all add-ons | Needs monthly subscription to remove ads |
| Easy to use interface with nice color grading | No support for fabric mod packs |
| Well-optimized and stable | Requires default Minecraft launcher |
| Has support for other games | |
If you're into Minecraft modding, you've likely encountered CurseForge. It's an excellent website for downloading mods. The good news is that they also have a launcher that supports Minecraft.
It's a great Minecraft launcher mainly due to its extensive mod library and resource pack. The launcher also features a sleek user interface designed by Overwolf where you can directly browse Minecraft mods and resource packs.
If that's not enough, CurseFoge also supports automatic updates, ensuring that all your Minecraft add-ons are updated.
The only complaint I had with CurseForge is the pesky ads that can only be removed with a monthly subscription. Nonetheless, I don't feel like it ruins the experience, and it also helps developers maintain the launcher.
MultiMC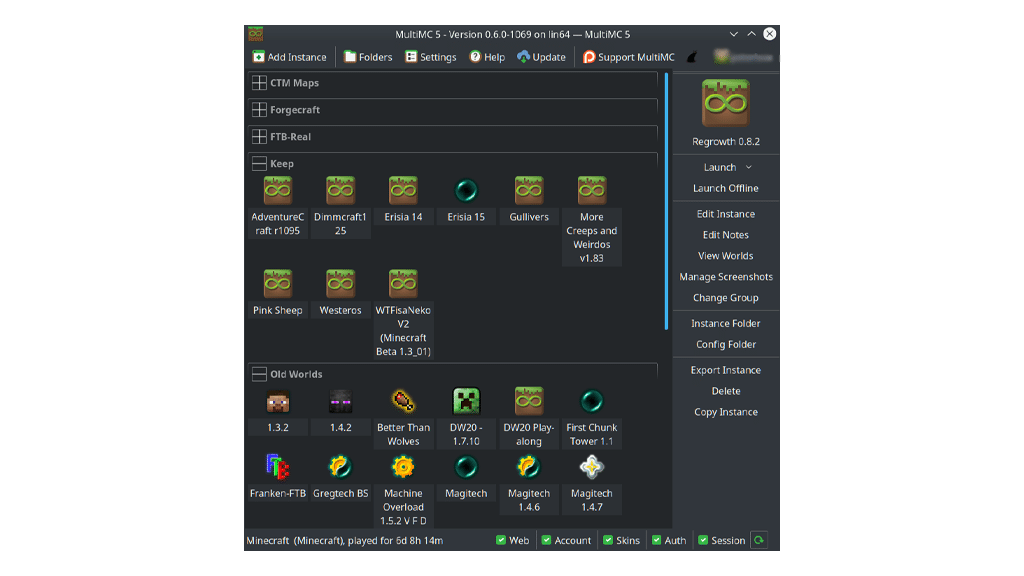 | PROS | CONS |
| --- | --- |
| Support for all operating systems | Complicated process of installing/updating mods |
| Compact file size and well-optimized | Interface can be confusing for new players |
| Support for major mod services (FTB, Technic packs, and more) | |
| Allows direct installation and separate instances of forge and fabric | |
| Developer is part of Mojang's development team | |
MultiMC stands out as the go-to launcher for advanced Minecraft players who are well-versed in modding intricacies. This launcher's focus is on providing a robust platform for managing Minecraft versions and profiles, making it a great tool for experienced players.
This launcher also offers easy profile management, allowing multiple Minecraft versions.
While the launcher requires a learning curve for newbies, the flexibility and customizability it provides is rewarding. The software is very lightweight, requires very little system resources, and supports Windows, macOS, and Linux.
If you're coming from other launchers, switching to MultiMC is seamless since it allows the importation of files and settings.
Prism Launcher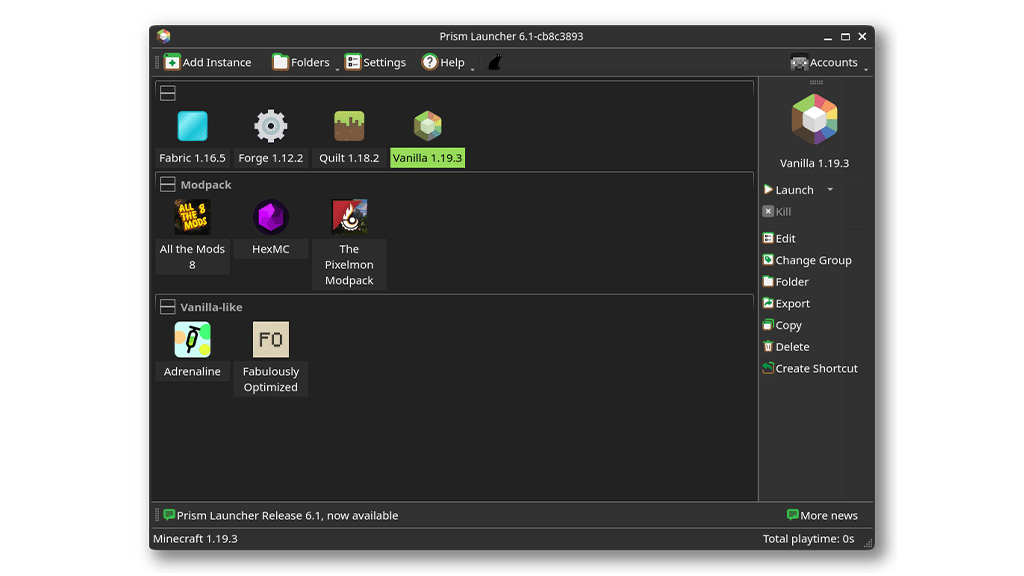 | PROS | CONS |
| --- | --- |
| Simplified modpack management | Limited mod sources |
| Fast individual mod management | Learning curve |
| Advanced instance management | |
Prism Launcher deserves a spot on this list due to its user-friendly features. This launcher simplifies modpack management, allowing for easy installation, updating, and maintenance of modpacks.
It also supports seamless downloading and updating of mods from Modrinth and CurseForge.
Prism Launcher also has unique instance management that prevents issues, like settings reset and world corruption by assigning separate folders for different game versions and mod combinations.
The launcher is also lightweight and customizable, ensuring minimal resource usage while offering customizable menus and themes.
GDLauncher
| PROS | CONS |
| --- | --- |
| Great for creating custom mod packs | Bigger installation package/size |
| Clean user interface | Constantly runs Java processes (not good for entry-level systems) |
| Exported mod packs are compatible with CurseForce | |
GDLauncher is one of the best launchers out there if you want to delve into creating custom mods yourself.
One of its best features is platform compatibility. GDLauncher supports all major operating systems, including Windows, macOS, and Linux. This ensures that every player can enjoy the launcher, regardless of their OS.
Similar to MultiMC, GDLauncher is highly customizable. Minecraft fans can fine-tune the launcher to use only specific features.
If you're still unconvinced, GDLauncher also allows players to import mod packs from various sources, simplifying the modding experience. It also allows you to create custom mod packs with fast import times and a user-friendly interface.
SKLauncher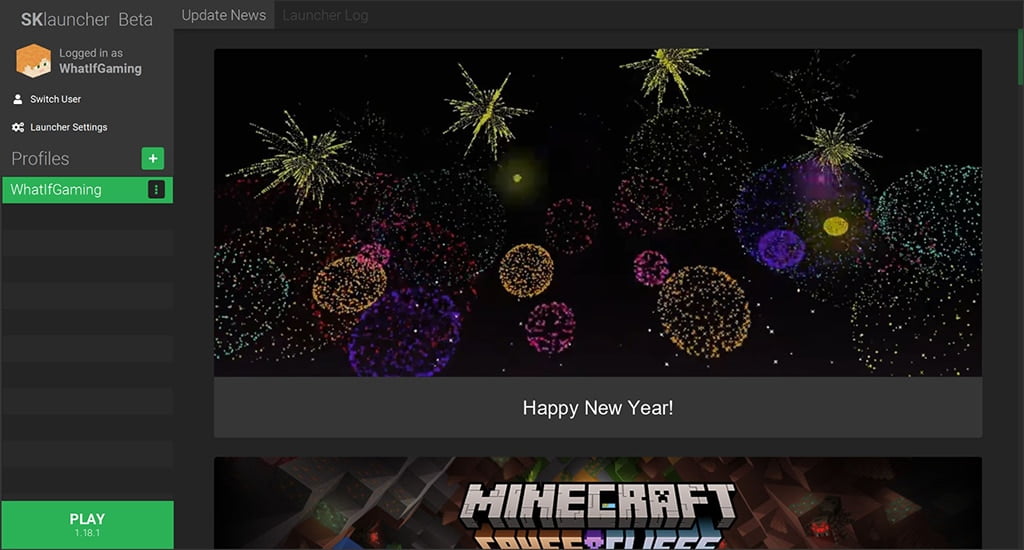 | PROS | CONS |
| --- | --- |
| Support for 20+ languages | Requires Java 8 with JavaFX to run |
| Simple user interface | |
| Frequent updates and fixes | |
| Supports all major operating systems | |
I've included SKLauncher on this list for its unwavering commitment to providing the best user experience for Minecraft players.
SKLauncher has gone through a major overhaul in 2020, transforming the launcher to an all-in-one package. This and the constant updates its developers release is why SKLauncher remains one of the best Minecraft launchers out there.
With its overhaul in 2020, SKLauncher now offers a user-friendly interface that caters to seasoned and new players.
On this launcher, you also have control over essential settings like RAM usage, Java executable arguments, and language preference.
But what's really great about SKLauncher is its support for premium accounts. This makes the launcher an all-in-one solution for managing all your Minecraft versions.
TLauncher
| PROS | CONS |
| --- | --- |
| Highly optimized for most systems | Not officially supported (can only play on cracked servers) |
| Support for all Minecraft versions (including Alpha builds) | Antivirus might flag it as malware |
| Dedicated mobile app for Android | Need a subscription to unlock all features |
TLauncher features an extensive library of Minecraft versions, which I really enjoyed. It allowed me to look back at very early versions of Minecraft, reminding me of my childhood.
It also allows users to install multiple versions of the game at once, making it very convenient to switch between versions.
Installing Forge with Optifine is a breeze on this launcher. It streamlines the entire process, allowing you to enjoy your favorite mods and resource packs instead of wasting time figuring out how to install them.
TLauncher is also highly optimized. Every version it supports runs extremely well, and the launcher offers enhancements that improve system performance.
Additionally, TLauncher's continuous presence since 2013 speaks volumes about its enduring popularity and the value it provides to its users.
Minecraft Launcher
| PROS | CONS |
| --- | --- |
| Best for vanilla Minecraft | Doesn't offer the best support for running mods and custom packs |
| Support for all Minecraft versions | Difficult to manage data and saves |
| Provides patch notes that you can browse every update | Confusing to run different Minecraft versions |
| Allows you to manage skins directly from the launcher | |
Some players refer to Minecraft's vanilla launcher as the Mojang Launcher. It holds a special place in the hearts of long-time players since we all started with it.
Being a default launcher, it's widely used and arguably the most popular.
Despite being a default launcher, Mojang's launcher is surprisingly packed with features. It seamlessly integrates Mojang's ecosystem, allowing you to manage and play other titles like Minecraft Dungeons.
With Mojang's launcher, you also get updated with the latest announcements about Minecraft through its dedicated "news" section.
Overall, Mojang's launcher remains the best launcher for vanilla Minecraft. If you don't care about mods, shaders, or texture packs, then the Mojang Launcher is the safe choice.
ATLauncher
| PROS | CONS |
| --- | --- |
| Support for active Microsoft account | No support for snapshot and classic Minecraft versions |
| Features unique mod packs exclusive to ATLauncher | Consumes a lot of RAM when running mods |
| You can create all types of mod packs, including forge, fabric, vanilla, and alpha | |
I've personally tried ATLauncher, and it's a standout Minecraft launcher for those seeking a compact and user-friendly experience.
The launcher is portable like MultiMC but goes a step further by providing support for Microsoft accounts. This integration grants access to your purchases, realms, and other content.
ATLauncher also works great for managing mod packs. It has a dedicated packs section that allows for easy installation of mods directly from the launcher. You can also browse packs from popular sources like Modrinth and CurseForge directly from ATLauncher.
There's also a "tools" section on this launcher that offers a wide range of utilities, from network checkers to log clearer and skin updates.
Technic Launcher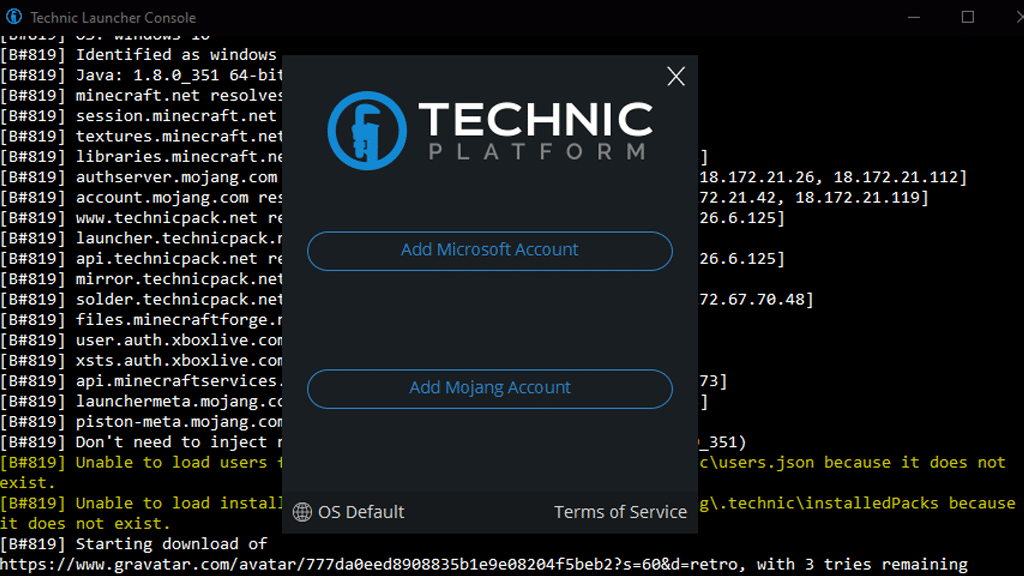 | PROS | CONS |
| --- | --- |
| Easy installation | Some mods in the launcher are outdated |
| Automatically configures necessary settings upon installation | Mostly used as complementary launcher |
| Doesn't use a lot of system resources | |
Technic Launcher has more than 8 years of experience, and it's one of the reasons why I included it on my list. But a good history isn't all this launcher has to offer.
One of its strongest features is the ease of installing mod packs. It features a user-friendly interface that makes it an ideal launcher for mod-heavy players.
It's also available for Windows, macOS, and Linux, supporting all operating systems.
Technic Launcher stands out thanks to its straightforward mod pack installation and cross-platform compatibility. It is also optimized for performance and offers an extensive library of mod packs.
Whether you're a long-time player or new to modding, Technic Launcher simplifies the process and offers a wide range of mod pack options to cater to your preferences.
BadLion Client
| PROS | CONS |
| --- | --- |
| Emphasis on anti-cheating policy | Not the best launcher for installing mod packs |
| Rewards loyal players | Needs a Microsoft or Mojang account |
| Provides an updated list of banned players | |
| Allows multiple Minecraft profiles | |
I have personally used BadLion before, and it's an amazing launcher if you want to enjoy online play without having to deal with cheaters.
BadLion is all in when it comes to dealing with cheating. This ensures that you have a level playing field when playing using this launcher. It even goes above and beyond by installing anti-xray addons and other anti-cheating measures.
One of its downsides is that it requires a Microsoft account to create a profile. However, this also adds a layer of protection, ensuring the integrity of all players.
But what impressed me the most is that BadLion actively bans cheaters from the platform. This highlights its team's dedication to maintaining a clean gaming environment for its players.
VoidLauncher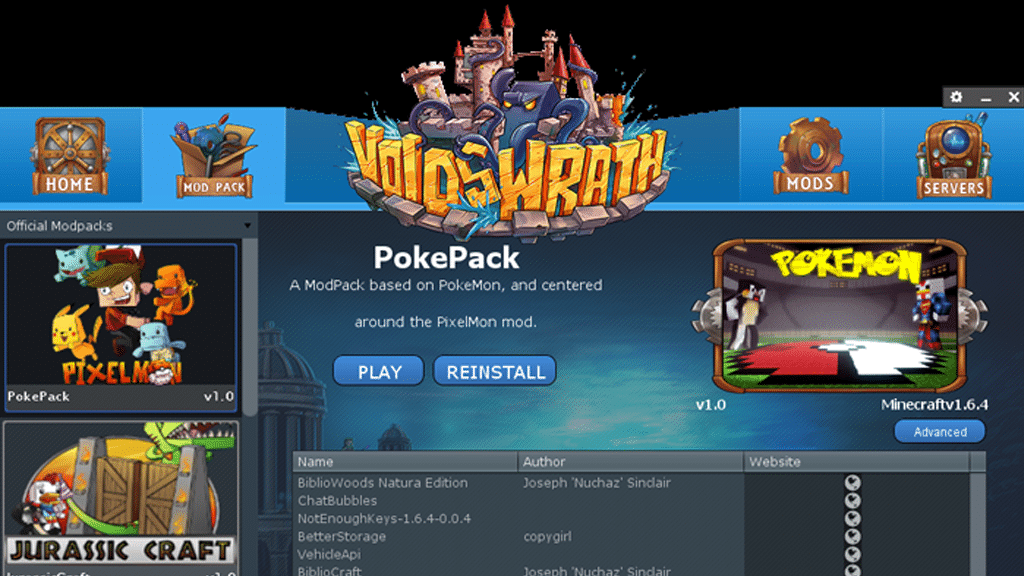 | PROS | CONS |
| --- | --- |
| Great for trying different mod packs | Some mod packs contain over 30 mods (puts a lot of load to your computer) |
| Features VoidLauncher-specific servers | No support for creating new Minecraft instances |
| Easy mod download and installation | |
| Allows you to create custom mod packs | |
I recently tried VoidLauncher, and I can say that it's a decent alternative to Mojang's launcher. It's a solid option for players who love custom mod packs, offering unique features and advantages that are specific to this niche of players.
Like many launchers on this list, VoidLauncher features a user-friendly interface. It has four distinct tabs that provide access to the latest developer news, a mod pack catalog, exclusive VoidLauncher servers, and a mod pack creation tool.
Overall, VoidLauncher is an excellent complementary launcher for players who love modding without replacing their primary launcher. It's a specialized tool designed to enhance your mod pack experience.
Launcher Fenix
| PROS | CONS |
| --- | --- |
| Great for Spanish-speaking players | Only available in Spanish |
| Excellent optimization and performance | Doesn't get updated a lot |
| Features all Minecraft versions including Alpha builds | |
I recently came across Launcher Fenix, and I believe it's an amazing launcher for Spanish-speaking players. Unfortunately, the launcher is only available in Spanish, making it difficult for non-Spanish-speaking players to use.
Regardless, Launcher Fenix is extremely lightweight and efficient. It won't bog down your system and ensures a smooth gaming experience for low and mid-tier systems.
This launcher is popular in Spanish-speaking regions like Spain, Mexico, Chile, and Argentina, ensuring that it has an active community where you can find opponents, support, and even friends.
What I liked about this launcher is its dedicated mods page. This makes it an excellent choice for players who want a no-frills launcher that allows them to dive into modding without complications.
Conclusion
The choice of a Minecraft launcher all boils down to your specific needs and preferences. If you mostly use mods, CurseForge is the top pick, while MultiMC offers versatility for more advanced players. GDLauncher is great for custom packs, TLauncher is a reliable, long-standing option, and SKLauncher prioritizes user experience.
What's important is that you choose the launcher that aligns with your needs. Enjoy your gaming journey and game on!