It's easy to love Minecraft. You build things, craft cool traps, and let your imagination run wild.
And perhaps the one thing we always end up crafting, no matter the type or mode we play in, is our very own Minecraft room ideas.
Aside from the quintessential crafting table, chests, and furnaces, the creative potential of a room-sized grid is near-endless.
Ready to get your dose of inspiration? I've compiled a list of the 10 best Minecraft room ideas made by our very own Minecraft community.
Let's begin!
Modern Room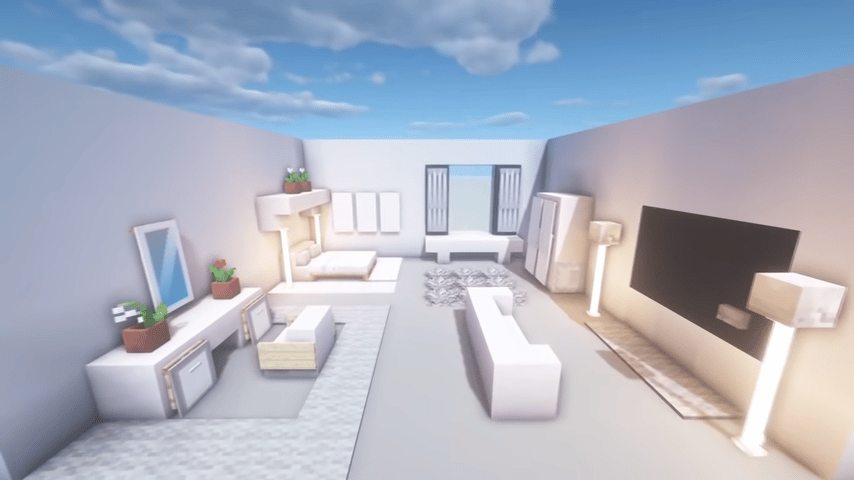 Sleek whites are the name of the game for this Modern Room build by Blendigi.
The four corners of this rectangular base are enclosed by unblemished walls and furniture that create a minimalist look. From the floating flat-screen TV and wide vanity mirror to the luxurious bed with a headboard shelf, you're bound to feel fancy.
The cool thing about this Minecraft room is that it's simple enough to make in your own world too, making it perfect as a starter house. Just be sure to stock up on End Rods when you make your way to The End, 'cause you'll be needing a lot of light sources to recreate this modern room!
Warm Wooden Room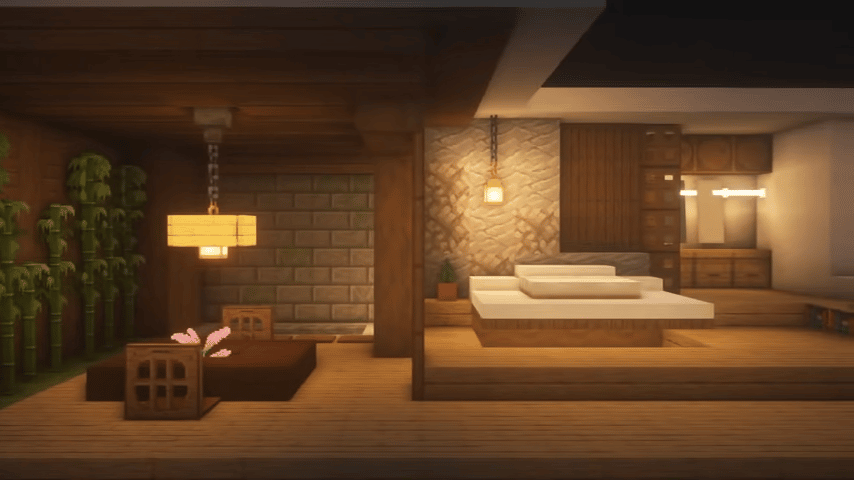 Instead of bright whites like the last room, why not dial it back and go after a more cozy, warm mood? This Warm Wooden Room by JINTUBE is a perfect example of this—featuring a tatami chair and table set, low-hanging lamps, a floating bed, and Wooden planks. Oh, and did I mention the sprouting bamboo shoots by the walls too?
This room can make for a perfect base to return to after a hard day exploring. But believe me, it might be hard to step outside once your Minecraft room idea looks as gorgeous as this one.
Modern Loft Room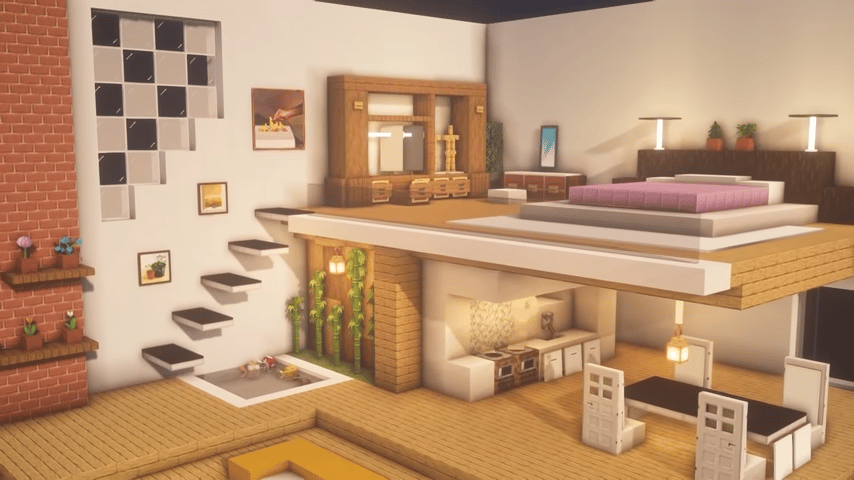 Another masterful Minecraft bedroom idea is this Modern Loft Room by JINTUBE. One glance at this Minecraft room is sure to give you enough ideas to bring home to your base, from the nice king-sized bed design to the Iron Door dining room chair.
Fun fact: the stairs aren't actually Quartz Slabs but instead consist of Iron Trapdoors and a Black Carpet attached to them. This gives them the function and style of stairs, all while maintaining a connected and layered look.
All in all, this loft looks like a cute Minecraft room idea you can try building—just be sure not to fall on the koi pond!
Xbox Gaming Room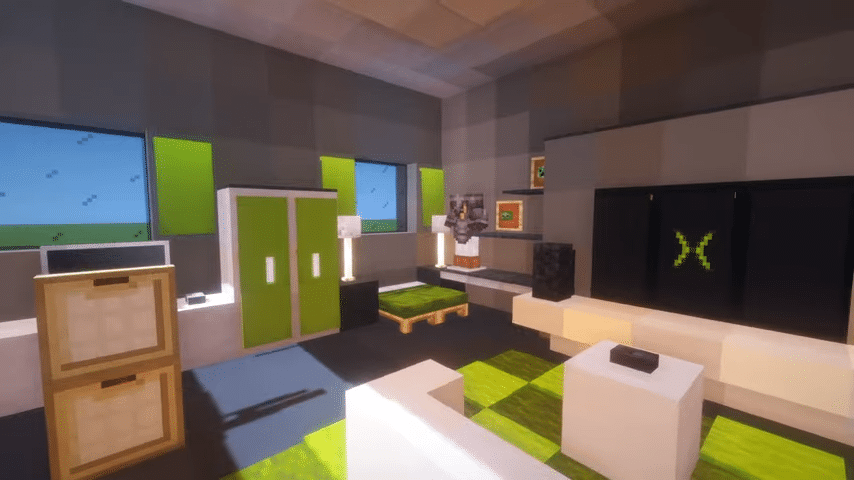 I don't know about you, but as a video game-crazed youth, I've always wanted my own themed gaming room growing up. While real-life happened, this Xbox Gaming Room by MrKnock gets absurdly close to the same satisfaction as I could get in owning an actual gaming cove.
In this room, you can find all the essentials of an actual gaming room. The speakers, couch, cabinets, and wide-screen TV all work together to create this Minecraft gaming room. Perhaps something I'd add here is some better interior lighting for a more futuristic feel. I also reckon some good Minecraft flooring would be a great touch!
Pink Modern Room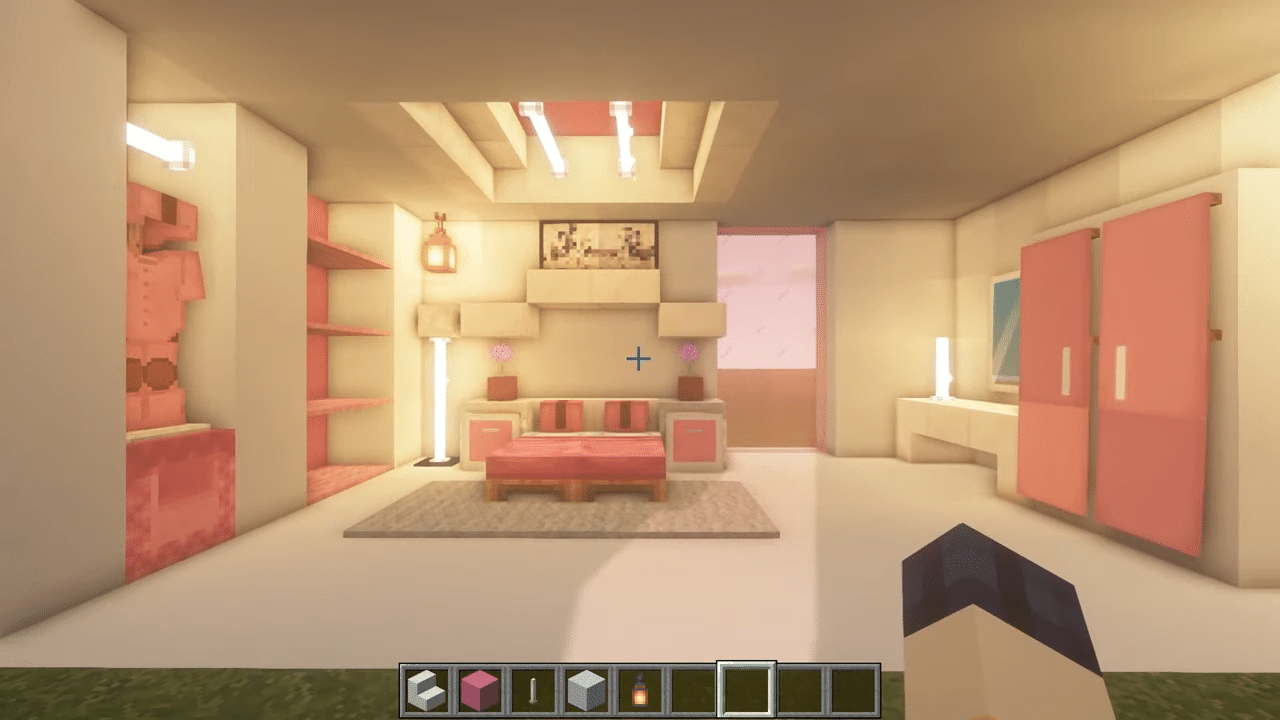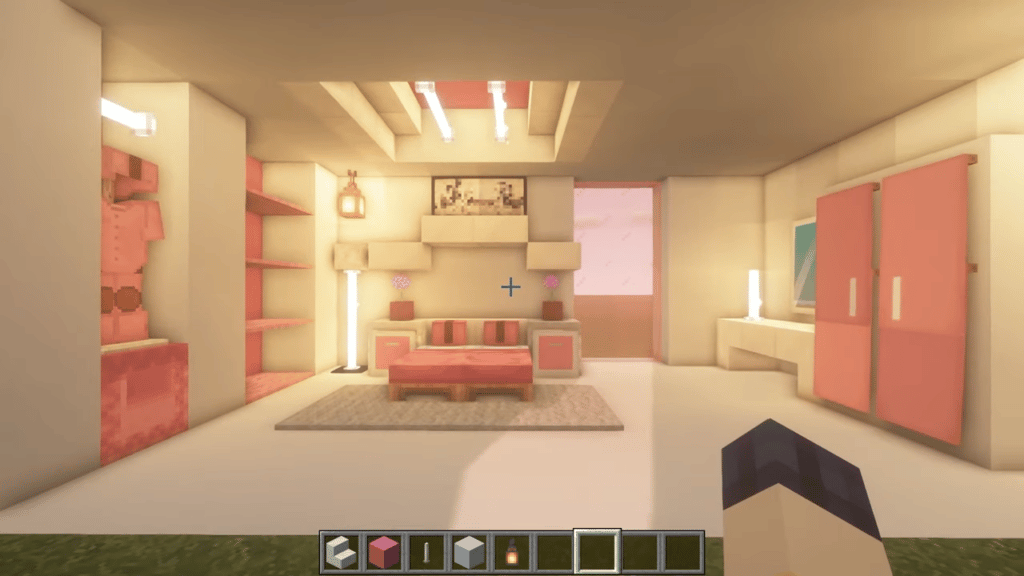 Pink is in style this season! This Pink Modern Room by AmyYeah is a Minecraft room design that we can't help but fawn over. It's, well, pink all over — from the beds to the cabinets. And if you're a fan of this flowery and bright color, then this Minecraft room could be the perfect one for you to make.
As always, there's always room for you to include your own creative touch to each Minecraft room inspiration you find here. Mind if I suggest some Minecraft walls and murals?
Modern Fireplace Room
Ever wonder how to make a fireplace design work in Minecraft? Well, watch this Modern Fireplace Room tutorial by BlueNerd Minecraft, and you can uncover the elements that go into making this cool Minecraft room design.
This contemporary home features a brick fireplace as the centerpiece. Various plants and shrubs exude a fresh lushness to the entirety of the home, and the brown and white palettes make this big Minecraft room look even better. I could totally see this room as an interior of a large Minecraft estate with a grand roof.
Victorian Era Room
If you've ever played Minecraft for an extended amount of time, it's almost guaranteed that you've contemplated building a medieval build at some point. If you haven't done so yet, you better get to work—cause this house build has done 100% of the creative process for you!
This Victorian Era Room by Grian doesn't stray away from simplicity. In fact, it only covers the bare furniture of a room—a canopy bed, some windows, and a light source. It's also enclosed within all-wooden walls, making it a perfect consideration for a starter base. Maybe consider switching the light source into something beginner-friendly, though!
Largen Modern Room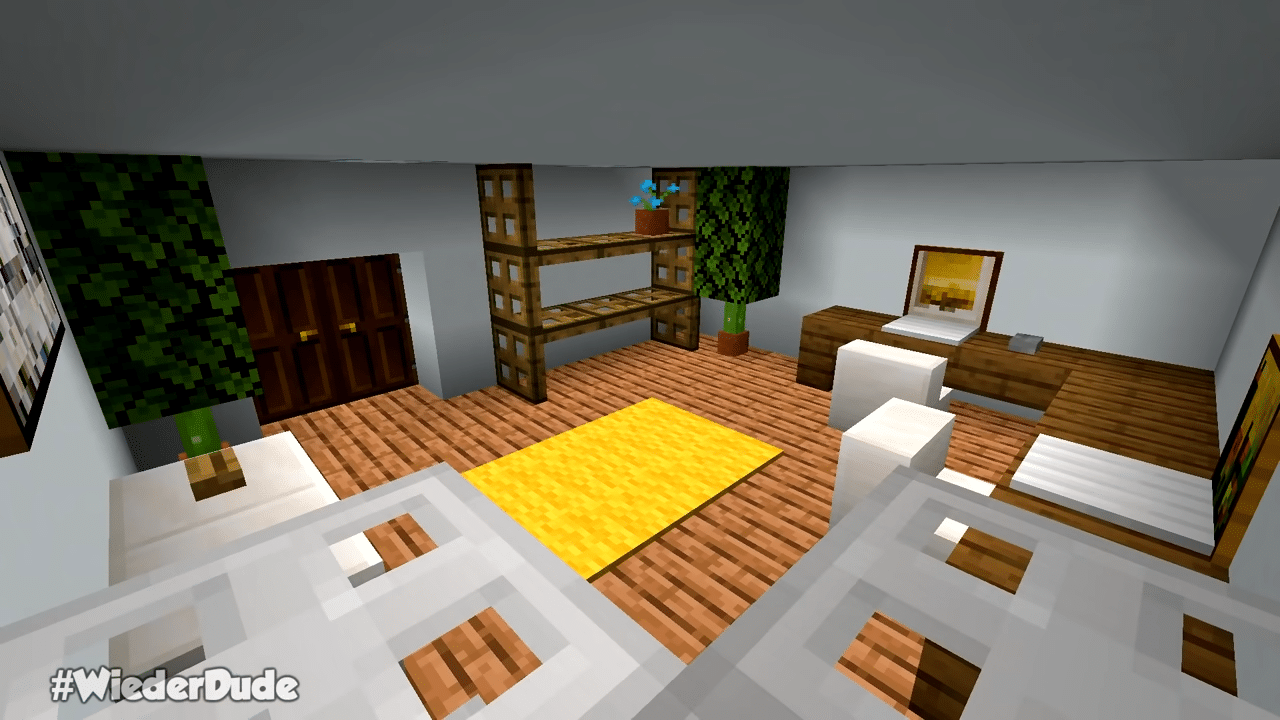 You don't need fancy shaders and texture packs to make a room look good. Sometimes, you just need to switch to Creative Mode, lay down the structure of a home, and go full-on execution mode. You might encounter some hiccups along the way, and that's okay. It's all a part of the process.
The reason I say this is 'cause this Largen Modern Room by WeiderDude is something any Minecraft player can create. It's nothing too fancy—but it's a design good enough to gain over 50,000 likes on YouTube and two million views. And that's an achievement in itself!
Dining Room
Need some food? Don't horde all your raw meat and chicken in your weapon chest. Put it in your home's dedicated kitchen instead.
The Dining Room by JINTUBE has all the essentials: a counter for preparing your meal, a long table to dine in, and some mood lights to create a cozy atmosphere.
Out of frame, you can put some chests and furnaces to cook up your next meal.
Not to mention, the Kitchen Room is also spacious enough to hold a party where you can take a ton of sweet pictures.
Woodland Room
If you want to go for something similar to remote cabin Minecraft Room ideas, this Woodland Room by BigTony MC is a stylish, sturdy design that has a lot going for it.
For one, you're in no shortage of storage and furnace space—there are tons of crevices and shelves to store these chests around.
Not to mention, the busy mixture of wood and stone—two very easy-to-find items—takes away a ton of searching time trying to find and craft the right material.
While it's no castle, it's bold enough to make an impression. It sure has for me.