Minecraft is a beloved game by many, and it continues to dominate as one of the best forms of entertainment in both single-player and multiplayer experiences. Nowadays, the best way to play the game is online with friends and communities.
But, like a rite of passage of sorts, you'll need one key ingredient to successfully be able to bring your crew together—a server.
Nowadays, there are plenty of Minecraft server hosting options around, but not all of them are reliable or trustworthy.
Beginner or not, choosing among them and comparing the various features can get tedious.
So we've made it easier for you.
Here's a handpicked list of 16 of the best server hosts available, based on ping, uptime reliability, customer support, server performance, and configuration.
Best Minecraft Server Hosting Providers
No time to read the list in-depth?
We've got you covered.
Here's a brief summary of our top 10 ranked Minecraft Server Hosting websites for your next piece.
GG Servers

– Most comprehensive control panel

Apex Hosting – A great choice
Shockbyte – Highly trusted by users
Node Craft – Fastest hosting server
Sparked Host – Highest-rated hosting provider and most affordable
Minecraft Hosting Pro – Best in-house Minecraft servers
Bisect Hosting – Most customizable pricing plan
McPro Hosting – Most data centers for lag-free gaming (and an Xbox app)
Hostinger – Best server for Bedwars and Hunger Games
Vultr – The best plan has the best performance above competitors
We've come up with the list above based on a variety of specifications. These include the server uptime, server location numbers, user limit, security, performance, and latency. 
Moreover, much of the list also has its own server-specific features that differentiate them from the others. Not all of them are the same, so it's important you know what you're buying to avoid regretting your purchase.
If you're new to Minecraft hosting, don't worry. Our list above is considerate of all kinds of Minecraft players and server needs, no matter whether you're getting a server up for just friends or a larger community.
GG Servers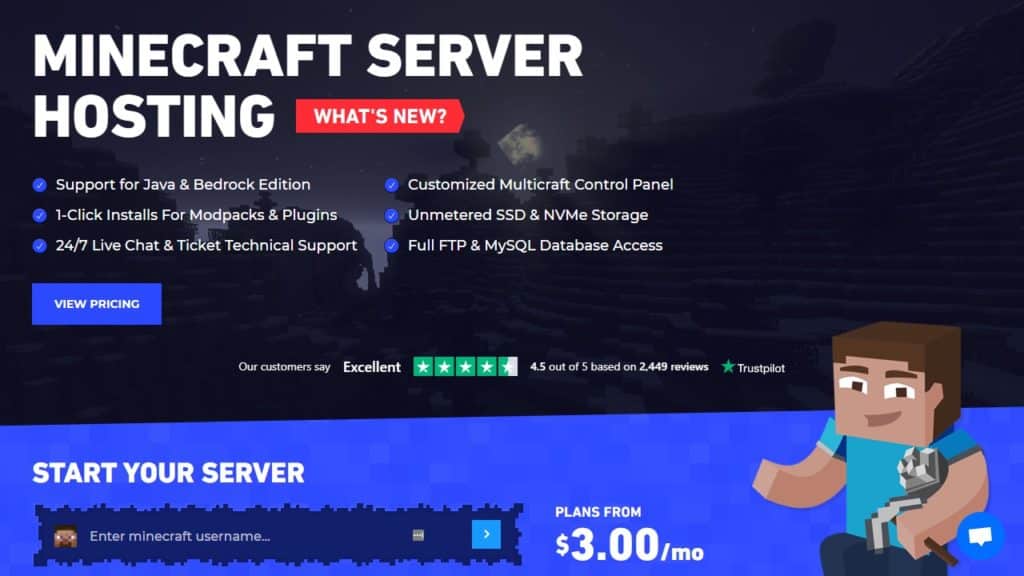 DDoS protection: Yes | One-Click Modpack Installer: Yes | 24/7 Support: Yes | Automatic backups: Yes
Low latency for lag-free gaming
No attempts of overselling plans
Great connection speed
Instant activation
GG Servers is a favorite for many Minecraft players, and it's clear to see why.
With 2639 4.5-star reviews based on Trustpilot, there's certainly a ton of appeal that this modded Minecraft hosting provider has in its arsenal.
For one, GG Servers supports both Bedrock and Java editions—giving you the relief of being able to host across different game versions. You'll also get full FTP and MySQL database access, opening the door for you to configure and modify your server however you wish.
GG Servers is secure, easy to use, and has global locations that span four continents and nine different countries. The feature we love the most about this Minecraft server provider is the Multicraft control panel—which has a comprehensive dashboard where you can manage all your Minecraft servers and access your console and chat.
Pricing
GG Servers has two main pricing schemes: Standard and Premium.
These features are further categorized into eight pricing types: starting at the Stone pricing plan ($3/mo Standard; $6/mo Premium) to the Emerald plan ($36/mo Standard; $72/mo Premium).
In both pricing plans, the cheapest Minecraft hosting provider Stone plan has 12 player slots and a 1024 MB RAM capacity. On the other hand, the Emerald plan can host up to 144 players with a RAM capacity of 12 GB.
The difference between premium and standard plans is the server technology used to power the hosting service. Premium price plans use the latest DDR4 2400 MHz RAM and 4.4-5 GHz processing units to run their data servers. The standard price use DDR4 2133 MHz RAM and 3.2-4 GHz processing units.
Apex Hosting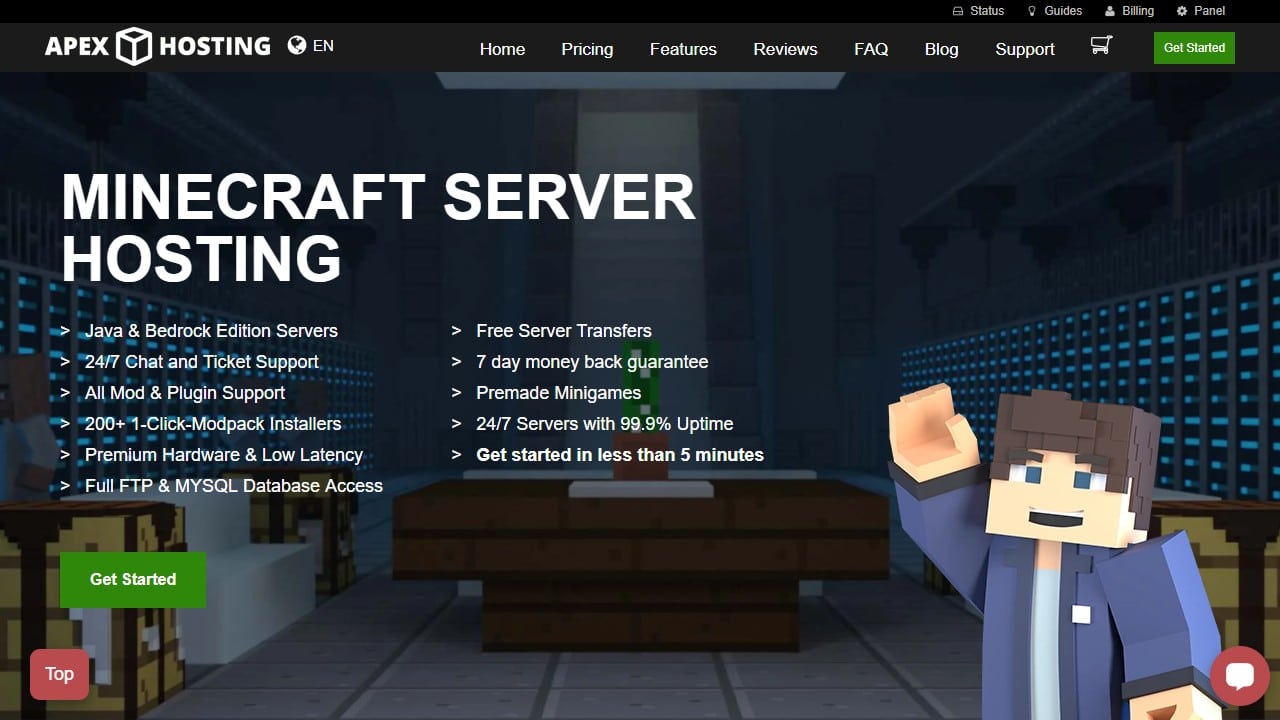 DDoS protection: Yes | One-Click Modpack Installer: Yes | 24/7 Support: Yes | Automatic backups: Yes
Super quick 5-minute setup
Multiple pricing plans
24/7 live chat support
Preconfigured minigames
Free sub-domain name
Do you want a hosting provider with a large RAM capacity and exceptional loading speeds? If yes, you may want to give Apex Hosting a try.
Apex Hosting kicks off the list as one of the best Minecraft server hosting providers, boasting virtually zero downtime with its 24/7 live servers. It comes with an easy-to-use control panel that makes controlling your server and monitoring your performance simple and intuitive. It also features air-tight security with advanced DDoS protection protocols of up to 300 Gbps.
Aside from that, you also get to enjoy this provider's lag-free gaming experience with its server data centers spread across 18 different locations in 5 different continents. You won't have to worry about slow performance either, as Apex Hosting is dedicated to using the best processors with the fastest SSD hardware for their servers.
Over 300,000 servers have been hosted through Apex Hosting. You can rest assured that these guys know the ins and outs of hosting a server that runs smoothly.
Pricing
Apex Hosting has eight standard hosting plans, ranging from $7.49/mo to $59.99/mo for the first month. The most affordable option has the basic server essentials and some modpacks, as well as a 2 RAM allowance for you to run smaller servers.
Their most powerful $59/mo plan gives you all the modpacks and a 15 GB RAM allowance — enough to power large community-based servers with big open worlds. Powered by a server boasting Ryzen 5800X 3.8 GHz, NVMe SSDs, and 4 vCores, you're server is bound to operate at peak performance under this price.
Shockbyte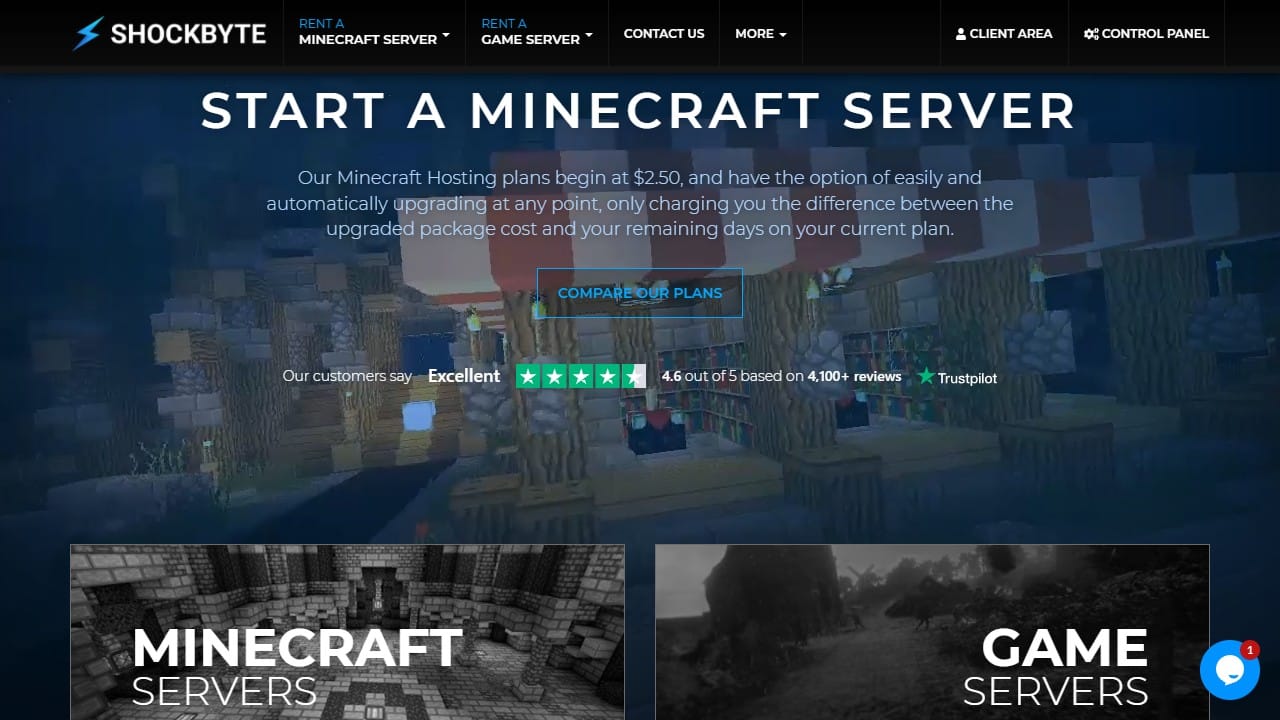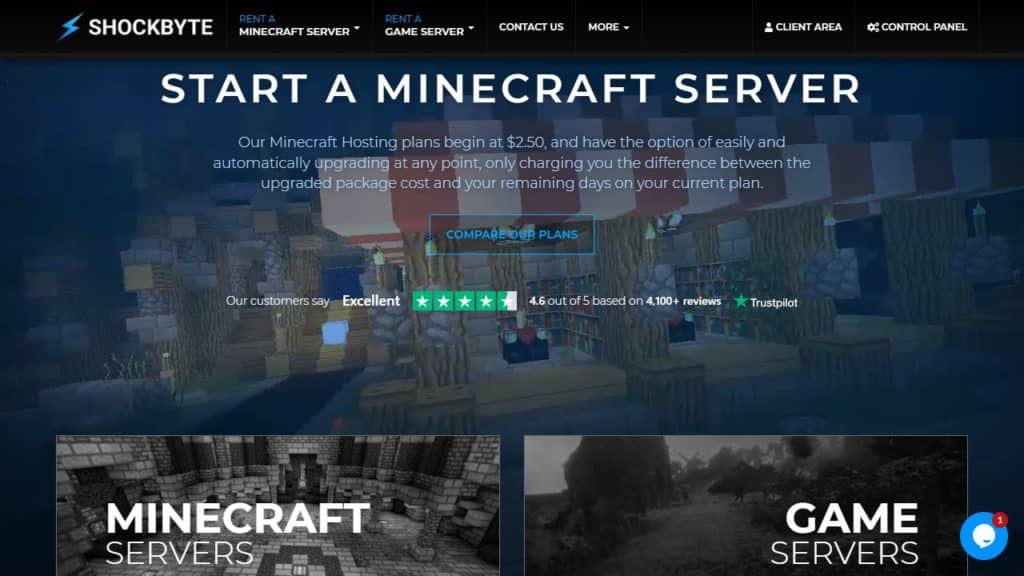 DDoS protection: Yes | One-Click Modpack Installer: Yes | 24/7 Support: Yes | Automatic backups: Yes
Very affordable pricing plan
24/7 live support
They'll entertain inquiries for custom plans
Free subdomain with a custom IP
With an average score of 4.5/5 from over 4000 reviews on Trustpilot, you're in good hands with Shockbyte's paid and free Minecraft server hosting solutions.
Shockbyte differentiates itself from the rest with a plethora of unique features that no other hosting provider can offer as a package. These include free subdomains, 100% uptime, MCPC, and MCPE cross-compatibility.
On top of that, this Australian-based game server provider has expert talent that has been working in the industry since 2013. If there's any free Minecraft server hosting solution that can guarantee that they'll be able to host the most powerful Minecraft servers out there, we'd say Shockbyte would top the list cleanly.
Pricing
Shockbyte has nine basic pricing plans that scale in performance, and three premium plans.
The most basic Minecraft service hosting plan is the Dirt Plan, which has a capacity of 20 users and a 1 GB RAM allowance. It's priced at $2.50/month.
If you want to host servers that can squeeze in 180 people easily, then you'll have to look into the Obsidian plan. They have a 9 GB RAM allowance and are priced at just $22.50 per month.
But besides the basic plans, you can also pick from the Spartan plan ($25/month, 10 GB), Zeus plan ($30/month, 12 GB), and the Titan plan ($40/month, 16 GB) in the case have your sights on hosting the largest Minecraft servers.
NodeCraft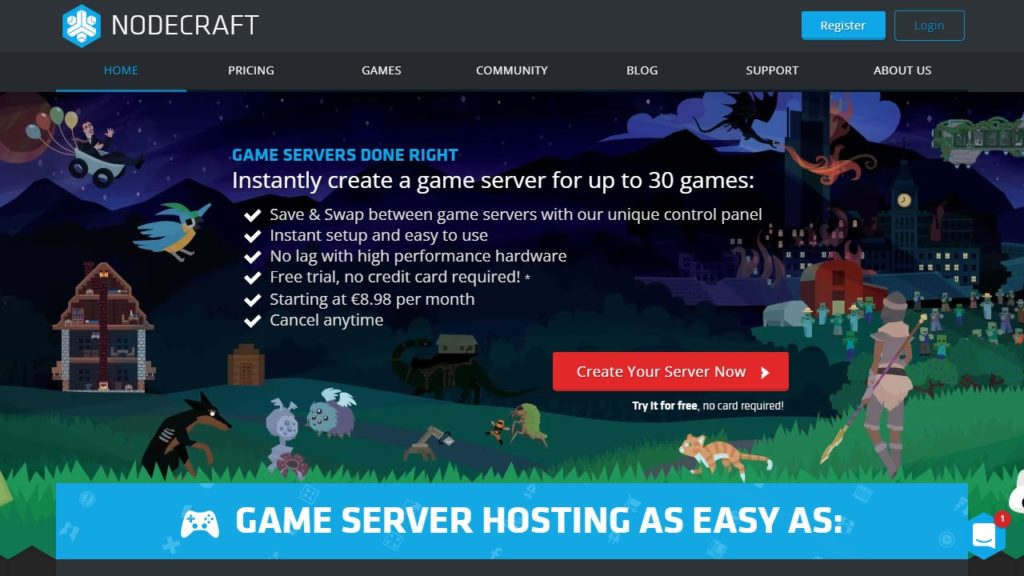 DDoS protection: Yes | One-Click Modpack Installer: Yes | 24/7 Support: No | Automatic backups: Yes
No player slot limits
No hidden fees
Has both a PC and mobile control panel
Over 18 data centers across 5 continents
NodeCraft is a fast Minecraft hosting server where you can set up and play in a matter of seconds.
It comes with a host of great features: little to no lag, an interactive GUI, a Save & Swap feature between servers, and a free Minecraft server hosting trial for those still on the fence.
One more thing: the developer team behind Node Craft has just recently announced Node Craft 2 — which makes server hosting more reliable than ever before.
Overall, this Minecraft hosting provider is one of the best ones out there and can be played immediately with your friends, family, and community.
Pricing
Nodecraft's plans empower gamers to play and host up to 30 games besides Minecraft, so you're sure to have a bang for your buck with this provider's wide-ranging capabilities.
The four plans scale in terms of RAM size, SSD, and backup storage. They include Nano ($9.98/mo), Keelo ($19.98/mo, the most popular plan), Megs ($29.98/mo), and Omega ($39.98/mo).
Sparked Host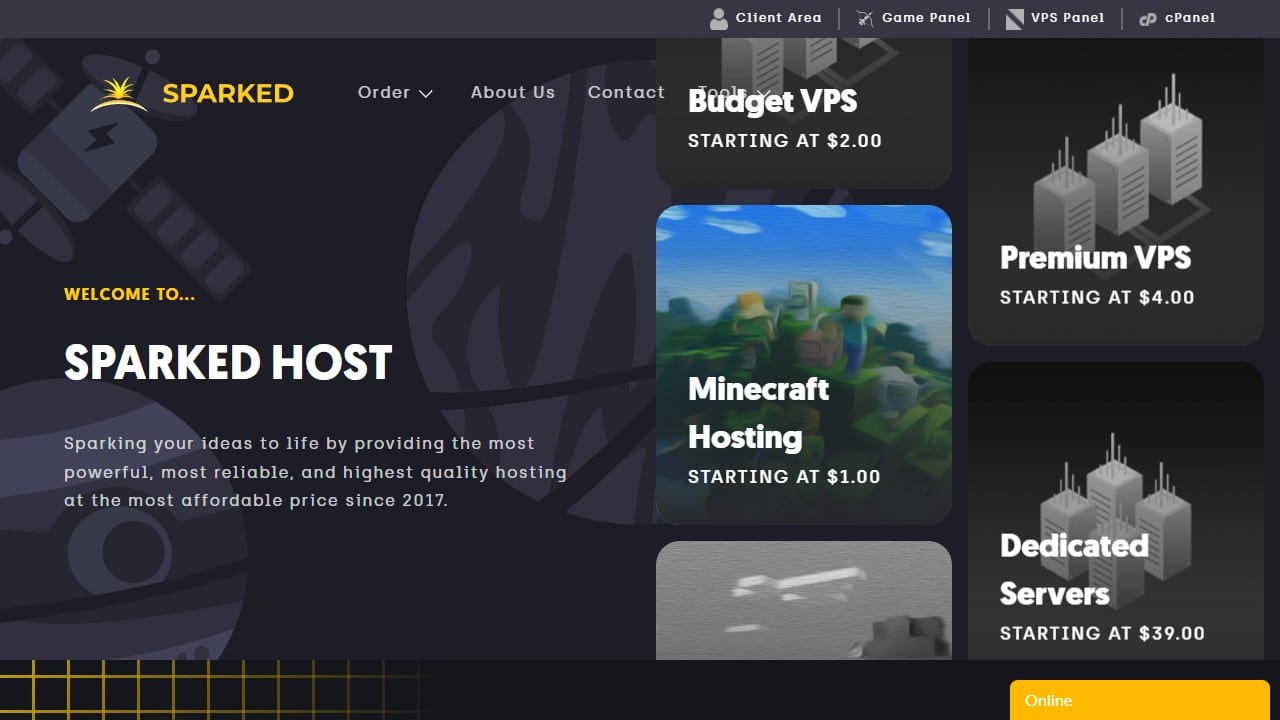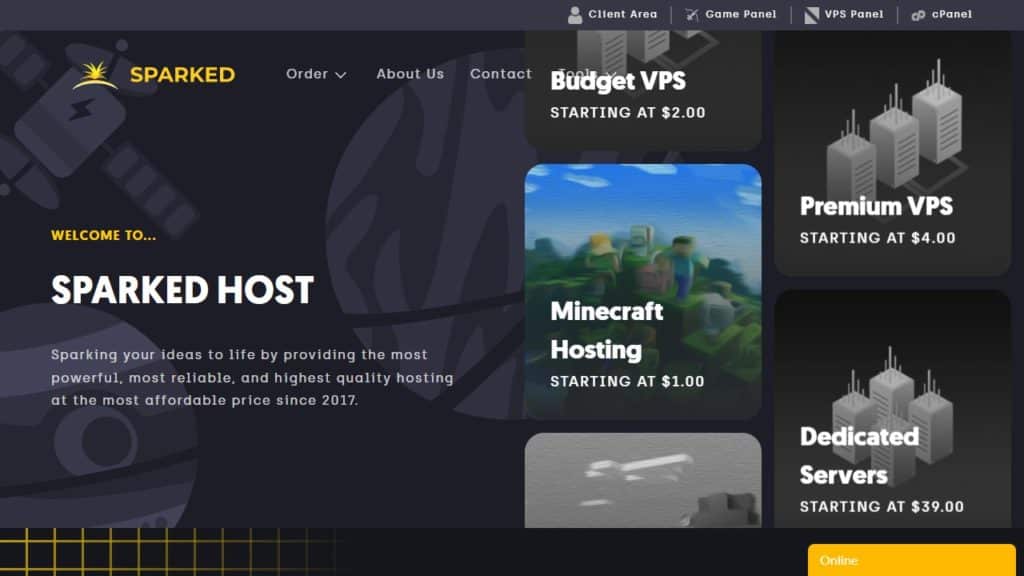 DDoS protection: Yes | One-Click Modpack Installer: No | 24/7 Support: Yes | Automatic backups: Yes
8 global data centers
Subdomain creator
Unlimited player slots
Multiple user access
Sparked Host offers hosting solutions for an outstanding starting monthly price of just $1. Thanks to its state-of-the-art Apollo Panel and enterprise-grade hardware, managing a game server is also made much easier. Under Sparked Host, setup is a breeze too — taking less than a few clicks and a few minutes tops.
Sparked Host is also acclaimed for having the best industry support out there. But frankly, there's a more-than-slim chance you'll ever hear from them, cause the quality of the hosting service and its ease of access makes it simple to just set up and play right away!
But you don't have to take it all from me. Check their Trustpilot rating. Right now, it's sitting at 4.7/5 stars, to quench any doubts you may have.
Pricing
Sparked Host has four main plan types (Budget, Enterprise, Extreme, Singapore) that branch out into smaller subcategories.
If you're running a modest project, the Budget plan is more than enough as a start. You're free to upgrade later on.
The cheapest plan is the Asteroid plan, at $1.80 per quarter and with a RAM allowance of 512 MB.
If you want to run your server on the most powerful hardware (talking about i9-10900K and NVMe SSDs), you can opt for the Extreme Minecraft Hosting plan.
The Milky Way plan for that is $68/mo. It provides 32 GB RAM and 250 GB NVMe storage—more than enough for even the most titanic projects.
Minecraft Hosting Pro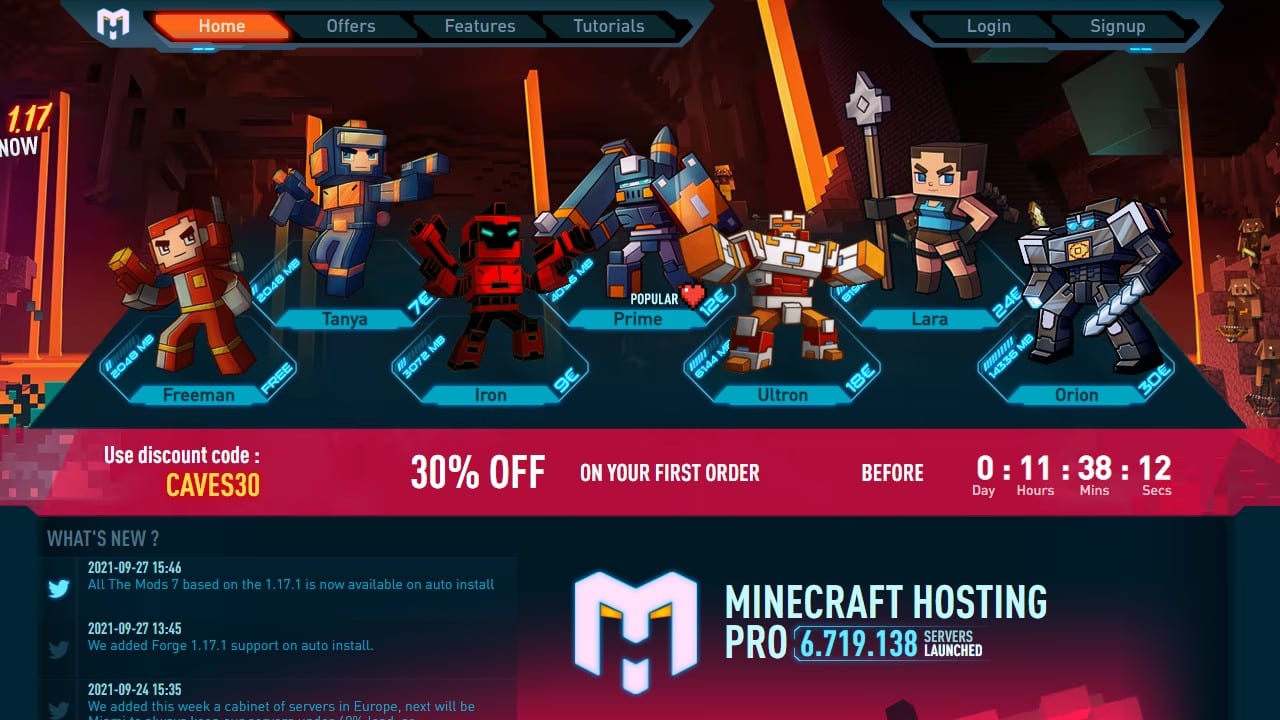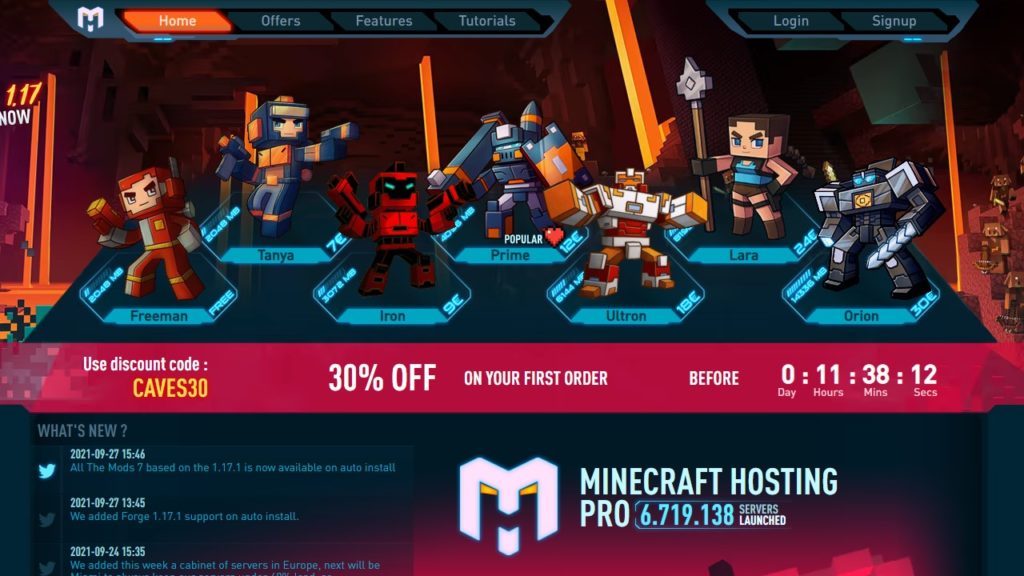 DDoS protection: Yes | One-Click Modpack Installer: Yes | 24/7 Support: Yes | Automatic backups: Yes
2-minute installation
3900X processor for superior performance
Lag-free
6 million servers launched
Minecraft Hosting Pro has been around since 2012, and they're considered one of the first providers to have delved into the games hosting space. Since then, the site has amassed a surge of credibility and experience that continues to support millions of Minecraft servers and its player base.
One of the things this company prides itself in is that they built their very own in-house Minecraft servers. They don't find ready-made ones from foreign companies unlike other server hosting sites, which makes for improved performance and accountability as well as better rates for us in the community!
Pricing
Unlike other providers, Minecraft Hosting Pro doesn't come with a set pricing plan. Instead, they offer a more craftable (heh) experience for users to pick and choose the features they want.
The Prime plan for a month starts at $12/mo with a 4 GB RAM allowance. It also increases in price depending on the suite of features you add alongside it (Automated tasks, backup, custom domain).
The most powerful plan is the Orion plan at $30/mo, with a whopping 14 GB RAM allowance, a Ryzen 3900X processor, and an uncapped player limit.
If you want to add the suite of features, you'll be looking at $108/mo as the new price, which isn't too hard on the wallet since you're getting your own custom domain as well! And if you'd rather keep things simple, you can skip the extra features and enjoy the performance for $30/mo.
Bisect Hosting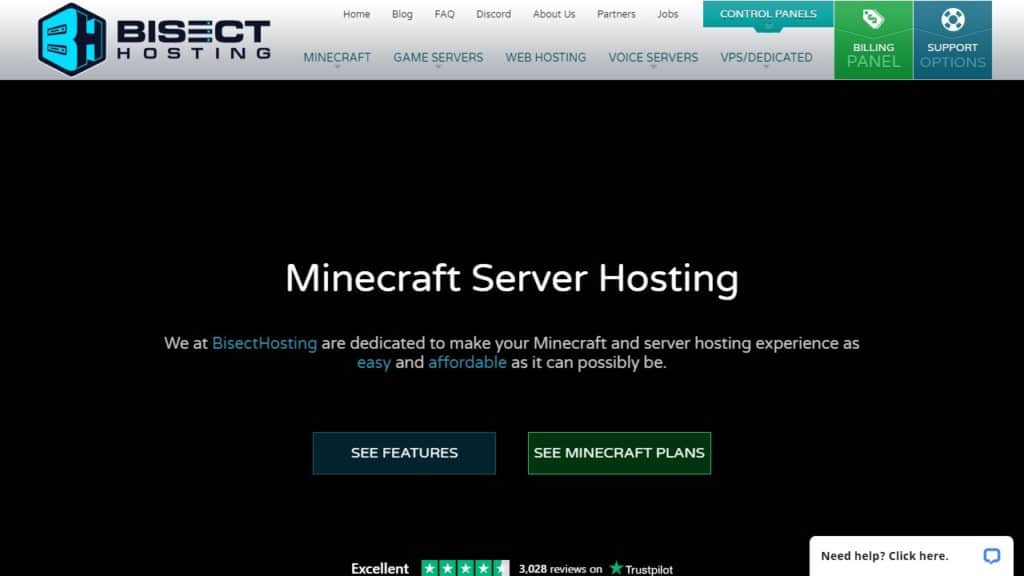 DDoS protection: Yes | One-Click Modpack Installer: Yes | 24/7 Support: Yes | Automatic backups: Yes
MySQL database
Every morning backups
Unlimited slots
Free Dedicated IP
Free modpack installation
NVMe-powered drives
Do you want 24/7 servers, the best industry support, and a quick and easy setup?
Look no further, Bisect Hosting is one plan to consider!
With 20 data centers all across the globe, excellent backup, and free sub-domains and FTP access, you're looking at one of the most feature-packed services that Minecraft players can enjoy.
Another cool perk about this site is that it has its own plan selector—enabling gamers to know right away what server version would suit their needs without further research. Perfect for beginners.
Pricing
Believe me when I say this, but there are 40 different pricing options for Bisect Hosting. You're blessed with options. For absolute novices, their plan selector feature is a godsend.
Bisect Hosting pricing plans are separated into two main packages: Premium and Budget, with 20 plans under each category
Their Budget package's cheapest option is the 1 GB plan that caps to up to 12 players, starting at $2.99/mo. You'll enjoy Custom JAR support, a Multicraft control panel, a near-instant setup, and advanced security options with this plan, all the way to the most expensive one that offers better performance.
The Premium package's most expensive option is the 32 GB plan that has unlimited slots. It starts at $159.68/mo and comes with unlimited NVMe SSD space, terrific performance, no lag, and everything (and more) from the Budget plan's feature list.
McProHosting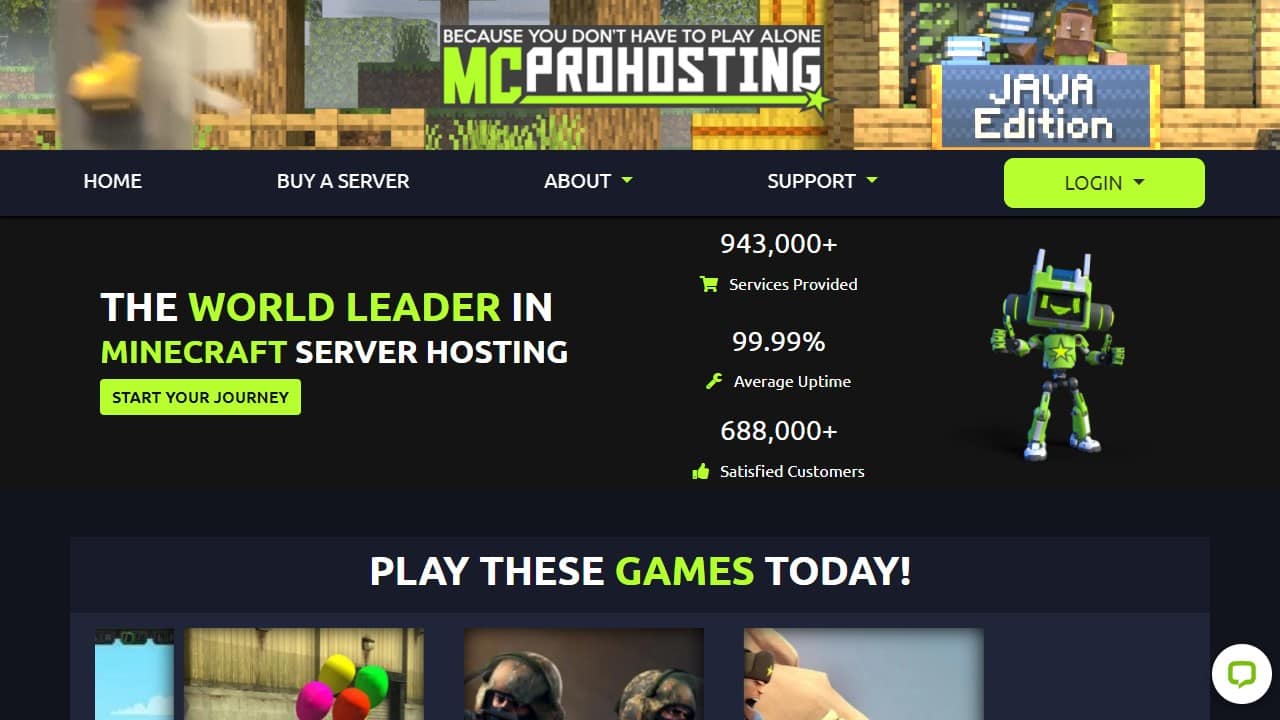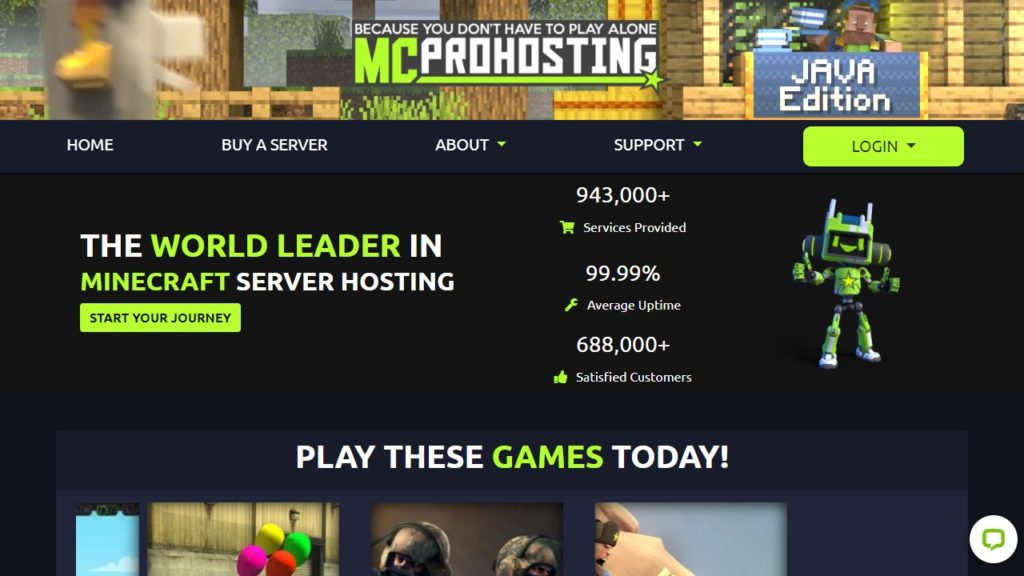 DDoS protection: Yes | One-Click Modpack Installer: Yes | 24/7 Support: Yes | Automatic backups: Yes
Free MySQL
Better than average passmark
Custom control panel
Free FTP access
42 TbPS DDoS protection
Founded in 2011, McPro is one of the most reputable and largest hosting service providers out there.
With nearly 700,000 users all claiming to love this provider, it's easy to see the reputation this provider has in its ability to host excellent Minecraft servers.
The guarantees are fantastic. Twenty-two data centers (no lag!), unlimited storage, daily backups, and so much more.
What makes it stand out even more against its competitors is the site's 7-day free Minecraft server hosting trial, an Xbox app, and unlimited RAM.
Needless to say, McPro's a solid choice for your needs.
Pricing
For each plan, you're guaranteed unlimited storage space, DDoS protection, cutting-edge hardware including a great motherboard, 24/7 support, and full file access.
The McPro Hosting featured plan is the Pumpkin plan, which starts at $14.99/mo, has a 3 GB RAM allowance, and has a server cap of 50 players.
If you want to try out the more popular plan, the Witch plan starts at $22.99/mo, has a 4 GB RAM allowance, and has a server cap of 70 players.
But if you're looking to host the largest server around, the Ender Dragon plan starts at $99.99/mo, has a 32 GB RAM allowance, and has no player base cap. It also comes with tighter security measures.
Hostinger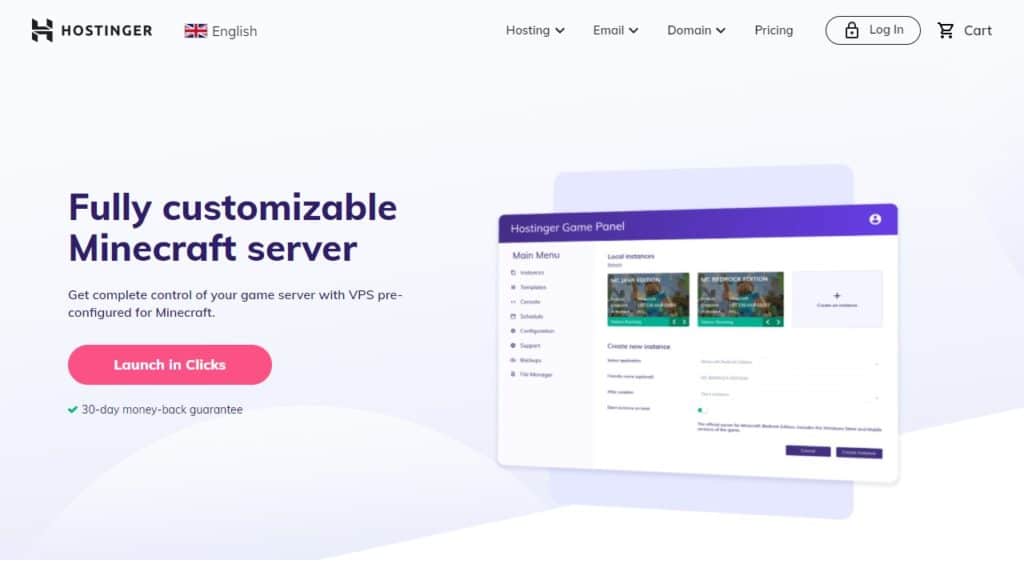 DDoS protection: Yes | One-Click Modpack Installer: Yes | 24/7 Support: Yes | Automatic backups: Yes
Unlimited modpacks
Auto, cloud-based backups
PCI-DDS compliant
Do you want a fully customizable Minecraft server? Are you on the lookout for a hosting provider with fast SSDs, a super easy setup, and a ton of modpacks?
With Hostinger, you can enjoy all these features plus more. Hostinger makes running a Minecraft server easier than ever before. And if you've been wanting to run a popular map like Bedwars or HermitPack, you'll be able to do so lag-free with Hostinger's most powerful plans.
Pricing
Hostinger has 5 plans: Villager ($12.95/mo, most popular), Creeper ($15.95/mo), Alex ($8.95/mo), Wolf ($77.99/mo), and Herobrine Plan ($23.95/mo)
The Villager plan features a 3 GB RAM allowance, 3 vCPU hardware with coolers, full root access, and a 99.99% uptime guarantee. For most small to medium-sized community servers, this plan has just the right amount of features to grant everyone a good time mining away.
The Wolf plan is the most performance-optimized plan, with 16 GB RAM allowance, 8 vCPU hardware, and full mod support. You'll be able to withstand loads of up to hundreds of players for this plan for your large-scale projects.
Vultr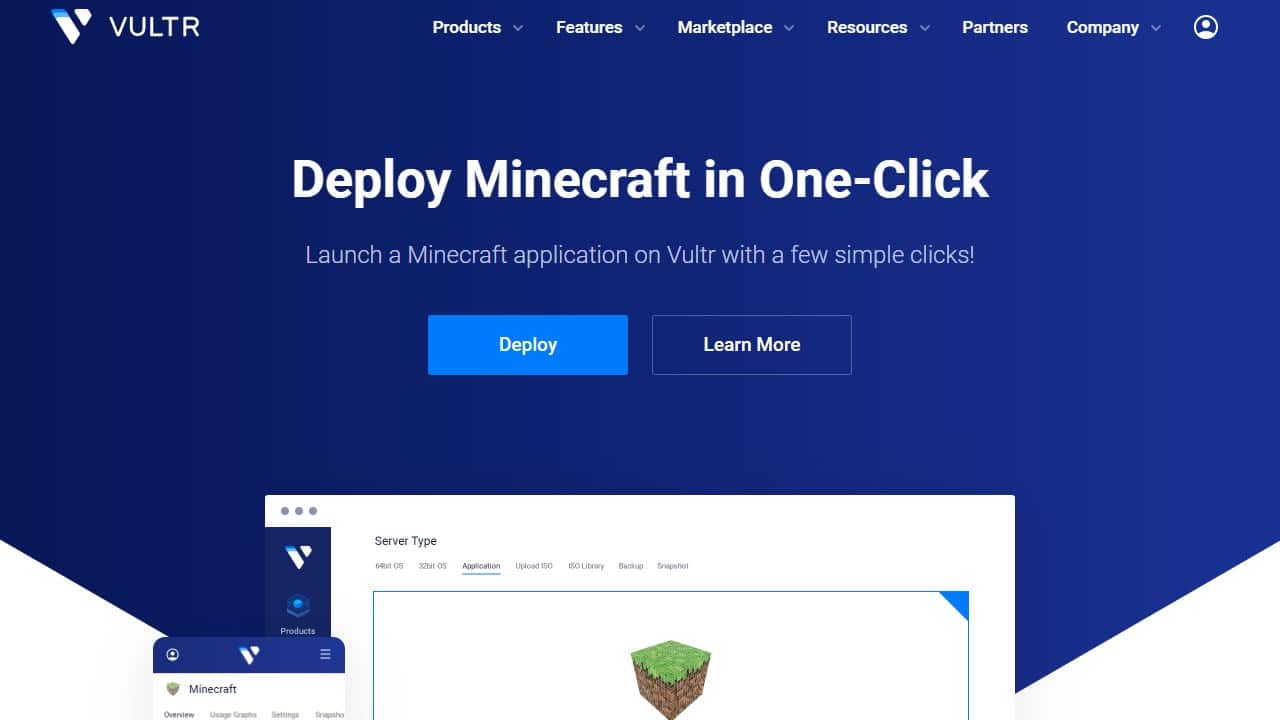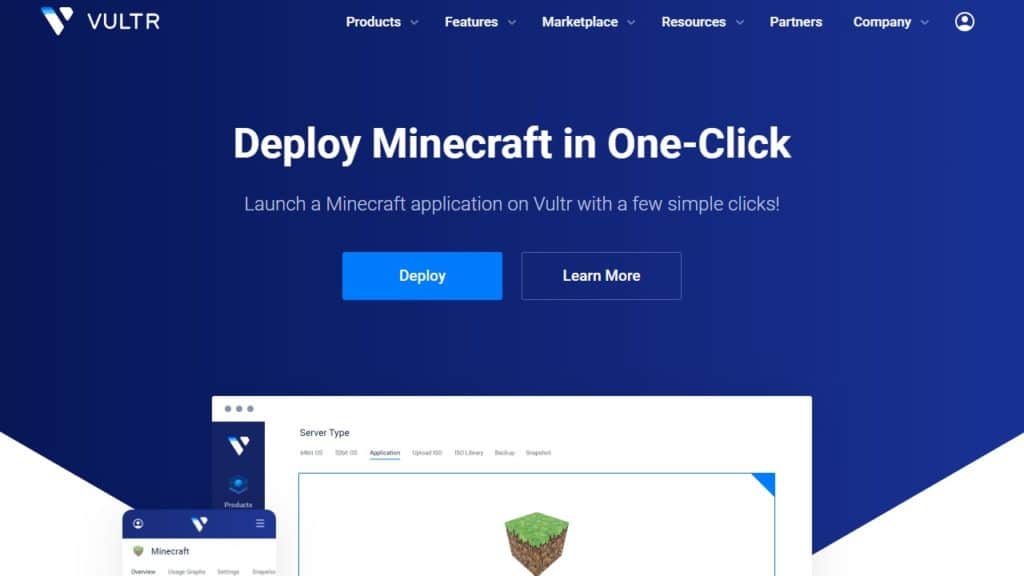 DDoS protection: Yes | One-Click Modpack Installer: No| 24/7 Support: Yes | Automatic backups: Yes
Choice of multiple custom ISOs
A plethora of customizable options
Houses the most powerful plan on the list
Vultr flaunts an impressive one-click solution with its hosted Minecraft servers, making it a convenient option for those who want to set up a server to play right away.
It also offers complete shell access, allowing you to install any mod pack of your choice. You're also guaranteed a lag-free experience, thanks to Vultr's fleet of low-latency networks across the world.
Pricing
Vultr offers four main pricing plans, Cloud Compute ($2.50/mo), Bare Metal ($120/mo), Block Storage ($1/mo), and Dedicated Cloud ($60/mo).
The most affordable Cloud Compute plan features powerful compute instances thanks to the available architecture. It also has enhanced add-ons if you want better features beyond its base offering, particularly tighter DDoS protection, flexible networking, backup automation, and firewalls.
For the best hardware mobility, you can opt for the Bare Metal plan. The most powerful option ($725/mo) features 256 GB memory, 10 TB bandwidth, and not one but two 2 GB NVMe SSDs. Under the most intensive conditions, such as a TNT-infested Minecraft world, this plan can run them all.
Scalacube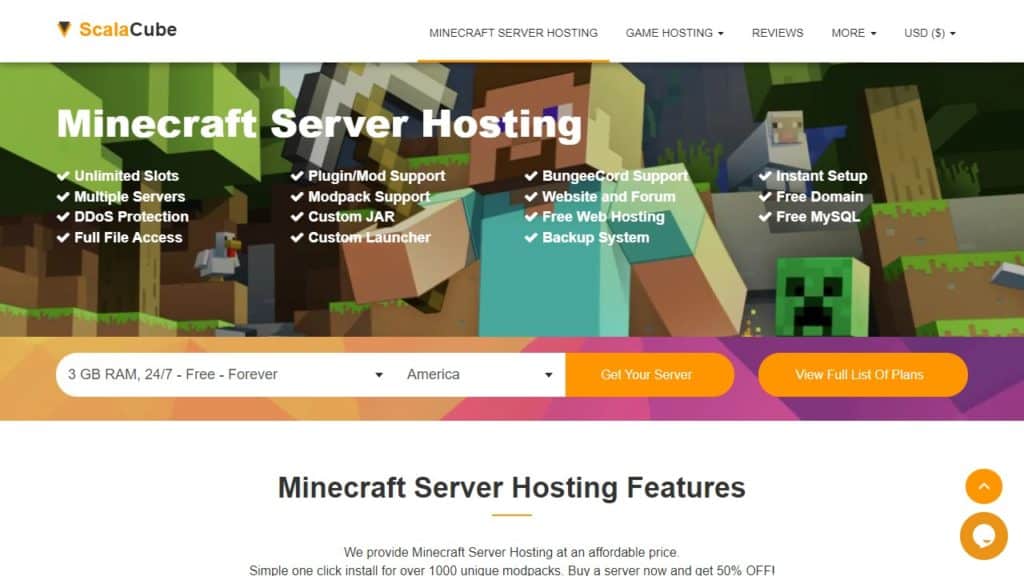 DDoS protection: Yes | One-Click Modpack Installer: Yes | 24/7 Support: No | Automatic backups: Yes
Low latency
Quick customer support
Has a forum for discussion threads
Plugin and Mod support
Rated 4.6/5 by over 1066 people in Trust Pilot, there's much to love about ScalaCube.
A common trend found in the user reviews is how easy it is to set up, taking mere seconds and minimal clicks. There's no problem with servers crashing or delayed ticket support either, making this a highly reliable hosting solution for any Minecraft server admin, regardless of experience level.
With over 1000 unique modpacks on top of that, and you got yourself a hosting provider that's reliable enough to last you a lifetime.
Pricing
ScalaCube's pricing is dependent on a few things: the player's region or server location, and the RAM size.
American, UK, and European prices tend to be the cheapest. Australia and Asia prices are just slightly more expensive.
For the most affordable plan starting at $2.50/mo ($3.75/mo in AUS/ASIA), you'll get a 1 GB RAM allowance and a player cap of 10. The most powerful plan can host 600 players in one go with its generous RAM allowance of 32 GB. This will cost you $96/month in the Americas and Europe, and $144/mo in the rest of the world.
GTX Gaming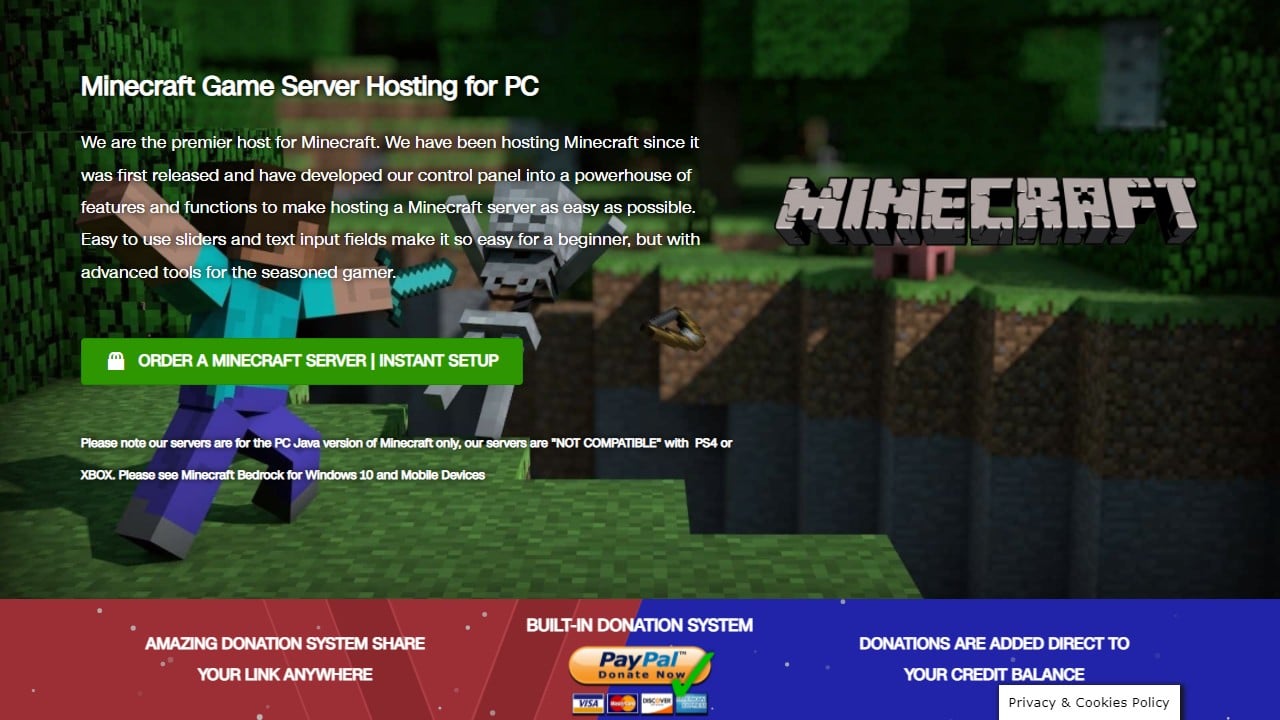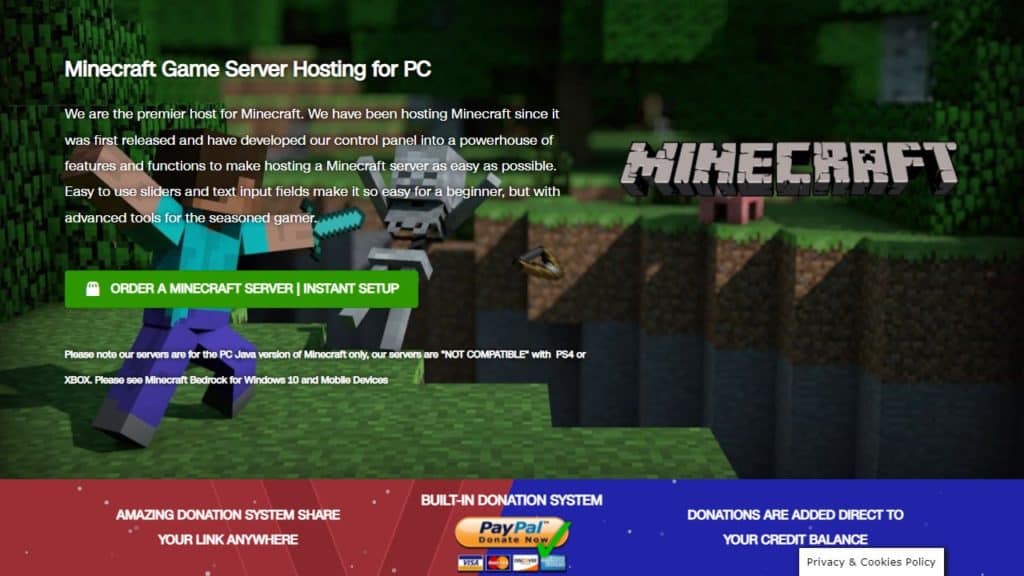 DDoS protection: Yes | One-Click Modpack Installer: Yes | 24/7 Support: Yes | Automatic backups: Yes
Has sub-user access to allow your friends access to the control panel
Easy configuration with sliders and menus
24/7 customer support
If you want your server host to have existed ever since Minecraft's earlier years, you should give GTX Gaming a try. Ever since the start, they've continually improved their control panel to enable server admins to create the best Minecraft server possible. And they aren't losing steam anytime soon.
From 1-click installations to scalable, high-performing servers, you're pretty much set to run a server with no hitches. And if by chance you encounter any hiccups, you can always contact support to run through your problems with you and give you solutions.
Pricing
For a monthly plan, the base price for a 1GB/20 player hosting plan is £4.50/month for users based in the UK. With this plan, you're guaranteed a 3.8 GHz processor speed and 80 GB disk space for the Java Edition.
The most popular plan is 4GB/60 players at £9.00/month. This is optimal for survival and RPG servers. If you want to host more massive-scale servers, you'll be looking at the £30.50/month plan, which allows up to 180 players at a time and has a 16 GB RAM allowance.
In addition to the base price, you can include add-ons like better disk space for an additional fee, topping off at £14.99/month for 200 GB of extra space.
Cubed Host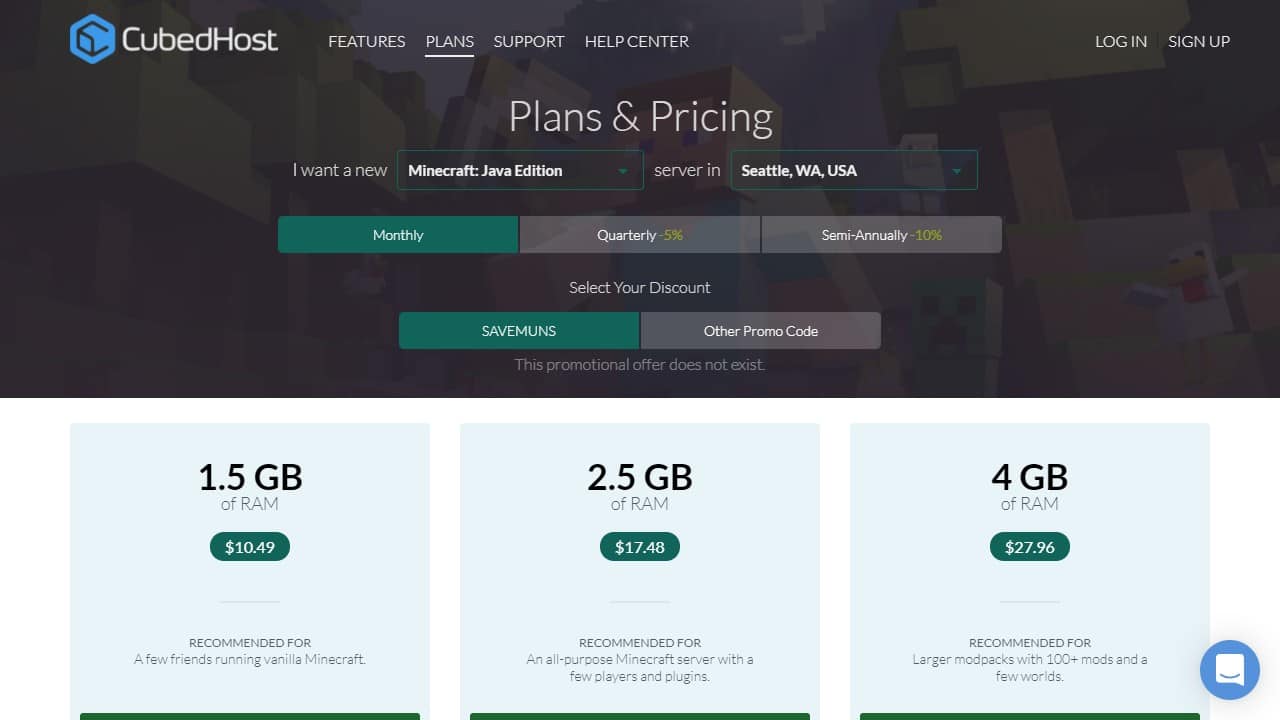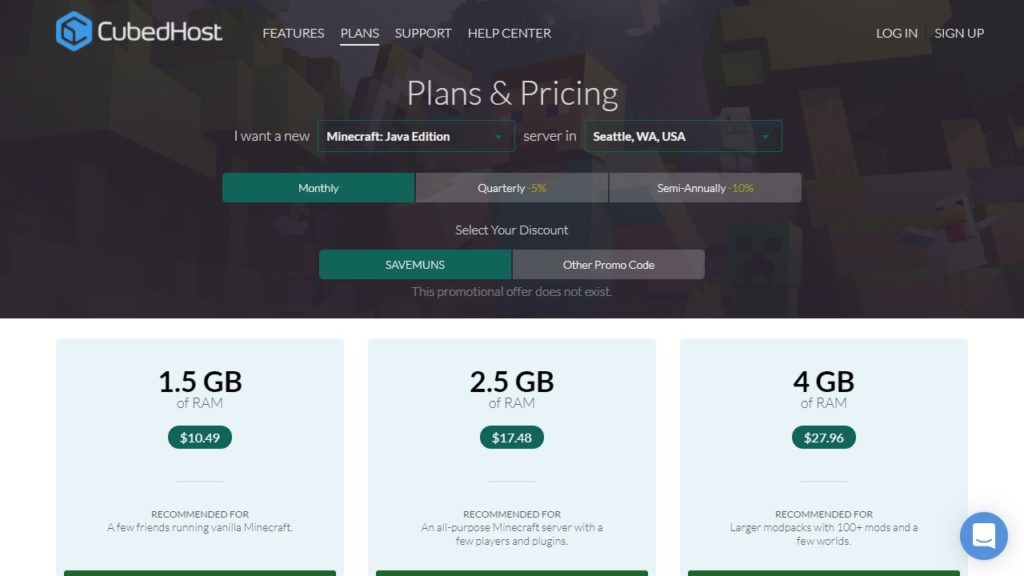 DDoS protection: Yes | One-Click Modpack Installer: Yes | 24/7 Support: Yes | Automatic backups: Yes
Over 100 ready to install server types
Security guaranteed with DDoS protection and automatic backups
No latency issues
Offer a free web hosting plan when asked!
Trusted by over 75,000 gamers, Cubed Host is one of the most well-reviewed Minecraft hosts out there—and it's not hard to see why. From its global server reach, easy-to-use control panel, and overall top-of-the-line Minecraft hosting services, you'd be hard-pressed to find a better host.
With industry-standard DDoS protection, 24/7 monitoring, and custom options available for any budget, there's no reason not to give Cubed Host a whirl. And if you're still unsure about it, you can always opt for a cheaper option first to see if it's right for you.
Pricing
Cubed Host has three modded Minecraft server hosting plans—a 1.5 GB RAM plan ($10.49/mo), 2.5 GB RAM plan ($17.48/mo), and 4 GB RAM plan ($27.96/mo).
With three recommended plans, you're not bombarded with a dizzying amount of options, which is a welcomed sight for newcomers.
The first plan is suitable for a small-sized friend group looking to build their own multiplayer world together without too many mods.
The second plan is best if you're expecting a decent amount of people (20-30) and are looking to add plugins to play with as well. The third plan is optimal for large-scale projects with multiple managed servers, 100+ mods, and a few worlds here and there.
However, Cubed Host can provide even larger servers if you're running a large community. The most powerful plan holds stellar RAM capabilities of up to 12 GB and can run more than 50 players at a rate of $83.88/month.
Creeper Host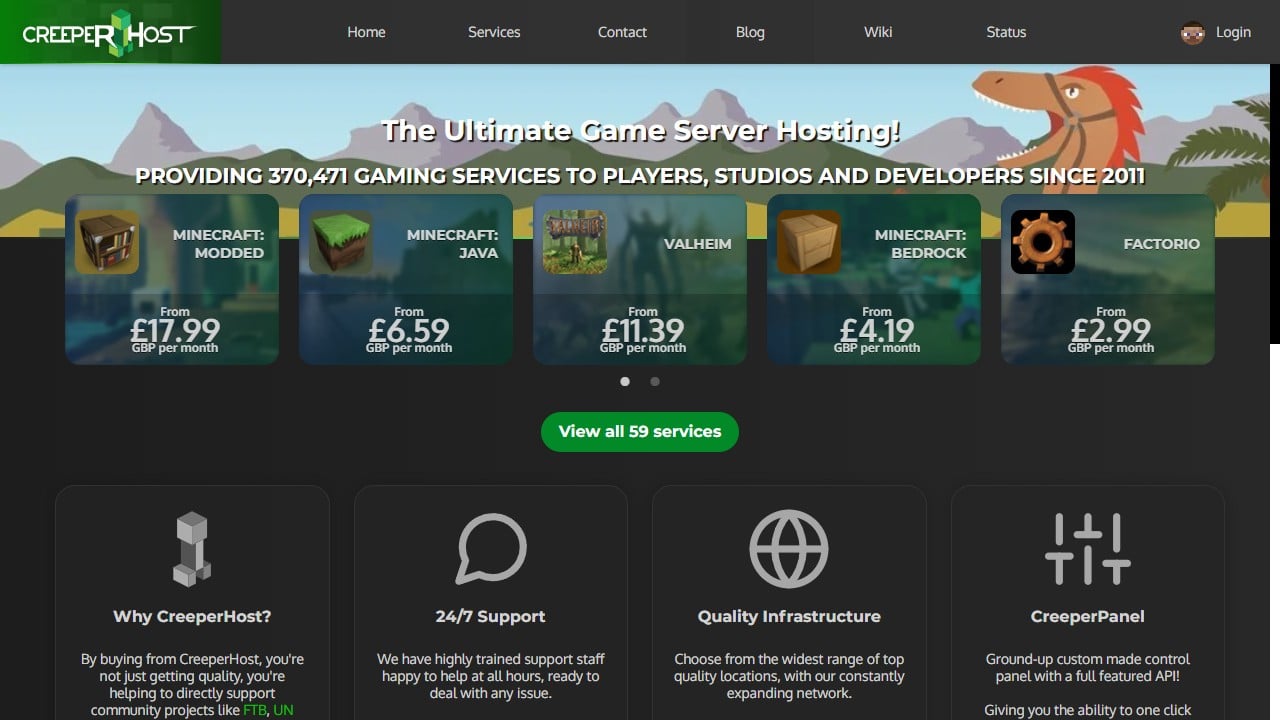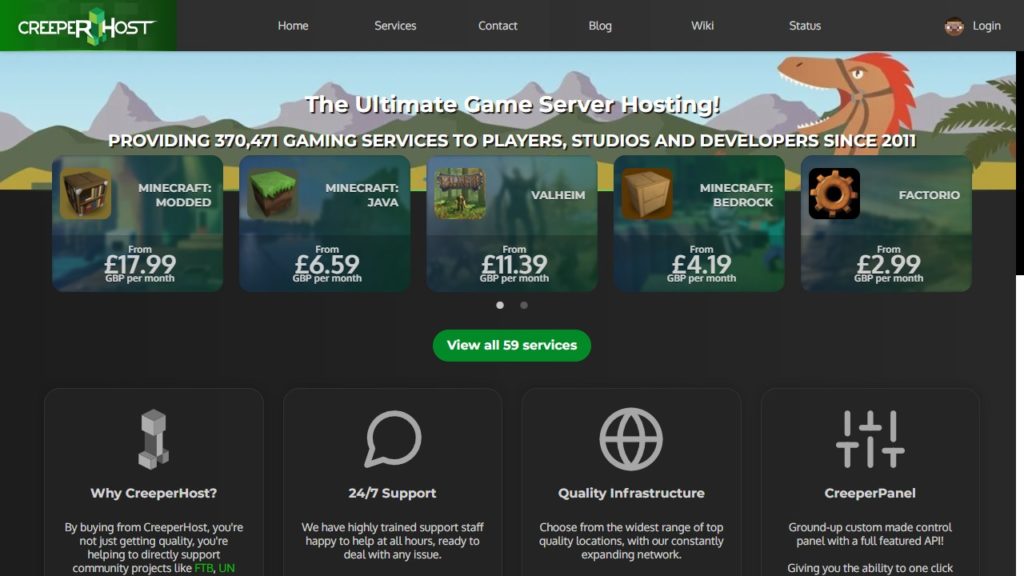 DDoS protection: Yes | One-Click Modpack Installer: Yes | 24/7 Support: Yes | Automatic backups: Yes
99.995% uptime
24/7 support
DDoS mitigation
Embedded straight to Minecraft
Dedicated IP
Creeper Host is a decade-old Minecraft hosting provider that creates top-notch servers across all Minecraft versions. Providing 300,000+ gaming servers across multiple games including Minecraft: Modded and Minecraft: Bedrock, they offer enough options, security features, and customizations for all types of users.
It offers a Minecraft server hosting solution for everyone—from users who want to dive straight in with a preconfigured control panel, to users who're new and need help installing the required software and configuring everything.
The only negative we found with this hosting platform is the lack of a secured FTP Access. While a slight blemish, Creeper Host is too good in other regards to immediately pass up.
Pricing
Creeper Host has several modded Minecraft server hosting pricing plans.
It's also quite different from the rest of the hosting providers since it doesn't come in a pre-packaged plan, but rather a fully customizable option that pays heed to your needs (such as player size).
With Minecraft: Modded, you're looking at a starting rate of $20.17/month. You can pick from various modpacks as well, such as FTB OceanBlock Beta and FTB Revelation before finalizing your plan.
Minecraft Java starts at $7.39/month for a player cap of ten people and increases in price as you increase its cap. You won't have modpacks to choose from with this plan, however.
Minecraft Bedrock is the cheapest option starting at $4.70/month for 10 players. And finally, Minecraft Java starts at $7.39/month for 10 players.
Ramshard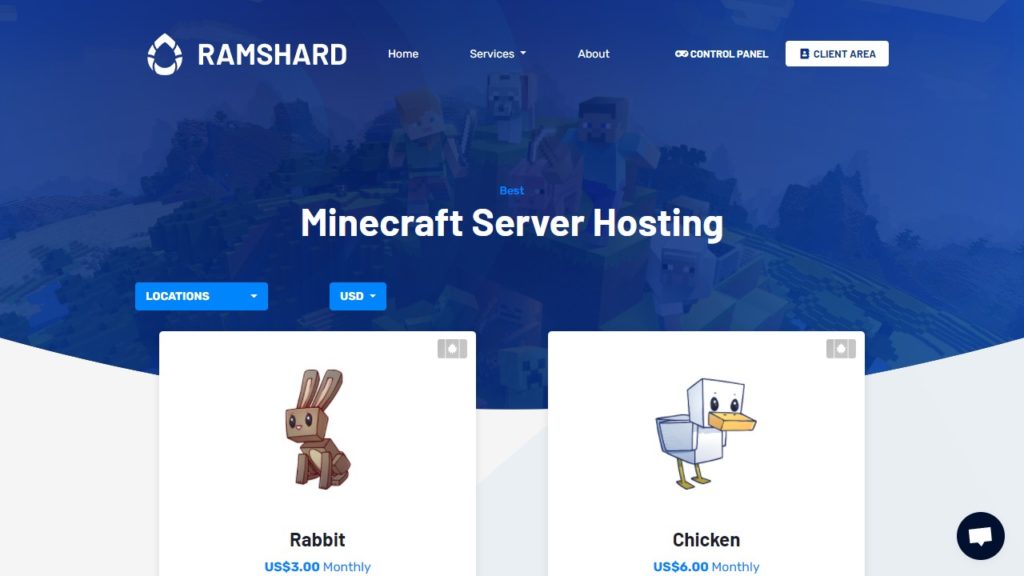 DDoS protection: Yes | One-Click Modpack Installer: Yes | 24/7 Support: No | Automatic backups: Yes
Unlimited Storage Space
Unlimited slots for subadmins
Compensation if DDoS attacks occur
100% full FTP access
When it comes to choosing the best Minecraft hosting server solution, Ramshard is another contender that's worth any server admin's considerations.
Unlike other game server solutions, Ramshard only specializes in Minecraft servers. Their entire model is structured to serve the ultimate solution for aspiring Minecraft server admins, and with a quick glance at their features, it's not hard to see how this is the case.
For one, they have eight data centers scattered across four continents. This makes gaming and hosting seamless and lag-free, so you won't have to worry about pesky performance issues during your games. They also utilize an impressive Intel Xeon E5-1650v4 processor and NVMEs SSDs for top-of-the-line performance, among other neat features.
Pricing
Shardhost offers nine plans ranging from $3/mo to $36/mo for North America and Europe servers. For Southeast Asia and Australia, the monthly price pads up a bit, now at $5/mo to $60.01/mo.
The most affordable plan, dubbed the "Rabbit" plan, grants you 1 GB RAM of space and unlimited slots and disk space allocation. The succeeding plans increase in RAM size while maintaining unlimited slots and disk space, from 2 GB, 3 GB, 4 GB, 5 GB, 6 GB, 8 GB. 10 GB, and the most powerful plan, dubbed "Parrot", offering 12 GB RAM space for your hosting needs.
Zap Hosting
DDoS protection: Yes | One-Click Modpack Installer: Yes | 24/7 Support: No | Automatic backups: Yes
Low latency for lag-free gaming
No attempts of overselling plans
Great connection speed
Mobile friendly pannel
Are you tired of having to switch between your Minecraft client and your web browser to access your server's dashboard? For the majority of us who lack a second monitor, it can get quite time-consuming.
Fortunately, Zap Hosting offers a mobile-optimized solution to help you out. You can use your smartphone, tablet, or any other portable device with an internet connection to access the server dashboard for control and configuration.
ZAP Hosting is a feature-packed, high-performance hosting company. It provides DDoS protection and has a scalable VPS with over 40,000 servers located in all major countries, such as the United States, Singapore, Germany, and the United Kingdom.
With an average Trust Pilot score of 4.7, Zap Hosting is also highly trusted by its userbase, making it one that's sure to not disappoint!
Which is the Best Minecraft Server Hosting Plan?
When it comes to the best Minecraft server hosting plan, it all boils down to your personal preferences.
If you're looking for a server for just you and your friends, then a 1GB/10-person or 4GB/60-person plan from the providers above should be more than enough.
However, if you are looking at expanding your server later on down the road, I would definitely recommend the more powerful hosting providers like Apex Hosting and Shockbyte.
Happy gaming!