Looking to showcase your creativity while playing Minecraft with friends or on a public server? Then consider customizing your character with skins from these Minecraft Skin Creators.
With these user-friendly Minecraft skin creators, you can let your imagination run wild or opt for a more traditional approach. Simply access them through any web browser, design your skin, and share it with the world in no time!
Curious to know which skin editors made the cut? Here's our list of the top 8 Minecraft skins:
Nova Skin
The Skindex
Custom Skin Creator Minecraft
Skinseed (Android and iOS)
PMC Skin 3D
MinecraftSkins
MCSkin
Tynker's Minecraft Skin Creator
Nova Skin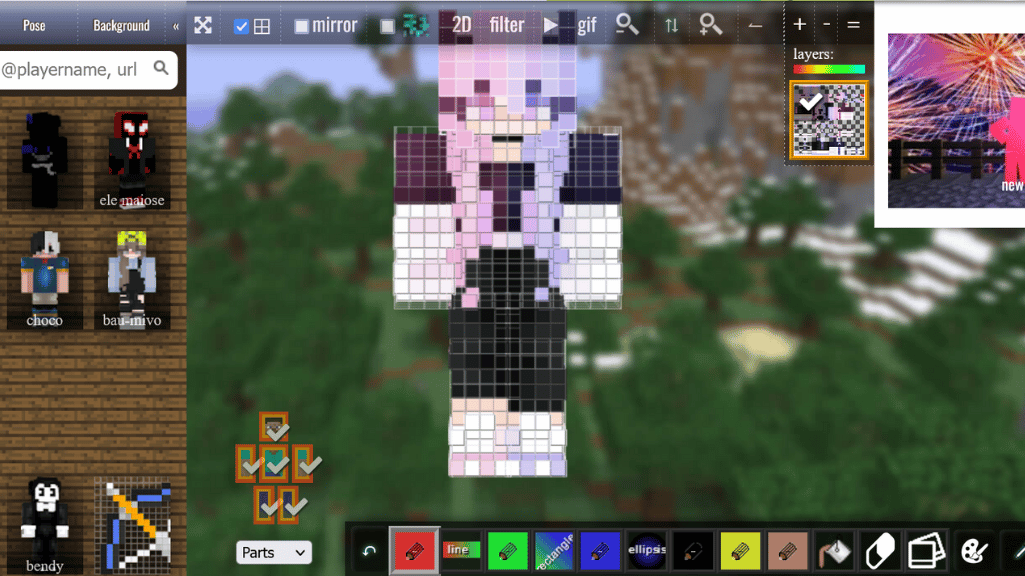 Looking for a Minecraft skin editor with more creative control? While Nova Skins' layout may seem cluttered compared to Skindex and other Minecraft creators, you get more tools for customization, including layers for better organization. It also features a library of user-uploaded skins, available as base layers or overlays to add more texture and detail.
Preview your final export using the 2D visualizer, and take advantage of Nova Skin's most remarkable feature: customized wallpapers. With several backgrounds and models in predetermined poses, you can pose next to friends or famous Minecraft players to show off on your desktop!
Overall, Nova Skin is one of the best Minecraft skin editors available.
The Skindex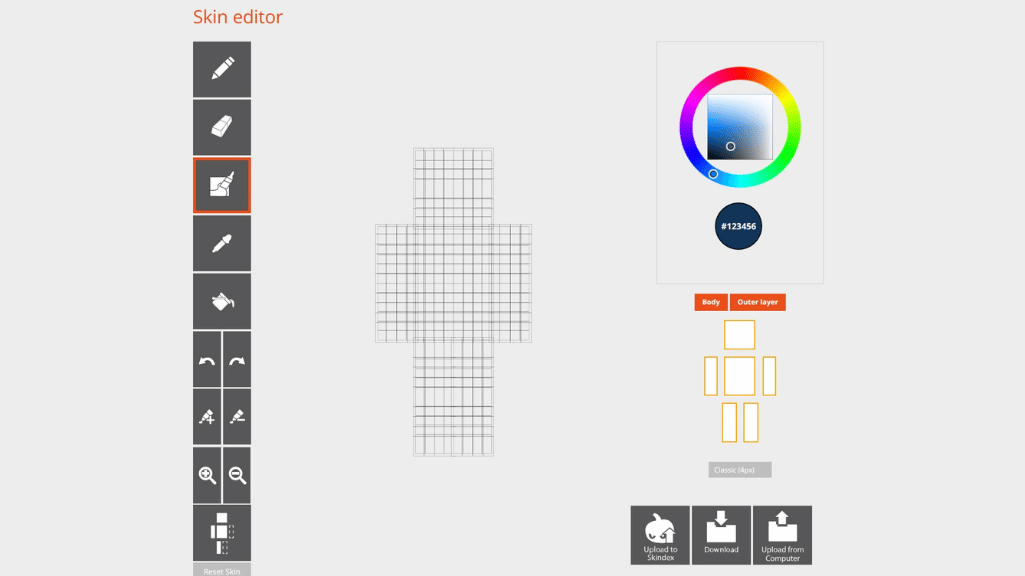 With Skindex, you can choose between the classic or slim version and start designing your character with the simple interface. You can quickly draw and paint your character with a 3D base template, color wheel, and essential tools. Plus, the mirror tool ensures maximum symmetry while drawing. It's a hassle-free Minecraft skin creator for all players.
Skindex offers a robust library of custom characters if you're searching for inspiration. Sign in to save your skins, switch them around, or upload your designs to Skindex's site or Minecraft.net. Of course, you can also download the files directly to your computer.
Custom Skin Creator Minecraft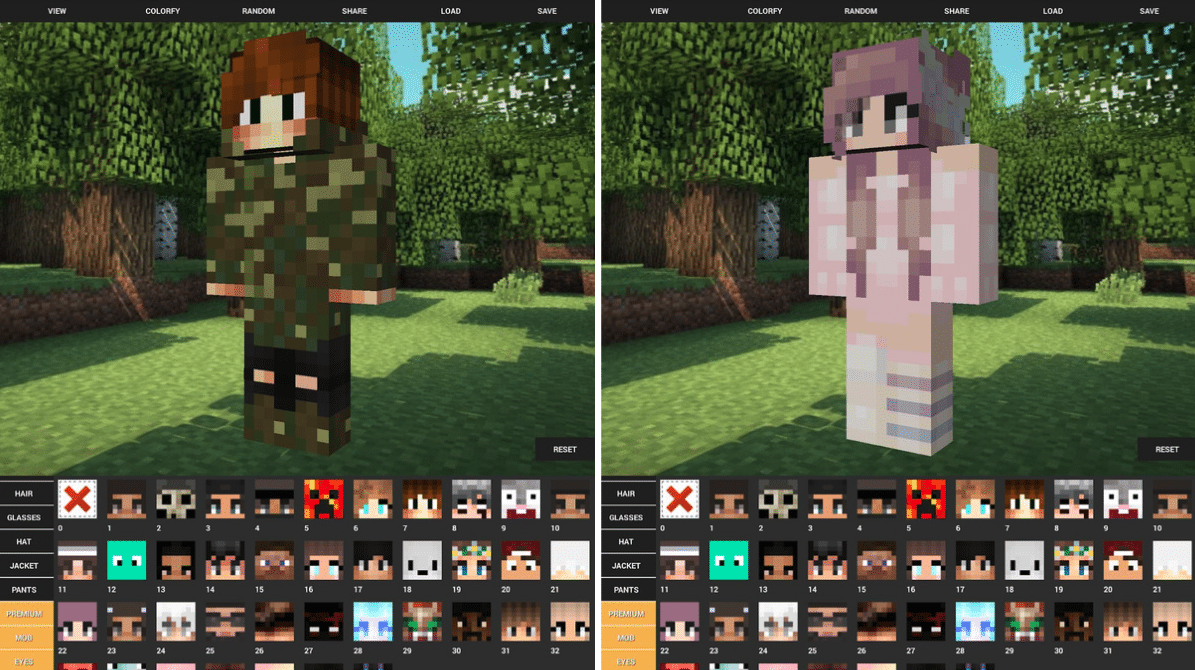 Visit Google Play Store or App Store
With the Custom Skin Creator Minecraft app, you can easily create your own Minecraft skins without any drawing skills required. The app offers a wide variety of premium and aesthetic skins, including clothing, mobs, camouflage, Christmas, skeleton, Halloween, hats, glasses, dresses, bags, and more. You can also save and load skins, change the color of your skins and skin parts, and use the automatic zoom feature.
The app even includes a 3D model of your character to see what it will look like in the game. It is compatible with Minecraft 1.8+, Minecraft PE, and Minecraft PC. And if you want to show off your creation, you can share a 3D model of what you made with all your friends.
Skinseed (Android and iOS)
Visit Google Play Store or App Store
For mobile players who prefer to create Minecraft skins on their devices, Skinseed is the exclusive Minecraft skin creator app available on both the App Store and Google Play Store. With its mobile-optimized layout, you can start painting your designs quickly, either from scratch or by modifying a previous skin layout.
You can choose between standard quality or HD models, switch between body and overlay layers, and even browse millions of models from Skinseed's immense library if you're struggling to create an original design. After creating your character skin, you can import the file to your phone and upload it into the game.
PMC Skin 3D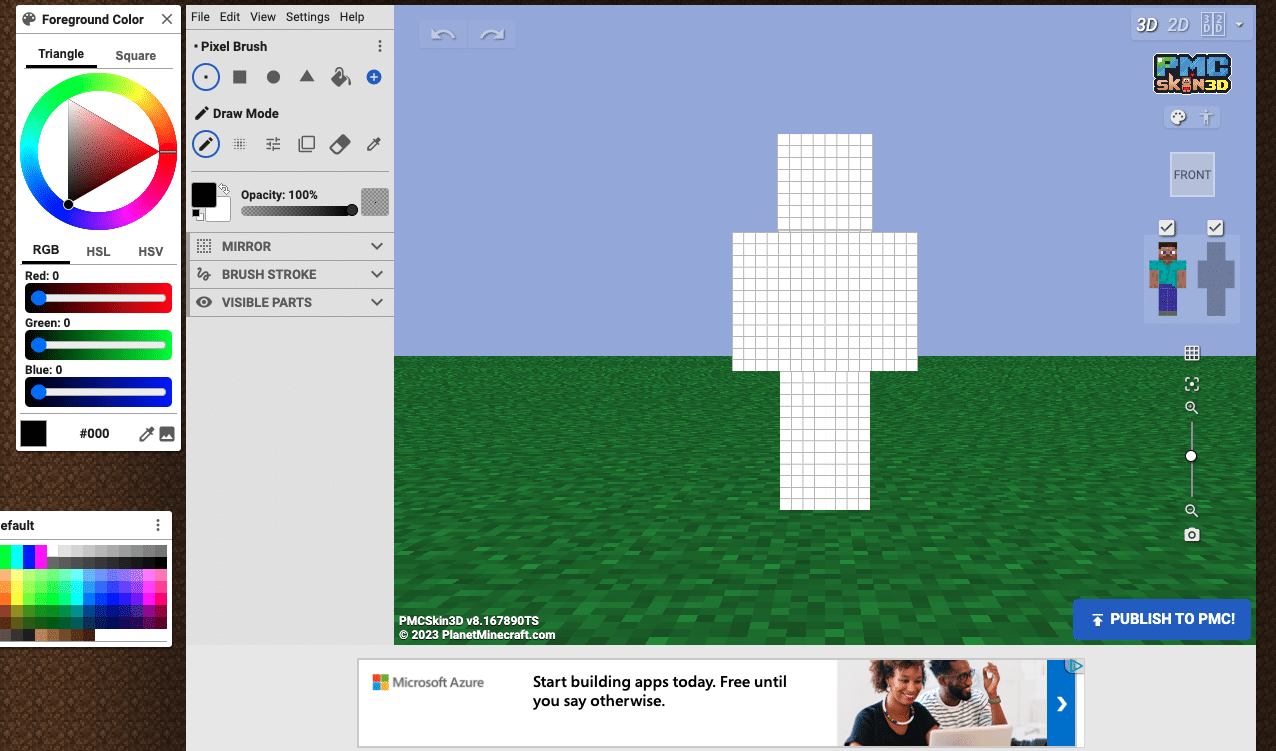 With a user-friendly interface and live preview feature, PMC Skin 3D will have your skin looking exactly how you want it in no time. The editor is designed to be user-friendly – making it beginner friendly. Plus, you can edit and create skins for players and mobs and publish them on the Planet Minecraft website for others to download and use.
MinecraftSkins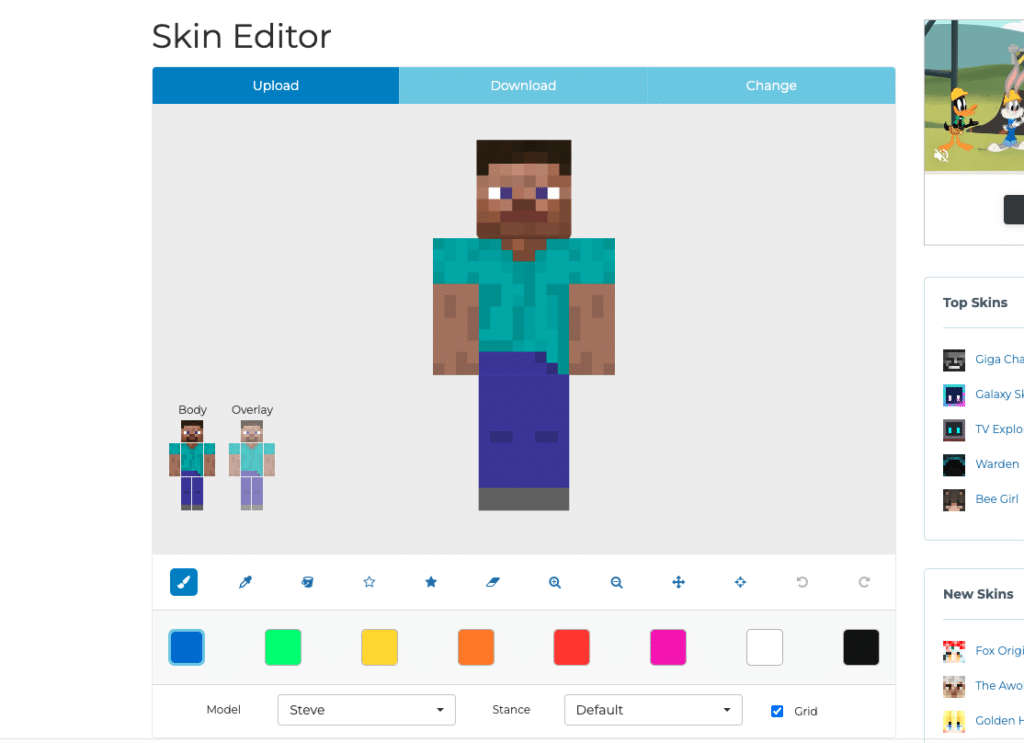 MinecraftSkins.net offers a variety of customization options for players who want to create their own skins. With the platform's skin editor, you can easily modify existing skins or create your own from scratch. The editor is user-friendly and offers a range of tools and features to help you bring your ideas to life.
It offers a community of Minecraft players who share their creations on the platform. This means you can browse and download skins created by other players and even submit your creations to be featured on the site. It's a great way to connect with other Minecraft fans and show creativity.
MCSkins
MCSkins is a user-friendly Minecraft skin editor that offers an easy and straightforward way to create custom skins. As a browser-based tool, MCSkins can be accessed from any device with an internet connection, making it an ideal choice for users who prefer a lightweight and versatile option.
The editor features all the essential tools needed to create unique skins, including switching between Alex or Steve's models and activating grid view, mirror, and background color options. However, while the editor allows users to adjust their color's tone with the toolbar and fade existing colors with the spray, there's no option for including an overlay.
However, advanced settings allow minor tweaks and customization of the editor's interaction. Finally, suppose you accidentally close the window. In that case, MCSkins.top saves your progress in the cloud, ensuring you don't lose your work.
Tynker's Minecraft Skin Creator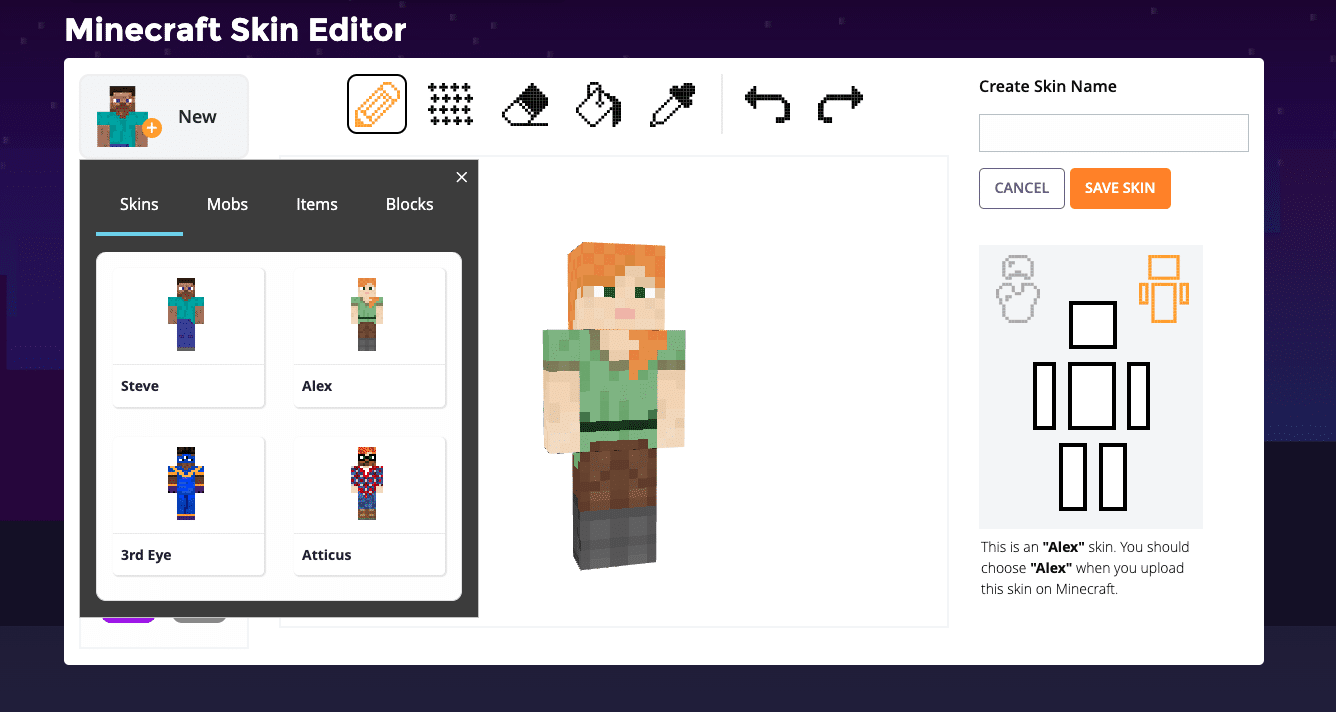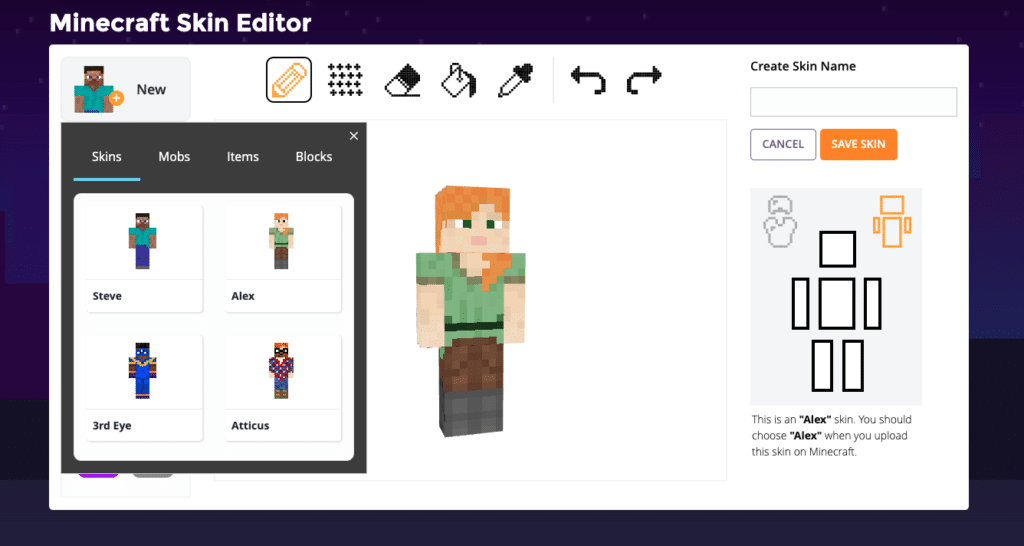 The Tynker Minecraft skin editor is praised for its user-friendly interface, and a unique feature called the texture brush, which adds color with subtle variations to avoid a flat look. It's also family-friendly and easy for kids to use.
However, the editor lacks some useful features, such as support for hex color and zoom in/out, and no mirror tool is available. Additionally, users must have a Tynker account to save creations to a computer, which may be a downside for some users. Despite these drawbacks, the editor is free of ads.
How to Change Minecraft's Default Skin
Now that we've reviewed the best Minecraft skin editors, you may be wondering how to get your design into the game. Once you've downloaded the PNG file containing your design, the process varies slightly depending on what Minecraft version you're playing.
If you're playing Minecraft Java Edition, you can go to the official launcher and select the Skins tab to add your new design to your library.
For Pocket Edition, launch Minecraft and choose the Skins option from the main menu, where you should select the Browse Skin option and select the .png file on your device.
Final Thoughts
Minecraft is about letting your imagination run wild, whether you enjoy the sandbox aspect or playing with friends on a server.
Have you tried any of these Minecraft skin creators yet? Let us know in the comments below. Thanks for reading!