Minecraft skins are a massive deal. They're like virtual fashion statements that let you flaunt your creativity in a way no other game can match. But let's face it, not everyone can be a pixel Picasso.
Thankfully, a world of Minecraft skins is waiting to be downloaded from the web. And to save you the trouble of sifting through them all, we've compiled a list of 40 of the coolest skins out there. There's something for everyone, so keep on reading!
You've likely seen the Giga Chad meme somewhere. If you're a fan, here's a Minecraft skin for you!
It was designed by Anapa, an excellent Minecraft skin designer. Everything from the abs details to the greyscale color theme has been pixelated and incorporated into this skin. However, Minecraft skins have limitations, so the designer had to work with what they had. Hence the skin not being super recognizable or accurate.
Nonetheless, it's still one of the most popular Minecraft skins
If you've been playing Minecraft long enough, you may have heard of the mysterious legend of Herobrine. The ominous, humanoid creature haunts players throughout their game – inching closer every day that passes. But, luckily, it's just folklore.
The skin depicts Herobrine, a Steve-like character with stubble and white, glowing eyes. Bone-chilling is the idea that this character could watch you from a distance while you pick flowers or chop trees.
If you're a player that loves exploring the darker and mysterious side of Minecraft or simply freaking out your friends, then this skin is a popular choice.
If you've watched the television series "Breaking Bad," you'll surely recognize this Minecraft Skin. It's designed to recreate Walter White's appearance from the show, making the skin recognizable to fans.
From the white lab coat to his glasses, the skin makes it clear that you're running around your Minecraft world, ready to cook up some potions.
If you're a fan of Ant-Man or have recently watched Quantumania and are on the Ant-Man craze, download this skin and try it! It may not make you an ant size unless you're playing with Minecraft mods, but it looks fabulous!
The skin is designed to recreate Ant-Man's classic look from the Marvel Cinematic Universe. This skin includes everything from his helmet to his belt in the original suit that Minecraft skins allow.
If you're looking for a futuristic look that's a visually striking appearance. The details on this Minecraft skin show various details that evoke space travel and exploration. Not to mention that the TV head that only adds to the experience.
With season 3 of the Mandalorian streaming, the popularity of this skin has skyrocketed. This Minecraft skin has recreated the Mandalorian's iconic appearance, from his complete armor set to his distinctive helmet with a T-shaped visor.
This skin is perfect for Star Wars fans who want to bring space action into their Minecraft world. There are also modpacks that allow you to immerse yourself into the Star Wars universe.
The new mob from the Minecraft Caves and Cliffs update strikes fear into most players' hearts. The Warden spawns in the dark and dangerous ancient cities found in underground caverns. Check out these Minecraft seeds for the quickest way to find an Ancient City.
The Minecraft skin is designed to be a frightening representation of the Warden, with well-designed details that incorporate the critical features of the mob, including its dark and ominous skin.
If you're one of those players who love to explore every inch of your Minecraft world, you're lucky because this Minecraft skin is just for you. This one-of-a-kind explorer skin boasts a stylish brown jacket and a striking red scarf, perfect for your next adventure.
But what really sets this skin apart is its unconventional choice of head. Instead of a typical avatar head, this skin features an old TV set as its headpiece. It's a bold and creative choice guaranteed to catch everyone's attention and make you stand out.
Check out this excellent Minecraft skin! It's a 3D version of the infamous Creeper character with added details that make it pop – it's blue! The skin is designed to make the Creeper look more realistic, with shading and highlights emphasizing its glowing green eyes and explosive powers.
Despite its blocky and pixelated appearance, the 3D Creeper skin has a lot of depth and dimensionality, which makes it stand out from other Creeper skins. In addition, it's a well-crafted interpretation of the character that will impress Minecraft players who love exploring the game's world while embodying their favorite characters and creatures in creative and imaginative ways.
This Minecraft skin is designed to give the character a cute and whimsical appearance inspired by bees, with various neutral details.
It's lovely and well-designed skin and is perfect for players who love cute and whimsical appearances or are interested in nature and bees. Plus, it's excellent for roleplaying and imaginative storytelling within the game's world!
From Iron Man's repulsers to his classic red and gold helmet, this Minecraft skin perfectly represents the iconic Marvel hero. If you want to add superhero roleplay into your Minecraft game or simply stand out, then you've found a Minecraft skin for you.
Don't fancy Iron Man? Well, how about the friendly neighborhood Spider-Man?
An unknown creator has carefully crafted a Minecraft skin of the web-slinging hero, paying attention to every detail. As a result, the iconic red and blue suit is flawlessly recreated in this skin.
This fantastic Marvel skin will surely attract fans of the web-slinging hero. Players can embody Spider-Man while exploring the vast world of Minecraft, making it a popular choice for those who love to immerse themselves in their favorite superhero's persona.
We've talked much about Marvel heroes, but let's not forget about the DC heroes! The creator of this skin has meticulously crafted a Superman skin, paying close attention to detail, such as adding lines on Superman's arms and abs to enhance his muscular appearance.
One detail that stands out is how the creator recreated Superman's famous hairstyle, which looks fantastic and adds to the overall realism of the skin. If you want to take on the almost invincible Man of Steel role, this is the perfect skin for you.
Let's talk about Batman, the second most famous superhero from DC.
Unlike other skins based on comic books or movies, this one is inspired by the 2013 video game "Batman: Arkham Origins." The level of detail is impressive, as it captures all of Batman's iconic features. However, some players might find it disappointing that the skin does not include the cape on the back.
Overall, this skin is one of the best options out there for those who want to play Batman in Minecraft, and it's sure to be a hit with fans of the Dark Knight.
Switching over to Pokemon, the following skin features Ash Ketchum. It features his iconic outfit: a blue and white cap, a sleeveless blue jacket, black fingerless gloves, and blue jeans with sneakers. This skin is perfect for any Pokemon fan looking to bring some anime magic to their Minecraft gameplay.
In addition, there are various Pokemon servers that you can hop into and play around with friends.
If you're searching for a Minecraft skin that's more playful and amusing, then the Homer Simpson skin by Leostereo might be just what you need. It portrays Homer in classic white and blue attire, although his face may not be perfect as it looks unusual. For example, his mouth is overly large, and his eyes are slightly higher than they should be. However, due to the limited number of pixels available for Minecraft skins, there is only so much that can be done.
Despite these minor imperfections, the Homer Simpson skin is a fantastic option for anyone seeking a whimsical and lighthearted Minecraft skin.
This Minecraft skin is based on the lovable SpongeBob SquarePants from the animated TV series. The artist who created it did an excellent job capturing SpongeBob's signature look, from his square yellow body to his big blue eyes and iconic red tie. This skin is playful and fun and guaranteed to make any show fan happy. Whether exploring the ocean in Minecraft or enjoying your virtual world, the SpongeBob skin is the perfect choice for adding a touch of humor to your gameplay.
Our only comment is its odd shape – the creator made the mouth much lower than the standard skins. However, in this case, we think it works.
Time for some adventure! The Jake the Dog skin is playful and perfect for Adventure Time fans. It features iconic characters from the popular animated TV show. The skin is a shaded yellow dog with a unique shape with dog features. If you prefer Finn, follow the link; there will be a suggested Finn skin below.
The Mario skin is perfect for any iconic video game character fan. Designed by Leostereo, this skin features Mario's signature blue overalls, red shirt, and matching red hat. The skin even includes details like Mario's mustache and brown shoes. So whether you're a fan of the classic Mario games or the newer ones, this Minecraft skin is sure to bring some fun and nostalgia to your gameplay.
This Minecraft skin is based on the character "Link" from the popular video game series "The Legend of Zelda." Designed by Minecraft user Ralp, the skin features Link's iconic green tunic and hat, with a brown belt and boots. The skin also includes details like a sheathed sword on Link's back. Overall, this skin is perfect for "The Legend of Zelda" fans who want to bring some classic adventure to their Minecraft gameplay.
This Minecraft skin is based on Yoshi, the beloved character from the Super Mario franchise. The skin features Yoshi's iconic green body with a white belly and large red boots. The skin also includes Yoshi's signature saddle, which is colored red with a white border. With this skin, players can immerse themselves in the world of Super Mario and join in on adventures with Mario, Luigi, and the rest of the gang.
This Minecraft skin is based on Ezio Auditore da Firenze, the main character in the video game Assassin's Creed II. It features a white hooded cloak, a brown vest, a red sash, black pants, and boots. In addition, the skin is highly detailed, creating a detailed look. This skin is a great way to bring Ezio into your Minecraft world and add a touch of Assassin's Creed to your gameplay.
The "Gold Queen" Minecraft skin is a stunning and regal skin that features a female character wearing a long black gown with elegant gold detailing. The detail of this skin gives it a grand and majestic appearance. The character also wears a gold crown, completing the royal look. The details on this skin are intricate and well-designed, making it an excellent choice for players who want to rule their Minecraft world in style.
The "Fire Monster" Minecraft skin features a terrifying and fierce creature made entirely of black stone and flames. The skin is predominantly black, red, and yellow, with a few hints of orange. The face of the monster is particularly menacing, with what seems to be a lava-like mouth and glowing eyes. The skin is perfect for players who want to add fantasy, danger, and excitement to their Minecraft experience.
This skin depicts a fearsome and powerful character that appears to harness the element of fire. Designed by the talented artist Oblivion, this skin features a dark hooded robe with fiery orange accents and a menacing black shroud where your face should be. Additionally, the skin's hands and face are engulfed in flames, giving off an intimidating and powerful vibe.
The "Grey Knight" Minecraft skin is a stunning design by the talented artist, Zombeanie. It features a heavily-armored knight with shades of gray and red, complete with a helmet that covers the entire head, except for a t-shaped eye slit. The armor is highly detailed, with intricate patterns and embellishments. The skin would look fantastic while wielding an iron or Netherite sword. It's perfect for players who want to look fierce and intimidating in their Minecraft world.
The Tron Creeper Minecraft skin is a unique and futuristic take on the classic Creeper design. This skin, designed by "Cutiecake," features a black and neon blue color scheme design on the body and head of the Creeper. The eyes of the Creeper are a bright neon blue and match the rest of the skin perfectly. This skin is perfect for those who want a modern twist on the traditional Creeper look or for fans of the Tron franchise.
Are you a fan of "The Book of Boba Fett"? If so, why not embody the iconic Star Wars villain with the Boba Fett skin in Minecraft? This skin faithfully represents the character, complete with his signature jetpack on his back. It's a must-have for any Star Wars enthusiast looking to bring a little bit of the galaxy far, far away into their Minecraft world.
And if you're craving more Star Wars content, check out our article "15 BEST Minecraft Adventure Maps For 2023," which includes a Star Wars Adventure Map and many other exciting options.
The "Slime Suit" Minecraft skin is a fun and unique outfit for players who love slimes. The skin features a vibrant green slime head and hands and is adorned with a black suit and red tie. The Slime Suit is ideal for players who want to add a touch of fun and whimsy to their Minecraft gameplay.
The "Slime Suit" Minecraft skin is a fun and unique outfit for players who love slimes. The skin features a vibrant green slime head and hands and is adorned with a black suit and red tie. The Slime Suit is ideal for players who want to add a touch of fun and whimsy to their Minecraft gameplay.
The Wednesday Addams Minecraft skin depicts the iconic character from The Addams Family and the Wednesday Netflix series. The skin features a black dress with a white collar, cuffs, and black shoes. The hair is styled in two long braids. The skin is designed to give off a slightly eerie and mysterious vibe, fitting with the character's personality. This skin is perfect for anyone looking to add a touch of spookiness to their Minecraft gameplay.
The "Windows XP" Minecraft skin is a pixelated representation of the iconic operating system. This skin is perfect for anyone feeling nostalgic for the classic Windows XP experience, complete with the blue and green wallpaper background. The skin also features a character dressed in PJs – a grey hoodie with red plaid sweatpants. Not to mention the cute bunny slippers!
Like the skin above, this Minecraft character sports a retro computer as a head with the iconic blue and green wallpaper. However, it also includes blonde hair that flows down past her shoulders. She's also wearing a cute dungaree outfit with a neutral color scheme.
This Minecraft skin depicts Bajan Canadian – a Canadian YouTuber and Twitch streamer. This Skin is a highly detailed version of Bajan Canadian's Minecraft avatar with a white top, a plaid red and black shirt, blue jeans, and black sneakers.
Domo Girl is a simple Minecraft skin with pink hair and a brown hoodie. On the back of the hoodie is a Domo detail, the official mascot of Japan's public broadcaster NHK. It's a cute and straightforward skin for fans of the Domo cartoon shorts.
This Minecraft skin is a shaded replica of the official Technoblade skin. The skin depicts a pig with a gold crown and red, regal clothing. Technoblade was a famous American YouTuber and Twitch streamer best known for his Minecraft content. Unfortunately, Technoblade passed away in June 2022.
A Minecraft skins list wouldn't be complete without featuring the popular Dream skin. It's a beautiful creation from an incredibly talented artist, Alex, who gave it a unique red twist. The skin features Dream wearing his trademark mask but with a red jacket instead of his usual green one. Whether you're a die-hard Dream fan or enjoy his content, this skin is worth trying.
Ready to add some seasonal flair to your Minecraft game by uploading the "Floral Girl" skin created by Ahreaya?
The skin features a beautiful girl with long brown hair, a pink top, and flowers blooming all over her. She also wears a vibrant flower crown on her head. This skin is perfect for celebrating the sunny season and adding a touch of nature to your Minecraft character.
This Jinx Arcane skin features the popular League of Legends character, Jinx. The skin showcases Jinx's signature purple and blue hair and a brownish outfit. The skin's attention to detail is impressive, as it captures Jinx's punk-rock style and unique features, such as her tattoos and scars. If you're a League of Legends fan, this is a fantastic Minecraft skin for you.
Step-by-Step Guide to Installing Skins in Minecraft
Excited to try out a new Minecraft skin but don't know how to install it? No worries! With this easy two-step guide, you can install skins in no time. Here's what you need to do:
Step #1 – Find & Download Your Skin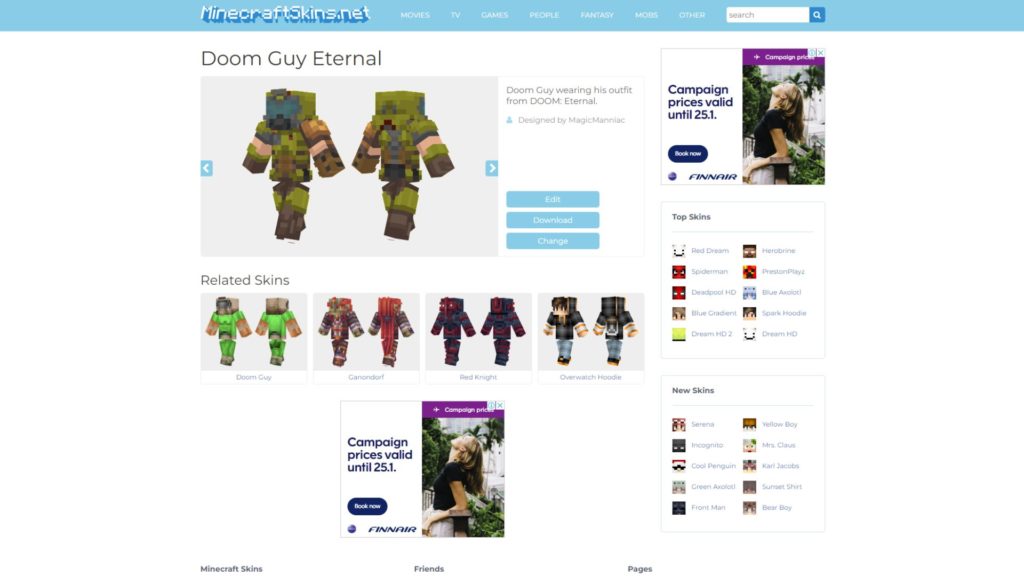 You'll need to find the skin you want to install to get started. One great place to start is minecraftskins.net, where you'll find various skins. Let's say you've decided to install the Doom Guy Eternal skin for this example. To download it, simply click on the blue "Download" button.
After clicking the button, you should see your skin downloading immediately.
Step #2.1 – Installing Your Skin on Java Edition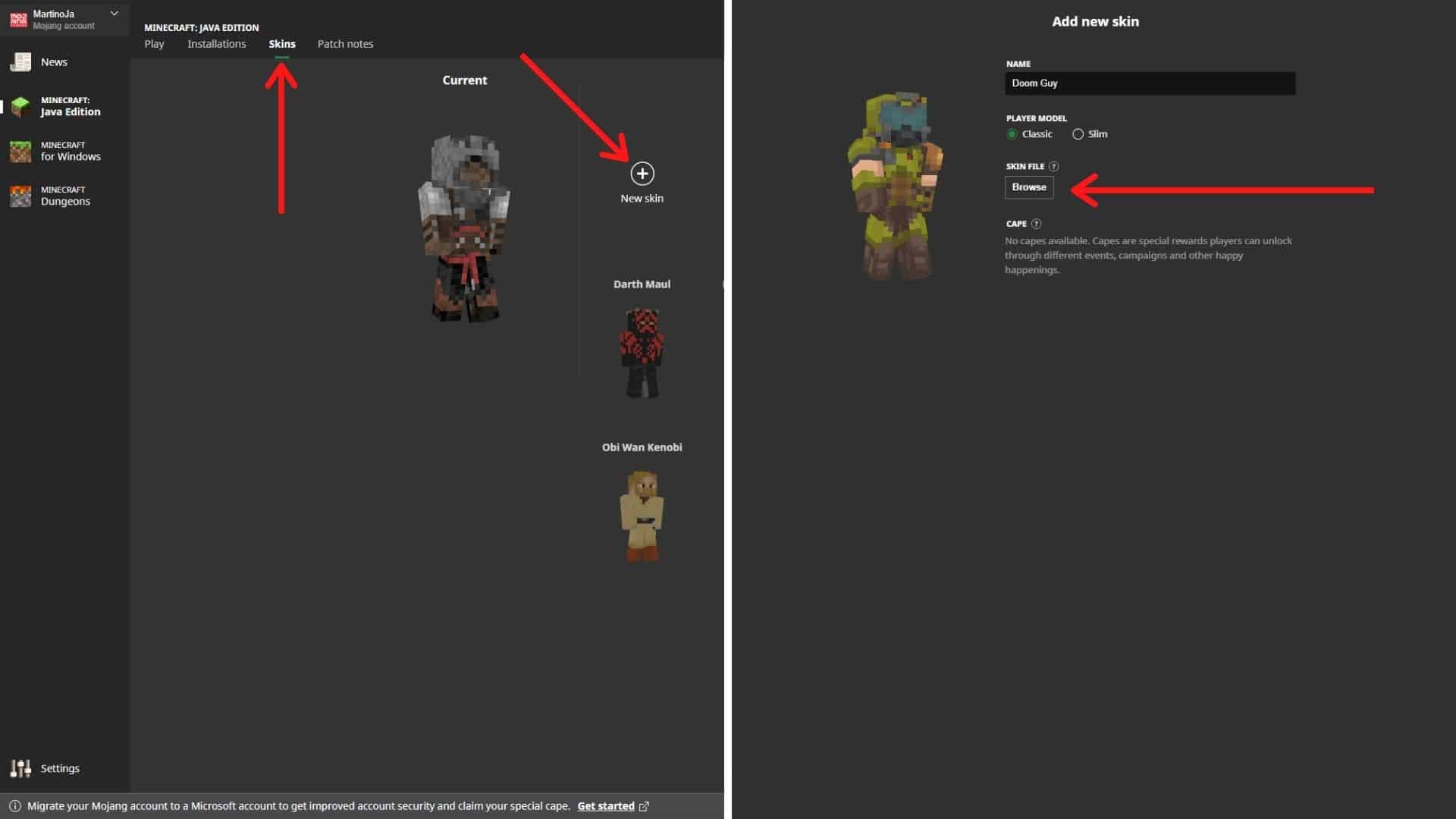 Installing a skin in Java is a bit different from Bedrock. First, you need to launch your Minecraft launcher. Once it's open, click on the "Skins" tab at the top and click the + button. Here, you can name your skin and browse your computer to find the downloaded skin file. Once you've located the file, click "Save," and your skin will be installed.
Step #2.2 – Installing Your Skin on Bedrock Edition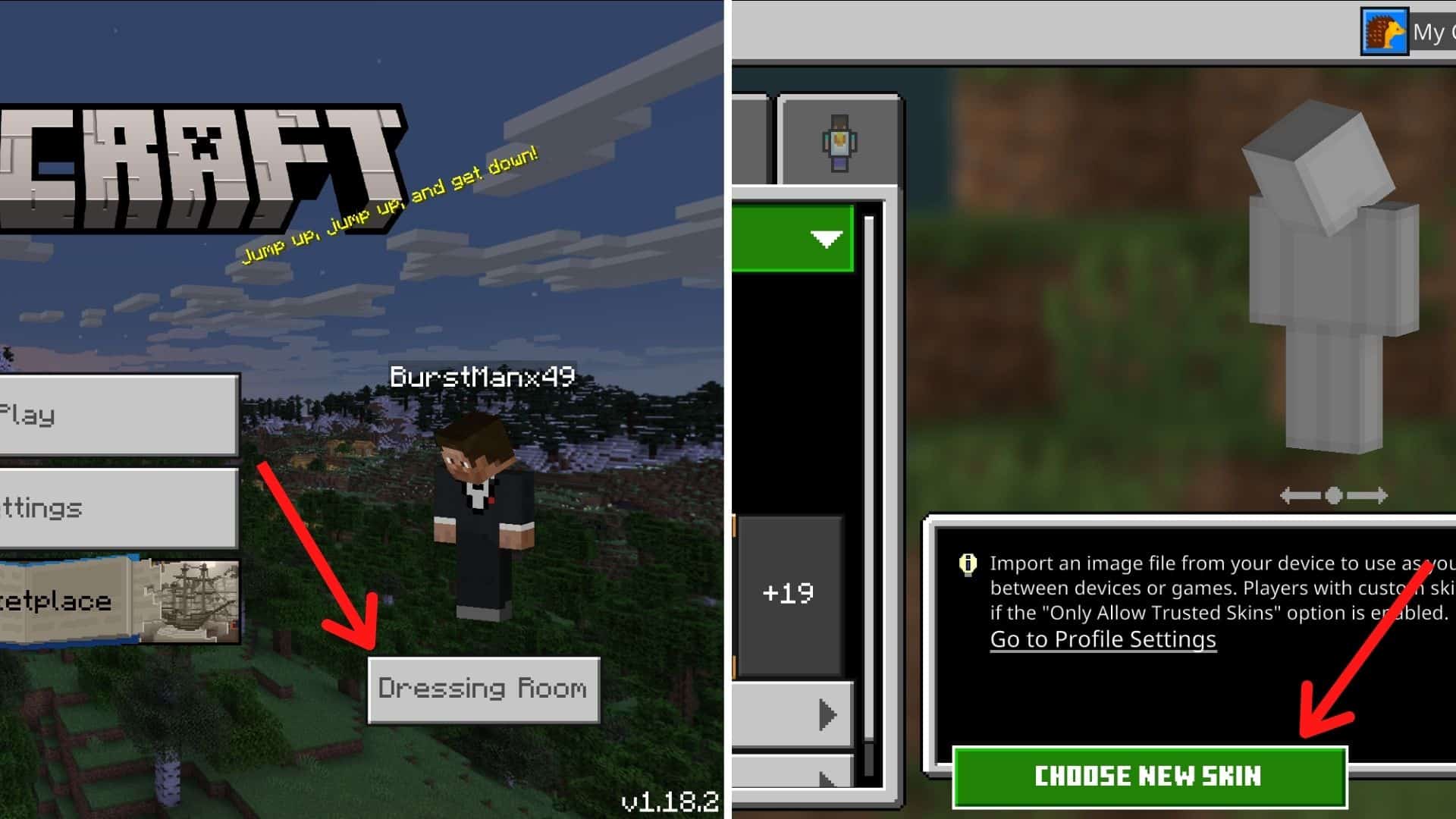 If you're using Bedrock edition, the skin installation process is a bit different. First, launch your game and go to the main menu. Next, look for the "Dressing Room" button in the bottom right corner and click on it. This will take you to a screen to see your purchased and uploaded skins.
To upload a new skin, click on the middle icon on the left side of the screen called "Classic Skins." Then, go to the "Owned" section and click "Choose New Skin." Finally, select the skin you downloaded on your file explorer. That's it; your new skin is now installed!