Are you ready to add a splash of life to your Minecraft walls with some of the best Minecraft wall designs?
The beauty about Minecraft is you can create the most stunning feats of architecture with simple, easy-to-find materials.
From crumbly red brick walls to dark oak wood finishes, the possibilities for Minecraft wall ideas are near-endless. Almost as much as these epic building ideas!
Let's look at 15 of the best wall designs Minecraft has to offer.
And one more thing. Be sure to download and install Optifine to get your game looking extra good.
Dark Wood Indoor Wall
You can't get a design as compact as this! This Dark Wood Wall Design features tulips on the window sill, two little alcoves on the corner side, and a stone roof aesthetic. Build it in your wood cabin and it'll pop out much more compared to your run-of-the-mill flat wooden block structure. What's not to love?
Dark Wood Minecraft Wall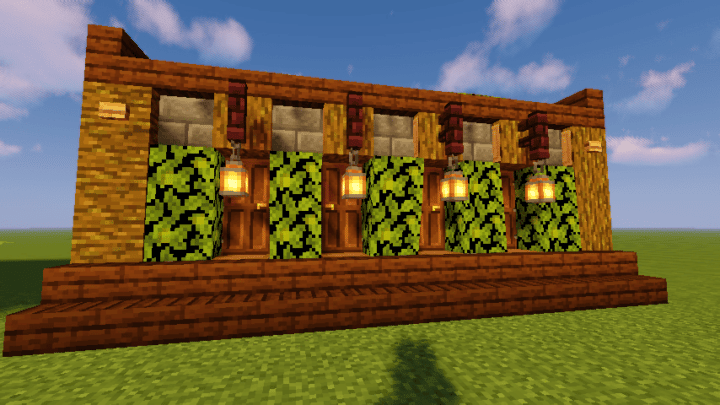 This Dark Wood Minecraft wall uses Oak Logs, Stone Bricks, Lanterns, and Leaves to form its base. Other parts of the build include the Dark Oak Stairs and Fences to deliver a striking contrast by sandwiching the wall design's center.
Can you spot the Button (or two) as well? Can't go without 'em!
Rapunzel's Mossy Minecraft Wall
Looking to build a huge cobblestone castle? It needs a complimentary wall design to protect the vicinity—and a Mossy wall design tower would do just the trick!
This tall, detailed structure stands over 10 blocks high but its soaring height can be tweaked to your desire. For interested novices, this wall doesn't require much to set up either.
All you need are some Mossy Cobblestone blocks, some Vines, and any decorative blocks of your choice. For a start, why not use Stone? You can smelt some Cobblestone to turn it back to Stone for it to form the inner layer.
Quartz Minecraft Wall Design
Do you want a cleaner, glossier feel on your wall? This Quartz wall design might be right up your alley. It features a cross-design hollow pattern indented in the wall, and some lanterns to spruce things up during the nighttime. If you want to add a touch of color, a banner on the jutting edges makes a great addition too.
If you want to blow things up, check out this Minecraft Duplication Glitch that still works in 2021!
Stone Brick and Dark Oak
Looking to rock a clean, minimalist look? Add a clean, modern touch to any space with this beaut. The brown and gray tones feature a neutral color scheme that blends well with many base and building styles. The resources needed to craft this wall aren't too hard to find too, so you can have this wall ready-made as early as Day 1!
Sandstone Helmet Minecraft Wall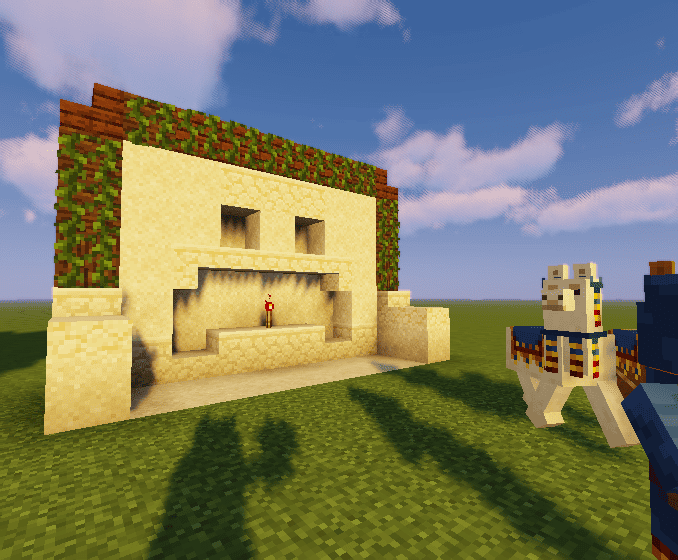 Have the Minecraft RNG gods deemed your spawn point the vast, secluded desert? Grab yourself a pickaxe and start digging downwards, you can fortify your base with a useful Sandstone wall.
The wall design above also has the intimidating design of a Creeper. To scare potential predators away, aye?
Tall Creeper Stone Brick Wall
The Minecraft world can be a scary place at night. Spiders can scale walls vertically, and the sounds of Zombies and Skellies a block or two away from you can get unnerving.
If you want to feel well-guarded, a tall Stone Brick wall such as this one can ease your worries. Just be sure not to have any open window slits so that Creepers won't run after you.
Stone Brick and Iron Fence
A Stone Brick and Iron Fence wall does pretty much the same trick as the former design. Only this time, you get to see right through the wall more clearly. Perfect for gazing at sunsets! Or scouting for hordes roaming around the outskirts.
Garden Shelf Minecraft Wall Idea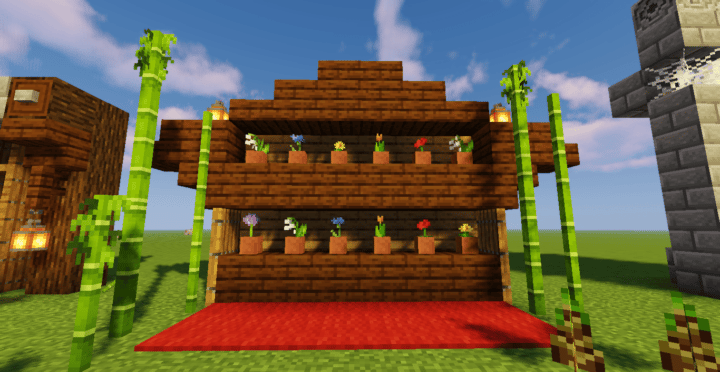 Maybe you're inspired to feature a collection of flowers and plants that you've come across during your long treks? You can showcase what you've foraged in your pots with pride with this neat little design. This wall/shelf will look great on the back lawn or garden of your base.
Grab the perfect Minecraft mouse too while you're at it!
Brick Wall
When it comes to designs, you can't go wrong with brick walls. This Minecraft brick wall idea has a versatile design that boasts a simple yet charming appeal.
From base facades to old-fashioned pizza parlors, brick walls serve as an excellent exterior in most occasions, it'll also protect you in PVP battles. You can spruce it up with some hanging lampposts and shrubberies too.
Tri-Wood Minecraft Wall
Almost Japanese-inspired, but not quite! This triple wood Minecraft Wall is accentuated with three distinct Wood Log layers for a completely natural look. It gives a foresty, cabin vibe that looks great as a wall in a home situated deep in Forest biomes.
Speaking of homes, why not look for Minecraft furniture ideas?
Fountain Minecraft Wall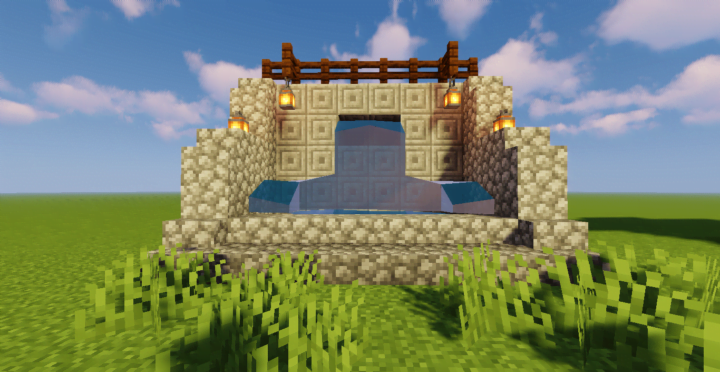 Get ready for a splash with this cool wall design. Flowing water introduces some movement to your wall, which can be a magnificent sight en masse. This Cobblestone and Stone Brick wall comes with an elegant, regal design, and gushing water. Some lanterns and fences add some more depth to the piece too.
Stone Brick and Acacia Wall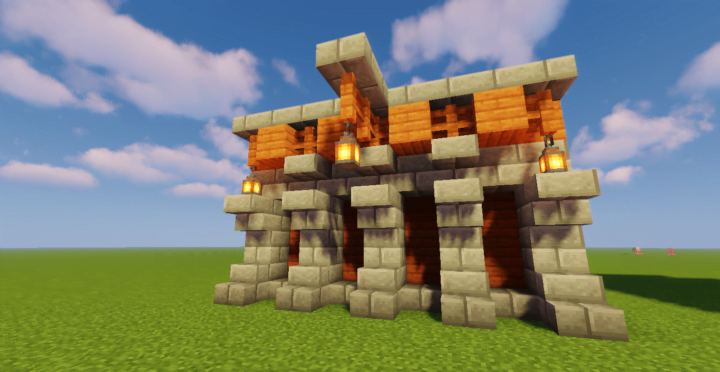 This wall comes with inverted Stone Brick Stairs and Acacia Wood Material for a cool, layered contrast that looks great for large mansions and bases. There's some lighting with lanterns too, but you can use any of Minecraft's cool light options in place of that instead!
Tavern Style Wall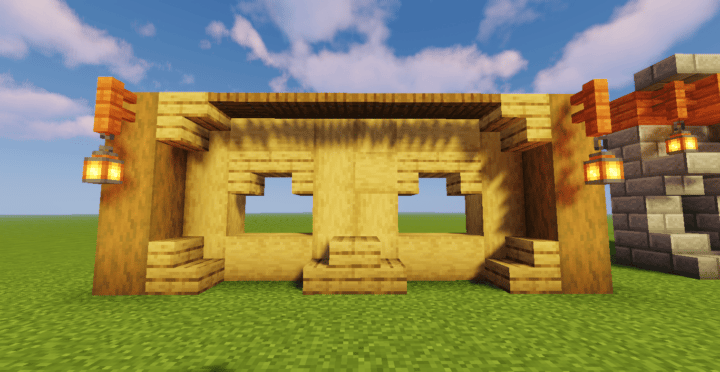 Want to build a tavern in your Minecraft world to roleplay and have fun with your friends? First things first, be sure to have enough RAM for Minecraft.
Once that's settled, the themed wall design above makes for a great wall design you can use. It uses Stripped Logs as both the base and the wall, and also some Wooden Stairs on the side and windows to add shape. Spruce Trapdoors make for a great roofing alternative too!
Bamboo-Style Japanese Wall
Japan fan? Anime fan? Us too. These modern, Japanese-inspired Minecraft wall designs add some bright and lively aesthetics to your base wall. It comes with alternating wooden slabs, each with its respective lantern, as well as the bamboo growing in between the slabs. Pretty sweet if you ask me!