In addition to the countless build possibilities, Minecraft's appealing factor is that it can be transformed into an entirely new game like Pixelmon, Grand Theft Auto, and more. With your creativity and some help from community mods, you can make the game your own.
Today, we are going to explore some of the best Minecraft mods that add unique guns and weapons to the game.
Spartan Weaponry
If you are looking for a mod that expands your weapon options from vanilla Minecraft, then Spartan Weaponry is your best bet. This mod doesn't add heavy artillery like machine guns or cannons but features long swords, daggers, warhammers, spears, and more.
Spartan Weaponry is inspired by Balkon's WeaponMod and further expands that mod's lineup of weapons.
MrCrayfish's Gun Mod
This is one of the best gun mods in Minecraft. MrCrayfish's gun mod adds nine new weapons to your world that can be customized to fit your play style and needs. It features weapon attachments and enchantments that increase weapon precision and stats.
Other mechanics, like the ability to headshot mobs, is also added to this mod.
MC Dungeons Weapons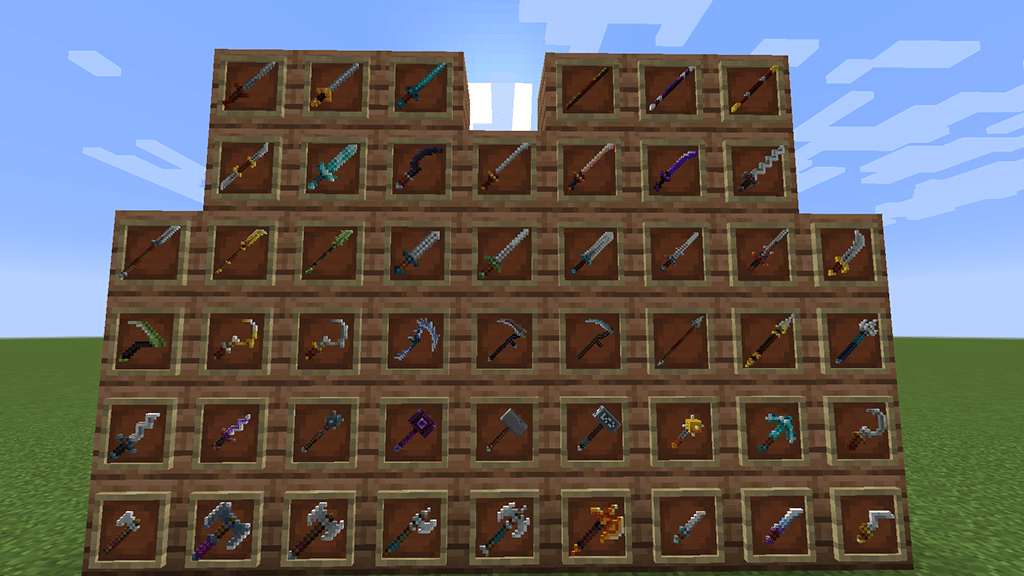 Minecraft Dungeons is a fun game to play. If you love the weapons featured there, you can add them to your world with this MC Dungeons Weapons mod. This mod currently adds 150 weapons to Minecraft, ranging from katanas to crossbows.
All weapons added by this mod have crafting recipes and can be viewed from the Roughly Enough Items mod.
Modular Powersuits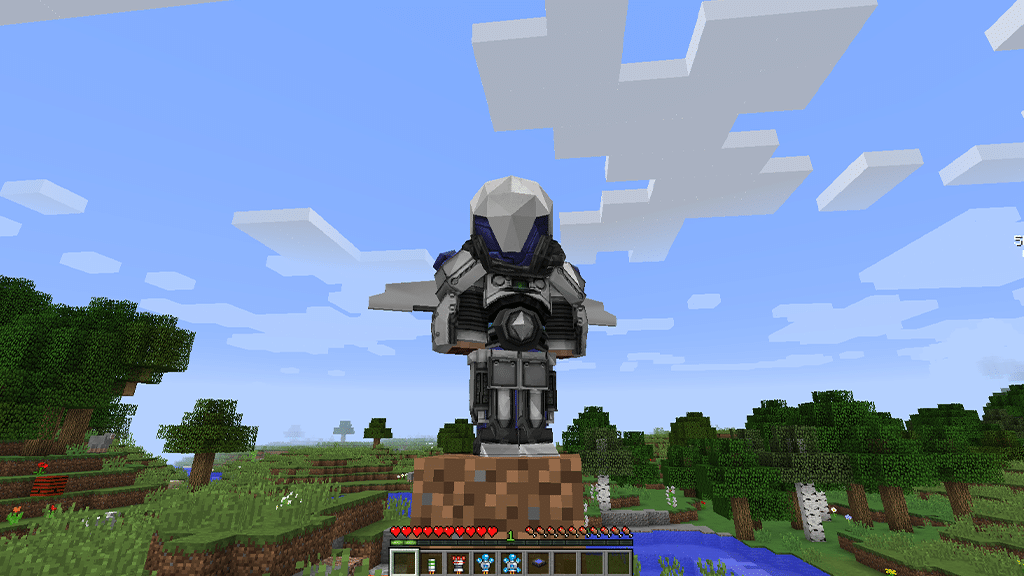 Who needs weapons when you can turn Steve into a weapon of mass destruction? Modular Powersuits is a weapon mod that draws inspiration from heroes like Iron Man, Ant-Man, and Black Panther.
This mod adds a fully working powered armor to Minecraft that can be customized. The armor features useful gadgets, jetpacks, and weapons.
Marium's Soulslike Weaponry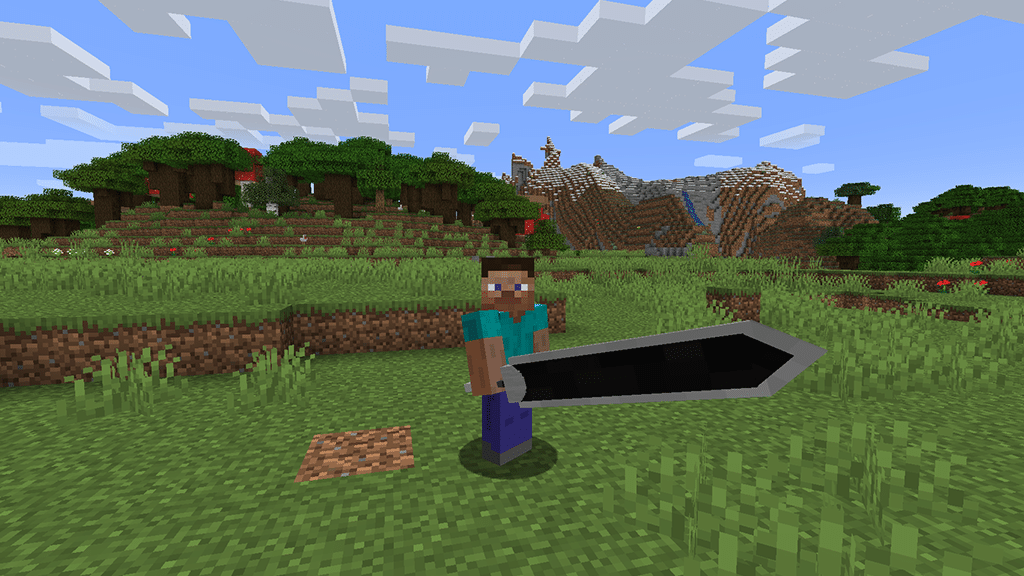 This Minecraft weapon mod adds over 30 weapons from games like Dark Souls, Bloodborne, and League of Legends. The best thing about this mod is that weapons are obtained in many ways. Some swords can be crafted using regular resources, while others can only be obtained by upgrading weapons.
Marium's Soulslike Weaponry also adds new ores, bosses, and other in-game features to your world.
Gate of Babylon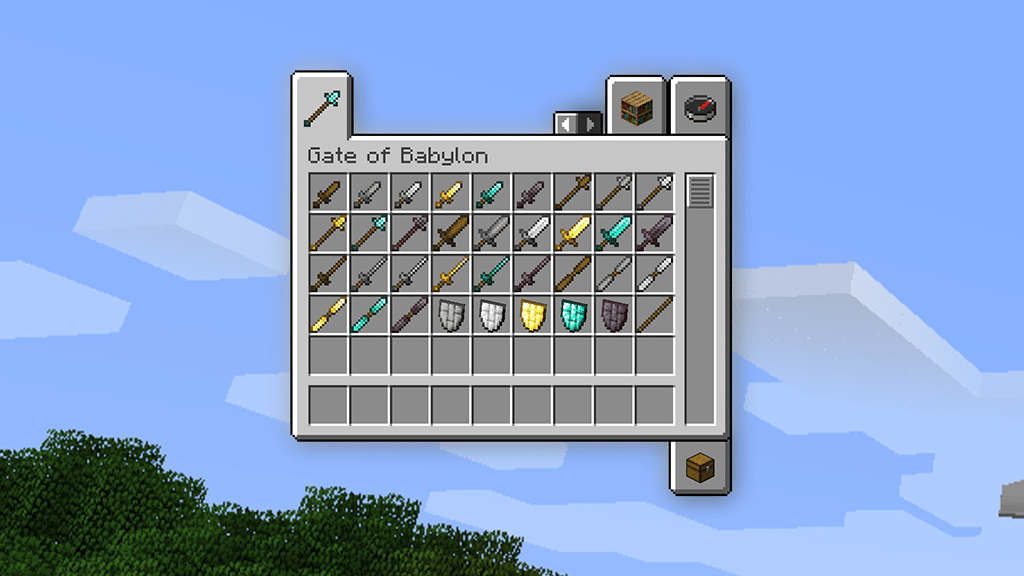 Gate of Babylon is a Fabric mod that adds various weapons to vanilla Minecraft. Almost all weapons used before the age of guns can be seen in this mod, from war axes to rapiers and bows to spears.
Each weapon on this mod comes with customizations, allowing you to tweak them based on your style and preference.
Guntopia Legend of the Guns
Legend of the Guns is a detailed weapon mod that adds guns and armor to Minecraft. Each gun and armor support eight effects that deal or block damage. Every item on this mod is rendered from 3D models. Guns also have custom sounds, cycle rates, reload rates and can be upgraded.
Currently, Legend of the Guns features nine custom guns, two custom armor, two custom swords, 30 effects, and a whole lot more.
Call to Battle 2
Call of Duty is one of the greatest shooter titles of all time. This mod is for you if you want to bring historical bits from World War 2 to Minecraft.
This mod lets you experience detailed models and combat mechanics from over 300 guns and weapons. Call to Battle 2 aims to provide the nostalgic experience of America vs. Germany and other countries involved in WW2.
Currently, Call to Battle 2 features all the main nations from WW2, like Finland, Norway, Romania, and more.
Crysis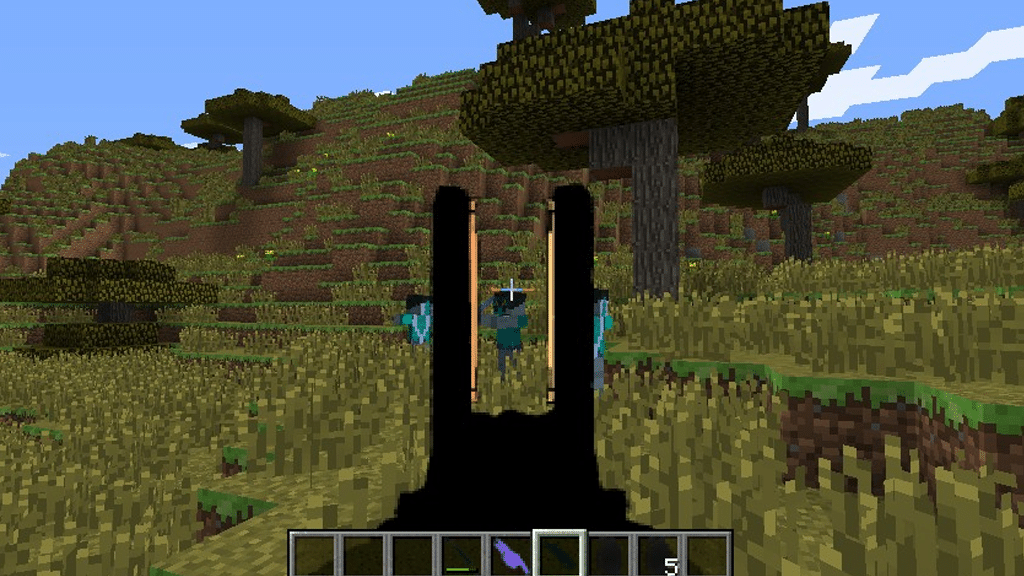 Crysis is one of the most iconic first-person shooters. If you want to experience Crysis in Minecraft, you can with this gun and weapon mod.
With this mod, you can try out new weapons from the franchise and even join the war against the Ceph. Besides adding a variety of weapons, this Crysis mod also allows you to decide whether to start or end the war between factions.
What's cool is that you can also try out weapons that belong to the aliens.
Gravity Gun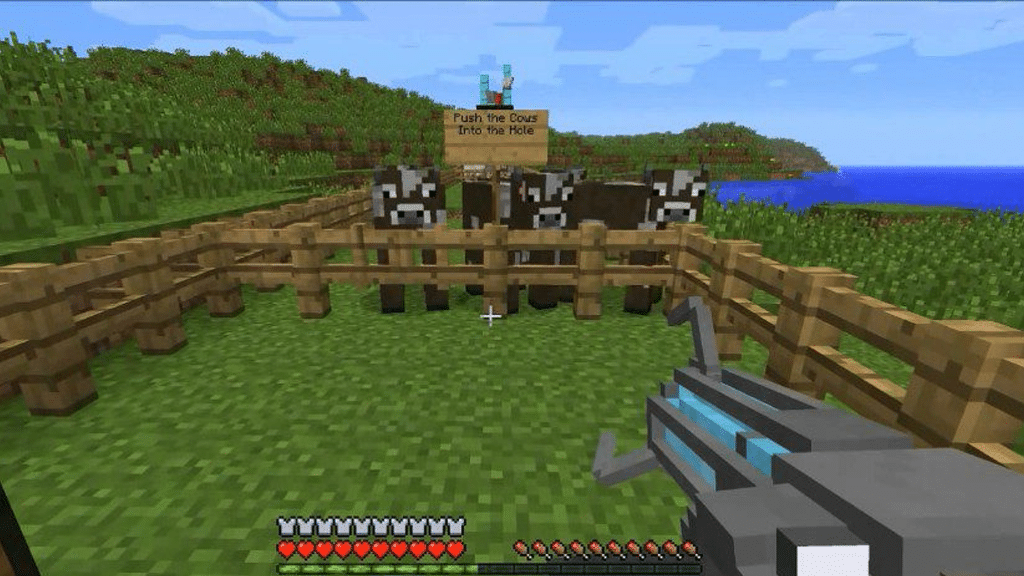 If you build a lot of structures in Minecraft, this Gravity Gun mod will make your life easier.
This mod adds a Gravity Gun that makes it easier for you to grab and move blocks. It allows you to pick up, move, and transport blocks from one place to another instead of mining and placing them back.
You can also use the gun to move or pick up mobs.
Conclusion
Minecraft continues to be a hit thanks to its incredible potential for creativity. We hope our list of the best Minecraft gun and weapon mods helped you find what you're looking for. With mods like Spartan Weaponry, MC Dungeons, and more, you can customize your entire experience, introduce new combat techniques, and simulate experiences from other games.