The best mouse for Minecraft? A gaming mouse?! FOR MINECRAFT?! Yeah, I get it. The idea might be enough to give some hardcore PC gamers a hearty chuckle – or worse.
But even though Minecraft was first released to the public twelve years ago, it still has an extremely enthusiastic base of fans who play it religiously. Many of whom, whether they know it or not, may benefit from a quality gaming mouse.
For instance, you may be interested in speedrunning, factions, or competitive PvP. In these situations, the difference between a W or an L may lay in a single click or a split-second decision.
Let's not forget, there have been Minecraft 1v1s wages with thousands of dollars on the line. Besides bolstering your server with more RAM and purchasing an awesome 60% Mechanic Keyboard, a better gaming mouse with programmable buttons could be the factor that makes all the difference.
Or, like me, you may just be looking for a comfortable, responsive, and durable option to carry you through long binges trawling caves, farming mobs, and building awesome bases. An ergonomic design, perfectly weighted, and with customization features for immersion and convenience can be truly transformative.
Whatever your playstyle, mouse grip, handedness, or budget, there will be a mouse here for everyone on this list – and, of course, a couple that are totally overkill, but may be of interest if you are looking to branch out to other games.
Note: If your after mouse thats awsome for drag clicking then check out this list.
The Best Mice for Minecraft in 2021 (List)
We will run through all these mice in more detail below, including pros, cons, and a brief description of the circumstances in which each would thrive.
This list has been ranked based on both subjective opinion and objective evaluation of designs, features, and specs. A full review of each mouse on this list is also included below, so you can weigh up the options yourself.
Finally, if you are new to the world of elaborate PC gaming peripherals and would like to get into the nuts-and-bolts of what makes for a great gaming mouse, we have also included a handy buyer guide specifically tailored for Minecraft. This will help you understand the nuts-and-bolts a bit better, so you can get started shopping with confidence!
1. Razer DeathAdder V2 Mouse
DPI: 20,000 | Interface: USB Wired | Weight: 82g | Buttons: 8 | Hand: Right-handed
The Perfect Budget All-Rounder
If you are looking for a great gaming mouse to get started in Minecraft, look no further than the Razer DeathAdder v2.
If the name rings a bell, that's likely because the DeathAdder line is one of the most popular among casual PC gamers. Thanks to its responsiveness, fantastic comfort, and relatively humble price point, many consider it the perfect budget all-rounder for first-time gaming mouse buyers.
The Technical Stuff
The DeathAdder 2's ergonomic design lends itself perfectly to a relaxed, palm grip playstyle. But, by design, it can also accommodate claw and fingertip grips comfortably, with a rubberized grip around the bottom of the mouse to prevent slipping.
This makes it a great choice for versatile, all-rounder gameplay, allowing you to mix up your style with comfort and ease whenever switching from solo to single-player, or mining to combat.
However, this does make for a problem if you are not right-handed. By design, this isn't going to be the most comfortable transition for lefties.
Comfort isn't the only selling point, though. The DeathAdder 2's mouse buttons implement patented Razer infrared light technology to register every click with near-total accuracy. This is matched with mechanic switches which deliver a response time truly unparalleled by almost any other gaming mouse at this price point.
However, the eight customisable buttons won't be of much use to Apple Mac users, as the Synapse 3 software isn't yet available for macOS. That is also not to mention the controversy around Razer's Synapse 3 privacy policy, which has caused an uproar among fans.
---
2. Logitech G502 Hero
DPI: 25,000 | Interface: USB Wired | Weight: 121g | Buttons: 11 | Hand: Ambidextrous
The Total Customizability Option
When it comes to choosing a gaming mouse, there are a lot of considerations. So, wouldn't it be good to have a comfortable, accurate, and awesome-looking option that allows you to customise just about every feature?
If you agree, then the Logitech G502 Hero may be the mouse for you. Armed with the Hero 25K Optical Sensor, 11 programmable buttons, fully adjustable CPI, and five removable weights, this bad boy is adaptable to pretty much any challenge you'd face in the Craft.
The Technical Stuff
Customisability is the main selling point here. Turn it over and pop open the base to find five 3.6g removable weights. This allows you to tune your device's drag perfectly in line with your CPI of choice.
The Hero 25K sensor it features is Logitech's most accurate yet. That makes it especially impressive that it is installed inside such a handy little package. The manufacturer boasts "competition-level precision" alongside "the most consistent responsiveness ever", making the G502 Hero perfect for multiplayer PvP.
And that's before you have the chance to fully tune your DPI settings using the Logitech G HUB – setting it from anywhere between 200 and 25,600 CPI.
---
3. Razer Viper 8KHz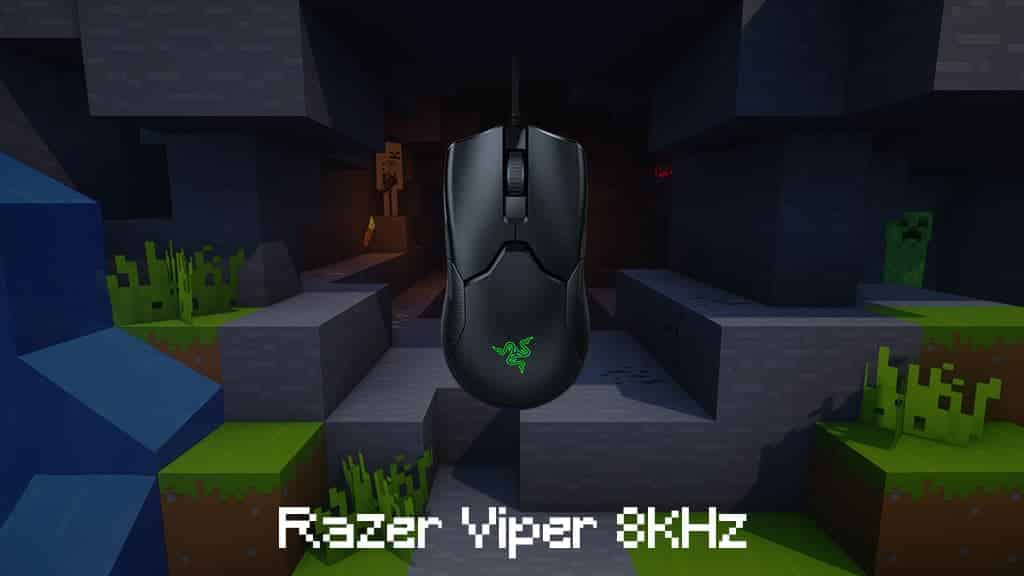 DPI: 20,000 | Interface: USB Wired | Weight: 71g | Buttons: 8 | Hand: Ambidextrous
Lightweight, affordable, but packing a major punch!
For those with smaller hands or looking for a very lightweight model, the Razer Viper 8KHz may be the choice for you.
Weighing in at just 71g, it is extremely powerful, accurate, and a very comfortable option for those looking for peak performance in a package that isn't too… show-offy.
The Technical Stuff
What makes the Razer Viper 8KHz stand out primarily is its incredible weight. Weighing in at just 71g, it is (by quite a significant margin) one of the lightest gaming mice on the list.
What's more, it doesn't seem to sacrifice much in the way of comfort to do so, with a simple form-fitting design and injection-moulded rubber side grips to accommodate any grip style you throw at it.
Another awesome feature is the exaggerated tactile feedback, giving the most satisfying feeling response when you click. Other mice with features like these tend to bump up latency and miss-clicks in exchange, but Razer's patented "HyperPolling technology" does everything it can to ensure extremely smooth tracking. You will notice the boost particularly on screens with higher refresh rates.
Razer also claims that their patented 'HyperPolling Technology' prevents so-called 'micro stutters', ensuring extremely smooth tracking, particularly on screens with higher refresh rate monitors. This matches the claimed 99.6% resolution accuracy, helping to reliably track even the most subtle movement from this incredibly lightweight mouth.
If you need a hand shopping for a new gaming monitor, our list of the best gaming monitors for Outriders may help. It may not be exactly applicable to Minecraft, but it will have some handy tips.
---
4. SteelSeries Rival 600
DPI: 12,000 | Interface: USB Wired | Weight: 128g | Buttons: 7 | Hand: Right
Unparalleled Accuracy with a Dual Sensor System
The Rival 600 isn't just a great looking gaming mouse with a bright, angular design. It is also possibly the most accurate entry-level gaming mouse, with true 1 to 1 tracking and breakless 0.5 lift distance tracking capability.
In other words: bow-and-arrow try-hards of the world, this one is for you!
The Technical Stuff
The device's "lift-off distance detection", enabled by its Optical Depth Sensor, allows you to maintain full control over gameplay, even when you lift your mouse off the ground. This may not sound like much, but it is incredibly useful in fast-paced, emotive, multiplayer games, where you may find yourself physically animated at points.
The Rival 600 also features removable sides and eight changeable 4g weights, allowing you to rearrange your mouse to weigh in anywhere from 96g to 128g. You can also use these weights to tune your centre of gravity, helping to craft the most effective set-up for your playstyle of choice.
But probably the most impressive feature is the true 1 to 1 tracking functionality. This means that the mouse doesn't simply rely on CPI to measure movement interpretation. Instead, the Rival 600 uses the TrueMove3+ sensor to enable 1 to 1 scale tracking. This means that for every inch your mouse moves, your cursor or crosshair will move an identical distance across the screen, without adding latency, interpolation, or introducing excess jitter.
This, matched with its incredible ergonomic design and light-to-heavy weight customization, make it probably the most accurate of the customizable (affordable) gaming mouse.
---
5. Logitech G203
DPI: 8,000 | Interface: USB Wired | Weight: 85g | Buttons: 6 | Hand: Right
The Legacy Budget Option (That works great, too!)
Honestly, this article feels a lot more prestigious now the heir apparent to the Logitech G100S legacy is on it.
Inspired to replicate the style of the classic Gaming Mouse, the G203 hopes to captivate the same userbase of casuals and pros alike with a design that prioritises four things: being lightweight, being durable, being comfortable, and being affordable.
The Technical Stuff
With a subtle design and lightweight build, the G203 isn't going to blow you away with technical prowess. However, for those looking for a subtle yet competitive all-around gaming mouse, it will be a perfect choice.
The Logitech G203 weighs in at just 85g, putting it on the lighter side of this list. Versatility is maintained with on-the-fly DPI switching, 6 programmable buttons, and the convenience of a lightweight design.
The rounded, smooth design makes the G203 a joy to play no matter your grip style, alongside mechanical button tensioning that enhances click-feel responsiveness. If you have larger hands, though, you may find the G203 awkward to work with.
Of course, you will no doubt miss out on some of the more advanced features and specifications other mice on this list have to offer. But there are very few benefits you'd see trawling expansive deserts in-game with other mice that you wouldn't get with the Logitech G203.
---
6. Corsair Ironclaw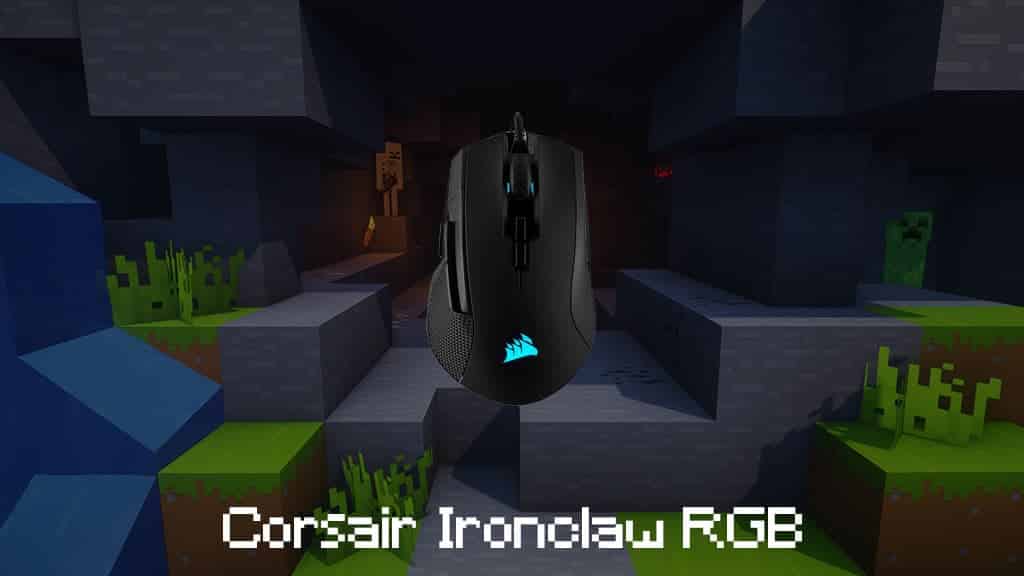 DPI: 18,000 | Interface: USB Wired | Weight: 105g | Buttons: 7 | Hand: Right
Optimising Comfort Casual Play
Designed specifically for larger hands and palm grips, the Ironclaw RGB is a perfect starting point for anyone looking for a durable mouse to optimise comfort.
Fully customisable sensitivity means that you won't be ill-equipped heading into combat. This mouse is perfect for sitting back and melting into an elongated play session.
The Technical Stuff
Despite the name, the Ironclaw is designed specifically for palm-grip players. With a textured, contoured body, the Corsair Ironclaw's ergonomic design puts comfort at the front. This will help you through those weekend-long binges without needing to worry about finger cramps.
Durability is another important factor, with inbuilt Omron switches attached to every button and which are rated for more than 50 million clicks each. Think about how many sword hits or block presses that is… spoiler, it's 50 million.
In other words, think about how many times you can run the Minecraft Item Duplication Glitch before your mouse dies?
You won't be missing out on the accuracy and improved control features that make gaming mice so attractive, either. The Ironclaw RGB boasts "ultra-accurate" tracking with a fully adjustable CPI, giving you full control to adjust the sensitivity and deliver pro-standard performance in a very reasonably priced package.
---
The Best Overkill Minecraft Mice
We have already established that many will think the idea of a gaming mouse for Minecraft is silly. However, if you are looking to step up your game in CS: GO or Valorant lobbies too, especially if you are investing in a quality FPS headset as well, you may be interested in a couple of overkill suggestions.
But again, these mice are likely not going to be necessary for Minecraft. Unless you are planning to partake in $100,000 Dream vs Technoblade-style duels, that is.
7. Logitech G Pro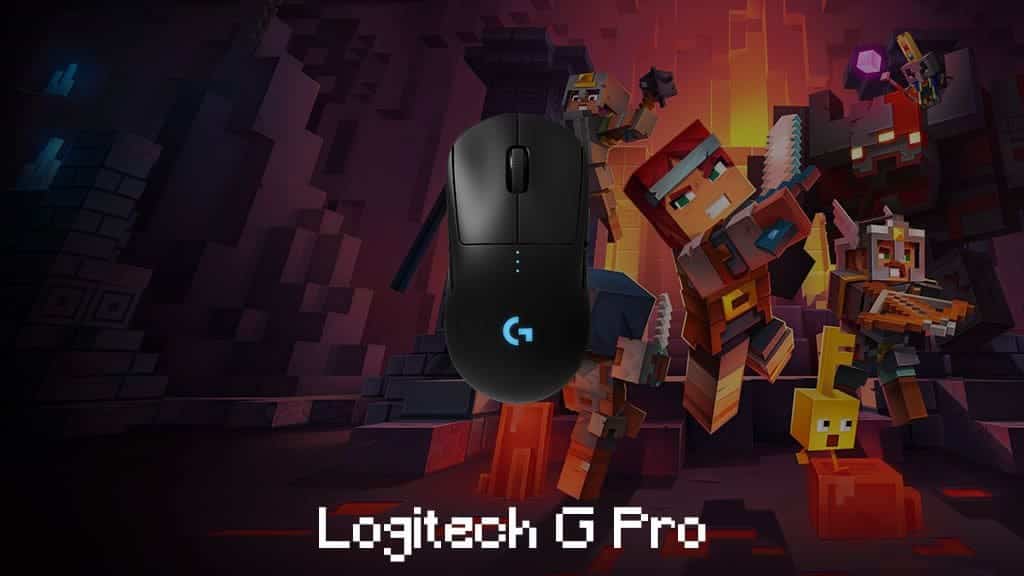 DPI: 25,600 | Interface: Wireless | Weight: 80g | Buttons: 8 | Hand: Ambidextrous | Battery: 48h Rechargeable Batteries
The literal pro-option. By pros, for pros.
Designed for esports professionals, the Logitech G Pro is the result of the manufacturer consulting more than 50 top-of-the-line esports stars and professional streamers, all in the hopes of really deducing what makes a quality gaming mouse.
Weighing in at only 80g, the G Pro is ultra-lightweight and ultra-precise. Also armed with the Hero 25K Optical Sensor, which I swooned over at great length in the above profiles for other Logitech mice, the Pro overcomes all the conventional critiques of wireless mice to deliver truly extraordinary performance.
Not only that, but it also surpasses them. The G Pro is so intently focused on providing the perfect circumstances for multiplayer carnage that it describes the very concept of a wire on a gaming mouse as 'unacceptable', explaining that it produces friction and distraction.
Now that's bold.
---
8. Razer Viper Ultimate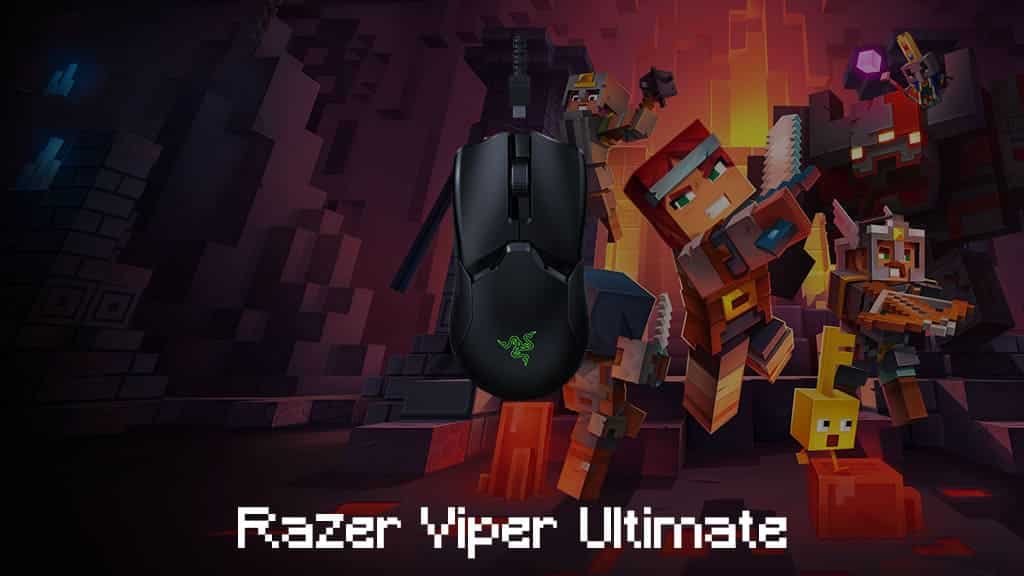 DPI: 20,000 | Interface: Wireless | Weight: 74g | Buttons: 8 | Hand: Ambidextrous | Battery: 70h Rechargeable Batteries
The very definition of overkill… in the best possible way.
Using the Razer Viper is essentially gaining an unfair advantage
We have some mice that are designed for comfort or performance, and then others that may help lean the odds in your favour. But the Razer Viper is designed and built specifically to win.
This is done simply by arming it with literally all the bells and whistles Razer have ever put in their gaming mice.
Not only does it take advantage of the awesome Focus+ Optical Sensor and an Optical Mouse Switch. It also uses the patented infrared Hyperspeed Wireless Technology, which is not only 25% faster than all other wireless technologies but effectively makes it faster than a lot of wired mice!
Razer promises that you will fail to even notice that it is wireless. You know, except the fact that there's no clunk wire to get in your way.
Oh, and did I mention it weighs in at just 74g, making it one of the lightest gaming mice on the market today? And that's not even mentioning the 70h+ battery life, which supports 3 days of completely uninterrupted play… if you could even survive that.
All of this probably makes this the best mouse for Minecraft PvP out there.
---
Buyer's Guide: What makes a great Minecraft Mouse?
Where can I start?
If you are shopping for the best mouse for Minecraft, then it is probably safe to assume that you have never shopped for a high-quality mouse before.
No worries – searching for the best Minecraft mouse is the perfect place to start.
Your choice should be influenced significantly by your play style. In competitive FPS titles, this consideration gets a little more complex, but in Minecraft, it essentially comes down to which game modes you are interested in:
Casual survival players should prioritise comfort and convenience.
Competitive multiplayer fans should prioritise sensitivity and responsiveness.
Prospective speedrunners should prioritise manoeuvrability and control.
Finally, one must also consider practical and cosmetic features. Battery life, lighting (to match your awesome new anime texture pack), weight, and grip style are all extremely significant, especially if you are arming yourself with the perfect weapon for weekend-long survival binges or an all-day PvP tournament.
Should I go Wired or Wireless for my Minecraft mouse?
It's a debate that has been baffling players for decades: wired or wireless?
The benefits of a USB Wired mouse are long-established and fairly obvious. They are reliable, responsive, low-latency, and accurate.
Just as the benefits of a Wired mouse are well known, so are the drawbacks of a Wireless one are also: higher latency and battery life considerations, to name a few. Although recent advancements have put some of these to bed (see our overkill section for two OP wireless mice), at the beginner's price range they are still valid concerns.
For Minecraft, your main consideration might depend on whether you are playing on a PC or a gaming laptop. PC gamers have little reason to trade the reliability of a wired mouse for a wireless one, whereas the freedom granted by wireless devices will surely be a lot more attractive to laptop users.
If you are looking for a great guide to the best laptops for FPS games, look no further than our Valorant list.
Left-handed, Right-handed, or Ambidextrous?
If you are a proud southpaw, don't fret. Several reputable manufacturers are creating great quality, entry-level gaming mice for lefties.
But your choice is more limited if you are dependent on a custom-fitted left-handed mouse, particularly as mainstream mice are more and more fitted with ergonomic designs specifically for righties.
If there is a mouse you are in love with but cannot seem to find a leftie variant, we may have the answer. It is a little-known fact that you can switch the buttons on your mouse, by going into your device's settings and activating "left-handed mode". The process is different on every operating system, so be sure to look up a comprehensive guide for yours.
Which 'Grip Style' am I?
There is no 'wrong' way to hold a mouse. But understanding how you naturally hold yours will set you in good stead when choosing which ergonomic features would benefit you most.
Of course, you are likely to use different grip styles for different circumstances. A palm grip is perfect for long survival sessions, but the best mouse for Minecraft PVP is likely to accommodate from active styles.
In general, there are three 'grip styles':
Palm Grip
By far the most common style of grip, the 'palm' style involves users resting their entire hand on the body of the mouse and with their middle, three fingers primed to use a standard mouses buttons and scroll wheel.
It is a relaxed, comfortable grip, great for long survival binges. If you think that the palm grip is your style, you would be better going for a larger, more rounded mouse.
Claw Grip
The 'claw' grip involves a user resting their palm on the back of the mouse, with bent fingers resting above the front two buttons.
It is more active handling which leads to better precision, accuracy, and faster reaction times. For a claw grip, you would benefit from a larger mouse, with an ergonomically designed body and a flat back.
Fingertip Grip
By far the least natural, at least for me, the fingertip grip lends towards faster reaction times. With their palm folded above the base of the mouse, players utilising the fingertip grip rests only their fingers on the buttons and each side.
If you are a user of the Fingertip grip, a smaller mouse with anti-slip, lightweight grips would be beneficial.
Does weight matter?
In a rather high-profile survey by KitGuru.net, 34% of respondents claimed that the weight of their gaming mouse was "not important". However, that also means that 56% have a view, so it is still important to consider when making your choice:
Heavyweight (111g>): Usually favourited by those enjoying long-term survival games. Heavier mice tend to be more comfortable but tiring after long play sessions.
Lightweight (<110g): Usually favourited by those with a smaller mouse for competitive gameplay, as a lighter mouse will allow for more manoeuvrability and high-sensitivity gameplay.
DPI or CPI: which should I care about and why?
DPI (Dots per Inch) and CPI (Counts per Inch) are two of the most important technical specifications you will come across when shopping for a new gaming mouse. But the two terms are often muddied, and it is difficult to differentiate between the two.
CPI and DPI refer to different things in their natural contexts. CPI is the correct nomenclature for mouse sensitivity, whereas DPI is a measure of spatial printing or video dot density. However, in the mice world, the two are used interchangeably.
Yes, that means DPI and CPI – in the case of gaming mice – are essentially referring to the same thing: the sensitivity of your base sensor. Both refer to the number of steps the mouse will transmit when it moves one inch.
The larger the CPI/DPI, the more space covered on your screen by a movement of your physical mouse. The smaller, the less sensitive the mouse will be. High CPI doesn't always mean a better mouse, though, and most are adjustable out of the box. Most professional gamers use CPI settings below 3000.
Should I get extra buttons?
Finally, one of the most exciting prospects about a gaming mouse is the option of new, programmable buttons. These can be bound to various keyboard keys, helping you to make your gameplay far more efficient in Minecraft. This is especially true when it comes to item management, building, and combat.
These extra buttons can range from extra clickers to side buttons, and even full-scale number pads. For instance, I have seen players bind Optifine's zoom feature to a mouse key, making for some innovative new gameplay. But although these are an exciting addition, extra buttons are by no means an essential feature of a great gaming mouse.
Conclusion
Well, now that you know everything there is to know about picking the best gaming mouse for Minecraft, follow some of the links and start shopping!
There are no right or wrong decisions when it comes to purchasing a PC gaming peripheral. But pay attention to some of the features listed above to make sure you don't get any nasty surprises when you lift it out of the box.
Finally, remember that in Minecraft it is more what you can imagine, rather than what mouse you have, that will dictate your level of fun. If you are stuck, here are a few Minecraft base ideas to get the creative juices flowing.