Are you looking to spruce up your Minecraft world and impress your friends? Well, you've come to the right place! We've scoured the depths of the internet (and the Nether) to bring you the top 10 most creative and interesting Nether portal designs.
We've compiled the very best Nether portal ideas to inspire you. These designs will not only make your trips to the Nether a breeze, but they'll also add a touch of personality and excitement to your Minecraft world. Whether you're a beginner or a seasoned pro, these ideas will take your Nether adventures to the next level. From classic designs to the most complex portals possible, these designs are sure to add a touch of personality and excitement to your base. And of course whilst we've provided tutorials on all the builds listed, feel free to customize and use as many different blocks as you wish.
So, without further ado, let's dive into the world of Nether portal designs!
The Mushroom Portal
If you're like me, you appreciate the natural beauty of the world of Minecraft. Therefore, you'll enjoy this natural yet impactful Nether portal design. Iisabelline's Mushroom Nether Portal Design is one of the most ambitious designs on our list, but also one of the most rewarding. This beautiful design will no doubt impress even the greatest of builders.
The design will require a staggering 1047 Smooth Quartz, 512 Warped Wart Blocks, 196 Warped Nylium and 274 Mushroom stems. Therefore, you'll have to spend plenty of time in the Nether before completing this ambitious build.
A comprehensive list of materials is provided in the video description.
Enderdragon Nether Portal
This build consists of a large, dragon head made from polished diorite, slabs, and stairs. With this design, players can walk directly into the dragon's mouth and through their portal. Inside the head, there is a portal that leads to the Nether. The design is interactive and relatively simple to build, using readily available diorite. This is a good option for players who want to appear to have defeated the Enderdragon, or those who have and want to display its head as a trophy.
If you're wanting a design that more naturally mimics the Enderdragon, I would recommend replacing the Polished Diorite with black and white wool. For a full list of materials check out P7DDY's tutorial above.
The Skeleton Portal
Perhaps one of the more complex designs on this list, but equally one of the most rewarding of builds. This skeleton designs uses 3D building depth to create an exceptionally well-constructed skeleton around a classic Nether portal. Lava has been used to light the surrounding area, whilst remaining in theme, and Nether wart and cobwebs are being used for general decoration to finish off the portal design.
From the great skull to the insanely creative skeletal ribcage, this is a portal design that'll make any world a hundred times more interesting. Head over to the tutorial provided by FullySpaced to get building!
Giant Nether Portal Sword
Thanks to the many great recent updates that Minecraft has been given, the maximum size of a Nether portal is now 23×23, allowing players to create grandiose Nether portal designs. For example, this amazing sword portal design by Goldrobin is taking advantage of the length that this maximum size allows. Build tall, wide, or circular. The possibilities are truly endless.
Mystical Portal Vines
Now this Nether portal design is more complex than the previous ones on our list but is another perfect example of a build easily done in survival mode. This portal only requires Dark Oak, Oak, and Spruce wood, among a few other miscellaneous blocks. Whilst this build might appear daunting with its wonderfully designed wood vines, the tutorial by Minecraft Fantasy Builds is comprehensive and easy to follow.
Medieval-Style Nether Portal
This is the perfect Minecraft village-friendly design, able to seamlessly fit into any aesthetic (Though it would work nicely alongside Medieval-style builds.) With textured wooden beams and layered Cobble roofs, this is a simple design with plenty of depth and character.
Again, this design requires materials that are easily available in Survival Mode, such as Cobble Stone, Spruce Planks, Spruce Logs, Smooth Stone, and grass blocks. For a comprehensive list of materials and detailed instructions on how to build this portal watch One Team's tutorial above.
Nether Portal Buildings
This Nether portal design idea is great for those who enjoy building entire towns and cities within their Minecraft world. Whether you're building a medieval kingdom or a farmstead on the great plains. This idea allows you to integrate seamlessly your portal into the theme and design of your entire Minecraft world. This type of design is a personal favorite when building little medieval villages with friends.
This specific medieval design by Mechitect will go great with your Castle!
The Redstone Toggle Nether Portal Design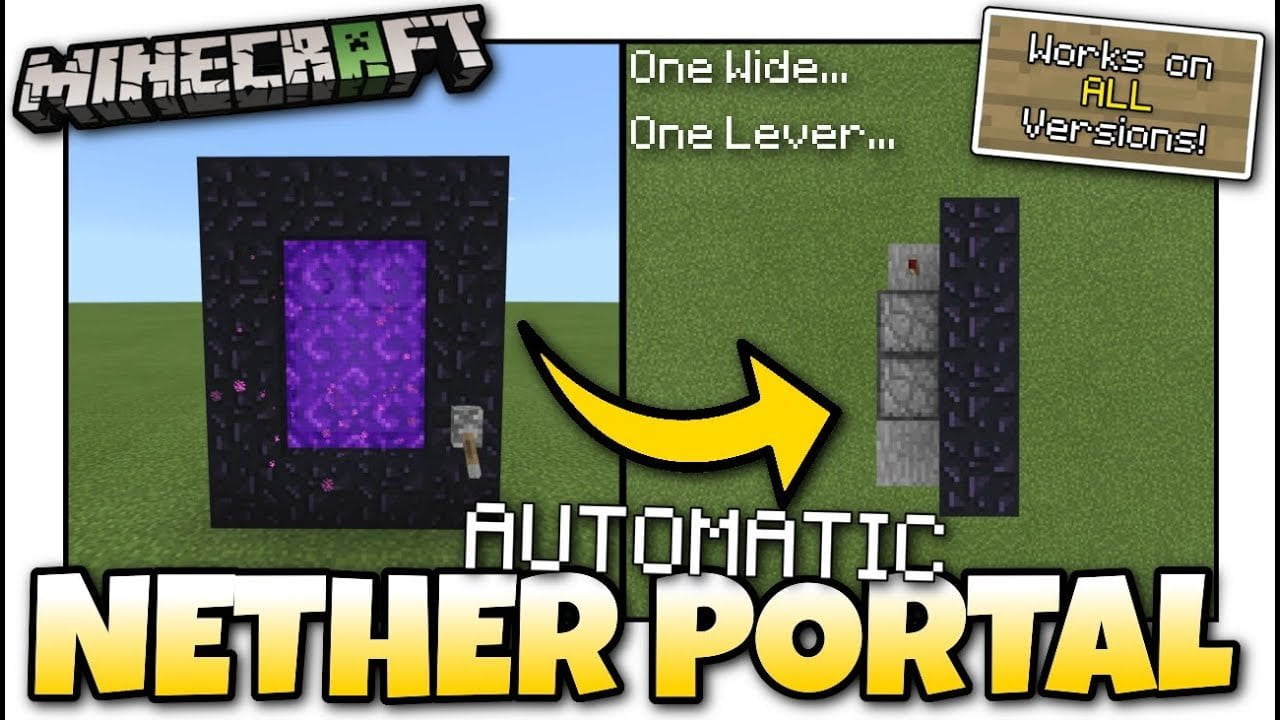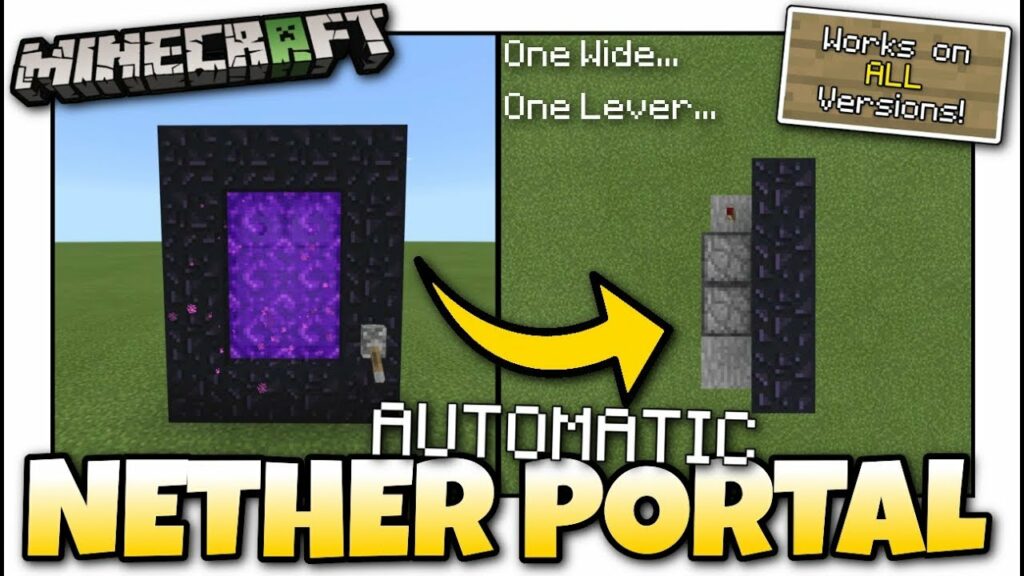 This is for all your Redstone professionals: The Redstone Portal! This design incorporates Redstone into the portal, allowing players to activate the portal with a lever or button. This can add an extra layer of security to the portal, preventing unwanted visitors, and an impressive trick to show your fellow Minecrafters!
Head over to Skippy 6 Gaming's tutorial to get started.
Biome-Specific Nether Portals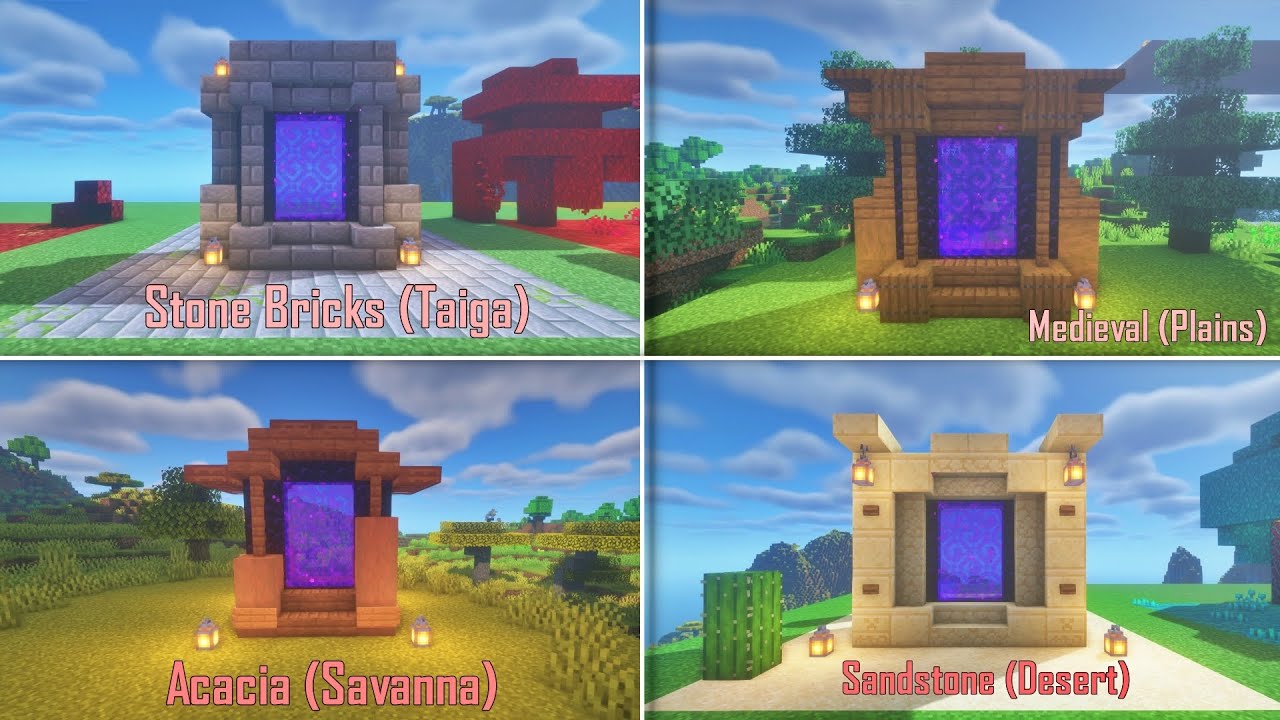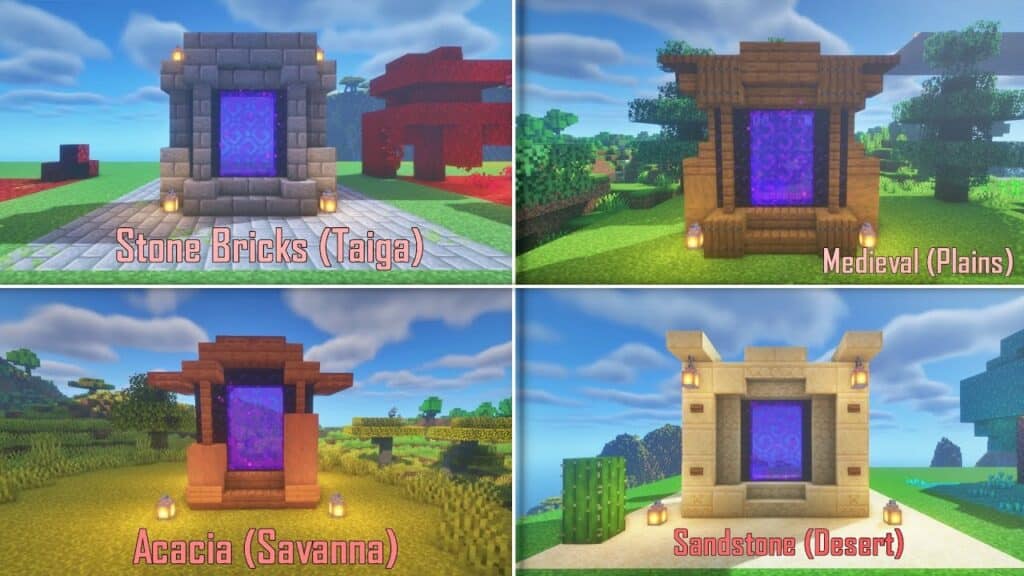 Whether you're a fan of the classic plains biome or wish to build an ice castle in a Frozen Biome, biome-specific Nether portals are exceptionally versatile and great looking. Build your portal into a swampy overgrown tree or encase it into jungle stone to create the effect of an ancient and mysterious portal to another world. Over on the Game Content channel, you can find out how to build portals above!
Fantasy Nether Portal Design
Lastly, a simple yet beautiful Nether portal design idea, this quick and easy design by Foxel will be sure to enhance any Minecraft world. This Nether portal will transform any world into a place of fantasy and wonder. The main materials required are Cobblestone, Stone Bricks, Oak Leaves, and Spruce Planks. So, this is definitely a great option for those playing in survival.
For a full list of materials and a detailed breakdown of the build check out the tutorial!
Feeling inspired?
Not only do these nether portal ideas add an aesthetic appeal to your Minecraft world, but they also offer a sense of immersion and engagement in the game. Players can create their own adventure as they explore the fiery landscape of the Nether, or they can invite their friends over to show off their portal and hear their reactions.
These Nether portal designs are not only a fun way to express your creativity but also a great way to add more depth and excitement to your Minecraft gameplay. They offer a wide range of options to match your aesthetic preferences and it will be sure to impress any visitors. With these ideas in mind, you'll be well on your way to creating a unique and memorable Nether portal design. Happy building!