Rust has been delighting and frustrating players in equal measure for almost a decade, and the developers are still working passionately on making it better. No other game can boast gunplay on par with the best shooters while scratching that crafting, exploration, and survival itch. It's also highly customizable, but you'll want to go with one of the best Rust server hosting providers to truly make it your own.
For all of its bright sides, Rust doesn't exactly have the most wholesome community. Cheating can be a problem too, so having a server you can play on exclusively with friends can make it much more enjoyable. You get to play your way, so each map restart can either inspire a tense PvP showdown or a chill base-building expedition.
Rust servers can theoretically host up to 500 players, which requires considerable resources a single desktop PC may not meet. It's smarter to pool your resources and pay for dedicated server hosting and not worry about lag, performance issues, or crashes.
The Best Rust Server Hosting Services at a Glance
Host Havoc – Jump straight in with no hassle
GTXGaming – For hosts who like to tinker
Nitrous Networks – Simple setup and renowned support
Gameserver Kings – The seasoned Rust hosting pros
Sparked Host – Intuitive UI and in-depth server selection
Indifferent Broccoli – Experience Rust multiplayer for free
Survival Servers – Has the biggest annual discounts
Host Havoc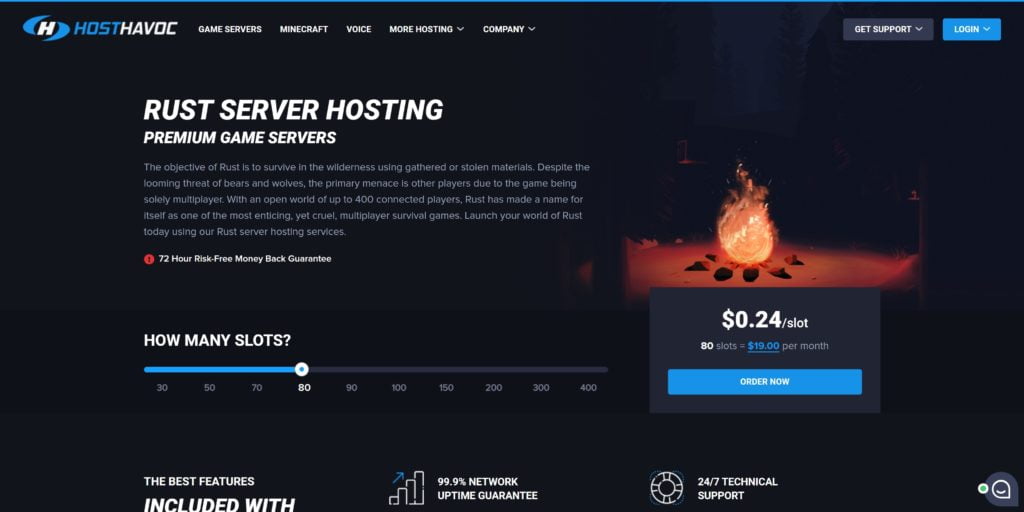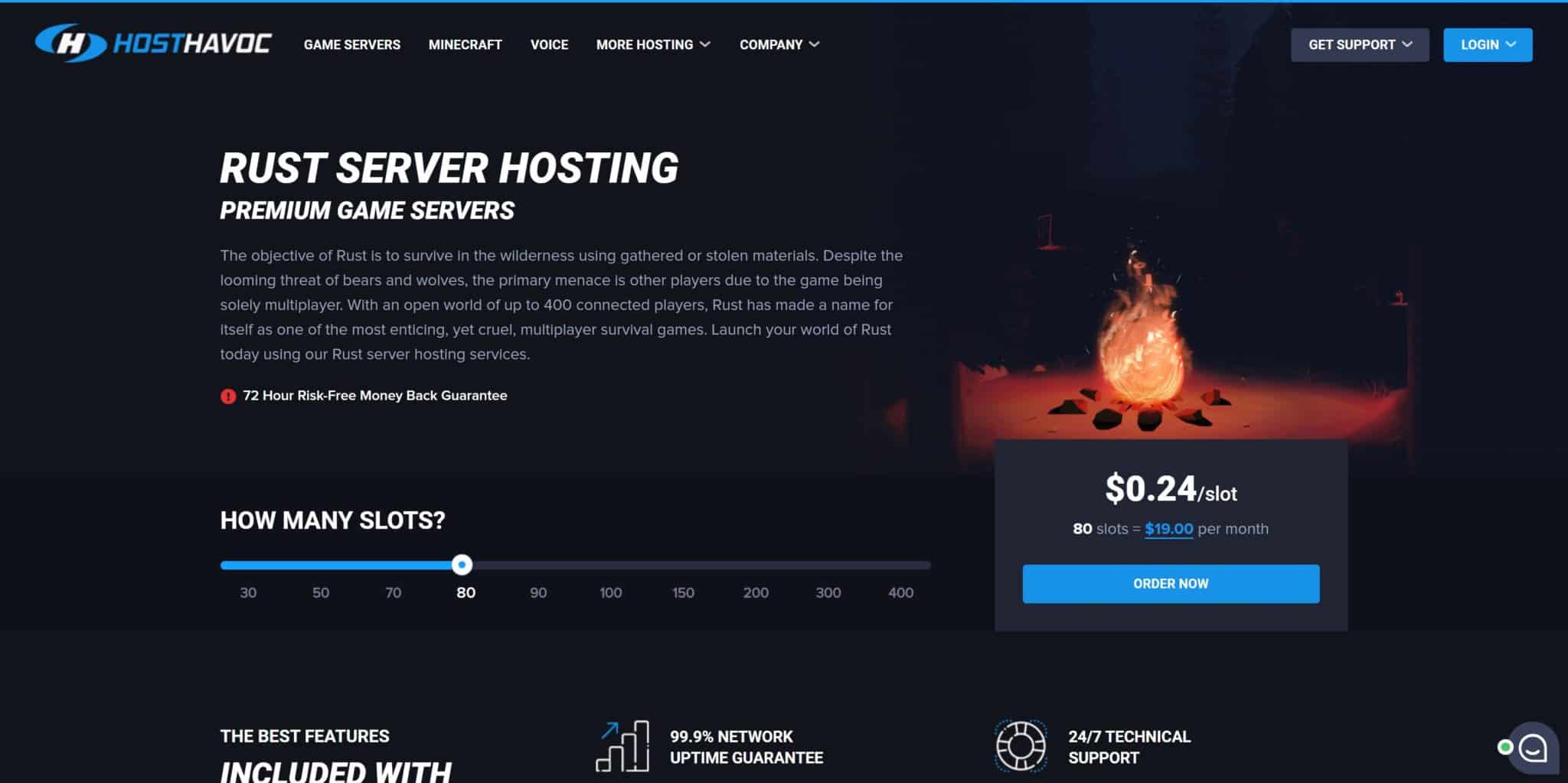 Host Havoc enjoys widespread acclaim due to stellar metrics like reliable uptime and protection on one hand and ease of use on the other. They've got the server acquisition process down to a fine art. All you need to do is decide how many people will fight for supremacy in your bleak landscape and let the service handle the rest.
Most servers offer slots in the 50-200 range. Host Havoc lets you organize a smaller server of 30 or create a massive 400-player world. The price per slot drops significantly the more players your server supports. Going with 400 ends up costing you a mere $0.18 per person. Conversely, $16/month for 30 people is reasonable too.
Further savings are possible if you plan on maintaining a long-term community. Committing to a year will save you 12% on any purchase. Even the three-month plan is a better deal than monthly resubs. If there's anything to nitpick, it's the lack of data center availability for Rust outside North America and Europe.
The basic service is already solid, and you can enhance it in several ways. You may opt to increase RAM allocation for smoother gameplay or subscribe to BattleMetrics' RCON service. The latter offers insights into your server, easier player management, straightforward scheduling, etc. Finally, you can award higher CPU priority to your server by paying $4/month extra.
Should you not find things to your liking, Host Havoc's generous money-back policy entitles you to a three-day refund.
GTXGaming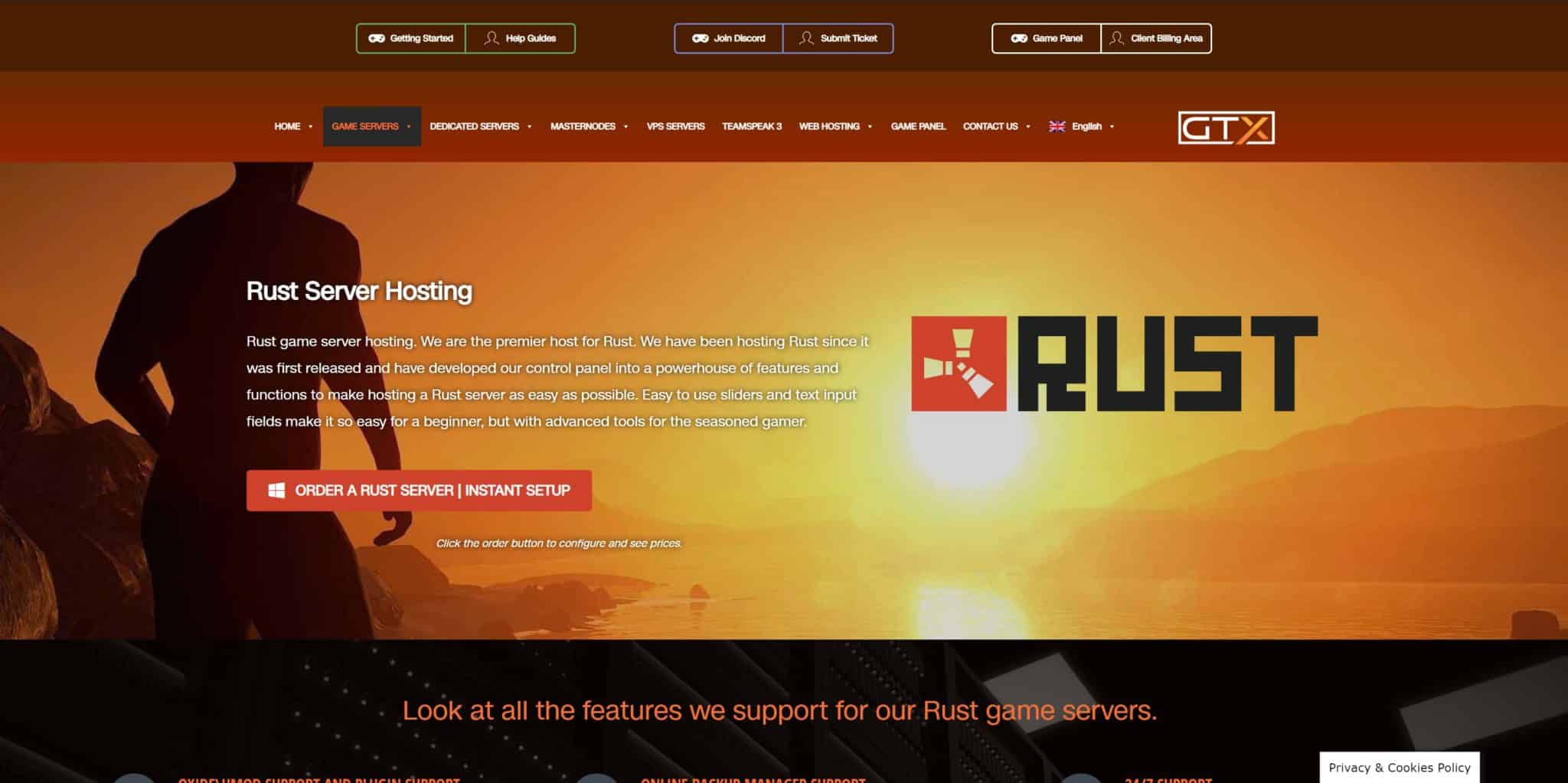 GTXGaming always finds itself near the top of our hosting recommendations due to transparency and in-depth configuration options regarding everything related to your server. That goes beyond the initial server setup since you get easy access to Rust-specific commands like server wipe schedules and related messaging, access to mods through Oxide/uMod, and much more.
The barebones GTXGaming experience will set you back $12.50/month and covers 50 slots. Securing more doesn't bring the price down, but keep a lookout for seasonal deals that can get you as much as 25% off for the first month. GTXGaming is another host that offers refunds, albeit in a 24-hour window.
Paying $0.25/slot sounds like a good deal. The "problem" with this host is that it's far too tempting to splurge on the extras on offer. Some of them aren't that interesting, like switching from enterprise SSDs to NVMe drives or premium tech support. However, others will be integral to the successful running of your server, especially if you plan on going anywhere near the 400-player limit.
You may invest more for Rust server hosting on a better CPU with higher priority and more RAM allocation. If you've established a renowned server elsewhere, GTXGaming can organize a seamless transfer for a one-time fee.
Finally, GTXGaming is a much better alternative to Host Havoc for players in Asia and Oceania. It has server centers in Singapore, Japan, and Australia.
Nitrous Networks
If anything, Nitrous Networks is living proof that looks can be deceiving. Its plain site and seemingly meager Rust hosting options suggest that this is an upstart you shouldn't give your money to. In actuality, by choosing them over others, you'll be dealing with a company with more than a decade of experience in the industry and one of the most lauded support teams out there.
To be fair, the information you get when organizing a Rust server is sparse. You can buy 50 to 200 slots starting at $20/month. Nitrous Networks is an excellent choice if you're aiming for a smaller server since it's cheaper than Host Havoc initially. Though, users with 200-player aspirations are better off with our best Rust hosting recommendation.
The only way to bring the price down is to sign up for more months, culminating in 15% off for annual payments. Nitrous Networks offers no other configuration options besides a selection of data center locations in Europe and North America. You can sign up for a free website for your server on Enjin. That could be worth looking into if you want to build a community around your Rust server that transcends the in-game world.
Gameserver Kings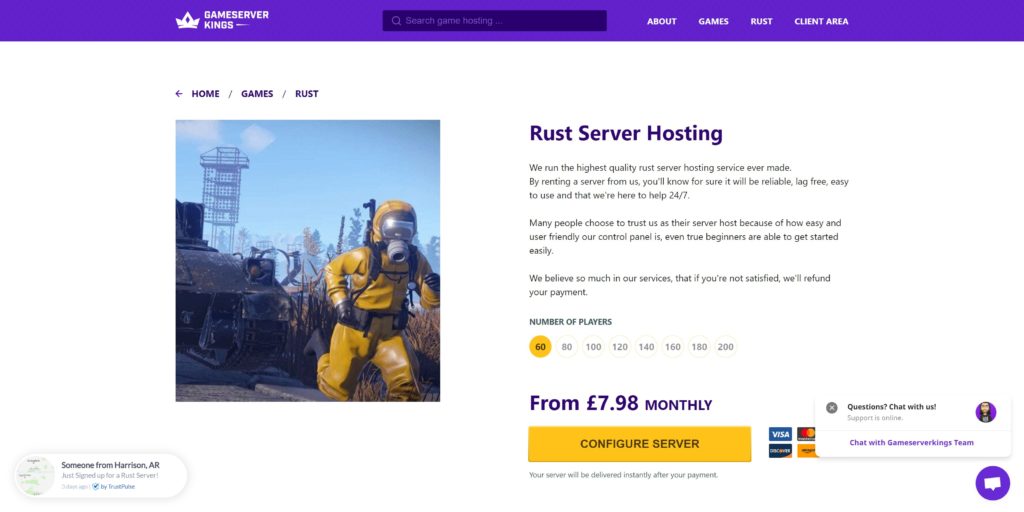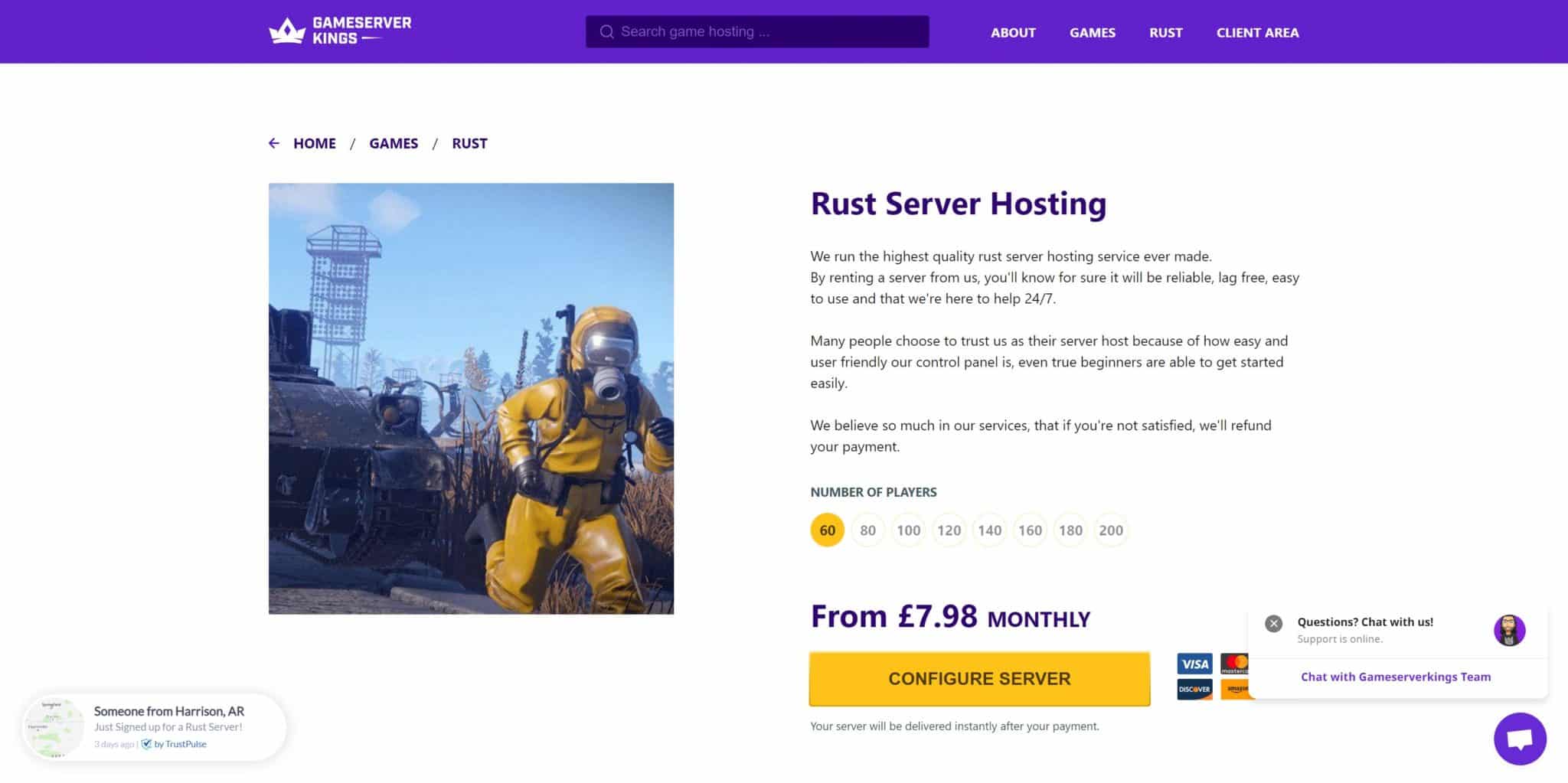 Gameserver Kings might not be as well-known as our first three recommendations in general. Still, it's a top dog when it comes to Rust hosting. Rust is the game this provider focuses on the most. Therefore, it's no wonder that you get access to quality-of-life features like instant server or blueprint wipes with a button press.
The hosting interface is informative and easy to get around. Buying a server also entitles you to a substantial knowledge base. It addresses common issues and has many articles backed by pictures to make resolving problems easier. Finally, there's excellent customer support and even a 24-hour refund policy for complete peace of mind.
Gameserver Kings is among the best Rust server hosting providers if you're looking for long-term savings. Sixty slots currently cost just over $10/month, which amounts to roughly $0.17 per player without considering long-term commitment savings. These range from 5% for a three-month payment plan to 15% if you decide to go annual.
Gameserver Kings would have been higher up on the list were it not for their limited server locations and next to no additional options during initial setup. The site mainly caters to American and Canadian customers without providing specific data center locations on the coasts or in the continental US. You can purchase CPU priority, and that's about it.
Sparked Host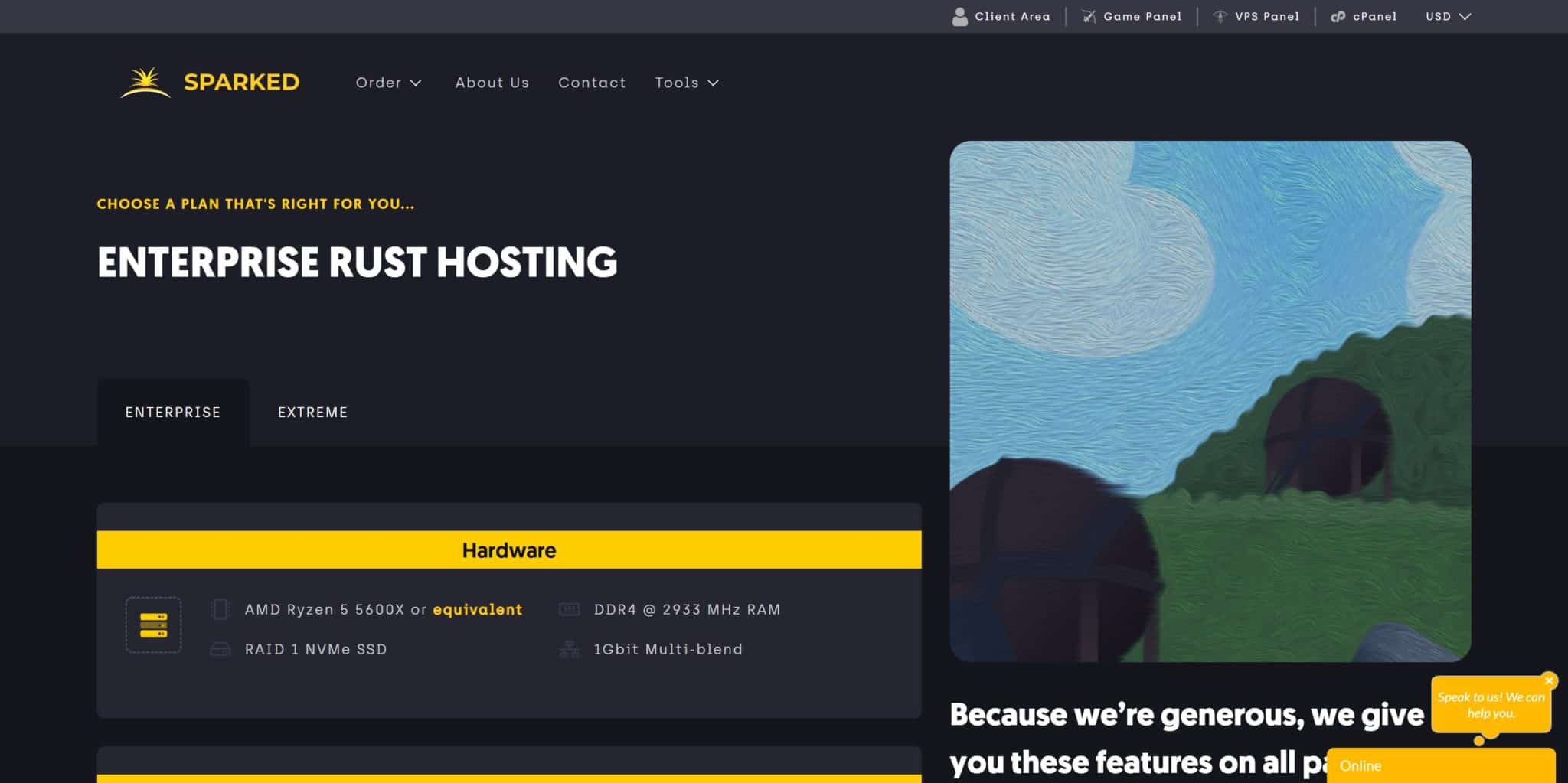 Virtually all Rust hosting services proclaim they have amazing uptime, support, and protection from DDoS attacks. Sparked Host offers the same, but it stands out due to the way servers are organized and your ability to choose the kind of hardware your maps will run on. They also put their money where their mouth is, citing low response times for written tickets and live chat requests alike.
Rather than choose the number of slots, Spark Host has you select the server location and hardware for your game. This could be confusing for newbies, so each tier comes with a rough guideline on what kind of population and map size goes best with it. The more you invest, the more RAM and SSD storage space is at your disposal.
Each tier has an Extreme alternative with much better CPUs and memory. The best and most unusual thing about this is that you can view each server location and the hardware it offers. You might get a lower ping by choosing Dallas, but faster RAM and connection speeds in Miami may sway your choice, for example.
Sparked Host's pricing is competitive. Rust server options start with the Enterprise Cloth tier for just $10/month. Going with this option gets you 5GB of RAM and 50GB of storage on an enterprise SSD. Scrap is the most elaborate option that comes with 12GB of RAM and three times the storage. It also ensures your server will run on a Ryzen 9 5900X and can support up to 120 players, which is quite the bargain at $48/month, not counting the annual discount.
Indifferent Broccoli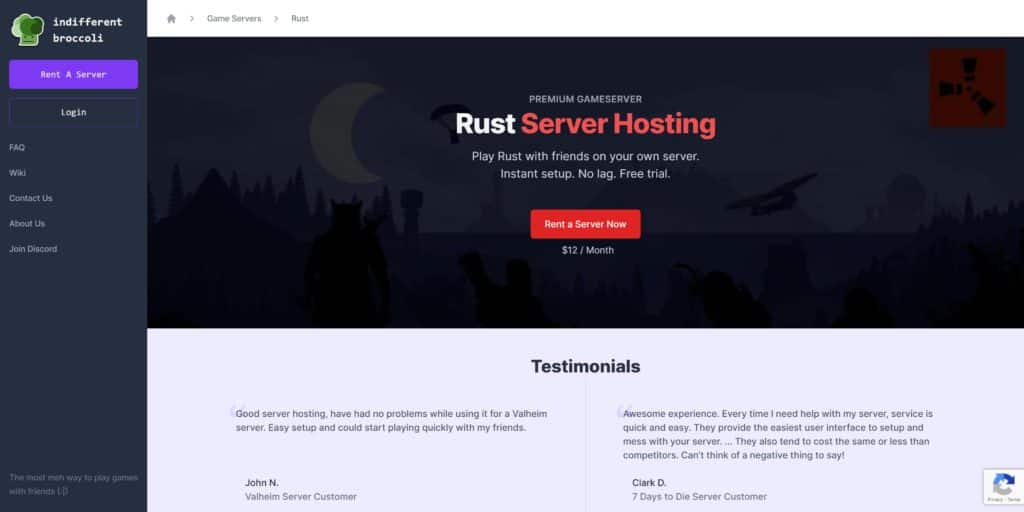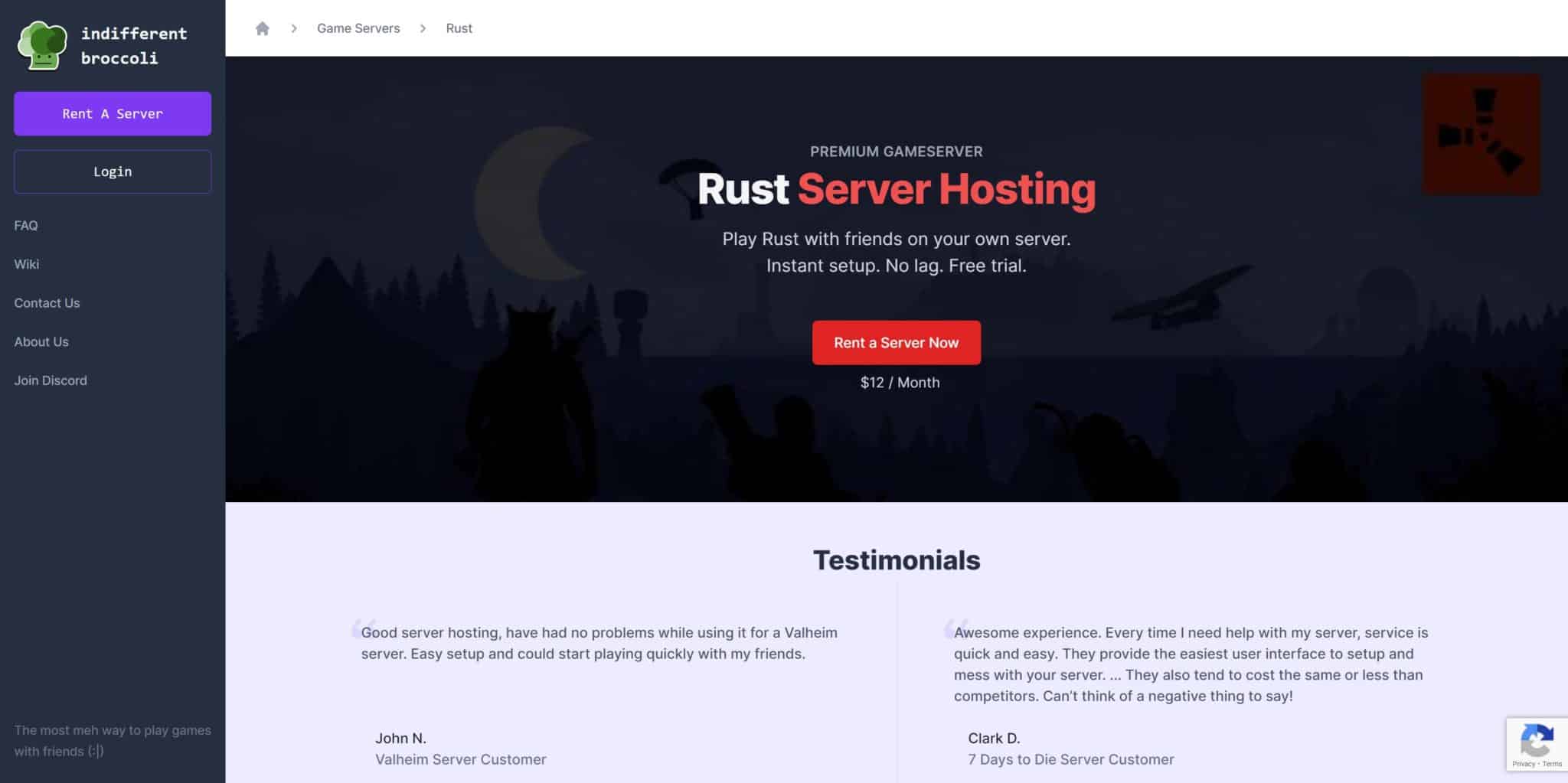 Apart from having one of the most awesome hosting provider names ever, Indifferent Broccoli is worth checking out for its unprecedented free trial. That's right; you can experience the easy server setup and try some wacky map settings with a few friends before having to part with any cash. You don't even have to enter any credit card info to experience the trial.
There's nothing to do on the Rust signup page other than create an account and choose the slot limit. Indifferent Broccoli's starter access covers 25 slots for $12/month, so going with 50 for $16 is a better deal. Rust data centers are located in the USA and Europe, and the signup doesn't hint at any discounts associated with long-term services.
Indifferent Broccoli advertises itself as a lightweight service. It is indeed the best Rust server hosting provider if you're looking for simplicity. The web interface is minimalist and contains core settings newbies will quickly master. A file manager allows you to view & transfer files onto the server. You can easily restart your server, schedule various types of wipes, and handle plugins by enabling Oxide.
There's even a Discord bot for managing the server from the popular communication app.
Survival Servers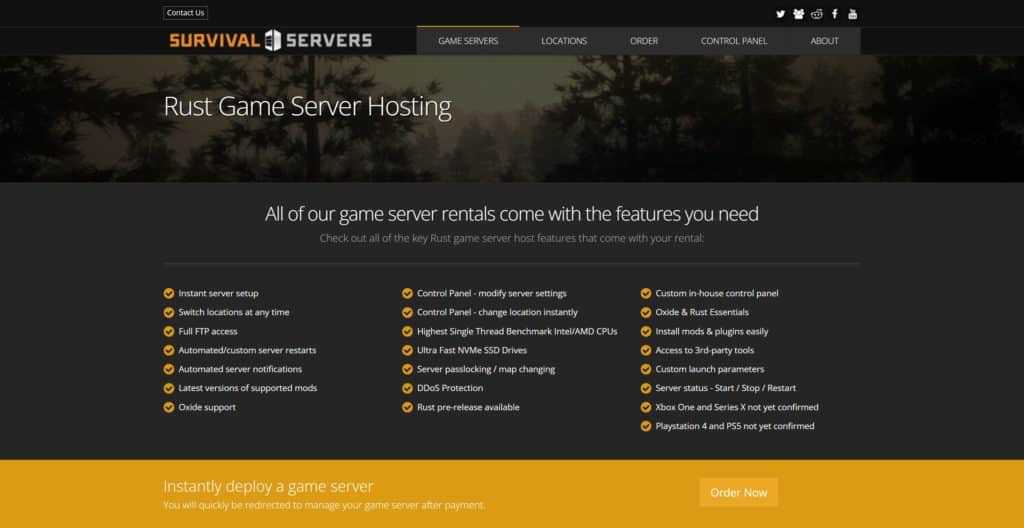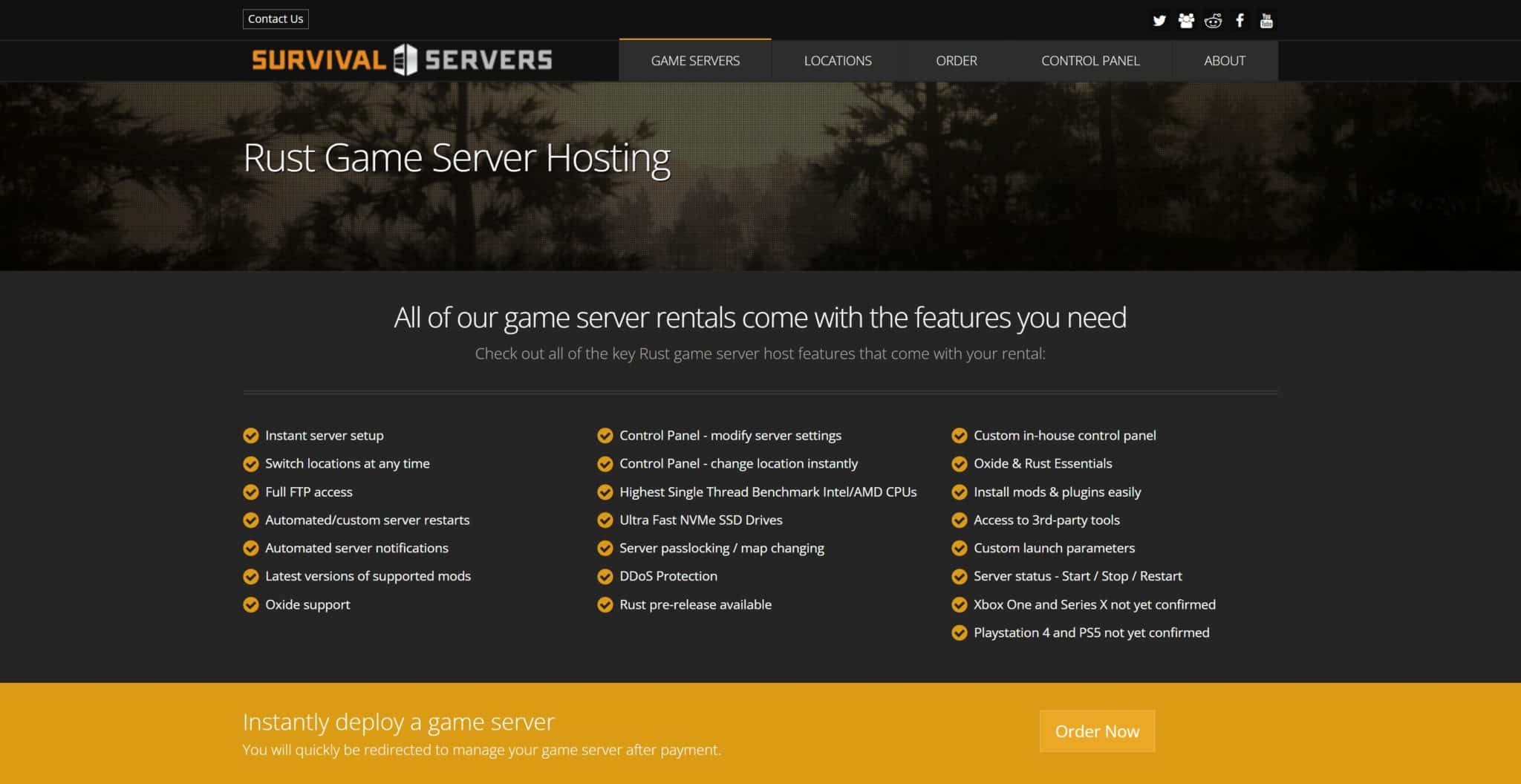 Rust is one of the most lauded survival games on PC. It's only fitting that we include a dependable service that has this core gameplay aspect in its name. Choosing Survival Servers over the competition is a good idea if you're looking to rent multiple servers simultaneously and want the ability to switch locations without hassle.
It's also one of the best options if you're in it for the long run. The annual discount is a jaw-dropping 35%. That amounts to $0.26 per person per month, which is among the most tempting deals for small-scale games. You can pay by various means like credit cards, PayPal, or Stripe.
Survival Servers lets you choose the map during creation and allows for straightforward customization once it's up and running. You can automate various actions like restarts and server-wide messages and tweak the settings through the UI. It's possible to run favorite old versions as well as Rust's up-to-date releases.
US customers get the best coverage as servers are located on both coasts and in Dallas. Europeans can choose between data centers in Germany and France. Players from Asia and Oceania will have to settle for Singapore.