The Genshin Impact 2.4 update finally launched a few days ago. Currently, two Event Banners are available for the First Phase. The banners feature a new character and a 5-star rerun.

The new 5-star character's Event Banner is called The Transcendent One Returns. It features Shenhe, a Cryo 5-star who wields a polearm. Her banner runs until January 25th; that's still more than two weeks left to pull for her. The guide below discusses the best build for Shenhe. We break down her playstyle, abilities, best weapons and artifacts. Continue reading to find out more!
Breakdown of Talents and Playstyles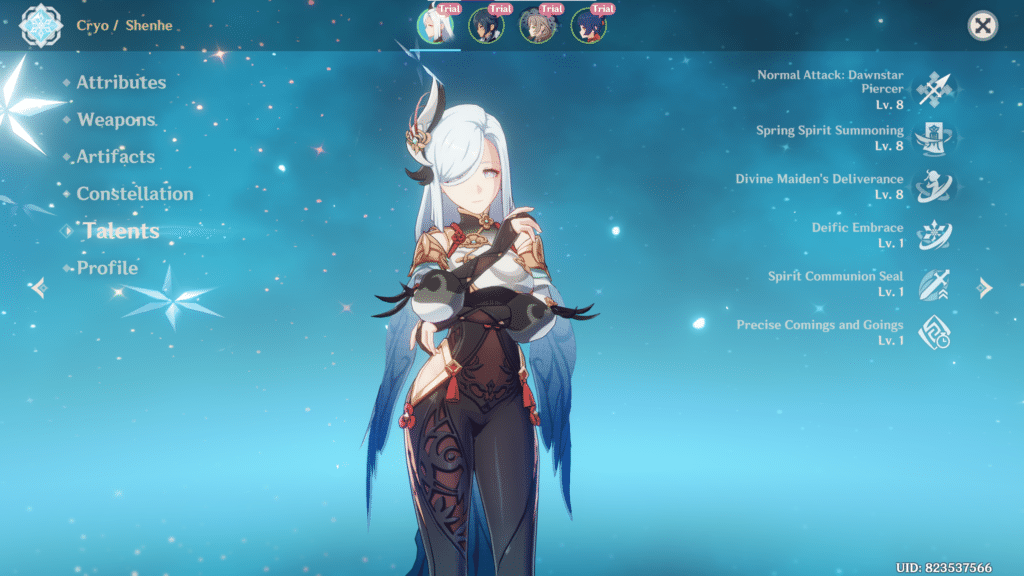 Shenhe, the Cloud Retainer's disciple, is frequently mistaken as an adeptus because of her demeanour and mannerisms. In team fights, she's perfect for enabling Cryo and Physical resistance shred and working as a support for full Cryo teams. Some drawbacks of Shenhe's playstyle include a high Elemental Burst cost and the inability to work well in non-Cryo teams. Non-Cryo characters are unable to utilise Shenhe's buffs to their full power.
Shenhe is best played as a Cryo support who buffs your team's DMG. However, she can also be played as a pure ATK Sub-DPS. Her Elemental Skill, Spring Spirit Summoning, has two modes– a quick press and a hold option. Once activated, nearby party members receive the Icy Quill effect. The Cryo DMG the Skill deals depends on the mode you use.
If you press to activate the Elemental Skill, Shenhe dashes forward and deals Cryo DMG to enemies in her path with the help of a Talisman Spirit. However, if you hold down on the Skill, Shenhe's Talisman Spirit deals the Cryo DMG.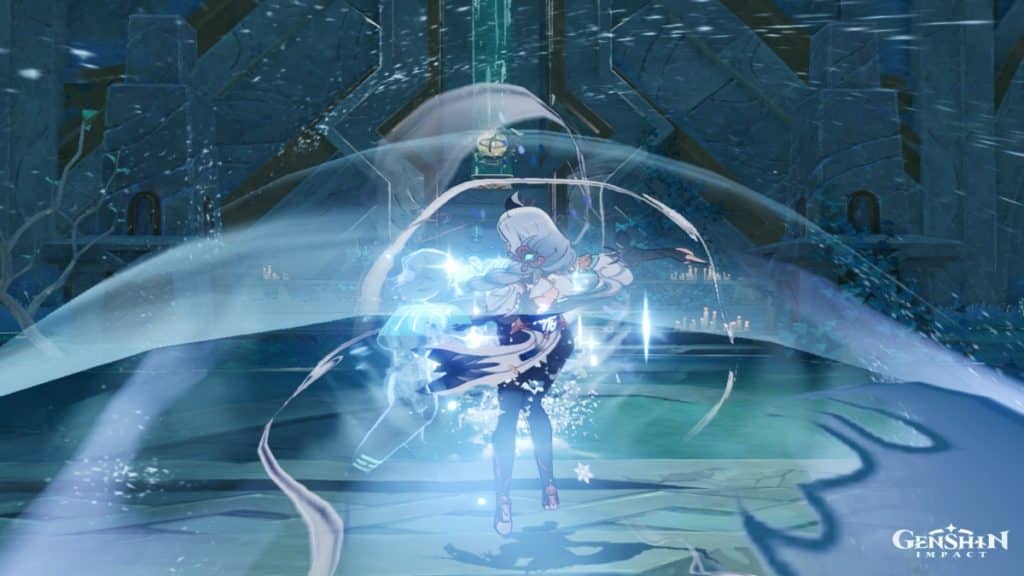 The Icy Quill effect increases the Cryo DMG of Normal, Charged, Plunging Attacks, and Elemental Skill and Bursts based on Shenhe's current ATK. The buff lasts for 10 seconds when you press the skill and 15 seconds when you hold down the skill.
Next, Shenhe's Elemental Burst, Divine Maiden's Deliverance deals AoE Cryo DMG through the Talisman Spirit. The Talisman Spirit creates a field that then decreases the Cryo Res and Physical Res of enemies within the area. The field also deals periodic Cryo DMG to enemies inside.
As a burst support and buffer to Cryo DPS characters like Ayaka and Ganyu, Shenhe is undeniably a great asset to have in the team. However, it can be difficult to find other uses for her if you don't run a lot of Cryo DPS units as her playstyle can be a bit niche.
The optimal rotation for a Shenhe team composition typically goes like this:
Hold down Shenhe's Elemental Skill (E).
Switch to your main Cryo DPS and deal DMG.
Switch back to Shenhe and tap her Elemental Skill (E).
Activate Elemental Burst (Q) when it's up.
Rotate to DPS and deal DMG while buffs are up.
Weapons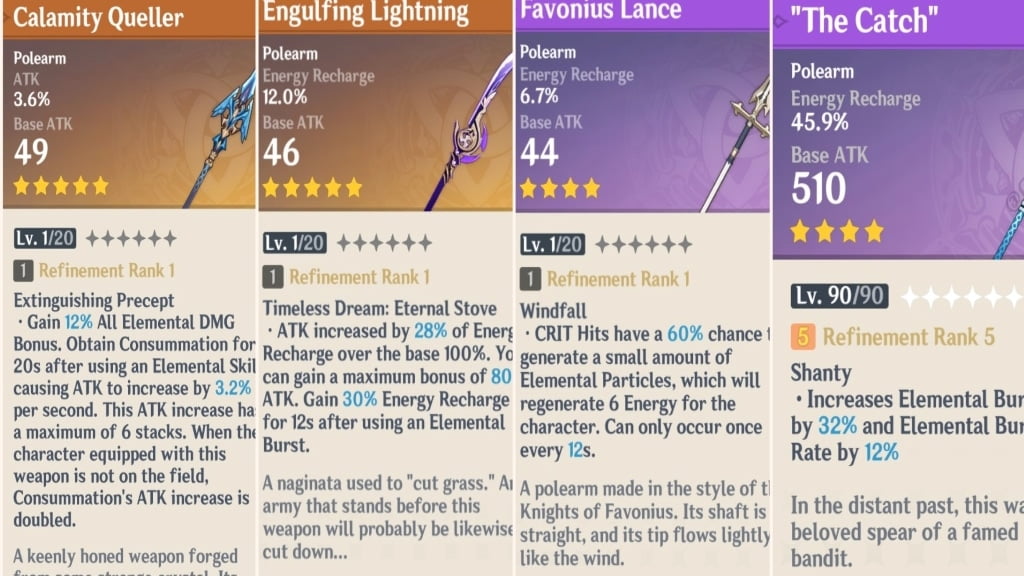 The recommended 5-star weapon for Shenhe is the Calamity Queller. This weapon is featured in the current weapon banner alongside the Primordial Jade Winged-Spear. The Calamity Queller gives a 12% Elemental DMG Bonus and increases the wielder's ATK after using an Elemental Skill. The effect is triggered every 20 seconds.
An alternative 5-star weapon great for Shenhe is the Engulfing Lightning for its Energy Recharge and ATK Bonus. For F2P and low spender players, here are alternative 4-star polearms you can equip on Shenhe.
The best in slot 4-star weapon on Shenhe is the Favonius Lance. This weapon has a high Base ATK and an ER substat. The Favonius Lance also has a passive effect that generates a small number of Elemental Particles that regenerate 6 Energy for a character whenever the user's attacks Crit.
Lastly, the F2P Catch can also be a great ER polearm to equip on Shenhe. Sadly, if you don't have this weapon yet, you'll need to dedicate a few hours to catch fish to get it.
Artifacts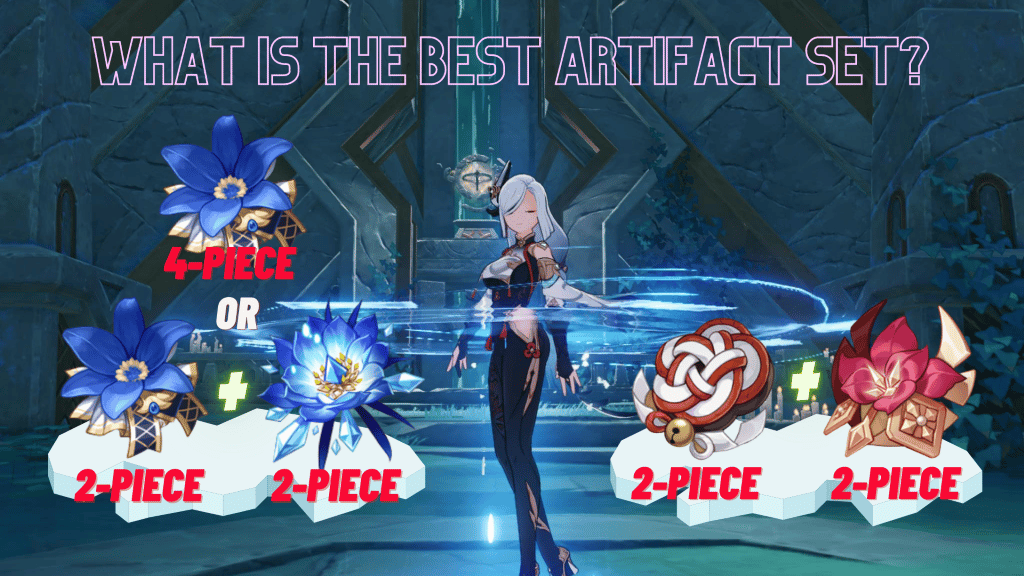 The best build is not complete without discussing artifact sets. Luckily, you can use a couple of artifacts sets to build Shenhe as either a burst support or sub-DPS optimally.
If you're currently not running a character with a Noblesse Oblige artifact set, you can build Shenhe with either a full 4-piece or a 2-piece paired with a 2-piece Blizzard Strayer. A 2-piece Noblesse Oblige increases the user's Elemental Burst DMG by 20%, while a 4-piece set increases all party members' ATK by 20%. In addition, a 2-piece Blizzard Strayer set gives Shenhe a 15% Cryo DMG Bonus.
Another artifact set you can build on Shenhe is a 2-piece Gladiator's Finale paired with a 2-piece Shimenawa's Reminiscence for the 18% ATK increase from each set. Since Shenhe's buff scales from her current ATK.
You can go for ATK% on the Sands, Goblet, and Circlet for the main stats. However, if your ER is running low, you can replace the ATK% Sands with an ER one. In addition, if you want to focus on Shenhe's DMG rather than buffing your team's Cryo DMG, you can switch the ATK% Goblet with a Cryo DMG Bonus one.
The substats to focus on are ATK%, Energy Recharge, and CRIT Rate/DMG. If you're running a Favonius Lance on Shenhe, it's important to get a decent amount of CRIT Rate to proc the weapon's passive.
Substats:
ATK%
Energy Recharge
CRIT Rate/DMG
Conclusion
As a burst support and buffer to Cryo DPS characters like Ayaka, Ganyu, and Eula, Shenhe is undeniably a great asset to have in the team. However, it can be difficult to find other uses for her if you don't run a lot of Cryo DPS units, as her playstyle can be a bit niche. Do you plan to pull for this new 5-star character, or are you skipping?