While smaller than other packs in the Sims 4 franchise, stuff packs are crammed with furniture, items, CAS pieces, and gameplay! From hosting seances with ghosts to going bowling with friends, stuff packs add a whole new dimension to your game!
For $9.99 per pack, we've ranked the Sims 4 stuff packs from 'must have's to packs you can skip. So, unless you're a collector of packs, scan this list to pick your favorites and add them to your wishlist on game stores, Origin, or Steam.
The Best Sims 4 Stuff Packs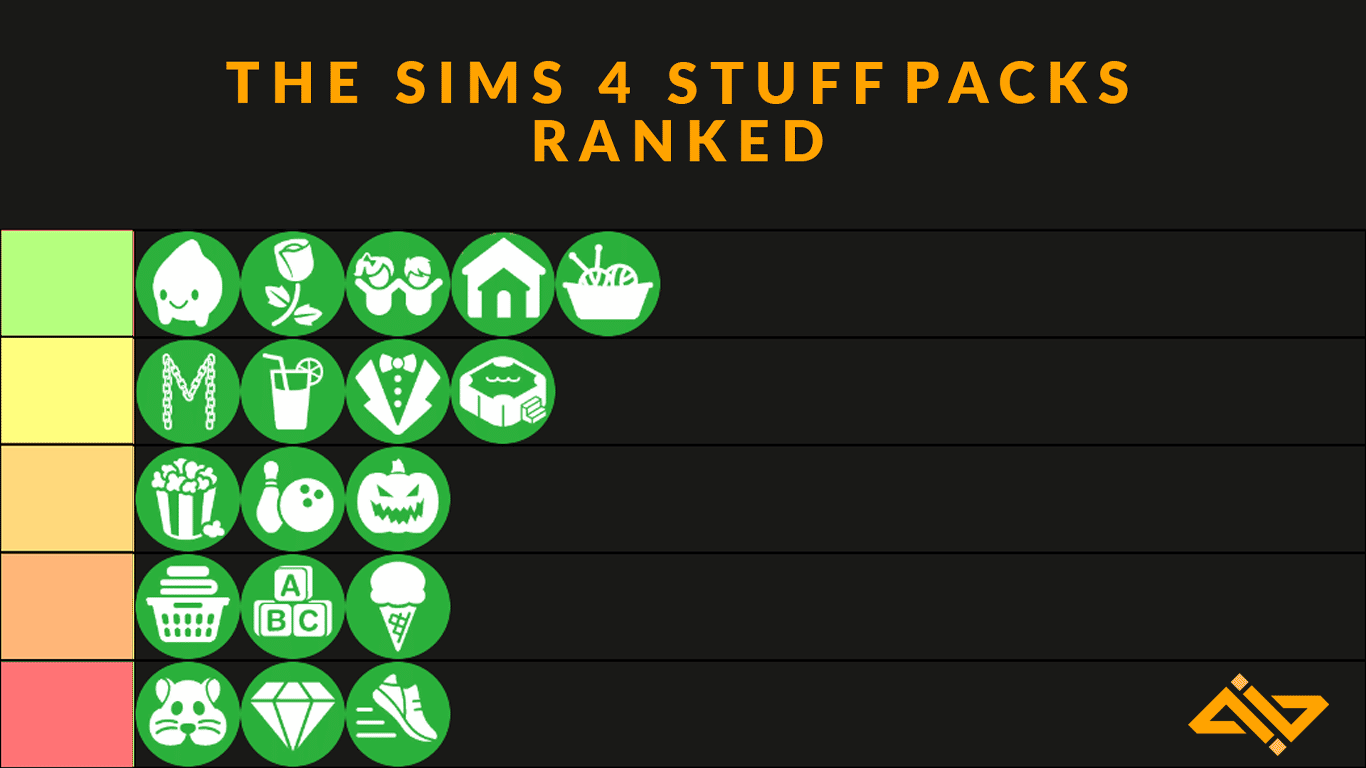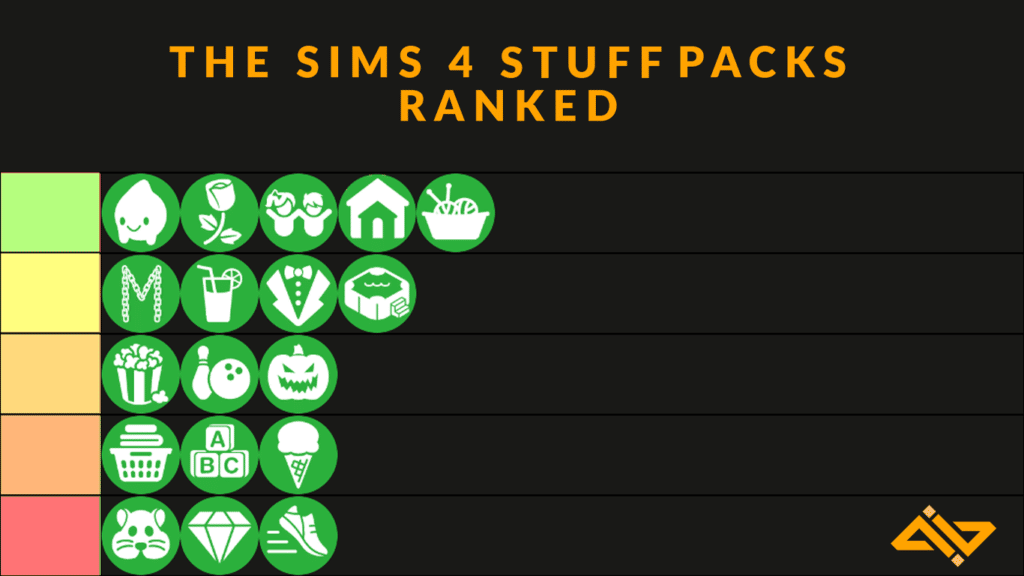 Paranormal Stuff
Romantic Garden Stuff
Kids Room Stuff
Tiny Living Stuff
Knitting Stuff
Moschino Stuff
Backyard Stuff
Vintage Glamour Stuff
Perfect Patio Stuff
Movie Hangout Stuff
Bowling Night Stuff
Spooky Stuff
Laundry Day Stuff
Toddler Stuff
Cool Kitchen Stuff
My First Pet Stuff
Luxury Party Stuff
Fitness Stuff
Possibly the best stuff pack in the Sims 4 is Paranormal Stuff. The pack not only introduces new objects but gameplay and a new career. Light candles to set the mood and hold a seance to befriend your new ghastly roommates. With the Haunted House lot trait, expect to deal with a few unwanted guests. However, you can master the medium skill to calm the spirits around you.
As you increase your skill and impress a new spirit called Guidry the ghost, you'll learn rituals to summon Bonehilda, the skeleton maid. Additionally, the pack includes a new career as a Paranormal Investigator – a freelance career in which you expel unwanted ghostly visitors.
Who doesn't love a romantic victorian garden? Unless you're an indoor person with a couch potato Sim, you should try the romantic garden stuff pack. Cultivate a lush garden with new plants and trees. Buy a wishing well and toss a coin into the mystical waters in the hope that your wish will come true.
Dress in new floral clothing or splash around in the new victorian fountains amongst mossy statues. With arches wrapped in ivy and romantic hairstyles and outfits, every Sim will surely fall in love while exploring these new gardens.
The Sims 4 base game has little toys and decor regarding kids rooms. However, with this pack, your Sim children can dive into a wonderland of color and fun. Customize your kids rooms with new furniture and themes like space robots and flower flourishes. In addition, with new toys such as monster trading cards and electronic battle stations, every child can have a more memorable childhood.
If games and trading cards aren't for them, they can dabble in the art of puppeteering with the new finger puppet theatre. In addition, they can entertain friends and family while dressed in stylish new clothing and hairstyles for kids.
Are you ready to take on the Tiny Living challenge? Pack versatile, functional, yet stunning furniture into your new tiny homes. With unique traits and benefits to living small, there's a ton of fun packed into a small package. For example, try the Murphy bed-bookshelf combo or stay with the new lounge chairs with additional storage.
Lastly, get your Sim into the mood with new CAS items like turtlenecks and low-key lifestyle objects. With your new tiny home, every knock and cranny with be as cozy as ever.
Looking for a new hobby? Try the Sims 4 Nifty Knitting stuff pack to create new clothing for the entire family. Simply pick up some knitting needles and purchase some yarn to craft new clothes, toys, and home decor. So, with a bit of practice, your Sim is sure to knit stunning pieces, whether you're sitting outside on a bench or in the new cozy rocking chair.
This stuff pack is unique as it adds a new platform to buy and sell knitted items. Use Plopsy to sell everything from socks to paintings. The platform isn't limited to knitting items and opens a new door for your Sims to make money.
Released to celebrate the launch of Moschino's Capsule Collection, this stuff pack adds new stylish clothing and a freelance career. Try the new clothing items from the Capsule Collection to show your love for style. If fashion isn't your thing, try out the new freelance career – being a photographer.
Using the new furniture, decor, and pictures, build a personal studio to capture the essence of your muse. Curate collections and build your photography skill to learn how to capture emotions to promote your work in the next extensive fashion campaign or magazine cover.
Whether you have the Sims 4 Seasons installed, soak up the sun with the Backyard Stuff pack. From gliding down the new lawn water slide to cooling down in the shade of your back porch, there's something for everything.
Style your backyard with new items such as wind chimes and bird feeders. Lounge around in new CAS clothing on colorful patio furniture or decorate with hanging lights and pot plants. Don't forget to serve fresh lemonade to help your Sim stay cool during the summer haze.
Try the vintage trend in your Sims 4 game. Whether you'd like to throw your Sims back a couple of decades or just appreciate the style, this stuff pack has everything you need. First, shop for a new wardrobe with various vintage pieces and accessories. Then, once dressed to the tee, use the vanity table to try out new makeup to finish your glamorous look.
Hollywood-inspired fashion is elegant and as timeless as ever. Your Sim is sure to turn heads with gorgeous hairstyles and diamond jewelry. And if the outfits aren't lavish enough, you can take your lifestyle up a notch by hiring a personal butler.
Similar to the Sims 4 backyard stuff, this pack is all about improving your Sim's outdoor space. With a new grill, outdoor bar, and hot tub, your Sim has no reason to avoid their new perfect patio.
Create an outdoor lounge and relax in the breeze with new stylish furniture and decor. So dress in new summer-inspired clothing options and relax with a barbecue grill and some chilled refreshments.
Had a stressful week at work? Are your Sim's fun and social bar in red? Consider the Movie Hangout stuff pack to sit back, grab a snack and watch movies with friends. This pack adds everything you need, such as a projector screen, a popcorn popper, and chilled loungewear. Turn your Sim's lounge into a movie theatre or enter the wilderness to watch an outdoor movie.
With new furniture and colorful lighting, nothing stops your Sims from setting the mood and selecting the perfect film. The popcorn popper is the go-to option when serving snacks to your friends and includes butter, cheddar, or sugary toppings.
Whether building a community lot or renovating your home, with this Sims 4 pack, you can create a bowling hangout for all your Sim's friends. First, buy the new bowling lane, bar, and neon lights to create a stunning environment for the perfect bowling night. Then, improve your skills and learn trick shots that impress all your friends.
Customize your alley with new decor, retro furniture, and ambient lighting. Then, dress in brand-new bowling shirts and shoes to get your game on. Whether they're a beginner and need bumpers or a pro, your Sim will have one of the best nights of their lives!
As the perfect pack to celebrate Halloween, this spooky pack adds costumes, treats, and tricks to your game. Put up those ghastly decorations and carve pumpkins at the new carving station to set the mood. Then, celebrate the season with the spooky candy bowl and invite Sims for a ghoul-like party.
One of the best features of this pack is that ghost Sims can put candle-lit pumpkins on their heads while others can dress up like pirates or superheroes. With new costumes and makeup, there's something for Sims of all ages.
What's that smell? It's probably your Sim's dirty laundry! This pack allows your Sims to throw dirty clothes into the wash and hang them up to dry for spring-fresh looks. Whether you're starting with a washing tub or a new washing machine, there are various ways your Sims can clean their laundry with pride. Upgrade your machines to run quicker or silently, which is perfect for Sims with larger households.
Lastly, this pack adds an entirely new country aesthetic to the game. Nothing stops you from building a country living cottage, from rustic wash tubs and lines to wooden tables and wicker furniture.
Like the children's stuff pack, this pack adds new toys, clothes, and decor for your toddlers. Host play dates to burn off some energy or give them new ways to express themselves with clothing and hairstyle options. For example, dress your toddlers in butterfly-winged tees to animal-themed outfits before they run off to play on the new slides and crawl tunnels.
Looking for your toddlers to make new friends to grow up with? Get your Sim to host a play date and invite other toddlers to play with the new toys and outdoor items. Parents can organize fun games, tell stories, and grill up their favorite food while the toddlers keep each other entertained.
Ready to upgrade your kitchen with sleek, modern appliances? The Sims 4 Cool Kitchen stuff pack brings gourmet furnishings, new appliances, and even an ice cream maker. Create different flavors of ice cream, gelato, and soft serve! Then, add toppings such as banana, sprinkles, or chocolate sauce to top it all off.
With new appliances, furniture, clothing, and hairstyles, this pack brings a new kitchen look to the game that every Sim will love. The pack is perfect for every chef or beginner cook.
My first pet stuff builds on to the Cats and Dogs expansion pack. It adds new pet items, accessories, decor, and habitats. Now your Sim can own small pets like hamsters, rats, pygmy hedgehogs, and miniature bubalus.
There are various pet-themed decor items and furniture for dining rooms, kitchens, and kid's rooms. Lastly, match your pets as your dress with adorable outfits and unique accessories. This pack is perfect for any pet lover.
Pick the perfect outfit, choose a stunning centerpiece and decorate your home with the luxury decor in the Sims 4 Luxury Party Stuff. Then, host a lavish party with luxury items, banquet tables, and a chocolate fountain! This pack focuses on adding lavish outfits and furniture to the game, specifically for your Sims to host unforgettable parties!
Ready to get physical? The Sims 4 Fitness Stuff amps your game by adding new athleisure outfits and yoga pants. Reach your fitness goals by scaling the climbing wall or hitting the treadmill. Build the perfect home gym by decorating with new nature-inspired objects and furnishings. Your Sim can even pop in some earbuds and watch workout videos at home.
Whether you're learning advanced bouldering skills, improving your athletic ability, or simply at the gym to look good, this pack allows you to do it in style!
How Much Do Sims 4 Stuff Packs Cost?
All Sims 4 stuff packs cost the same: $9.99. However, the Sims 4 expansion, game, and stuff packs are often on sale. In fact, you can expect to see around six sales a year every two to three months.
Sales range between 30% to 50% off, bringing the stuff packs down to an average of $6.99.