Modern Warfare 3 presents players with a wide variety of weapons, some original and some being ported over from MW2. So, you'll have quite a lot of options in the sniper rifle department as well. But which one should you choose? What are the best sniper rifles in Modern Warfare 3? Where should you start your camo grind?
To answer all of those questions and make the whole process hassle-free for you, I've compiled a list of the 8 best sniper rifles in Modern Warfare 3 that fit the bill, in my opinion. These rifles were chosen based on their damage output, ADS speed, usage flexibility, and their feel.
FJX Imperium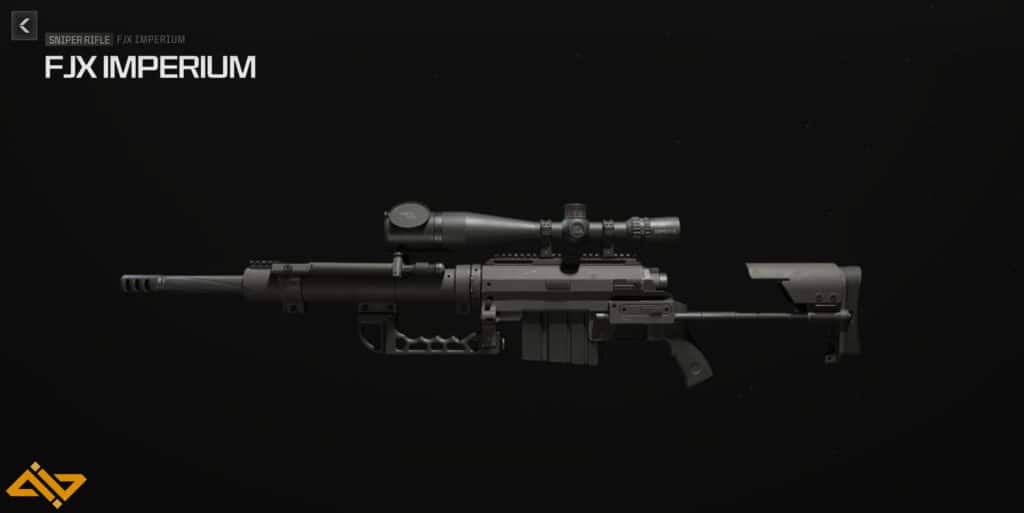 Unlocks at Level 55
The FJX Imperium is the best sniper rifle in Modern Warfare 3 because of its superior ADS speeds, stability, and damage output compared to any other sniper rifle in the game. This is the re-imagination of the Intervention from the OG MW3 and is the best quick-scope weapon you can use in the current COD.
Recommended Attachments:
Underbarrel: Field-Wrapped Handle
Bolt: FJX H-Bolt
Grip: Skull-40 Rear Grip
Laser: VLK LZR 7MW
Optics: MCPR-300 9.5x
Want to learn more? Take a look at our Complete Loadout guide for FJX Imperium!
You can tune these attachments to your liking and playstyle. This should create a decent FJX that is capable of both long-range sniping and quick scoping.
SP-X 80
Unlocks once you Level up the LA-B 330 to Level 18
I have had an excellent experience with the SP-X 80 in Modern Warfare 2 and Warzone. It has proved to be a highly reliable sniper rifle with a fast rate of fire, manageable recoil, and good damage over long range. The weapon still holds high ranks in MW3. It is easier to unlock as compared to the FJX Imperium but provides an almost similar experience.
Recommended Attachments for the SP-X 80:
Bolt: ZLR Reinforced Lockbolt
Muzzle: Nilsound 90 Muzzle
Optics: Your Choice – I recommend the Signal 50 8x
Stock: Max DMR Precision Stock
Laser: FSS OLE-V Laser
You can use this SP-X 80 to snipe efficiently on tighter maps as well as on the ones that have longer alleys.
Longbow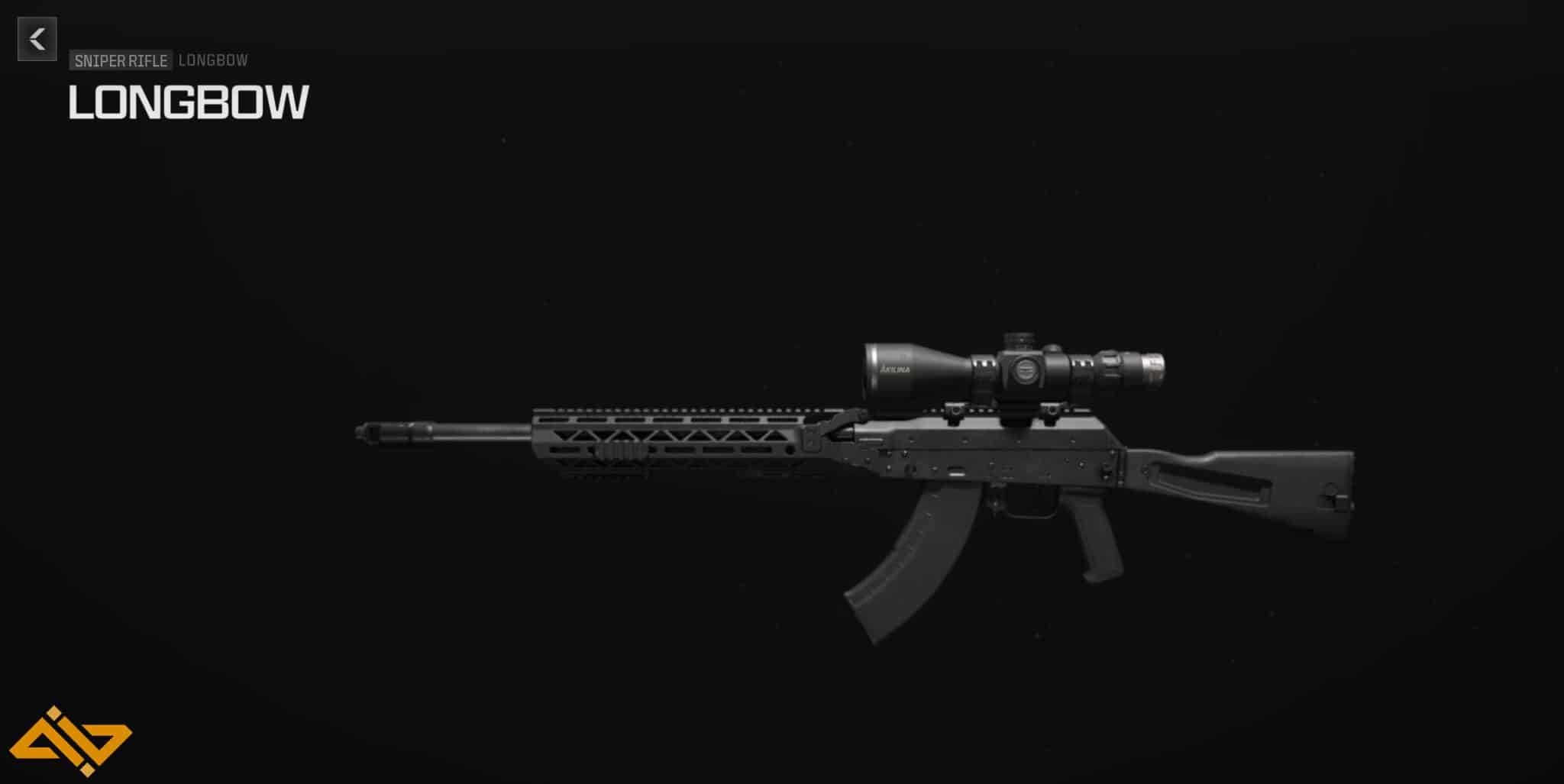 Unlocks at Level 28 OR with Vault Edition
Presenting the Longbow, a balanced sniper rifle that is good for everything. I have had it from the start since I got the Vault edition for MW3, and let me tell you…this thing absolutely slays when you are in the early levels, and people don't have builds figured out yet.
This weapon has a very high sprint-to-fire speed, and its 25-round magazine ensures that you can keep nailing those one-shot kills without having to worry about reloads. It's one of the best sniper rifles in Modern Warfare 3, for sure.
Recommended Attachments for the Longbow:
Laser: FSS OLE-V Laser
Ammunition: 7.62x39mm High Grain Rounds
Rear Grip: Demo 650 Grip
Magazine: 10 Round Magazine
Stock: No Stock
I've built this Longbow around the idea of maximum ADS speed and quick scoping in tighter spaces. Give it a try and experiment with stock / no-stock options.
KV Inhibitor
Unlocks at Level 25
The KV Inhibitor is a semi-automatic sniper rifle in MW3, that is…basically, the Dragunov. This sniper rifle won't suit many players because of its high recoil and ADS speeds. I also find the recoil and the time it takes for the scope to recenter a bit too high for my taste.
So, I've changed the use intent for this weapon. Instead of tuning it as a one-shot rifle, we'll tune it to suit a more spray-n-prey playstyle. With that in mind, it becomes a more viable option. Let's take a look at the attachments:
Recommended Attachments for the KV Inhibitor:
Stock: Ivanov Wood Stock
Grip: Broadside Factory Grip
Underbarrel: FTAC-SP10 Angled Underbarrel
Laser / Magazine: SL Razorhawk Laser Light OR Smaller Magazine (for better ADS speeds)
Barrel: Kastovia GXR-12 Barrel
MCPR-300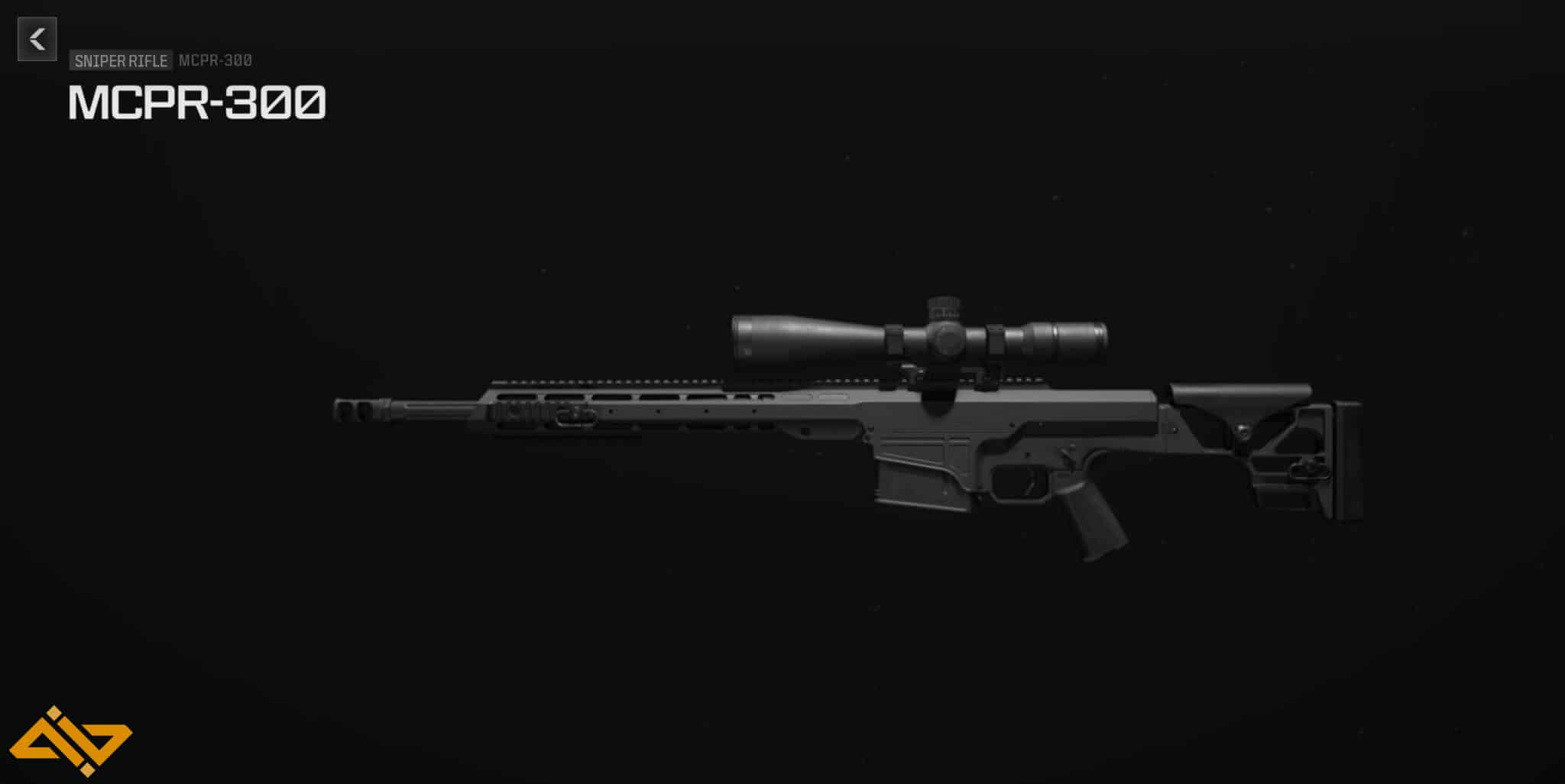 Unlocks at Level 4
If you've played MW2, then you would know that the MCPR-300 was a fan-favorite sniper rifle that was being used in both multiplayer and Warzone with all kinds of loadouts. The MCPR-300 still holds its own in MW3 and is a joy to use at both long and short ranges.
Recommended Attachments:
Rear Grip: Cronen Cheetah Rear Grip
Muzzle: Bruen Agent 90
Barrel: 22″ OMX-56 Barrel
Optics: Forge Tac Delta 4
Magazine: 5 Round Magazine
Want to learn more? Take a look at our Complete Loadout guide for FJX Imperium!
It has a very manageable recoil, a fast rate of fire, recenters pretty quickly, and two-taps enemies at extremely long ranges.
Carrack .300
Unlocks at Level 55
While the Carrack .300 doesn't pack a massive punch, it has the highest fire rate of any sniper rifle in MW3. If you are looking for a weapon that excels at spamming body shots and has a fast-ish ADS speed, then this sniper rifle might be perfect for you.
Recommended Attachments for the Carrack .300:
Optics: Schlager 3.4x Optic
Laser: VLK LZR 7MW Laser
Rear Grip: Carrack Palm Rear Grip
Stock: LEX V14 Stock
Magazine: 15 Round Magazine
You can run this kit if you are feeling speedy that day and just want to spam bullets whenever you see an enemy. This'll get the job done and get you some quick kills.
Katt-AMR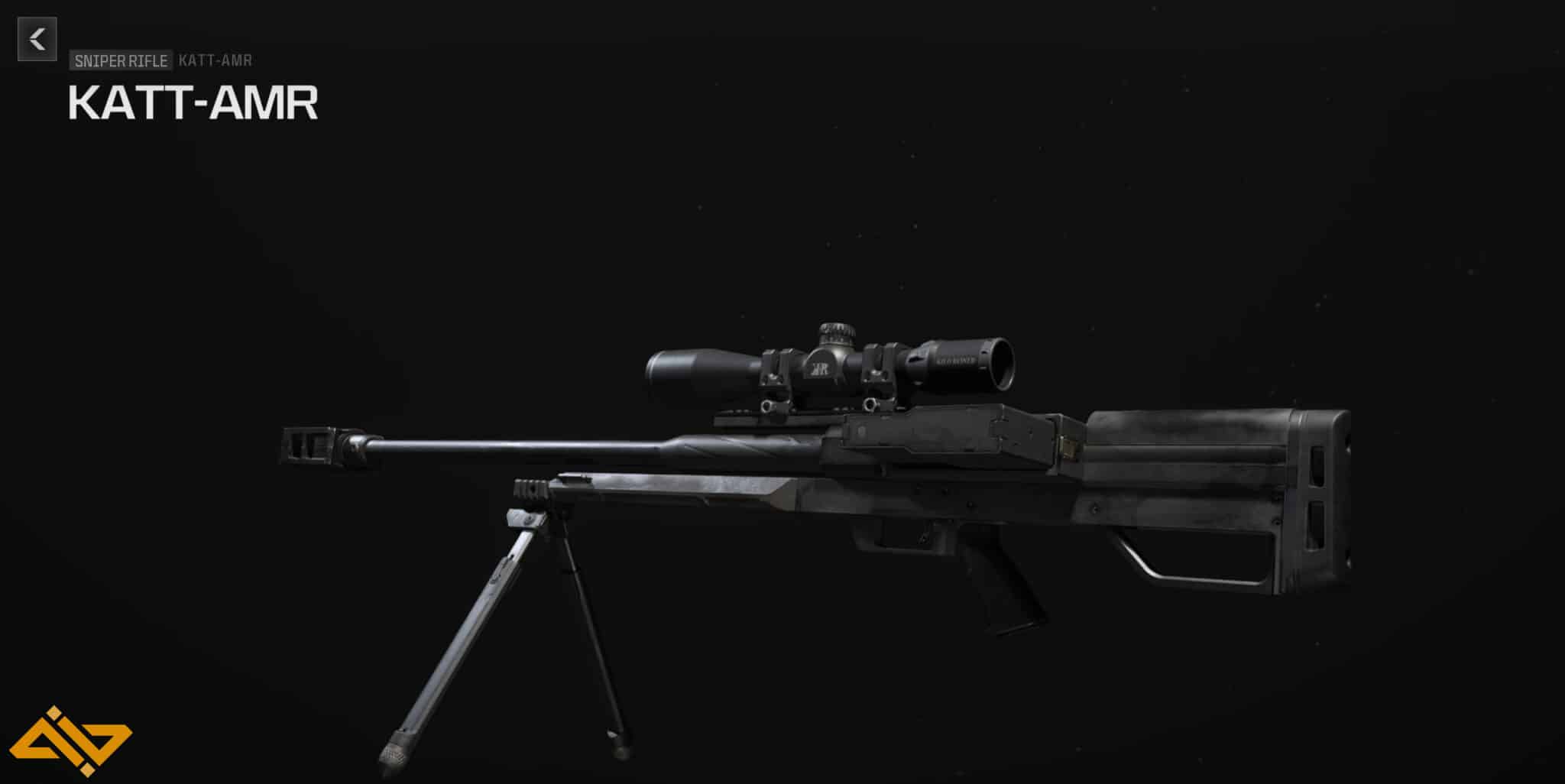 Unlocks at Level 4
The last two rifles on this list are a bit similar to each other. The Katt-AMR comes in at #7, being a powerful sniper rifle that is difficult to handle and has a slow ADS time. This is more suited for those Warzone lobbies where you have a lot of time to track and shoot the enemy.
Recommended Attachments for the KATT-AMR:
Barrel: Perdition 24" Short Barrel
Laser: FSS OLE-V Laser
Stock: Tactical Stock Pad
Bolt: Ephemeral Quickbolt
Underbarrel: Cornerstone Bipod
The aforementioned attachments ensure that you can have a fast ADS speed and high mobility with this bulky sniper rifle and make it a bit more efficient.
Victus XMR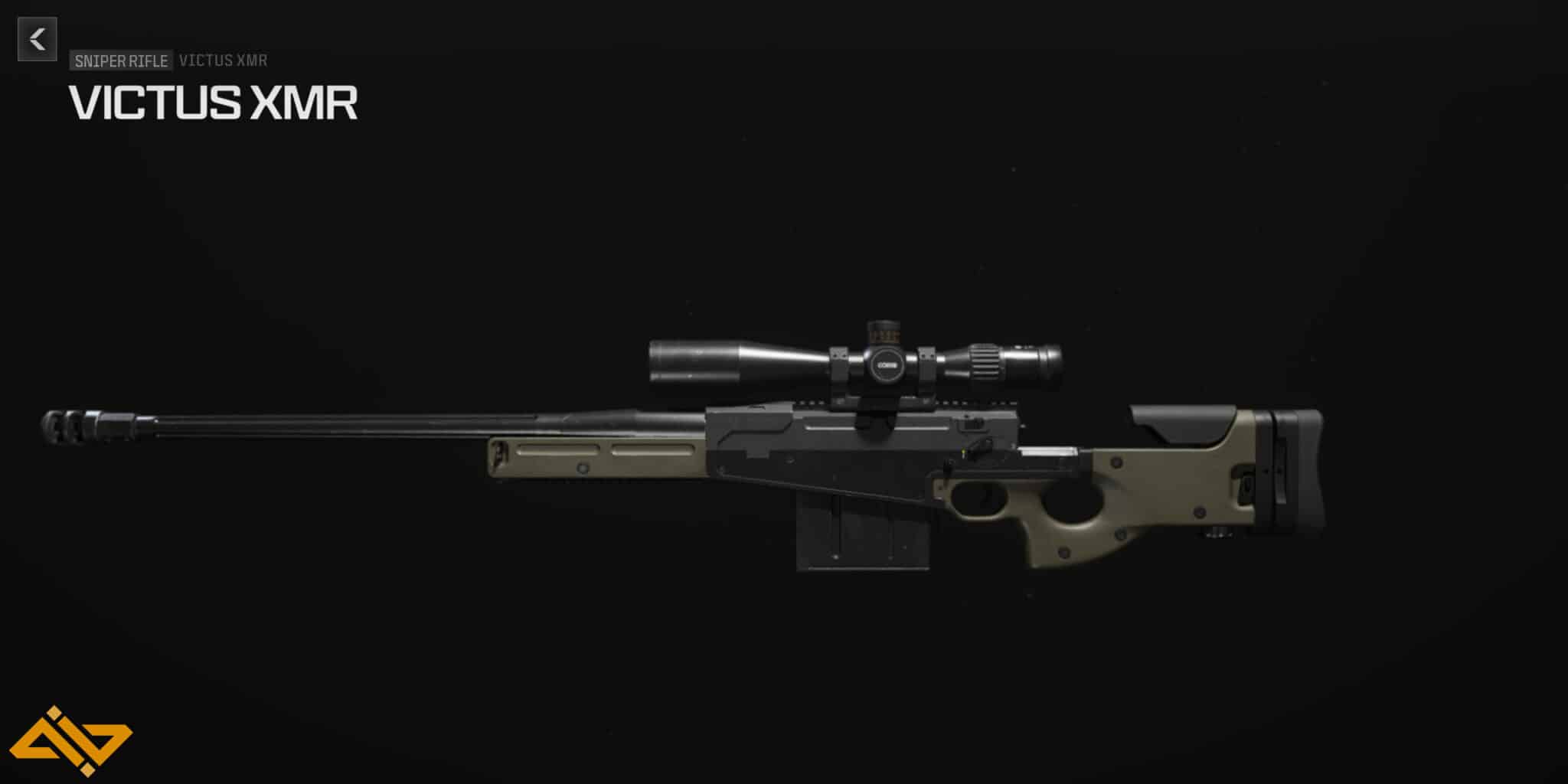 Unlocks at Level 55
Lastly, we have the Victus XMR, which was my favorite sniper rifle when I was grinding Warzone in MW2. This is a slow rifle, sure, but it also hits like a truck and has helped me in securing many WZ wins.
Unfortunately, we have many better-performing rifles in the game now, hence the drop in position. Still, if you are feeling like trying something new, you can run the Victus XMR with my attachments and still get some decent results out of it.
Recommended Attachments for the Victus XMR:
Ammunition: .50 Cal Explosive Rounds
Barrel: Mack 8 33.5" Super Barrel
Stock: XRK Rise 50 Stock
Optic: Sightmax Clear Shot
Laser: VLK LZR 7MW
---
These are, in my opinion, the 8 best sniper rifles you can currently use in COD Modern Warfare 3. This list will keep changing as more weapons are added to the game or if the current weapons are nerfed/buffed. So keep checking WIG to stay up-to-date on all the latest happenings in COD and more!