Marvel's Spiderman is finally released on PC so that more players can enjoy the game and have fun. The game is the remastered version of 2018's Spiderman released on the PS4. As with other games released on PC, you can download various mods for it and enhance your gameplay experience.
There are so many mods that you can choose from, like adding new suits, reshading the game, and adding new character models just to name a few. If you are looking for the best Spiderman PC mods available right now, you've come to the right place!
The best Spiderman PC mods include being able to play as Stan Lee, add the Sam Raimi suit, reshade the game to give it a photorealistic vibe, and removing the HUD to fully immerse yourself in the game.
If you want to know about all the best mods for Spiderman PC and how you can download them, continue reading to find out. With that said, let's swing right into the guide and find out which mods are worth downloading!
Best Spiderman PC Mods You Can't Play Without
There are tons of mods available for Spiderman PC that you can download right now. Some of them are superb, while others aren't worth downloading. Since there are so many options, it can be quite difficult to find the perfect mod that enhances your gameplay experience.
That is why we have hand-picked these mods after trying them out so that you can have more fun while playing the game.
How to Install Mods For Spiderman PC
Before talking about which mods are the best, let's take a look at how you can install them. Since many players might not be aware of how to install mods for Spiderman PC, we will give a brief tutorial to help you out!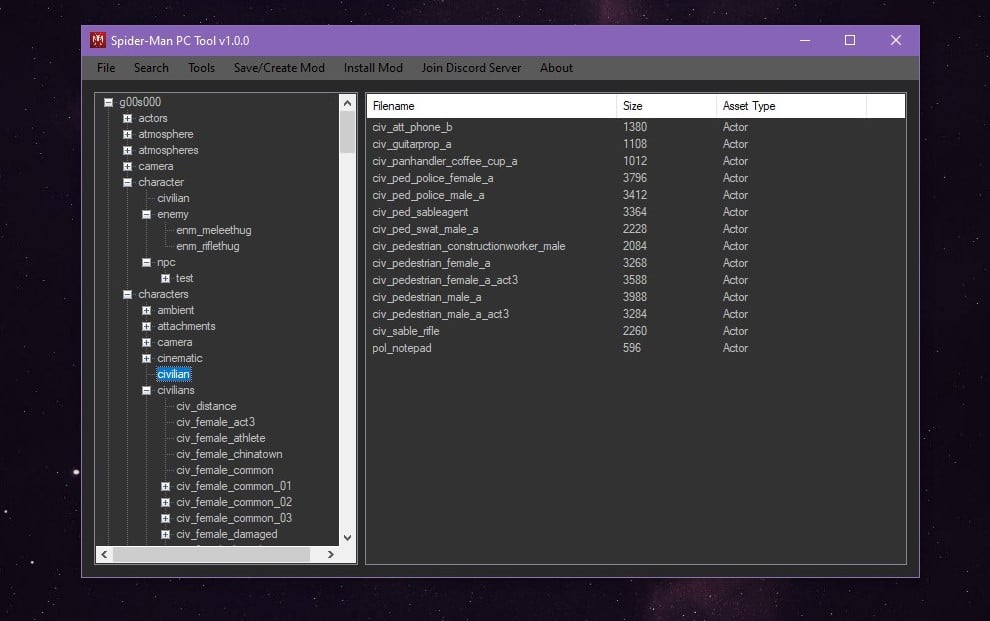 Download the Spiderman PC Modding Tool.
Download the mod you like.
Press the install button on the Modding Tool to add it to the game.
While you can manually add the mods to your game by changing the game files, it is better – and much easier – to download the Spiderman PC Modding Tool. It allows you to simply download the mod and install it by clicking a dedicated install button.
Since this tool is downloaded from Nexus Mods, you don't have to worry about anything. We have been using this tool ourselves to install the mods for Spiderman PC.
Accurate Sam Raimi Suit
Download Now: Accurate Sam Raimi Suit
Mod Size: 94.7 MB
When talking about Spiderman, most people will have Sam Raimi's version in their minds. Since most people watched those movies in their childhood, they would love to play the game with that suit.
Spiderman PC does a great job of adding the original Raimi suit in the game as a nod to the director. However, many fans felt that something was lacking. Insomniac changed the suit a bit to match the game's aesthetic.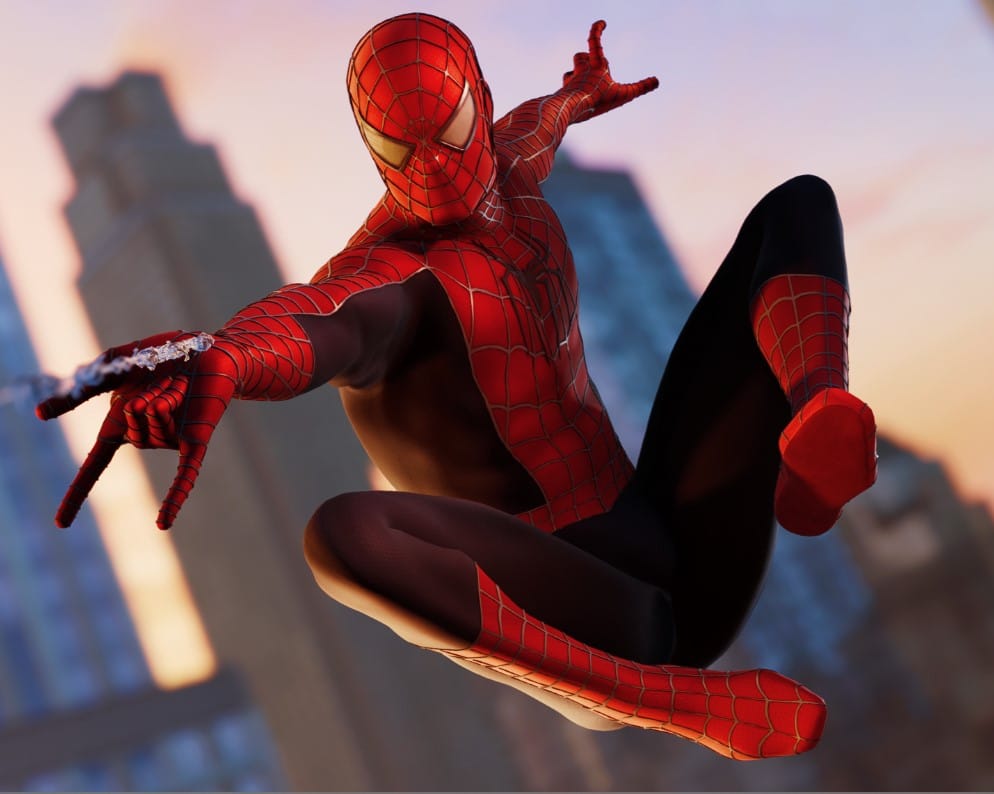 So, if you want to add the movie-accurate version of Raimi's suit to the game, download this mod and dive into the nostalgia.
Miles Morales Suit and Animations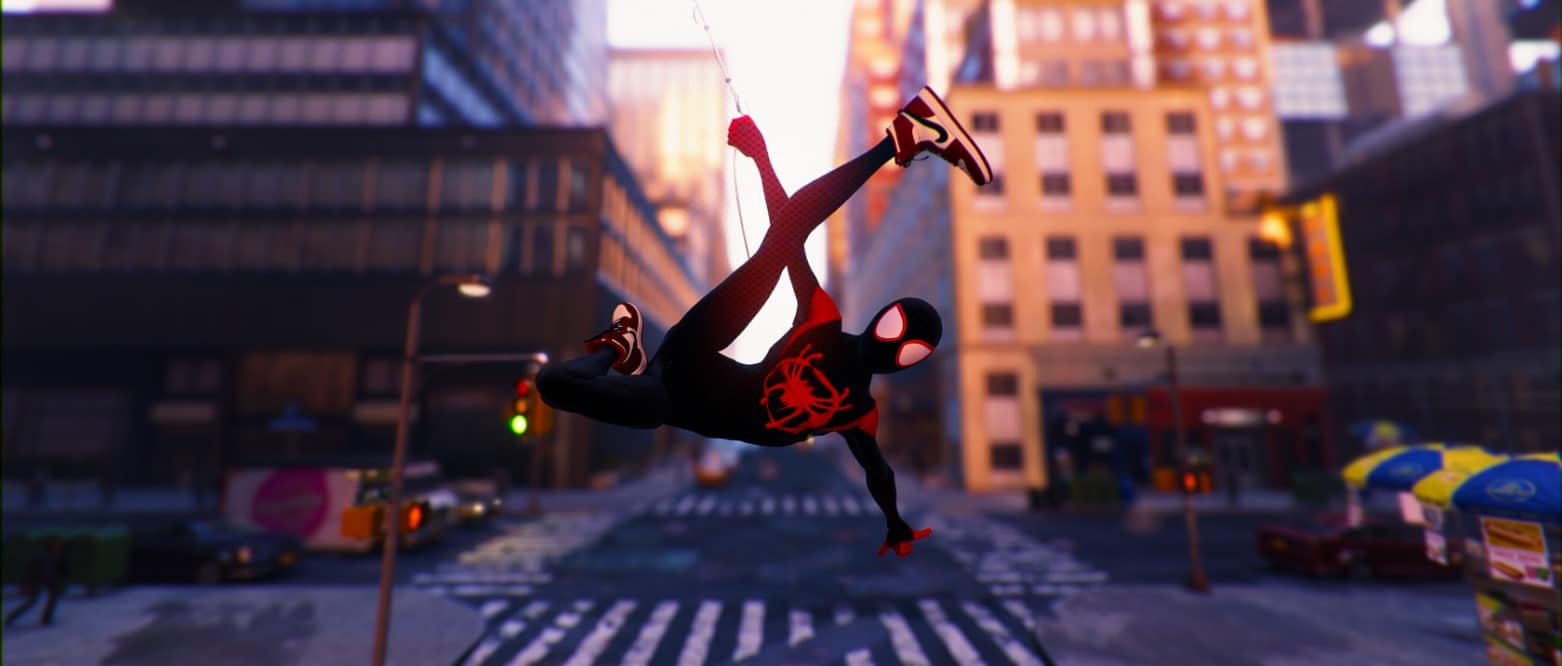 Download Now: Miles Morales Suit and Animations
Mod Size: 16.4 MB
After the recent news about Spiderman Miles Morales coming to PC, why not get the Miles suit and animations while you wait for the game? To get a feel of what you can expect in Miles Morales, download this mod today and add new whacky animations to your game.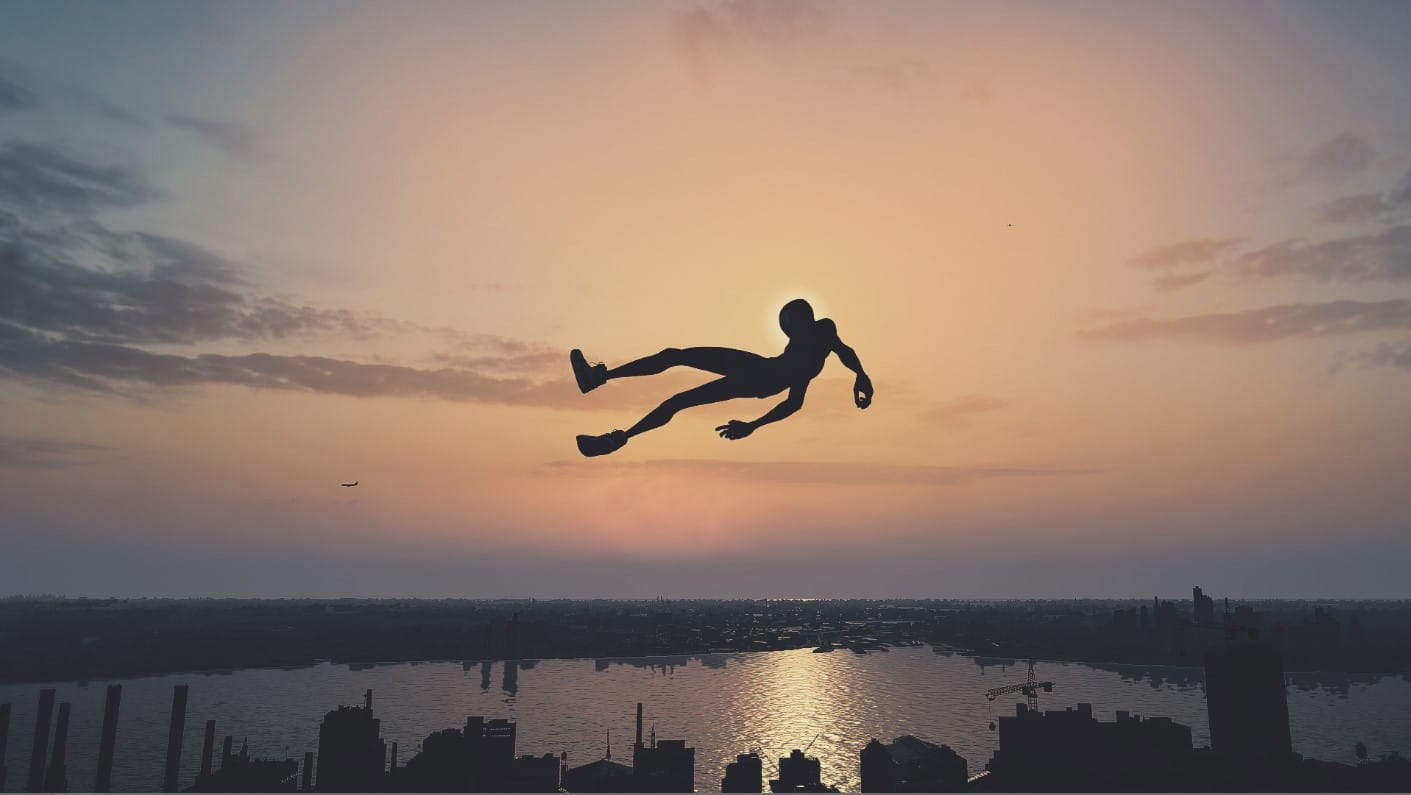 Since Miles is the newer and younger Spiderman, he has some extremely fun swinging animations that are fun to look at. Plus, the suit is just… chef's kiss! While Peter Parker's animations and swinging style are good, I like Miles' better. Try this mod out and prepare for the new game coming soon!
Ultimate Spider-Man Suit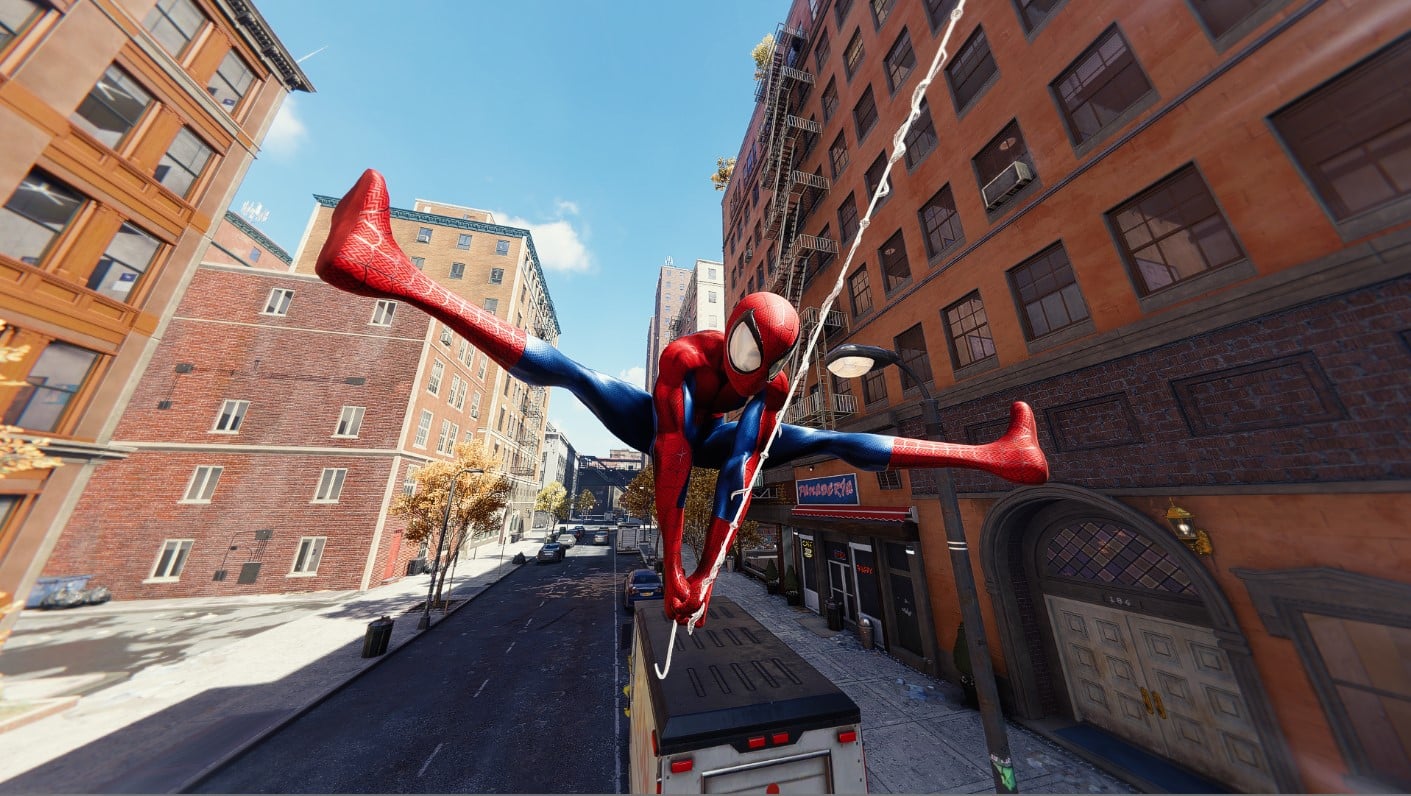 Download Now: Ultimate Spider-Man Mod
Mod Size: 659.7 MB
Speaking of adding suits from other games, this mod allows you to add the legendary suit from the Ultimate Spider-Man from 2005. This suit has wide, large eyes, and an overall sleek look. It makes you feel fast and agile while swinging around and fighting bad guys.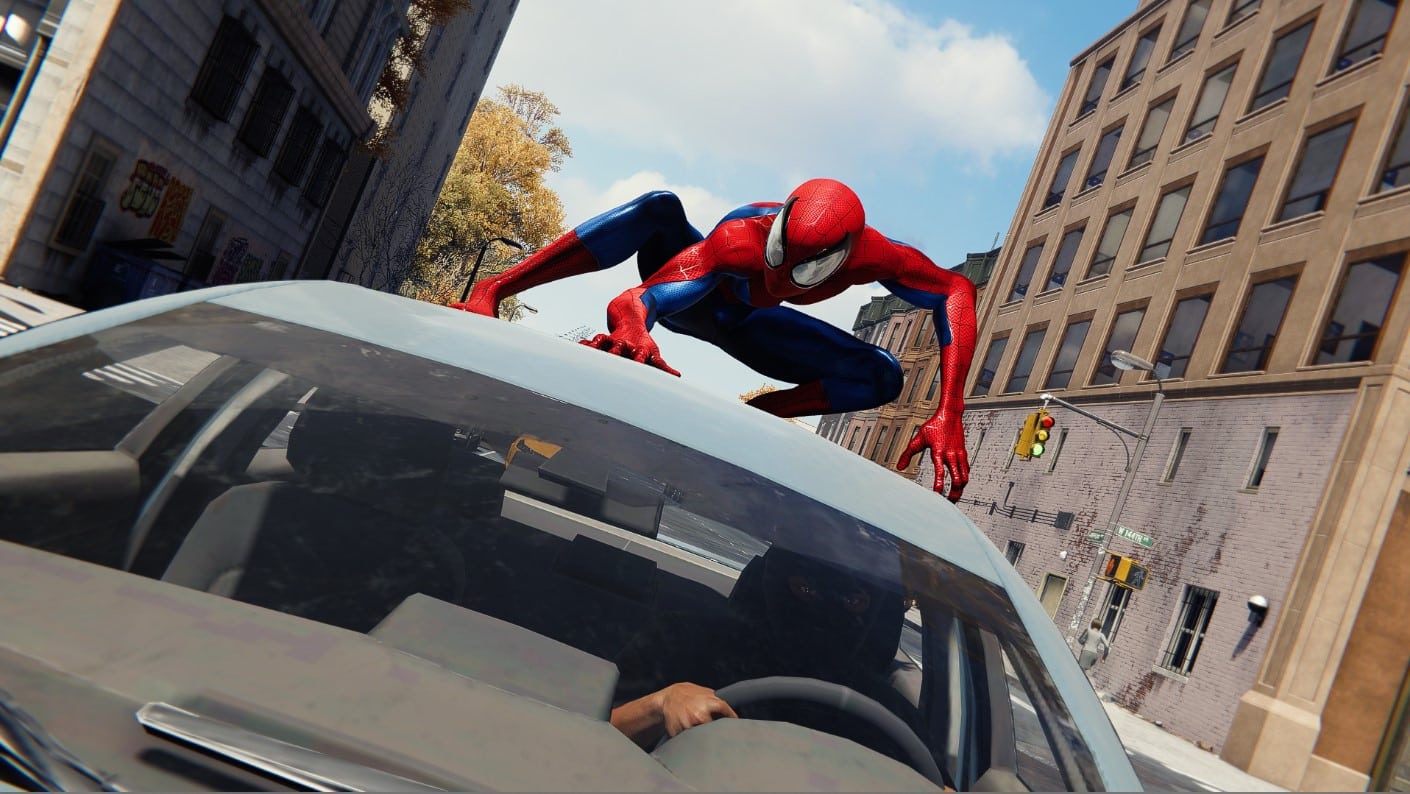 This photorealistic redesign of the classic 2000's comics-inspired suit – originally drawn by Mark Bagley – looks so good in the Spiderman PC game. Keep in mind that this suit replaces the Dark Suit from the game. So, if you don't mind replacing it, then download this mod right now!
John Bubniak's Face Return (Original Face From Spiderman PS4)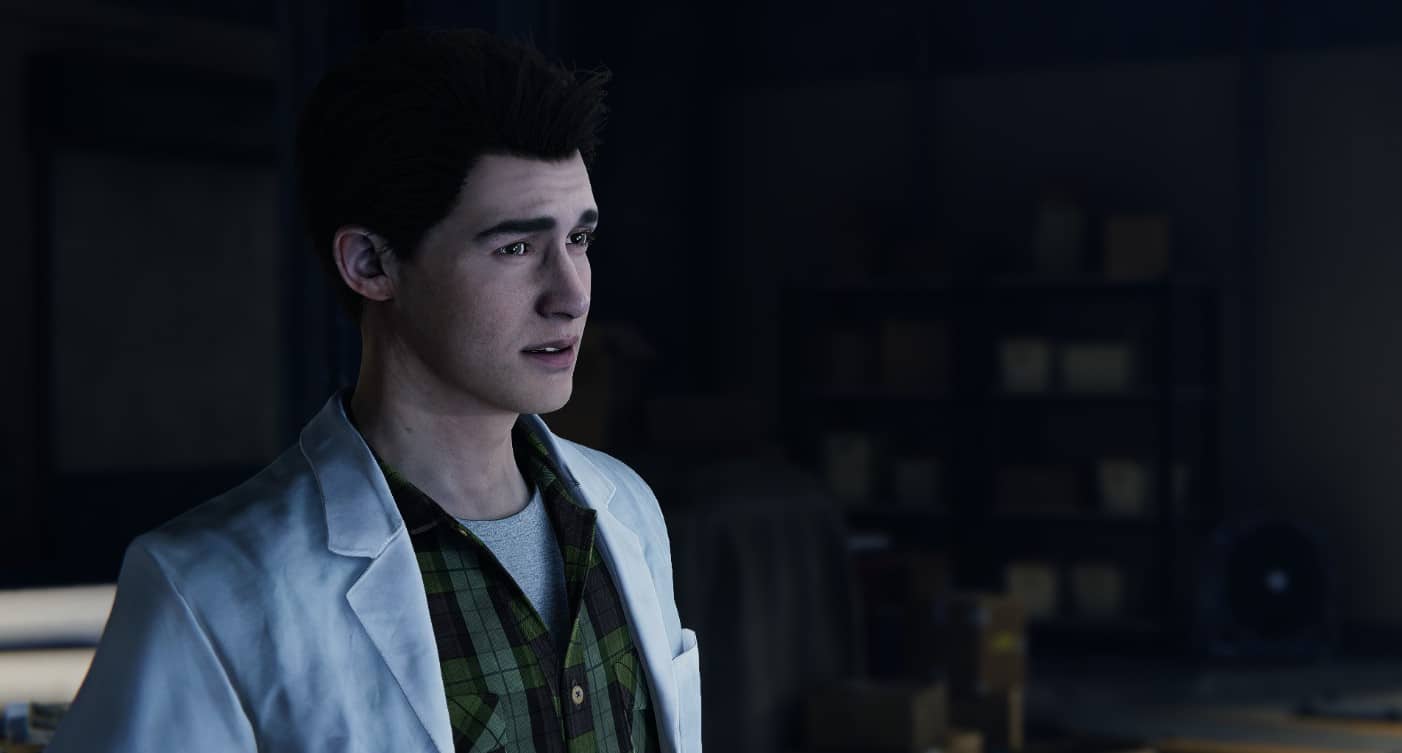 Download Now: John Bubniak's Face Mod
Mod Size: 326.5 MB
With the introduction of Spiderman Remastered, Insomniac decided to change the face model of Peter Parker. While he looked great previously, they wanted to have a model that looks a bit younger to match the comic-accurate version of Peter.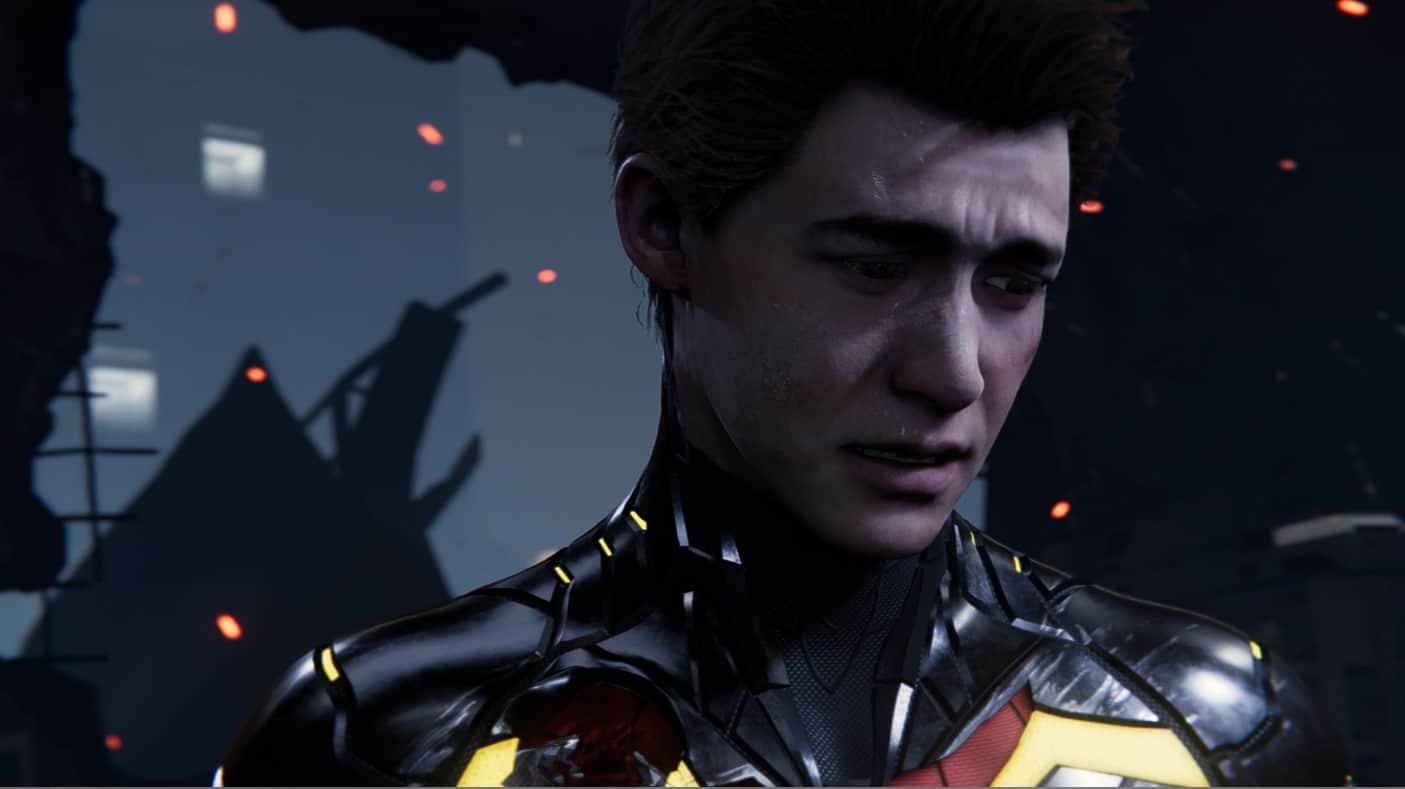 If you are like me, you might have enjoyed the new face model but would have gotten used to John Bubniak's face. So, if you want to bring it back, download this mod and get the feel of the original game on your PC. While I can understand why they wanted to make this change, it still feels weird.
Even though you rarely see your face underneath the mask, it is nice knowing that John's face is in the game thanks to this mod.
Photorealistic Movie Vibes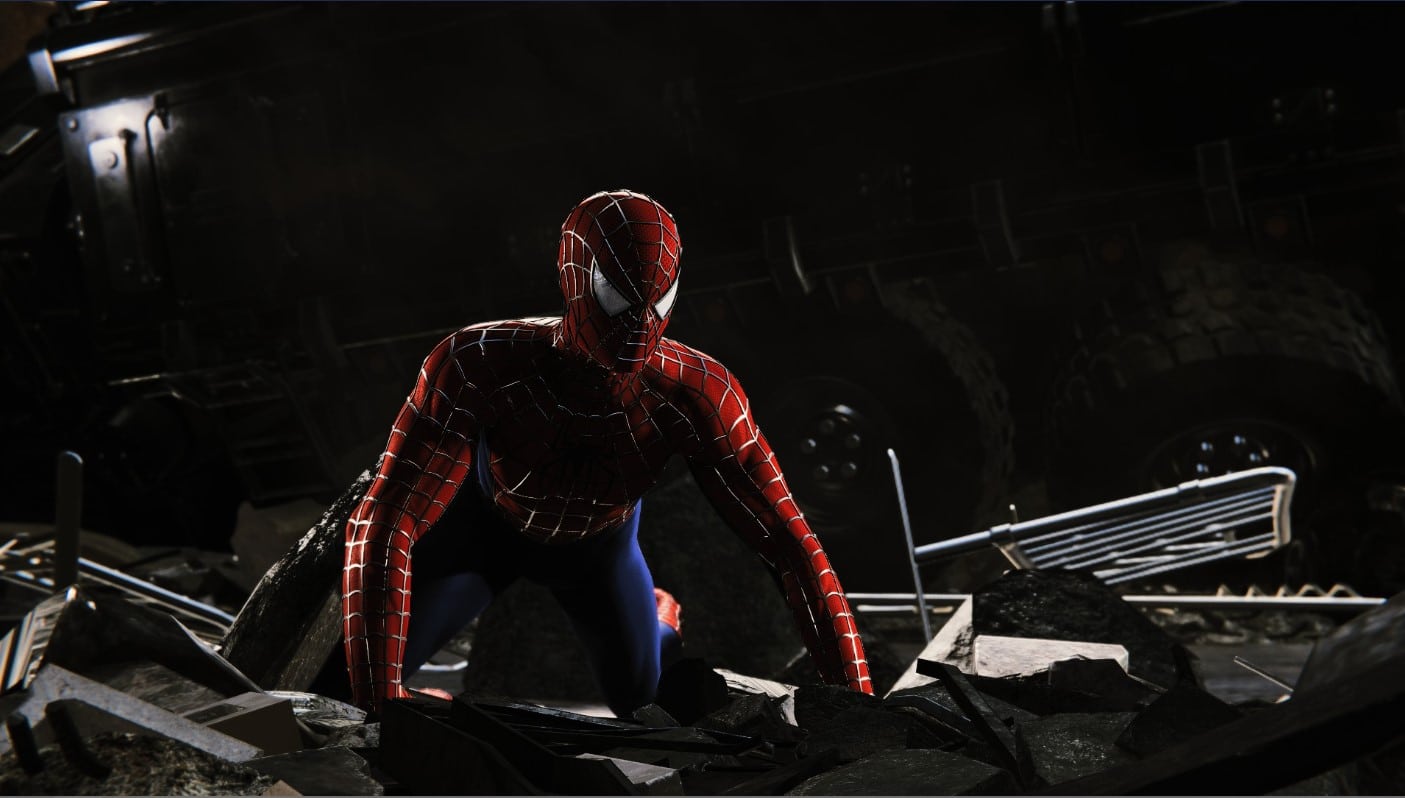 Download Now: Photorealistic Movie Mod
Mod Size: 21 KB
Before I talk about this mod, look at the image above and see how impressive the game looks. This is a reshade mod that makes the game look like Sam Raimi's original Spiderman movie. It includes a beautiful depth-of-field effect that gives additional detail to every scene. This effect looks extremely impressive, especially during cutscenes.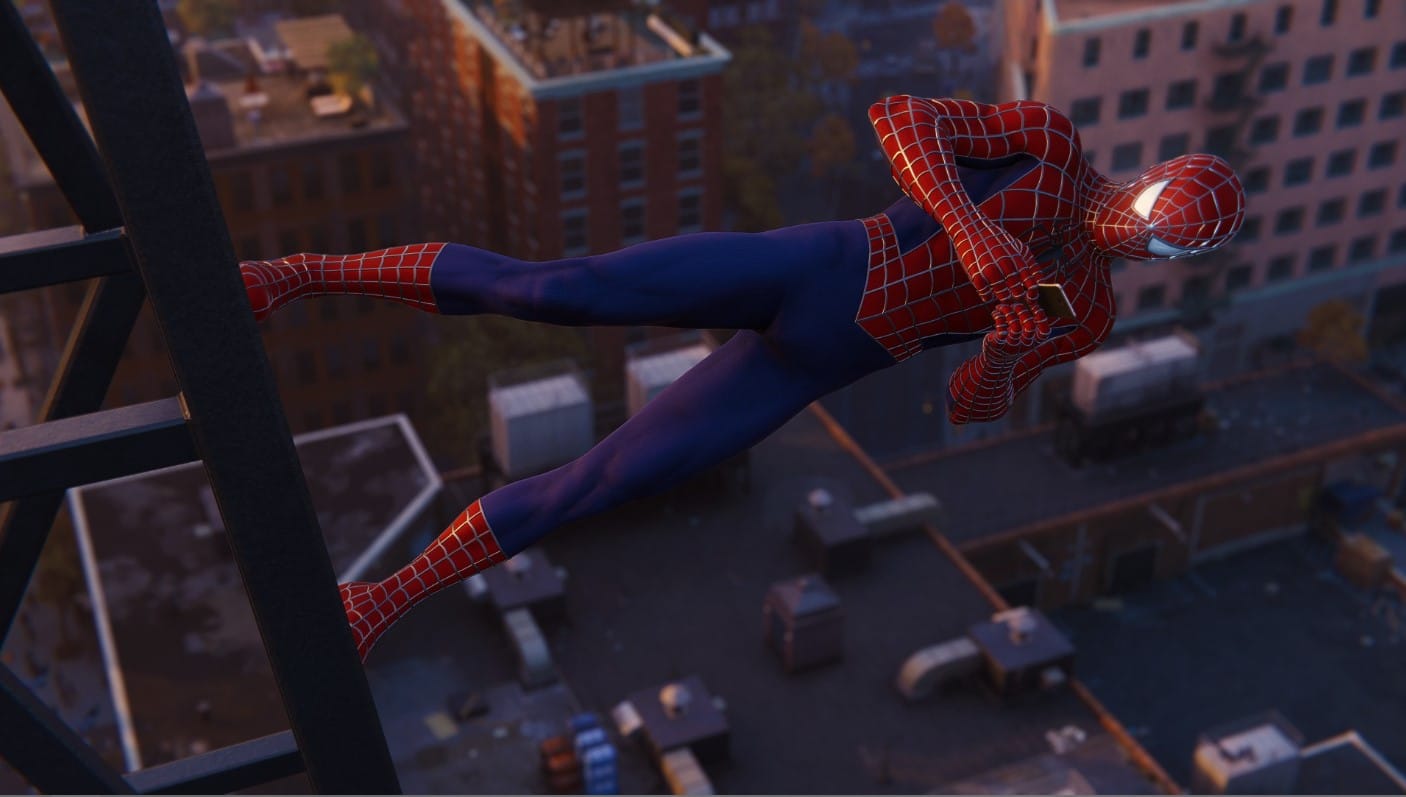 Plus, the best part about this mod is that it doesn't cause any performance loss. You don't need a beefy PC to run this mod, thankfully. The overall vibes and the color change will make the game fresh and feel like brand-new. While the original game looks great, it never hurts to add a reshade mod to make it look even better.
Enhanced Swinging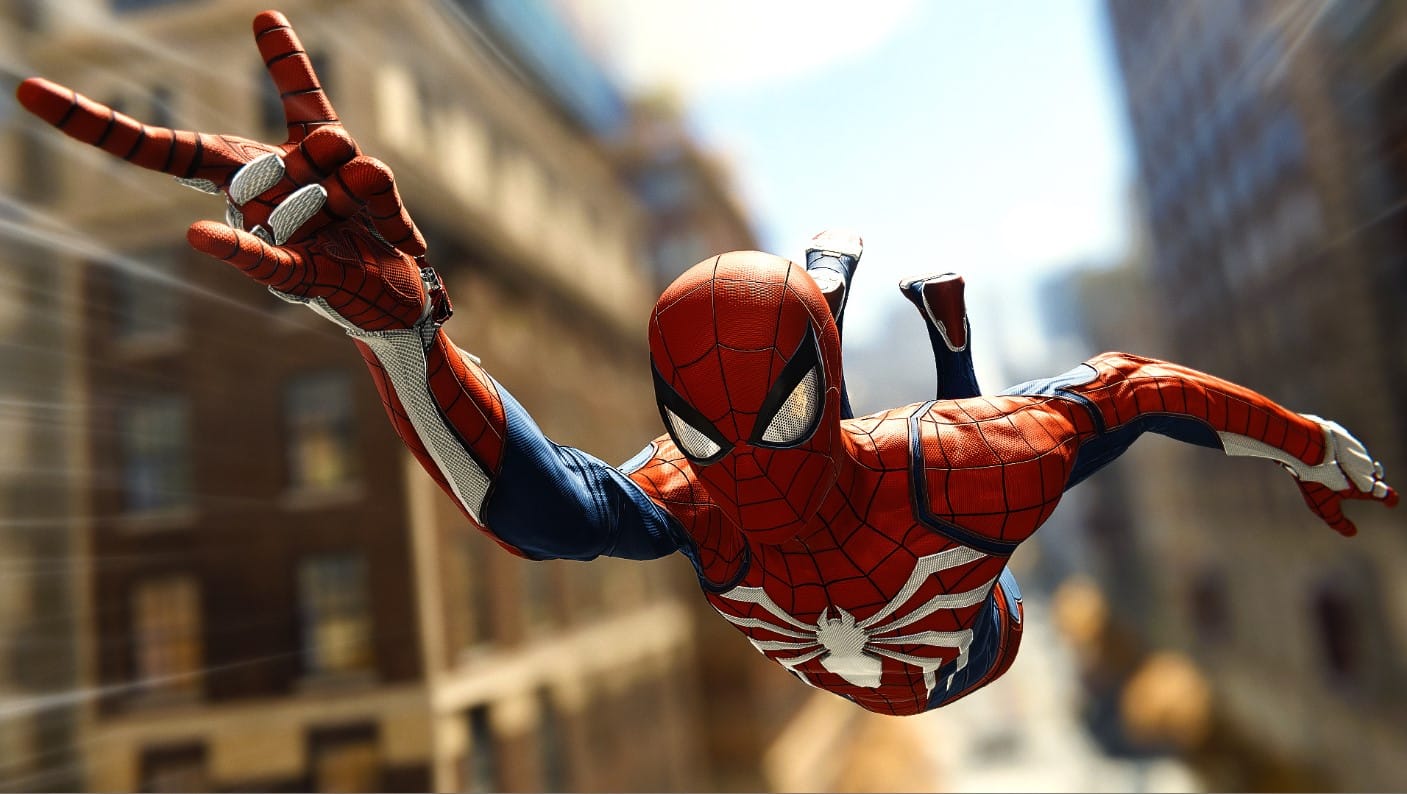 Download Now: Swing Mod
Mod Size: 27 KB
The best part about playing as Spiderman is that you get to swing around the streets of Manhattan. Since swinging plays a vital role in the game, you can download this mod to enhance the feel of it.
Insomniac Games did an amazing job of making the web swinging feel so good and alive in the game. However, thanks to this mod, you can adjust the speed on the go. Thanks to a small menu, you can set how fast you want to swing or how high you want to launch.
So, if you feel like the normal swinging is too slow or takes a while to truly get going, this mod will allow you to swing extremely fast from the get-go.
No HUD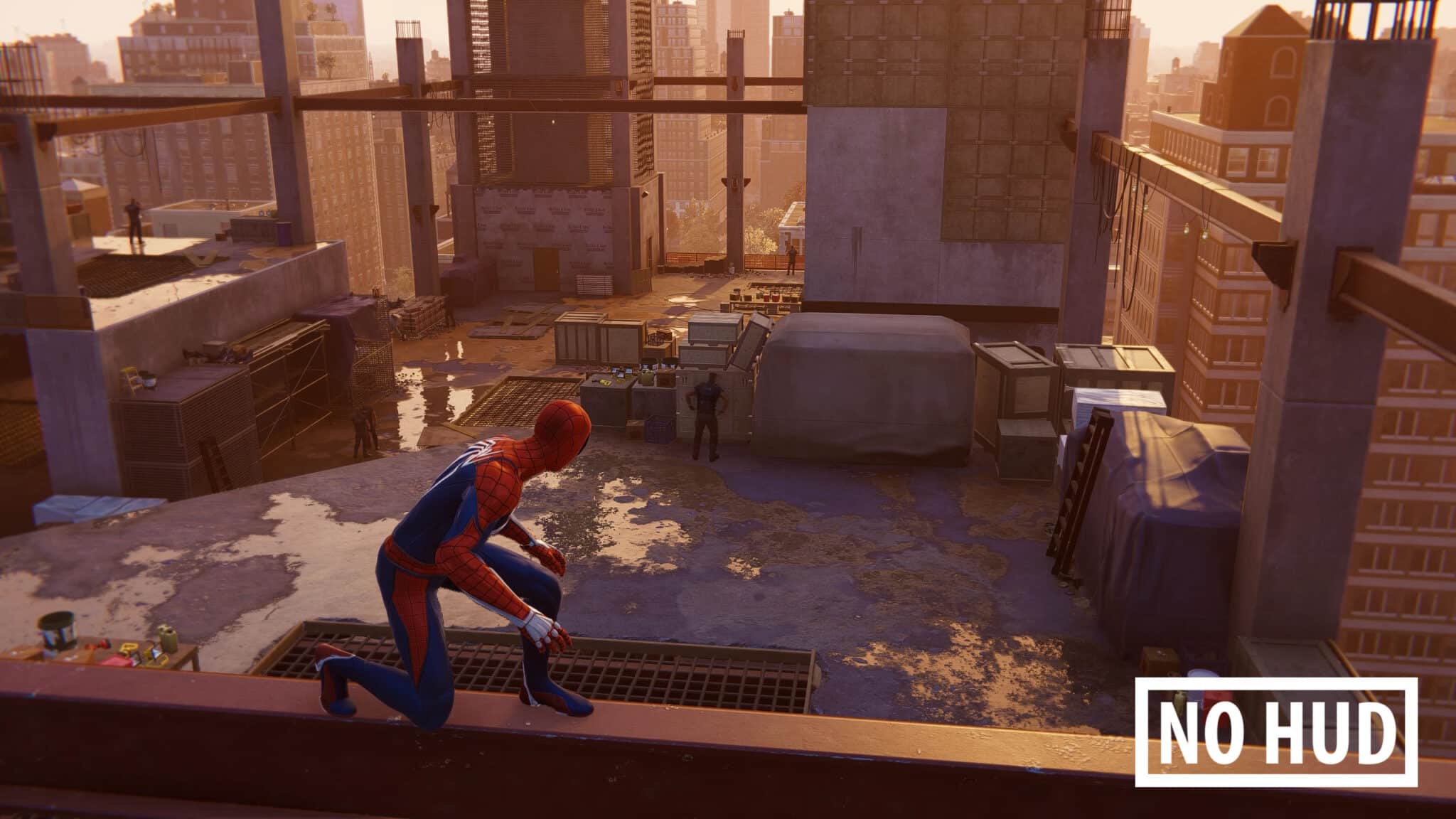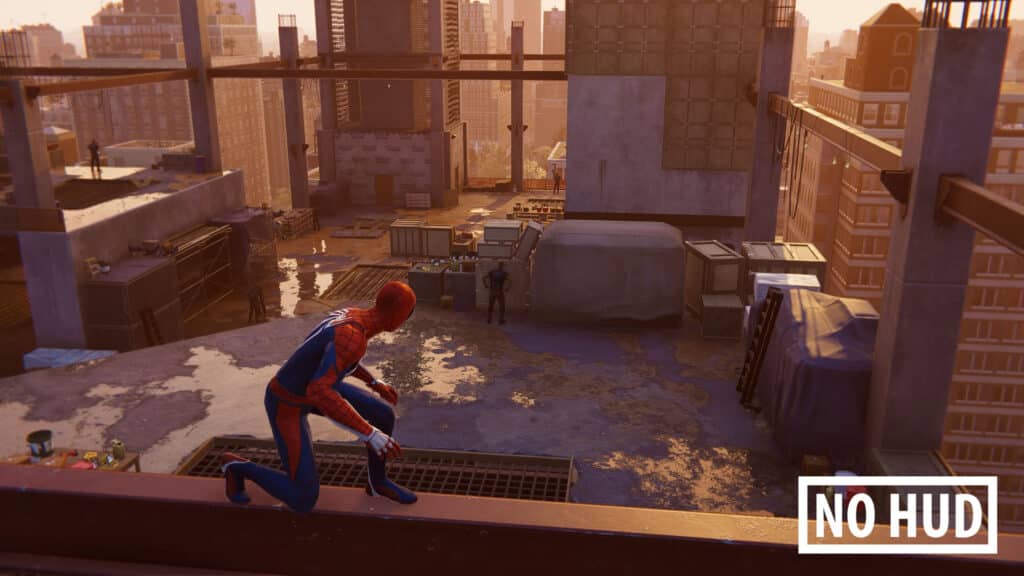 Download Now: No HUD Mod
Mod Size: 43 KB
If you are like me, you probably like to fully immerse yourself into the game you're playing as well. What better way to do that than to completely remove the HUD? While the HUD provides a lot of useful information to the player, removing it won't take away from the game.
Plus, since Spiderman is an open-world game, you will have fun swinging around and looking for crime to put an end to it. This also allows you to take pictures during the game without having to turn on the photomode to remove the HUD.
The Amazing Spider-Man 2 Suit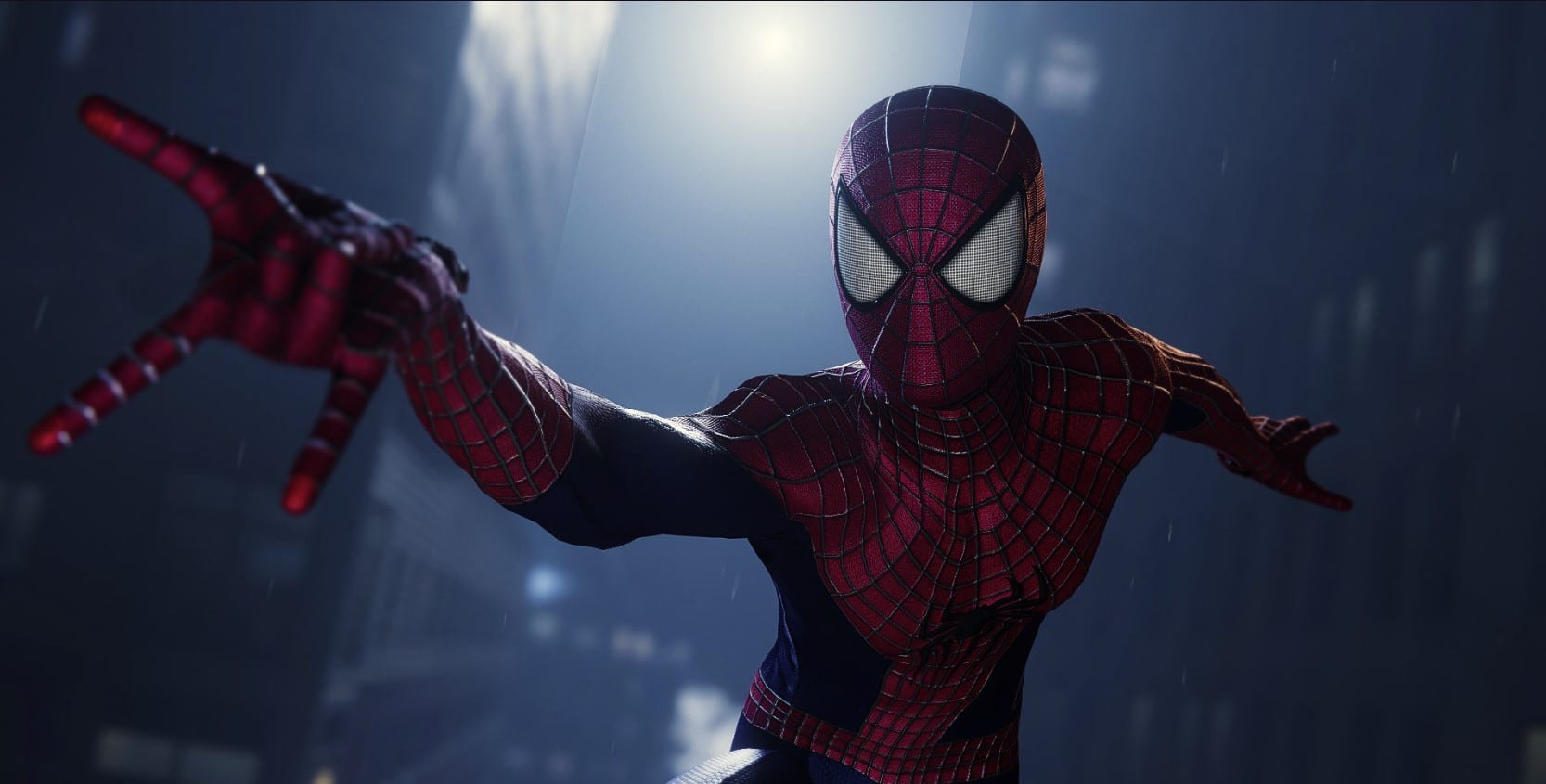 Download Now: TASM 2 Suit Mod
Mod Size: 47.7 MB
After watching Spiderman: No Way Home, it was so refreshing and nice to see everyone admire Andrew Garfield's Spiderman. He had an amazing performance in both movies of The Amazing Spiderman but due to some narrative issues, the films didn't do that well.
If you are a fan of those movies and like the great-looking suit, this mod is right up your alley. You can swing in style by wearing this brand-new suit that replaces the Future Foundation one.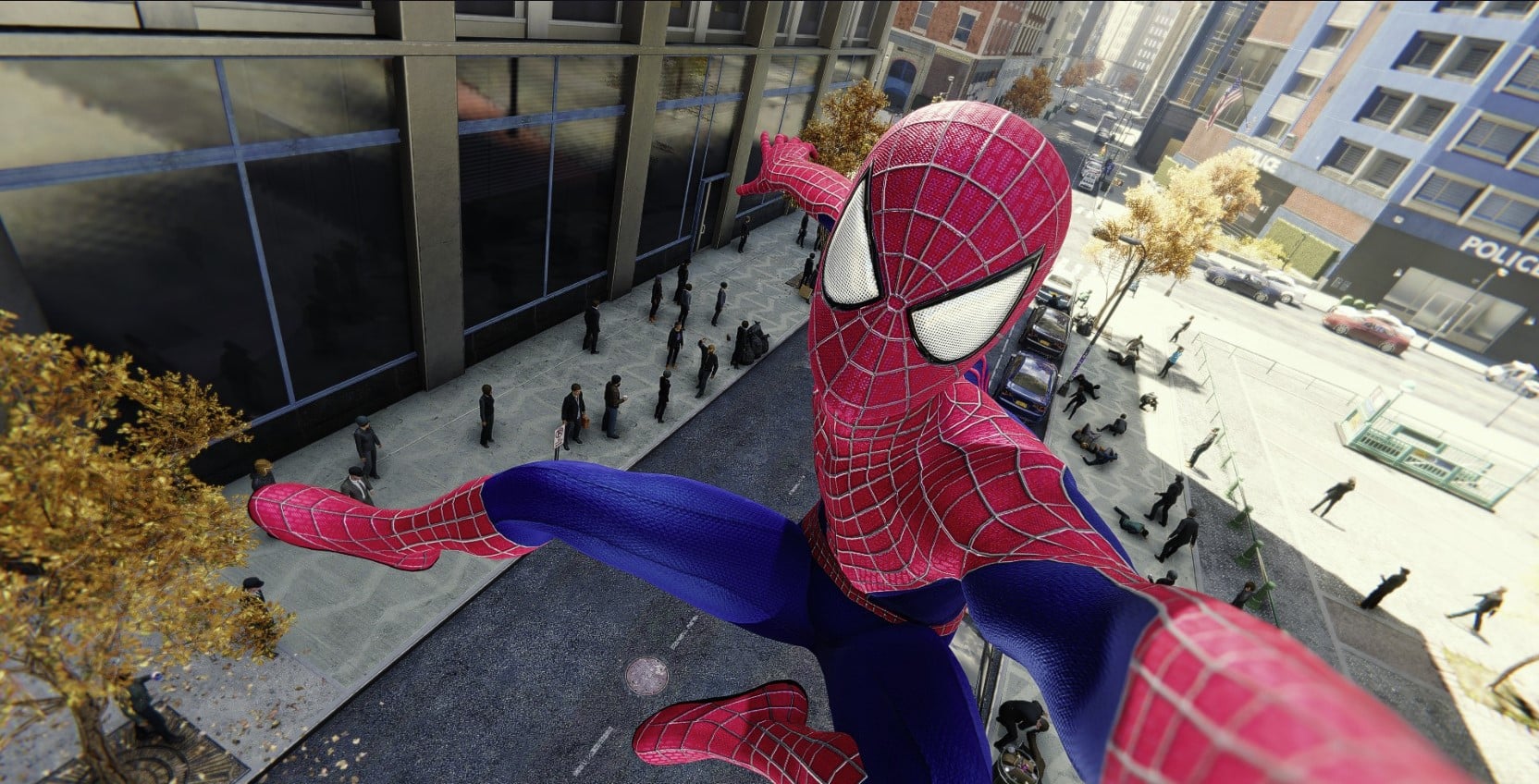 The best part is that the creator of this mod worked really hard on it and hand-crafted it from the ground up. They put a lot of effort into making sure that every detail is perfect. Plus, you can even download the textures to create a mod of your own!
Real Brands and Ads
Download Now: Real Brands and Ads Mod
Mod Size: 57.5 MB
Who doesn't like advertisements, right? Well, this mod will show you ads all over the streets of New York when you are swinging around! In all seriousness, though, if you want to immerse yourself further into the game, adding this mod will allow you to see adverts of real-life brands like Coca-Cola, Nike, Dunkin, and more!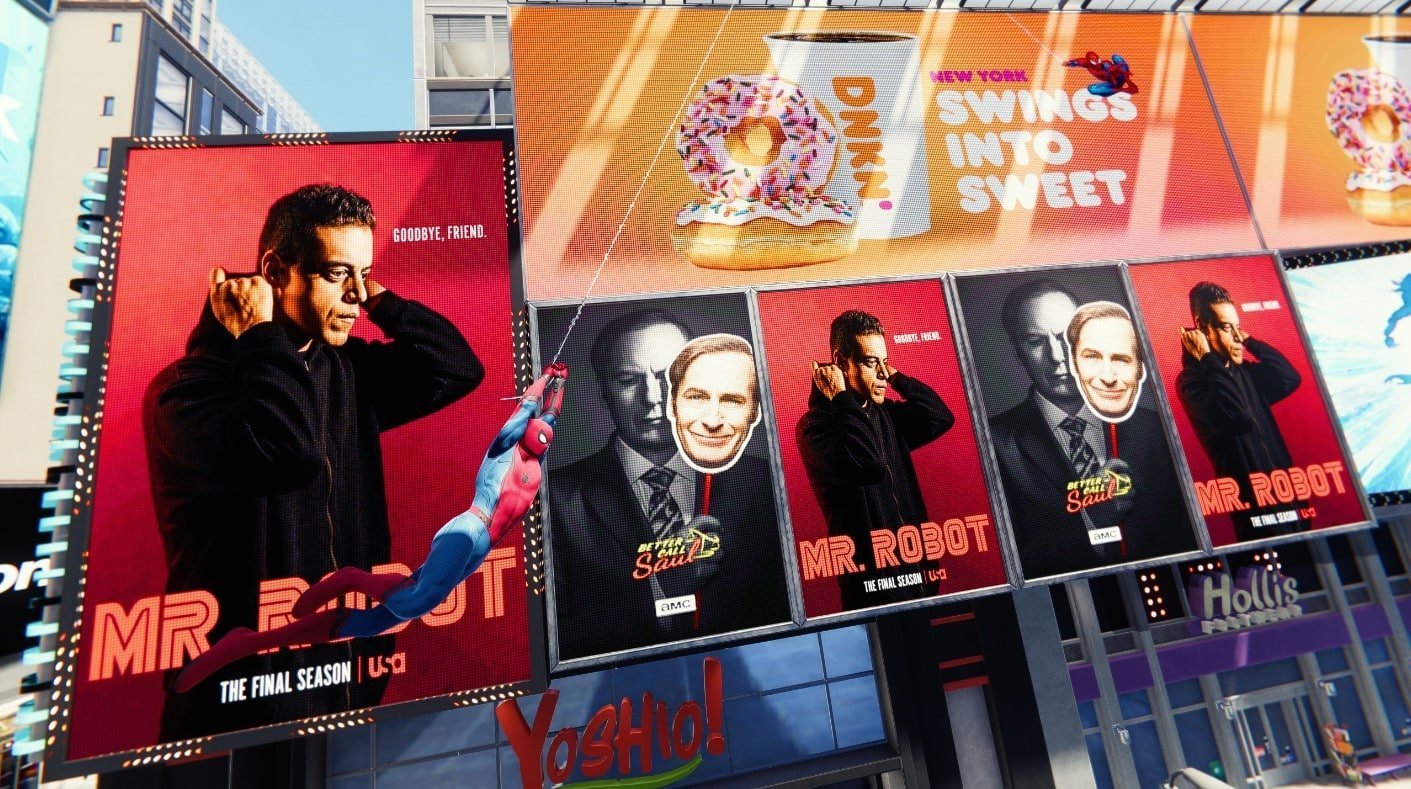 That's not all though. It also adds various posters for movies like Frozen, Aquaman, Avengers, and everyone's favorite, Shrek. Plus, you can also see the poster of some of your favorite shows like Better Call Saul, Game of Thrones, and Arcane, just to name a few.
Every shop and brand that you can find in the game has been changed to real-life ones. You can even find tons of food chains and other large brands as well. New York has never felt more alive in Spiderman thanks to this amazing mod!
Stan Lee Character Model
Download Now: Stan Lee Spiderman PC Mod
Mod Size: 10.7 MB
Finally, let's close off our list with a wholesome mod that pays homage to one of the most legendary writers of all time – Stan Lee. You can download this mod to change your character model to the father of Marvel. It doesn't feel right not being able to see his cameo's in the latest movies ever since he passed away.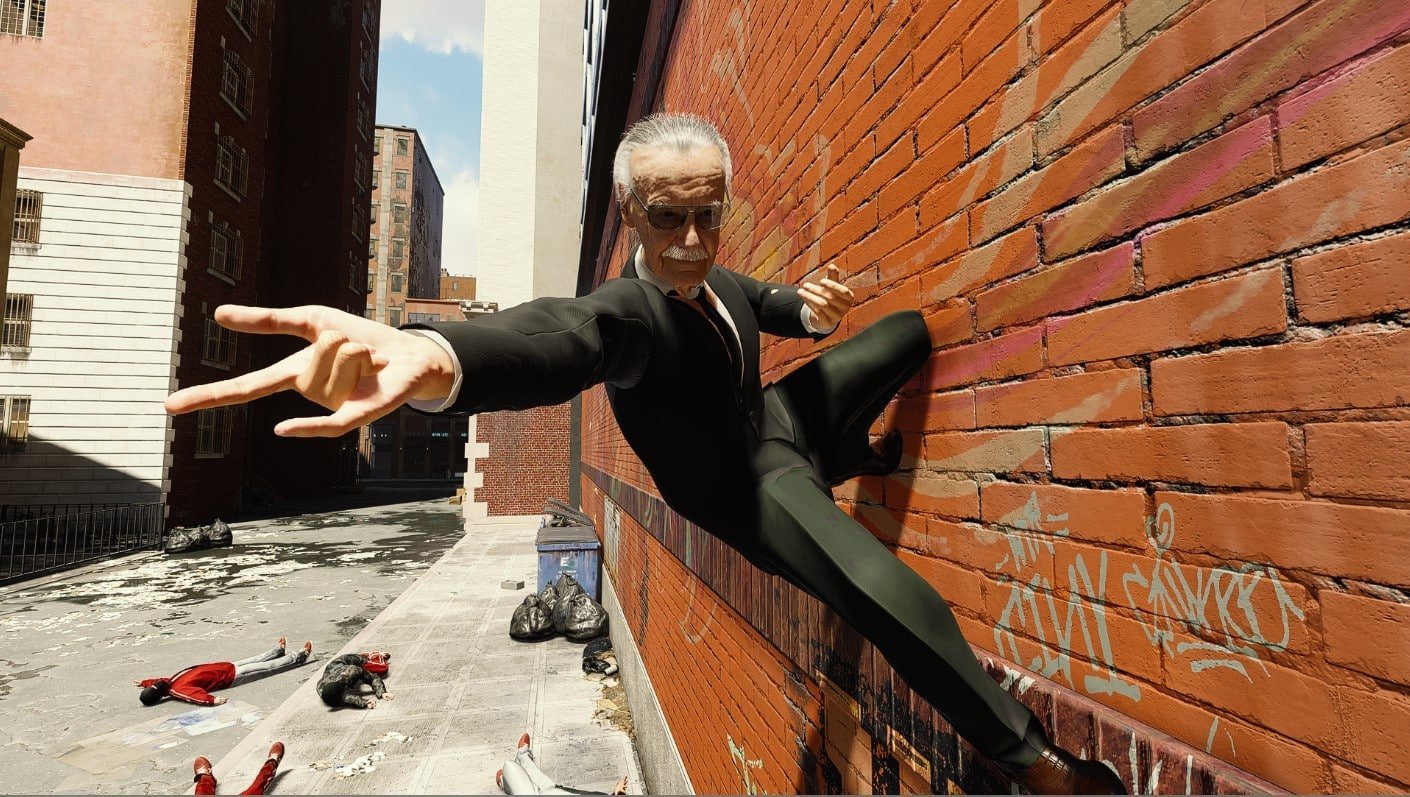 Thankfully, this mod allows you to play as him for as long as you like. Watching Stan Lee swing from building to building is something I never knew I needed in my life. If you want to pay tribute to the late great Stan Lee, download this mod today and kick some bad guys' butt. Rest in Peace, Stan!
Conclusion
And there you have it; those are the 10 best Spiderman PC mods that you can download right now. There are tons of mods you can download, but these ones stood out the most and made the game more fun than it already is.
Which mod did you like most? Is there a mod that you are using that you want to see on this list? Let us know your thoughts in the comments below!